We test and review fitness products based on an independent, multi-point methodology. If you use our links to purchase something, we may earn a commission. Read our disclosures.
If you're in the market for the best budget gym equipment, you may have come across Bells of Steel (aka B.o.S) at some point in your comparison shopping. The brand is often compared to Titan Fitness and REP Fitness for the price point and free shipping.
While budget brands typically don't hold up to the wear and tear of a commercial gym, investing in a set of weight plates from B.o.S for your personal garage gym should be just fine. In our Bells of Steel weight plate reviews, we're going to cover seven different options the brand has to offer and what type of home gym owner will be suited for each style.
RELATED: Bells of Steel Hydra Rack Review
It's also worth noting that Coop Mitchell, founder of Garage Gym Reviews, personally tested the B.o.S. plates and weighed each for accuracy, which we refer to as weight tolerance in this review.
Let's get started!
Bells of Steel Weight Plate Full Video Review
Bells of Steel Weight Plate Lineup
Bells of Steel Iron Plate Comparison Chart
| | | | |
| --- | --- | --- | --- |
| | Mighty Grip | Machined Iron | Deep Dish |
| Price for 45-lb set | $174.99 | $219.99 | $259.99 |
| Weight tolerance | 3% | 1% | 1% |
| Coating | Hammertone gray powder coat or black E-Coat | Hammertone powder coat | Black rust-resistant E-Coat |
| Warranty | 5-year light commercial | 5-year light commercial | Limited lifetime warranty |
Bells of Steel Bumper Plate Comparison Chart
| | | | | |
| --- | --- | --- | --- | --- |
| | Dead Bounce | Crumb Bumper | Urethane Competition | Competition Bumper |
| Price for 45-lb set | $199.99 | $199.99 | $369.99 | $314.99 |
| Weight tolerance | 1% | 1% | 1% | 0.1% |
| Material | High-density virgin rubber; stainless steel inserts | 100% recycled rubber; stainless steel hub | Urethane; chrome hub | Virgin rubber; |
| Warranty | 1 year | 1 year | Limited lifetime | Limited lifetime |
Which Bells of Steel Weight Plate Should You Buy?
The style of weight plate you pick depends on your type of strength training and what you'll use them for. If you train the big three lifts (squat, bench, deadlift), a traditional pair of iron or steel plates will work.
If you do more CrossFit and Olympic weightlifting-style lifts, a set of bumper plates is essential to your home gym due to the fact the bar gets dropped more often.
RELATED: Beginner's Guide to CrossFit Exercises
The lineup below features nearly every weight plate Bells of Steel has to offer. The brand has two categories: Bumper plates and traditional iron weight plates. The ones we didn't feature in our review are the Calibrated Powerlifting plates and the fractional plates for micro loading.
Mighty Grip Olympic Weight Plates
Good for: Budget-conscious shoppers looking for weight plates that get the job done
First up, we have the Mighty Grip Olympic Weight Plates, which are the most budget-friendly pair with a $174.99 price tag for a pair of 45-pound plates. The plates offer a unique design with cut-out handles that make loading and unloading a breeze.
Coop also appreciates the unique revolver-style design and notes that the Mighty Grip is the most comparable to the plates we wrote about in this REP Fitness Equalizer Iron Plates review. While they look similar, B.o.S. beats the price with REP featuring a $220 price tag.
The Mighty Grip plates are made from cast iron and poured into a cast versus machined. That said, the website warns there can be minor blemishes and a plus or minus 3% weight tolerance.
Coop admits that the 3% weight tolerance is not the gold standard, and many of these B.o.S plates are actually rated for 1% weight tolerance. "But I'm not surprised for the price. These are really their budget-oriented plates," says Coop.
Coop notes that on the website the Mighty Grips come in both a hammertone gray powder coat and a black E-Coat finish (which is Coop's preference). "These are gray iron, not ductile iron, they're not going to last as long, but really the stand out is the design and the cut-out grips," says Coop.
Machined Iron Olympic Weight Plates
Good for: Folks seeking a budget-friendly option with a higher weight tolerance
In contrast to the Mighty Grip plates above, the Machined Iron Olympic Weight plates are machined plates that are cast and then machine shaved and polished to provide a more precise weight tolerance. Bells of Steel guarantees a tolerance of plus or minus 1%, and during the inspection process the brand finds most are under that tolerance, and fall within 10 grams of the claimed weight.
Coop points out that if the weight of your plate set is either above or below the expected tolerance, B.o.S. will replace your plate free of charge.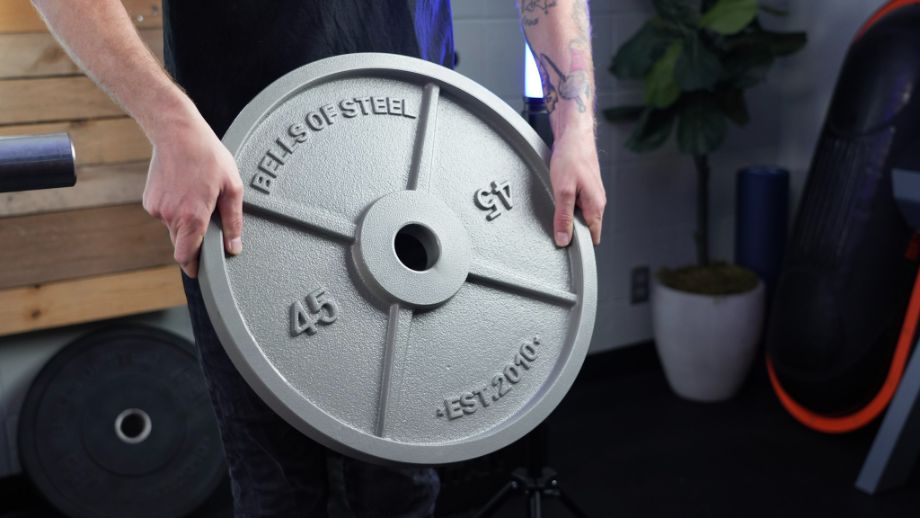 The holes of the plates are cast smaller than the Olympic barbell sleeve diameter of 2 inches (50 millimeters) and are then drilled out with a guaranteed precision hole fit of 50.5 millimeters (with a plus 0.4-millimeter tolerance). All this to say, the preciseness allows your barbell to stand upright when loaded for a deadlift, and the plates snug to the weight sleeve.
RELATED: How To Deadlift Heavier
Coop also notes that the Machined Iron plates are thin for iron plates and are one of the thinnest in the B.o.S. lineup. "If you want a thinner plate than this, you'll want to go with calibrated plates," says Coop.
Deep Dish Weight Plates
Good for: Anyone looking for a durable weight plate set for the squat, bench press, and deadlift
The Bells of Steel Deep Dish Weight Plates feature an old school design from the peak bodybuilding days of Arnold Schwarzengger.
The Deep Dish plates also have an E-coating which is more durable and rust-resistant than a traditional powder coat. It's applied electronically, which allows the coating to be thinner, smoother, and easier to clean.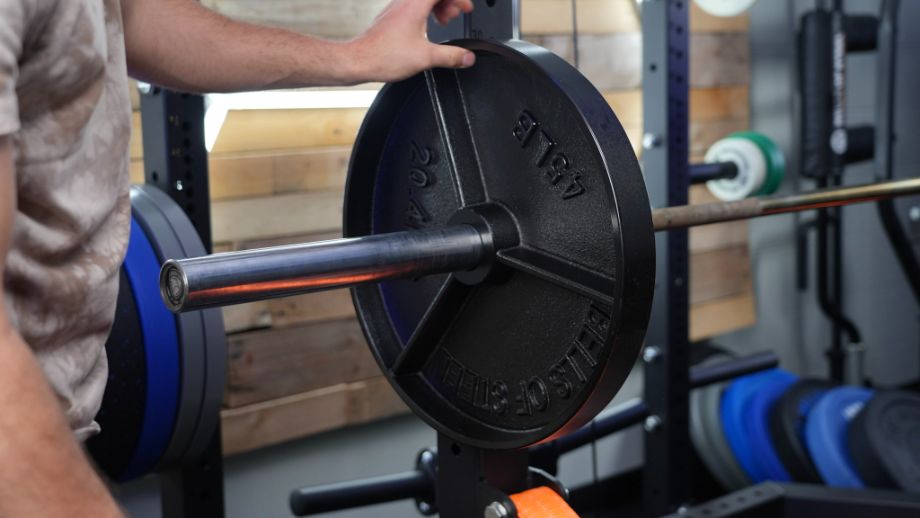 In addition to the E-coating, Coop also notes that the Deep Dish plates are cast from ductile iron. "It's a high-quality iron that's going to last longer; it's not going to chip or break as much. These are plates that you can pass down to your grandchildren," says Coop.
Coop also points out that you can have an entire Deep Dish plate set because this design is available in smaller plates—starting at 2.5 pounds and going up all the way to 100-pound plates.
"I think these are the coolest looking plates. I really like the deep dish design," adds Coop.
"The problem with them is they take up a lot of space on the bar," says Coop. "But I'm not lifting over 500 pounds on any lifts—I know that surprises some of you—but the positive thing is they are very easy to grip, and they just look dang cool."
RELATED: How to Squat Heavier
Not only do they look cool, the plates are guaranteed to have 1% weight tolerance accuracy. Plus, the website explicitly states that the B.o.S Deep Dish plates have a precision-cut 50.5 millimeter center hole, so the sleeves of non-Olympic barbells might not fit if they're out of spec.
These plates are most comparable with the plates we talk about in our Rogue Deep Dish Plates review, which happen to be about $60 cheaper and are made in the USA. The kicker is that they have a 2% weight tolerance and are often out of stock on Rogue's website.
Dead Bounce Bumper Plates
Good for: Folks looking for a basic bumper plate with a few color and lettering options
Depending on your fitness goals and your style of training, bumper plates might make more sense than traditional iron weight plates. This is especially true if you're someone who performs a variety of compound exercises, including Olympic lifts like the snatch or clean and jerk.
The version we've chosen to feature above is the matte black Dead Bounce bumper plates, but you will also find a set featuring black rubber and colored lettering, and lastly colored plates with white lettering.
What Coop likes best about these bumper plates is that they are rated to 1% weight accuracy and have thick stainless steel hubs with a three-anchor point system embedded within the rubber that doesn't fall or break out of the middle with normal wear and tear.
"For many home gym owners that are doing general training, dropping the bar, and don't want to make a lot of noise or hurt their foundation, then I would honestly suggest bumper plates a lot of the time," says Coop.
RELATED: Best Soundproof Exercise Mats
"One of the things that is extremely annoying about Bells of Steel is they don't list the durometer rating on any of their bumper plates," says Coop. On the website, each bumper plate is given a generic low, medium, or high bounce rating.
"I can't speak specifically to the bounce other than what we've tested. Other companies will list the durometer rating and what that tells you how hard the rubber is essentially," Coop adds.
The other thing to note is that these are made from virgin rubber, which keeps the rubber odor at bay inside your home gym.
Crumb Bumper Plates
Good for: Gym owners who like the idea of recycling rubber for a pair of weight plates
The Crumb Bumper plates are not made from virgin rubber and instead made from recycled rubber and feature color-coordinating flakes throughout the plate that identifies with the weight.
The Crumb plates are designed with thicker rubber so they can be dropped from overhead positions. The website states that these plates are much thicker than their other bumper plates, and the hubs are sturdier and wider.
What's great about bumper plates, in general, is you can buy plates weighing less than 45 pounds and still have a traditional Olympic diameter, which makes bumpers ideal for deadlifts and Olympic lifts like the snatch or clean and jerk.
RELATED: Deadlift Muscles Worked
The Crumb bumper (and all other B.o.S. bumpers) feature anchored stainless steel hubs, which leads to less wear and tear through the middle. Coop explains this by saying, "When they make plates they'll add some wire to the outside just so there's more contact to the rubber and makes it less likely to pop out.
"For rubber plates, what you find is that the failure point is the center hub. And so all these are stainless steel which means they're not going to rust, and they're also anchored to the rubber, so they're not going to pop out," Coop adds.
The Crumb bumpers offer a 1% weight tolerance, which is ideal for this price range of about $200 for a pair of 45-pound plates.
One thing Coop notes is that you'll have to take in consideration how much you're lifting "because some of these bumper plates get kind of wide," says Coop. "If you're going to be lifting 500 pounds or more, these are just too wide and take up too much room on the bar."
In fact, the 45-pound plate is just over 3 inches wide. A typical Olympic barbell ranges from 14 to 18 inches on the loadable sleeve, making it difficult to load more than five plates (and one of the best Olympic barbell collars) per side.
Urethane Competition Bumper Plate
Good for: Serious weightlifters who want to be backed with a lifetime warranty
The Bells of Steel Urethane Competition Bumper Plates offer vibrant colors, weight tolerance to 1% accuracy, and unbelievable durability. However, you will need to know that these are not approved by the International Weightlifting Federation (aka IWF), which is the governing body for the sport of Olympic Weightlifting.
RELATED: Best Olympic Barbells
These competition plates are calibrated in pounds and, because of that, don't meet the IWF standards. However, Coop says, "Urethane plates are a premium plate option for those of you that have extra money to spend, you Olympic weightlift, and want really nice plates."
They are premium plates because of the material. Urethane is a harder material than rubber, which provides more durability and less overall bounce. Urethane is also more resistant to abrasion and sunlight.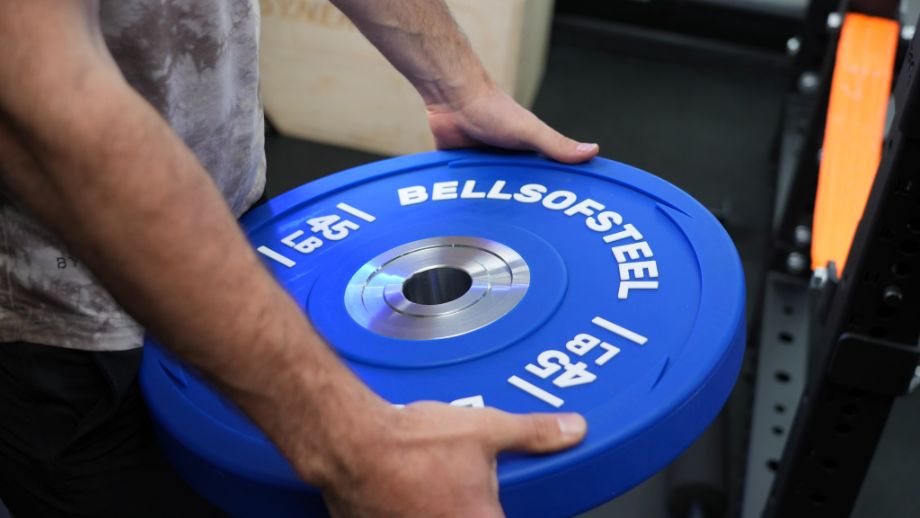 "Urethane is becoming more and more popular. There are more companies coming out with them. It's a very hard material. They don't bounce very much—like they don't have a lot of give—they are pretty dead bounce," says Coop.
While you won't be able to use these plates for competition, it's still a long-lasting option for training. Plus, B.o.S sells urethane-coated change plates for micro loading ranging from 1.25 to 10 pounds so that your entire plate set can be matched.
Coop thinks these compare most closely to Titan Fitness urethane competition plates, which we feature in the best bumper plates guide, but without the lifetime warranty. In fact, Coop couldn't find anything about Titan's warranty on the urethane plates.
Competition Bumper Plates
Good for: Folks seeking a rigid training plate with a lifetime warranty
Again here with the Bells of Steel Competition Bumper Plates—they nearly make the cut for the IWF specs with 450-millimeter diameter, color-coded, and guaranteed to 1% of the claimed weight. But the reason they don't match IWF specs is because these are calibrated in pounds, not kilograms.
However, you can actually find these competition plates in both pounds and kilograms on the B.o.S. website. The kilogram variation does meet IWF specs.
Because the brand offers the Competition Bumper Plates in both imperial or metric units, Coop thinks these are comparable to the plates we feature in our REP Fitness Competition Bumper Plates review. "Both brands offer all the colors you'd expect and feature a pretty standard fare for an Olympic weight plate," says Coop.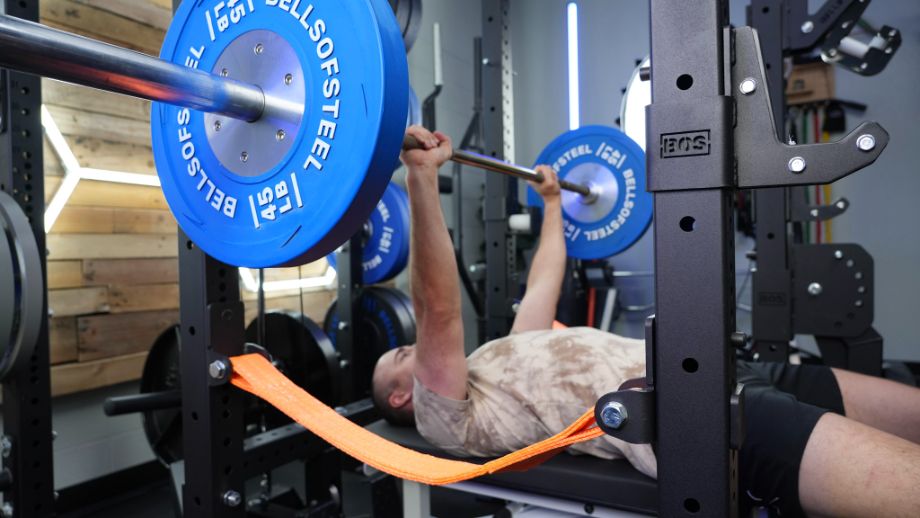 That said, REP Fitness competition bumpers only come with a 5-year warranty and are priced at $330 for a pair of 45-pound plates. Bells of Steel has a limited lifetime warranty on both these competition plates at the urethane ones above. "Both of these have lifetime warranties which are really good, and often you don't see with plates," notes Coop.
The website also states that the galvanized center hub is co-molded to the steel collar, so it won't spin or break from the rubber. B.o.S. also uses an innovative method to securely lock the bolts in place, which means these competition plates are guaranteed to not loosen and will scuff less than other plates.
Bells of Steel Brand Policies
Before we get into the details of company policies, it's worth mentioning that if you are a military member, veteran, first responder, or medical professional, you're eligible for a 5% discount sitewide. B.o.S. also offers free shipping on all products, and you can opt for an in-person pickup if you are local to Indianapolis, IN.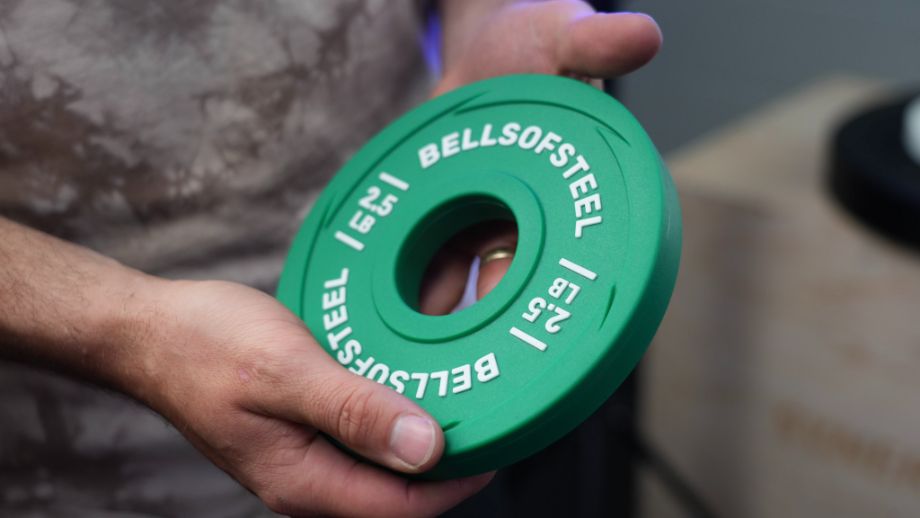 Warranty
The warranty on each of the weight plates we reviewed is different and ranges from a one-year warranty policy to a limited lifetime warranty. The limited lifetime warranty policy is exclusive to the competition-style bumper plates.
It's worth noting that the fine print on the warranty policy page notes that the warranty can be voided for any faulty storage or alterations or if the product is abused by repeated impact on a rough, aggregate surface or from slamming the product on the ground from overhead.
Returns
B.o.S. offers a 30-day money back guarantee if you are not satisfied with your purchase. To make a return, you will have to reach out to the company for a return shipping label and pack it in its original packaging.
Also, the website clearly states that when returning weight plates, the company collects a return fee of 10 cents per pound.
Financing
At checkout, you can use your credit card, pay with PayPal, or finance through Affirm. You'll have the option to break up your payments into 3, 6, or 12 months ranging from 0% to 15% APR depending on the loan term and your credit history.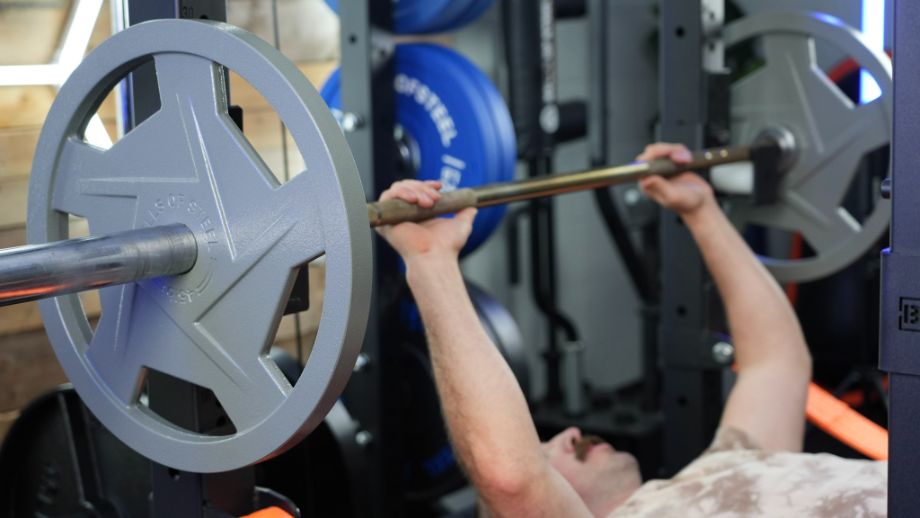 Final Verdict of Bells of Steel Weight Plates
Ultimately, the style of plates you choose depends on what and how you lift. If you're an ultra-strong home gym owner and need space on your powerlifting bar for more weight, then a bumper plate is going to take up too much space on the sleeve.
And if you're preparing for competition, you'll want to make sure the weight tolerance is 1% so you don't have too much discrepancy when it's time to lift on meet day. However, competition bumper plates are really for those who have the extra money to spend.
Bells of Steel Weight Plates: FAQs
How long does shipping take from Bells of Steel?
Bells of Steel advertises that orders are packaged and ready for shipping on the same day you order or the following day. 
Where are Bells of Steel manufactured?
Most Bells of Steel products are made in China, and the weight plates are made in Vietnam by a third-generation run foundry. The showroom and headquarters are located in Indianapolis, IN. 
Does Bells of Steel have a military discount?
Yes, Bells of Steel offers military, first responder, and medical personnel discounts. You can visit the Military and FIrst Responders page, where you'll have the opportunity to verify your identification and receive a discount.