We test and review fitness products based on an independent, multi-point methodology. If you use our links to purchase something, we may earn a commission. Read our disclosures.
Optimum Nutrition makes some of the best protein powder, best creatine supplements, and more at budget-friendly prices. Optimum Nutrition Amino Energy is an extremely popular supplement from the brand, with tens of thousands of positive customer reviews. It's an interesting supplement in that it's not quite a pre-workout and it's not quite a true BCAA supplement.
Where, then, can this powder fit into your supplement stack? Let's find out in this in-depth Optimum Nutrition Amino Energy Review.
Medical disclaimer: This article is intended for educational and informational purposes only. It is not intended as a substitute for medical advice. For health advice, contact a licensed healthcare provider. GGR also recommends choosing a product that has been third-party tested for quality.
Optimum Nutrition's Optimal Fan Since 2012
There will always be a place in my heart for Optimum Nutrition. This brand was the first that made quality sports nutrition supplements feel accessible to college-aged me who was trying to get jacked on spare change. Optimum Nutrition was my go-to brand for years, and nearly a decade later as a certified personal trainer and nutrition coach, I still use and love ON products as part of my regular supplement rotation.
Optimum Nutrition Amino Energy
GGR Score: 3.5
Product Highlights
Comes in 11 flavors

Zero added sugars

Has 100 mg of caffeine per serving

Great for a boost of energy and mental focus

Supports muscle recovery with amino acids
Pros & Cons
Pros
Great price
Only 5-10 calories per serving
Lots of flavor options
Cons
Artificially flavored
Artificial sweeteners
Bottom Line
If you're looking for an affordable muscle recovery and energy drink, then Essential Amin.o. Energy might be a great fit for you.
A Quick Look at Optimum Nutrition Essential Amino Energy
Optimum Nutrition Essential Amino Energy is an amino acid supplement with a gentle dose of caffeine. It consists mostly of a micronized amino blend, plus caffeine from green tea extract and green coffee extract. There are also minimal electrolytes (15 milligrams of sodium).
Before You Buy
If you're looking for a pre-workout supplement to help with muscle pumps and endurance, head to our best pre-workout guide. Amino Energy doesn't contain the best pre-workout ingredients at clinically recommended doses.
Those who try to avoid artificial ingredients should be aware that Amino Energy contains dyes, artificial sweeteners, and artificial flavors.
There are 100 mg of caffeine per serving: Caffeine monsters will want to look elsewhere for a serious energy boost, like the strongest pre-workouts.
RELATED: Best Pump Pre-Workout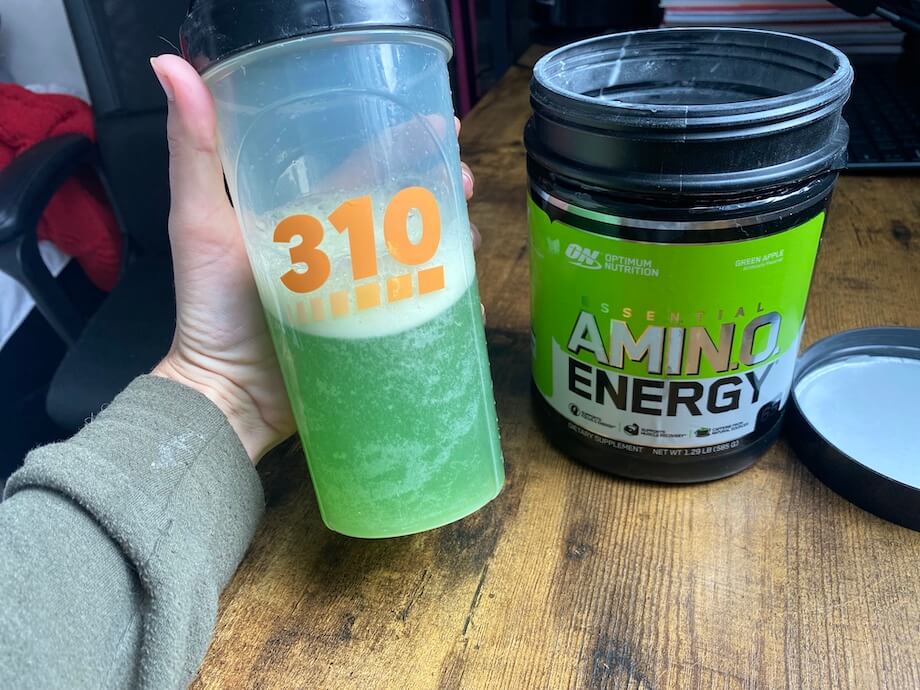 Is Optimum Nutrition Amino Energy Worth It?
Optimum Nutrition Essential Amino Energy comes quite cheap at less than 70 cents per serving at the time of writing, on Amazon, for the 65-serving tub. I'd say for anyone who is looking for a supplement with essential amino acids (EAAs), branched-chain amino acids (BCAAs), and a gentle energy blend, yes, this supplement is worth it.
That said, you should know that research on combined amino acid supplements, specifically BCAAs, is wishy-washy at best. There are few with time-tested proven benefits, and most research1 suggests that supplementation isn't necessary.
And, as registered dietitian Sydney Lappe wrote in our guide to the best pre-workouts with BCAAs, "branched-chain amino acid supplementation alone cannot support an increased rate of muscle protein synthesis. However, pairing BCAAs with protein—whether with whole food sources or a protein shake—may increase muscle protein synthesis."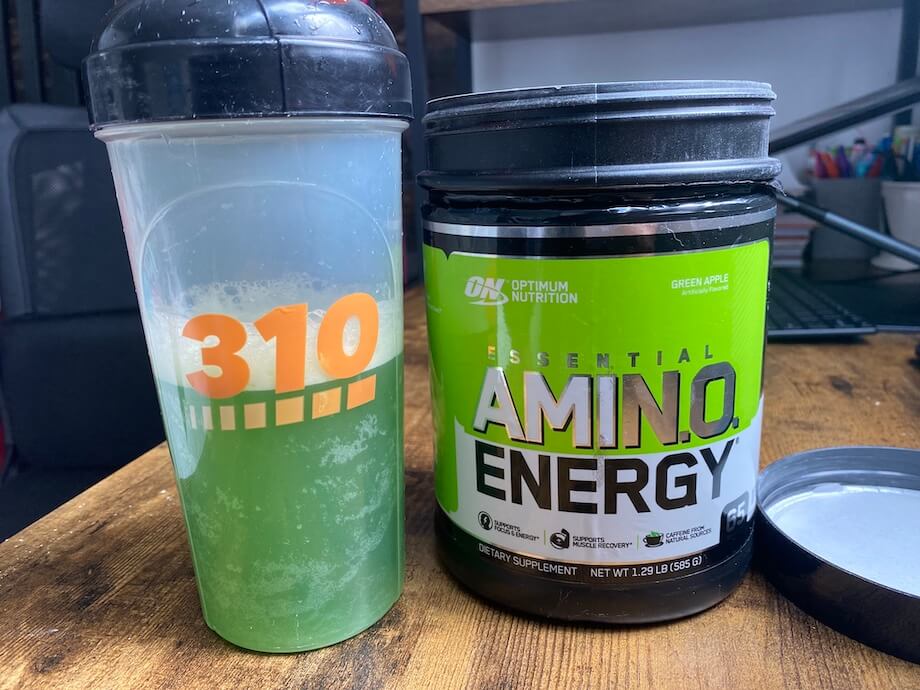 One area where BCAAs shine is workout recovery. According to a 2018 study2, men who took a BCAA supplement reported less soreness than men who took a placebo.
See our guide to the best whey protein powder if you're looking for something to pair with your amino acid supplement.
Great for:
A gentle boost of energy
Pairing with a high-protein meal
A yummy intra-workout drink
Workout recovery support
Not recommended for:
Muscle pumps
Increased endurance or strength
Intense energy boost
Optimum Nutrition Amino Energy Specs
| | |
| --- | --- |
| Serving size | 9 g (2 scoops) |
| Price per serving | About $0.70 |
| Flavors | Blue Raspberry, Blueberry Lemonade, Blueberry Mojito, Concord Grape, Fruit Fusion, Green Apple, Juicy Strawberry, Orange, Strawberry Lime, Watermelon, Wild Berry |
| Key Ingredients | Caffeine, amino acids |
| Sweeteners | Sucralose |
| Third-party tested | Yes, Informed Choice |
Experience Using Optimum Nutrition Amino Energy
I drink enough coffee for two people each day, so I try to stay away from supplements with caffeine. However, for many years, Optimum Nutrition Amino Energy has served as a wonderful pick-me-up with a great taste on days that I need a little extra energy to get me through the day.
I also like to drink this during workouts or just when I don't feel like drinking plain water; I find that adding flavor helps me feel more motivated to sip and maintain hydration.
I've been using Amino Energy since I started working out seriously in college, and I now buy it on-and-off. Sometimes when I'm at my local GNC, I'll grab a container because it's reliable and tastes good.
Price Per Serving
The price per serving for Amino Energy varies depending on the size you buy and where you buy it. The small container at your local supplement store will probably be more expensive than buying the bigger tub on Amazon. At the time of writing, the price per serving is about 70 cents for the 65-serving tub on Amazon. On the Optimum Nutrition website, only the 30-serving tub is available and it runs about $1.10 per serving.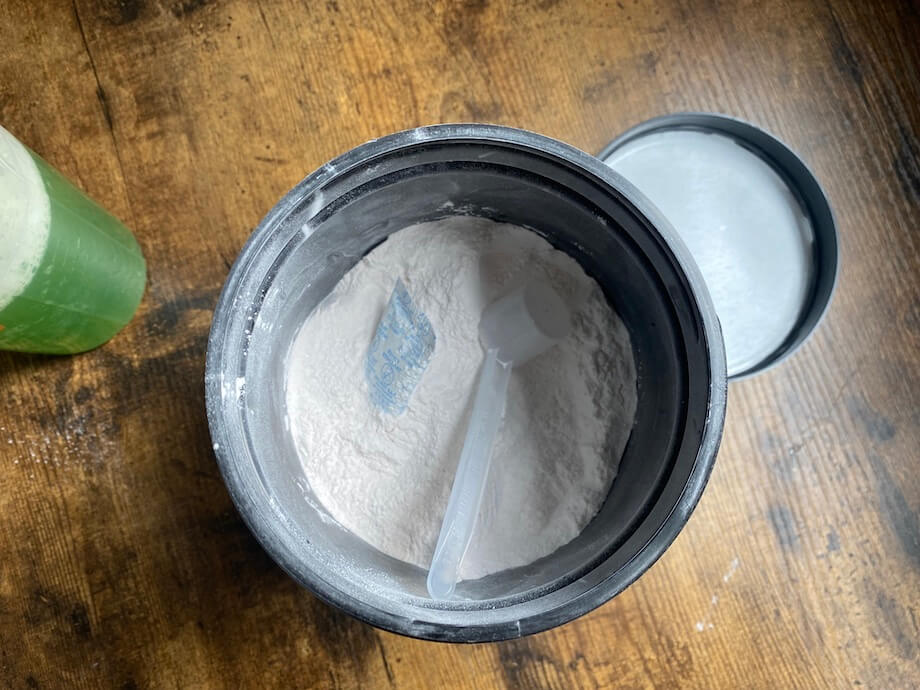 Formulation
There are two parts to the Optimum Nutrition Amino Energy formula: the energy blend and the amino blend.
The energy blend contains 100 total milligrams of caffeine, half each from green tea leaf extract and green coffee bean extract.
The amino blend contains the following amino acids:
Taurine
L-arginine
L-leucine
Beta-alanine
L-citrulline
L-isoleucine
L-valine
L-tyrosine
L-histidine
L-lysine hydrochloride
L-phenylalanine
L-threonine
L-methionine
While the formula includes all of the BCAAs and all but one of the essential amino acids(tryptophan) , they are present in a proprietary blend that totals 5 grams. So, we can't determine how much of each amino acid is in the formula.
We can, however, tell you that likely none of the amino acids are present in clinically recommended doses. The clinically recommended dose of citrulline, for instance, is 6 to 8 grams; for beta-alanine, it's about 3 grams, according to registered dietitian Bob Iafelice, who helped our team determine criteria for judging supplements. If just those two were present in clinical doses, the formula would have to total much more than 5 grams—not to mention all of the other present ingredients.
You'd have to take a bigger serving, maybe three or four scoops, to inch closer to the recommended doses for key ingredients to have an effect on your performance.
Taste and Solubility
Taste is where Optimum Nutrition always shines (as evidenced by our guide to the best Optimum Nutrition flavor of whey protein). Amino Energy is really a great product in terms of taste and solubility: It dissolves amazingly well in just a few ounces of water, although I tend to dilute the taste on purpose with 12 to 16 ounces compared to the recommended 8 ounces.
There are never any grains or clumps, no weird foam, no unusual mouthfeel, and, despite the sucralose, no yucky aftertaste. This is accomplished by using a variety of dyes, anti-caking agents, and gums—doesn't bother me personally, but it might be a dealbreaker for those who try to avoid artificial ingredients.
Side Effects
It's unlikely that you'll experience side effects from the main ingredients in Optimum Nutrition Amino Energy (caffeine and amino acids). However, individuals with sensitivities to the following ingredients should investigate further or talk with their doctor before purchasing this product:
Dyes/colorings
Cellulose gum, xanthan gum, carrageenan
Sucralose
Sunflower lecithin
Soy lecithin
All of the above are generally recognized as safe by the FDA, but can cause gastrointestinal distress, headaches, or allergic reactions in some people; soy is a common allergen and sunflower-derived ingredients can also be a cause for allergic reactions, though not as commonly.
Third-Party Testing
All Optimum Nutrition products are manufactured at the brand's Informed Choice-registered production facility. Optimum Nutrition Essential Amino Energy is explicitly banned substance-free, according to the ON website. This means it's safe for athletes to take.
There are no claims about the product being third-party tested for allergens, pathogens, or heavy metals. This is less common in general, but can be really helpful in making decisions about what supplements to take. ON makes no claims that Amino Energy is gluten-free, lactose-free, etc., so if you have a known allergy, it's best to choose a product with the appropriate dietary certification.
Optimum Nutrition Amino Energy vs 1st Phorm BCAAs
1st Phorm BCAAs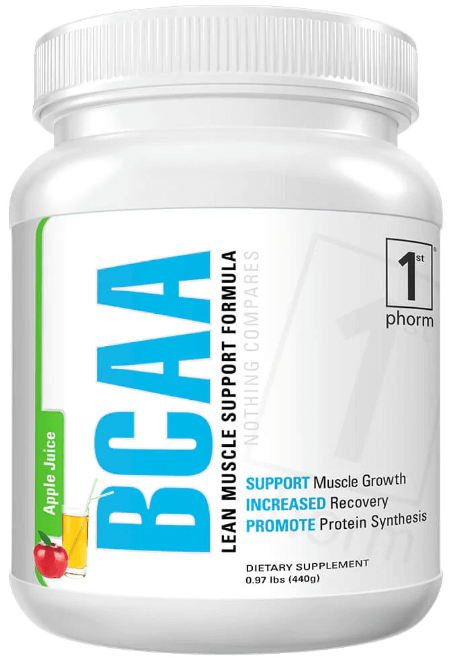 GGR Score: 4
Product Highlights
Available in 7 different flavors
Each serving costs $1.07
No added sugar but reviewers report great-tasting flavors
Has research-backed doses of all branched-chain amino acids
Can subscribe for monthly delivery to save money
Pros & Cons
Pros
7 great-tasting flavors
Research-backed doses
Can put on a subscription to save money
40 servings per container
Cons
Uses a proprietary blend of amino acids and electrolytes
May not be able to be stacked with other supplements
Bottom Line
Great-tasting BCAA supplement with research-backed doses.
1st Phorm BCAAs would be a good choice for those looking to supplement specifically with BCAAs, not necessarily all of the other essential amino acids. This product contains 3.5 grams of leucine, 2 grams of isoleucine, 2 grams of valine, and a 475-milligram blend of L-taurine, L-tyrosine, L-glutamine, L-citrulline, and agmatine sulfate.
It's tough to compare the two products directly since they both contain proprietary blends without full disclosure of the doses of some ingredients. I think it's probably safe to say that 1st Phorm BCAA powder contains more BCAAs than Optimum Nutrition Amino Energy, given that the amounts are individually listed and total more than 5 grams (the total amount of the amino blend in the Optimum Nutrition product is 5 grams).
The 1st Phorm powder contains more electrolytes, with 56 milligrams of sodium and 94 milligrams of potassium. It also contains a LOT—as in 500% of the recommended daily value—of various B vitamins.
Both products contain artificial colors, sweeteners, and flavors. One big difference: There is no caffeine in 1st Phorm BCAAs.
Customer Experience
The customer experience depends on where the product is purchased. If you buy from Optimum Nutrition, your purchase is eligible for the 30-day return policy. Within 30 days of purchase, you can return the product as long as no more than 75% has been used.
Ordering Optimum Nutrition Amino Energy
You can order online through Amazon or a number of authorized retailers, including GNC and The Vitamin Shoppe. You can also order directly from the Optimum Nutrition website or go pick up a tub at your local brick-and-mortar authorized retailer.
Customer Reviews
There's got to be a reason for the nearly 50,000 positive reviews of this product on Amazon. Here's what some customers have to say.
"I have been using Optimum Nutrition Amino Energy for a few months now and I love it," wrote one reviewer. "It is a great pre-workout and energy booster that helps me get through my workouts and my day. It has a delicious fruit fusion flavor that mixes well with water and tastes refreshing. I usually take two scoops before my workout and I feel energized and focused. It does not make me jittery or crash like some other pre-workouts. It also helps me with my appetite control and hydration. I sometimes take another scoop in the afternoon when I need a pick-me-up."
Another wrote, "I've used pre workouts for years and have tried a variety to get the best results for the gym. This by far is the best pre-workout I've ever used. It works. It gives me the energy I need to get the maximum results I need during my gym workout. The grape flavor tastes like real Concord grapes."
Of the few negative reviews, several mention that the customer got a headache shortly after taking the product, or a headache that started small and got worse as they took the product for several days in a row. Some reviewers point to the dyes as the cause of this symptom, and certainly, there is a lot of speculation around the health implication of food dyes.
The FDA states that certified additives are safe when used in accordance with FDA regulations2, but if you think you might have an allergy to food dyes, talk with your doctor before consuming Amino Energy.
Final Verdict of Our Optimum Nutrition Amino Energy Review
Optimum Nutrition Amino Energy is an amino acid supplement with a light dose of caffeine. It may be a good fit for people who want a gentle energy boost and to increase their general consumption of amino acids with a tasty beverage. However, the key ingredients are present in a proprietary blend that makes it impossible to determine the dose of each ingredient, and the product contains several artificial ingredients that some individuals may want to avoid.
Optimum Nutrition Amino Energy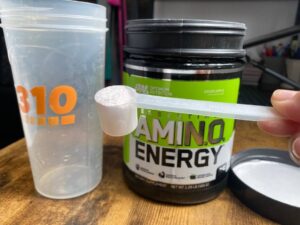 Our Optimum Nutrition Amino Energy Review reveals whether this popular supplement is actually as good as its customer reviews.
Product Currency: USD
Product Price: 45
Product In-Stock: InStock
Optimum Nutrition Amino Energy FAQs
Does Optimum Nutrition Amino Energy contain creatine? 
No, Amino Energy does not contain creatine, but it does contain two essential amino acids that are required for your body to make creatine: methionine and arginine. The third, glycine, which is missing from the Amino Energy formula, is a nonessential amino acid that your body makes on its own.
Is Optimum Nutrition Amino Energy the same as Optimum Nutrition pre-workout? 
No, Optimum Nutrition 100% Gold Standard Pre-Workout is a different product. That one contains more caffeine (175 milligrams per serving), as well as some other key pre-workout ingredients for performance, including creatine monohydrate, AstraGin, acetyl-L-carnitine hydrochloride, and N-acetyl L-tyrosine.
Is Optimum Nutrition Amino Energy an energy drink?
This product has 100 milligrams of caffeine per serving, so I suppose it could be considered an energy drink. However, most people in search of energy drinks want something with more caffeine, such as the popular Cellucor C4 Energy Drink, which has double the caffeine. 
Is Optimum Nutrition Amino Energy keto-friendly? 
Yep. If you're on a low-carb diet, you can use this supplement. You won't find any carbohydrates, sugar or otherwise, in the formula.
These statements have not been evaluated by the Food and Drug Administration. This product is not intended to diagnose, treat, cure, or prevent any diseases.
References
Wolfe, R.R. Branched-chain amino acids and muscle protein synthesis in humans: myth or reality?. J Int Soc Sports Nutr 14, 30 (2017). https://doi.org/10.1186/s12970-017-0184-9
VanDusseldorp TA, Escobar KA, Johnson KE, et al. Effect of Branched-Chain Amino Acid Supplementation on Recovery Following Acute Eccentric Exercise. Nutrients. 2018;10(10):1389. Published 2018 Oct 1. doi:10.3390/nu10101389
U.S. Food and Drug Administration (FDA). Color Additives Questions and Answers for Consumers. (2018).