We test and review fitness products based on an independent, multi-point methodology. If you use our links to purchase something, we may earn a commission. Read our disclosures.
The Centers for Disease Control and Prevention1 states that nearly half of all men take at least one supplement, with the most popular variety being multivitamins. The problem is that there are thousands of different supplements on the market today, and each of them wants you to believe they're the best for your health.
If you're looking for an unbiased account of the best supplements for men, we've got you covered. In addition to consulting dietary and nutritional experts, our team of certified personal trainers and nutrition coaches have tested dozens of products to find out which ones actually work and are beneficial for men's health.
To be clear, we're not saying men need all of these supplements, as some might need one and others might not require any at all. Always consult with a physician or nutritionist before introducing any supplements into your daily regimen.
Medical disclaimer: This article is intended for educational and informational purposes only. It is not intended as a substitute for medical advice. For health advice, contact a licensed healthcare provider. GGR also recommends choosing a product that has been third-party tested for quality.
The Supplement Pros With Prose
As certified personal trainers, certified nutrition coaches, and competitive weightlifters, we know the feeling of scanning nutrition store shelves and online marketplaces trying to find B12 supplements or creatine for our needs, which is why we dedicated ourselves to writing these reviews.
Unlike so many other websites, we actually test these products to see how they affect our overall health and training so we can give you real-life advice on which ones are worth your hard-earned money and which ones to avoid.
The 9 Best Supplements for Men
Best Creatine: Transparent Labs Creatine HMB
Good for: Men looking to build muscle with an easily absorbed creatine supplement
Transparent Labs Creatine HMB stands above the hundreds, possibly thousands, of other creatine supplements out there due to how easily absorbed it is. It contains a compound called BioPerine, a form of piperine (found in black pepper) that can increase the rate of absorption of other compounds it's paired with.
In this case, BioPerine helps boost the bioavailability of creatine and HMB. Creatine, as most people probably know, is linked with improved strength, recovery, and muscle mass2. 
"HMB is a metabolite of the amino acid leucine, which helps to prevent the breakdown of muscle protein and can help speed up the recovery process from strenuous exercise," explains sports nutrition expert Dr. Krissy Kendall.
To be honest, Transparent Labs Creatine HMB is far from the most affordable creatine supplement at $1.50 per serving—other companies have it for $1 or less per scoop. That said, their supplement may not be as effective as Transparent Labs'.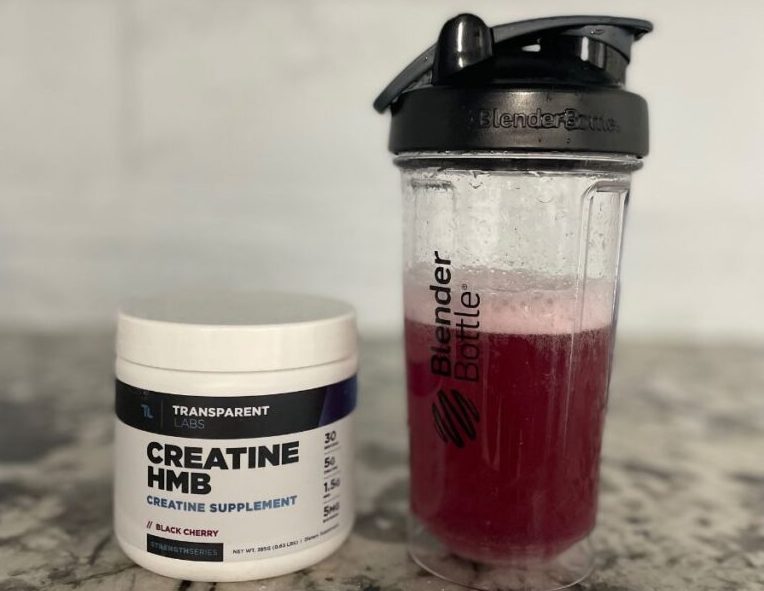 Our recommendation for the best budget-friendly creatine supplement is Optimum Nutrition Micronized Creatine Monohydrate, but you can see our top picks for best creatine for other recommendations.
There are 10 flavors of Transparent Labs Creatine HMB, plus an unflavored option.
Nicole Davis, GGR senior editor and expert product tester, wasn't the biggest fan of the Black Cherry flavor. "It tasted a bit watered down, even with the right amount of water. Some people may prefer this though! There were floaties after I finished mixing, but it didn't interfere with the overall drinking of it."
| | |
| --- | --- |
| Price per serving | $1.50 |
| Ingredients | Creatine monohydrate, beta-hydroxy beta-methylbutyrate (HMB), BioPerine |
| Flavors | Unflavored, Sour Grape, Peach Mango, Fruit Punch, Watermelon, Black Cherry, Blue Raspberry, Orange, Tropical Punch, Hawaiian Splash, and Strawberry Lemonade |
Best Protein Powder for Men: Kaged Re-Kaged
Good for: Those looking for a high-protein supplement that tastes good
Kaged Re-Kaged was an easy choice for the best protein powder for men because of its high protein content—28 grams per serving—though that's hardly the only reason. It also includes creatine and betaine, two ingredients not commonly found in protein powders but that have potent benefits on muscle mass and endurance.
Creatine is one of, if not the most researched supplement in the world and the International Society of Sports Nutrition in 20172 said almost every study linked it with improved strength and muscle mass, and it supported better recovery from weightlifting and other resistance training exercises. 
Betaine is another well-researched supplement, and an August 2013 study3 said it may support strength and muscle endurance.  
It also contains glutamine, which more than 50 studies have linked to improved muscle tissue repair and immune health, according to an April 2019 meta-analysis4. 
Re-Kaged is one of the more expensive protein powders, at $2.25 per serving. If you're looking for the best budget-friendly protein powder, our choice is Optimum Nutrition 100% Gold Standard Whey.
For more choices, check out our roundup of the best protein powders for men.
Re-Kaged comes in three flavors: Strawberry Lemonade, Orange Kream, Iced Lemon Cake. I tested the Orange Kream and it's still one of my favorite protein powders when it comes to taste because it tastes like a vanilla ice cream float made with orange soda.
| | |
| --- | --- |
| Price per serving | $2.25 |
| Flavors | Strawberry Lemonade, Orange Kream, Iced Lemon Cake |
| Protein | 28 g |
| Carbs | 2-3 g (varies by flavor) |
| Fat | 1 g |
Best Hydration Supplement for Men: Transparent Labs Hydrate V3
Good for: Improved hydration and overall health
Transparent Labs Hydrate V3 is essentially a more sophisticated and better formulated version of Gatorade in that it's meant to rehydrate you and replenish crucial electrolytes that are vital to bodily functions and overall health.
This electrolyte powder contains 500 milligrams of sodium, which is lost through sweat during intense exercise.
Sodium is needed in the body to maintain fluid balance, or the amount of water needed by cells and other organisms to maintain overall control—imagine fluid balance as a see-saw that you want to keep perfectly balanced at all times, and if it goes too much in one direction you could experience health issues.
The 500 milligram dose in Hydrate V3 falls right at the sweet spot recommended by the American College of Sports Medicine5 for those who engage in exercise that lasts longer than an hour.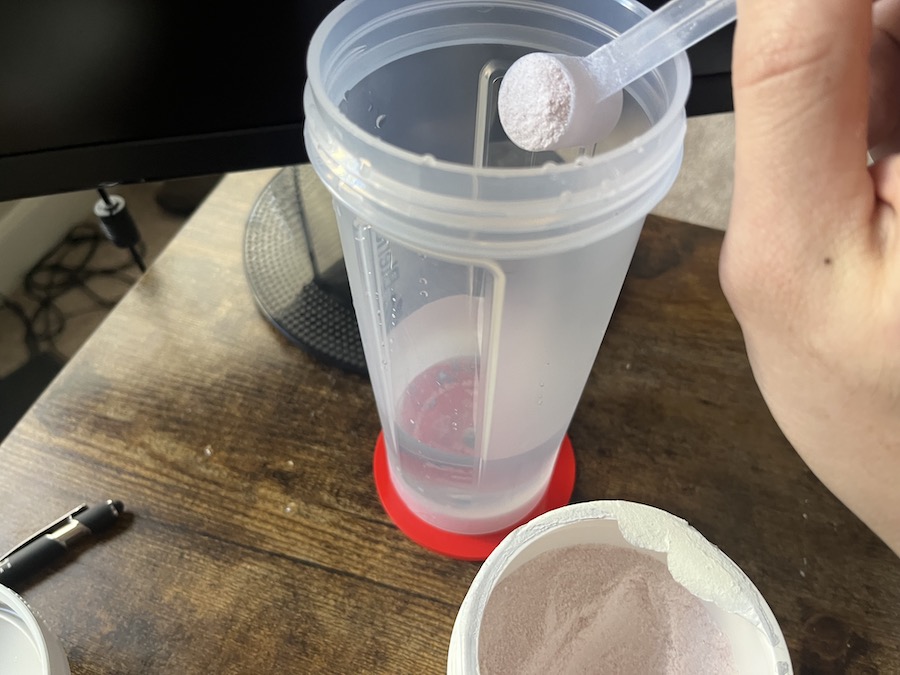 Another key ingredient is "Senactiv® adaptogenic extract," which was created by NuLiv Science to support increased muscle energy and preservation through cellular mechanisms. Adaptogens are things like ashwagandha that are purported to have mental health benefits.
St. Louis-based registered dietitian and GGR expert panel member Sydney Lappe and this writer both requested scientific papers on Senactiv from NuLiv Science, but as of this writing had not received any information about the adaptogen extract.
Transparent Labs Hydrate V3 reminds me of a concentrated Hawaiian Punch, and I notice a drastic increase in my energy levels when I take it before long endurance exercises or weightlifting.
Check out our other picks for the best electrolyte drink, including our budget-friendly electrolyte drink pick Pedialyte Sport.
| | |
| --- | --- |
| Dose Instructions | Mix 1 scoop with 8-12 oz of water 1-3 times per day |
| Electrolyte Formula | 500 mg sodium, 250 mg potassium, 84 mg calcium, 50 mg magnesium |
| Form and Flavor(s) | Powder (Tropical Punch) |
| Cost | $28.99/40 servings = $0.72/serving (or $26.09 with subscribe and save offer) |
Best Multivitamin for Men: Onnit Total Human
Good for: People who need to fill nutritional gaps or have certain vitamin deficiencies
This isn't your typical multivitamin that only requires one or two capsules—you'll actually be taking 16 pills per day. We know that's a lot, but allow us to explain why it's worth the hassle.
Onnit's day and night packs are designed to meet a number of nutritional needs with research-backed ingredients and doses. For example, you get a daily dose of Krill oil, which a September 2020 meta-analysis6 found was just as effective in supporting healthy blood pressure and heart health as fish oil. 
You also get more than your fair share of B-vitamins that "are absolutely essential for every aspect of brain function," according to a January 2016 review7.
Jacob Penner, a USA Weightlifting Level 1 Coach and member of GGR's expert panel, says one of Total Human's most potent health benefits is increased cognitive function, or alertness and ability to focus.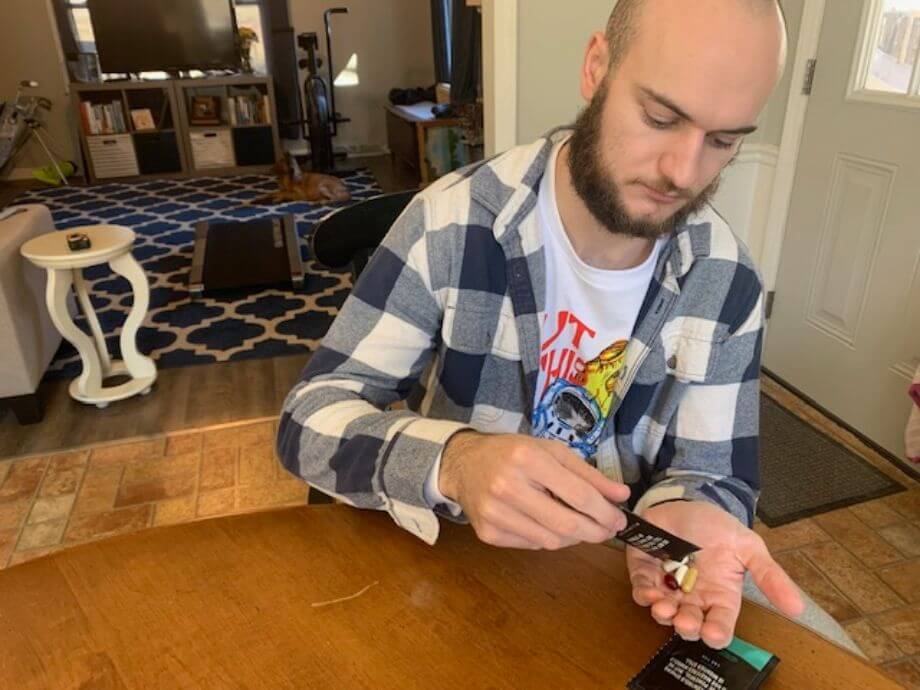 "I truly feel very good when I take these, and if I miss a day, I notice that I don't feel as good," he says. He and other reviewers have noticed some "vivid dreams" while taking Total Human, which may be due to the high amount of B-vitamins.
The one major downside is that a 30-day supply costs $138, or $4.59 per day, but that's about the same price as you'd pay if you were to purchase all those supplements separately.
If, however, you're looking for the best budget-friendly multivitamin we'd suggest NatureMade Multi for Him (15 cents per serving with high doses of many vitamins and minerals).
Check out our full Onnit Total Human review for more information.
| | |
| --- | --- |
| Notable ingredients | B-vitamins, spirulina, Alpha BRAIN, Shroom TECH Sport, krill oil, vitamin E, copper, zinc |
| Dose | 1 day pack (8 pills) and 1 night pack (8 pills) |
| Price per serving | $4.59 |
| Third-party testing? | N/A |
Best Multivitamin for Men Over 50: Ritual Essential for Men 50+
Good for: Men over 50 who are looking to maintain optimal nutrition
A May 2019 review8 found that men 50 and over generally eat less food and, as a result, have more nutritional deficiencies than when they were younger. Ritual Essential for Men 50+ is designed to meet those needs with ingredients that may also support healthy testosterone levels. 
Zinc is one of those ingredients, and a February 2015 review9 also found it may have anti-aging effects (though more research is needed to back up those claims). 
It also contains vitamin K, which a September 2019 review10 said could help with blood and cardiovascular health in older adults and may alleviate some symptoms of osteoporosis (weakened bones). Stronger bones can reduce the risk of injuries in older adults, especially those who are prone to falls. 
Finally, an April 2019 study11 linked Vitamin A with a decrease in age-related vision loss.  
We like Ritual because they have a traceable supply chain, meaning you can find out exactly where they source their vitamins and minerals by visiting their website. One complaint we and some customer reviewers have is that the capsules have a minty essence, which isn't too strong but may be off putting to some people.
Looking for more recommendations? Check out our roundup of the best multivitamins for men.
| | |
| --- | --- |
| Notable ingredients | Vitamin A, vitamin D3, vitamin E, folate, vitamin B12, magnesium, zinc, boron, omega-3 DHA, vitamin K2 |
| Dose | 2 capsules |
| Price per serving | $1.30 |
| Third-party tested? | Yes |
Best Fiber Supplement for Men: Transparent Labs Prebiotic Aquatic Greens + Fiber
Good for: Those looking to improve their overall digestion and gut health
Many fiber supplements will just help with improving your bowel movements (and don't get us wrong, that's very important), but Transparent Labs Prebiotic Aquatic Greens + Fiber takes it a step further by also supporting overall gut health.
Every scoop contains 3 grams each of spirulina and chlorella, both of which are so-called "superfoods" that can help reduce inflammation in the body due to their high antioxidant content. An August 2020 meta-analysis12 found many benefits of chlorella, including "a large amount of good quality protein, dietary fibers, and polyunsaturated fatty acids," and improved immune system function.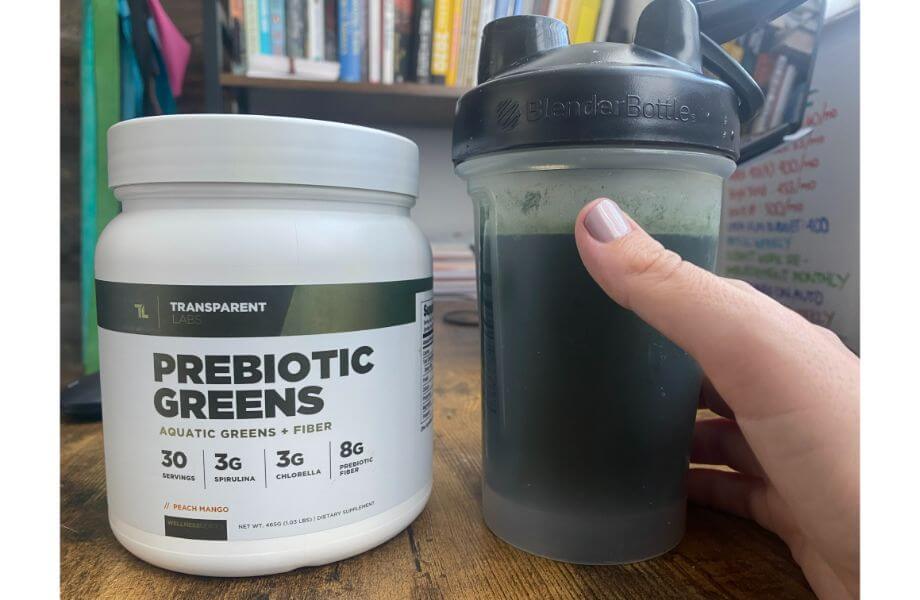 One downside, however, is that both spirulina and chlorella are algae, so some of the micronutrients in them, specifically Vitamin B12, may not be as bioactive—meaning the plant-based sources aren't as easily absorbed by the body as animal-based nutrients, according to a June 2022 study13. 
This fiber supplement also contains prebiotic fibers—sourced from organic acacia fiber, green banana flour, and Jerusalem artichoke fiber—to treat digestive issues such as constipation.
Transparent Labs Prebiotic Aquatic Greens + Fiber comes in unflavored and peach mango. GGR senior staff writer Amanda Capritto says the peach mango still tastes a bit "grassy," but she still enjoyed it.
For a budget-friendly fiber supplement, go for Benefiber Unflavored Daily Fiber Powder or check out our best fiber supplement roundup.
| | |
| --- | --- |
| Dose instructions | Mix 1 scoop with 8 oz of water, juice, or your favorite beverage. Consume up to 3 times daily or as directed by your physician. |
| Main Fiber Sources(s) | Spirulina, chlorella, acacia fiber, Jerusalem artichoke fiber, green banana flour |
| Amount of Fiber Per Serving | 4 g |
| Cost | $45.99 / 30 servings = $1.53 per serving |
Best Omega-3 Fish Oil Supplement for Men: Kaged Omega-3
Good for: Men looking after their heart health (and potentially their sexual health, too)
Kaged Omega-3 is a high-dose fish oil supplement that contains 3,000 milligrams of fish oil, with 1,000 milligrams coming form eicosapentaenoic acid (EPA) and 900 milligrams from docosahexaenoic acid (DHA)—both of which are so-called "good fats."
You're probably familiar with some of the overall benefits of EPA and DHA fatty acids, such as improved heart and blood health, healthy blood pressure levels, and reduced inflammation. It goes without saying that those are beneficial to everyone, men and women, but there are also some potential benefits specific to men.
A May 2019 review14 of 16 studies on fish oil supplements found they may help improve sperm quality in infertile men, and a January 2020 study15 conducted on more than 1,600 Danish men saw improvements in testicular function. Researchers for both studies, however, clarified that more information was needed on how fish oil supplements could be used to treat men's sexual health. 
Some fish oil supplements may cause burping, though Kaged doesn't have that side effect. They also use 100 percent wild-caught anchovies to source their omega-3 fatty acids and have a number of certifications from sea life organizations for following safe fishing practices and reducing any dangers to other sea creatures, such as dolphins.
Our choice for the best budget-friendly fish oil supplement goes to Kirkland Fish Oil, but you can find other options in our best fish oil supplement roundup.
| | |
| --- | --- |
| Dose instructions | 2 softgel capsules/day with food |
| Primary source(s) | Fish oil; 100% wild-caught anchovies |
| EPA + DHA per serving | 1,100 mg of EPA900 mg of DHA |
| Cost per serving | $29.99/30 servings = $1.00/serving |
Best Gut Health Supplement for Men: Biotics 8
Good for: Men looking to relieve digestive issues and improve their overall gut health
Biotics 8 contains two distinct advantages over most gut health supplements: It doesn't have to be refrigerated (so you can take it on the go) and it contains prebiotics to help the probiotics do their job.
Probiotics are the "good" bacteria that are beneficial to your overall gut health, and prebiotics act as food for the probiotics.
Biotics 8 also contains Vitamin D, which isn't commonly found in probiotics but has been found to reduce overall disease risk in men and improve health markers like insulin sensitivity, according to this January 2021 meta-analysis16.
The International Society of Sports Nutrition published a paper in December 201917 stating that probiotic supplementation could slow age-related declines of testosterone levels, though they and Bauer Nutrition say it may take up to a month of continuous use to see such side effects. 
Biotics 8 also contains a number of probiotic strains that have been shown to reduce digestive issues such as constipation and diarrhea.
The Vitamin Shoppe Ultimate 10+ Probiotic is a great budget-friendly probiotic supplement, but you can view our other top picks for best probiotic for men, too.
| | |
| --- | --- |
| Dosing instructions | 2 capsules/day (16 billion CFUs) |
| Strain(s) | Lactobacillus acidophilus, Lactobacillus casei, Lactobacillus paracasei, Lactobacillus rhamnosus, Lactobacillus plantarum, Lactobacillus fermentum, Bifidobacterium longum, Bifidobacterium bifidum, Bifidobacterium breve, Saccharomyces Boulardii |
| Storage | No refrigeration required |
| Cost | $2.00/serving in 30-serving container |
Best Pre-Workout Supplement for Men: Kaged Pre-Kaged Elite
Good for: Men looking for an effective pre-workout to help fuel their training regimen
Kaged Pre-Kaged Elite's ingredient list is about the length of a fantasy novel compared to other pre-workout supplements, but after looking into each it's clear that every one serves a unique purpose. While the 1.5 grams of creatine is below the recommended dose of 3-5 grams to help support muscle strength and endurance2, researchers found that even low doses had benefits such as improved body composition2.
RELATED: Creatine vs Pre-Workout
Another notable ingredient is taurine, which a November 2012 review18 said "plays an important role as a basic factor for maintaining cellular integrity in the heart, muscle, retina, and throughout the CNS," and stated that it could act as a neurotransmitter (the chemical messengers sent by your brain to command bodily functions). 
There's 274 milligrams of caffeine, which is about three 8-ounce coffees, and we don't have to tell you about the benefits of caffeine in pre-workout—especially if you're someone who works out early in the morning. The International Society of Sports Nutrition in March 201819 said caffeine could also help support increased muscle power and strength.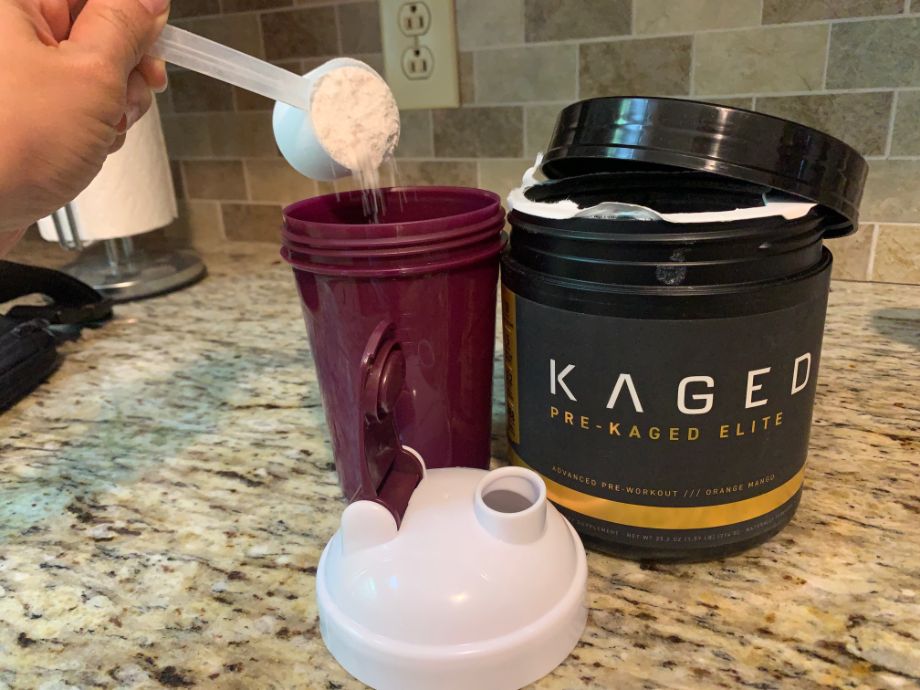 Lastly, there's a very high amount of B-Vitamins, including more than 41,000% of your daily value of Vitamin B12—but don't worry, the National Institute of Health's (NIH) Office of Dietary Supplements20 states that there's no such thing as an dangerous dose of Vitamin B12 because the body does not hold excess amounts (i.e., anything the body doesn't use is flushed down the toilet…literally). 
The reason they add that much B12 is because the vitamin is used to help deliver oxygen to your muscles.
C4 Pre-Workout is a great budget-friendly and beginner's pre-workout, but we have many other picks for the best pre-workout for men.
| | |
| --- | --- |
| Price per serving | Around $2.25 |
| Key ingredients | Citrulline, beta-alanine, creatine, caffeine |
| Flavors | Grape, Fruit Punch, Pink Lemonade, Berry Blast, Krisp Apple, Orange Crush, Cherry Bomb |
Supplements Men Should Take
We won't be recommending products in this section, but rather we'll be digging into some of the top vitamins, minerals, and other dietary supplements that may be good for men.
Again, you may not need any of these supplements, but dietary experts generally agree that these are the ones that men should pay close attention to.
Vitamin D
Vitamin D supplements have a number of benefits, including increasing calcium absorption, supporting improved bone health and density, and reducing inflammation, but a December 201021 study showed it could also help support increased testosterone levels. 
B-Vitamins
In addition to being called "absolutely essential for every aspect of brain function," B-Vitamins are also essential for cellular function7. 
Omega-3
Omega-3 has profound effects on your heart health, and may help improve certain aspects of men's sexual health14, 15. 
Zinc
A December 2022 review22 on zinc found it could reduce the risk of prostate cancer and improve overall prostate health.
Selenium
The Harvard School of Public Health23 states that selenium helps maintain proteins called selenoproteins, which are heavily involved in reproduction. Selenium also plays a role in thyroid health and protects cell membranes from damage23.
Probiotics
Probiotics help alleviate digestive issues like diarrhea, but also may help men maintain optimal testosterone levels17. 
Saw palmetto
Saw palmetto was first used by Native Americans in the 1700s to treat urinary tract infections in men and treat men's sexual health, and modern-day doctors in a March 2009 review24 confirmed that it indeed has many properties that make it beneficial for men's overall wellness.
How We Picked and Tested the Best Supplements for Men
It's hard to give a testing methodology since we covered so many types of supplements here, though there are a few common things we keep in mind when choosing the best supplements.
Dosage
Regardless of what the supplement is, it should have a clinically-backed dose of whatever ingredients it boasted on the label.
Quality
Not all proteins, creatine, or fish oils are created equal, so we looked for the highest quality ingredients in every supplement.
Transparency
Companies should clearly state what's in their supplements and how much of each ingredient is in a container.
Value
The price should match the supplement's overall quality—meaning a low-dose supplement should not be expensive.
Buying Guide: What to Look for in Supplements for Men
Here are a few things to keep in mind when shopping for a supplement for men (whether you are one or you're shopping for one).
Ingredients
Look at the ingredients list and check to see whether a company adds certain things that might be harmful to your health, or that you might be allergic to.
Dosage
The nutrition label should tell you exactly how much of each ingredient is in a product. Some companies might use proprietary blends, which is when a group of compounds are grouped together so companies don't have to tell you how much of each is in it. With very few exceptions, this is usually an indication that the ingredients are under-dosed.
Quality
Do a little research and determine whether the ingredients are high quality. For example, certain fish oil supplements might use fish of lesser quality.
Budget
Make sure the supplement is within your budget, and if it's a little more than you were anticipating, make sure it's worth the investment.
FAQs About Best Supplements for Men
What is the best supplement for men?
What are the 5 most important supplements?
Most doctors and nutritionists would list these five supplements as the most important for men: 
Vitamin D
B-Vitamins
Omega-3
Zinc
Selenium
Probiotics and saw palmetto are two other supplements vital to men's health. 
What is the most important supplement to take daily?
The most important supplement to take daily is the one that addresses your individual nutritional needs, which might be increased protein intake or supplementing a certain vitamin or mineral.
These statements have not been evaluated by the Food and Drug Administration. This product is not intended to diagnose, treat, cure, or prevent any diseases.
References