We test and review fitness products based on an independent, multi-point methodology. If you use our links to purchase something, we may earn a commission. Read our disclosures.
Functional trainers are not what most people would consider compact exercise equipment, but they are one of the most versatile exercise machines on the market. So do you wait until you can afford a larger home gym to get one? Absolutely not.
Instead, we recommend reading our Titan Wall Mounted Pulley V3 review to get a look at this space-saving piece of equipment that can help shake up your training routine. We've tested and researched nearly every functional trainer out there and this is one we highly recommend for many home gym owners, especially if you're tight on space.
Have a Home Gym Question? Our Experts Are Here for You
The Garage Gym Reviews team is made up of certified personal trainers, CrossFit Level 1 Trainers, and competitive endurance athletes who have trained out of garage gyms, apartments, basement gyms, and even in the middle of nowhere while on a cross-country road trip. Odds are, if you have a question about the best piece of equipment for your home gym, we'll have an answer.
Not only do we have thousands of reviews on everything from functional trainers to barbells and dumbbells, but we also have a YouTube channel and social media channels where you can get more great reviews and tips and tricks on how to build your own Iron Paradise. Think of us as a personal trainer and interior home gym designer all wrapped into one reliable brand.
Titan Wall Mounted Pulley
GGR Score: 3.5
Product Highlights
Wall-mounted pulley tower with a 350-pound weight capacity 

Functionality of a functional tower with smaller footprint 

2" x 2" steel tubing 

Included: Wall-mounted functional tower, spring clips, dual stirrup handles, wall-mounting hardware

Additional accessories available: triangle grip attachment, stainless steel lat bar, tricep rope pulldown attachment, V-shape tricep press down bar, multi-grip cable attachment
Pros & Cons
Pros
Relatively affordable
New and improved version 3
Free shipping
Pulley tower with smaller footprint
Rubber feet to protect flooring
Wall mounting hardware included
Cons
Short warranty at 1-year
May take time to arrive—can be backordered
Customers recommend watching YouTube video for assembly
Customers complain pulleys feel low-quality
Bottom Line
The Titan Fitness Tall Wall Mounted Pulley Tower V3 is a great value if you are looking to add a pulley system to your home gym.
A Quick Look at the Titan Wall Mounted Pulley V3
The Titan Fitness Wall Mounted Pulley V3 is a wall-mounted, plate-loaded functional trainer that increases the amount of exercises one can do in their home gym. This allows the user to do everything from lat pulls to low rows, all for a fraction of what a regular functional trainer costs while also taking up a fraction of the space.
The Titan Wall Mounted Pulley previously had two poles, but now has just one for a smoother workout experience and to save space. It also comes with a modified mounting bracket at the bottom for installing into walls with baseboards.
The Titan Wall Mounted Pulley V3 comes in a short and tall version— the short version is 80.5 inches in height and the tall is 84.5 inches.
Before You Buy
As of this writing, this product is on backorder and may take more than a month to ship to your door.
Titan Fitness has a 30-day return policy but the item must be unused and in its original packaging.
Is the Titan Wall Mounted Pulley V3 Worth It?
Both the short and tall versions of the Titan Wall Mounted Pulley V3 are under $300, which is a fantastic price for a piece of equipment that usually runs several thousands of dollars. It also has one of the highest home gym equipment honors there is: Coop's stamp of approval.
"Overall, for a home gym owner on a budget, I don't know of a lower price stand-alone cable system that can do as much as the V3 Pulley," says Coop, GGR founder and functional trainer aficionado.
However, this machine isn't meant for everyone. Here's who we think might like it and who should consider something else.
Great for:
Those on a budget
Home gym owners with limited space
People looking for a versatile piece of equipment
Not recommended for:
Anyone who wants a trainer that fits into a squat rack
People who can't drill into their walls
Those looking for a dual-stack functional trainer
Titan Wall Mounted Pulley V3 Specs
Footprint
Short: 27.5" D x 25" W x 80.5" H
Tall: 27.5" D x 25" W x 84.5" H
Weight
Short: 60 lbs
Tall: 65 lbs
Weight capacity
350 lbs
Adjustment positions
18
Material
2" x 2" steel tubing
Weight sleeve length
8.75".
Weight sleeve diameter
25.4 mm
Finish
Powder-Coated Black
Pulleys
Nylon
Warranty
One year
Using the Titan Wall Mounted Pulley V3
Coop actually recommended the Titan Fitness Wall Mounted Pulley Tower in his best functional trainers YouTube roundup. You can watch the full video here:
To summarize his thoughts, Coop believes this single-stack functional trainer has the best value of any ultra-budget cable machine. He also points out that you can easily purchase a second Titan Wall Mounted Pulley and place the two next to each other, essentially creating a DIY full-sized, plate-loaded functional trainer.
One of the many things Coop likes about the wall mounted pulley tower V3 is you can adjust the pulley ratio from 2:1 to 1:1 just by joining the cables. For those who don't know, a pulley ratio refers to how many pounds of force you're pulling on a cable machine—so 10 pounds on a machine with a 2:1 ratio is actually five pounds.
One of the disadvantages of single-stack machines is you can only do unilateral exercises, or moves that only target one side of the body. However, the Titan Fitness pulley has slightly longer handles so you can do moves like chest flyes that target the left and right side.
The Titan cable tower is plate-loaded, meaning the resistance is created via weight plates (can be Olympic or any other kind) instead of a weight stack as you see in functional trainers found in most commercial gyms. Budget cable stations, like Titan's, will always be plate-loaded because they're easier to ship and cheaper to produce.
That said, you do get to load up to 350 pounds on this machine so it's a great investment for people who want to lift really heavy weights.
As one might expect with budget home gym equipment, there are parts that are, shall we say, a little less than "high-quality." One example of this in the Titan pulley is the use of nylon pulleys instead of aluminum. The pulleys are those little wheels that help guide the cables and provide tension.
Nylon pulley wheels are cheaper to produce than aluminum pulleys but they actually have an advantage over their bourgeoisie counterparts—they don't tear apart the cables and cause them to fray. That means cables with nylon pulleys will last longer, which is why you often see them in commercial functional trainers.
However, nylon pulleys aren't quite as "smooth" as aluminum pulleys, so some movements might feel awkward.
Back on the bright side, the tower has 18 adjustment points to allow you to target various muscle groups from different angles.
Just want to train lats? Check out our Titan lat tower review.
Footprint
The Titan Wall Mounted Pulley V3 is designed to be space-friendly. It has two height versions: a short 80.5 inches and a tall 84.5 inches. Both are meant to be mounted to the wall, hence the name, and are 27.5 inches in depth.
The full-sized Titan Fitness Functional Trainer, for comparison's sake, is 44 inches in depth, 64 inches in width, and 82 inches tall.
Durability and Construction
The Titan Wall Mounted Pulley V3 is made with two-inch by two-inch steel tubing, which has a wall thickness of less than a quarter inch. In other words, it's not the thickest or most durable piece of steel, but with proper care and maintenance should last for many years. The steel tubing is powder coated black.
The nylon pulleys are used in commercial models since they don't tear the cables, though the tradeoff is the cables aren't as smooth as on aluminum pulleys.
Titan Wall Mounted Pulley V3 v. Torque F9 Fold-Away Strength Trainer
Torque Fold-Away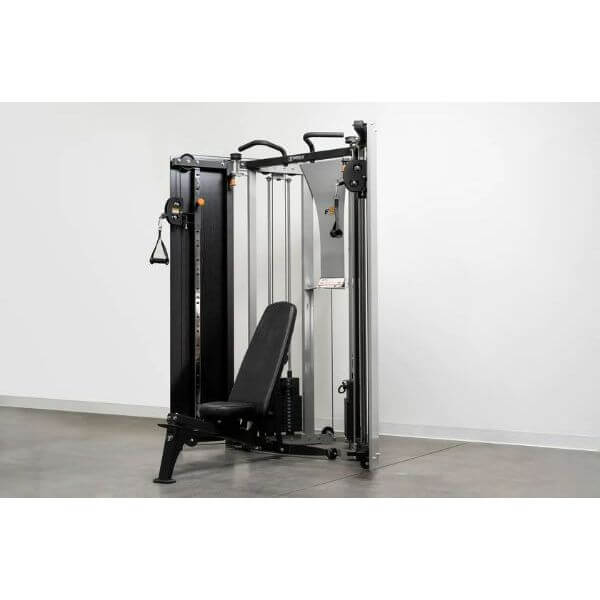 Product Highlights
Compact functional trainer 

Fits in a 3-foot-by-3-foot corner

Comes with fold-away doors 

Available in 3 different weight stack sizes 

6 different accessories available
Pros & Cons
Pros
Compact and easy to store
Well-designed and versatile
Perfect for a gym looking for a space-saver
Cons
Reviews show that assembly is difficult for some
Expensive (especially the 225 LB stack)
Bottom Line
The F9 Fold-Away Functional Trainer is a full trainer with a small footprint that can be easily stored. Its design is sturdy and versatile, it even comes with a handful of accessories to help you customize your workouts.
If you're more concerned about space than you are budget, then perhaps the Torque F9 Fold-Away Strength Trainer is the better option for you. This functional trainer is free-standing, so it doesn't have to be mounted to a wall, has dual weight posts going up to 225 pounds (2:1 pulley ratio), and has a small footprint and folds away (which is also great if you have little children running around).
The one downside is that it will run you anywhere from $2,400 to $2,700 before taxes and shipping, though it can be financed.
Titan Wall Mounted Pulley V3
Torque F9 Fold-Away Strength Trainer
Footprint
Short: 27.5" D x 25" W x 80.5" H
Tall: 27.5" D x 25" W x 84.5" H
Doors open: 64.4" L x 64.4" W x 83.8" H

Doors closed: 37.7" L x 37.7" W x 83.8" H
Weight capacity
350 lbs (2:1 ratio)
150 lbs, 200 lbs, 225 lbs (2:1 ratio)
Tower(s)
One
Two
Material
Two-inch by two-inch steel tubing
Three-inch by two-inch steel tubing
Pulleys
Nylon
Nylon
Returns, Financing, Warranty
Titan Fitness has a 30-day return policy but clearly states the product must be unused and in its original packaging—if it's not, it's unlikely you'll get a full refund (minus shipping and handling, of course).
Titan Fitness offers financing on all of its products and can tell you if you're pre-approved at checkout.
The Titan Wall Mounted Pulley V3 only comes with a one-year warranty (you typically see at least five years coverage on things like the frame) and online customer reviews stated it was sometimes difficult to contact customer service.
Ordering and Assembling the Titan Wall Mounted Pulley V3
Be aware that the tall and short versions of the Titan Wall Mounted Pulley V3 are on different webpages. After finding the one you want, simply click add to cart, put in your shipping and billing information, and wait for it to arrive. Titan Fitness has said they're experiencing backorder issues, which may cause a delay in shipping.
Most customer reviews agree assembly should take under an hour, which includes unboxing the cable pulley system and mounting it to the wall.
Customer Reviews
The Titan Wall Mounted Pulley V3 has a 4.6 average rating with more than 125 reviews.
Most negative customer reviews revolved around poor customer service, though some complained of shoddy craftsmanship.
Final Verdict of Our Titan Wall Mounted Pulley V3 Review
The Titan Wall Mounted Pulley V3 is the perfect example of why we answer so many home gym equipment questions with, "It depends." Here's what we mean: Is this product right for you? Well, it depends on how big your home gym is and what your budget looks like.
If the answer to both is "small," then yes, this product is for you. But if you have a larger home gym and a bigger budget, then there are better options for you.
Again, it depends.
Titan Wall Mounted Pulley V3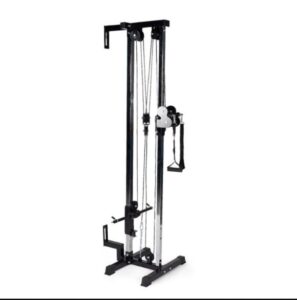 Our Titan Wall Mounted Pulley V3 review examines this budget-friendly functional trainer to let you know if it's right for you.
Product Currency: USD
Product Price: 259
Product In-Stock: InStock
Titan Wall Mounted Pulley V3 FAQs
Are home pulley systems worth it?
Absolutely! Home pulley systems allow you to add exercises like lat pulldowns, chest flyes, and low rows to your training regimen, giving you more versatility and the ability to target muscle groups from different angles.
What can you do with a pulley tower?
You can do most things that a functional trainer or cable machine can do (with the exception of pullups since there's no pullup bar), so that includes triceps pushdowns, cable curls, and cable crossovers.
Is the Titan Wall Mounted Pulley V3 worth it?
At less than $300, the Titan Wall Mounted Pulley V3 is a great investment for any home gym owner who's tight on space or money. The pulleys are nylon, which aren't as smooth as aluminum pulleys, but that means the cables will last longer.