We test and review fitness products based on an independent, multi-point methodology. If you use our links to purchase something, we may earn a commission. Read our disclosures.
Your friends here at Garage Gym Reviews are not new to specialty gym equipment like the trap bar. Our team of expert product testers has used more than 30 different trap bars and hex bars since the launch of GGR in 2014.
We've even taken our hands-on experience and curated a list of the best trap bars for garage gyms. In fact, the bar we're covering in this Titan Open Trap Bar review is our pick for best trap bar for deadlifts.
Strength And Conditioning Pros At Your Service
At GGR, our team is staffed with fitness industry professionals ranging from triathletes and Olympic weightlifters to certified personal trainers and nutrition coaches.
When it comes to barbells, we not only like to talk about them—we actually lift and are well-versed with barbell anatomy and knurling types.
For this open-ended trap bar, OG product tester and founder of GGR, Coop Mitchell, personally tested the Titan Open Trap Bar with deadlifts, rack pulls, shrugs, and lunges.
Titan Open Trap Bar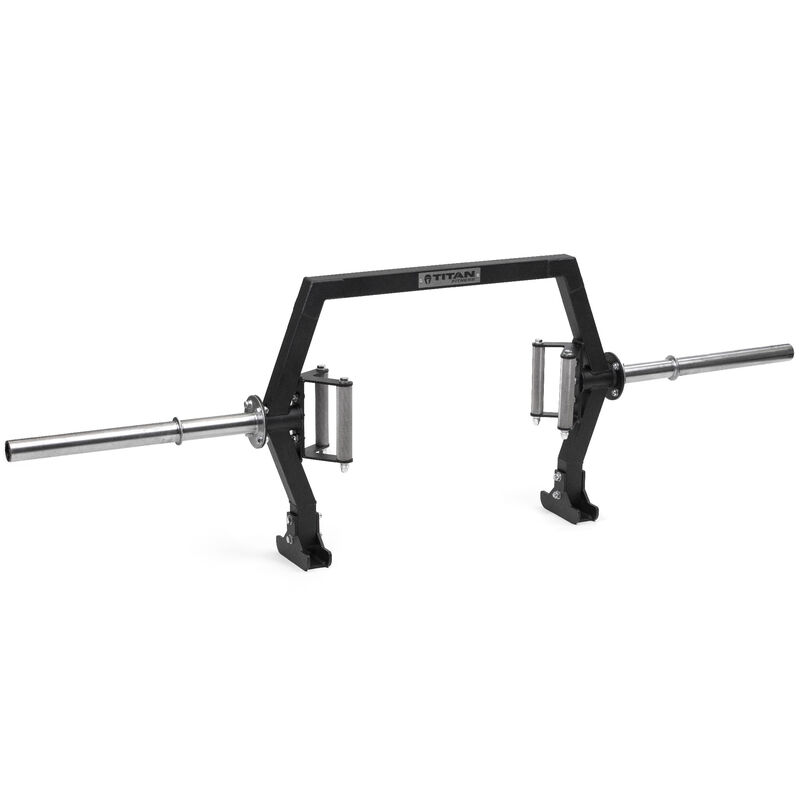 GGR Score: 4.06
Product Highlights
Trap bar with an open-ended frame

Designed for deadlifts, carries, lunges, and shrugs

Built-in bar jack for easy loading and unloading
Pros & Cons
Pros
Compatible with most standard power racks
Sleeves compatible with Olympic-sized weight plates
Easy loading and unloading weights
Medium knurling handlebars
Cons
65-lb design might be too heavy for beginners
Long footprint could be cumbersome
Bottom Line
The Titan Fitness open trap bar offers a heavy-duty design for anyone looking to add versatility to deadlifts, lunges, shrugs, and farmer's carry exercises. The open-ended design allows you to easily walk in and out of the bar. Plus, you can utilize the built-in bar jack for quick, easy, and safe loading of weight plates.
A Quick Look at the Titan Open Trap Bar
Titan Fitness is a brand that offers some of the best budget home gym equipment for home gym owners. You can find everything type of freeweight you might need for your garage gym, including straight bars, safety squat bars, bumper plates, dumbbells, adjustable kettlebells, squat racks, and weight benches.
You can pretty much outfit your entire gym through Titan Fitness at reasonable prices—without the cost of shipping, too.
Before You Buy
Check out our Titan Fitness coupon code page for potential sales or deals
Designed for pulling movements like deadlifts, racks pulls, farmer's carry, and shrugs
Box tube construction offers ultimate durability but less versatility
Titan Open Trap Bar Video Review
Is the Titan Open Trap Barbell Worth It?
If you're shopping for an open-ended trap bar and your main purpose is to deadlift, this bar will function exactly as it's supposed to. It's also reasonably priced at $350, far less than some of the $700 and $800 high-end competitor bars on the market.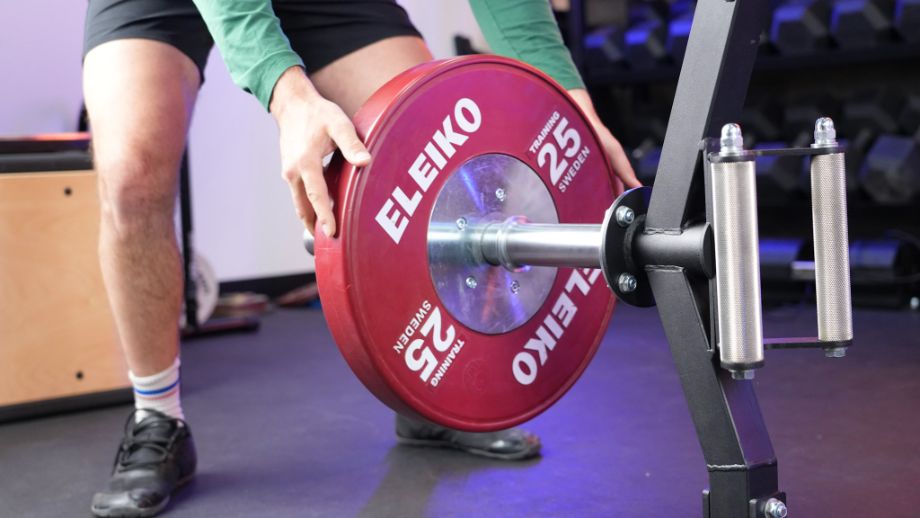 However, if you want a multi-functional trap bar for more than just deadlifts and pulling accessories, this is not the right bar for you. The construction of this barbell is not suited for squatting and benching like other open trap bars (like the open-ended barbell featured in our Eleiko Ӧppen Deadlift Bar review).
Great for:
Heavy deadlifts
Budget-conscious gym owners
Farmer and suitcase carries
Powerlifters
Not recommended for:
Beginners or young athletes
Squatting or benching
Small home gyms
Versatility
Titan Open Trap Bar Specs
| | |
| --- | --- |
| Price | $349.99 |
| Dimensions | 88.5" L x 9.5" W x 27.5" H |
| Distance between grips | 23" |
| Grip diameter | 32 mm and 38 mm |
| Grip length | 7.25" |
| Loadable sleeve length | 16" |
| Sleeve diameter | 50 mm |
| Knurling | Medium diamond texture |
| Finish | Black powder coat frame, hard chrome sleeve |
| Material | 11-gauge steel |
| Weight | 65 lbs |
| Weight capacity | 1,500 lbs |
| Warranty | 1 year (2- and 3-year warranties available for purchase) |
Other Similar Titan Products
Using the Titan Open Trap Bar
The Titan Open Trap Bar is unlike a traditional hex barbell because of the open-ended design. The walk-through design makes it easy for lifters of any height to easily step in and out of the footprint.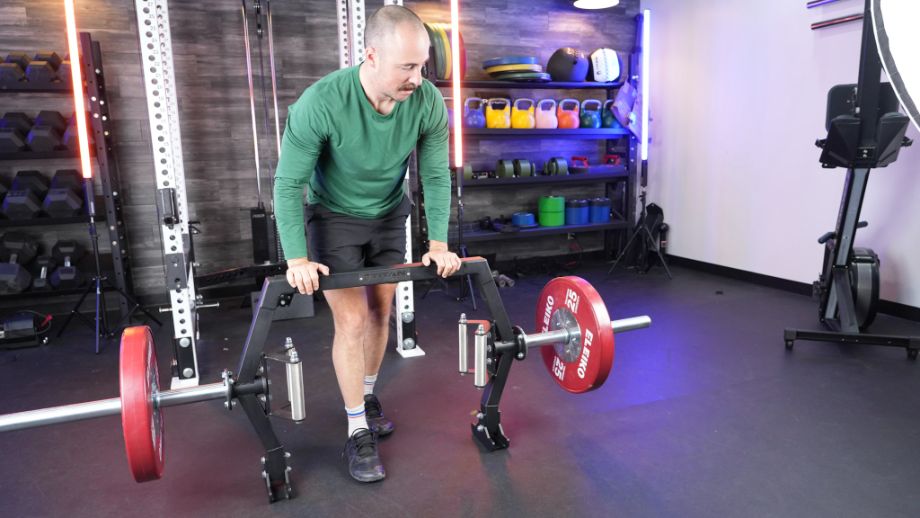 Overall, Coop is impressed with the value and strength saying, "It has great knurling, it's open-ended, extremely rigid, offers a huge weight capacity, a durable design, and all at a good price. I like it."
And I can't disagree with him for $350. The Open Trap Bar also features a built-in deadlift jack and 16-inch loadable sleeves. Plus, this rackable trap bar can be used in most squat racks and power racks for rack pulls and shrugs.
RELATED: How to Rack Pull
Here are some features you can expect on the Titan Fitness Open Trap bar:
Dual handles
Rackable
Deadlift jack built-in
Open design
Quality knurled handles
One of Coop's favorite features is the knurling on the dual handles. One features a 32-millimeter diameter, and the other is a bit thicker at 38 millimeters. Coop even goes on to say, "This is the best knurling on any type of Titan Fitness product I've tested."
RELATED: What is Barbell Knurling?
"Trap bars are often way too sharp; this one is dialed. It's a hybrid between a mountain-style depth and sharpness mixed with a volcano-style grip," says Coop. "It's not crazy aggressive, but when you grip it, there's no worry about losing it."
Dimensions and Barbell Weight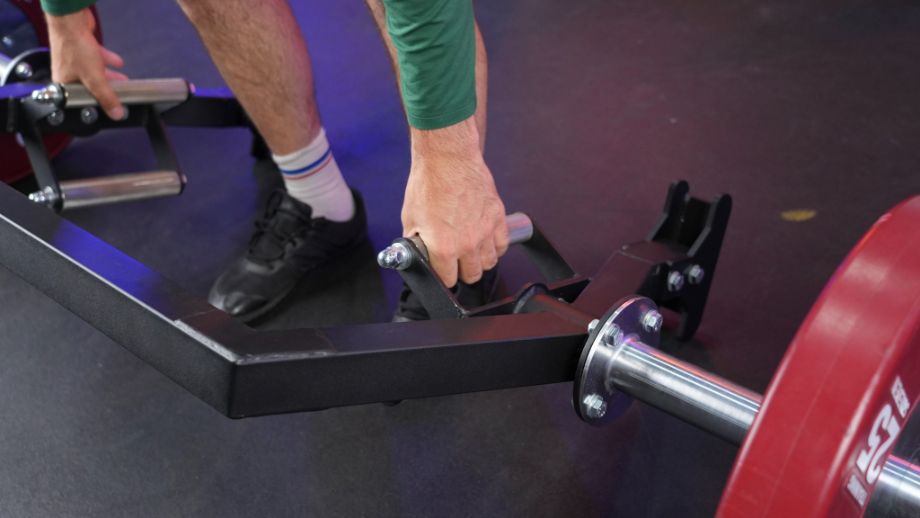 The Open Trap Bar from Titan is not a short and squat barbell like a traditional hex bar. It's 88.5 inches long (which is over 7 feet), 9.5 inches wide, and 27.5 inches tall. When you watch Coop's video review, you'll see him slowly finagle the bar into a squat rack with many minor adjustments.
The length offers two positive things: It's rackable, and the loadable sleeve is 16 inches long, which allows for heavy lifting (using traditional weight plates or any of our top picks for best bumper plates).
While the barbell itself is long, when it comes to the distance from handle to handle, it's actually shorter. Speaking as a certified personal trainer (CPT), I think this is an appealing feature if you have a narrow frame. If you're on the smaller side, holding onto a traditional hex bar for a trap bar deadlift (with such a wide grip) doesn't allow your back to stay tight with your shoulder blades locked in place.
The Titan Open Trap Bar solves this problem with a more narrow distance between the handles. The handles are set only 23 inches apart, which is 1.5 inches more narrow than the brand's traditional Olympic Hex Weight Bar.
It's also rackable for 47- and 49-inch squat racks. That said, while testing, Coop used the Titan Open Trap Bar on a REP Fitness 47-inch power rack for rack pulls and found that the bolts hit the spotter arms every time he put the bar down. He notes that 47-inch racks will still be suitable for racking on your J-cups or using safety straps versus spotter arms.
Lastly, the weight of the Open Trap Bar is 65 pounds, which is on par for other hex bars and open trap bars on the market. However, Coop does warn that if you're someone who prefers a lighter starting weight or other people in your family need or want a lighter starting weight, it's something to keep in mind.
RELATED: How Much Does a Barbell Weigh?
Construction and Durability
This is an extremely strong and durable open trap bar. It's constructed from heavy-duty 11-gauge 50-millimeter-by-50-millimeter box tubing (which is part of the reason this bar is so heavy).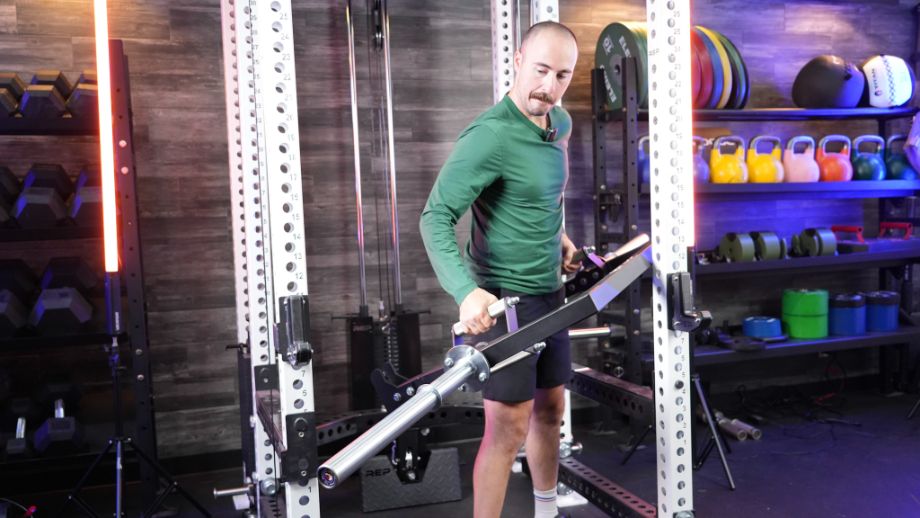 "The tube steel with welded corner braces makes it pretty obvious when this is in hand that it's a very solid and strong bar," says Coop. He also mentions that while the welds are done well, it's not at the same high-end level as more expensive competitors.
Because of this rigid construction, "This is made to support 1,500 pounds. No one should ever have to worry about the durability of this bar. That's the biggest selling feature," says Coop.
RELATED: How to Deadlift Heavier
Additionally, the chrome plate on the handles and the barbell sleeves are quality and are likely to hold up to the wear and tear of home gym use. Coop admits he prefers to see stainless steel but understands that for the price point, the chrome plate functions well.
Barbell Balance and Built-in Deadlift Jack
The drawbacks to the Titan Open Trap Bar lie within the balance of the barbell and the built-in jack. When an open trap bar or traditional hex bar is unbalanced, the barbell doesn't stay parallel to the floor after you load it with weight.
"It's very unbalanced when you set up to lift; it doesn't just kind of fall forward, it straight-up dumps forward," says Coop. He mentions this dramatic dump is likely related to the heavy-duty design and box tubing.
"However, there is a patent on a balanced trap bar, so to avoid a lawsuit—I'm guessing—they made sure to dump it forward, so you can't blame Titan for that," adds Coop.
The other issue Coop mentions is the deadlift jack—the design of the jack props the weight plates nearly 6 inches off the ground. Other open trap bars give just enough clearance to slide plates on and off the bar, not usually a multiple-inch gap. "It takes more effort to lift up, especially when you're lifting heavy weights," notes Coop.
"I don't understand why they made it so big and made the plates sit so high off the ground. It's not a deal breaker, just confusing as to what benefit having it sit so high off the ground is," says Coop.
Titan Open Trap Bar Vs REP Open Trap Bar
REP Open Trap Bar
GGR Score: 3.8
Product Highlights
Removable handles turns this trap bar into a cambered-design bar that can be used for squats, lunges, and presses
Costs around $400 (good price for a trap bar)
6 inches of knurling on the frame
Chrome-plated sleeves
1,350-lb weight capacity
Pros & Cons
Pros
Removable handles increase its versatility
Rackable
Durable chrome coating on sleeves
Costs around $400
Cons
Not the most stable trap bar
Handles are wider apart than other trap bars
Knurling leans on the passive side
Bottom Line
The REP Fitness Open Trap Bar is a great value specialty bar filled with features that separates it from the competition.
The REP Fitness Open Trap Bar is one of the most similar bars in price and construction. However, the REP Open Trap Bar is made with rounded tubing and can be used as a camber bar for squatting and pressing movements.
The REP version proves more versatility, but the Titan bar has a heavier weight capacity. Coop even says, "If you have any potential to use the camber portion of the REP Open Trap Bar, I'd go with it, as it's only $50 more."
"Personally, for my training, I would be more likely to go with the REP because I'm not doing more than 700-pound pulls on the regular. Plus, I use the camber portion a ton, but for pure deadlifting, I prefer the Titan for its rigidity and strength," says Coop.
RELATED: Deadlift Alternatives
When it comes to deciding between these two open-ended trap bars, it's more about how you see yourself using the bar. If it's strictly for heavy deadlifts, the Titan will be your best option. If you want more versatility, the REP will be your ideal purchase.
You can learn more about Coop's hands-on experience in our REP Open Trap Bar review.
| | | |
| --- | --- | --- |
| | REP Fitness Open Trap Bar | Titan Open Trap Bar |
| Price | $399.99 | $349 |
| Length | 84.5" | 88.5" |
| Weight | 60 lbs | 65 lbs |
| Weight capacity | 1,350 lbs | 1,500 lbs |
| Removable handles | Yes | No |
| Distance between grips | 27.3" | 23" |
Customer Experience
If you have questions or need support, Titan Fitness provides a support line phone number in the top right corner of the website, a live chat function on the bottom right corner, and a landing page where you can submit a general inquiry form. Here is a deeper look into the brand's policies: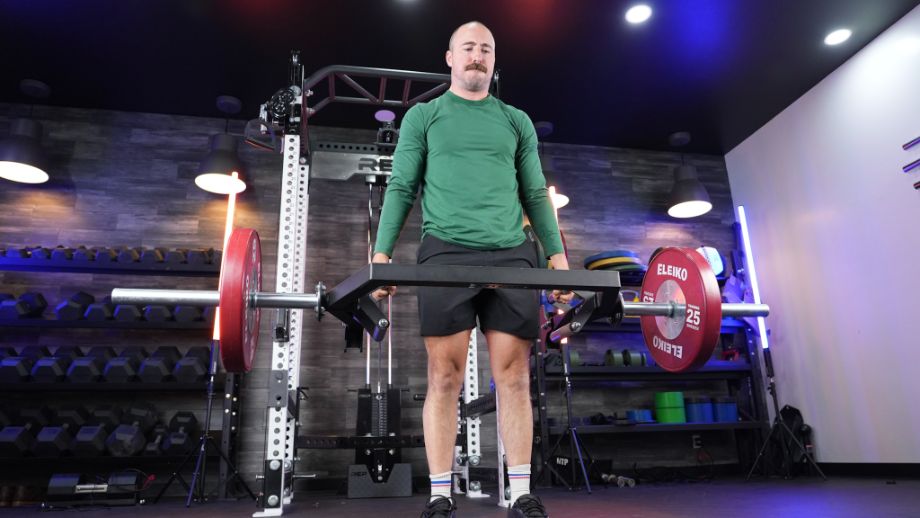 Warranty
The warranty for most Titan products is only a 1-year period. And when reading the fine print on the website, the brand clearly states the warranty coverage begins from the date of purchase, not the date of delivery.
Returns
If you need to make a return, you'll have a 30-day window from your purchase date. That also means you'll need to get a return authorization number from customer support and return your unwanted item in the original packaging and in unused condition.
You'll be on the hook for shipping fees, and a 20% restocking fee will be deducted from your refund.
Financing
At checkout you have the option to enter your credit card information, use PayPal, or pay over time with Bread Financing. Bread offers loan terms over 3, 6, 12, or 24 months and offers rates as low as 0% APR to qualified buyers.
Shipping
Titan Fitness offers free standard shipping but you can choose to expedite your shipping process for additional fees. Keep in mind that if you need to return your item, you won't be able to receive a refund for those extra shipping costs.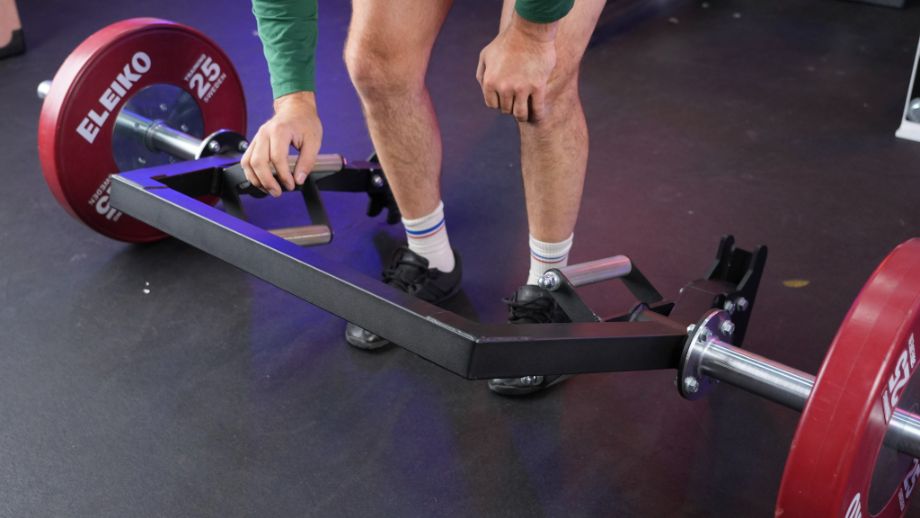 Customer Reviews
On Amazon, the Titan Open Trap Bar has a 3.1-out-of-5-star rating, but there are only two reviews, so take that with a grain of salt. Of the two reviews, one is a 1-star review, and the other is a 5-star review. Both customers liked the product, but one was unhappy because she paid more on Amazon than she would have on the Titan website.
Speaking of the Titan website, the brand has a 4.3-out-of-5-star overall rating based on 23 total reviews. Most customers were happy with the barbell, but there were multiple complaints of customer service and unclear assembly instructions.





Final Verdict of Our Titan Open Trap Bar Review
At the end of the day, if you're 'shipping an open trap barbell that won't break the bank, the Titan has several likable features (including the affordable $350 price tag). The dual handle design and knurl on the Titan trap bar are also positives.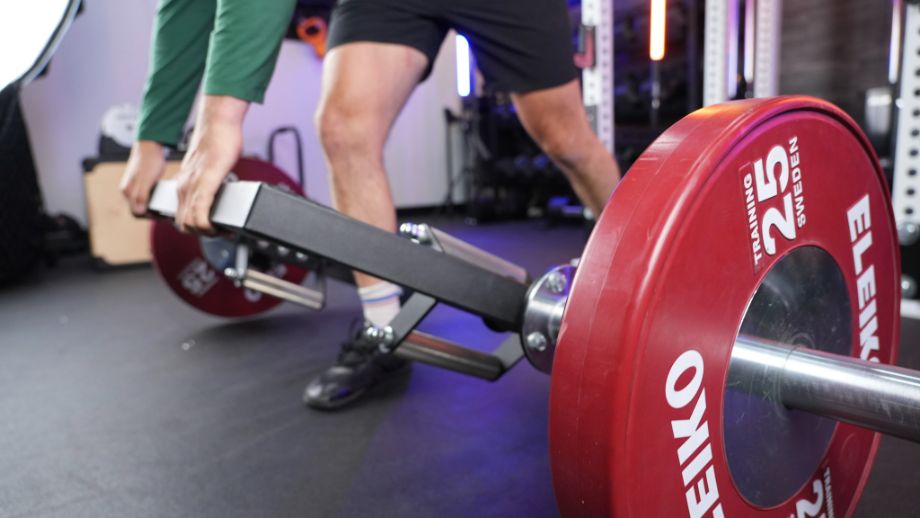 The potential drawbacks of the Titan Open Trap Bar are the unbalanced design and the deadlift jack that hoists the weight plates nearly 6 inches off the ground. You also won't be able to squat or bench with a barbell because its design is meant for traditional deadlifts and deadlift accessories like rack pulls and shrugs.
Titan Open Trap Bar Rating
Titan Open Trap Bar
Will our Titan Open Trap Bar review convince you of this budget-conscious specialty bar?
Product Currency: USD
Product Price: 350
Product In-Stock: InStock
Titan Open Trap Bar: FAQs
Are open trap bars worth it?
This depends on your training style and your budget. If you're looking to deadlift without so much stress on your lower back, the trap bar deadlift can help load your legs more and take some of that stress off your back. An open trap bar design also makes it easier to step in and out of the barbell, which can be safer for older folks and young athletes alike.
How heavy is the Titan trap bar?
The Titan Open Trap Bar weighs 65 pounds.
How heavy is an Olympic trap bar?
Olympic trap bars are typically 45 pounds, but can vary in weight depending on the company or manufacturer. 
What are the best trap bars?