We test and review fitness products based on an independent, multi-point methodology. If you use our links to purchase something, we may earn a commission. Read our disclosures.
If you're a fitness guru, you're probably familiar with Cellucor's C4 pre-workout, which may have you interested in trying their Cor-Performance Creatine, too. The best creatine supplements are taken by weight lifters wanting to supersize their muscle strength and mass. We've made this Cellucor creatine review to show you how this product measures up against competing products.
Our trusted experts at GGR have tested Cellucor's Cor-Performance Creatine to give you the complete lowdown on what you can expect from this supplement. We've included all the details regarding taste, quality, ingredients, and side effects in this Cellucor Cor-Performance Creatine review so you can decide if this product is right for you.
Medical disclaimer: This article is intended for educational and informational purposes only. It is not intended as a substitute for medical advice. For health advice, contact a licensed healthcare provider. GGR also recommends choosing a product that has been third-party tested for quality.
You Can Take Our Word for It
We take product reviews seriously by always providing accurate, honest product feedback. Our testers include highly qualified certified personal trainers, CrossFit-L1 trainers, and nutrition coaches who are always eager to try out the latest health and fitness goods. They've done the testing so you can be assured that you're buying the best products for your fitness goals.
The GGR expert testers have tried hundreds of products, including supplements, gym equipment, and athletic attire, and take great pride in being a reputable source you can trust. Anthony O'Reilly, GGR performance editor and product tester, has personally tried Cellucor's Cor-Performance Creatine and we've included his valuable insights throughout this review.
Cellucor Cor-Performance Creatine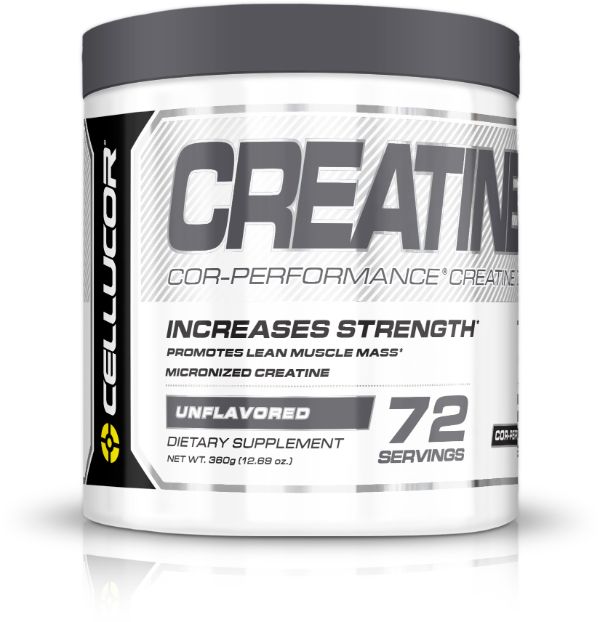 GGR Score: 4.2
Product Highlights
Cellucor's Cor-Performance Creatine is formulated with top-of-the-line creatine monohydrate, which increases strength, promotes lean muscle mass, and improves both endurance and power. 

It comes unflavored and, thanks to the micronization process of the creatine, this supplement features great solubility, mixing well with any drink. 

With 72 servings per container, Cor-Performance Creatine is one of the more affordable on the market. 
* These statements have not been evaluated by the Food and Drug Administration. This product is not intended to diagnose, treat, cure, or prevent any disease.
Pros & Cons
Pros
Mixes well
Zero calories
No added sugar or flavors
Free shipping
60-day money-back guarantee
Cons
Some consumers report an aftertaste when mixed with water
No flavor options
Bottom Line
Cellucor Cor-Performance Creatine offers 5 grams of high-quality creatine monohydrate designed to increase strength and promote muscular growth. It is a good option for anyone looking specifically for a fast-acting, no-frills creatine powder.
A Quick Look at Cellucor Creatine
For over 15 years, Cellucor, a Texas-based company, has strived to support personal journeys of evolution through sports nutrition supplements. Their product lineup includes pre-workout, protein powder, creatine, BCAAs, and more.
RELATED: Cellucor C4 Pre-Workout Review
Cellucor Cor-Performance Creatine is designed to increase power, endurance, and lean muscle growth. With 5 grams of creatine monohydrate in every serving, this product is intended to maintain and build lean muscle mass.
Cellucor claims that Cor-Performance Creatine is easy to mix, and since it doesn't include caffeine, it can be taken with a pre-workout supplement. It's completely unflavored and won't change the taste of the beverage it's mixed with.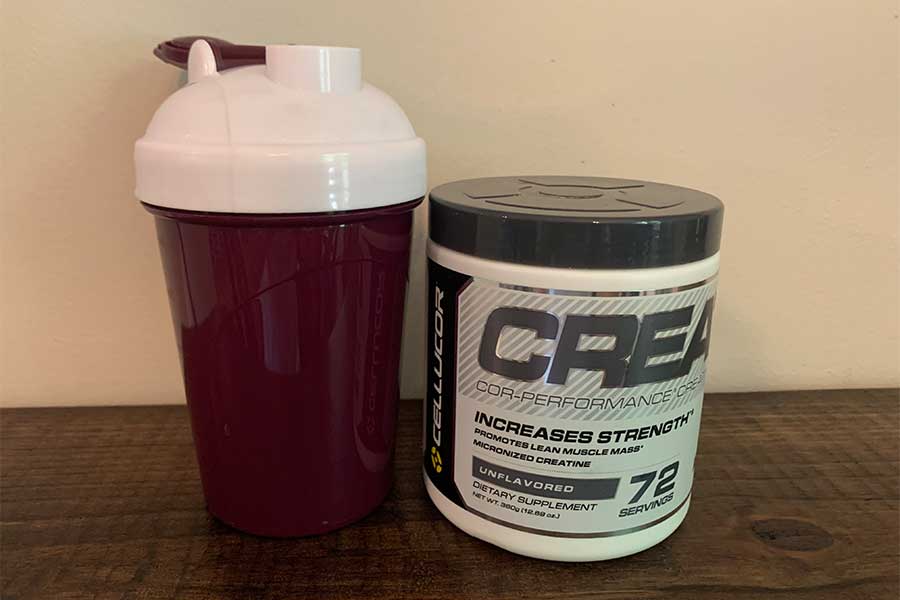 Is Cellucor Creatine Worth It?
Cor-Performance Creatine isn't necessarily for just anyone. Depending on your personal goals, it may or may not be worth it to you.
RELATED: Creatine Benefits
Great for:
Powerlifters wanting to increase strength
Bodybuilders interested in maximizing muscle mass
Endurance athletes who would benefit from improved anaerobic power
Not recommended for:
Anyone under the age of 18
Anyone who is pregnant or nursing
If you are taking prescription medications or have a medical condition, be sure to talk with your doctor before taking a new supplement.
Cellucor Creatine Specs
| | |
| --- | --- |
| Price per serving | $29.99 |
| Servings per container | 72 servings |
| Flavor options | Unflavored |
| Ingredients | Micronized creatine monohydrate |
| Third-party tested? | No |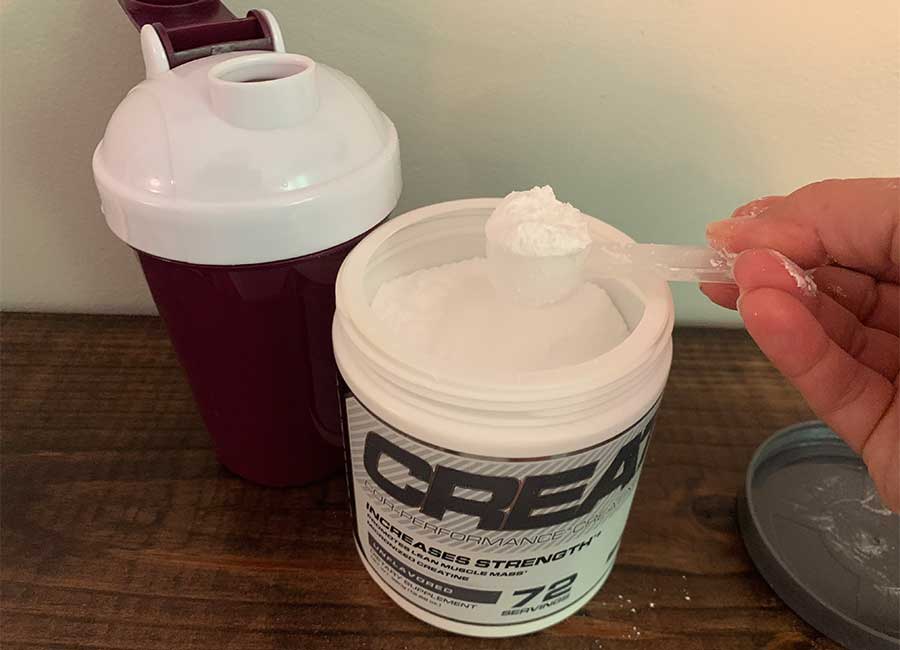 Experience Using Cellucor Creatine
The typical serving of this product is one scoop daily mixed with 8 ounces of cold water (or beverage of choice) before, during, or post-workout. Since it's unflavored, you could mix it with a protein shake or pre-workout.
A loading phase is recommended for anyone not already using a creatine supplement, which involves taking 4 servings daily for the first 5 to 7 days. The intention of loading is to saturate muscle cells with creatine for quick results.
"I tried this creatine and thought it was a solid, run-of-the-mill option. It has all the right stuff in the right dosages and would be a good option for anyone looking for a creatine supplement," says GGR tester Anthony O'Reilly.
With only one ingredient, creatine monohydrate powder, you aren't ingesting other unnecessary ingredients, like added sugar or ingredients you may already be taking in your pre-workout supplement.
Ultimately, Cor-Performance Creatine keeps it simple with a single ingredient in the most effective amount, meaning you're more likely to see the power, strength, and muscle gains you desire.
RELATED: Creatine vs Pre-Workout
Price Per Serving
At the time of writing, Cellucor Cor-Performance costs $29.99 on Amazon. Every container contains 72 servings. A single serving is one scoop and costs approximately 42 cents. If you're looking for an affordable product that will last up to 10 weeks, this may be a good choice for you.
Compare this to Thorne Creatine Monohydrate, which sells for $39.95 on Amazon and includes 90 servings for approximately 44 cents per scoop.
Formulation
Cor-Performance Creatine contains creatine monohydrate. There's nothing more to it! This product doesn't include artificial ingredients, sweeteners, or stimulants commonly found in other supplements. Although the ingredients list is short, that doesn't mean this product doesn't pack a punch.
Creatine is an amino acid derivative produced by the body in very small amounts and found in foods like salmon, herring, tuna, beef, and pork. Many athletes supplement with creatine because it increases the available fuel to power the body's ATP levels (energy) for enhanced exercise performance.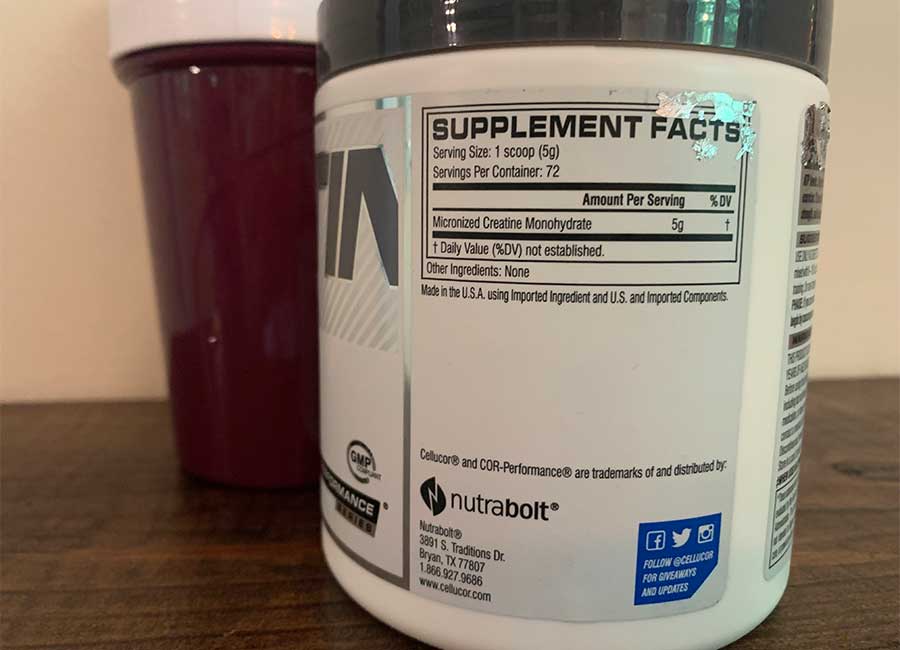 Creatine monohydrate is the most-studied, affordable, and effective form of creatine available. This form of creatine is most similar to the creatine naturally made by the body.
RELATED: Creatine Benefits
As mentioned previously, creatine monohydrate has been shown to improve strength, muscle growth, and power1. Additionally, creatine may help with post-exercise recovery and injury prevention.
Research1 shows that 3-5 grams of creatine monohydrate daily is ideal for keeping muscle creatine stores fully saturated. Cor-Performance Creatine includes 5 grams of creatine monohydrate per serving, so you can consume enough daily to gain the full benefits.
Taste and Solubility
Cellucor boasts the water solubility and micronization of Cor-Performance Creatine, claiming that this product has superior mixability. "This is very powdery! It's almost like talcum powder! Very foamy upon mixing this up in a shaker cup; but it does dissolve completely," confirms Anthony.
The product is unflavored creatine, however, many Amazon reviewers claim it has a slightly chalky taste.
Side Effects
Evidence suggests that creatine supplementation is generally well tolerated, especially at doses of 3-5 grams per day2.
Water retention from increased intracellular volume may occur during the first few days of taking a creatine supplement, but this is generally not an ongoing side effect2. Short-term water retention may lead to GI distress and feeling bloated.
It's a common concern that creatine supplementation leads to kidney damage due to increased creatinine in the blood which must be excreted through urine. However, evidence indicates that people with healthy kidneys can filter out creatinine without causing damage2.
One 2003 study3 reported that football players who supplemented 5 to 10 grams of creatine daily for 21 months saw no significant effects on markers of kidney function like creatinine clearance.
Another randomized, double-blind, placebo-controlled trial4 found that patients with Type 2 diabetes who took a creatine supplement for 12 weeks did not experience significant differences in creatinine clearance and other kidney function markers compared to the placebo group.
Third-Party Testing
Although some Cellucor supplements are third-party tested, Cor-Performance Creatine is not one of them. The Food and Drug Administration does not approve dietary supplements for safety and effectiveness before they go on the market. For this reason, we encourage third-party testing to ensure a product is free of heavy metals, allergens, and banned substances.
Comparison to Thorne Creatine Monohydrate
Thorne Creatine
GGR Score: 4.3
Product Highlights
Creatine monohydrate

Supports muscle strength and size 

May improve cognitive function
Pros & Cons
Pros
Subscribe and save 20%
1 ingredient: creatine monohydrate
NSF Certified for Sport
Gluten-, dairy-, and soy-free
Made in the United States
Cons
Only available as unflavored
Available in 1 container size, 90 servings
New formula due to supply chain issues
Some customer complaints of grittiness
Bottom Line
Thorne Creatine provides 5 grams of creatine per scoop. They recommend taking it in the morning to improve brain performance or near a workout to help improve muscle strength and size. Customer reviews of this product are generally positive, although Thorne has changed their formula recently due to supply chain issues, and some long-time users do not like the new version as much.
Thorne Creatine and Cellucor Creatine are very similar products. Thorne Creatine is another single-ingredient creatine monohydrate supplement. Each serving (1 scoop) contains 5 grams of creatine. Therefore, both products use the same form of creatine in the same amount per scoop.
Both supplements used micronized creatine for superior mixability and solubility. Additionally, they are each unflavored and uncolored.
Unlike Cellucor's creatine product, Thorne Creatine is third-party tested. As an NSF Certified for Sport product, athletes can trust that Thorne Creatine is free of over 200 banned substances and that they are getting the formulation advertised on the product label.
Thorne Creatine also comes with more servings per container than Cellucor Creatine at 90 and 72 servings respectively. Both products are similar in price per serving, with Cellucor costing 2 cents less per scoop than Thorne.
If you're looking for a third-party tested product, Thorne Creatine is the appropriate choice. For the best deal, consider Cellucor Cor-Performance Creatine.
Customer Experience
The Cellucor Care Team is committed to ensuring all customers have a positive purchasing experience. When you purchase from Cellucor.com, you're granted a 90-day, full money-back guarantee. If you're not satisfied with Cellucor Cor-Performance Creatine, you may request a full refund or replacement product.
If you purchase Cellucor Cor-Performance Creatine through a third-party retailer such as Amazon, all returns and refunds must be made through that retailer.
Ordering Cellucor Creatine
When ordering from Cellucor, ground shipping may take between 5-10 business days. Expedited orders are delivered within two business days. Shipping is free for all orders over $55.
This product is also sold on Amazon and can be found in stock at Walmart and GNC.
Customer Reviews
This product has a rating of 4.6 out of 5 stars on Amazon and 4.9 out of 5 stars on the Cellucor website.
One customer appreciates the simplicity and affordability of Cellucor creatine. "Take it from someone who has been lifting weights for 10+ years, this is the creatine you need. Very cost-effective, just pure creatine monohydrate. It doesn't give you an energy burst or have any hint of flavor, so you can mix it with any drink at any time of day without worrying about it keeping you up at night."
Another customer claimed it's easy to mix but didn't completely dissolve. "It is easy to mix with my pre-workout and it did not change the flavor in any way. I even mixed it with plain water to see if there was any flavor, there was none. My only gripe about it is that it doesn't completely dissolve. There is still some grittiness after using a shaker bottle with room temp water. I would still happily purchase this product again."
RELATED: Best Creatine for Women
Final Verdict of Our Cellucor Creatine Review
Cellucor Cor-Performance Creatine is a no-fuss supplement containing only the most researched form of creatine to take your gains to the next level. Made with creatine monohydrate, an amino acid derivative that helps synthesize energy needed for exercise, this product may improve muscle strength, size, and power.
Cellucor Cor-Performance is a good option for someone looking for a budget-friendly creatine supplement without any stimulants, artificial sweeteners, or dyes. It's not the best option if you're looking for a third-party tested product.
Cellucor Creatine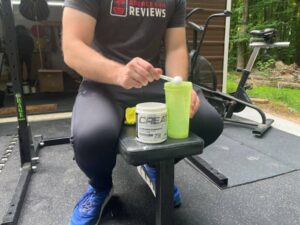 Creatine supplements are taken to supersize muscle strength and mass. This Cellucor Creatine review breaks down how it measures up against competing products.
Product Currency: USD
Product Price: 29.99
Product In-Stock: InStock
Cellucor Creatine FAQs
Which company's creatine is best?
Individual preferences vary, and what you consider the best creatine supplement may not be someone else's top choice. When choosing creatine that's best for you, consider product quality, company reputation, and customer reviews. Consider creatine sold by leaders in sports nutrition like Cellucor.
How do you take Cellucor creatine?
If you do not already take a creatine supplement, take one serving (1 scoop) four times daily for the first 5-7 days. Then, take 1 scoop daily before, after, or during your workout. On rest days, take 1 scoop in the mornings.
Does Cellucor creatine have caffeine?
Cellucor creatine does not include caffeine. Cor-Performance Creatine is a single-ingredient product containing only creatine monohydrate.
Does creatine have side effects?
Creatine is generally well-tolerated when taken in a dosage of 3-5 grams per day. Some people may feel bloated or have GI distress during the first several days of supplementing with creatine due to water retention.
These statements have not been evaluated by the Food and Drug Administration. This product is not intended to diagnose, treat, cure, or prevent any diseases.
References