We test and review fitness products based on an independent, multi-point methodology. If you use our links to purchase something, we may earn a commission. Read our disclosures.
Everyone remembers the two weeks we were on lockdown at the beginning of 2020. Gym-goers everywhere traded their class passes and Planet Fitness memberships for dumbbells and at-home workout equipment — and so, the home gym boom began. Home fitness trended around the country with viral videos of bodyweight workouts and home gym routines circulating the internet. Millions were spent on home gym equipment purchases across the country.
Three years later, COVID restrictions have lifted, and people are starting to create a new routine that works for them as they learn how to live with the long-term pandemic, which triggers the question: Will home gyms stick around? Or is the three-year trend about to hit a rapid decline?
We wanted to find out for ourselves, so the Garage Gym Reviews team polled 2,000 fitness enthusiasts of various age groups and income brackets on their fitness habits to get a sense of how the industry is evolving, and determine once and for all if home gyms are just a fleeting trend, or if the pandemic has created a long-term shift in how people train.
Our findings indicate that home gym setups are popular, but they don't necessarily keep people out of the commercial gym. Some of the biggest takeaways from our poll:
61 percent of people have a designated workout space in their homes, compared to 31 percent of people who have a commercial gym membership
34 percent of people use a community fitness center, like an apartment gym facility
51 percent of people said they are considering joining a gym this year
People were willing to spend more on their home gyms than a gym membership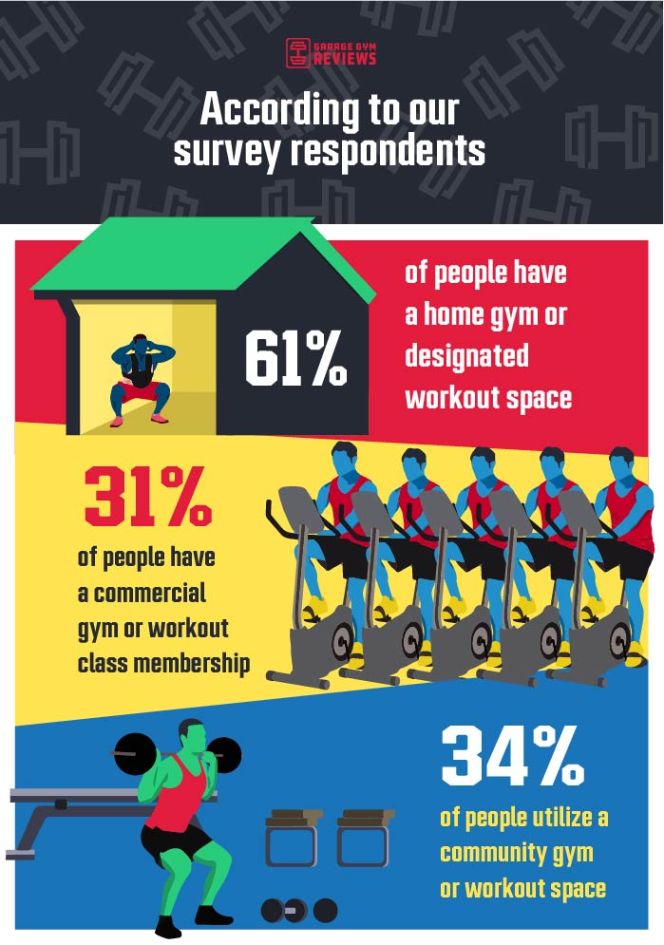 People Aren't Afraid to Ditch Their At-Home Workouts in Favor of Joining Commercial Gyms, As the Pandemic Slows Down
In fact, 51 percent of people we polled said they are considering joining a commercial gym this year, despite spending the last three years focusing on at-home fitness, and 31 percent of people already have a commercial gym membership.
Why Are People Going Back to Commercial Gyms?
Building a home gym isn't the easiest for everybody, especially those in compact spaces or apartment buildings (not all of which have community fitness centers). Now, we believe that just about anyone can build a home gym, but many find it easier to just join a commercial gym (which we fully support as well).
But even those with home gyms are still signing up for memberships and coming into a gym for at least a few workout sessions each week.
For those wondering why someone would go into a gym when they have one at home, we had the same question, so we reached out to some gym owners to see what they've heard from their members.
Christa Valentine, owner of CrossFit Mecklenburg in Charlotte, NC, has actually seen membership increase from pre-pandemic days. 
"I know some of our members have pretty solid home gym set-ups," she says, "but still choose to come in for class for the majority of their workouts."
For Christa, she believes CrossFit is an inherently people-bonding activity that benefits from being in a shared space. "I think the kind of people who are drawn to CrossFit are drawn to a tighter-knit community feel from a gym," she says, "and we as owners take a lot of pride in building a community of athletes who support one another."
Competition is another reason why people often go to a gym, and there are studies that show people often workout harder when they have someone to compare themselves to (the same effect can be found in virtual leaderboards on apps like Peloton and iFIT).
"I've heard some say they find it hard to get motivated if they're trying to workout alone at home," Christa says. "Coaches and other members notice if you have missed class for a few days, and will reach out to see if everything is alright and encourage you to get back."
One of the respondents to our poll echoed that statement, saying, "I believe that going to the gym makes me feel more motivated to do it."
But Even With the Resurgence of The Commercial Gym, Home Gyms Are Still Here to Stay
Out of all of the people we polled, 61 percent of survey participants still rely on their designated workout spaces in their homes compared to the 31 percent of people who rely on commercial gym memberships to get their workouts in.
Here's what a few respondents had to say on why they're sticking with home gym workouts.
"I like exercising at home because it's comfortable and quiet. Also, it's free and there is no commute. I like being able to exercise whenever I like to."
"Home gym gives me great motivation and privacy. We can freely workout without needing to wait for the others to finish working with equipment."
"Home gyms are also more convenient than gym memberships because they're right at home, making it a lot easier for you to fit workouts into your day. You're more likely to stick to your fitness plan if you have a home gym because you can't make excuses about not having time to go to the gym."
When It Comes to Who Uses Home Gyms vs Commercial Gym Trends in 2023, Money Seems to Play an Important Factor.
The majority of people we polled said they were not willing to pay more than $36 to $70 per month for gym memberships, and that remained true across all income brackets. But when it came to home gyms, the more people earned, the higher their home gym equipment budget.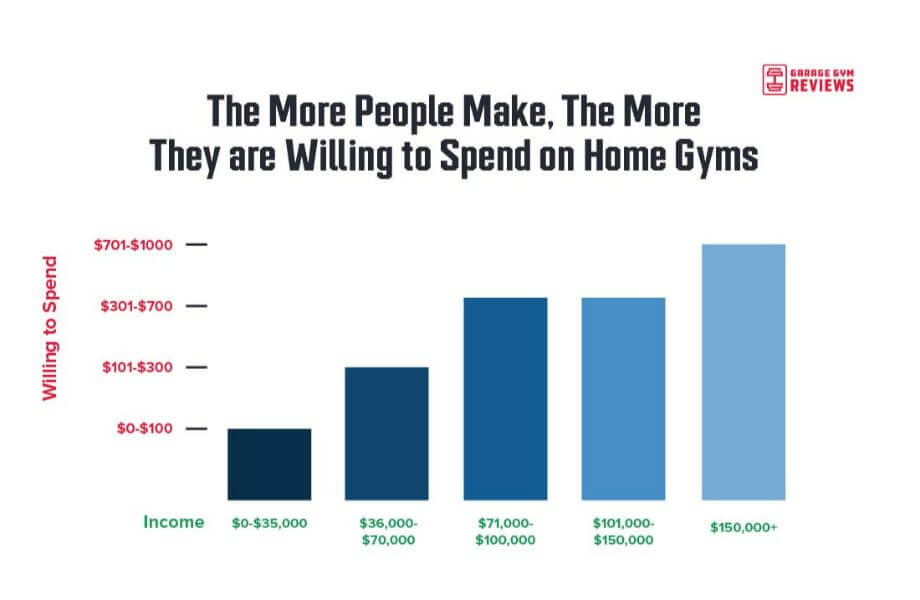 This seems to indicate that people are realizing what we've been saying for years: Your home gym is an investment, and one that will pay dividends during your lifetime and your children's.
That's because you're not just saving money on the gym memberships, but also on gas to and from the gym, snacks and drinks you may buy while there, and much more.
In fact, PRx Performance (one of our favorite home gym equipment manufacturers) has a calculator that can help you estimate how much money and time you can save by creating your own home gym.
Are Home Gyms Here to Stay?
We've been singing the praises of home gyms for quite a while, and we're happy to see that more people are gravitating toward them. In fact, 70 percent of 18 to 24-year-olds reported having a home gym, compared to the 61 percent average for everyone we surveyed. So there's a bright future ahead for home gyms.
But don't get us wrong, we know there's a time and place for commercial gyms as well. Fortunately, it doesn't look like they're going anywhere, as more than half of the people we spoke to said they were looking at a membership this year.
Some of us here at Garage Gym Reviews have our own home gym setup but still go into a gym from time to time either because we don't have the space for a specific machine or piece of equipment, or, as Christa said, we're looking for fellowship.
Our poll indicates this type of hybrid workout model may become more common over the next few years, and both gym owners agree there's a strong possibility of that.
"In our sphere we're seeing people utilize both," Tayler says. "They're grateful for the ability to train at home if time commitments demand it, but still maintain their membership for coaching, community, and diversity of equipment."
Several of the people who responded to our poll said the same thing. "The convenience of the home gym keeps me on track, but I get a better workout at my local gym where they have more equipment," one respondent said.