We test and review fitness products based on an independent, multi-point methodology. If you use our links to purchase something, we may earn a commission. Read our disclosures.
Whenever I'm considering a piece of home gym equipment, I have to ask myself, "Is this worth it?" By that I don't just mean making sure it's a necessary purchase, but I also want to make sure I'm not paying more for a product that's only going to perform as well as something that's half the cost.
While it's not an exact formula, if you're going to pay double the cost for something it should be about twice as good as the cheaper product.
In this Eleiko Evo Dumbbell Review, we'll take a look at whether their quality warrants the higher price point or if you should stick to a more budget-friendly option.
Why You Should Trust Us
I've had my hands on hundreds of different models of dumbbells throughout my life, so I know a thing or two about them. This firsthand knowledge allows me to present an in-depth look at some of the best dumbbells out there, pointing out each one's strengths and weaknesses.
But I'm never opposed to learning more, and I'm always open to hearing different perspectives from our readers and my team members. There's been times when someone has made me notice something about a barbell, pair of training shoes, or squat rack that I hadn't seen before simply because I wasn't looking at it from a certain angle. Because of that, I'm always revisiting reviews and updating them with my revised thoughts on them.
A Quick Look at the Eleiko Evo Dumbbells
Eleiko Evo Dumbbells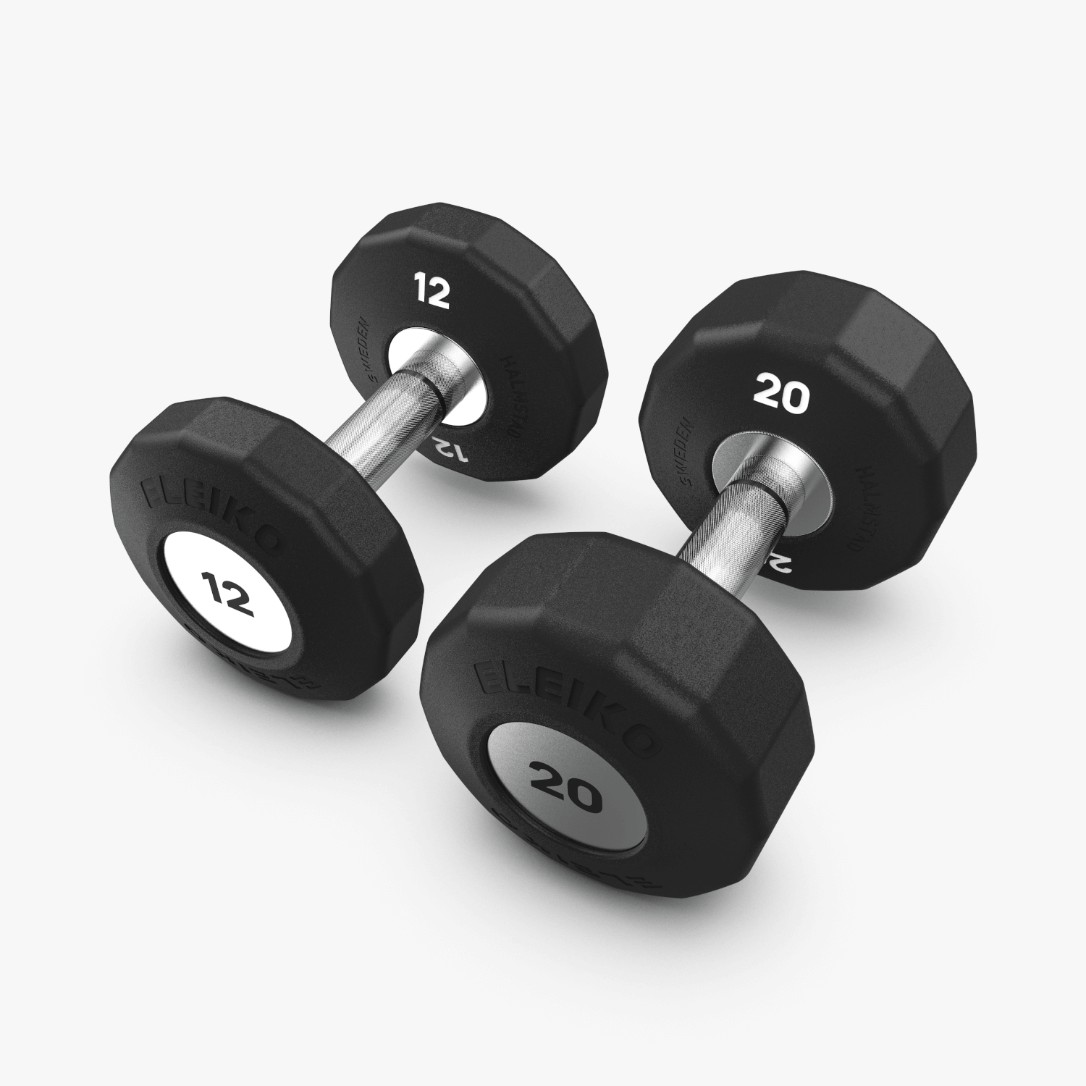 Eleiko Evo Dumbbells
The Evo Dumbbells embody our commitment to quality, craftsmanship and durable design and are made in Halmstad Sweden. The award-winning rotating Evo dumbbells were designed specifically for professional and commercial settings to deliver unrivalled performance in high volume, heavy use environments. Inspired by our roots in lifting, we use Eleiko barbell steel and our knurling techniques for an optimal grip and introduce an innovative handle design that delivers an incredibly smooth rotation with a smaller diameter grip. Attention to detail extends to the dumbbell heads where a multisided head design, sloped head shape, and embossed weight markings combined with our unique handle deliver outstanding performance that will appeal to lifters and facility owners alike. While offered as a full range from 2.5 - 150 lbs / 1-60 kg, the rotating functionality begins at 12.5 lbs / 5 kg respectively. While fixed, the smaller weights feature the same knurling feel and visual design creating a uniform set.
The Eleiko Evo Dumbbells are one of the latest creations from the Swedish strength and conditioning equipment manufacturer, well known for its barbells and weight plates that have been used in weightlifting and powerlifting meets for decades.
When people hear the name Eleiko, they expect quality, and these dumbbells meet those expectations and then some. There are two versions: a fixed handle and a rotating handle. Each version has a 38-millimeter diameter grip, a medium knurl with dual markings for better hand placement, polyurethane coating for protection and durability, a multi-sided head design, and clearly marked weight increments.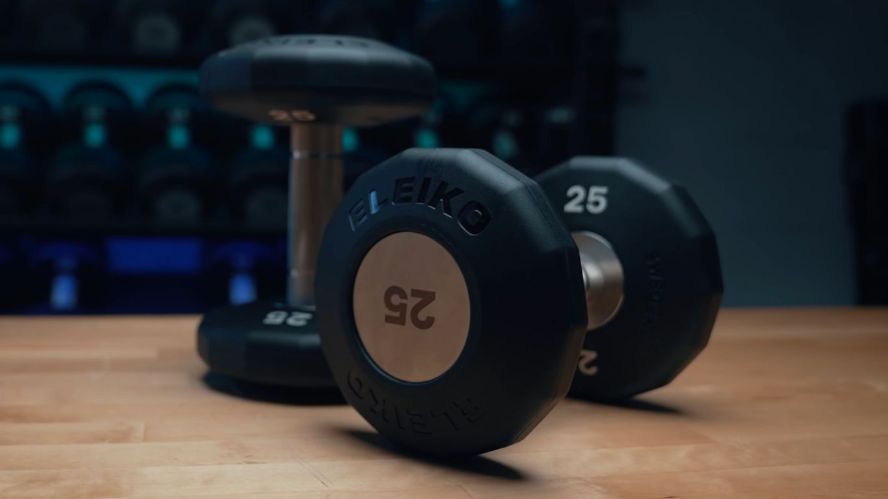 Honestly, the only thing I don't like about this product is the price (which is typical for Eleiko products and I'll detail more of this in a bit). I understand with higher quality comes an expectation that you're going to pay a little bit more, but these babies cost more than $160 for a single 12.5-pound dumbbell–that's more than $13 per pound.
Coop's Tips
These are designed first and foremost for a commercial setting; for most home gym owners I'd recommend an adjustable dumbbell over these.
If you're going to buy these, know the rotating handle version begins at 12.5 pounds.
My Favorite Things:
Rotating handle creates a more comfortable lifting experience, especially during dynamic lifts like a dumbbell snatch.
Multi-sided head design stops the dumbbells from rolling around
Fantastic knurling that mimics Eleiko barbells
Durable design protects the dumbbells and your gym floor
Clearly marked weight increments on each dumbbell
My Callouts:
These are sold per dumbbell, not by pair (which often indicates a hefty cost)
Shipping is not included, unless your order comes out to $2,000
Only incrementally better than fixed dumbbells you could buy for much less
Are the Eleiko Evo Dumbbells Worth It?
There is a lot to like about the Eleiko Evo dumbbells, but do I think it's worth paying more than $200 for a single 25-pound dumbbell for the majority of our readers? Of course not.
Simply put, these are designed for a commercial setting or the people who can't do without top-notch gym equipment. Most home gym owners don't have the budget to buy these, or the space to store them.
We also have to revisit whether the quality warrants the higher price, and the answer to that would be subjective. Yes, you're going to have a more comfortable and enjoyable experience using these than other dumbbells, but they're not going to do anything in terms of gaining strength or muscle mass that you couldn't get out of a less expensive dumbbell. Still, I will say, out of all the dumbbells I have, these are the ones I use the most.
Great For:
People who absolutely need the best of the best
Lifters with shoulder injuries who may find a rotating handle more comfortable to lift with
Anyone who wants a durable dumbbell that will last a lifetime, and then some
Not Recommended For:
The vast majority of home gym owners
People with compact home gyms that don't have space for a dumbbell rack
Anyone who's OK not having the creme de la creme of home gym equipment
Eleiko Evo Dumbbells Specs
Weight range
2.5-150 lbs (rotating handle version starts at 12.5 lbs)
Handle knurl
Medium with dual markings
Handle diameter
38 mm
Handle dimensions
Total Length: 9.96"
Grip Length: 5.12:
Handle material
Swedish barbell steel
Head coating
Polyurethane
Rotating mechanism
Bearings
Using the Eleiko Evo Dumbbells
I've trained with everything from Amazon dumbbells to my Watsons, another rotating dumbbell that's considered to be the gold standard in the free weight world, and I have to say the Eleiko Evo Dumbbells are the most enjoyable that I've ever used.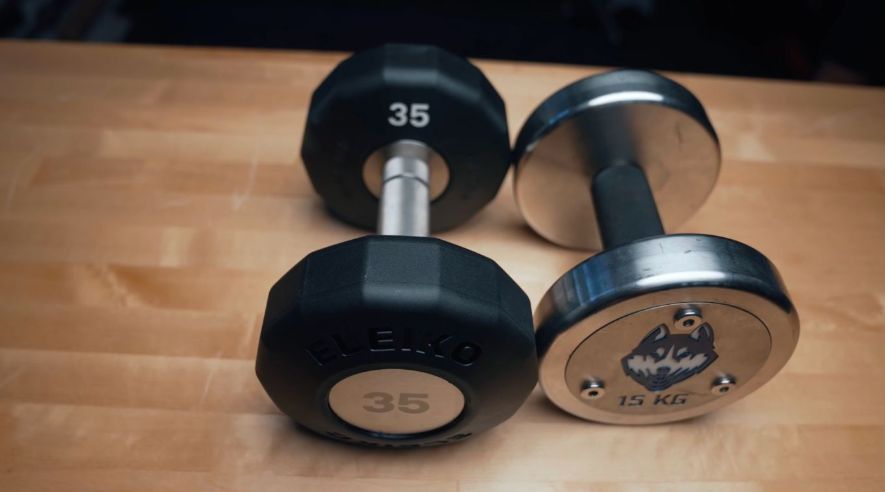 The rotating handle uses a high-quality bearing mechanism similar to Eleiko's Olympic barbells (check out my Eleiko Hybrid Bar review for more), and it provides a great spin during lifts. This comes in handy when you're trying to reach the top of a snatch or clean, or even a bicep curl, and attempting to overcome the inertia of the dumbbell, much like when you're trying to do the same with a barbell.
RELATED: Best Dumbbell Exercises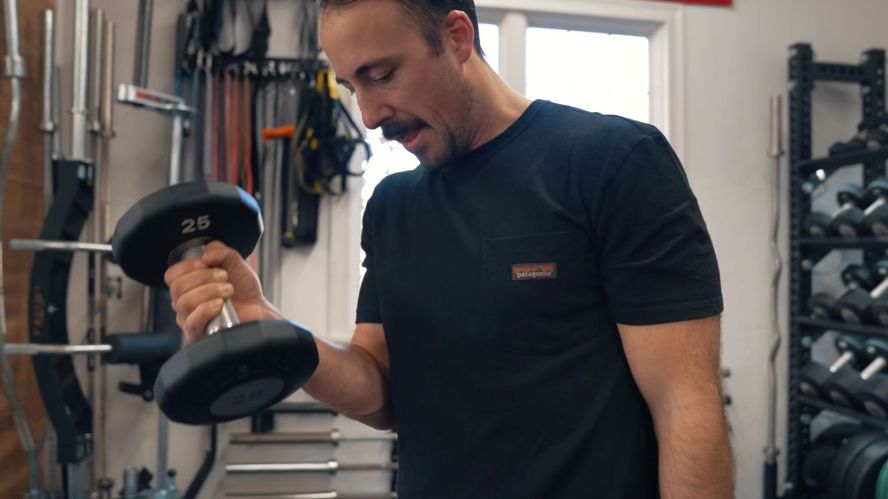 While I appreciate the rotating handle and thoroughly liked using it, it's unnecessary for most trainees. You're going to get the same strength training and muscle building benefits from a fixed handle as you would a rotating one. I've heard from people with shoulder injuries that a rotating dumbbell handle can be beneficial to their training, but I'm still not sure it's worth the price point.
The rotation isn't the only thing I enjoyed about the handle, which comes with a medium knurling that provides a secure grip. It also has dual markings to provide a tactile cue to help you better center your hand for balance.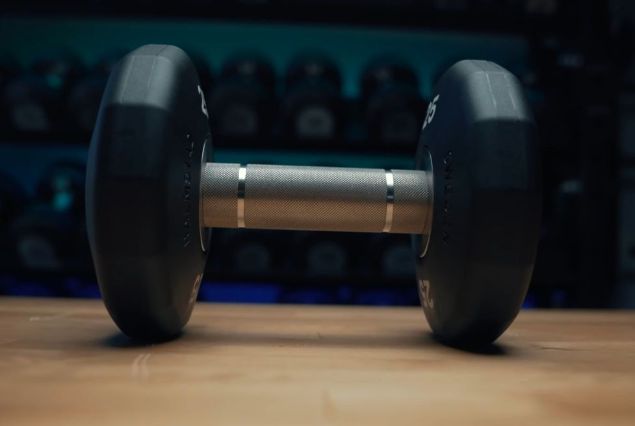 On top of that, the 38-millimeter handle is just thick enough to provide a challenge (and a little extra arm pump), but not so thick that they become difficult to use during some pulling movements–a complaint I have about the Watsons, which have a 50-millimeter diameter.
I'm usually a fan of stainless steel, but for the price you're paying for these dumbbells, the rubberized heads make sense. It's going to protect your flooring, and it will also ensure there's no scratches or marks on a piece of equipment you paid a large chunk of money for.
The ends of the head are flat, which feels more comfortable on the knees before you kick them up for a set of shoulder presses. The dumbbell heads are also multi-sided so they don't move when they're on the floor in between sets, whereas the Watsons are just rounded so they tend to roll when they're not in use.
Durability
If you're looking for a dumbbell that can withstand just about anything, the Eleiko Evo Dumbbells are what you're looking for. Eleiko tested these by dropping them thousands of times from different heights, ranging from just only 4 inches high to 16.5 feet (about the height of a first story window).
We decided to recreate that test, and after dropping a 50-pound dumbbell from head level a couple of times and rolling it down some stairs, the functionality wasn't impacted at all.
And then we chucked it from a 75-foot high parking garage roof. Spoiler alert: the spinning mechanism stopped working after that (shocker, I know) but it was still able to be used as a regular dumbbell.
In other words, these are incredibly durable and can survive any home gym or commercial setting…assuming nobody throws them off any roofs.
Ordering the Eleiko Evo Dumbbells
Ordering the Eleiko Evo Dumbbells is as simple as going to the website and selecting your desired weights. You can buy them individually or as a set in both the fixed and rotating handle versions (the latter starts at 12.5 pounds). The rotating Evo dumbbells cost about $10 more than the fixed version when comparing similar weight increments.
Each dumbbell arrives in double cardboard and plastic, along with a tag on each handle. For large orders, they're strapped onto a large crate and delivered to you. I had no issues ordering or receiving my dumbbells.
Financing
As we've discussed, these are pretty pricey dumbbells and most people don't have the budget to buy them upfront. If you really want to add these to your home gym you can finance your purchase through Klarna.
RELATED: Eleiko Discount code
Customer Experience
Eleiko can be reached through their website, customer service email, or social media pages.
Returns
Eleiko has a 30-day return policy, from the date of arrival, but all orders must be in new condition and in their original packaging. Eleiko also doesn't reimburse for any shipping costs.
Warranty
There's a 5-year warranty on the Eleiko Evo Dumbbells, which covers any manufacturing defects. In other words, it won't cover any damage caused by misuse–such as throwing it off a parking garage roof.
Customer Reviews
Eleiko doesn't have reviews on their website, and the Eleiko Evo Dumbbells aren't available on any third-party websites. If this changes, we'll update our review to include any customer reviews.
Final Verdict of Our Eleiko Evo Dumbbells Review
At the end of the day, a dumbbell is just another tool in your arsenal to help you get stronger and put on muscle mass. Yes it helps if you have a good one, but there are many of those that are much less expensive than the Eleiko Evo dumbbells. If these were a fraction of the cost I'd recommend them, but I think most people would be better off with an adjustable dumbbell, or even an adjustable kettlebell.
RELATED: Kettlebells vs Dumbbells
That said, I'll keep these Eleiko dumbbells in my garage gym and use them from time to time.
Eleiko Evo Dumbbell Rating
Eleiko Evo Dumbbells
The Eleiko Evo dumbbells are a high-quality rotating dumbbell, but we wouldn't recommend it for most home gym owners.
Product Brand: Eleiko
Product Currency: USD
Product Price: 169
Product In-Stock: InStock
Eleiko Evo Dumbbell FAQs
Are Eleiko weights good? 
Yes. Eleiko weights are made of high-quality, durable materials that have been trusted by top-tier strength and CrossFit athletes for decades. 
Where are Eleiko dumbbells made?  
Eleiko's dumbbells are made at their headquarters in Halmstad, Sweden. 
Why do we rotate dumbbells?
Rotating dumbbells allow the free weight to spin more freely near the top of a lift, similar to what you see on a barbell during a snatch or a clean. This puts less strain on the joints and is more beneficial to people with shoulder injuries.