We test and review fitness products based on an independent, multi-point methodology. If you use our links to purchase something, we may earn a commission. Read our disclosures.
When most people think "studio bike," they probably think of something that's not exactly budget-friendly. And yeah, generally speaking, you're going to get what you pay for and you'll be sacrificing some quality on a more affordable option. But that doesn't mean you can't find good fitness equipment at a price your wallet can agree with.
Our ProForm Carbon CX review proves that, by showing you how this affordable exercise bike delivers where it matters most. We'll discuss some qualities it lacks, compared to more expensive options, and why despite those missing characteristics, it's still one of, if not the best Peloton alternative for those on a budget.
Hours of Hands-On Testing from Industry Pros
As the Garage Gym Reviews team's "exercise bike guy," I've researched and tested just about every type of exercise bike on the market, and put my hands (and other body parts) on at least two dozen of them. I'm looking at the different types of pedals, how different flywheel weights operate and sound during use, and what types of materials are used on different parts of a bike.
And as a soon-to-be certified personal trainer, I know how integral cardio equipment can be for those with specific fitness goals. I'm always looking for the best exercise bikes to either help people prep for a competition, or just improve their overall fitness.
Budget-Friendly Peloton Alternative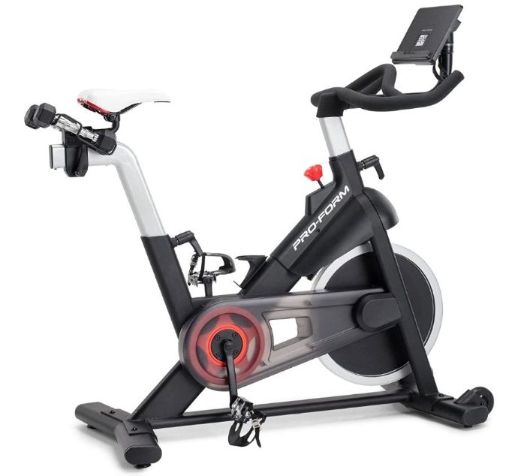 ProForm Carbon CX
The ProForm Carbon CX is a budget-friendly Peloton alternative that, despite the lack of a built-in monitor, has many tech features that make it a great value for its price point (just around $600). Best of all, the iFIT-enabled bike has automatic tension control, which allows trainers to adjust the resistance on the bike for you mid-workout for a hands-free experience.What this bike lacks in built-in tech it makes up for in functionality. Even our tallest product tester, 6-foot-3-inches Anthony O'Reilly, didn't feel much wobble when riding this. That said, even the highest resistance setting won't be much of a challenge for the conditioned athlete (pun intended there).One thing we don't like about this bike is the very small display that shows all your metrics, but if you connect your smartphone or tablet you can see everything there. The device holder is sturdy and you should have no problem following your workouts on whatever screen you use.
A Quick Look At The ProForm Carbon CX
ProForm offers three studio bike options, with the ProForm Carbon CX being the most basic and affordable of the three. The other two are the ProForm Studio Bike Pro 22 and the ProForm Studio Bike Pro.
Because it's the "budget" option, the Carbon CX has the least amount of resistance levels (16, compared to the Studio Bike Pro's 22 levels and Studio Bike Pro 22's 24 levels) and has no built-in screen (the Studio Bike Pro has a 10-inch screen, and as its name implies the Studio Bike Pro 22 has a 22-inch screen).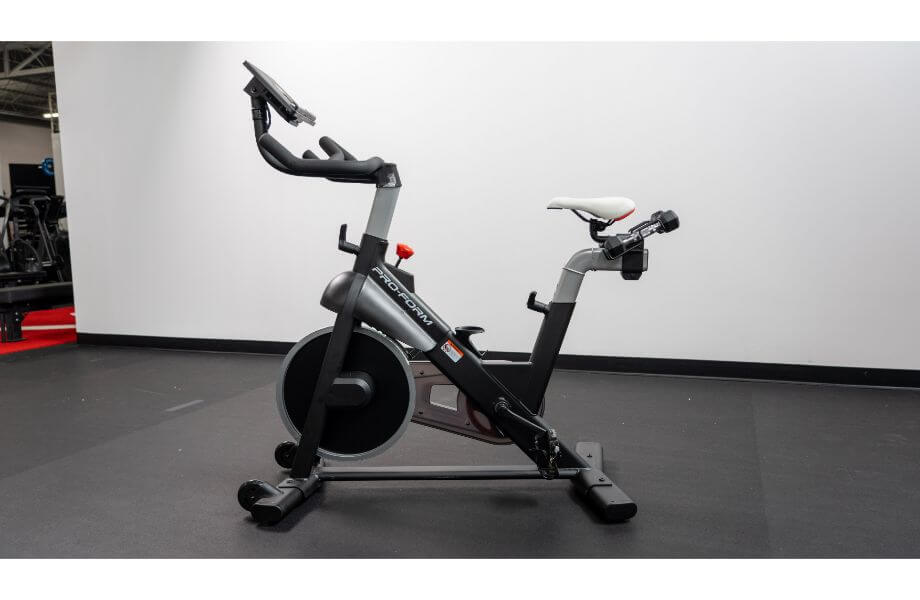 Although the bike has no built-in touchscreen, you can use an iFIT membership ($39 per month, $396 a year for a family plan, or $180 a year for an individual plan) to access features like automatic tension control, which allows your trainer to adjust the resistance for you in real time. The good news is, unlike other iFIT-enabled stationary bikes, you don't need the app to access most of the bike's features.
The bike also comes with two 3-pound dumbbells, a water bottle holder, and a media stand.
My Tips
I'd personally invest in the iFIT family membership ($396 per year, or $180 for an individual plan) simply because the LCD display can be difficult to read at times (the iFIT membership keeps track of your metrics).
Pros:
Doesn't require an app to access basic features
Compact enough to fit in most home gyms
Adjustable leveling feet to help it remain sturdy in any location (even on carpet)
Tablet holder is sturdy
Bluetooth-compatibility
10-year frame warranty
Adjustable handlebars
Cons:
Only 16 resistance levels
Bike seat not the most comfortable (but is interchangeable)
Made with lots of plastic
LCD display is small and not well-lit
250-pound weight capacity is well below industry standards
Is the ProForm Carbon CX Worth It?
The ProForm Carbon CX sells for $600, and while that's not the cheapest studio bike out there, I believe it offers some of the best value for the money. The bike itself is well-built and sturdy, much more so than its more expensive brother the ProForm Studio Bike Pro 22; is compatible with iFIT; and you can switch out the pedals and seat for the ones of your choosing.
Although it's budget-friendly, it still comes with silent magnetic resistance, as opposed to the more affordable but less durable friction resistance. The flywheel weight is only 28 pounds, but I didn't find that to be much of a problem during the three days I spent with it.
That said, the bike only has 16 resistance levels so it's not the best choice for cardio fanatics. The maximum resistance was a little difficult but if you're someone who's been cycling for a while, you'll probably breeze through it.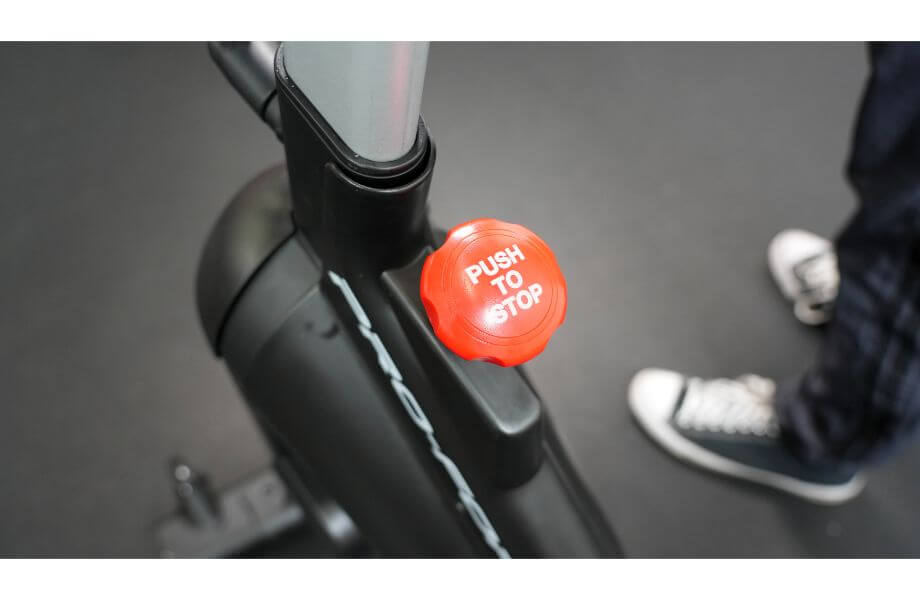 And though it's cheaper than the ProForm Studio Bike Pro 22, I found that the overall construction was better—the welds were neater, the adjustable seat and handlebars moved smoother, and there was much less wobbling.
Best of all, you don't need an iFIT app or any other membership to use the ProForm Carbon CX exercise bike. All you do is assemble it and go. But it's great that you can still easily connect to the iFIT app via Bluetooth if you want to access live or on-demand workouts.
Great for:
Those who value functionality over special features
Beginners looking for an easy-to-use bike
Anyone looking for a budget exercise bike
Not recommended for:
Those looking for the best-of-the-best
People who want an exercise bike with dynamic programming
Trainees looking for a grueling cardio workout
ProForm Carbon CX Specs
| | |
| --- | --- |
| Footprint | 51" H x 21.9" W x 52.5" D |
| Weight | 125 lbs |
| Weight capacity | 250 lbs |
| Levels of resistance | 16 |
| Display | LCD |
| Seat adjustment | Up/down, front/back |
| Drive system | Belt |
| Resistance | Magnetic |
| Flywheel weight | 28 lbs |
| Construction | Steel frame, plastic parts |
| Pedals | Adjustable toe cages |
| Comes with | Two 3-pound dumbbells, 30-day iFIT membership |
Taking the ProForm Carbon CX for a Spin
If I'm being honest, I saved this bike review for last when I went out to the Garage Gym Reviews headquarters. One of the bigger reasons for that is the ProForm Studio Bike Pro 22 disappointed me with its instability and poor construction—you can read my full ProForm Studio Bike Pro 22 review here. 
But I was pleasantly surprised by the ProForm Carbon CX. It has the same weight capacity and is made with the same materials as the Studio Bike Pro 22, but I had a much steadier ride on this one. Just as I did on the Pro 22, I had fellow product tester and GGR fitness writer Caroline Lubinsky try out this bike and she agreed it was a much better experience.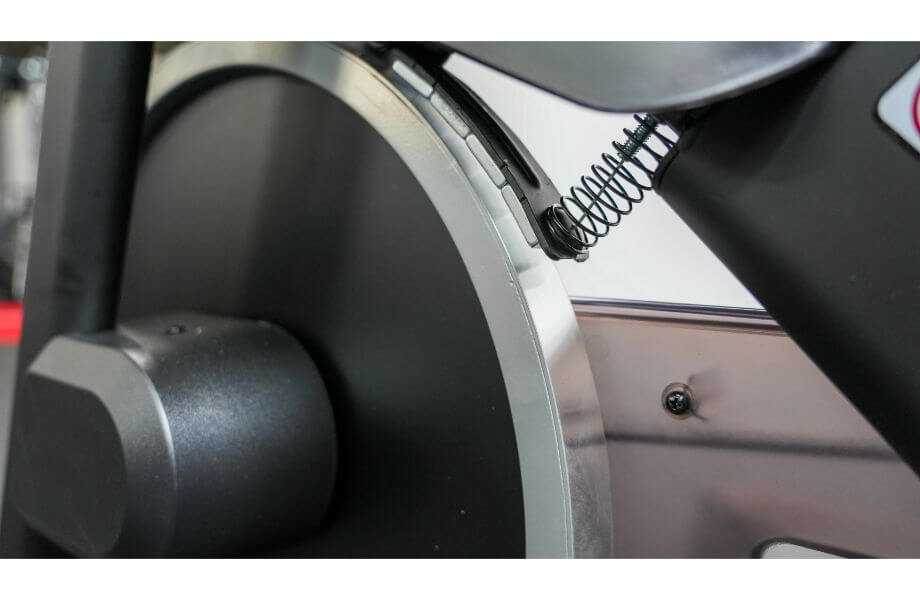 I could also feel a significant difference between the minimum resistance and the maximum, which wasn't the case for the Studio Bike Pro 22.
The 28-pound flywheel was quiet and smooth, but it definitely didn't have as much momentum as heavier flywheels closer to the 40-pound mark.
It should be said that this isn't a bike for advanced athletes or serious cyclists. There are 16 digital resistance levels that are controlled via the LCD display, and I think if you've been cycling for a while you'll find the maximum setting to be similar to climbing up a very steep block. That is, it's certainly a workout, but give it a few seconds and you'll get used to it.
RELATED: HIIT Bike Workout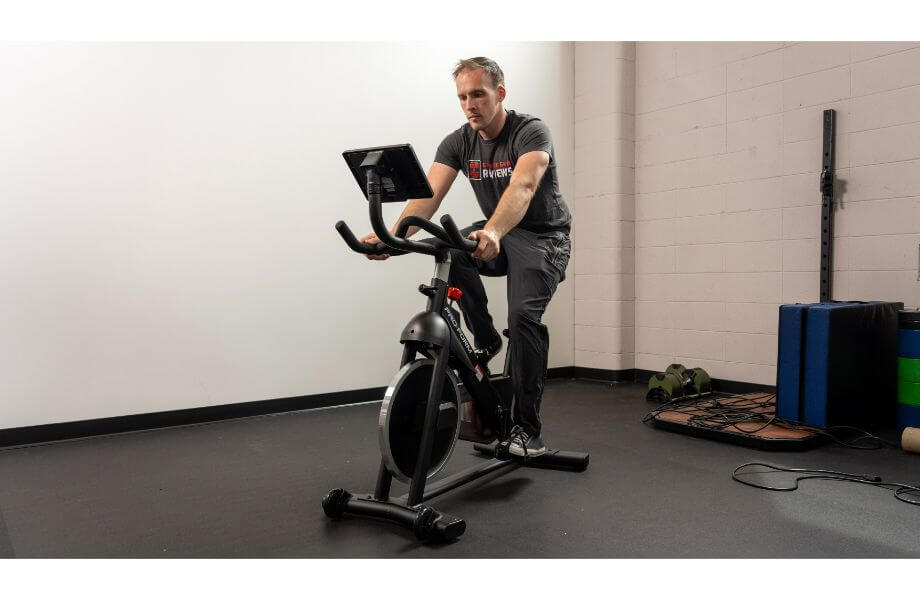 iFIT Programming and Features
Every ProForm bike comes with a 30-day iFIT family membership (iFIT owns ProForm and NordicTrack), but unlike many of those brands' bikes, the app isn't necessary to use most of the ProForm Carbon CX's features.
Personally, I don't see the need for an HD touchscreen on my exercise bike. Most people own a smartphone or iPad, and I'd much rather have a high-quality bike that requires me to use my own technology than an average bike with tech-filled features. But that's just me.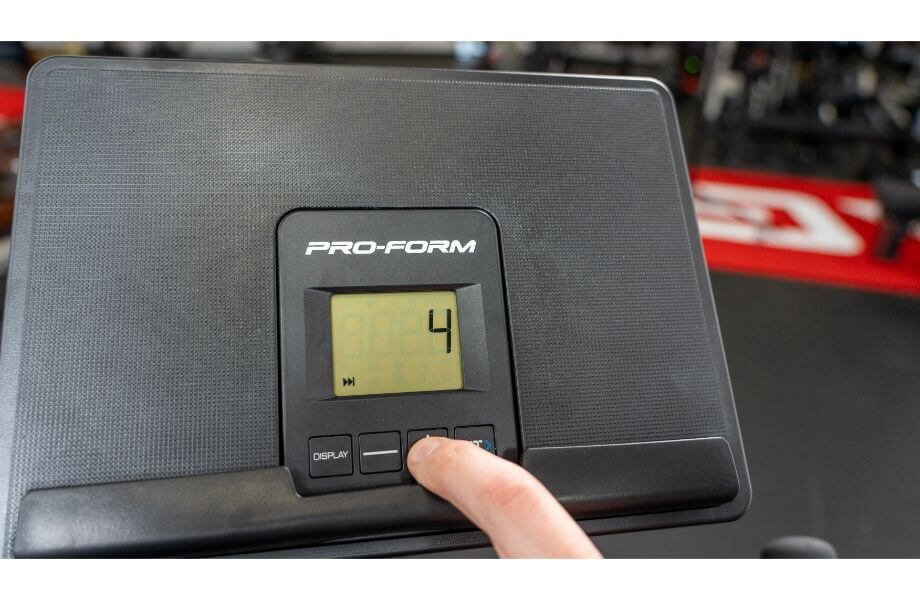 Caroline gave her thoughts on iFIT workouts in her full iFIT reviews, but my quick thoughts on it are that iFIT can compete with the best. Whether it's better than Peloton programming and instructors is a matter of personal preference, but after taking a 10-minute recovery ride and a 10-minute HIIT workout I was impressed with the clarity and thoroughness of the instructors.
The recovery ride was a little bit cheesy, especially as they described some of the scenery you were seeing on screen, but you can easily lower the volume if you want and listen to the soundtrack of your choice.
One thing I'll mention is this bike still has automatic tension controls, so once you connect it to iFIT, your trainer can set the resistance for you during your on-demand or live workout.
That's a great feature for a bike at this price tag, and certainly increases its value.
LCD Display
As we've mentioned many times on this website, even the best budget-friendly home gym equipment is going to be lacking in some areas. In the case of the ProForm Carbon CX, this is most apparent in the LCD display.
The display requires three AA batteries and shows your speed, time, distance, and calories burned. The screen itself is maybe 2 inches by 3 inches, and isn't backlit. The only buttons are one to toggle between metrics, a plus and minus button to control the digital resistance, and a Bluetooth button to connect to iFIT or a heart rate monitor (not included with the bike).
Pedals
The pedals are adjustable toe cages that can be used with cross-training shoes, so there's some versatility there. If you prefer cycling cleats, the pedals can be changed out for ones of your liking.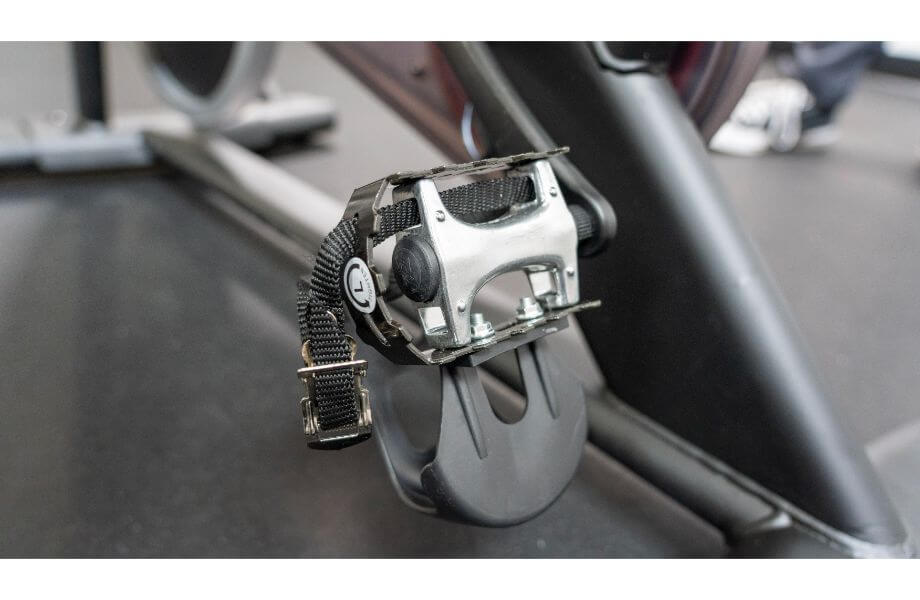 Seat
The seat is your standard studio cycling bike seat—that is, it's not the most comfortable. Just like the pedals, you can switch it out for an ergonomic seat if you want.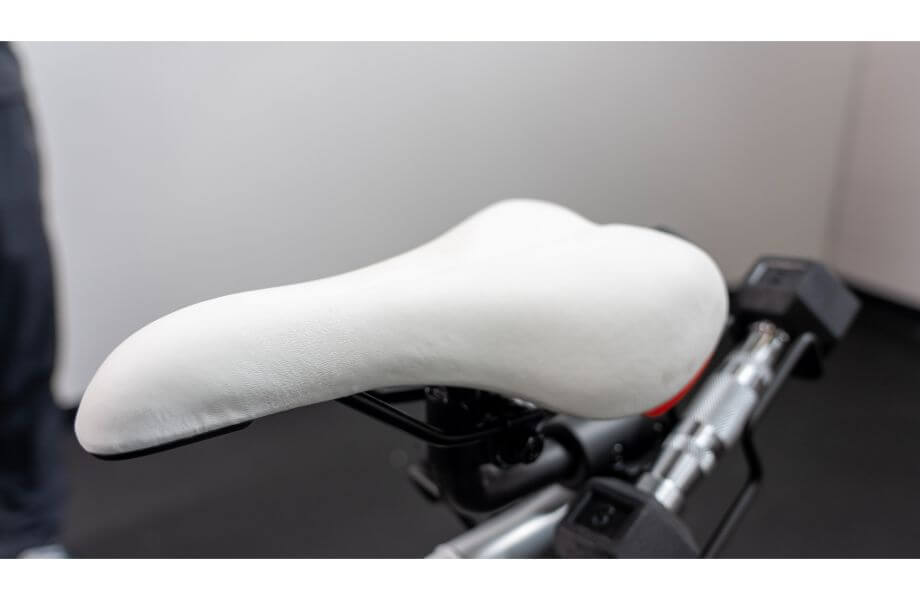 Adjustments
The ProForm Carbon CX has 10 vertical seat positions and four horizontal positions; it should work for people of all height levels. As a 6-foot, 3-inch-tall rider, I was able to find a position that worked for me and many of the reviews I read stated there was no issue finding a spot for riders closer to Earth's center of gravity.
The handlebars come with five vertical adjustment positions.
Conveniences
The ProForm Carbon CX comes with two 3-pound dumbbells and a cradle to hold them, water bottle holder, Bluetooth connectivity, and a media stand. I found the media stand to be secure enough to hold any smart device without worrying about it falling off and cracking in the middle of a ride.
Durability and Construction
ProForm says it uses "high-quality welded steel" on its bike, but with a weight capacity of only 250 pounds (many studio bikes can withstand around 300), I can't imagine that it's the highest-quality steel out there. Still, the ProForm Carbon CX felt sturdy enough for my frame.
The welding on it was also neat, unlike the poor welding I spotted on the ProForm Studio Bike Pro 22. I'm not sure why a cheaper exercise bike looks better than something that costs $700 more, but it does.
Footprint and Portability
The ProForm Carbon CX is 51 inches in height, 21.9 inches in width, and 52.5 inches in depth, making it a compact piece of exercise equipment.
While there's no handle to grab when moving it from place to place, the bike weighs 125 pounds and has smooth transport wheels that make the moving job easy for most people.
ProForm Carbon CX vs. Sunny Health & Fitness Synergy Magnetic Exercise Bike
The ProForm Carbon CX and Sunny Health & Fitness Synergy Magnetic Exercise Bike have many of the same features: magnetic resistance, similar flywheel weights (Sunny's is slightly heavier at 30 pounds), four-way adjustable seat, comes with dumbbells, and a basic LCD display.
Sunny's bike, though, has a slight edge in two areas. Firstly, the Classic version is under $450 (there's a Pro version that has a 40-pound flywheel that costs around $600), and it has micro-adjustable resistance. They don't tell us how many resistance levels it has, but having been on both I can say the maximum setting on Sunny's felt more difficult.
That said, the Sunny Health bikes can't connect to any fitness app. The ProForm Carbon CX connects to iFIT, which means you can access thousands of cycling and other fitness classes with it. Plus, the iFIT trainers can connect to your bike and control the resistance for you.
Both are great bikes, but if you're looking for versatility then we say go for the ProForm. If you're just looking for a great bike at a reasonable price, go for Sunny.
Customer Service
You can reach out to ProForm through phone, email, website, or social media.
Warranty, Financing, Returns
The ProForm Carbon CX has 10-year frame warranty, and a one-year parts and labor warranty.
ProForm gives you 30 days to decide if you want to return the bike for a full refund, minus the cost of shipping and handling (they don't pay for it due to the size and weight of the bike).
ProForm offers 12- to 38-month financing options, all with 0% APR.
Ordering and Assembling the ProForm Carbon CX
To assemble the ProForm Carbon CX, all you have to do is screw the front and back stabilizers into the main frame. Then you simply attach the pedals, handlebars, seat, and media stand with a few turns of an allen key and you're ready to pedal.
Customer Reviews
ProForm doesn't advertise any reviews on its website, but the ProForm Carbon CX is available on Amazon. On that site, it only has six ratings and they're all negative – it has a 2.7 average rating out of 5 stars. All the reviews state the customers bought it from a retailer that wasn't Amazon or ProForm.
One reviewer said the LCD display had a constant error, which caused the digital resistance not to malfunction.

Final Verdict of Our ProForm Carbon CX Review
The ProForm Carbon CX might not be the most impressive exercise bike on the market, but at $600 it has some impressive features—mainly, iFIT compatibility and automatic tension control. It's also a very solid bike, and if it can support someone of my height and weight, then I'm sure it will be good for most home gym owners out there looking to improve their cardiovascular fitness.
I could see how dealing with the LCD display could get annoying over time, but again there's probably three pieces of technology in your house that you can use instead of it. And since you're saving money on the bike, you can replace the seat and pedals with something a little nicer and make it your own.
ProForm Carbon CX Rating
ProForm Carbon CX
In this ProForm Carbon CX review, we'll take a close look at one of the best budget exercise bikes and Peloton alternatives.
Product Brand: ProForm
Product Currency: $
Product Price: 599.00
Product In-Stock: InStock
ProForm Carbon CX FAQs
Does the ProForm Carbon CX have a screen?
The ProForm Carbon CX has a very small screen that tracks speed, time, distance, and calories burned, and allows you to control your digital resistance.
Is ProForm a good brand?
ProForm is a brand owned by iFIT, which also owns NordicTrack, that produces mid-level exercise equipment. ProForm products typically have more features than budget brands, like Sunny Health & Fitness, but their products are not as heavy-duty as something like Echelon.
Does ProForm Carbon CX have Bluetooth?
Yes, the ProForm Carbon CX has Bluetooth compatibility that lets you connect it to a smartphone, iPad, or heart rate monitor.
How do you change the resistance on a ProForm Carbon CX?
You can adjust the digital resistance on the ProForm Carbon CX by pressing the up and down buttons on the LCD display. It goes from a minimum setting of 1 to a maximum of 16.