We test and review fitness products based on an independent, multi-point methodology. If you use our links to purchase something, we may earn a commission. Read our disclosures.
Chalk Monster is a company producing chalk that features 100% Magnesium Carbonate. It's priced well, not easily breakable, and comes with cool, unique branding. We recommend it if you're unsatisfied with other standard options.
Chalk Monster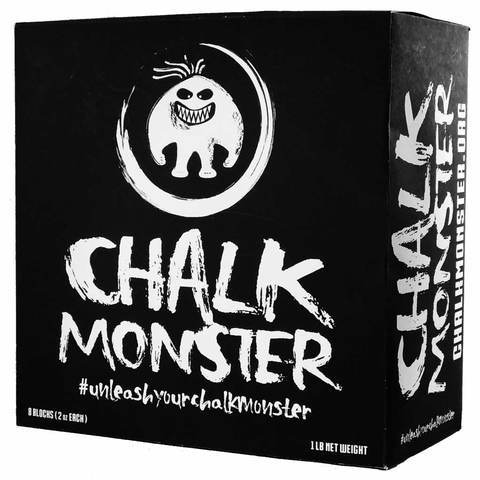 Chalk Monster Blocks
1 lb, 8 (2oz) blocks BEST IN THE GAME – 100% PURE Premium Magnesium Carbonate. ALL GRIP, NO SLIP – Chalk Monster is Premium Gym Chalk For Absorbing Moisture And Improving Grip
Chalk Monster Review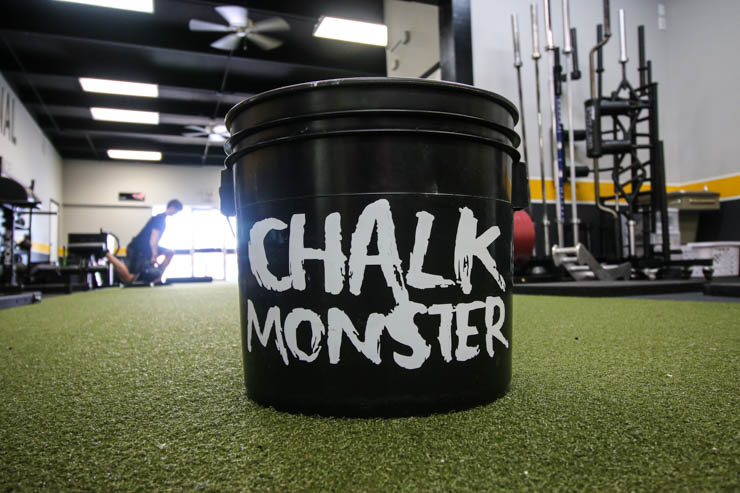 I'm going to be honest, I've never had issues with any of the standard chalk I've used.
Okay, let me actually take that back. The one issue I have that happens too often with standard chalk you get on Amazon (such as this) is the blocks often break prematurely.
Other than that, pretty much every block of chalk I've used feels the same.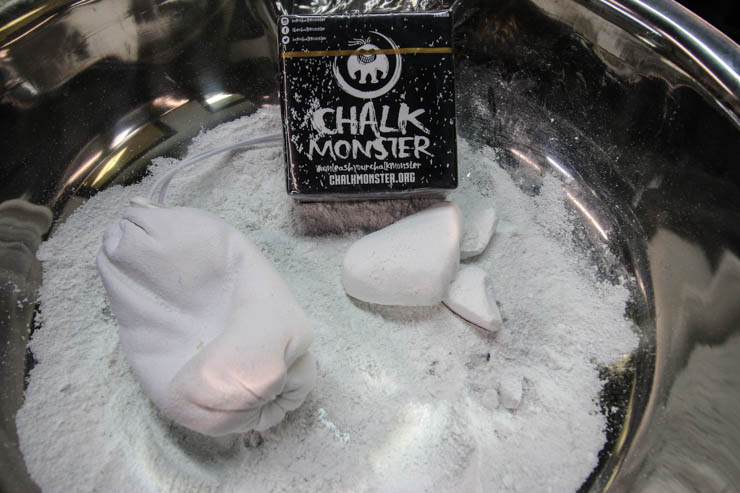 Does Monster Chalk "feel" different from other chalk? Not really. I actually asked about 15 different people who have come over to workout since I received the chalk for review to tell me if they can feel the difference between standard chalk and Monster Chalk. A "Pepsi Challenge" for lifting chalk. No one could tell the difference.
So, I did some research. First off, Chalk Monster uses 100% Magnesium Carbonate. Thinking this was a proprietary or special formula, I compared it to other options. It's the same.
So, the difference between Chalk Monster and other standard chalks is that if bought in bulk, it can actually be some of the best-priced chalk available.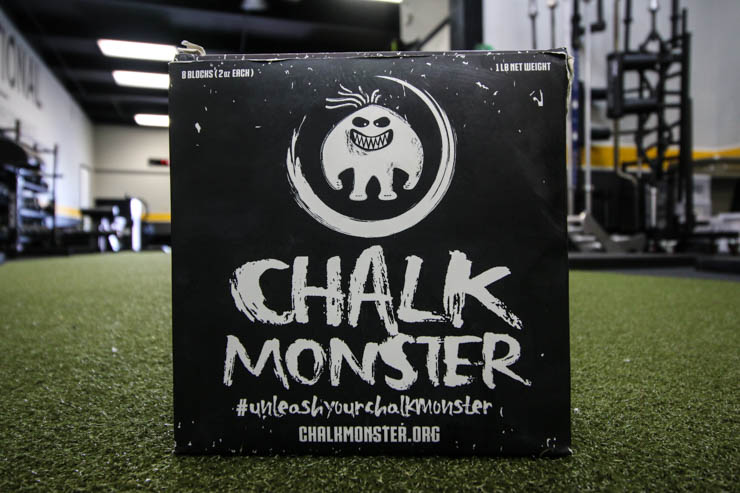 Seriously, a one-pound block, which is eight 2 oz. blocks is just over $10 without shipping. When factoring in shipping, it comes out a bit more than others, but if purchased in bulk, it can actually end up being better priced than just about everywhere else.
Here's the next thing Chalk Monster has going for them…a brand. Chalk Monster just sounds cool when compared to other options and obviously won't matter for everyone, but there are some who will actually care.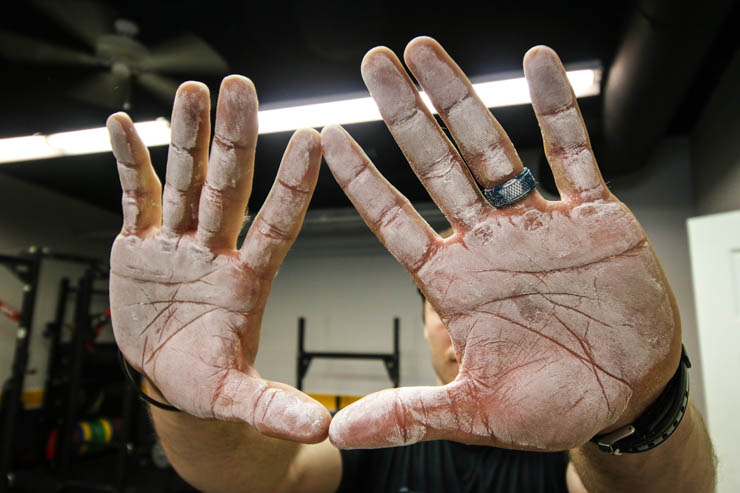 The brand of the equipment/chalk you use can actually be pretty important for commercial gyms. The more ways to differentiate yourselves from competition the better.
Finally, Chalk Monster blocks, in my experience don't break as easily. This is pretty anecdotal, but in my experience, brand new blocks were less likely to crumble into shards like previous chalk blocks I've used.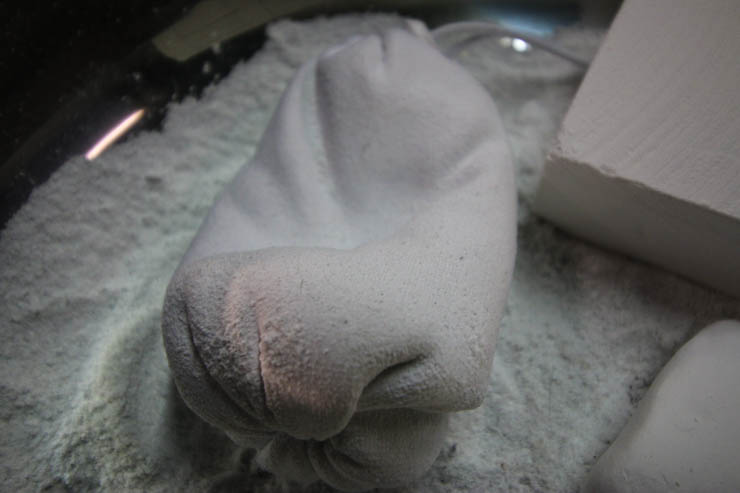 One thing that Chalk Monster does offer that I don't see many home or commercial gyms using is crushed chalk in a chalk bag. This setup is pretty popular in gymnastics and rock climbing, but not so much in training.
I started using the chalk bag when we received the unit for review and was immediately impressed on how even and thin a layer of chalk the bag produced. Not to mention, it didn't get chalk all over the place. This is a BIG deal when trying to keep a clean gym.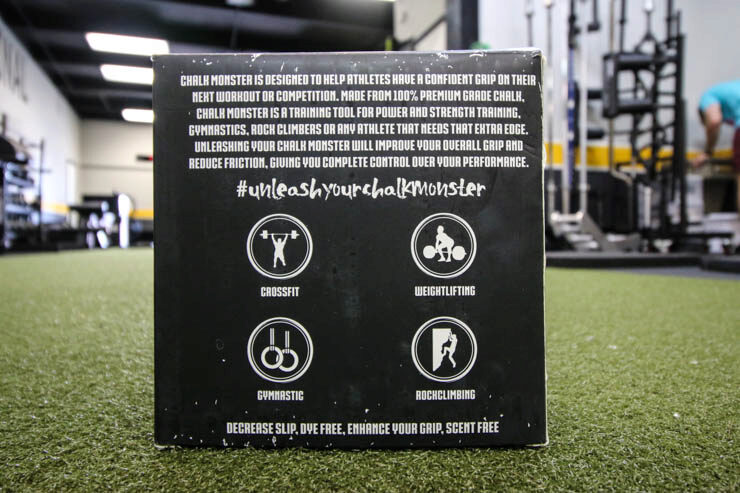 Chalk Monster offers the following various forms of chalk:
2 oz. Chalk Blocks
Crushed Chalk
Chalk Ball
The Chalk Blocks can be purchased in various sizes.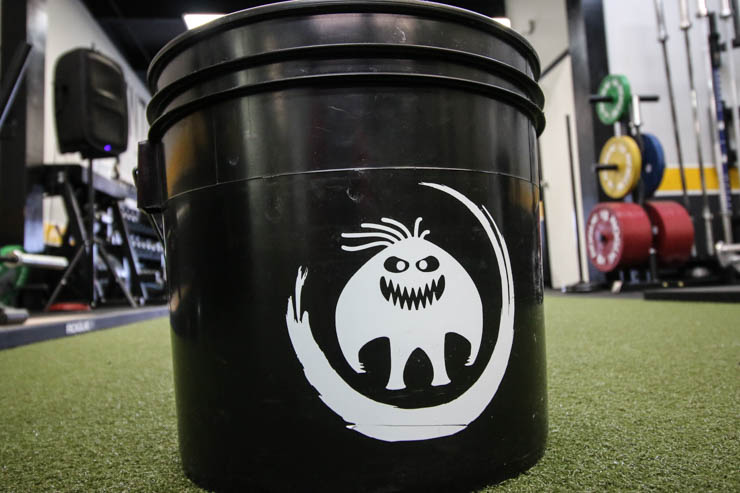 One thing I really like about Chalk Monster is their buckets. I can't stand seeing Lowes and Home Depot Buckets at commercial facilities. The fitness industry is notoriously unprofessional and things like branded buckets are a simple and cheap way to clean up your facility.
The Chalk Monster Bucket is pretty much exactly like a Lowes Bucket, but with shorter sides and better branding.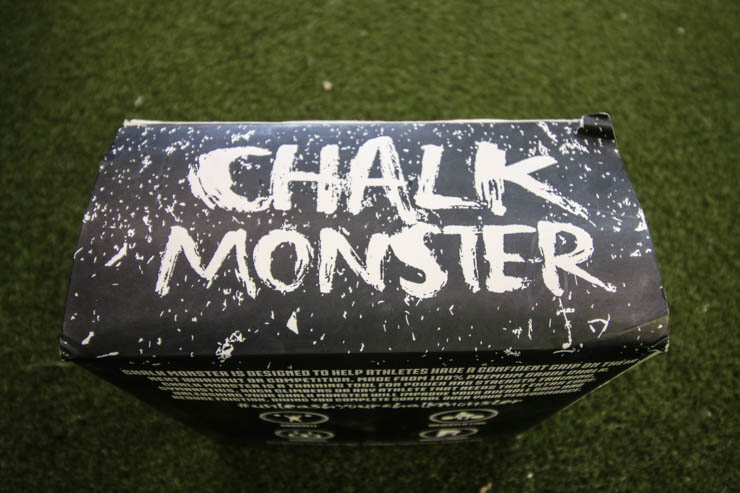 Finally, Chalk Monster offers a subscription service that I'm sure many CrossFit gyms would be very happy to have, instead of running out and having to scrape what's left before the new order comes in.
If you plan on buying Chalk Monster in bulk, then we recommend it for the price savings.
Suggested Improvements
Although we like Chalk Monster, there are a couple of things we'd like to see to set them apart even more.
First off, although the boxes of chalk are branded, we'd like the see the individual blocks branded. I know these blocks are imported (only one company makes lifting chalk in the US) but if you could somehow press the Chalk Monster logo into the block, that would be awesome.
Lastly, we'd love to see something other than branding to set the chalk apart. Something like a higher density block or adding essential oils to nourish the skin.
Full Rating
Chalk Monster Blocks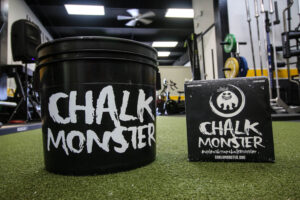 Chalk Monster is a company producing chalk that features 100% Magnesium Carbonate. It's priced well, not easily breakable, and comes with cool, unique branding. We recommend it if you're unsatisfied with other standard options.
Product Brand: Chalk Monster
Product Currency: USD
Product Price: 15.99
Product In-Stock: InStock
Chalk Monster FAQs
What is Chalk Monster?
Chalk Ness Monster chalk is a premium 100% magnesium carbonate chalk that will provide you with a greater grip at a fraction of the cost of the competition. The Chalk Ness Monster is suitable for all contestants – there are no exceptions.
Where to Purchase
Chalk Monster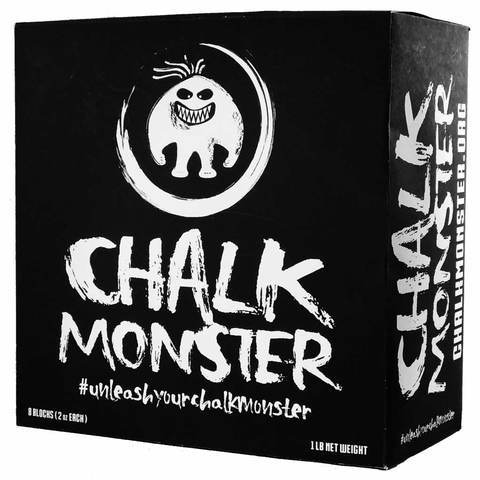 Chalk Monster Blocks
1 lb, 8 (2oz) blocks BEST IN THE GAME – 100% PURE Premium Magnesium Carbonate. ALL GRIP, NO SLIP – Chalk Monster is Premium Gym Chalk For Absorbing Moisture And Improving Grip