We test and review fitness products based on an independent, multi-point methodology. If you use our links to purchase something, we may earn a commission. Read our disclosures.
In the grand scheme of the history of strength training, resistance bands are still fairly new to the scene. Barbells, dumbbells, and free weights have become staples in home gyms, and bands aren't too far behind as manufacturers find more ways to make them accessible and easy to use.
The Harambe System allows trainees to get an intense full-body workout with a barbell-resistance band system. And fortunately, it doesn't require a whole lot of space to make that happen! In this Harambe System review, we will touch on some of the positives and negatives that our expert product testers discovered when using this machine.
Reviews You Can't (And Shouldn't) Resist
We really love fitness, but do you want to know what we love even more than fitness? The various types of home gym equipment that's out there to help us reach our goals. Our Garage Gym Reviews team includes weightlifting coaches, certified personal trainers, CrossFit-L1 trainers, and more who just can't get enough of trying out equipment!
We enjoy seeing how different products work and identifying who would benefit most from them. So when you need genuine advice on what products are hot (and what's not), take it from us. Our testers are able to dig deeper than the marketing verbiage provided by brands and really focus on the real-deal workout experience.
Harambe System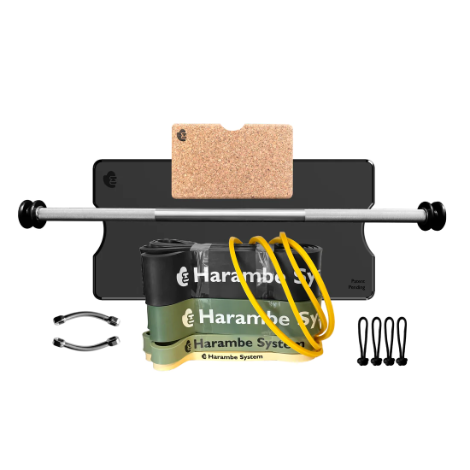 GGR Score: 4.3
Product Highlights
Compact solution to strength training

Resistance bands can offer over 200 lbs of tension

Provides a barbell-like experience with a fraction of the space 

The K Bundle is a complete package of everything you need

Ability to perform bilateral and unilateral exercises
Pros & Cons
Pros
Compact size
Vertisitile uses
Maximizes resistance band training
10-year warranty
Stainless steel bar with knurling
Cons
Expensive price tag
Lots of moving parts
Not the most straightforward piece of equipment
Bottom Line
The Harambe System K Bundle is a compact solution for strength training when you don't have enough space for a full blown home gym with traditional barbells and dumbbells.
A Quick Look At The Harambe System
This all-in-one home gym uses a plate base, a short barbell, and resistance bands to guide you through workouts with variable resistance. You can perform deadlifts, overhead presses, calf raises, curls, bench press, and more.
In recent years, the Harambe System has built something of a cult following among both serious weightlifters and more casual fitness fans. Part of this has been driven by the unique design and back story of the product. Harambe Systems used a professor of mathematics to craft a resistance band system that uses pulleys and levers instead of the more traditional hook system.
Before You Buy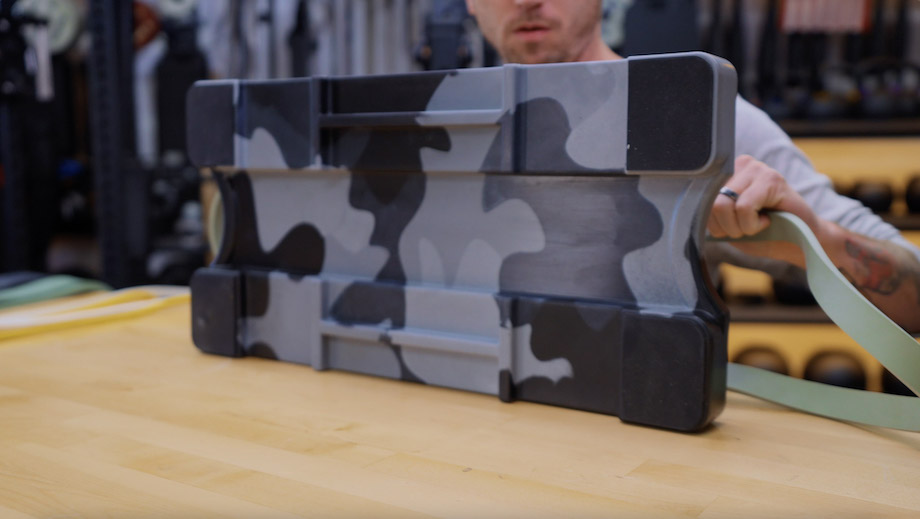 There are a lot of things that you should think about before taking the plunge and buying a resistance band system.
You can actually build your own Harambe System by choosing which bars, handles, slings, plates, and bands you want. However, doing this is likely more expensive than purchasing a complete set.
If you choose to buy a bar and plate separately, you could use your own resistance bands if you prefer.
We found the website for the Harambe System to be almost overwhelming, but in use, the machine is quite simple.
Video Review
Is the Harambe System Worth It?
For years, the X3 Bar system (which we discuss in greater detail below) was really the only serious band resistance system for serious athletes while also offering ease of use to more casual exercisers. The great news is that Harambe System's entry into the market finally meant that consumers had viable choices to decide between.
As of this writing, the K Bundle is listed at $790 pounds and the T Bundle is listed at $650, both of which are more expensive than most competitors. It does have some great features that could make it a good product for you:
Great For:
Athletes who want an intense workout with high resistance loads
Those who like the feel of a barbell paired with resistance bands
People who want a full-body workout from one portable machine
Harambe System (K-Bar Bundle) Specs
| | |
| --- | --- |
| Plate Footprint | 23.5" W x 11.75" L |
| Bar Weight | 12 lbs (bar) |
| Total Resistance | 500 lbs |
| Plate Material | 100% virgin UHMW PE |
| Bar Material | Stainless Steel |
| Bands: | Layers latex |
| Resistance Band Weights | Yellow: 10-20 lbs; Ivory: 20-40 lbs; Light Green: 40-80 lbs; Dark Green: 80-160 lbs; Black: 100-200 lbs |
| Price | $790 |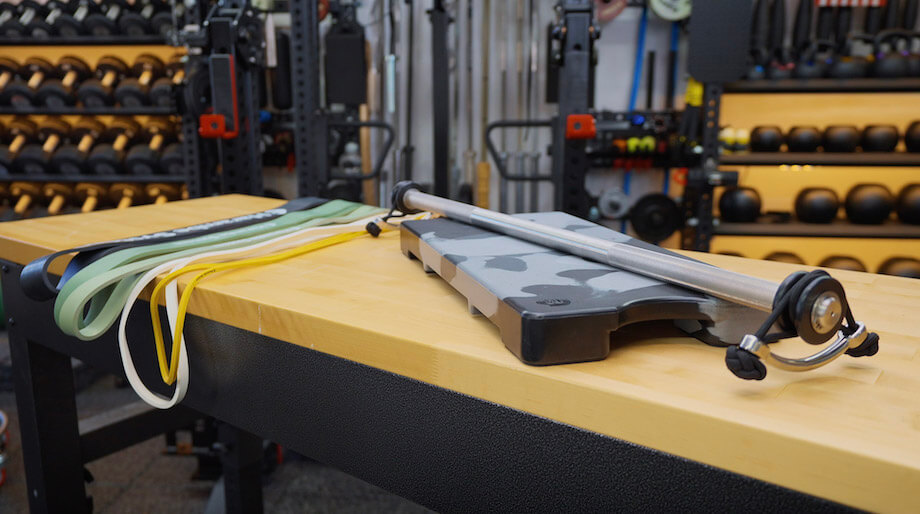 A Second-To-None Ground Plate
The Harambe System has a highly durable ground plate made from the same material used for body armor: UHMWPE. "I have no worries about it breaking," says Coop, founder of GGR and our expert product tester who used Harambe extensively. He found that the ground plate is incredibly stable, thanks to its width and durable construction.
Resistance Bands
If you bundle the system, you'll receive five bands made from high-quality latex:
Yellow: 10-20 lbs
Ivory: 20-40 lbs
Light Green: 40-80 lbs
Dark Green: 80-160 lbs
Black: 100-200 lbs
The bands themselves are 38 inches, which is on the shorter side. This shouldn't be an issue unless you're very tall, in which case, you may want to use your own bands. In use, these feel like high-quality bands, but these really aren't the selling point of the system.
A Unique Sling System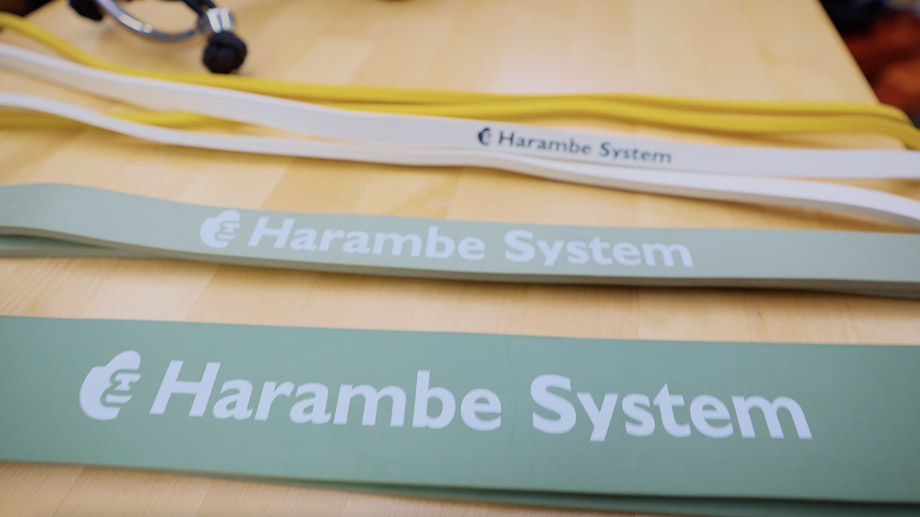 Unlike most of its competitors, the Harambe System uses slings (or pulleys) to attach the exercise bands to the bar. The brand claims that this increases the safety level since it is almost impossible for a band (even under tremendous resistance) to slip out of the sling.
RELATED: MAXPRO SmartConnect Review: A Portable and Versatile Home Gym
An Ergonomically Designed Bar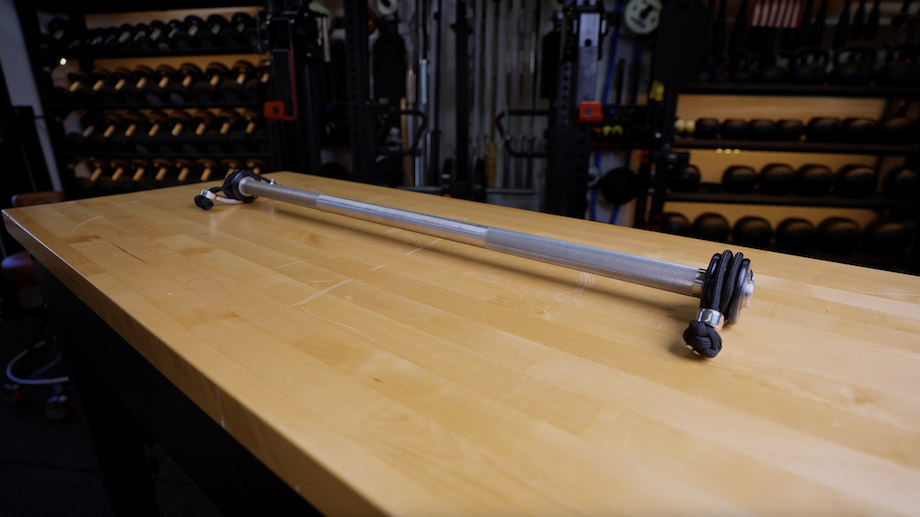 There are two different bars that come with the Harambe System: The K Bar and the T Bar.
The K Bar, which is included with the Harambe System's K Bundle, is longer and thicker than the T Bar. It has a 1.1-inch thick diameter, is about 12 pounds, and is 35.25 inches wide. It's a solidly constructed band bar made from stainless steel and reportedly withstand a working load of 1,000 pounds.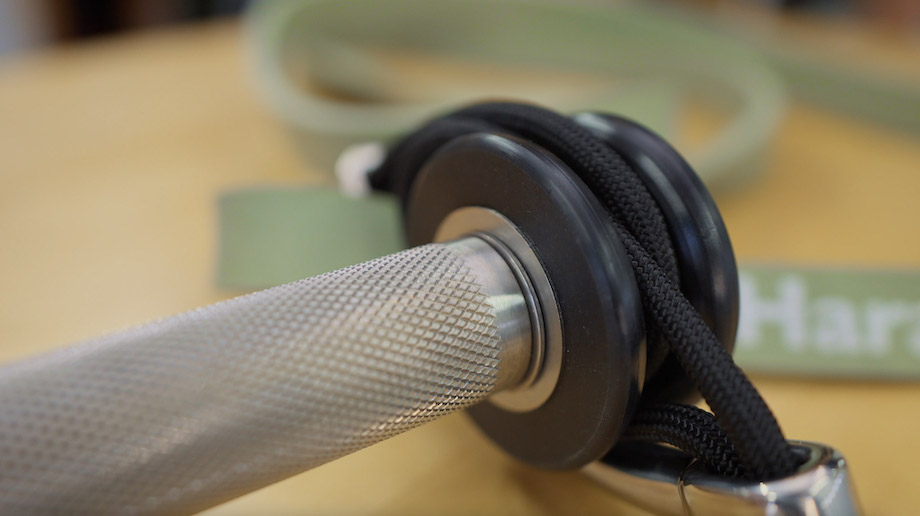 There is also an option to purchase the T Bundle with the T Bar, which is just 3.4 pounds and 28 inches long.
Coop describes the bars like having a traditional barbell in your hands. "There is a rotating bushing system that allows the bar to spin as you go through movements," he explains.
Both bars use stainless steel and feature a volcano knurl. There's also a patent pending on this pulley and sling system.
Portability
When looking at full-body workout machines, the Harambe System is highly portable. For the K Bundle, the plate is about 12 pounds, the heaviest bar is about 12 pounds, and the bands weigh next to nothing. You could easily put this in a car for travel (though flying with it may be difficult). The T Bundle is even more portable: the T Bar weighs just 3.4 pounds.
Note: This isn't as lightweight as resistance bands alone or competitors like the X3 Bar, but you can still move the Harambe System around easily.
Workout Program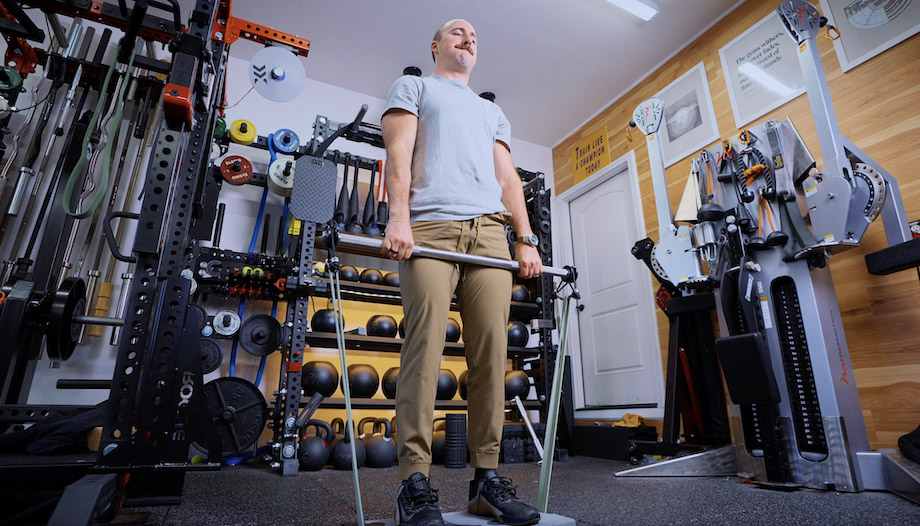 The Harambe System comes with a suggested exercise program on its website called "The Gorilla Gains Program." This seems to be geared toward beginners, as there are movement tutorials and workouts that last about 20 minutes. While this is useful, it doesn't quite compare to what other brands in the space are doing. It will be interesting to see if Harambe launches an app for workouts like many other all-in-one systems have.
Harambe System vs. X3 Bar
X3 Bar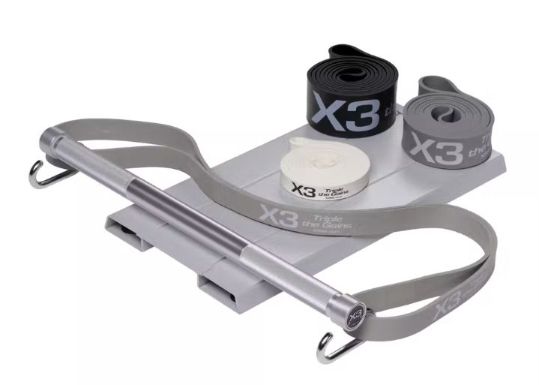 GGR Score: 4.0
Product Highlights
Up to 300 lbs of force
Upgrade to up to 600 lbs
Free workout program included
No assembly necessary
Pros & Cons
Pros
Can create up to 300 pounds of force (up to 600 if you get the Elite Band, sold separately)
Free 12-week workout program with high-quality workout and nutrition advice
Bar has great knurling
No assembly necessary
Bands are dipped in layered latex, making them thick and durable
Cons
Platform's embedded rollers don't allow bands to roll during lift, but that's nitpicky
Quite pricey at around $550 (financing available)
Only 1-year warranty for the bands
Some complaints of the bands wearing down after only a few weeks
Bottom Line
A compact piece of strength training equipment that combines the best parts of resistance bands and barbells into one.
"The X3 bar is the grandfather of all resistance band systems," Coop says. The X3 system is very straightforward, with a simple foot plate that you stand on while exercising. The actual exercise band loops under this plate and then extends to hooks on the X3 Bar. Once the band is hooked on, the X3 can be used for a wide range of both upper and lower-body exercises.
Because of its sturdy metal construction, the X3 bar can withstand significant band resistance. Like with the Harambe System, the X3 bar also comes with a full-scale exercise program.
Coop is a big fan of the old X3 plastic footplate, which was sturdy yet still lightweight. He is less fond of the new, heavier metal foot plate. Coop says that the ground plate for the Harambe System is dramatically better than the X3 plate. The only downside of this plate is that it is heavy because it is made out of the material used for body armor.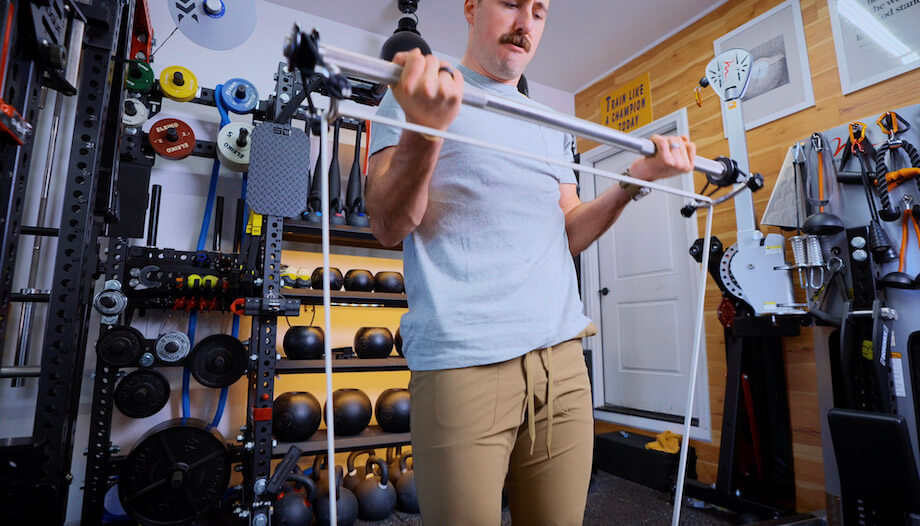 The final point of comparison between the two products is in the bands they use. Coop was somewhat skeptical of each company's claim that they use proprietary technology to create bands. He found that both companies use high-quality latex for their bands, and both have started moving towards smaller loops in their bands than other competitors use.
If you want something more affordable and portable, the X3 Bar is a good bet. If you want a sturdier foot plate and a heavier barbell, then go with Harambe.
Customer Experience
As a family-owned company, Harambe prides itself on providing outstanding customer service to buyers. Harambe honors the important work that our nation's military and first responders provide. If you are one of these workers, then you qualify for a discount (after providing proof).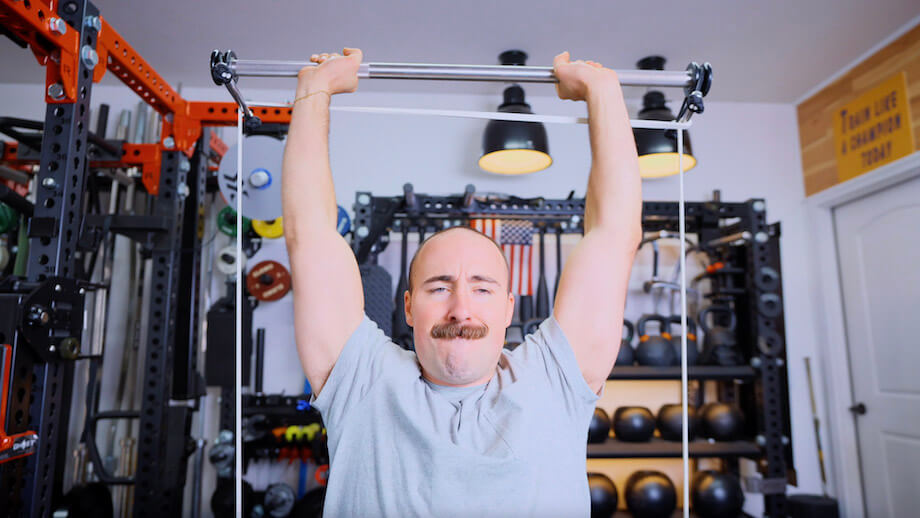 Warranty
The bar and sling system sold by Harambe has a five-year warranty. Other parts, like the bands and rope, are under a one-year warranty.
Returns
The brand offers a 30-day return window. However, buyers should beware. They must pay the return shipping cost to return the product to Harambe's headquarters.
Ordering and Shipping
The Harambe System can be purchased through the brand's website. As of this writing, it is not available on Amazon. Shipping is free for orders over $300, except for international sales.
Assembling the Harambe System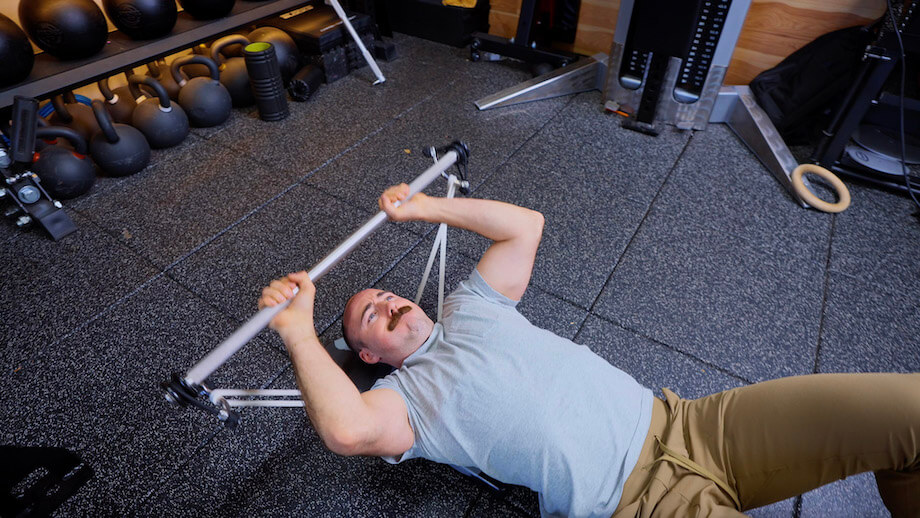 Putting together a band resistance system is very straightforward since there are only a handful of pieces of equipment. The only potential snag with the Harambe System is related to the sling or pulley system that attaches the band to the bar. The good news is that instructions are available on the corporate website, and once a person does it a few times, it is very simple.
RELATED: The Gorilla Bow: A Unique Resistance Band System
Customer Reviews
On Harambe's website, there are numerous outstanding reviews of the product, highlighting how well it meets most users' needs.
One user, Rob, noted: "I love the solid feeling and the smoothness of the K Bar. I am 58 yrs old coming from a weightlifting background and this fits the bill perfectly for me. No more joint pain."
A second stellar review came from Tim M., who transitioned to the Harambe System because he wanted a better ground plate. He explained: "I did want a larger plate. I jumped on the "cosmetic defect" sale and I'm really glad I did. This board is amazing. Adds a whole other dynamic to my workouts."
Final Verdict of Our The Harambe System Review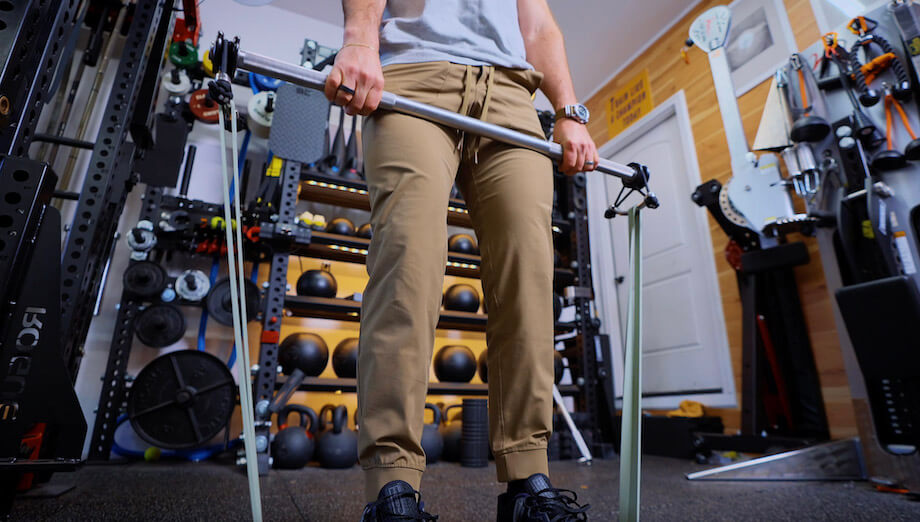 So, should you add the Harambe System to your home gym?
Ultimately, our final verdict on the Harambe System for resistance bands is enthusiastic. Trainees who plan on doing the majority of their resistance band workouts at home will find this extremely beneficial. Thanks to this system, you can do back squats, overhead presses, front squats, and so much more right at home.
It is an expensive system backed by high-quality materials and a unique attachment. If you have the money to spend this could be worth it:
The Harambe system is durably constructed and will withstand heavy use and high resistance loads.
The system emphasizes safety with a unique attachment mechanism between the bands and the bar.
The Harambe System ground plate has no competition. It is truly second to none and offers users durability and stability. Their platforms are made out of UHMW, the same material used in bulletproof vests!
Harambe System Rating
Harambe System
Who needs barbells and dumbbells when they could use resistance bands? Check out our Harambe system review to see if this is a better choice for your home gym.
Product Currency: $
Product Price: 650
Product In-Stock: InStock
Harambe System FAQs
What is the Harambe System?
Founded by Khalid Bou-Rabee, the Harambe System is a resistance band set that packs the power of barbells and dumbbells. It's innovative, uniquely designed with top-notch materials, and doesn't take up a lot of space. This solution is an optimal choice for those who are into resistance training. 
How Much Weight Can You Use With Harambe?
The K bar and T bar can handle a working load of 1000 pounds, which is plenty! 
Where Did The Harambe System Get Its Name?
Harambe means caring, sharing, and pulling together, so since that is what their brand embodies, they felt that this name would be the most appropriate.