We test and review fitness products based on an independent, multi-point methodology. If you use our links to purchase something, we may earn a commission. Read our disclosures.
Optimum Nutrition is known for its budget-friendly sports supplements that also happen to taste great and consistently dissolve well. In fact, Optimum Nutrition products are so widely loved that we even created a guide to the best Optimum Nutrition flavors in their 100% Gold Standard whey protein powder line.
ON makes much more than protein shakes, though. They also offer creatine, among other products, and in this Optimum Nutrition creatine review, I'll help you decide if this is the right creatine supplement for you.
Medical disclaimer: This article is intended for educational and informational purposes only. It is not intended as a substitute for medical advice. For health advice, contact a licensed healthcare provider. GGR also recommends choosing a product that has been third-party tested for quality.
Testing Creatine and Making Gains
Our certified personal trainers, certified nutrition coaches, and athletes have been using supplements for collective decades to support our fitness endeavors. So when GGR decided to expand our coverage from the best home gym equipment to the best workout supplements, it just made sense. We keep dozens of supplements in our own homes and test them for weeks to bring you reviews like this Optimum Nutrition creatine review.
Optimum Nutrition Creatine
GGR Score: 4.65
Product Highlights
Banned substance tested and approved

5 grams of micronized creatine monohydrate 

Only available as unflavored

Best used during the loading phase

Potentially increases energy, endurance, and decreases recovery time

Supports lean muscle growth
Pros & Cons
Pros
Very affordable
Pure creatine monohydrate
Can be mixed into your favorite beverage
Keto-friendly
Users report its effectiveness in building muscle
5 grams of creatine monohydrate per serving
Cons
May cause digestive issues in some
Does not dissolve well according to some reviews
Bottom Line
If you're looking to add some bulk with pure creatine, Optimum Nutrition Micronized Creatine Monohydrate is one worth considering.
A Quick Look at Optimum Nutrition Creatine
A tub of Optimum Nutrition creatine, officially Optimum Nutrition Micronized Creatine Monohydrate Powder, contains nothing but micronized creatine powder.
If it sounds like we're stating the obvious, you should know that most sports nutrition supplements are multi-ingredient products and at least contain some sort of flavoring, coloring, preservatives, anti-caking agents, emulsifiers, or thickeners.
This one is just pure creatine monohydrate.
RELATED: Creatine vs Pre-Workout
Before You Buy
This is pure, unflavored creatine monohydrate. You may want to mix it in a sports drink or with an electrolyte powder for taste instead of with plain water.
Some people say that creatine HCl is more bioavailable than creatine monohydrate, but studies don't yet support that notion, according to a 2017 review of studies in the journal Science & Sports1. Monohydrate is fine and proven to result in the many benefits associated with creatine supplementation.
Is Optimum Nutrition Creatine Worth It?
Optimum Nutrition is one of our favorite supplement brands for several reasons, primarily because it offers high-quality and third-party-tested supplements for a lower cost than many competitors.
There's always a price to pay when it comes to budget-friendly products, but in the case of Optimum Nutrition, that's something as simple as there tend to be more artificial ingredients, like dyes and artificial flavors, than we'd typically like to see. Still, it doesn't make the supplements unsafe, and they are a great option for people who are serious about gains but don't want to dent their wallet too much.
And, in the case of Optimum Nutrition Creatine, it's literally a single-ingredient supplement, so no need to worry about artificial sweeteners like the ubiquitous erythritol or anything else.
Great for:
People who want simple supplements without added ingredients
Those looking for an unflavored creatine
A zero-calorie, zero-sugar supplement
People on a budget
Athletes who need a verified banned substance-free product
Not recommended for:
People looking for a more beefed up creatine product with other supplements included (such as amino acids)
Individuals who prefer flavored supplements
Optimum Nutrition Creatine Specs
| | |
| --- | --- |
| Price per serving | $0.36 to $0.66 depending on size bought |
| Creatine type | Micronized creatine monohydrate |
| Creatine per serving | 5 g |
| Serving size | 5 g |
| Calories per serving | 0 |
| Flavors | Unflavored |
| Sugar per serving | 0 g |
| Sweeteners | None |
| Other key ingredients | None |
| Other ingredients | None |
Experience Using Optimum Nutrition Creatine
GGR product tester and editor Nicole Davis tried Optimum Nutrition creatine in the form of creatine capsules.
The formula is basically the same as the ON creatine powder: It's just micronized creatine monohydrate. The only difference is that the capsules contain magnesium stearate and gelatin, which are what the capsule is made of.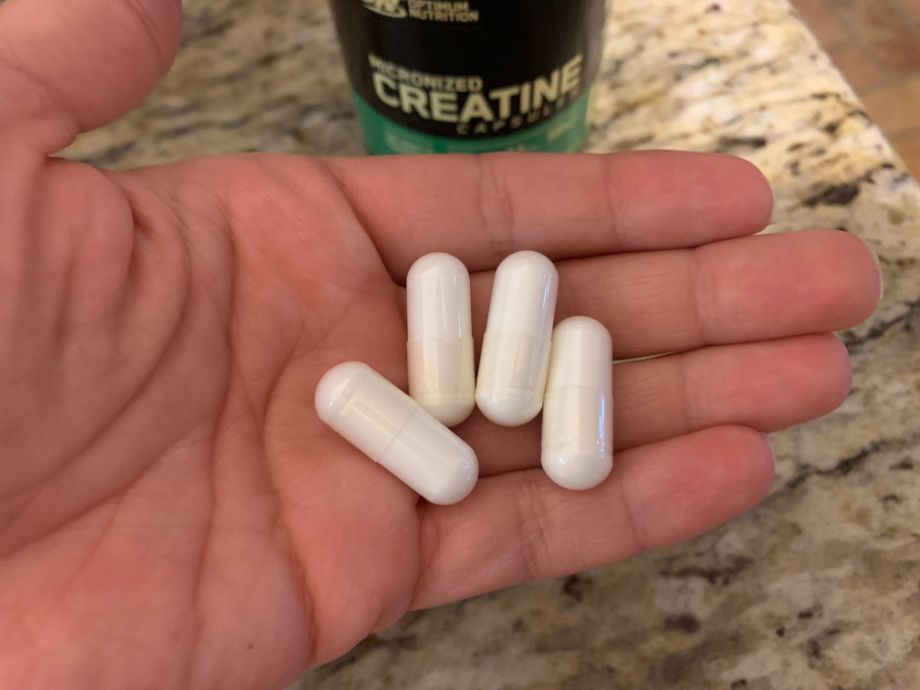 The dose is lower—2.5 grams of creatine in two capsules—but the products are fundamentally the same. Because the capsules have a lower dose, we think the powder is better for someone doing a creatine loading phase. (Taking eight to 10 pills a day to reach the 20- to 25-gram loading protocol would get really old, really fast).
Both the capsules and the micronized powder appear in our guide to the best creatine supplements.
Price Per Serving
Optimum Nutrition creatine powder does not come with a scooper. The serving size is "one rounded teaspoon," which means the price per serving ultimately comes down to how good you are at following directions.
If you can scoop out a perfect rounded teaspoon, you're getting 5 grams of the powder, and the price per serving is $0.66 to $0.36 depending on what size tub you buy.
Formulation
Creatine is a popular bodybuilding supplement for a reason. For goals that involve muscle strength, muscle mass, or muscle size, creatine should be in your supplement stack, as it's proven to support all of those things.
Optimum Nutrition micronized creatine powder is a single-ingredient supplement. The label lists micronized creatine monohydrate as the only ingredient. So, unlike a lot of other creatine supplements, this one is free of everything else: carbohydrates, sugar, artificial sweeteners, flavorings, colorings, etc.
One serving is 5 grams of creatine, measured as a "rounded teaspoon." This is the high end of the recommended daily dose for maintaining muscle creatine stores, according to a 2016 review in the Journal of Exercise, Nutrition and Biochemistry2.
That means it's also free of things like emulsifiers and anti-caking agents, so it is possible that this creatine powder could clump together or get really granular if you let it sit for too long.
Taste and Solubility
Pure micronized creatine monohydrate typically dissolves very well. Although we haven't tried this powder yet (just the capsules), our experience with other micronized creatine powders tells us that it blends easily in plain water with a few shakes, but you might be better off mixing it with a sports drink or juice.
Creatine has a distinct taste, sour and salty, at least to me. Unflavored creatine supplements aren't my favorite thing, but I get around it by mixing with a different supplement that has flavor (such as pre-workout) or into a flavored beverage like Liquid I.V.
Side Effects
Some people experience side effects when they start taking creatine. Bloating is a common complaint; this occurs because creatine changes the way your muscle cells store water3. This water retention can lead to a tight, distended feeling or feeling "fluffy," especially during the loading phase.
In very high doses (10 grams or more at one time), creatine may cause diarrhea4. For this reason, it's recommended that you split higher doses up into smaller equal doses and consume them throughout the day to reach your daily target.
If you're worried about liver or kidney damage, which are commonly purported dangers of creatine supplementation, you can rest assured knowing that the International Society of Sports Nutrition concluded that there is ""no compelling evidence that creatine supplementation negatively affects renal function in healthy or clinical populations." Additionally, a 4-year-long study5 on people supplementing with creatine did not find any negative effects on either organ.
Third-Party Testing
Many Optimum Nutrition products are third-party tested, including the brand's micronized creatine powder, which is free from banned substances. This means it's safe for athletes to take.
I don't believe that this product is tested for allergens, but since it's a single-ingredient product, it's most likely free from common allergens. Still, people who have known allergies are best off choosing products that are explicitly free from their allergens.
Optimum Nutrition Micronized Creatine vs Bulk Supplements Creatine Powder
Bulk Supplements Creatine Powder
GGR Score: 4.45
Product Highlights
5 grams of pure creatine monohydrate

Formulated to promote muscle mass, improve recovery time, and increase anaerobic strength

Available in multiple sizes as well as in capsule form

Dairy-, soy-, sugar-, yeast-, and gluten-free
Pros & Cons
Pros
Receives very positive reviews from the vast majority of users
Great customer service
Mixes well
Several sizes available
Both vegetarian and gelatin capsules available
Dairy-, soy-, sugar-, yeast-, and gluten-free
Cons
In capsule form, you must consume seven pills
Bottom Line
Bulk Supplements' Creatine Powder is an effective supplement that is sugar-, dairy-, soy-, gluten-, and yeast-free so may be a good choice for anyone with dietary restrictions.
Bulk Supplements Creatine Powder is another budget-friendly creatine supplement. Like the ON creatine, this Bulk Supplements product is pure micronized creatine monohydrate. It includes no other ingredients and it's unflavored. These products are essentially one and the same, just branded differently. Both are completely no-frills.
| | | |
| --- | --- | --- |
| | Optimum Nutrition Micronized Creatine | Bulk Supplements Creatine Powder |
| Price per serving | $0.36 to $0.66 depending on size bought | $0.75 for a 3.5-oz package, down to $0.26 for an 11-lb package |
| Creatine type | Micronized creatine monohydrate | Micronized creatine monohydrate |
| Creatine per serving | 5 g | 5 g |
| Serving size | 5 g | 5 g |
| Calories per serving | 0 | 0 |
| Flavors | Unflavored | Unflavored |
| Sugar per serving | 0 g | 0 g |
| Sweeteners | None | None |
| Other key ingredients | None | None |
Read our full Bulk Supplements creatine review for more information on this product.
Customer Experience
We generally recommend ordering directly from manufacturers when possible, since that's the best way to ensure eligibility for returns, refunds, and guarantee periods.
If you buy creatine straight from Optimum Nutrition, you'll enjoy a 30-day return policy. You can return any supplement within 30 days of purchasing as long as no more than 75% of the product is used. This is only an option when you buy from Optimum Nutrition.
If you buy from another retailer, you're subject to its policies.
Ordering Optimum Nutrition Creatine
You can order this product through the Optimum Nutrition website, on Amazon, or online at a ton of different retailers. It's also very likely that you can pick it up in-store at your local GNC.
We recommend ordering from Optimum Nutrition since there is a clear 30-day return policy.
Customer Reviews
Optimum Nutrition creatine powder has an average rating of 4.6 out of 5 stars on Amazon at the time of writing, out of nearly 75,000 reviews.
The many, many positive reviews note improvements in strength and stamina after taking the product for a while, along with praise for the simplicity of the product and its inexpensive price.
One reviewer wrote, "I have been using this product for several weeks now and have noticed a significant improvement in my workout performance. The powder mixes easily with water and doesn't have any taste, which is a plus for me as I don't like flavored supplements."
This reviewer follows a low-carb diet and is happy to have a creatine product that's suitable for their diet: "The fact that it's keto-friendly is also a big bonus, as I follow a low-carb diet and have had trouble finding supplements that fit my dietary needs. The 120 servings per container is also a great value, as it lasts a long time and is cost-effective."
Another reviewer likes the product, but says, "I believe water solubility might vary with packaging, as the one I bought last year did not dissolve very easily, but the package I bought now seems to mix well. All in all, a great product and saw a good increase in my size and performance."
Some reviewers report bloating and cramping as side effects, which are normal and quite common complaints about creatine.
Final Verdict of Our Optimum Nutrition Creatine Review
Optimum Nutrition creatine is a great product; easily one of the best creatine monohydrate supplements out there. It's inexpensive and plain, so you can mix it with any number of things for flavor. It doesn't contain any artificial ingredients and it's tested for banned substances in sport.
Optimum Nutrition Creatine Full Rating
Optimum Nutrition Creatine
Optimum Nutrition Creatine Monohydrate is a micronized, unflavored creatine powder that contains 5 grams of creatine per serving.
Product Brand: Optimum Nutrition
Product Currency: USD
Product Price: 39.99
Product In-Stock: InStock
Optimum Nutrition Creatine FAQs
Is Optimum Nutrition a good brand?
Totally. Optimum Nutrition is one of our favorite supplements brands. They make various supplements that can help you power through high-intensity workouts, expedite muscle growth, and support your overall wellness. 
Is creatine monohydrate or creatine HCl better?
Both types of creatine work for building muscle. Although creatine HCl has greater water solubility9 and is thought to be more bioavailable, research1 shows that creatine monohydrate works just as well.
These statements have not been evaluated by the Food and Drug Administration. This product is not intended to diagnose, treat, cure, or prevent any diseases.
References