We test and review fitness products based on an independent, multi-point methodology. If you use our links to purchase something, we may earn a commission. Read our disclosures.
One thing that amazes me about the world of strength and conditioning is that there are endless ways to progress your performance. I have some tried-and-true methods that I adhere to for my fitness routine, but I recently had nagging knee issues that kept me from running and walking for long durations. The good news for me—and anyone else who has experienced knee pain— is that there are a variety of ways to get a challenging, heart-pumping cardio workout, and indoor rowing is one of them.
I love rowing machines for this reason. Regardless of how my knee is feeling on a given day, the rower is always there for me to give me a solid, fully-body, low-impact workout. In this NordicTrack RW600 review, I'll cover the good and the bad about this entry-level rower from the company so you can go forth and decide if it will be your next home gym addition.
We Know a Good Erg
We know our way around a rowing machine because our product testers are a group of fitness fanatics with experience to back up the passion. Our team of testers is made up of athletes, CrossFit Level 1 Trainers, certified personal trainers, and nutrition coaches.

Although we haven't gotten our hands on the NordicTrack RW600 for the full experience, we have tried the RW700 and RW900. Based on our experience with NordicTrack, the two models we've tested, and iFIT interactive programming, we're going to provide you with the most accurate information so you can make an informed decision on the best rower for your home gym.
NordicTrack RW600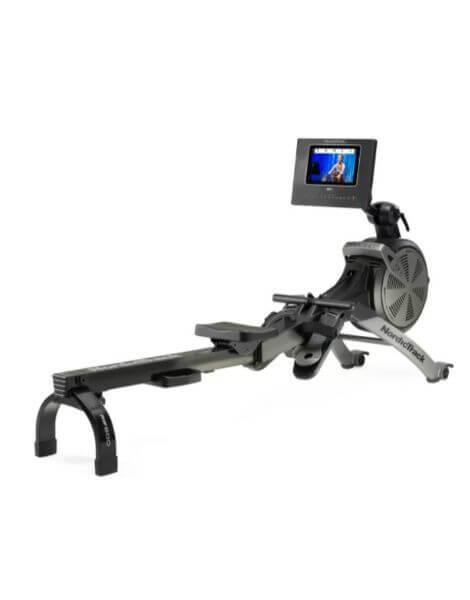 NordicTrack RW600 Rowing Machine
NordicTrack's RW600 Rowing Machine is a high-quality, tech-enhanced, and budget-friendly rower. What stands out on this rower is its hybrid resistance system which combines 26 levels of Silent Magnetic Resistance (SMR) and air resistance. The result is a quiet machine with seemingly infinite customization on the resistance. Additionally, the resistance can be controlled manually by your iFIT trainer offering real-time trainer-led resistance control.The RW600 has many standout features, including:10-inch Smart HD monitor 26 levels of Silent Magnetic Resistance (SMR) with dual air resistance Two 2-inch digitally amplified speakers, iFit compatibility with a 30-day free family membership Oversized adjustable foot pedals,  An auxiliary audio port Bluetooth audio connectivity 250-pound max weight capacity. The molded, ergonomic saddle offers a smooth ride along the oversized steel seat rail. The RW600 only supports weights up to 250 pounds; a relatively low weight capacity for this category of equipment.With the iFIT family membership, users can choose from thousands of on-demand workouts that not only include rowing but incorporate other training as well such as yoga, running, and strength training. It is important to note that beyond the 30-day iFIT trial, a membership is required to utilize the rower. There are no pre-programmed workouts offered.  When you are done with your workout, simply utilize the SpaceSaver design which folds the machine vertically to store out of the way. If you are short on space, this may be a good option. 
A Quick Look at the NordicTrack RW600
The NordicTrack RW600 is the base model in the NordicTrack rowing machine series, followed by the RW700 and RW900. All three models offer iFIT-enabled touchscreens, 26 levels of resistance, and auto-adjust technology that allows trainer-led classes to manipulate the resistance levels based on the coaching cues so you don't have to pause a minute of your workout.
The main difference on the NordicTrack RW600 is that there are two forms of resistance: Air resistance and silent magnetic resistance. Although we haven't tried this dual resistance machine to give you all the gritty details, we've read it's actually pretty quiet because the main form of resistance is the magnetic.
My Tips
The additional iFIT subscription will elevate your workout experience, but will cost you a monthly fee.
Dual resistance gives you a more customized feel in between the defined magnetic resistance levels.
If you want tips on saving your cash, check out our NordicTrack promo code page.
Pros:
10" iFIT-enabled touchscreen
Customized feel with both air and magnetic resistance
Low-impact, full-body workout
Cons:
Low user weight capacity
Pigeon-holed into iFIT membership
No heart rate monitoring
Is the NordicTrack RW600 Worth It?
If you are a fan of iFIT or interactive programming in general, you'll probably think the RW600 is worth it. It's the base model rowing machine for NordicTrack but it has a solid build and has a bonus feature: It folds with NordicTrack's spacesaver design.
Is it the best NordicTrack rower? Read on to find out.
Great for:
Anyone looking for interactive programming
Anyone who is concerned about noise levels on a traditional air rower
People looking for a space-saving design
Not recommended for:
Folks heavier than 250 lbs
Anyone looking for a no-frills rower
Those who don't care for iFIT programming
NordicTrack RW600 Specs
| | |
| --- | --- |
| Footprint | 87″ L x 22″ W x 47″ H |
| Product Weight | 117 lbs |
| User weight capacity | 250 lbs |
| Programming | iFIT |
| Price | $999 |
| Warranty | 10-year frame, 2-year parts, 1-year labor |
| Display | 10" smart HD touchscreen |
| Resistance levels | 26 digital resistance levels |
| Type of resistance | Magnetic and air |
| Bluetooth audio | Yes |
| Rail | Oversized steel seat rail |
| Automatic trainer control | Yes |
| Foot straps | Adjustable nylon foot straps |
| Transport wheels | Yes; Front-mounted transport wheels |
| Flywheel | Inertia-enhanced flywheel |
Customer Reviews
NordicTrack typically doesn't disclose individual reviews on products, so I turned to Google reviews and found a pretty positive 4.2-out-of-5 star rating for the RW600. The customers who had issues were mostly having trouble with iFIT and the Android-integrated tablet.
What to Expect on the NordicTrack RW600
The RW600 blends two different types of resistance we normally see in ergs: air and magnetic. We have a whole explanation of the difference between air and magnetic resistance, so I won't get too into detail for this rowing machine review.
But, to give you a better idea about how this unique dual-resistance machine works, I turned to our GGR editor and erg expert Amanda Capritto to find out more about the rowing experience. "Generally, dual resistance is more versatile than just one or the other," she says.
"The major benefit is that you get more resistance options due to the unlimited amount of air resistance between the defined magnetic resistance levels," Amanda explains. "The dual resistance is certainly not silent, but it's not as noisy as a regular air rower."
Amanda also noted that this dual resistance isn't common, but she's had hands-on experience with the same set up in the Aviron Tough Series Rower. In comparison, the RW600 comes in at a drastically more budget-friendly price.
What's more about the dual resistance: When you use the interactive programming, the iFIT trainer can auto-adjust your resistance based on the cadence of the workout. Within these auto-adjustments of the magnetic resistance, you'll still be able to fine-tune your output based on how hard you row against the air resistance.
Interactive iFIT Workouts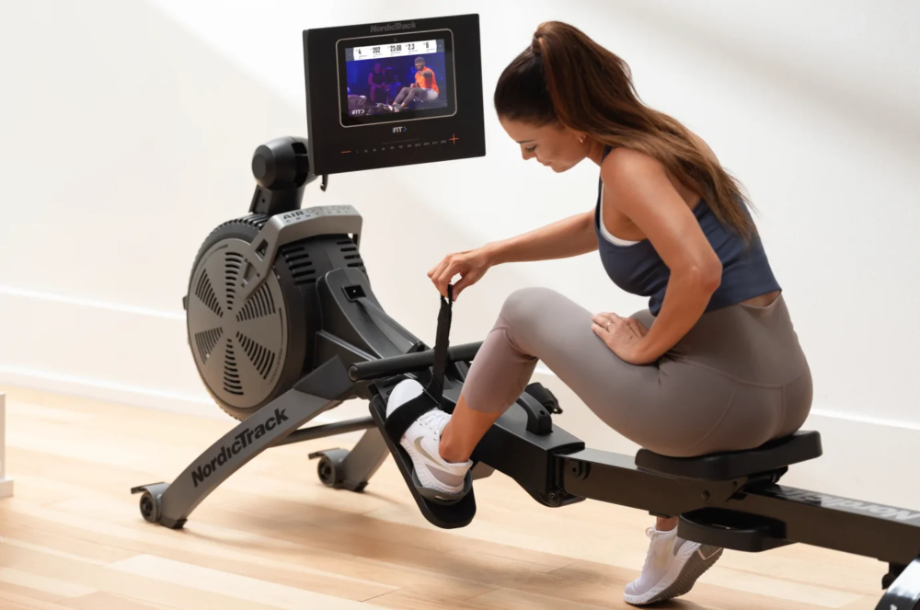 Although we haven't tested the RW600, we have many hours of experience with iFIT interactive programming. With iFIT, you'll have access to hundreds of studio and on-demand classes led by world-class personal trainers and athletes. You'll be able to use the app for rowing workouts in addition to strength and yoga sessions off the rower, which gives you a lot of versatility in your training.
The iFIT membership is an additional monthly fee after your free 30-day trial included with purchase of the RW600 ends. Here is what you can expect to pay for iFIT programming depending on your membership and billing frequency:
iFIT individual membership: $15 per month or $180 per year
iFIT family membership: $39 per month or $39 per year
The 10-inch built-in touchscreen is run with an Android processing system and is enabled to solely run the iFIT app. That said, we've found with other NordicTrack fitness equipment, it's a lot harder to use the machine without an iFIT subscription. We like to mention this in case you're interested in the machine but on the fence about iFIT in general.
Footprint and Portability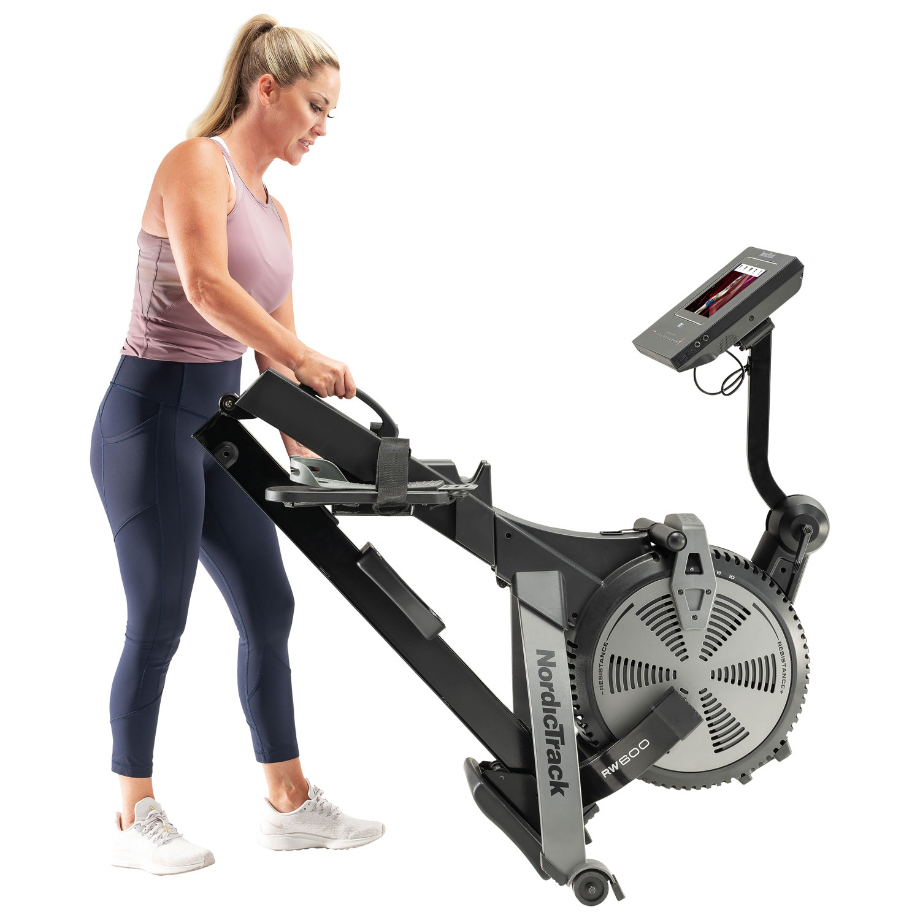 Folding rowers don't come along very often, so we like to know all the details when we find one. The NordicTrack RW600 measures 87 inches long, 22 inches wide, and 47 inches tall, and when it's folded, it's nearly half that. The folded position basically hinges the machine in the middle and folds the rower in half, in an upright vertical position.
NordicTrack's sister company, ProForm, makes the ProForm Pro R10 erg that has a nearly identical folding mechanism. What we liked about the folding mechanism is that the handles are perfectly placed to fold it on your own. Plus the front-mounted transport wheels make it easy to roll into storage.
Construction of the RW600 Rower
We like the alloy steel construction of the frame and monorail on the RW600. What we don't like is that this erg has a user weight capacity of 250 pounds, which is the minimum we like to see in home rowers; some of the best rowing machines go up to 400 pounds.
Based on our experience with the ProForm Pro R10, which has a similar weight capacity, we can assume that the RW600 will offer a similar amount of stability. The R10 was not shaky at all, even with a foldable frame.
Comfort and Ergonomics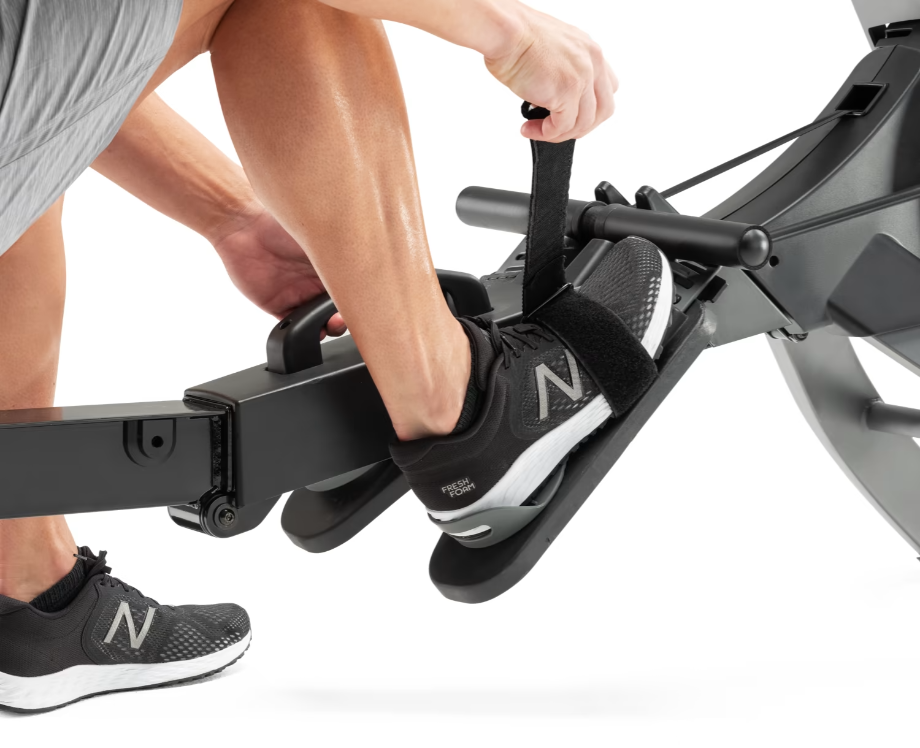 Firstly, we appreciate that the console is attached to an adjustable arm, making it customizable for your eye level and reachability. Based on our experience with NordicTrack and ProForm rowers, we've noticed you can keep your feet strapped into the pivoting pedals and still reach the console to change programs or resistance levels.
Amanda mentioned that in her experience on the NordicTrack RW900, the oversized and pivoting pedals (which also featured on the RW600) are almost too spacious. This factor certainly will not affect all potential buyers, but it's worth mentioning.
The rowing handlebar comes with "soft touch" cushioning so you can hold on for longer durations. The seat is also ergonomic and molded to create a saddle rather than a stiff board, which is another helpful feature for longer bouts of rowing.
NordicTrack RW600 vs ProForm R10 vs Concept2 RowErg
For this comparison, we have machines all priced under $1,400 and a variety of similar features. We're putting the NordicTrack RW600 dual-resistance rower up against a silent magnetic resistance rower and a traditional air rower. The ProForm Pro R10 has an ultra similar build, and the Concept2 RowErg (formerly known as the Model D) is a cult-favorite workhorse without the interactive programming.
| | | | |
| --- | --- | --- | --- |
| Rowing Machine | NordicTrack RW600 | ProForm Pro R10 | Concept2 RowErg |
| Price | $999 | $1,400 | $990 |
| Warranty | 10-year frame; 2-year parts; 1-year labor | 5-year frame; 1-year parts; 1 year labor warranty | 5-year limited warranty |
| Resistance levels | 26 | 24 | 10 |
| Weight capacity | 250 lbs | 250 lbs | 500 lbs |
| Type of Resistance | Dual: air and magnetic | Magnetic | Air |
| Footprint | 87″ L x 22″ W x 47″ H | 86.5" L x 22" W x 45.5" H | 96" L x 24" W x 14" H |
| Display | 10" HD touchscreen | 10" HD touchscreen | LCD |
| Foldable | Yes | Yes | No |
| Programming | iFIT | iFIT | No |
ProForm Pro R10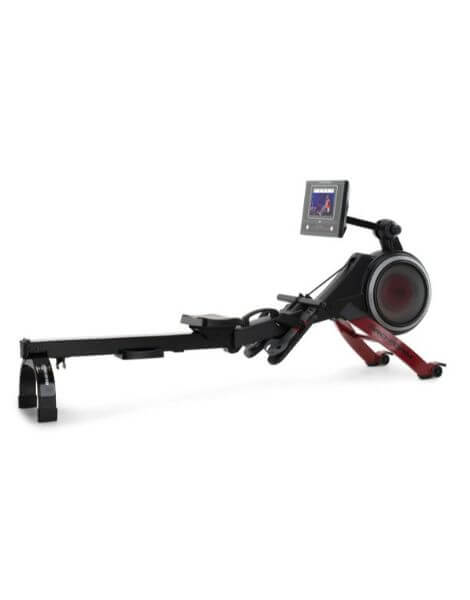 ProForm Pro R10 Rower
If interactive workouts are your jam, the ProForm Pro R10 Rower may be for you. This product is engineered with high-quality components, offering up a smooth and comfortable ride. The R10 features 24 levels of digital resistance; an ergonomic, molded seat with an oversized steel seat rail; multi-position adjustable handlebars; pivoting pedals with adjustable straps; front transport wheels; a 10-inch smart HD touchscreen; an auxiliary port; and a folding design. The user weight capacity is only 250 pounds but the pull strap is 90-inches so you can pull back quite far (great for taller individuals).Perhaps the most notable aspect of this rower is that it comes with a three-year iFIT family membership which, in and of itself, almost equals the cost of the rower. Membership allows for five user profiles and provides access to thousands of on-demand workouts coached by world-class trainers. Stay focused on your workout and let the trainer control the resistance for you thanks to the interactive resistance system. After the three-year trial is up, a membership is required to utilize the full capabilities of this rowing machine.
Concept 2 Model D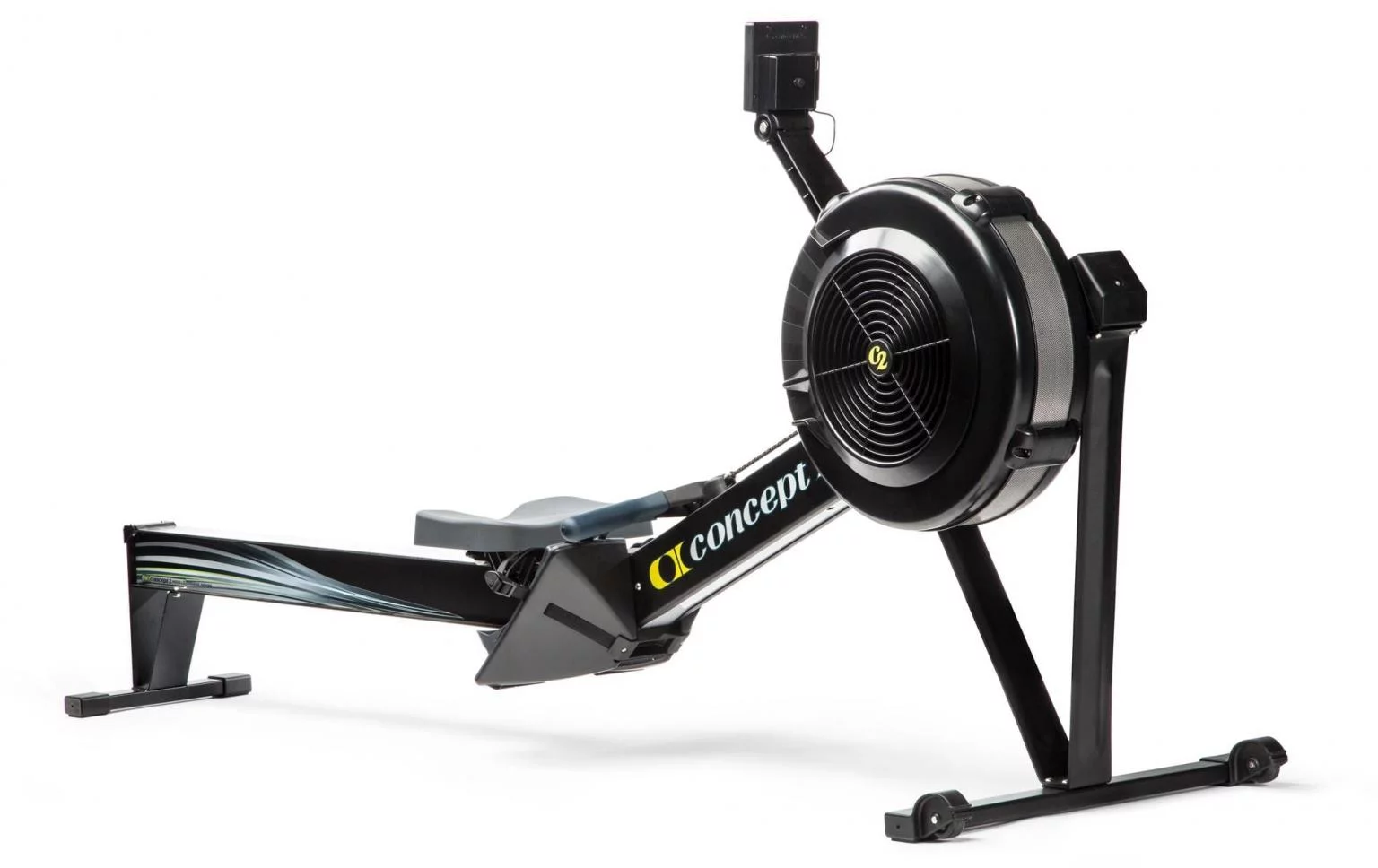 Concept2 RowErg
The Concept 2 Model D Rower is perhaps the most popular rowing machine on the market, found in commercial gyms and home gyms around the world.  It  provides a low-impact, full-body workout and uses air resistance generated by a fanned flywheel.  The Model D has an adjustable damper setting from 1 to 10 allowing you to move with ease or with more resistance and intensity.The Model D comes with adjustable foot-rests, a 14-inch seat height with an aluminum l-beam monorail and stainless steel track for a smooth back-and-forth slide.  This is a light cardio machine with wheels, which means you can move it with ease around your space. Also, for storage, the rower can be easily broken down into two segments, hung on a wall with a Rogue wall hanger, or simply tilted upright and stored vertically.  The PM5 Performance Monitor gives instant feedback on pace, watts, calories, distance, and rpms.  The monitor is easily adjustable, Bluetooth-compatible, and can easily connect to a heart rate monitor or the ErgData app.  
Customer Experience
If you've read some of our other NordicTrack rower reviews, you might know NordicTrack is notorious for spotty customer service. There is a live chat function, which can be good for simple questions, but for more complex issues, you'll need to call iFIT customer support or drop an email, which we've experienced firsthand to take up to a week for a response.
That said, for the affordable price and touchscreen technology, we like that you'll have a 10-year frame warranty back up with this purchase. You'll also have a two-year warranty on parts and one-year warranty on labor.
Ordering and Assembling the NordicTrack RW600
When ordering directly through the NordicTrack website, you'll have the chance to see if you qualify for 0% financing, or you can choose to pay for the machine upfront.
Based on the reviews we read on Google, assembly isn't that hard. Based on our experience with NordicTrack, we suggest allotting at least an hour and asking for another set of hands to help.
Final Verdict of Our NordicTrack RW600 Review
Overall, the NordicTrack RW600 rower offers a lot of value to home gym owners. If you don't mind paying for an iFIT subscription, we think this rower will help keep you engaged and excited for your next low-impact, indoor rowing workout.
We like the iFIT-enabled touchscreen and the foldable, space-saving design. What we think could be better is the user weight capacity and more ability to use the rower without iFIT.
NordicTrack RW600 Rating
NordicTrack RW600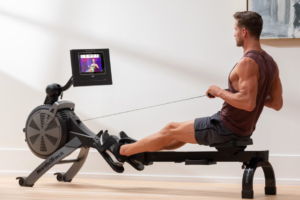 This base model NordicTrack rower delivers on iFIT programming and a foldable design. Find out what else we like in this NordicTrack RW600 review.
Product Brand: NordicTrack
Product Currency: $
Product Price: 999.00
Product In-Stock: InStock
NordicTrack RW600 FAQs
Does the NordicTrack RW600 fold up?
Yes, it folds in the middle and can be stored vertically.
Does the NordicTrack RW600 have Bluetooth?
The RW600 does not have Bluetooth connectivity. The RW600 does, however, feature an auxiliary audio port to play your own music.
How much does the NordicTrack RW600 weigh?
The RW600 weighs 117 pounds.
Is the NordicTrack rower worth it?
This depends on what you want to get out of your exercise equipment. If you're not married to the idea of the iFIT monthly subscription, the RW600 rower might not be worth it for you. However, if you are looking for not just a rower, but interactive programming and motivation to get after your fitness goals, this could be the machine for you.