We test and review fitness products based on an independent, multi-point methodology. If you use our links to purchase something, we may earn a commission. Read our disclosures.
Schwinn Fitness has made bicycles since the late 1800s and pioneered indoor cycling options including fan bikes, upright bikes, and recumbent bikes. Since 1965, Schwinn has been leading the way with indoor exercise equipment.
The Schwinn AD2 Airdyne bike is a budget-friendly take on the brand's classic Airdyne bike. Just like other popular fan bikes on the market (like the Rogue Echo Bike) the AD2 requires no power source, has moving handlebars for your arms, and relies on a fan flywheel to draw in more air and increase your resistance.
On the AD2, you will have the power to create a heart-pumping cardio workout sure to leave you breathless or enjoy longer bouts of steady-state cardio—it's completely up to you.
In this Schwinn Airdyne AD2 review, I'll walk you through the pros and cons of this affordable bike and let you know who will benefit from this fan bike in their home gym.
We Love Air Bikes, Just Ask Us
Our expert product testers are a team of fitness-crazed individuals including CrossFit Level 1 Trainers, certified personal trainers, nutrition coaches, and former college athletes.
Plus, we've tried dozens of air bikes from top brands like Rogue and Titan. OG product tester Coop even has an entire roundup dedicated to the best air bikes, of which the Schwinn AD7 made the list for quietest air bike.
Although our team hasn't had hands-on experience with the Schwinn AD2 Airdyne, our collective knowledge of the brand and experience with other models will help guide you to make an informed decision about the AD2. I even own a Schwinn Airdyne AD6 and use it all the time, so I'm at your service.
Schwinn Airdyne AD2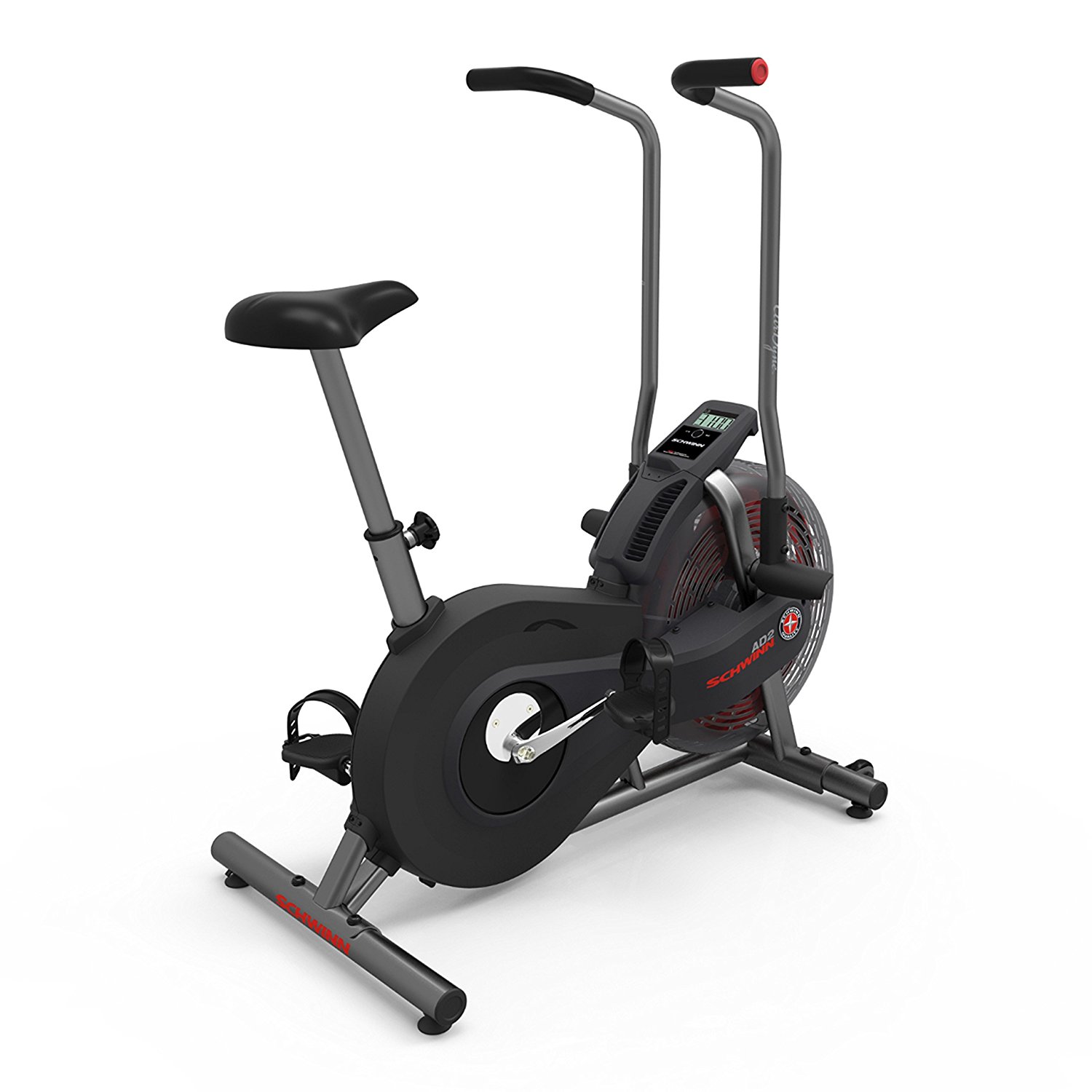 GGR Score: 4.7
Community Score: 3.1
Product Highlights
Single-stage belt drive
Pedals are synchronized for natural movement
Infinite levels of wind resistance
Foot rest pegs to target upper body only
LCD screen displays speed, RPM, distance, time, and calories
Transport wheels
5-year frame warranty
Pros & Cons
Pros
Does not require power outlet
Unlimited resistance levels
Upper- and lower-body workout
Affordable price
On the lighter side for an air bike
Adjustable seat
Low-maintenance
Single-stage belt drive system
Cons
No water bottle holder or reading stand
Primitive screen
Uncomfortable saddle
Only a 250-lb user weight capacity
A Quick Look at the Schwinn Airdyne AD2
The AD2 is a typical example of an air bike, featuring handlebars that also attach to the fan blade. That means you can work both your arms and legs for a full-body cardio workout. The fan also means you have unlimited resistance. The faster you pedal, the more resistance you create.
Another bonus to the AD2: You don't need a power outlet. All you need is two AA batteries for the basic LCD monitor. This is a simple piece of exercise equipment and is not for anyone who fancies high-tech options—this is a no-frills machine.
My Tips
You can put this bike pretty much anywhere in your home gym because it doesn't need to be plugged into an outlet.
You can take your feet off the pedals and place them on the pegs (located at the base of the handlebars) so you can focus just on the push-pull of your upper body.
There are multiple customer complaints about how uncomfortable the seat is, but some users have swapped the saddle out for a more padded one.
Pros:
Does not require power outlet
Unlimited resistance levels
Upper- and lower-body workout
Affordable price
On the lighter side for an air bike
Adjustable seat
Low-maintenance
Single-stage belt drive system
Cons:
No water bottle holder or reading stand
Primitive screen
Uncomfortable saddle
Only a 250-lb user weight capacity
Is the Schwinn Airdyne AD2 Worth It?
The Schwinn AD2 will be a perfect low-budget and entry-level air bike for home gym owners curious about fan bikes but not committed to spending a ton of cash. Most fan bikes (despite being low-tech machines) will have you forking out at least $500 for top brand names.
For not a huge investment, the AD2 is an exercise bike that won't require a lot of maintenance or a power source. That will leave you with more time to workout and less time troubleshooting your equipment.
I personally think the AD2 is a solid entry-level air bike that won't blow your budget. It does have a relatively low user weight capacity at 250 pounds, which is going to be limiting for a lot of people.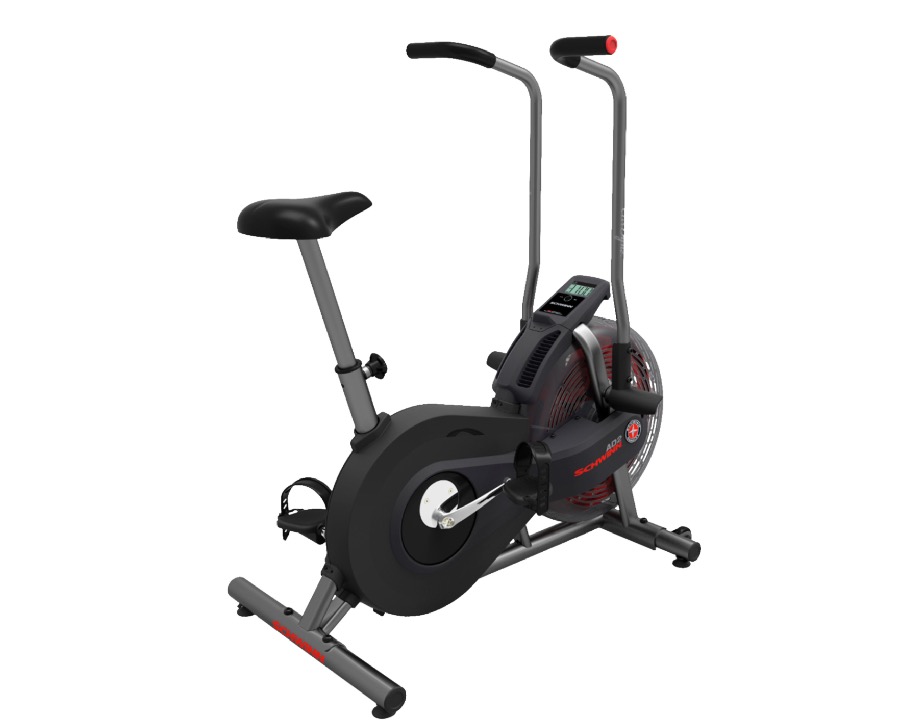 Great For:
A beginner looking to try out an air bike
People who have smaller spaces
Full-body cardio workouts
Anyone who likes HIIT training
Not Great For:
Anyone who needs a silent exercise bike
People seeking interactive programming
Anyone over 250 lbs
Schwinn Airdyne AD2 Specs
| | |
| --- | --- |
| Price | Around $400 |
| Footprint | 46" L x 25" W x 50" H |
| Weight | 96 lbs |
| Weight capacity | 250 lbs |
| Power requirements | 2 AA batteries |
| Resistance Type | Air |
| Metrics displayed | RPM, speed, distance, time, and calories |
| Warranty | 5-year frame, 1-year mechanical and electrical, 90-day parts and labor |
Schwinn Airdyne AD2 Customer Reviews
There are a lot of positive reviews on both the Schwinn website and Best Buy. However, I noticed a common complaint was the bike seat. Most people rated the bike fairly high even with mentions of saddle soreness. The overall rating on Best Buy was 4.6 out of 5 stars and on the Schwinn website there were 56 reviews and an average rating of 4.5-out-of-5 stars.
Experience on the Schwinn Airdyne AD2
The air bike resistance system can feel dramatically different than using an exercise bike with a magnetic flywheel. Instead of using controls or manual dials to manipulate how close a magnet is to the flywheel, a fan flywheel system gains resistance as the fan intakes more air.
The fan will bring in more air as you pedal your feet and move your arms faster. The moment you bring up your intensity, the more resistance you have to work through. It's a reward for pedaling so well: More resistance!
From my personal experience with my Schwinn AD6, I think that Schwinn Fitness has designed the ultimate cycling experience. The handles and pedals work in perfect synchronicity with each other.
And just like the AD2, the AD6 I have at home has a smaller fan cage diameter compared to the Rogue Echo or Titan Fan Bike. Although the website doesn't specify, my AD6 measures about 22 inches in diameter and as far as I can tell, the AD2 is about that size or even smaller.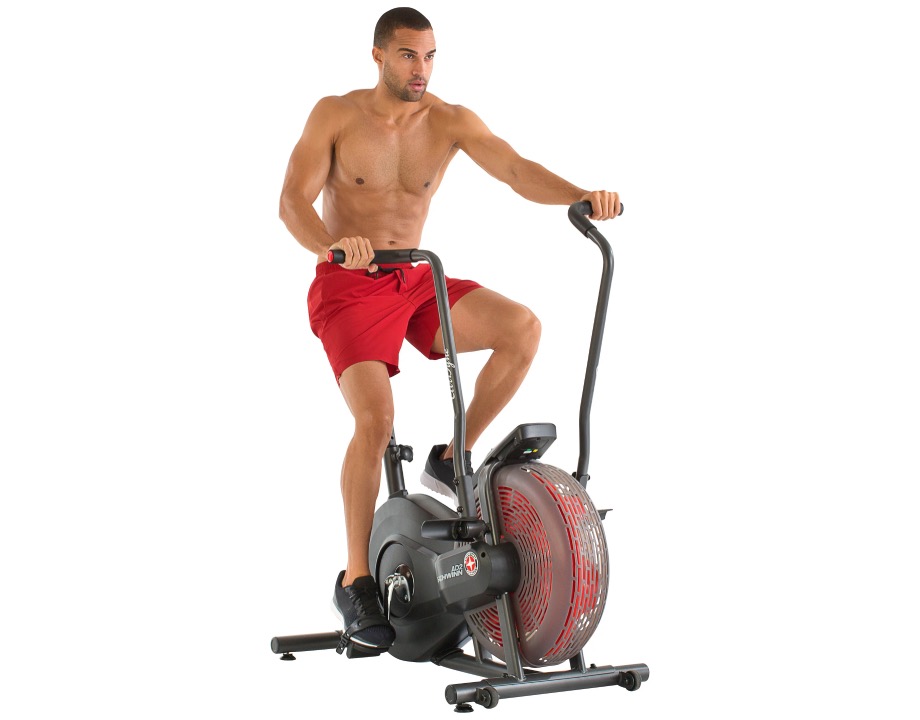 I'm no engineer, but I would guess that a smaller fan intakes less air than a larger fan—meaning that you might be able to output more effort on a bigger fan bike. However, I will say that I'm personally not looking for the most difficult bike out there. When I use my AD6, I like that I can maintain a steady (aka moderate) pace without the fan bogging me down. On larger air bikes I've used, it's been a little harder for me to maintain a moderate pace.
An interesting downside to the Schwinn AD2 is the lack of a water bottle holder or a media shelf. Additionally, the console itself is extremely basic and runs off two AA batteries. The LCD screen is very small and cycles through basic metrics on five second intervals. I read a review that there is no way to lock the screen on just one metric of your choosing—there is only one button and its function is to start or reset the workout.
One more thing I like about the AD2 is the fact there is a small fan guard built into the cage to make the breeze a little less intense. I also like the foot rests so you have the option of making your cardio workout focused on the push and pull of your upper body.
Moving the Schwinn AD2
With the AD2 weighing in under 100 pounds, moving it around will be fairly easy to do alone. Transport wheels are located on the front stabilizers to help scoot your fan bike into the corner of your home gym if needed.
At 46 inches long, 25 inches wide, and 50 inches tall, this Airdyne is still bulky enough to need another set of helping hands if you plan to move the AD2 up or down a set of stairs.
Durability And Construction
The fan (and fan cage) are constructed of composite plastic materials, which was not specified in words on the website, but you can tell just by looking at the product image.
Most other air bikes have a metal cage and fan blade. The difference is seen in the cost (plastic is less expensive) and the noise (plastic is more quiet). According to Coop, plastic materials on exercise equipment are less durable overall than metal long term.
Perfect Pedaling Synchronicity
The AD2 features Schwinn's signature BioDyne Performance design, which means that the handlebars and pedals are designed in such a way that the motion feels synchronized and simulates natural human movement.
I can say firsthand that the movement pattern is unmatched. I have used other fan bikes including the Rogue Echo Bike and the AssaultBike. The Schwinn Airdyne AD6 that I have in my home gym feels the best—the handlebars are perfectly designed and don't leave me reaching beyond the full extension of my arm.
I also like the foot stirrups with adjustable straps for a nice locked-in feeling while you ride. The last thing I will mention as far as comfort goes: the seat on the AD2 is small and uncomfortable. Although I've never been on it myself, it was a common theme when I read through customer reviews.
I also looked at the difference between the seat I have on my AD6 and the images I could find for the AD2—there is a lot left to be desired in both padding and size. Although the seat itself seems uncomfortable for most people, it is an adjustable seat so you can customize your height in relation to the pedals.
Technology (Or Lack Of)
The Schwinn Airdyne AD2 is a bare-bones piece of fitness equipment. You won't find any methods of heart rate monitoring, Bluetooth connectivity, or a touchscreen display. In fact, you won't even find a water bottle holder or a media shelf for your phone.
This Airdyne exercise bike is for the home gym owner seeking a no-frills machine. Literally, you won't even need a power source for this thing. All you will need is two AA batteries to power a simple LCD screen with one button to start or reset the workout.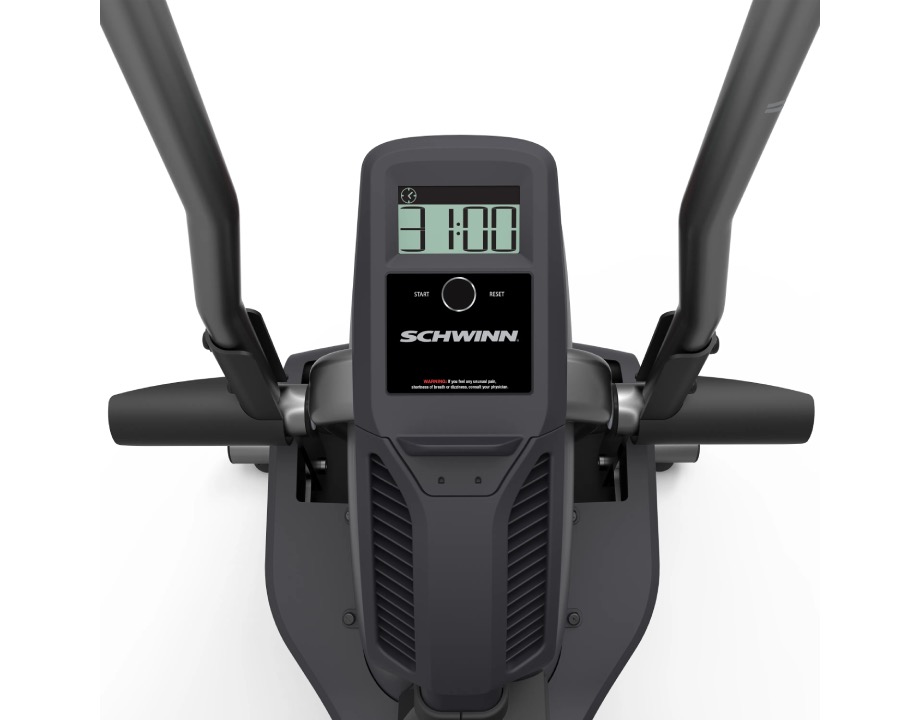 Comparison to Other Schwinn Airdyne Models
None of the Schwinn Airdyne models are going to offer high-tech cardio experiences. Instead, you are going to get a no-frills, well-designed exercise bike. All three have single-stage belt drive systems and a fan flywheel for optimized resistance.
Here is a look at the AD2 compared to the two popular options manufactured by Schwinn Fitness. The main differences are in the price, dimensions, weight capacity, and warranty policies.
| | | | |
| --- | --- | --- | --- |
| | Schwinn AD2 | Schwinn AD6 | Schwinn AD7 Pro |
| Price | $400 | $800 | $1,100 |
| Footprint | 46" L x 25" W x 50" H | 49.7″ L x 25.7″ W x 50.9″ H | 53″ L x 26.5″ W x 53″ H |
| Weight | 96 lbs | 112 lbs | 113 lbs |
| Weight capacity | 250 lbs | 300 lbs | 350 lbs |
| Water bottle holder | No | Yes | Yes |
| Warranty | 5-year frame, 1-year mechanical and electrical, 90-day parts and labor | 10-year frame, 2-year mechanical and electrical, 6-month labor | 10-year frame, 2-year mechanical and electrical, 6-month labor |
Schwinn AD6 Airdyne
GGR Score: 4.2
Community Score: 3.5
Product Highlights
Schwinn Airdyne AD6For an intense, full-body cardio workout that builds strength and blasts calories, it's hard to beat the Airdyne AD6. Its signature wind-resistance technology puts you in control of your workout intesnsity – so the more you put in, the more you get out.
Schwinn AD7 Airdyne Pro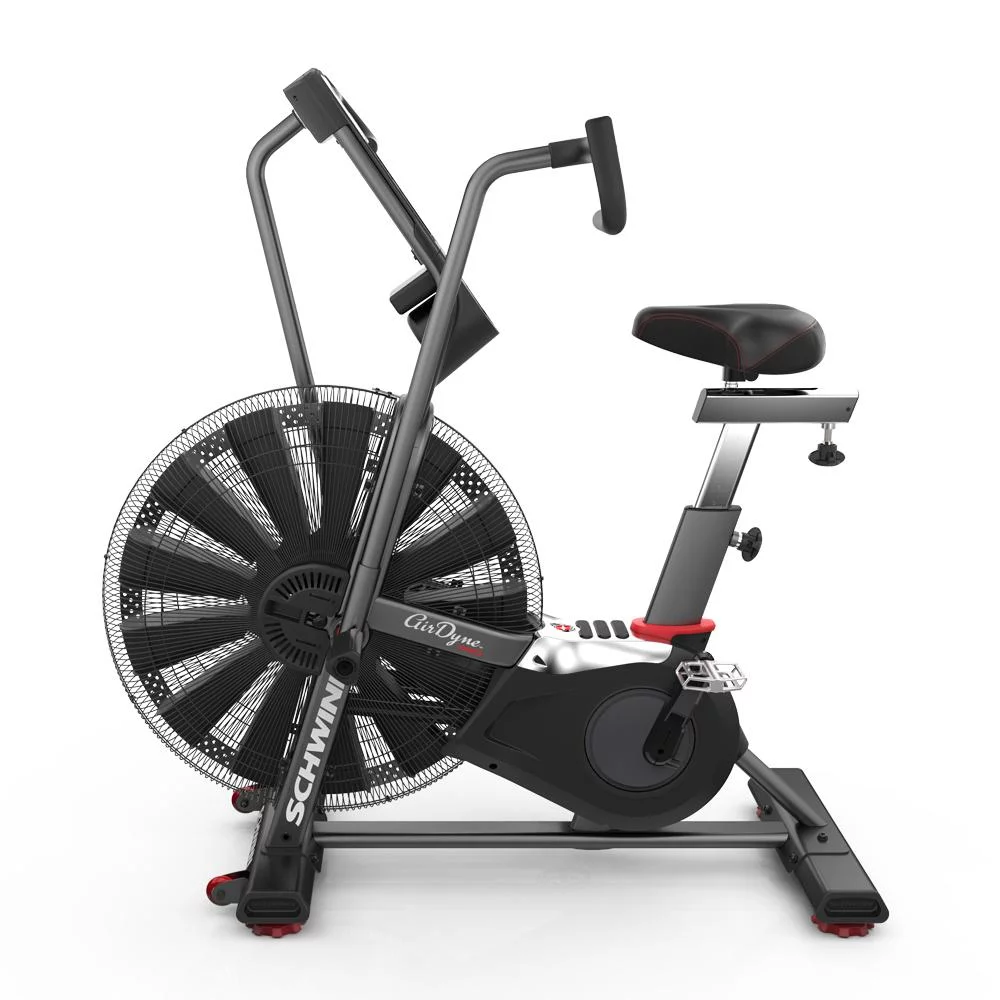 GGR Score: 4.6
Community Score: 2.4
Product Highlights
Powerful solid steel cranks
Doubled-coated steel body construction
9 programmable workout options
Multi-grip handle bars
Oversized, padded seat
Pros & Cons
Pros
Quiet and low-maintenance belt drive system
Best monitor on any air bike we've tested
Has heavy-duty rubber grips and pedals
Solid steel construction
Responsive ride
Cons
Made with lots of plastic, which reduces noise but isn't durable
Fan guard and other accessories cost extra
Price is over $1,000
Bottom Line
The Schwinn Airdyne AD7 is one of the quieter air bikes on the market, thanks to its low-maintenance, belt-drive system. Priced over $1,000, this bike has a great monitor and is a durable option.
Customer Experience
Although we don't have experience with the Airdyne AD2, we have experience with the Schwinn brand (and parent company Nautilus). The brand offers a five-year frame warranty for the bike. If you buy the AD2 from a third-party retailer, you'll need to register your product online (or over the phone by calling 800-605-3369) before you can make a warranty claim.
If you need to return your air bike, you'll have six weeks to contact customer service for a return mechanism authorization number (RMA). This is an important step because the website states you will not receive a refund or credit if you don't have an RMA.
Purchasing the Schwinn Airdyne AD2
You will have the option to finance your purchase by applying for a Schwinn brand credit card. You can apply on the website and if you qualify the card allows you 18 months of interest free payments.
When you order the AD2, you can opt for in-home assembly for an additional fee. One thing worth mentioning is that Schwinn does not ship to Alaska or Hawaii.
Final Verdict of Our Schwinn Airdyne AD2 Review
The Schwinn Airdyne AD2 is a budget fan bike that will suit some home fitness enthusiasts. It has a lot more plastic than other Schwinn models, but the ergonomics on a Schwinn are really hard to beat. Here is a quick overview of what I like about the Airdyne AD2:
Fairly small footprint
Lightweight and portable
Upper- and lower-body cardio workout
Budget-friendly air bike
Ultra simple and easy to use
Schwinn Airdyne AD2 Rating
Schwinn Airdyne AD2
The Schwinn Airdyne AD2 is a budget-friendly air bike perfect for beginners.
Product Brand: Schwinn
Product Currency: $
Product Price: 399.00
Product In-Stock: InStock
Schwinn Airdyne AD2 FAQs
Is Schwinn Airdyne a good workout?
Yes, air bikes offer superb cardio workouts. You control the resistance by how hard you pedal. Your workout is determined by the amount of effort you put in. This type of resistance is perfect for high-intensity interval training and even suitable for steady-state cardio as well. 
Why is the Airdyne bike so hard?
Using air resistance feels difficult because you as the biker determine how much resistance you pedal against. The faster you go, the more air the fan intakes, which slows the fan down, making it harder to pedal. 
Is a Schwinn Airdyne good for seniors?
For seniors, I'd recommend a recumbent bike because it's easier and safer for older adults to get on and off the bike. It will also be easier to choose the resistance that is best suited for their activity level. 
RELATED: Best Recumbent Bike
Can air bikes reduce belly fat?
Although you cannot spot-treat fat loss, cardiovascular exercise can help you get closer to your weight loss goals. When cardio is paired with strength training and a balanced meal plan, your overall fat mass has the chance of reducing even more.