We test and review fitness products based on an independent, multi-point methodology. If you use our links to purchase something, we may earn a commission. Read our disclosures.
Weight sleds are a great way to diversify your training, as well as a great way to get outside of your garage gym with a nice, weight-loaded stroll.
However, not every weight sled is going to fit each person's needs. There are a variety of sizes, weights, even different methods of resistance that can factor into which sled would work best for you.
With so many options, it can be tough to make that final decision. Fortunately, we at Garage Gym Reviews have done our due diligence and researched weight sleds and have compiled a list of the best weight sleds out in the market. Read on to find out which weight sled best fits your needs.
We've Been Around The Block With These Weight Sleds
We tested several different weight sleds at our headquarters and researched dozens more to create a list of the top weight sleds out there on the market today. We looked at such things as the construction, durability, noise, footprint, and value of these sleds to help compile the best sleds for different situations.
Our team of testers and researchers consists of certified personal trainers, CrossFit-L1 trainers, and lifelong competitive athletes who have been around gym and fitness equipment for years and have the experience to give you the best information possible to help you with your decision-making.
The 8 Best Weight Sleds
Best Weight Sled Overall: Freak Athlete Multi Sled
Good for: Home gym owners looking for a compact push-pull sled with a small footprint at a great value
Freak Athlete bases a lot of their products off of ATG training, done by the Knees Over Toes Guy, so it makes sense for the company to release a weight sled out there to be able to do some reverse sled drags and slow pushes, all to help "bulletproof" your knees.
The Freak Athlete Multi Sled gets our pick for best overall for quite a few reasons, notably the amount of value given at such a low price point. This is one of the more lightweight options for sleds, at 30 pounds, also with a small footprint that can easily fit in your home gym. Starting off as a drag sled with a sled strap included, the sled can be loaded with over 500 pounds of Olympic plates, allowing for some grueling workouts on this small sled.
Additionally, Freak Athlete has a Y Post add-on that will turn the Multi Sled into a push sled, with two large uprights to grip. If you are looking for a multi-surface sled, there are also plastic sled skis available to help protect your gym floor as well as the sled.
One issue we have is that the base sled starts with just the sled and strap. Adding in Y-posts and the protective skis to the sled raises the price quickly, and a lot of other sleds already have the ability to be a push or pull sled.
Still, this piece of fitness equipment that Freak Athlete offers is compact, and starting under $150, that's pretty good value in our book.
| | |
| --- | --- |
| Price | $149 |
| Footprint | 30.1" x 8.7" |
| Weight | 30 lbs |
| Weight Capacity | 540 lbs |
| Available Attachments | Pro Sled Strap (included), Y-Posts |
| Plastic Sled Skis | Available as an add-on |
Best Outdoor Sled: Torque Tank M1 Push Sled
Good for: Anyone needing a quiet, durable sled option for pushing around the neighborhood
Most sleds make a lot of noise and take up a lot of space, making them less than stellar options for a garage gym. However, the Torque Tank M1 Push Sled addresses these issues by creating a quiet sled that can be folded and stowed away easily. Instead of loading weight plates onto the sled, the M1 uses magnetic flywheels to create progressive resistance: the harder you push, the more resistance you will be met with. With three levels of resistance, this sled can be used for both speed and strength training.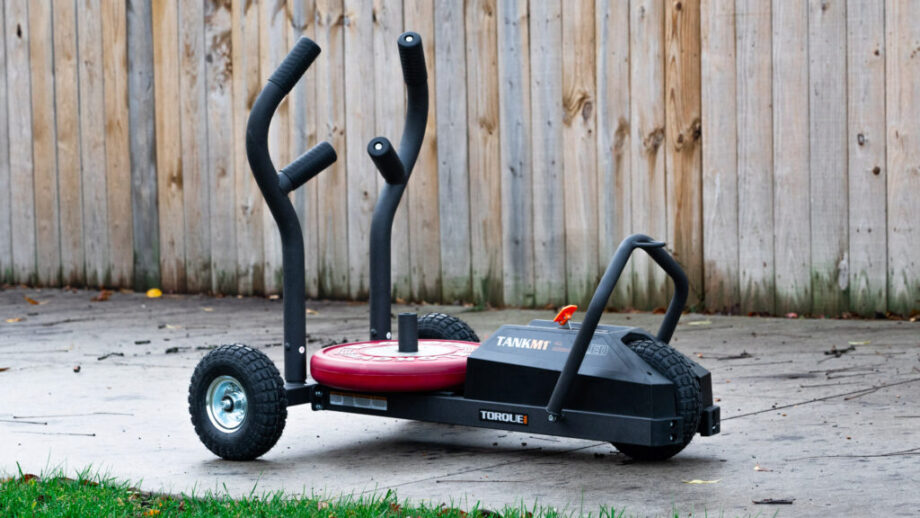 The magnetic resistance also makes this sled nearly silent when compared to traditional weight sleds. In our own testing of the M1, we found this to be absolutely true. This a great sled to have if you're in a neighborhood, as you won't get any noise complaints from the neighbors.
The tires are also durable and make the sled great for just about any surface; just make sure the front tire stays on the ground, as that is where your resistance is coming from. The back of the M1 does have a plate sleeve to load a bumper plate or two, just to ensure the sled's front stays weighted down.
Once you are finished with your sled workout, the M1 can be folded and put away to save space in your home gym. There is an optional wall mount for the Tank M1, to further allow more space saved in your gym.
While this is one of the more expensive options on this list at just a little under $1,000, the Tank M1 is constructed well and solves a lot of problems with weight sleds in a home gym setting, and we think it is worth the price if you have it in your budget.
For more, check out our full Torque Tank M1 Push Sled review.
| | |
| --- | --- |
| Price | $849 |
| Footprint | 45.1" L x 31.9" x 37.5" |
| Weight | 67 Lbs |
| Resistance | Magnetic, 3 Levels |
| Available Attachments | Dumbbell cradles, wheelbarrow handles, V-straps, tow Rope |
| Plastic Sled Skis | n/a |
Best Budget Weight Sled: Fringe Sport Model A Pull Sled
Good for: Those looking for a solid drag sled without breaking the bank
Going with a minimal sled approach like Westside Barbell, Fringe Sport's Model A Pull Sled provides a quality drag sled without any added frills. And because of this, it comes as our budget choice at a very affordable price: $149 as-is with a 16-foot sled strap and carabiner, or just $159 with a protective plastic skid plate.
The Model A Pull Sled is another sled option with a small footprint, at only 21.5 inches long and 11.25 inches wide. There is an 18-inch weight pin for a weight load of up to 500 pounds (using iron plates) that is removable to lessen the sled's footprint even more, making it very portable. And it can be stored in your home gym with no problem.
In addition, the small surface area also keeps the sled as a quieter option amongst friction sleds, which your nearby friends will thank you for. This is a fantastic sled for speed training.
Though a budget-friendly option for training sleds, this is a heavy-duty sled built to last. With or without the protective feet, the sled uses heavy gauge steel with a powder coating; with a little bit of care, this sled will last.
The Fringe Sport Model A Pull Sled does not have the versatility that other sleds have, though. This is designed to only be pulled, with no options or attachments to create a push sled. If you are looking for more versatility in your sled, this may not be the sled you are looking for, but as a budget option, the Model A is a great choice.
| | |
| --- | --- |
| Price | $149 |
| Footprint | 21.5" L x 11.25" W x 18" H |
| Weight | 26 lbs |
| Weight Capacity | 270 lbs of bumpers, 500 lbs of iron |
| Available Attachments | 16 ft sled strap (included) |
| Plastic Sled Skis | Available as an add-on |
Best Prowler Sled: REP Fitness Push-Pull Sled
Good for: Athletes looking for a classic prowler sled design with options on how you can push or pull
A nice prowler sled takes me back, as this was the sled I used back when I played football in grade school; it was also the sled we had and used at the CrossFit gym I owned. The REP Push-Pull Sled is a classic prowler design, a triangular base propped up on three sled feet, with two uprights in the back and low and high push handles at the front. In addition, the sled has three welded eye-bolts at the front to attach a carabiner and rope or harness for some sled pulls.
The Push-Pull Sled is a bulkier piece of equipment than most common weight sleds, with a footprint of 40 inches by 38 inches. Fortunately, the two weight poles are removable to allow you to lean it on its side against a wall to help save space. The weight poles are 2 inches wide, allowing you to load the sled with any Olympic plates.
There are lots of ways to grab a prowler as a push sled for resistance training: You can grab onto any free part of the upright weight poles, high or low, as well as the two pairs of push bar handles in the front. Additionally, the eyebolts allow for it to be used as a training pull sled, which is great for sprinting.
Made with a quality powder-coated steel, the REP Push-Pull Sled is a well-built sled that will last. However, to help protect the three feet, REP Fitness also offers plastic sled skis for purchase. One great feature of this prowler is that the plastic skis can be purchased as replacements. If or when your sled's feet wear out, you can replace the feet instead of replacing the entire sled, which is nice, as the plastic may wear down quickly on the right surfaces.
Despite the uprights being removable, this is still a bulky sled. Make sure you have the room for this prowler sled in your home gym before making this purchase. Additionally, if you don't get the plastic feet, be prepared for this prowler to be loud.
| | |
| --- | --- |
| Price | $199 |
| Footprint | 40" L x 38" W x 42" H |
| Weight | 75 lbs |
| Weight Capacity | Not disclosed |
| Available Attachments | Upright weight poles (included) |
| Plastic Sled Skis | Available as an add-on, replacements can be purchased |
Best Speed Sled: Rogue Echo Dog Sled
Good for: Anyone needing a versatile speed sled at an affordable price
Out of the power sleds they make, Rogue's lightest is the Echo Dog Sled, which also happens to be its most budget-priced design. The base is constructed out of one single piece of quarter-inch plate steel. The only welded pieces on the sled are the corner sockets for the two upright poles included with the sled. Along with that, this product is made in America. While that can always bump a price up, the Echo Dog Sled still is a reasonable price for its make.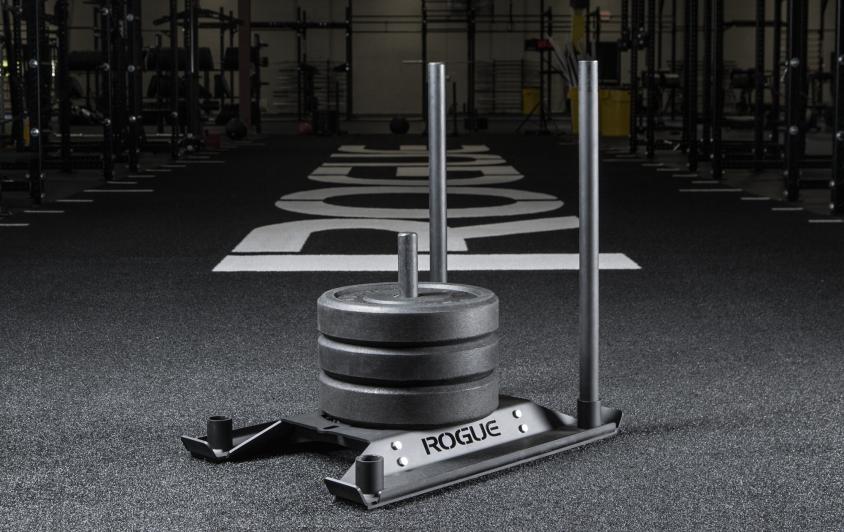 The sled is pretty versatile, and able to load up some weights when compared to other prowler or speed sleds. The center weight post is 17 inches tall, allowing for a maximum weight capacity of over 450 pounds in steel plates. There are also holes for carabiners and straps to allow for sprinting or pulls. Additionally, there are Alpaca Sled pan and handle add-ons, to basically upgrade the Echo to a Rogue Alpaca Sled. The pan feature allows for different pieces of gym equipment other than plates to be added on, such as kettlebells, dumbbells, or sandbags.
There are plastic skis available for the Echo Dog Sled, which will reduce noise and damage on your sled and floors, but just note that they can wear down quickly depending on the surface they are on.
| | |
| --- | --- |
| Price | $280 |
| Footprint | 36.5" L x 25" W |
| Weight | 87 lbs |
| Weight Capacity | 450+ lbs |
| Available Attachments | 2 push poles (included), 16 ft sled strap, Alpaca Sled add-on |
| Plastic Sled Skis | Available as an add-on |
Best High-End Weight Sled: Xebex XT3 Sled
Good for: Those wanting a quality resistance sled with a few added bells and whistles
The Xebex XT3 Sled is a higher-priced, high-end sled due to its magnetic flywheel resistance. A three-wheeled sled like the Torque Tank M1, the XT3 has a front tire that gives more resistance the more you push or pull against the sled. Although a heavier, bulkier sled than many on this list, it folds up vertically to save some space in your garage gym. Once folded up, it can be wheeled easily, fitting most any doorway with a width of 28 inches.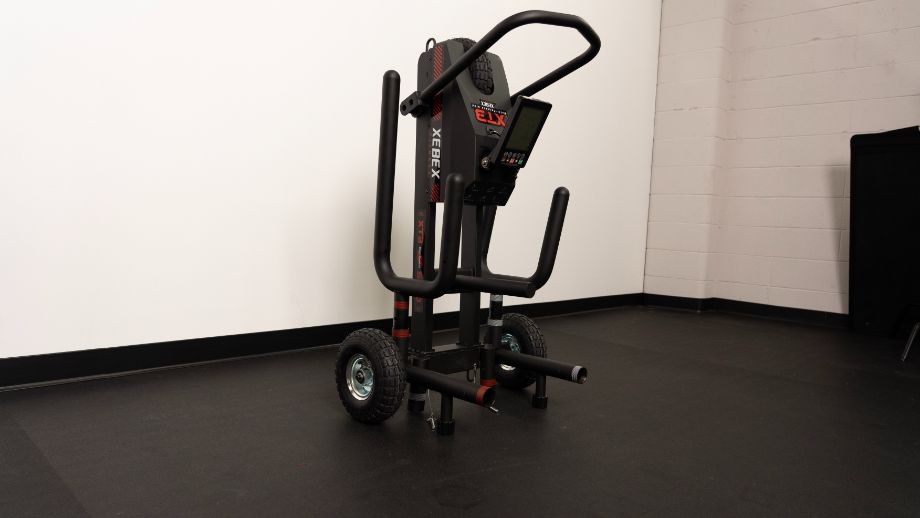 The magnetic resistance also makes this a quiet sled, which is fantastic for keeping the noise level down around the neighborhood. The Xebex XT3 Sled offers eight varying levels of resistance, allowing for a bit of personalization to your sled workouts. There is a XT3 Plus released as well, which has 12 different levels of resistance for only $10 more.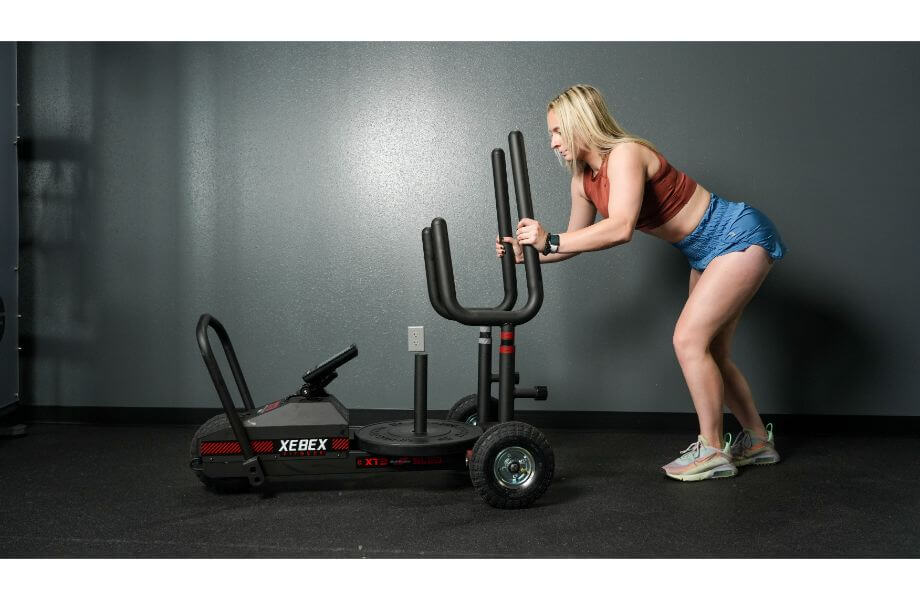 There are many options on how to use the XT3. The tri handlebars can be removed and attached as wheelbarrow handles, and there is also a low handlebar at the front. There is also a hook to the front for straps and ropes, allowing this sled to be pulled as well as pushed. Additionally, the sled can come with a smart console (for an extra $100), which can track workouts among other features; if price is not a problem, this may be a great addition.
For more, check out our in-depth Xebex XT3 Sled review.
| | |
| --- | --- |
| Price | $839 |
| Footprint | 45" L x 28" W x 48" H |
| Weight | 102 lbs |
| Resistance | Magnetic, 8 levels |
| Available Attachments | Smart console, 16 ft gym shoulder strap |
| Plastic Sled Skis | n/a |
Best Versatile Weight Sled: Titan Pro Sled System
Good for: People wanting a sled with a variety of options and attachments for a variety of sled exercises
The Pro Sled System from Titan Fitness is a durable beast of a sled, with an array of attachments to diversify your pushing and pulling exercises. Starting out with the sturdy Pro Sled Core Unit—a sled made from two 2-by-3-inch, 11-gauge steel skids connected with a 0.25 inch plate steel base—the sled has 2-inch hole spacing along the bottom skids, allowing adjustable positioning for the attachments you can add on.
The Pro Sled System is built to hold some weight, too. It has a maximum weight capacity of about 750 pounds. That's a lot of weight plates to load on!
What sorts of attachments? Along with upright poles, there are high and low bar attachments, arch attachments, a wrap around rail, a lawn boy attachment, as well as replacement shoes for the skids. All of these attachments for one weight training sled is quite a feat. The included plastic skids on the sled already make it a great choice for a quieter power sled.
One issue is the footprint; while it is not the biggest sled, it still has a bit of size to it, and all those attachments may not be the easiest to store in your home gym. With that said, if you are looking for versatility, this is a solid pick.
| | |
| --- | --- |
| Price | $379 sled, $811 with attachments |
| Footprint | 40" L x 24" W x 39" H |
| Weight | 102 lbs |
| Weight Capacity | 750+ lbs |
| Available Attachments | High bar attachment, low bar attachment, arch attachment, wrap around rail (requires 2 arch attachments), lawn boy attachment, replacement shoes |
| Plastic Sled Skis | Included, plus replacements as an add-on |
Best Weight Sled for General Use: Rogue Dog Sled 1.2
Good for: Those looking for a durable speed sled for all-around use in pushing and pulling
The Rogue Dog Sled has been a longtime favorite of CrossFit gyms and home gym owners alike, especially since it has been used in CrossFit Games competitions. A standard speed sled design, the Dog Sled is compatible with a multitude of optional attachments, including a high and low bar, bridge attachments, a double handle, lawn boy, and wheelbarrow attachments. It already comes with upright bars ready to push, as well as holes and hooks for dragging straps or pulling ropes.
The Sled is great on grass or turf, and offers plastic skids to make it safer and quieter on other surfaces. As with all plastic skids, it will still wear down on rougher surfaces like asphalt. Constructed with 2-inch-by-3-inch, 11-gauge steel with 0.25-inch plate steel, this is a durable sled for any situation. Because it is connected together through hardware, it has less of a chance to flex like the one-piece Rogue Echo Dog Sled sometimes can.
With all that said, it is heavier and bulkier than some of its newer counterparts; still, people enjoy it for its durability and battle-tested quality.
| | |
| --- | --- |
| Price | $325 |
| Footprint | 40" L x 24" W |
| Weight | 103 lbs |
| Weight Capacity | 500+ lbs |
| Available Attachments | Dragging strap, 100 ft pulling rope, low bar attachment, high bar attachment, bridge attachments, double handle, lawn boy attachment, wrap around rail, wheelbarrow attachment |
| Plastic Sled Skis | Available as an add-on |
The Competition
Torque Tank MX: This is a four-wheel resistance sled from Torque, and it is one of the best resistance sleds on the market today, with a price to match though. Featuring flywheel resistance on both axles, the MX will give you resistance on any push or pull. However, because of its large footprint, heavy weight (244 pounds), and a price tag at $2500, we think most home gym buyers will get more value out of the smaller three-wheel design of the Tank M1.
Rogue Alpaca Sled: Rogue's Alpaca Sled has a pan along with a weight pin, allowing you to use Olympic plates and odd objects to load the sled. Toss in your kettlebells, sandbags, or dumbbells to weigh the sled down, and you can grab them in the middle of a metcon after dragging the sled around.
Mir Power Speed Sled: This speed sled has one of the lowest price tags out there, coming in at $99. The metal used is not as thick or durable as most options out there though, making the weight capacity the smallest out of the sleds we've discussed, at 300 pounds. Additionally, the weight pole is only 1.25 inches, which is small enough to fit 2-inch Olympic plates loosely, which will leave a lot of space for the weights to clang around while sprinting, which is not ideal for a pull sled.
XPO Trainer Sled 2.0: The XPO Trainer Sled was the first wheeled sled in the industry, and uses magnetic resistance to increase the resistance the harder you push the sled. Compared to other resistance sleds, it looks a little bare, but also comes in at a lower price point, making this a good budget choice out of resistance sleds.
How We Picked and Tested
In order to make our list for the best weight sleds, we researched major manufacturers and also got our hands on several of top brands and their options to test at Garage Gym Reviews HQ. In our testing and research, we kept in mind the construction and footprint of the weight sleds in a home gym setting.
Construction: Despite any price points, we want to make sure we are recommending quality products. While these sleds may not be the most expensive weight sleds out there, we made sure they were constructed out of quality materials and built to endure a good amount of use. A strong gauge steel and a powder coat finish are one of the aspects we often looked for. A sled's plastic skis might need to be replaced here and there, but the sled itself should last.
Weight Capacity/Resistance: We checked how much you can load on a weight sled, to see how much variation you can get from a sled workout. A heavier capacity means you can go from a lighter weight sprint all the way to a slow and heavy sled push. In our resistance sleds, we checked how well the increased resistance levels were felt, as well as making sure the resistance wheels kept to the ground.
Footprint and Portability: This is vital in a home gym setting, as you need to be able to store a sled to save space, as well as pull it back out easily down your driveway to run around the block with. With that said, we made note of smaller sleds with a small footprint, and lighter sleds that could be easily carried or transported. We also considered heavier sleds that were able to fold up and be stored. There are some high-end sleds out there, but they may not be what you are looking for if they take up half your garage (looking at you, Tank MX).
Versatility: Sleds basically can do two things: push and pull. With that said, there are a lot of ways an athlete can push or pull a sled. We looked at the possibility of a sled to push and/or pull, as well as possible attachments the sled can have. To be the best, a sled doesn't necessarily have to have every single attachment ever, but the potential for variety is a plus.
Noise: Overall, sleds can be loud without plastic skids. Even with the skids, they can still make some noise. We checked noise levels on these sleds through pushing and pulling, as well as the noiseless resistance sled options.
Benefits of Weight Sleds
Weight sleds are versatile pieces of equipment which can be used for a variety of purposes and benefits. Here are just a few.
Cardio Training
Weight sleds are a great way to change up your cardio exercises. Although cardiovascular exercise is often thought of as predominantly bodyweight training, using a weight sled will add variety in your training, which helps lead muscles to adaptation. Adding a light or moderate load to a weight sled and dragging it behind during runs will fire up the glutes and hamstrings much more than without. Longer distances and times are also great to build cardiovascular endurance with a sled.
Building Strength
Sleds are built for resistance training, and any time we have resistance training, we have the potential to build strength and muscle. When we pull weight sleds, we often view the movement as a lower-body exercise. However, a heavy sled push can make it a full-body workout, needing the upper body to keep stable as you push against the sled's weight or resistance. Additionally, we can do an arm-over-arm pull with a rope attached to the sled, making it a good workout purely for the upper body. No matter how you break it down, a weight sled can progressively be loaded to increase strength and help build muscle.
Functional Fitness
Having been a CrossFit coach and gym owner before, I'm a big fan of functional fitness. Sled pulls and pushes are great functional movements, meaning they are exercises in the gym that mirror movements in everyday life. When we train these functional movements in our training, we essentially are strengthening ourselves in these movement patterns, reducing our risk of injury in these basic everyday movements. This includes squats, twists, pushes, and pulls. So pushing or pulling against some weight resistance is ensuring that we have a higher quality of life outside of the gym.
Help Alleviate Knee Pain
In recent years, Ben Patrick, the Knees Over Toes Guy, has popularized the concept of "bulletproofing" your knees. The idea is to strengthen the muscles, tendons, and ligaments around the knees, so as to stimulate blood flow and allow for better recovery around the joint, which typically does not get a lot of blood flow.
Weight sleds are a big part of this methodology, with using them for reverse sled drags, a sled pull while walking backwards. With a moderate load, you'll slowly walk backwards in a controlled fashion. While it doesn't sound too daunting, it can fire up the quads like nobody's business. Quite a few weightlifters at my gym use these movements in their warmups; even Garage Gym Reviews founder Coop Mitchell has used sleds for this purpose and noticed a difference in knee pain.
What to Look for in a Weight Sled
So, are you ready to invest in a weight sled? Here are a few tips on what to look for, so you can make the best decision for your needs and your home gym.
There are lots of sleds out there, but they can generally be categorized into two classes.
Weight Sleds
These are the most common types of sleds out in the market. The resistance of a weight sled is determined by the weights you load on the sled itself, coupled with the friction it makes along the floor. Most smaller weight sleds are purely drag sleds that can be pulled with a strap attached to the sled. Others, typically called power sleds, are larger, but can be used for pushing as well as pulling.
There are many options available to fit most budgets, but one thing to note is that a lot of these sleds can be loud on asphalt, making them a less-than-ideal option if your neighborhood has an HOA; you might get some complaints.
Resistance Sleds
Resistance sleds use magnetic flywheels to create resistance instead of loaded weights. The harder or faster you push the sled, the more resistance it creates for you. One great aspect of these sleds is that they are on tires, making them nearly silent. So if you are in a neighborhood, this is a great option to stay in your neighbors' good graces. However, most resistance sleds are priced higher than weight sleds, so it might not be a great budget option.
Storage & Portability
Weight sleds can be big and bulky, so one of the first questions you should ask yourself is if it will fit your needs…and space. If space is an issue in your home or garage gym, there are many sleds with a smaller footprint that still possess great value. Additionally, some of the more bulky options can fold away or be disassembled to save space and be stored against a wall. Look into these options if storage is a commodity for you.
Noise
As I said before, some weight sleds can be loud. The quietest sleds out there are resistance sleds; however, their price point might not work for everyone. If you need a quiet weighted sled, I would make sure that the weight sled has plastic skids along the skis that glide on the floor. Not only will this dampen the noise made, but it will also protect your sled, increasing its lifespan and durability.
Attachments
Attachments are probably one of the less important aspects of a good weight sled. Most of the time, as long as a sled can be pushed and pulled, it will suit most needs. However, if you want options on how to train in your sled pulls, make sure that your weight sled has attachment options available, as well as that it can take some other basic attachments. Most power sleds have the ability for upright poles to grab, as well as a hook for a pulling strap or rope.
FAQs About The Best Weight Sleds
What type of sled works best?
Is a weight sled good?
A weight sled is not just good, but great to incorporate into any training program. Weight sleds are versatile in the type of training you can do, from long drags with light weight to build cardiovascular endurance, to heavy pushes to build strength. In addition, they can help build strength and alleviate pain in joints, particularly in the knees.
Do heavy sled pushes build muscle?
Yes, heavy sled pushes can help build muscle. Sleds are another type of resistance training, which is the type of training you do while moving a barbell in a heavy deadlift or squat. Using a heavy sled for a push will help increase strength over time, as well as build muscle.