We test and review fitness products based on an independent, multi-point methodology. If you use our links to purchase something, we may earn a commission. Read our disclosures.
When it comes to high-intensity interval training, there are multiple methods, exercises, and rest periods you can adopt for your home workouts. However, for the purposes of our free Tabata timer featured on this page, let's keep our focus on Tabata-style interval training.
Much like other interval workouts, Tabata consist of short bursts of near-maximal exercise paired with periods of rest. We'll get into the specifics of the Tabata-style formula later, but for now, all you need to know is that it's extremely fast-paced with 20 seconds of work followed by 10 seconds of rest—immediately going in the next 20 second work period.
For this Tabata timer, you won't need to download anything, own an Apple-specific device, or make any in-app purchases. This workout timer is free to use so you don't have to fumble around with your phone or a stopwatch to accurately time your work and rest periods. This Tabata timer will take care of all the guesswork and let you actually use your rest time (although it will be very short!).
RELATED: Benefits of Tabata
Tabata Timer
How to Use This Tabata Interval Timer
Tabata workouts move quickly so it's a good idea to go through a warmup so you're ready to start exerting maximum effort. When you're ready, you'll use the device of your choice (laptop, iPhone, iPad, or Android device) and make sure you can fully see the timer on your screen.
This timer is fully customizable so you'll need to enter your work and rest time in the timer above. Follow these instructions below to learn how: 
In the first box (on the bottom left corner of the Tabata timer) enter the number of rounds you want to complete. Most workouts call for four rounds before taking an extended rest. 
In the second box and third boxes, you'll enter your work time (minutes and seconds respectively). You can leave the box marked "M" blank and enter 10 in the box marked "S" for seconds for 10 seconds of work time.
For the fourth and fifth box under "rest" leave the box marked "M" blank enter and 20 in the box marked "S" for 20 seconds of rest time.
The last two boxes allow you to have a countdown to begin your workout. You can enter any amount of time here. Leave the box marked "M" (unless you want more than a minute of prep time). 
Press start and get ready!
Typical Uses of a Tabata Stopwatch
You can use a Tabata timer for home workouts, while you're traveling, or to spice up a CrossFit class. Because equipment is not required for a Tabata workout, you can use this Tabata stopwatch nearly anywhere or anytime.
It's also your choice on how many rounds you want to do. If you're a beginner, you might want to start with just one round (four minutes), and if you're more experienced with HIIT workouts, you can perform up to four rounds for an efficient 20-minute workout.
RELATED: Tabata Cardio Workout
Heart Rate-Spiking Sample Workout
The following sample workout is beginner-friendly and features bodyweight exercises only. It's worth mentioning that Tabata training can be performed with equipment, too.
Round One (4 cycles):
20 seconds jump squat
10 seconds rest
20 seconds push-up
10 seconds rest
Round Two (4 cycles):
20 seconds reverse lunge
10 seconds rest
20 seconds mountain climber
10 seconds rest
Round Three (4 cycles):
20 seconds burpee
10 seconds rest
20 seconds skater hop
10 seconds rest
Round Four (4 cycles):
20 seconds jumping jacks
10 seconds rest
20 seconds toe taps
10 seconds rest
Another way to incorporate Tabata training is with traditional cardio methods like running sprints, biking, or rowing. In addition to cardio machines or working out outdoors, here are some other exercises that work well for the Tabata Protocol.
Kettlebell swings
Goblet squats
Rope slams
Ball slams
Wall balls
Box jumps
It's also worth noting that you can choose one exercise to keep it simple, or two (or more) for more of a circuit training-style workout.
What Is Tabata?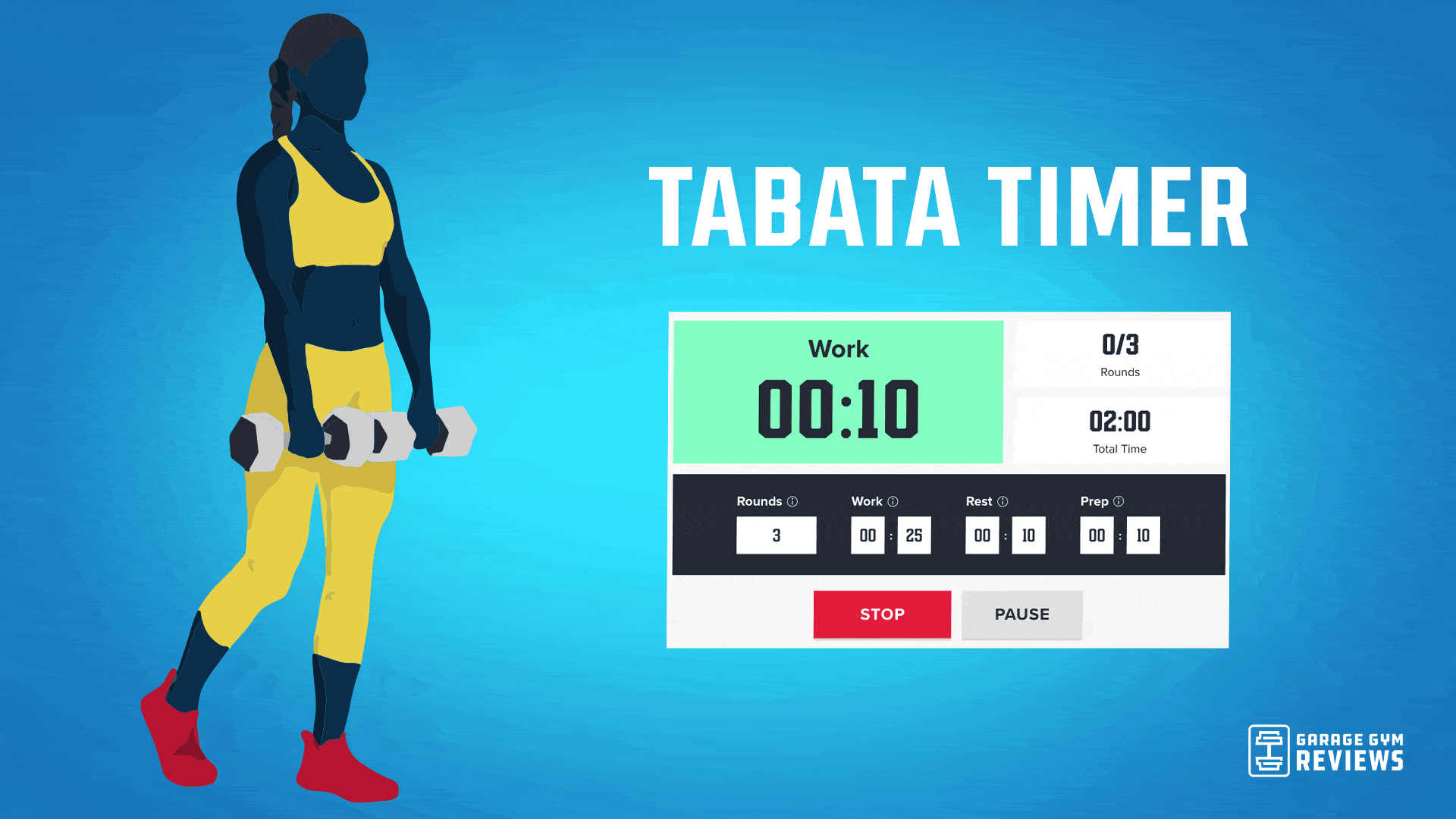 Tabata training is a fast-paced, high-intensity form of exercise that will get your heart pumping by the end of the first round. High-intensity interval training (otherwise known as HIIT) increases endurance and stamina without requiring athletes to spend hours on cardio and fitness training.
The "Tabata Protocol" was first implemented on Japanese Olympic speed-skating athletes by coach Koichi Irisawa in the '80s and later popularized by Dr. Izumi Tabata with this 1996 study1 showing that this protocol can increase aerobic capacity, VO2 max, and overall metabolic health.
The Tabata Protocol does not require you to count reps, but rather perform repetitions of any given exercise until the timer signals the rest period. Let's say you're inspired by coach Irisawa and you perform skater hops for your Tabata workout—you'll actively perform skater hops for 20 seconds, followed by 10 seconds of rest. This will repeat until you've completed eight total rounds, equating to four minutes.
Here's a visual of a full eight-round, four-minute Tabata workout:
| | |
| --- | --- |
| WORK: | 0:00-0:20 |
| REST: | 0:21-0:31 |
| WORK: | 0:32-0:52 |
| REST: | 0:53-1:03 |
| WORK: | 1:04-1:24 |
| REST: | 1:25-1:35 |
| WORK: | 1:36-1:56 |
| REST: | 1:57-2:07 |
| WORK: | 2:08-2:28 |
| REST: | 2:29-2:39 |
| WORK: | 2:40-2:50 |
| REST: | 2:51-3:01 |
| WORK: | 3:02-3:22 |
| REST: | 3:23-3:33 |
| WORK: | 3:34-3:55 |
| REST: | 3:56-4:06 |
Rest 60 seconds before continuing
You could stop there, but many folks decide to perform four total tabata rounds, which works out to a 20-minute workout with one full minute of rest between cycles.
Final Thoughts and Benefits of Tabata
The fitness industry professionals that make up GGR are fans of Tabata Protocol for personal use and when it comes to coaching clients.
Kate Meier, GGR's head of content and certified personal trainer, says for both her own workouts and for clients, using a Tabata timer is helpful because, "the rest periods are so quick that it's easy to lose track of where you are, especially when you're tired," says Kate. "The beeping of a timer is an excellent reminder and holds you accountable to the work."
"Tabata is one of the simplest, quickest ways to do a high-intensity workout," Kate adds. Tabata is challenging, does not require equipment, and is easy-to-use with our preset timer. 20 seconds of work might not sound like much, but we urge you to give this a try—mainly because the benefits of Tabata will surprise you.
What are the benefits, you ask? Well, luckily for you we have an entire workout guide about the benefits of Tabata, but let's review:
Quick (between 4 to 20 minutes total depending on how many rounds)
No equipment required
Choose whatever movement or exercise you want!
Efficient calorie-burning
Can improve performance and overall metabolic health
References
Tabata I, Nishimura K, Kouzaki M, et al. Effects of moderate-intensity endurance and high-intensity intermittent training on anaerobic capacity and VO2max. Med Sci Sports Exerc. 1996;28(10):1327-1330. doi:10.1097/00005768-199610000-00018