We test and review fitness products based on an independent, multi-point methodology. If you use our links to purchase something, we may earn a commission. Read our disclosures.
The 2020 pandemic was a tidal wave that upended much of the world, and its ripple effects on the fitness industry have lasted. In fact, our own Garage Gym Reviews data study indicates that 61 percent of people now have designated space in their homes for exercise.
Working out in the comfort of your own home offers convenience, affordability, and even peace of mind.
With an increasing number of people exercising in their own garages and living rooms, it begs the question: What are they doing in there?
Our Garage Gym Reviews team set out to find what home workouts people love the most, what states are working out from home more often, and which have the biggest online communities for you to learn from. We analyzed data looking at the most-loved workouts and dug into what states are searching for home workout terms the most.
Let's run through our findings!
A State-By-State Comparison: Where Are People Working Out at Home The Most?
What state's residents prefer to work out from home rather than a gym?
We've pulled together research to find out what states are searching the most for home workout-related terms. The terms analyzed include "home workout," "home workout video," "home workout equipment," "best home workout," and "home workout ideas."
People in the state of California were found to be the most interested in home workouts, with a combined average search volume of 8,600 per month. The sunny Western state searches for both "home workout" and "home workout ideas" more than any other state.
Texas and New York follow in second and third place. New York has almost half the amount of searches as California, potentially due to residents living in New York City having smaller housing and apartment complexes, meaning working out at home could be more difficult versus a gym environment.
What Workouts Do States Love The Most?
Lifting weights, sweating on a home treadmill, doing yoga in the living room: We all have our favorite exercise. But do people in certain states favor one modality over another? Our research included analyzing tweets on a state-by-state basis to find out.
General teams like cardio and strength training top the list for many states, but if we remove these from the data, we see that powerlifting, yoga, and CrossFit emerge as the top home workouts.
Have a browse at the map to see what exercise your home state prefers.
The Workouts Most Loved Online
The beauty of working out is there are so many different options to choose from. Push for calorie-burning exercises such as cycling or HIIT (high-intensity interval training), build muscle with the barbell, or work on your core strength with Pilates.
RELATED: The 11 Best Exercise Bikes For 2023
But if you're new to working out, you may be wondering where to start, and one place you may lean on is recommendations from those who regularly perform different workouts.
We've analyzed Tweets mentioning each workout, recorded their sentiment, and assessed the reactions to Facebook articles where each workout is mentioned. Here's what we found:
The Most Positively Tweeted-About Workouts
Social media plays a massive role in many of our day-to-day lives, as we use platforms to gather information on a wide range of topics. As part of our research, we've looked into sentiment analysis across a range of workouts to see which ones are loved the most.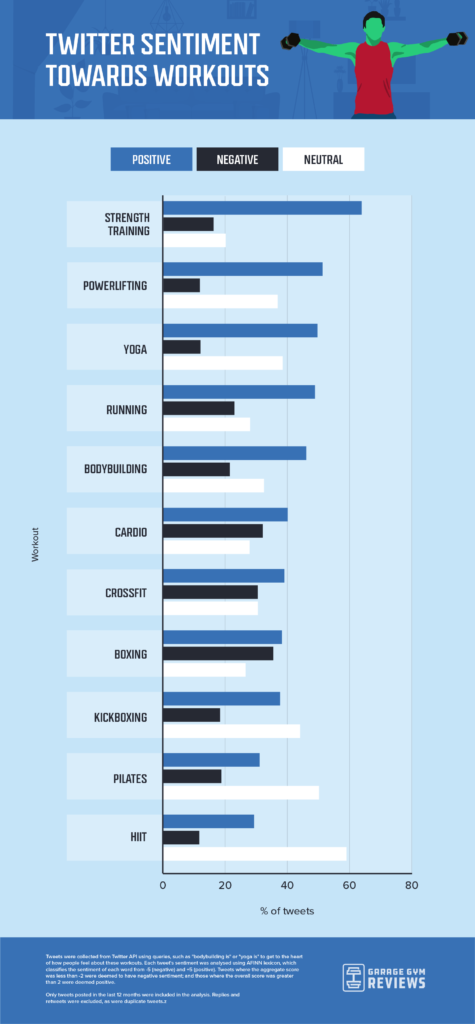 We found that strength training was seen in the most positive light, with 63.9% of its tweets being deemed positive. The popular training style had 16.1% of tweets analyzed as negative, which was the fourth lowest of all workouts researched.
Powerlifting, which refers to building strength in The Big Three (squat, bench press and deadlift), came second in the research, with just over half (51.3%) of tweets being seen as positive.
RELATED: The Best Powerlifiting Barbells for 2023
The most disliked workouts on Twitter were HIIT, Pilates, and kickboxing, with only 29.3%, 31.1% and 37.7% positive tweets respectively.
The Most-Loved Workouts Based on Facebook Reactions
Utilizing Buzzsumo, a tool that allows you to look at the different emojis used to react to Facebook posts, we found that posts with the term "weight lifting" were seen as having the most positive response, with 90% of reactions being "love."
Following weight lifting were HIIT and cardio, two hugely popular workout styles that are aimed at raising your heart rate and burning calories without the need to leave your home.
RELATED: The Best Cardio Machines of 2023
The Workouts With The Biggest Reddit Communities
Continuing with our social media findings, we researched what workouts have the biggest online Reddit communities.
After all, belonging to a community brings about so many positives: motivation, sounding boards for getting advice, camaraderie, and accountability.
If you're looking to take up an exercise style with a large online community, we've discovered where the biggest pockets of people may be.
We found that bodybuilding, running, and boxing ranked as the workouts with the biggest Reddit communities. With more than 2.7 million members, bodybuilding leads the way, having more than 400,000 members than running and almost twice as many as boxing.
Working out at home brings about plenty of benefits, but choosing which workout to do, especially if you're just dipping your toes into the fitness world, can be challenging. We hope our research has opened your eyes to the array of workouts you can choose from, and which ones are seen as the most popular and most loved.
Methodology
Using Google keyword planner, we used a variety of terms to determine what states are searching for home workouts the most. These include "home workout," "home workout video," "'home workout equipment", "best home workout," and "home workout ideas."
We looked to online communities on Reddit to find the biggest online communities and, finally, used Buzzsumo to find the percentage of "love" reactions to each workout.
In our Twitter sentiment analysis, tweets were collected from Twitter API. Only tweets posted in the last 12 months were included in the analysis. Replies and retweets were excluded, as were duplicate tweets. Each tweet's sentiment was analyzed using AFINN lexicon, which classifies the sentiment of each word from -5 (negative) and +5 (positive). Tweets where the aggregate score was less than -2 were deemed to have negative sentiment; and those where the overall score was greater than 2 were deemed positive.
Fair Use Statement
Interested in sharing what home workouts the U.S. loves most, or using this data study in an article? Please include a link to this article and credit GarageGymReviews.com.
Data
The full data set is available on request.