We test and review fitness products based on an independent, multi-point methodology. If you use our links to purchase something, we may earn a commission. Read our disclosures.
One of the first pieces of equipment we recommend for most home gyms is a squat rack. Your home gym will have a lot more versatility with a rack you can use for barbell exercises, banded movements, and more. A half-rack can be dependable, and it takes up less space than a full power rack.
The Fitness Reality 810XLT comes in both a power cage and a squat rack. The squat rack may be smaller than the full rack version, but it can still be very dependable for training in all fitness disciplines. This sturdy rack can be a foundational piece for your home gym because it's a heavy-duty rack that can support a lot of weight. If you need a rack, but have limited space, keep reading our Fitness Reality 810XLT review to see why we think this is a great option.
The Best Information From the Best Testers
The testers and experts who work with Garage Gym Reviews come from all parts of the fitness space. Certified personal trainers, CrossFit coaches, nutritionists, and other passionate contributors all want the best equipment for themselves and our readers.
We have used, tested, and researched the best squat racks from brands across the industry. I personally own the Fitness Reality 810XLT Power Rack. At the time of this publication, I have been using it two to three times a week for a month, for both upper-body and lower-body exercises.
Fitness Reality 810XLT Squat Rack
GGR Score: 4.2
Product Highlights
Rated for 800 lbs
Comes with weight storage, landmine attachment, and spotter arms
Priced under $300
1-year warranty
Pros & Cons
Pros
Affordable
Compact
Comes with a number of attachments
Extra long spotter arms included
Fairly sturdy
Has a pull-up bar
Cons
Short 1-year warranty
Rated for 800 lbs
Bottom Line
The Fitness Reality 810XLT Power Rack is a good option for those looking for an affordable, durable squat stand with lots of extra attachments included.
A Quick Look at the Fitness Reality XLT810 Power Rack
Fitness Reality is an independent brand, but they are well-known because their products are available on Amazon, which is where I bought mine. As of 2023, some Fitness Reality products, such as the 810XLT Half Rack, can be purchased at select Ollie's Bargain Outlet stores as well. Most of their products are considered more affordable than others, but quality doesn't appear to be sacrificed.
This rack is made of 14-gauge steel and provides a lot of options without requiring a lot of space. Aside from the rack itself, there is a pull-up bar on the top that allows you to add attachments such as a lat pulldown pulley station, a landmine that will support both a standard and Olympic barbell, and two arms for plate storage.
Strength training enthusiasts will be glad they invested in this piece of fitness equipment because it can add several weight lifting exercises to their lists of options. The J-hooks and safety bars are also solid and will support a lot of weight. So, don't be afraid to train heavy in this one (with a spotter of course).
Before You Buy
The Fitness Reality 810XLT comes with its own tools and instructions. A ratchet set will be more reliable than the wrenches provided. You're looking at around 45 minutes of assembly time.
There are two positions at the top of the rack for the pull-up bar. The highest position will make the rack 81 inches tall.
The holes are 1 inch, which allows you to add some universal attachments, such as lever arms.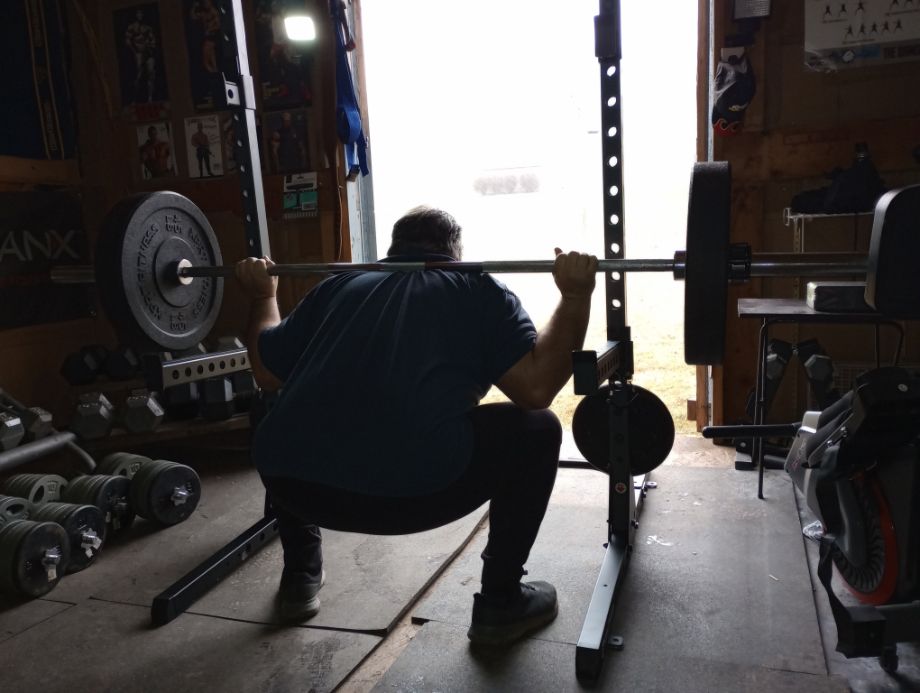 Is the Fitness Reality XLT810 Worth It?
This high quality half-rack costs around $240 on Amazon, which is very affordable for a rack. It's worth every penny in my opinion. This half-rack can be a great starting rack or additional rack if you want a second station.
With a weight capacity of 800 pounds, the safety arms will catch a lot of weight if necessary. You can do movements like rack deadlifts or heavy barbell rows without concern. However, I know that there are some people who may want a sturdier, or bigger options:
Great for:
Small home gym owners
People doing wellness training and intense workouts
Those who need variety with limited space
Beginners and intermediate trainees
Not recommended for:
People who want to add many attachments
Those who want to lift very heavy
People who need extra weight storage from a rack
RELATED: Rogue Fitness RML-90SLIM Rack Review: A Budget Friendly, Compact Squat Rack
Fitness Reality XLT810 Specs
| | |
| --- | --- |
| Footprint | 50.4" L, 50" W, 81.3" H |
| Weight | 90.7 lbs |
| Weight Capacity | 800 lbs |
| Upright Height | 81.3" |
| Hole Spacing | 1" |
| Hole Sizing | 1" |
| Material | 14-gauge tubular steel |
| Color | Silver and black |
| Warranty | 1 year limited |
| What's Included | Landmine, spotter arms, weight holders |
Using the Fitness Reality XLT810
I love the versatility of this piece of equipment. You can slide an adjustable weight bench in between the uprights to perform exercises such as the bench press or seated barbell press. It will also support Olympic bars and some specialty bars. (Note: Check to see if your bar sleeves are 46 inches apart before trying to place it in the rack to avoid damage to the bar or rack.)
It will add some variety to your back training as well. The top bar can be used for the chin up and wide-grip pullups. The landmine attachment can fit on either side at the bottom. Thanks to that, you can do movements such as the T-Bar row or one-arm row.
There are extra safety features that come with this rack that maximize its value. One of those is the pins that go into the safety arms so they stay in place. The J-hooks are heavy and solid as well. It may take an extra minute to set up the rack the way you want it, but it will be worth it.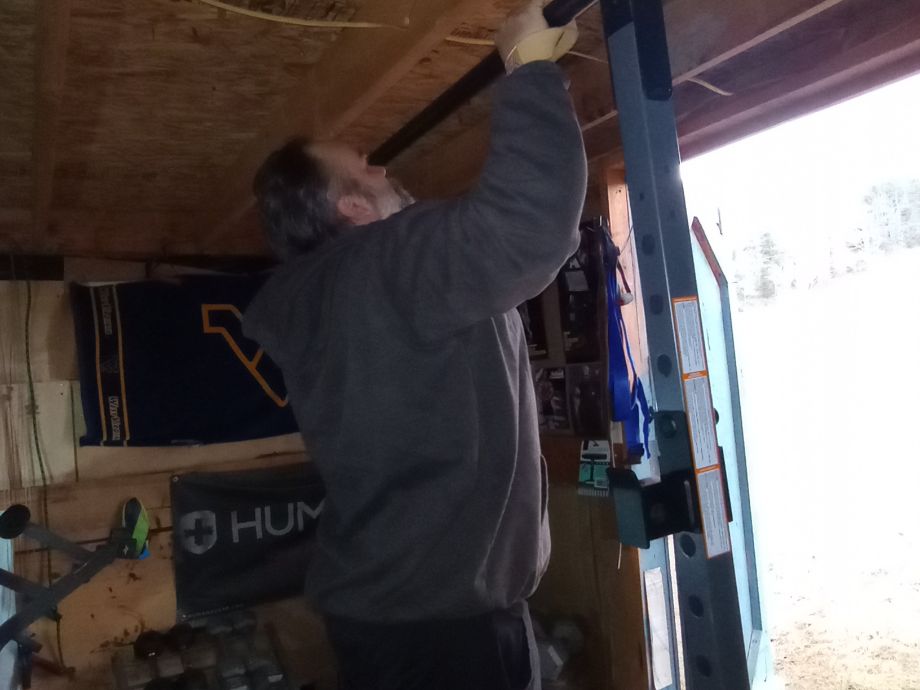 Footprint and Portability of the Fitness Reality XLT810
The rack itself will not take up much space. You're looking at around 5 feet in length and width for the rack itself. Keep in mind that you need extra room to add weights to a barbell. It's also a great option if you have low ceilings. The pull-up bar can be connected at a lower setting at the top of the rack to make it 78 inches high.
To make the most out of its versatility, make sure you leave room for the barbell to fit properly in the landmine. The landmine can be removed and stored elsewhere if you don't want to keep it with the rack at all times.
This rack doesn't fold or move unless you want to pick it up and move it. It's lighter than most racks so moving it won't be an issue if you do so by choice. If you plan on lifting heavy, then you should bolt the rack down and keep extra weight on the weight plate holders. Otherwise, it may wobble when you re-rack the weight at the end of a set.
Fitness Reality XLT810 Construction and Durability
The 810 XLT half-rack is made of 14-gauge tubular steel. It isn't heavy to lift, but it's durable enough to be put through many intense workouts. The dual-mounted safety bars are built well, too. The only downside to the safety arms is that they are slightly angled up instead of completely horizontal. The bar may roll down the safety arms if you rest the barbell on them.
Hole Size and Spacing
The holes are one inch in diameter, and they are spaced one inch apart. There are 19 holes on both uprights. The advantage to this is that you can use some attachments like lever arms or a belt squat attachment to make this rack even more versatile. It's worth noting that using these attachments may cause the rack to wobble if it is not weighed or bolted down.
RELATED: REP SR-4000 Squat Rack Review: Ultra Stable Squat Stand
Attachments
There are a few attachments you'll get with the Fitness Reality 810XLT, depending on which option you choose at checkout:
Landmine attachment (included with standard purchase)
Weight storage posts (included with standard purchase)
Adjustable pull-up bar (included with standard purchase)
Long safety arms (included with standard purchase)
Lat pulldown (available for a small extra cost)
Weight bench combo (available for a small extra cost)
The weight holders at the bottom attach in one of the 19 holes on the rack, and they will support both standard and Olympic weights. There are holes at the top and bottom of the rack if you want to include other add-ons such as the Fitness Reality bench combo or the lat pulldown attachment.
Fitness Reality 810XLT Power Cage
Fitness Reality 810XLT Power Cage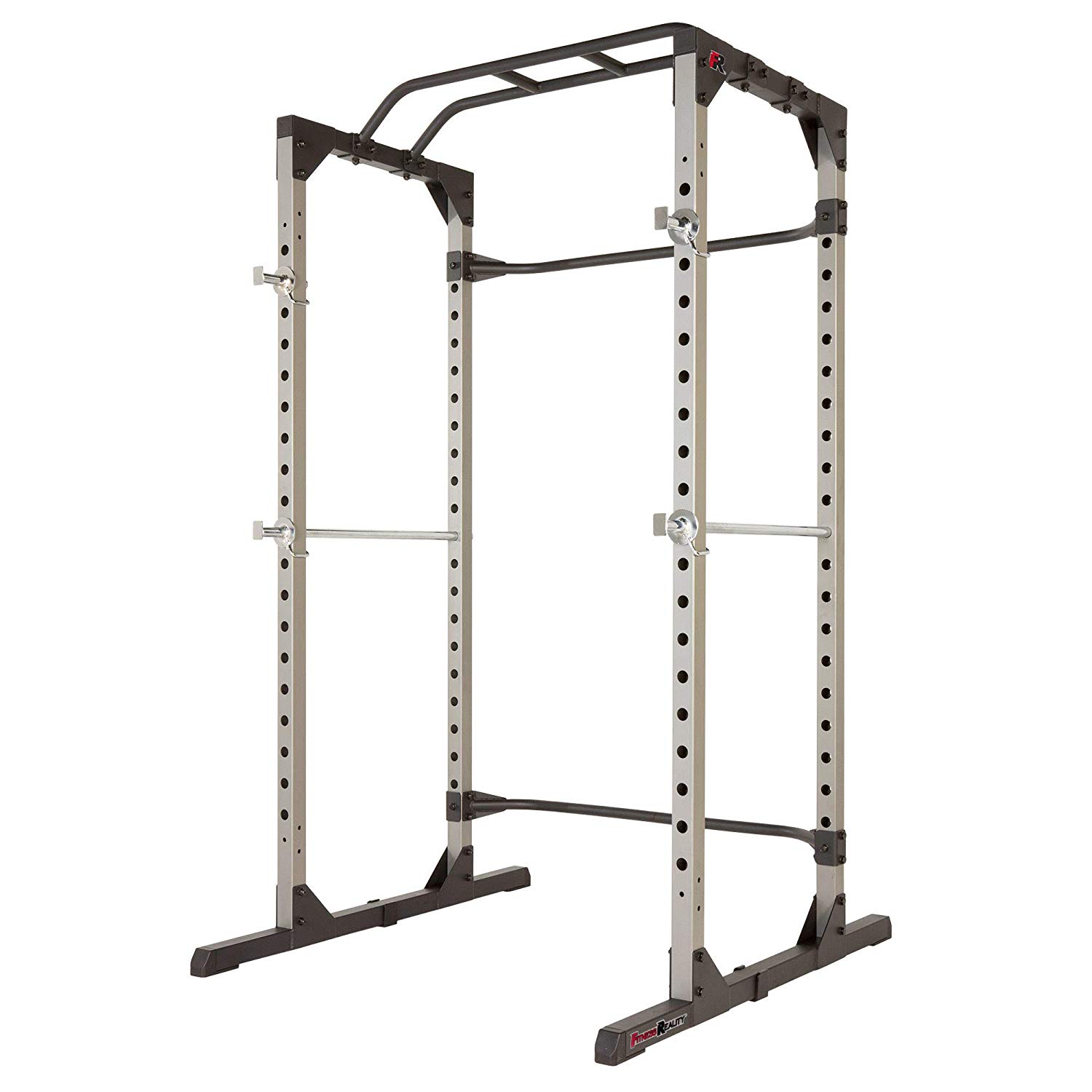 GGR Score: 4.5
Community Score: 4
Product Highlights
800 lbs weight capacity
2" x 2" 14-gauge steel frame
Comes with chrome plated safety hooks and bars
2" hole spacing
Multi-grip pull-up bar
Optional attachments for J-hooks, dip bars, weight plate holders, landmine, and cable attachments
Pros & Cons
Pros
Budget-friendly
Multi-grip pull-up bar
Comes with safety bars
Cons
14-gauge steel not the strongest
Chrome safety bars and hooks can be damaging to barbells
Bottom Line
The Fitness Reality 810XLT is a power rack with good value. Although not the sturdiest power cage on the market, it has a weight capacity and build that will satisfy the overwhelming majority of home gym owners.
If you're looking for something still affordable yet even more durable and versatile, check out the Fitness Reality 810XLT Power Cage. It features four uprights instead of two, which means increased durability.
Like the squat stand from the brand, it is rated at 800 pounds. It also comes with long safety arms. Instead of a single pull-up bar, you get a multi-grip pull-up bar. For an additional cost, you can add on a cable crossover, lat pulldown, or a no-gap bench.
Fitness Reality 810XLT vs Titan T-3 Series Short Squat Stand
Titan T-3 Squat Stand
GGR Score: 4.2
Community Score: 4.7
Product Highlights
Heavy-duty 11 gauge 3" x 3" uprights
Rated at over 1,000 lbs
Compact
Costs under $350
Pros & Cons
Pros
1,000-lb weight capacity
Smaller footprint
Portable
Heavy-duty steel
Cons
No pull-up bar
Short 1-year warranty
Bottom Line
The Titan Fitness X-3 Short Squat Stand is a great option for home gym owners who don't have a lot of space but still want a versatile squat rack.
Another popular home gym rack is the Titan T-3 Series Squat Stand. The two racks compare well. The T-3 rack is made of 11-gauge steel, and it has a higher weight capacity (1,000 pounds) than the Fitness Reality 810XLT. However, it does not offer the same included attachments as the 810XLT, as you only get j-cups with the Titan purchase. The Titan Squat Stand also does not come with a pull-up bar.
With the 810 XLT, you get the extra landmine attachment included, takes up a little less space, is shorter, and is at a lower price point than the T-3. In summary, the T-3 is more durable, but the XLT810 is a more versatile piece of home gym equipment.
RELATED: A Look at Every Squat Rack From Titan Fitness
Customer Experience
The XLT810 comes with a one-year limited warranty upon purchase. If you purchase it at a store, then you have to follow that store's return policy if you want a refund. The parent company is Paradigm Health and Wellness, which is based in California. They offer customer service through their website and their toll-free number.
Ordering and Assembling the Fitness Reality 810XLT
Many customers order Fitness Reality products through Amazon. Financing is available for those who qualify. Amazon Prime members will receive their orders within 7-10 business days.
You can also order the 810XLT through Fitness Reality directly. Financing is not available through their website. The website notes that they need three to five extra business days to ship orders due to potential shipping delays.
If you plan to buy it from a retail store, make sure you can haul a package that is 7 feet long. Financing is dependent on what the store offers if you go this route.
Once you have the rack, you can expect to commit around 45 minutes for assembly if you have a ratchet set. If you have to use the wrenches that are included, it may take an hour. A second person to help hold the uprights while you connect them would be beneficial.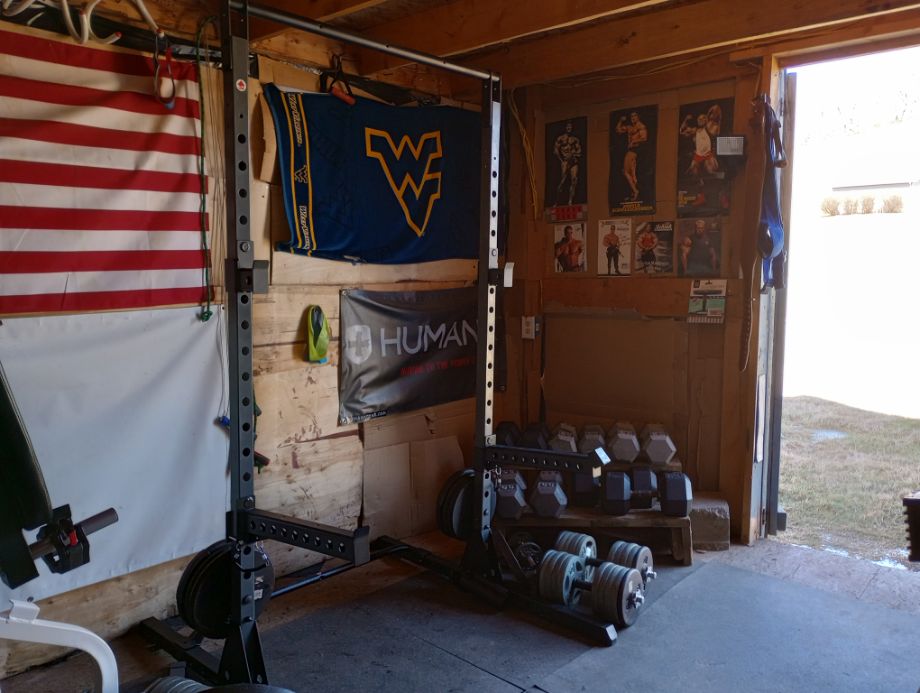 Customer Reviews
There were many reviews on the 810XLT by customers on Amazon, with many of them being positive. Out of over 2,200 ratings, the rack has been rated 4.5 out of 5 stars.
"This was really easy to put together and really sturdy. Really good for the price. Well worth the money. Just take your time after initial assembly to let it settle in then tighten all the way around. Had it for 3 months no issues." – Jeff on Amazon, 5-star rating
"It fits in shorter ceiling spaces. and is sturdy enough for heavy weights bars. I have had over 400 on its hooks at some point and it did fine. It does shake when doing full body dips with the optional dip bars bur remains safe and it likely adds some difficulty to the exercise to use some better form and self stabilization. The pull up bar may be the only drawback. It does fine holding my weight of 230lbs and remains sturdy, but there are no available attachments for optional, more natural grips." – Richard R. on Amazon, 4-star rating
However, not all reviews were positive. One reviewer was not happy with the safety arms as well as the customer service.
"Assembly was not difficult. (The provided wrenches are flimsy and not quite the right fit – you'll definitely want to use your toolset on this one). So far the big thing I don't like are the safety catches (spotter arms). They are angled back so the weight will roll back/down to the frame which is awkward for bench press. The depiction online shows them as level. If you're ok with that, it appears to be a decent value given the price.

Update: tried contacting the vendor about the discrepancy of the spotter arms in the picture and the actual product. They initially responded but then after I sent them pictures they are blowing me off and no longer replying." Anthony on Amazon, 1-star rating
Final Verdict of Our Fitness Reality 810XLT Review
The Fitness Reality 810XLT is a very reliable rack that could serve many home gym owners very well. Trainees of all levels can benefit from having this one. It will support the weight you use and provide many options to keep training interesting.
The steel tubing will be durable enough to last for a long time to come, and the holes allowing for universal attachments will maximize the value of the extra pieces you have. The cost of the rack also makes it a great investment for what you're getting. If you don't have room for a full power rack, then this would be as solid of an option as you can find.
Fitness Reality 810XLT Rating
Fitness Reality 810XLT Rating
In our Fitness Reality 810XLT review, we will tell you why this budget-friendly squat rack could be a great option for your home gym.
Product Brand: Fitness Reality
Product Currency: USD
Product Price: 250
Product In-Stock: InStock
Fitness Reality 810XLT FAQs
How far apart are Fitness Reality 810XLT uprights?
The uprights are 46 inches apart. They should be able to support all Olympic barbells as well as many specialty bars. That said, you should check your specialty bars if you plan to use the rack for training with them before placing the order on the rack.
How tall is the Fitness Reality 810XLT Super Max Power Cage?
The product is 81.3 inches tall if the crossbar/pull-up bar is set at the highest position on the uprights. If not, the rack will be 78.3 inches tall. This should be low enough to fit in most training rooms.
What size are the holes in Fitness Reality 810XLT ?
The 19 holes on both uprights are one inch in diameter each. They will support the J-hooks and safety arms that are included as well as many universal attachments that are designed to fit a 2 x 2 upright. Check the size of your attachment before trying to apply it to the rack if you need to be certain.