We test and review fitness products based on an independent, multi-point methodology. If you use our links to purchase something, we may earn a commission. Read our disclosures.
For many home gym owners, multi-use pieces of equipment are a must. Whether it's due to space concerns or budget, most of us want pieces we can use for different forms of training. Enter the Rogue Y-1 Yoke, which could be used as a squat rack, sled, or a yoke. I've actually owned this yoke for close to five years at this point so I can definitely speak for the durability and versatility that this piece provides.
In this Rogue Y-1 Yoke review, you'll get an in-depth look at the different uses, warranty, and if I think this is something most people should have in their home or garage gym. There's a lot of gym equipment out there and it can get confusing trying to decide which is best for you. I'm here to make the process easier with honest, in-depth reviews you can count on.
Why You Should Trust Us
With all the yokes I've tested over the years, you'd think I was training for a Strongman competition or something. Geez Louise. Some well known yokes include the Titan Fitness T-3 Series Yoke, Sorinex Basefit Unlimited Yoke, Fringe Sport Strongman Yoke, and the EliteFTS E-Series Yoke. It is safe to say I know a good yoke when I see it.
Related: Check out my review of the Rogue Monster Lat Pulldown Seat.
Rogue Y-1 Yoke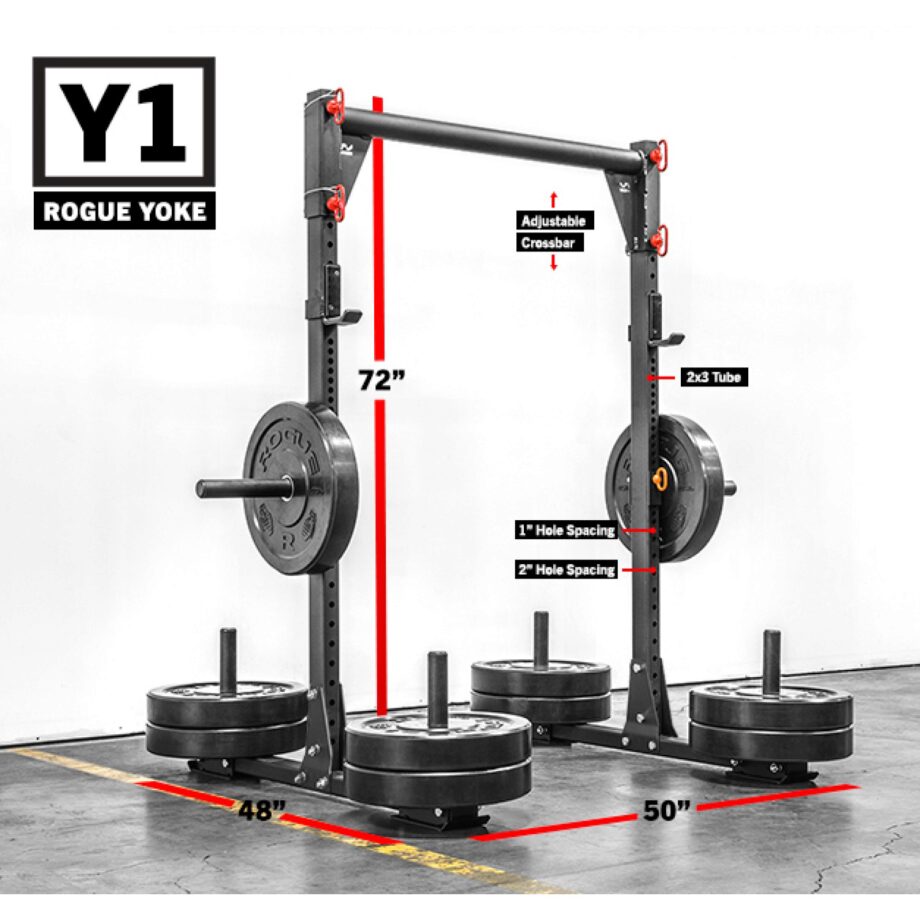 Y-1 Rogue Yoke
The Rogue Y-1 Yoke is a multi-use piece of equipment that can work as a Yoke (duh), squat rack (for those who aren't Shaq height), or a sled if you're feeling particularly spicy. The Y-1 yoke is made of 11 gauge steel and is 185 pounds.
A Quick Look at the Rogue Y-1 Yoke
There are currently two yokes in the Rogue Y-Series: the Y-1 and the Y-2. The Y-2 is slightly more expensive than the Y-1 and is almost 2 feet taller. The Y-1 still has my heart for overall value and versatility.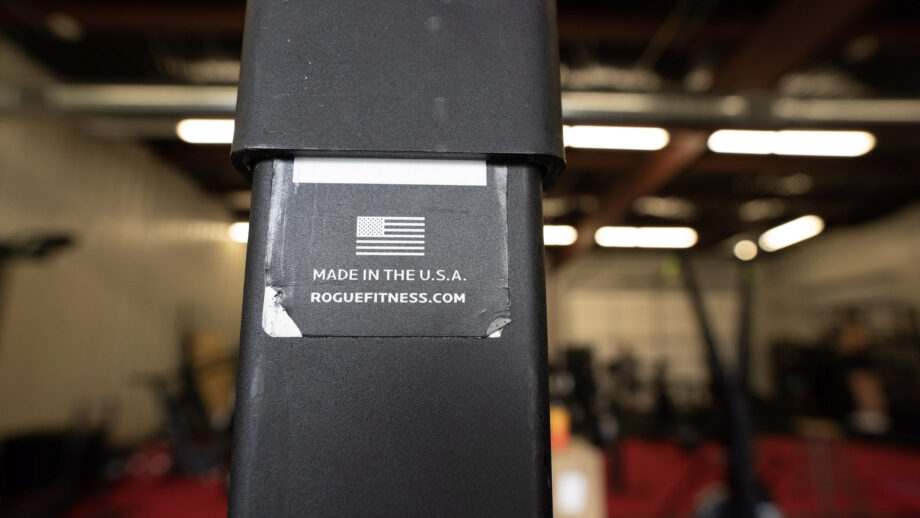 Rogue also has two other options for products you can use as a yoke: the Spud Inc Swing Set and the Volcano. With the Spud Inc Swing Set, you can transform your Olympic barbell into a yoke. Pretty cool, right?
Coop's Tips:
You may need a buddy to help you properly adjust the crossbar because it can be a little tricky to do by yourself.
If you're over 5'10", this piece may not be usable as a squat rack.
Take advantage of the frame's lifetime warranty! If anything becomes damaged, submit a claim on the Rogue website.
My Favorite Things:
Versatile piece of equipment that can be used for multiple things
Light enough for people to use and move around at 185 pounds
Great value at $540
Made in the USA
My Callouts:
Rogue isn't putting out many accessories that are compatible with the 2 x 3
Crossbar isn't easy to adjust
Only comes in black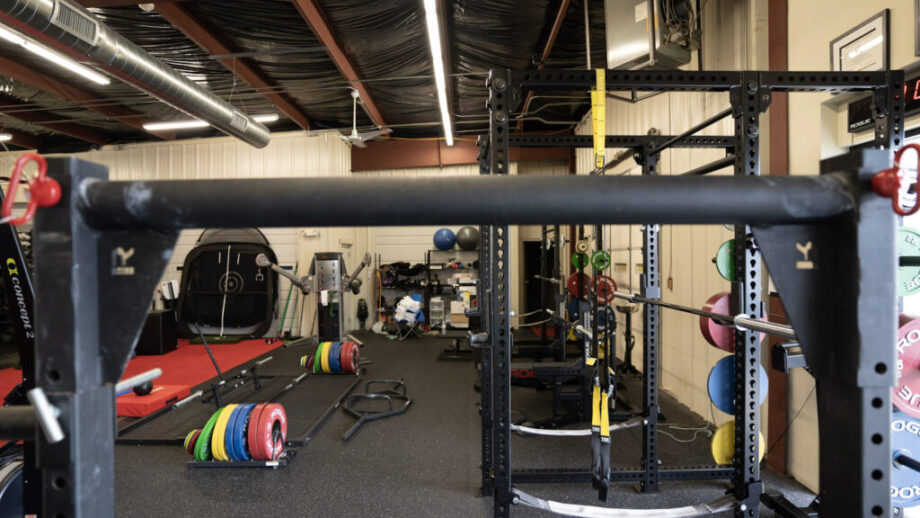 Is the Rogue Y-1 Yoke Worth It?
Great for:
People that need a single piece of versatile equipment in their home gym
Individuals who want a machine that is a great value
People who need a rack that will work with low ceilings
Not recommended for:
People taller than 5'10" who want to use this as a squat rack
Someone who wants lots of accessories for their rack
People who want an expandable rack
Using the Rogue Y-1 Yoke
I've had my Rogue Y-1 Yoke for a couple years now and it has truly stood the test of time. This was the second rack I ever purchased because I wanted something with versatility, and boy, does this deliver. I've used it as a rack (for both benching and squatting), yoke (as the name implies), and as a sled.
The versatility of strength training movements you can do with this piece makes it a steal for under $600.
I do have to say, if you're banking on using the Y-1 as a squat rack and you're over 5'10", it probably won't work out great for you. Short kings, this is your time to shine! The Y-1 is only 72" tall, which is equal to 6 feet in height. You may find that it won't work for you in this capacity if you're taller, in which case I'd recommend purchasing the 92" tall Y-2.
In terms of using the Y-1 as a sled, it's a nice option because you can load quite a bit of weight on this rack. My only gripe (besides that it's loud) is that you have to use the adjustable crossbar for pushing. There isn't an option for a neutral grip, which is what I'd personally prefer.
Speaking of the crossbar, it is a real pain to adjust, especially if you go between different movements throughout your workout that require different crossbar positioning. I would suggest having someone help you (if you can) because it can be tricky to maneuver on your own.
I do wish Rogue had added UHMW plastic on the Yoke piece. The powdercoat gets quite scarred up because there is no wear resistance in place. I think this is a pretty simple fix that I hope they make in the future.
If you add a weight bench, you can also do bench presses with the Y-1. It works just fine if you have another person spotting you. It can get a little dicey when you're alone because it is difficult to add safeties/spotter arms without the plate posts getting in the way. However, I do like the westside hole spacing because it gives you more adjustability when benching.
Although I love the 2 x 3 uprights, Rogue has not put out many compatible accessories that would increase the amount of exercises you'd be able to do with the Y-1, such as farmers carries and pull-ups. The new standard for racks seems to be 3 x 3, and I hope Rogue decides to make the next iteration of the Y-1 and Y-2 with this in mind.
Ordering and Assembling the Rogue Y-1 Yoke
Ordering from the Rogue website is simple. However, you might be waiting up to a month to have your equipment shipped to you. Generally speaking, you'll have to pay shipping for the Y-1 Yoke. However, Rogue does daily shipping deals that are always different – free shipping on specific equipment or if you make an order over a certain amount.
When you receive your Y-1, there luckily isn't a ton of parts to put together. Here's everything you can expect to receive when purchasing:
2 Uprights
Crossbar
2 J-Hooks
2 Bases
4 Skid Feet with storage posts for storing bumper plates
Footprint, Portability, Durability, Construction
The construction of the Y-1 is (not surprisingly) high-quality. Rogue takes pride in making durable, solid strength equipment. The welds and powdercoat are heavy duty. The sled feet are made of steel and do slightly wear down over time depending on how much you use the sledding function. However, this is coming from someone who has owned this piece for 5 years. It takes time to wear them down and it isn't even bad.
The 2 x 3 uprights are made of durable 11-gauge steel. This isn't surprising considering the frame is backed by a lifetime warranty. With a footprint of 50″ x 48″ and a height of only 6 feet, the Y-1 is ideal for use in places short on space or that have a low ceiling.
It only weighs 185 pounds, so it can definitely be moved by most people, especially since it is made to be picked up for doing Yoke carries and runs. For a rack that is so portable, it is surprisingly stable. It does help that you can store weights on the sides of it essentially helping it to keep in place, but I digress.
Rogue Y-1 Yoke Specs
| | |
| --- | --- |
| Brand | Rogue |
| Made In USA | Yes |
| Color | Black |
| Product Weight | 185 pounds |
| Height | 72" |
| Weight Capacity | 750 pounds |
| Footprint | 50″ x 48″ |
| Steel | 11-gauge steel uprights |
| Applications | Pushing, Pulling, Carrying, Zercher carry, Squat, Press, Yoke Walk/run, etc. |
Customer Experience
On most of their products, Rogue has very competitive warranties. The frame on their racks have a limited lifetime warranty as do the structural welds. In order to get warranty service, you do have to return any defective pieces on your own dime. This is something to keep in mind since shipping back an almost 200-pound rack would be pretty expensive.
If you're not in love with your Y-1 Yoke, you can return it within 30 days of delivery as long as it is in unused condition and in the original packaging. There is a spot on the website where you have to generate a return authorization before you can send it back. Rogue reserves the right to not give you your money back if it is not in new condition and in the original packaging when they receive it.
I have always been a big fan of Rogue's customer service. They're really quick to resolve issues and respond to any customer questions. There is a live chat feature in the top right corner of the website as well as a 'Contact Us' form next to it. You can expect a prompt response during the regular work week.
Customer Reviews
Generally speaking, the Rogue Y-1 Yoke has been very well received by customers and the reviews reflect that. The average score out of 5 on the Rogue website is 4.9. Pretty dang solid if you ask me. Some of the comments praised how well the Yoke fits in low-ceiling spaces, the versatility, the solid J-cups, and the high weight-capacity.
The few negatives mentioned it was expensive to ship and it can be an impractical choice for people over 5'10" if they plan to use it as a squat rack since it is short.
Final Rating
Rogue Y-1 Yoke
If you're looking for an extremely versatile piece of equipment for your home gym, I would highly recommend the Rogue Y-1 Yoke. I've been satisfied with my purchase for years and can speak to its durability and multi-functionality. If you want to use this primarily as a squat stand and you're taller, I would suggest coughing up the extra cash to get the taller Y-2. However, if you need a rack with a small footprint and portability, this is definitely the best value option.
Product Brand: Rogue Fitness
Product Currency: $
Product Price: 580
Product In-Stock: InStock
Rogue Y-1 Yoke FAQs
What is a Rogue Yoke?
A Rogue Yoke is an all-in-one rack you can use for a variety of things: squat, yoke, or sled. It's a solid choice for people who want a multi-use piece of equipment.
How heavy is the Rogue Y-1 Yoke?
The Rogue Y-1 Yoke weighs 185 pounds.
How much does the Rogue Y-1 Yoke cost?
At the time of this publication, the Rogue Y-1 Yoke costs $540. You can also purchase the Yoke Conversion Kit for $300 or the Yoke Conversion Kit without Side Storage for $260.