We test and review fitness products based on an independent, multi-point methodology. If you use our links to purchase something, we may earn a commission. Read our disclosures.
The Invest Pro Weight Vest is one of the best weighted vest on the market. Featuring a locked-in feel with easy adjustments, the Invest Weight Vest is a great option for those looking for a budget-friendly alternative to the 5.11 Tactical Plate Carrier.
Invest Fitness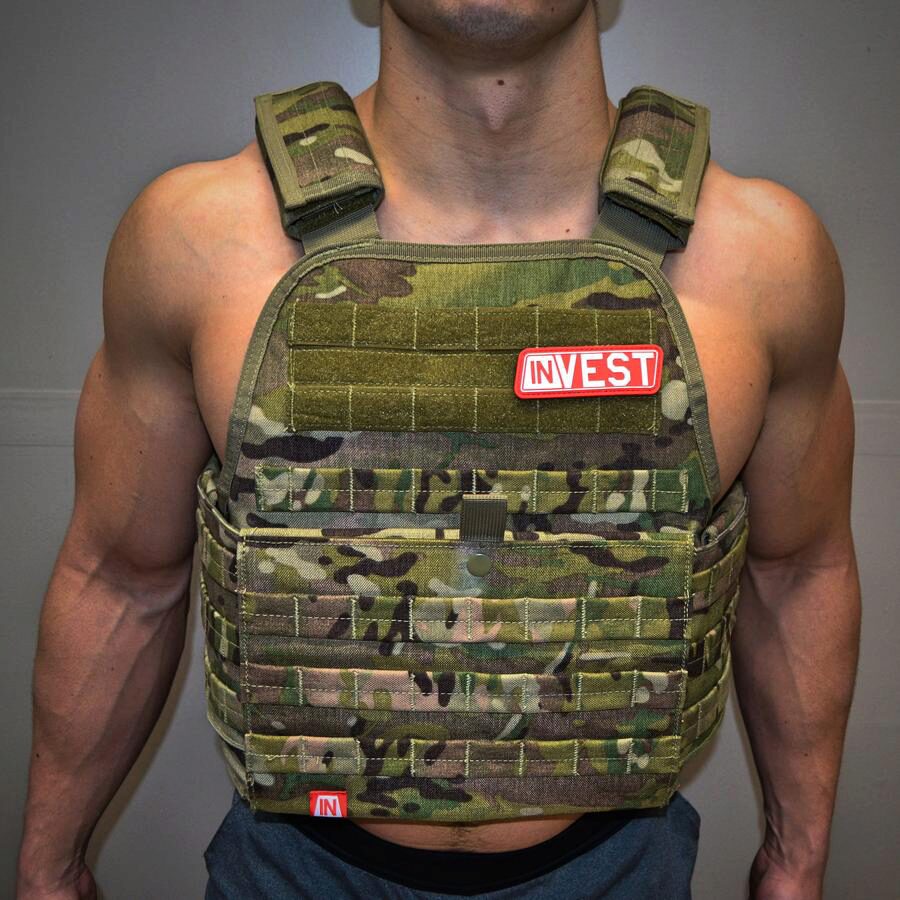 Invest Pro Weight Vest
The Invest Pro Tactical Weight Vest is an excellent upgrade to the ill-fitting weight vests in today's marketplace. The Invest Pro is made from extremely resilient 600D polyester nylon and features a snug fitting anatomical design. Our vests are designed to give the user maximum range of motion with minimal vest movement during intense training. The Invest Pro rides high and tight on the torso allowing the user to perform all movements comfortably with minimal restriction. Mesh padded front and back panels aid in comfort and maximize airflow.Specifications:Abrasion Resistant 600D Nylon Construction Water-Resistant Vest Weight: 2.5LB Fully secured plate pockets, both front and rear Fully Adjustable shoulder pads with quick release for even weight distribution Emergency drag handle Adjustable Double strap system with removable elastic cummerbund allows for a fully customized fit. Cummerbund also allows for the use of side plates if desired in the future. Moisture wicking mesh interior front and back panels allow for maximum airflow and comfort Quick release side buckles allow for easy removal Molle Webbing throughout to allow for the attachment of additional accessories PVC "Invest" logo patch as well as multiple Velcro locations for additional personalization such as name or unit patches Damask Woven Clip label
Unboxing
The Invest Pro Weight Vest showed up on my doorstep in one piece. As of late, I've been getting a lot of mangled boxes, probably because my delivery guy is tired of having me on his route (sorry Phillip!)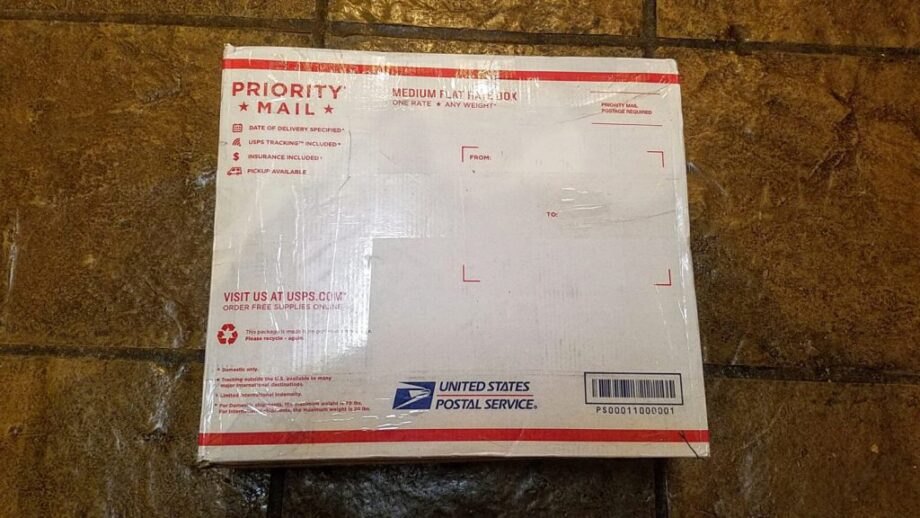 Although it seems silly, it's great when a company sends equipment in boxes that were obviously cared for. Extra tape and padding within the box keep the product from getting beat up and having a shorter lifespan during training.
I opened the box and found the beautiful vest wrapped in saran wrap and ready to be unwrapped.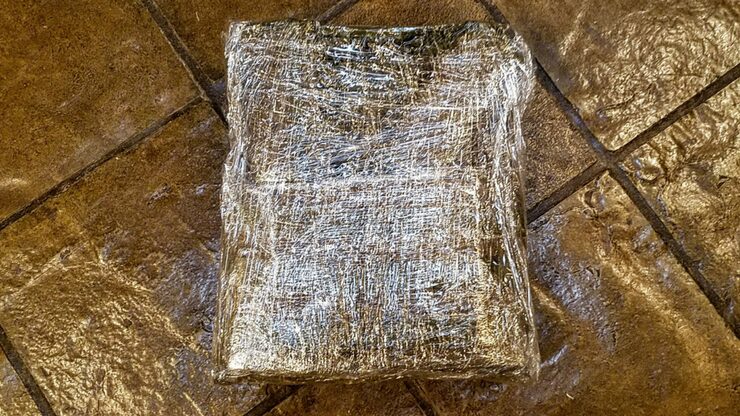 Invest Pro Weight Vest Review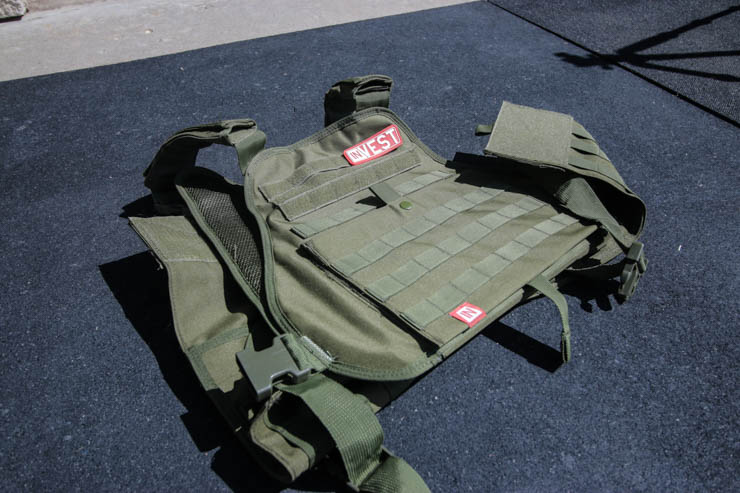 Weighted vests are becoming more and more popular in the fitness community. Not only are they being used for general calisthenics work, but they're being used in dynamic movements like running and gymnastics work as well. Every year on Memorial Day, people all over the country do a workout entitled Murph.
In fact, this workout has even made its way to the CrossFit Games as an event. To "Rx" this workout, people are required to wear a 20/14 pound vest while performing:
1-mile run
100 pull-ups
200 push ups
300 air squats
1-mile run.
If you've ever done it then you know how rough it can be.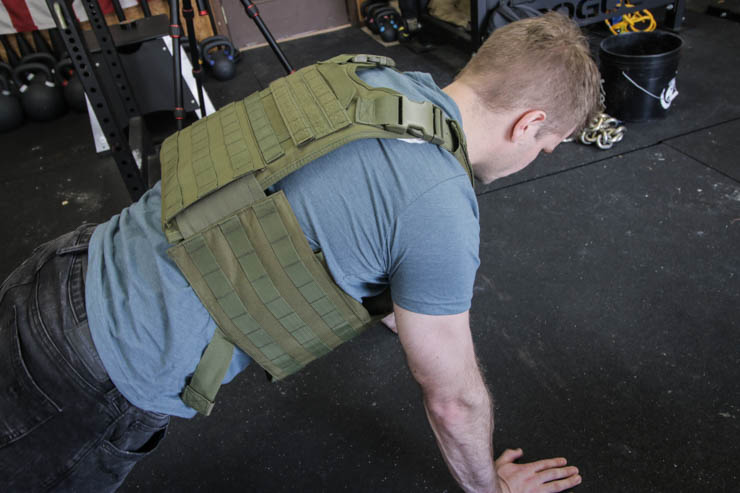 Not everyone will find themselves doing this workout, but we also see a lot of bodyweight workouts using weight vests. Movements such as strict pull-ups, push-ups, ring dips, hand-stand push-ups, etc. can all be made more difficult with the addition of a weight vest.
A weight vest that's going to be used in the wide variety of training and movements that this one will, needs to have a secure and comfortable fit.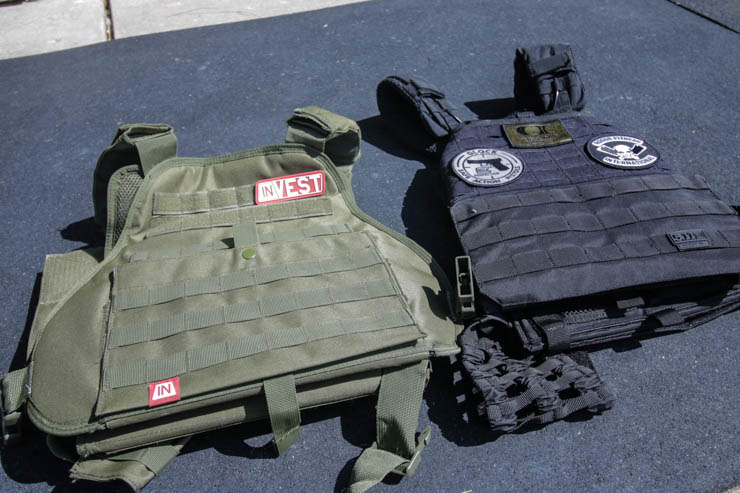 Up to this point, when people think of weighted vests, the product that first comes to mind is likely the 5.11 Tactical Weight Vest, and for good reason. The 5.11 Tactical Vest was one of the first weight vests to solve a lot of problems that previous vests had including a secure fit and breathability. It has also been featured during the CrossFit Games multiple times and will likely be featured again in future years.
But, there's no question that although the 5.11 Tactical Weight Vest is one of the best available, it's also one of the most expensive. This is where the Invest Pro Weight Vest comes into play. If you're looking for a quality vest with many of the same attributes of the 5.11 Tactical Vest, but with a lower price point, then the Invest Pro Weighted Vest should be given serious consideration.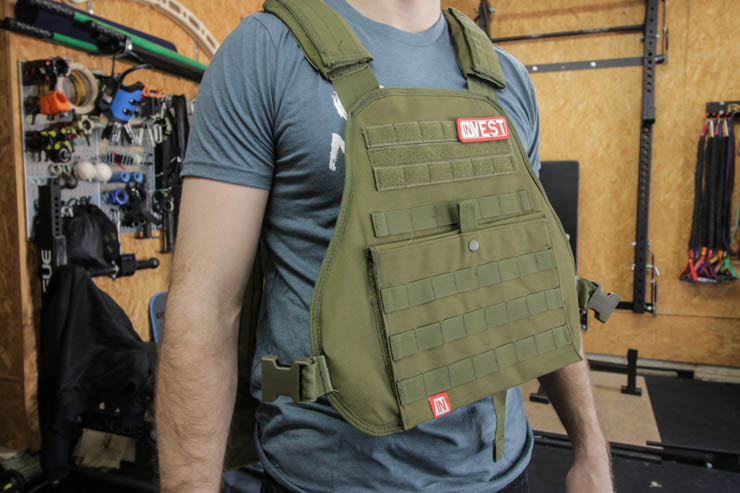 For starters, the weight of the Pro Weighted Vest without plates added is listed at 2.5 pounds which was consistent with the reading on the scale in testing. This is a pretty standard weight for vests of this caliber across the board including the 5.11 Tactical Vest.
Of course, what matters is not so much the weight of the vest, but the ability to add plates for a workout. The Invest Pro Weighted Vest is fully equipped with multiple slots on the front and back (as well as on the sides) for adding whatever weight you'd like for the workout.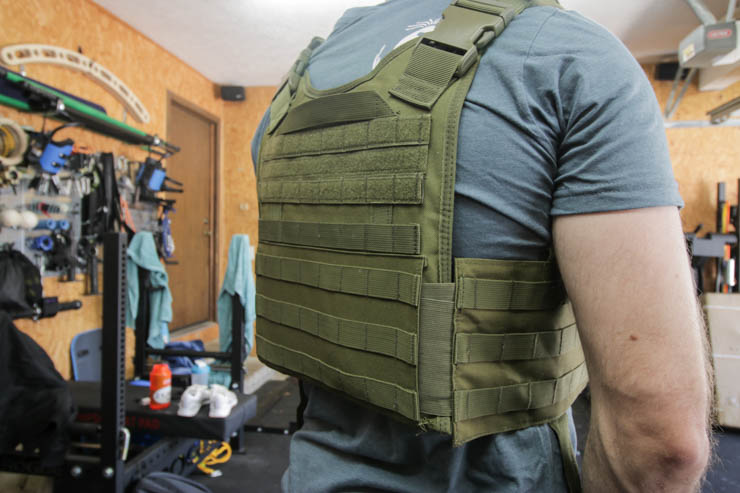 The Invest Pro Weighted Vest utilizes a resilient 600D polyester nylon for the majority of the plate carrier. To put this in perspective, the 5.11 Tactical vest uses 500D nylon. This said, they could very likely be using the same nylon as 500D Nylon is often referred to as 600D (weird, I know, but it's a standard industry practice.) In real life situations, the durability of the nylon for both the Invest and 5.11 Tactical Vests should be similar…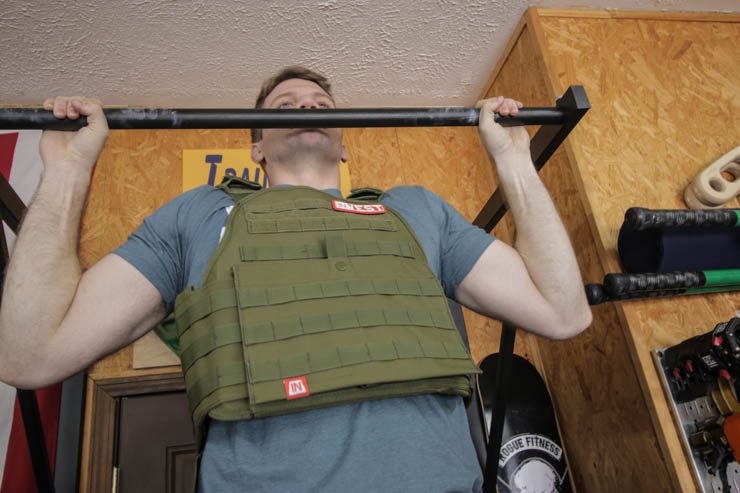 The Invest Pro Weighted Vest has taken one of the most important design aspects from 5.11 Tactical and made their vests as form-fitting as possible. This is extremely important for any person doing a workout that will require some sort of movement like running or flipping up-side-down. Having an 8 lb plate jumping up and down and hitting you in the chin while you're trying to maintain a running pace is extremely difficult to deal with.
If you secure the Invest Pro Vest properly, it should not prevent the plates from bouncing around…for the most part. I say for the most part because it isn't 100% secured (and neither is the 5.11 Tactical Vest).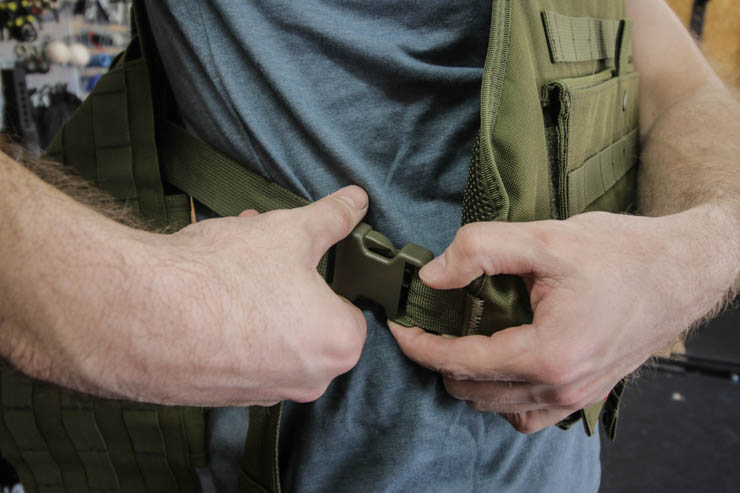 There are a few features of the Invest Weight Vest that make this possible. First, the vest is equipped with two different lock-in methods that allow the plates to sit securely on your body. On the rib cage portion of the vest, the Pro Weighted Vest is locked in with a simple buckle mechanism and once you are buckled in you can tighten the strap to whatever length you'd like.
This works well for both men and women, although the front of the vest is a bit large for smaller women.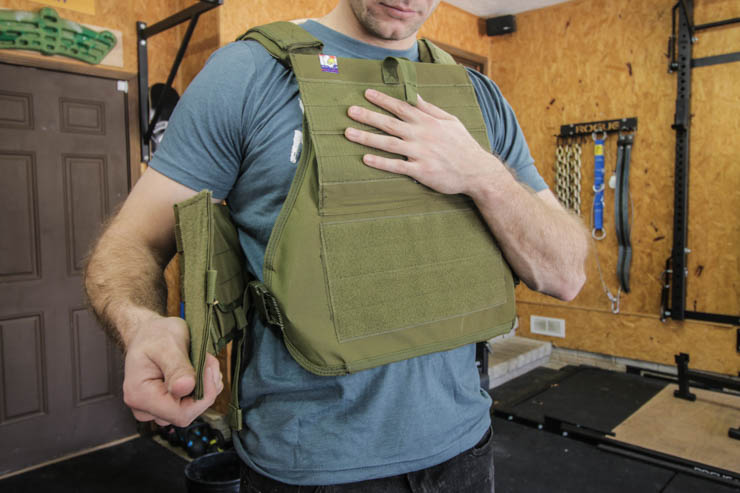 Once you are buckled in, the Invest Pro Weighted Vest utilizes two large velcro straps that wrap from the front to the back and attach. This double mechanism for securing weight does a great job of keeping the vest in place, but in all reality is a bit overkill.
The velcro straps are more than capable of keeping the vest secure and the extra mechanism just adds to the time it takes to put the vest on. This said, you can simply decide to use or not use the buckles.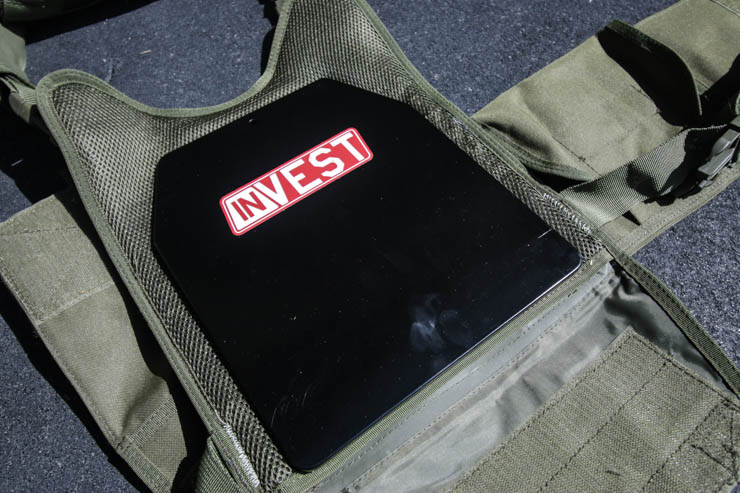 Not only are the plates securedby the velcro straps, Invest has also utilized a snap button that a person uses once weights are placed in the pockets. The cummerbund has pockets that allow additional weights (not sure what kind of weights as they're really small) to be added for additional weight.
I assume the pockets were originally put there for additional rounds of ammo to be stored as these vests are made for tactical operations and retro-fitted for training applications.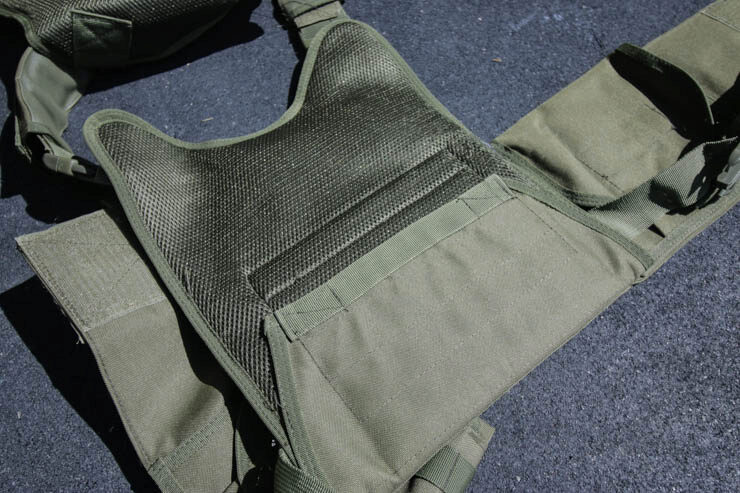 One of the most outstanding features of the Invest Pro Weighted Vest is the moisture-wicking mesh that lines the inside of the vest. The mesh that's used provides some extra cushion while also keeping the vest (somewhat) breathable and dry during training.
The wicking mesh is featured both on the front and back of the vest to allow for maximum airflow. It's rather easy to over-heat while using any type of vest, especially when doing workouts like Murph, but compared to some other versions like the Uncommon Breed Weight Vest, the Invest comes out on top.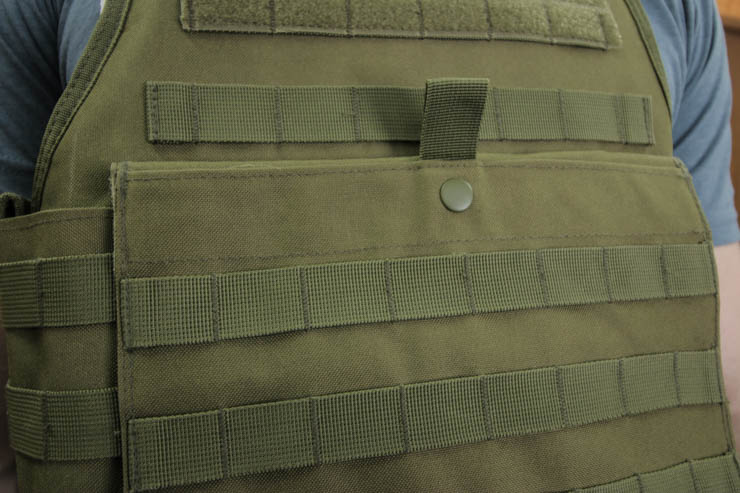 Invest has also surrounded the vest with Molle Webbing. Molle is an acronym for Modular Lightweight Load-carrying Equipment. This webbing is popular in armed forces such as the United States Army and the British Army, and allows for attachments of various compatible pouches and accessories. Although you may not be carrying rounds, the options there if you'd like to use it.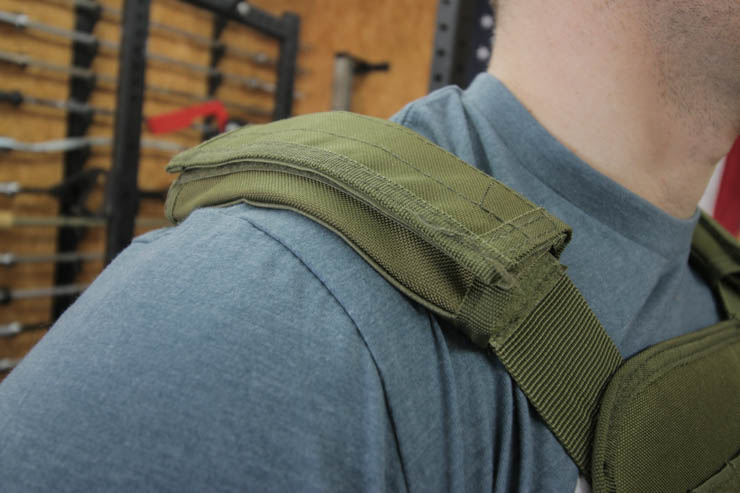 Finally, the yoke of the vest features additional padding that is absolutely crucial to keeping the vest from digging into the traps. Many cheap vests have no extra padding on the shoulders and that's an immediate sign that to look elsewhere when purchasing a vest.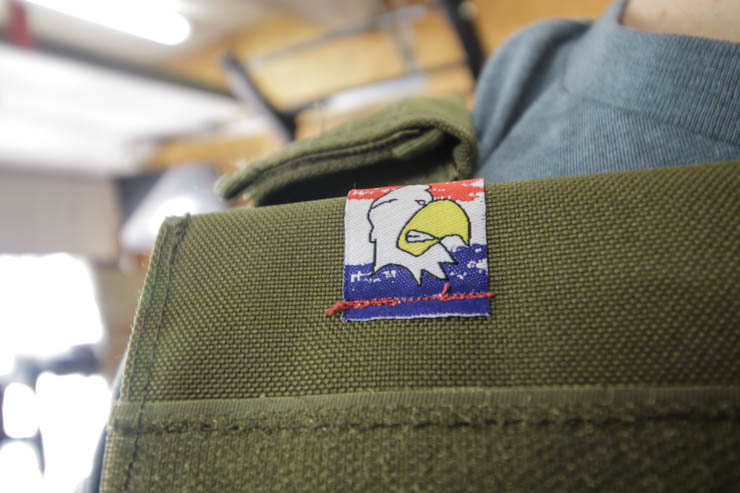 If you like to customize your gear, you can add a personal touch to the vest by attaching a velcro name or unit patch in multiple locations.
Overall, the Invest Pro Weighted Vest is a high quality, budget-friendly vest that we recommend.
Suggested Improvements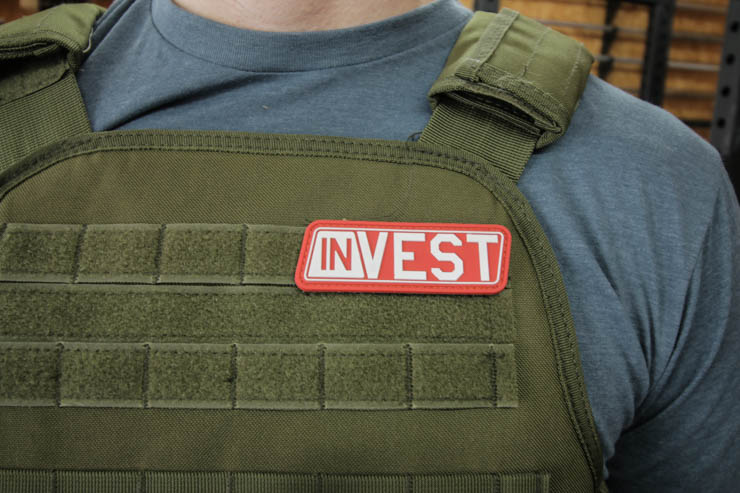 Although the Invest Pro Weight Vest is a solid option for the budget-friendly, there are a couple of improvements we'd like to suggest.
The first improvement and most notable one is to come up with a design that is quicker to take on and off. Although these vests are often used for hard and grueling workouts, they're also used for sets of pull-ups where a movement is done in between that isn't benefited by the use of a vest. Making it so the vest can be put on and off without having to go through the whole process of straps, webbing, and buttons would be a big improvement.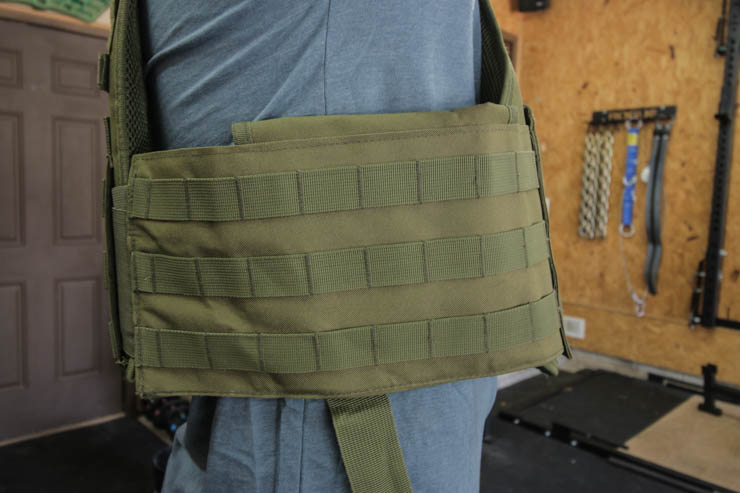 The last suggested improvement is to create weights to go in the cummerbund of the vest. This is a feature they tout as a benefit over the competition, but without weights to put in the pockets, it's kind of a mute point.
Full Rating
Invest Pro Weight Vest
The Invest Pro Weight Vest is one of the best weighted vests on the market. Featuring a locked-in feel with easy adjustments, the Invest Weight Vest is a great option for those looking for a budget-friendly alternative to the 5.11 Tactical Plate Carrier.
Product Brand: Invest Pro
Product Currency: $
Product Price: 179.99
Product In-Stock: InStock
Invest Pro Weight Vest FAQs
Is a weight vest a good investment?
A weighted vest can aid in the development of strength, endurance, and cardiovascular fitness. Increasing your muscle mass can assist you control how your muscles are stressed and strain during exercise. The extra weight increases the power with which you push yourself, resulting in faster energy depletion, which can actually be beneficial.
Can you build muscle wearing weighted vest?
When you exercise wearing a weighted vest, all of your muscles are forced to work together, giving you a full-body workout regardless of the exercise. Exercising with a weighted vest can assist enhance bone strength in addition to strengthening muscles and increasing muscle development.
Where to Purchase
Invest Fitness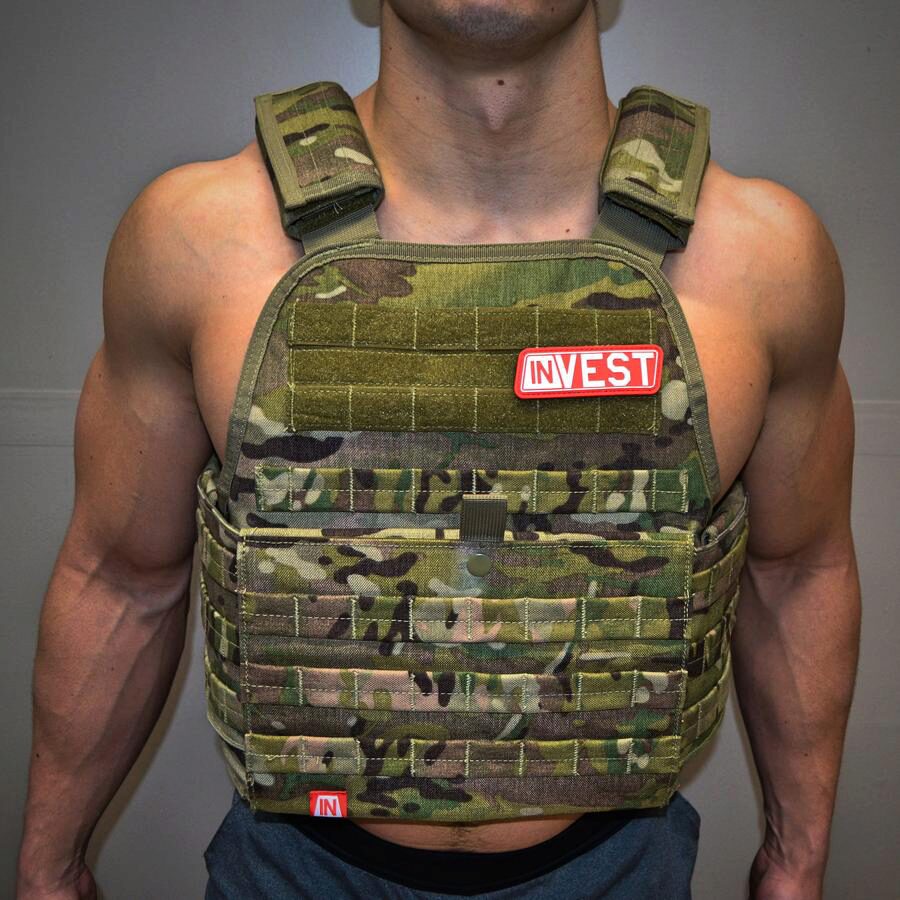 Invest Pro Weight Vest
The Invest Pro Tactical Weight Vest is an excellent upgrade to the ill-fitting weight vests in today's marketplace. The Invest Pro is made from extremely resilient 600D polyester nylon and features a snug fitting anatomical design. Our vests are designed to give the user maximum range of motion with minimal vest movement during intense training. The Invest Pro rides high and tight on the torso allowing the user to perform all movements comfortably with minimal restriction. Mesh padded front and back panels aid in comfort and maximize airflow.Specifications:Abrasion Resistant 600D Nylon Construction Water-Resistant Vest Weight: 2.5LB Fully secured plate pockets, both front and rear Fully Adjustable shoulder pads with quick release for even weight distribution Emergency drag handle Adjustable Double strap system with removable elastic cummerbund allows for a fully customized fit. Cummerbund also allows for the use of side plates if desired in the future. Moisture wicking mesh interior front and back panels allow for maximum airflow and comfort Quick release side buckles allow for easy removal Molle Webbing throughout to allow for the attachment of additional accessories PVC "Invest" logo patch as well as multiple Velcro locations for additional personalization such as name or unit patches Damask Woven Clip label