We test and review fitness products based on an independent, multi-point methodology. If you use our links to purchase something, we may earn a commission. Read our disclosures.
The Uncommon Weighted Vest is one of the best weighted vests for the money that stays tight to the body during training, has an accurate weight, and is quite durable.
Uncommon Breed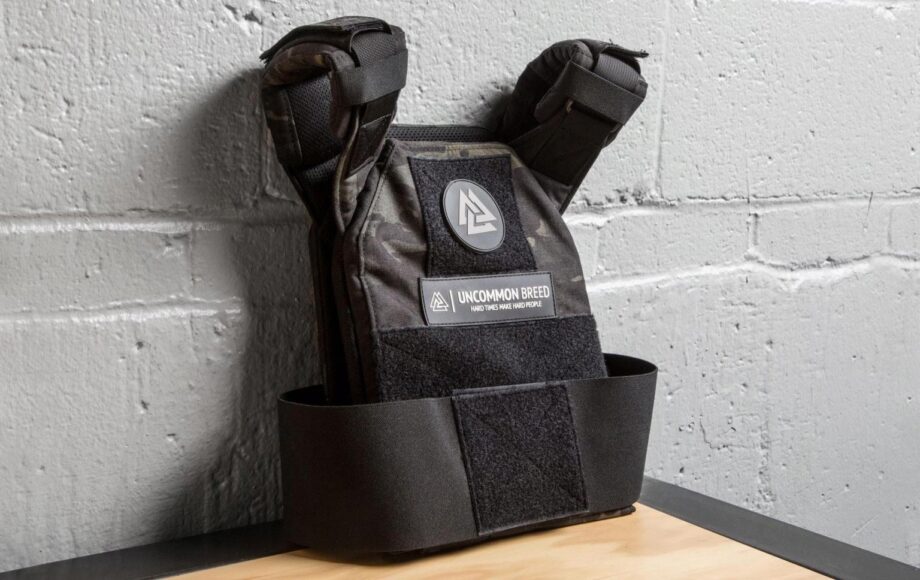 Uncommon Weighted Vest
Fully redesigned with a slimmer fit, extra interior padding, and a set of shoulder pads (included standard), the Uncommon Weighted Vest 2.0 offers improved comfort and a free range of motion for dynamic resistance training. This streamlined tac vest is Made in the USA from premium, abrasion-resistant 500D nylon, available here in a black camouflage design. All vests include front and back pockets and ship with a set of two 10LB weighted plates (20LB total). The Uncommon Weighted Vest is designed to fit securely on athletes of just about any size–greatly reducing the uncomfortable bouncing and sliding sometimes found with other tac vests on the market. No matter how hard you're training or how harsh the environment, this durable plate-carrier rides high and tight on the chest, keeping your load steady. Specifications:Made in the USA500D Cordura constructionOne size fits mostIncludes (2) 10LB training platesFront and Back pockets for provided training plates or other compatible medium ESAPI platesColor: Black Camo
Sometimes you just want to make body-weight movements more difficult.
There's few ways to do this outside of simply holding a weight while you do the movement. And in that case, I suppose the "bodyweight" part of the movement is negated because you are also holding weight.
One such way of making bodyweight movements more difficult is with the use of a weight vest.
I've used vests before, however I always hated them becaue they were either too tight and cumbersome or too sloppy and loose.
When Uncommon Breed released their Weighted Vest, I liked the look and the idea of plates that were secured. I was somewhat skeptical as nearly every vest I've ever used has been uncomfortable, however this vest is not every other vest.
After having the vest for about a month I can confidently say that you will need to read the rest of the review to find out what I think. 🙂
Uncommon Breed Weighted Vest Review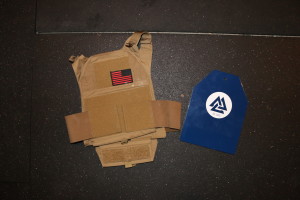 The Uncommon Breed Weighted Vest is what many like to call "tacticool." I was never in the military and don't pretend to be, but there are quite a few different tactical pieces of kit that look pretty cool.
This vest is the definition of tacticool, yet is very funcitonal. Sometimes the looks line up with the performance. In this case it did just that.
This vest comes in two colors, the khaki that I received and also a black and gray vest. I really like the look of both, but am glad I got the khaki as I think it just stands out really well.
The vest, as with many tactical pieces of kit is covered in various sewed on pieces of velcro where you can put your patches. If the vest were being used in battle, it would most likely have various ranking patches however, because I don't have any of those I just decided to attach my GoRuck American Flag Patch.
One thing I was a little disappointed on when I received the vest was the fact that it didn't come with the Uncommon Breed Patch that is shown in the pictures.
The description clearly states that the patch is not included, however all of the pictures have it shown and frankly it looks pretty sweet. If you're like me and do want a patch, they have a different one available for sale here. It's not as cool as the one shown in the pictures of the vest, but it's still pretty sweet.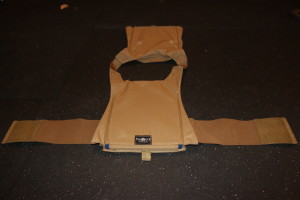 This thing is tough.
The vest, excluding the plates is made of 500D Cordura. There's strong velcro pieces all over that don't seem to be going anywhere. The stitching is top notch, and there's extra stitching reinforcement in areas that need it.
The elastic straps that allow the vest to stay tight to your body are actually not connected at all, They're merely two elastic straps with velcro on both ends that attach to the front and back of the vest. This essentially allows you to wear the vest any way you want because there is no front or back.
The elastic straps seem to be tough enough that they won't stretch out much over time and the velcro holds well enough that I don't see it wearing out anytime soon as well.
On the shoulders are two velcro straps that allow you to adjust how high up on your chest the vest will sit.
The weight plates that actually come in the vest seem solid. There's really not much you can mess up with a hunk of metal, but they are thin enough to stay out of the way, and they also look great.
A little known feature on this vest is there's two pockets on both sides for sliding plates in. So, technically you could load this up to 40 lbs. if you wanted. You could also add in your own ballistic plates when the zombies begin uprising.
This thing stays still which is ultimately the feature you should be looking for in a weight vest.
It doesn't shift around or hit you in the face. And, as long as you're wearing a shirt it doesn't chafe the skin either.
This is a Murph-worthy vest for sure.
There are many workouts you can use the vest on to make them harder.
Final Thoughts
If you're looking for a solid, Made in the USA, weight vest produced by a veteran-owned business just go out and get one of these bad boys. You won't be sorry.
*Update*
I've enjoyed using the weighted vest, however I have noticed some of these seams that should be double or triple stitched are actually only held together by a single stitch. This can cause tears and holes and I've found one much sooner than I believe one should be found. You can see it here: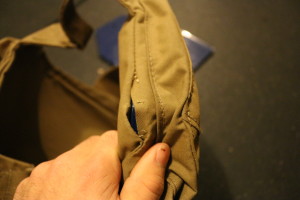 Full Rating
Uncommon Breed Weighted Vest
The Uncommon Weighted Vest is one of the best weighted vests for the money that stays tight to the body during training, has an accurate weight, and is quite durable.
Product Brand: Rogue Fitness
Product Currency: $
Product Price: 229.99
Product In-Stock: InStock
Where to Purchase
Uncommon Breed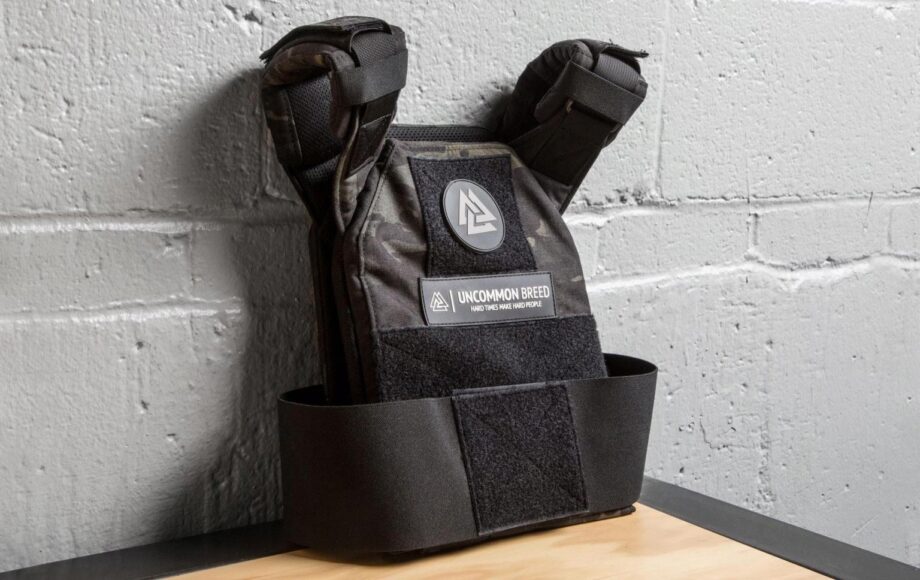 Uncommon Weighted Vest
Fully redesigned with a slimmer fit, extra interior padding, and a set of shoulder pads (included standard), the Uncommon Weighted Vest 2.0 offers improved comfort and a free range of motion for dynamic resistance training. This streamlined tac vest is Made in the USA from premium, abrasion-resistant 500D nylon, available here in a black camouflage design. All vests include front and back pockets and ship with a set of two 10LB weighted plates (20LB total). The Uncommon Weighted Vest is designed to fit securely on athletes of just about any size–greatly reducing the uncomfortable bouncing and sliding sometimes found with other tac vests on the market. No matter how hard you're training or how harsh the environment, this durable plate-carrier rides high and tight on the chest, keeping your load steady. Specifications:Made in the USA500D Cordura constructionOne size fits mostIncludes (2) 10LB training platesFront and Back pockets for provided training plates or other compatible medium ESAPI platesColor: Black Camo