We test and review fitness products based on an independent, multi-point methodology. If you use our links to purchase something, we may earn a commission. Read our disclosures.
If you've cracked the code of shopping for the best home gym equipment around the holidays, then you already know that you're in store for some solid Labor Day treadmill sales. Brands from across the industry offer deep discounts and even perks like free shipping or free gifts with purchase.
Our team at Garage Gym Reviews has used, tested, and reviewed the best treadmills, some of which you'll find on sale over the Labor Day holiday. Below, find out where the deals are and how to save on your favorite running machines.
All Labor Day Treadmill Sales
More Labor Day Fitness Equipment Sales
Our team searches the internet and talks to brands to find all the best Labor Day sales on exercise equipment like ellipticals, adjustable dumbbells, barbells, kettlebells, jump ropes, supplements, apparel, and more.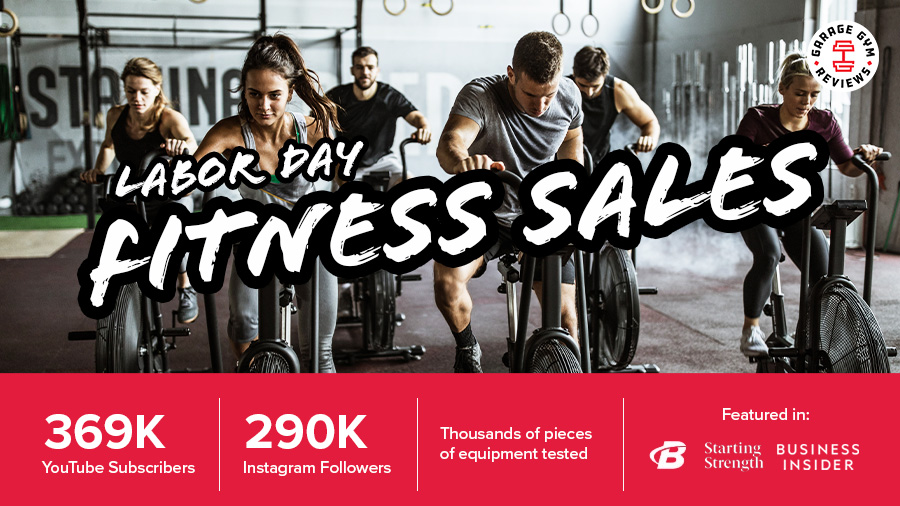 Other Discounts on New Treadmills
Don't see what you want? We have collected the most popular treadmill coupons and other ways to save on quality treadmills. Check out the following for deals:
Another way to find the best prices: Look for other additional discounts. For example, some cardio brands offer military discounts on fitness equipment.
How to Find the Best Treadmill Deals Around Labor Day
High-end motorized treadmills can cost upward of several thousand dollars, so it's understandable that you're looking for ways to save.
Whether you want one of the best under-desk treadmills, a walking treadmill, or a folding treadmill, we've got you covered. Our team is known for our ability to find every possible way to save money on home gym equipment. Follow our tried-and-true, step-by-step guide to scoring the best price.
1. Narrow Your Selection
Treadmills are diverse in size, customizations, functionality, speed ranges, weight capacity, and more. Narrow your search by evaluating the following factors:
Function: Will you be using the machine for walking, jogging, or sprinting? Do you need large speed and incline ranges?
Cost: Which better suits your budget: One of the best treadmills under $500, or one of the best high-end treadmills?
Programming: Do you prefer preset treadmill workouts, or can you get by with a manual treadmill?
Footprint: What size treadmill can your space accommodate? Do you need a foldable treadmill?
Warranty: Do you prefer a machine backed by a lifetime warranty, or are you willing to go cheaper and take the risk?
There are a number of "extras" that today's electric treadmills offer. Make a list of what's a "must" and what you can live without:
A basic LCD display or an HD touchscreen
A cushioned running deck
Heart rate monitoring
Bluetooth connectivity
Bluetooth speakers
Cooling fans
Compatibility with other fitness apps
2. Understand Additional Costs
It's rare that the price of the machine will actually be what you pay at checkout. The factors below can significantly put a hurt on your wallet:
Shipping Costs: Shipping a 300-pound treadmill can cost upward of $200; if you can find free shipping, take advantage of it.
Assembly: Yes, you can put a machine together yourself, but the large commercial treadmills may take hours. If you want it done professionally, you'll be spending at least another $100.
Programming Subscriptions: The best iFIT treadmills are excellent machines, but programs like iFIT (and Peloton, Studio, and others of their ilk) tack on extra money every month for an individual or family membership.
3. Trust Expert Reviews
Our goal at Garage Gym Reviews is to offer our first hand experience with treadmills (and other equipment) so you can make an educated decision about your purchase. We have used more than 50 treadmills ourselves from the top brands like NordicTrack and ProForm, as well as Amazon and other retailers.
If you're interested in a treadmill, odds are we have used and reviewed it. Check out our in-depth treadmill reviews for everything you need to know about the machine. You can also view our best-in-class lists if you're trying to narrow your search:
Labor Day Treadmill Sales FAQs
Does NordicTrack have Labor Day sales?
NordicTrack is an industry leader in cardio equipment, and the brand also leads the way in offering deep discounts around holidays. In the past, we have seen NordicTrack treadmills go on sale around Labor Day for hundreds of dollars off the regular price. The brand also discounts exercise bikes, home gyms, dumbbells, and more.
What is the best treadmill at a reasonable price?
Should I wait until Black Friday to buy a treadmill?
After years of watching how brands treat the holiday, we do think that the best Black Friday treadmill deals are your best option for saving money on a machine. However, in recent years, more fitness brands are offering bigger sales around other holidays as well. If you want a new treadmill for your home workouts, then shopping around a major holiday should guarantee you a cost savings.