We test and review fitness products based on an independent, multi-point methodology. If you use our links to purchase something, we may earn a commission. Read our disclosures.
When 4x CrossFit Games Champion Rich Froning endorses a fitness product, we simply must try it—no ifs, ands, or buts. So that's what we did with the Whipr, which is best described as a jack-of-all-trades cardio machine. In our Whipr review, find out if this versatile piece of exercise equipment lives up to Froning's endorsement.
This Ain't My First Rowing Rodeo
I'm no newb to rowing ergs. Not only have I been rowing on Concept2 RowErgs in CrossFit gyms for a decade, but I've had my grip on the handlebars of plenty of different rowing machines in globo-gyms and in our equipment testing facility. I know how an erg can affect your rowing technique and adherence to an exercise program, so I test and review indoor rowers through the lens of a personal trainer and corrective exercise specialist.
Whipr
Whipr Rower
The Whipr Rower is a portable row machine which allows users to bring their workout anywhere they go. It is one of the few, if only, rowers that can be transported in something as small as a backpack. While the Whipr Rower, it is not intended for high-intensity workouts, it is a solid option for the casual rower short on space. The maximum resistance is just 850 knots with a split time of 1:35 for every 500 meters which will likely be insufficient for more experienced rowers. 10 levels of resistance for this cardio machine stem from a planetary gearbox and flywheel. However, users report that the resistance is weaker than you would find on a traditional rower. The Whipr Rower features a handle for portability, an anchor, and onboard ERG system which provides real-time fitness metrics including strokes per minute, split time, time to complete, average watts, and calories burned. The Whipr Rower comes with a base unit and one row accessory but is compatible with any handle that uses a carabiner. Unique to the Whipr design is its ability to function as a rower, ski erg, stand up paddle and mimics swimming thanks to the simple carabiner attachment. 
A Quick Look At Whipr
I was stoked to try Whipr. It's a unique product serving a distinct target customer, and I fit the bill. The Whipr is a multi-functional home gym product that allows you to train for rowing, cross-country ski, swimming, surfing, stand-up paddle-board (SUP), kayaking, and more.
As someone who trains primarily for outdoor sports like triathlon and ocean paddling, this product seemed like the perfect fit for me.
With more than 9,000 backers on Kickstarter and more than $3.5 million in crowdfunding dollars, Whipr seemed promising.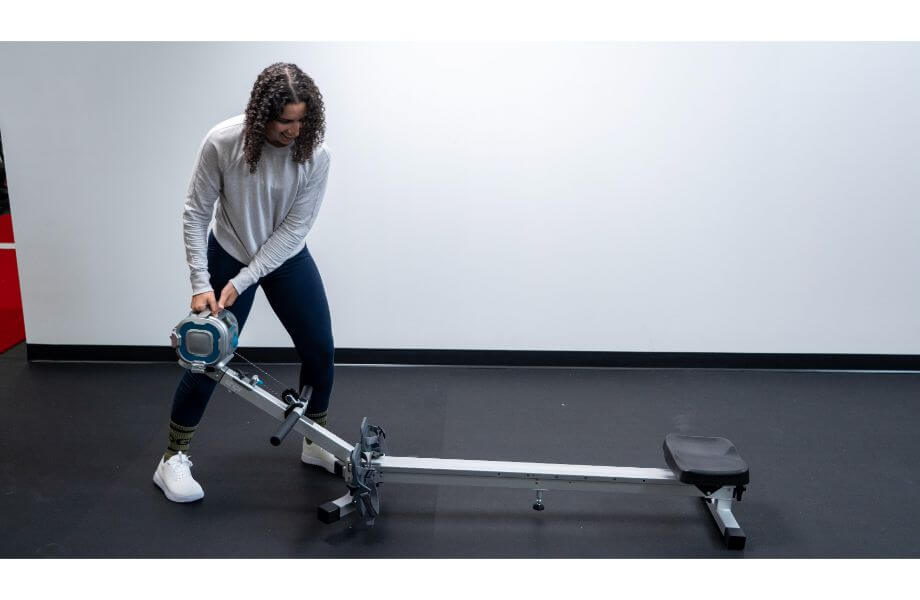 However, I wasn't thrilled about the build quality of the product, and I think Whipr has some work to do in order to make the product a better investment with more longevity. This is pretty typical of all-in-one fitness equipment. I have high hopes for Whipr and hope to see improvements in the near future.

Let's dive into the full Whipr review and parse through all of the good and bad.
My Tips:
If you're looking for just a rowing erg, head over to our list of the best rowing machines.
You can save a lot of money by purchasing the Whipr PRO package, versus piece-mealing purchases of different accessories over time.
Pros:
Extremely versatile
Provides full-body workouts
Bluetooth-enabled
Works with multiple fitness apps, including Strava and Whipr
Compatible with Holofit, an interactive virtual reality workout platform
Low-impact exercise
Budget-friendly if you just want the portable rowing machine
Can buy all attachments as a bundle or pick and choose what you want
Portable and disassembles to pack into carry-on-sized bags
Financing available
Cons:
Doesn't seem very durable
Rowing workouts aren't smooth-sailing
Rowing accessory ergonomics aren't comfortable
Tiny monitor
Resistance is a planetary gearbox, which is not smooth like water, air, or magnetic resistance
Video Review
Is The Whipr Rower Worth It?
I can't say I would invest in the Whipr as-is. It's still very new and needs some fine-tuning. However, it's got a ton of potential and a lot of happy customers already. With more than 9,000 backers on Kickstarter, there's clearly a lot of value in this product. Here's who I think would benefit from Whipr and who should try something else.
Great for:
People who want to train for multiple outdoor sports
Fitness enthusiasts who travel a lot and want a portable piece of equipment
People who need compact exercise equipment
Not recommended for:
People who want the best rowing erg or ski erg
Anyone who has the space and money for all the cardio equipment their heart desires
Whipr Specs
Dimensions
Display
Product Weight
User Weight Limit
Bluetooth
Transport
Resistance Type
Resistance Levels
Programming
Warranty
Base unit: 6.75" L x 6.5" W x 6.5" H
LCD monitor
Base unit: 6.6 lbs
Rowing accessory: 350 lbs
Yes
Breaks down into multiple pieces; no wheels
Planetary gearbox/pull cord
User-dependent
Compatible with many apps
12-month manufacturer's warranty
Workout Experience
The Whipr is pretty much everything but a treadmill. You can do all sorts of cardio on it, as well as some strength training exercises, as long as you have all of the right attachments.
Whipr is entirely modular. You start with the Whipr base unit and add accessories and attachments as you see fit.
The attachments include: 
The row package, which includes an erg frame and slide rail, seat, handlebars, and foot pedals with straps
The ski accessory, which includes an attachment you hook over a door frame and two single-arm handles
The swim and surf accessory, which includes two hand-paddle attachments
The paddle package, which includes a carbon fiber, collapsible paddle shaft that clips onto the pull cord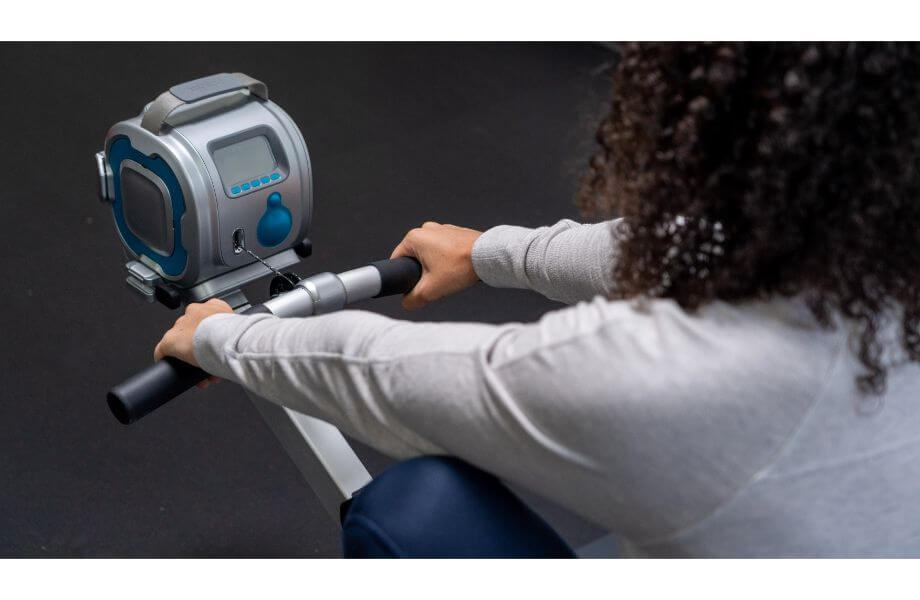 For some of these modalities (swim/surf and kayak), you need two base units, which we don't have in our equipment testing facility, so I wasn't able to try them.  
Related: Rowing Machine Workouts
I primarily tested the rowing modality, and I wasn't impressed with the experience, but I understand that Whipr isn't trying to be the best rowing machine on the market—it's trying to be a modular piece of cardio training equipment, which is exactly what it is.
I still think there's a lot of room for improvement. For example, I'd like the resistance mechanism to be smoother and for the bolt in the middle of the slide rail not to interfere with the rowing stroke so much.
Since Whipr is still such a new product, I expect to see many levels of improvement as the company fine-tunes their engineering. There is much potential here!
Related: How to Use a Rowing Machine
The Ergonomics
This erg uses a gearbox system with a pull cord for resistance, so it's unlike any water, air, or magnetic flywheel rower. It has a planetary gearbox with two cords. It doesn't have adjustable levels of resistance—it's all user-dependent, kind of like a water rower— so you kinda get what you get.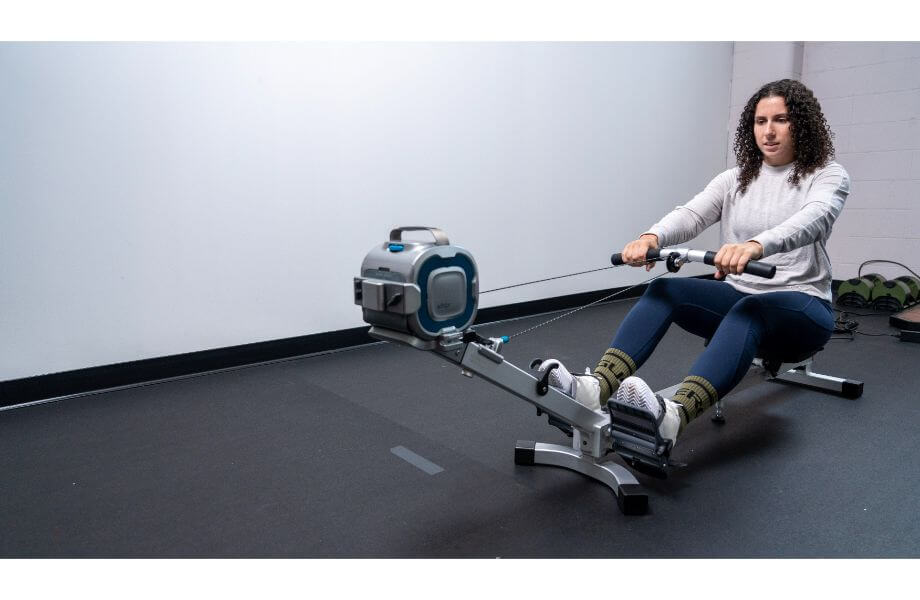 The slide rail sits very low to the ground, has a small seat and a thin seat rail, and the seat catches at points during the slide on bolts and seams. The pulley system also makes the pull feel awkward. It does have one redeeming quality though: The slide rail is 50 inches in length, which fits people with an inseam up to 38 inches, or individuals up to 6 feet, 6 inches in height.
The experience is better when using the ski attachment since you're not sitting on anything. The resistance is still different from what you would expect on a full-sized ski erg, like the Concept2 SkiErg.
Footprint and Portability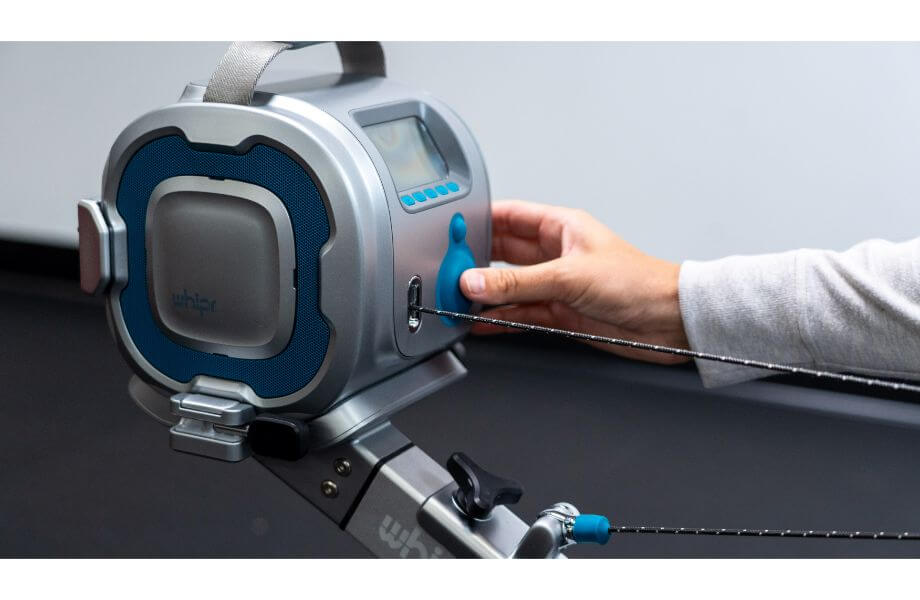 It is small and portable, with the base unit measuring just 6.75 inches by 6.5 inches by 6.5 inches. But it has no wheels, so it's quite awkward to drag around or carry if you don't disassemble it.
It definitely won't take up much space in your home, though, no matter which version of it you're using.
Assembled, the rowing attachment measures 79 inches long and 20 inches high; the frame weighs about 24 pounds and the base unit weighs 6.6 pounds. This makes it, to my knowledge, the lightest rowing machine on the market.
I didn't try this, but according to the website, the full rowing attachment and base unit fit in a carry-on sized bag when disassembled. This makes it a great option for cardio enthusiasts who want to travel with their gym equipment.
Durability and Construction
Whipr lacks in the durability department—and it seems like the brand knows that. On whipr.com, there's even a disclaimer saying that this erg is not intended for "sprint" or professional rowing.
It's simply not built for much more than moderately paced endurance rowing. It shakes and trembles without much effort, and the whole thing feels kind of wobbly and unsupportive. It has a weight capacity of 350 pounds, which is surprising to me. I weigh 140 pounds and feel unstable on the rower track.
This isn't as much of a concern with the other modalities, since you aren't sitting on something attached to the Whipr base unit.
Tech Specs
OK, here we go—now we're getting to something the Whipr excels at.
Whipr has an app, and the erg is Bluetooth-enabled, so it works with a number of third-party fitness tracking apps. It also works with Holofit, a virtual reality workout streaming platform, which is pretty sick. You'll need a virtual reality headset that supports Holofit to use it, though.
The small performance monitor shows several metrics:
Strokes per minute
500m split time
Timer/time to complete
Distance
Average watts
Calories burned
If you don't have a VR headset, you can still do plenty of workouts on Whipr. While there are no built-in workouts on Whipr, you can use the app to set a time or distance goal, and the app will track your progress in real time. We have plenty of rowing workout ideas if you need some inspiration.
RELATED: HIIT Rowing Workouts
Whipr Rower vs. Concept2 RowErg
Concept2 RowErg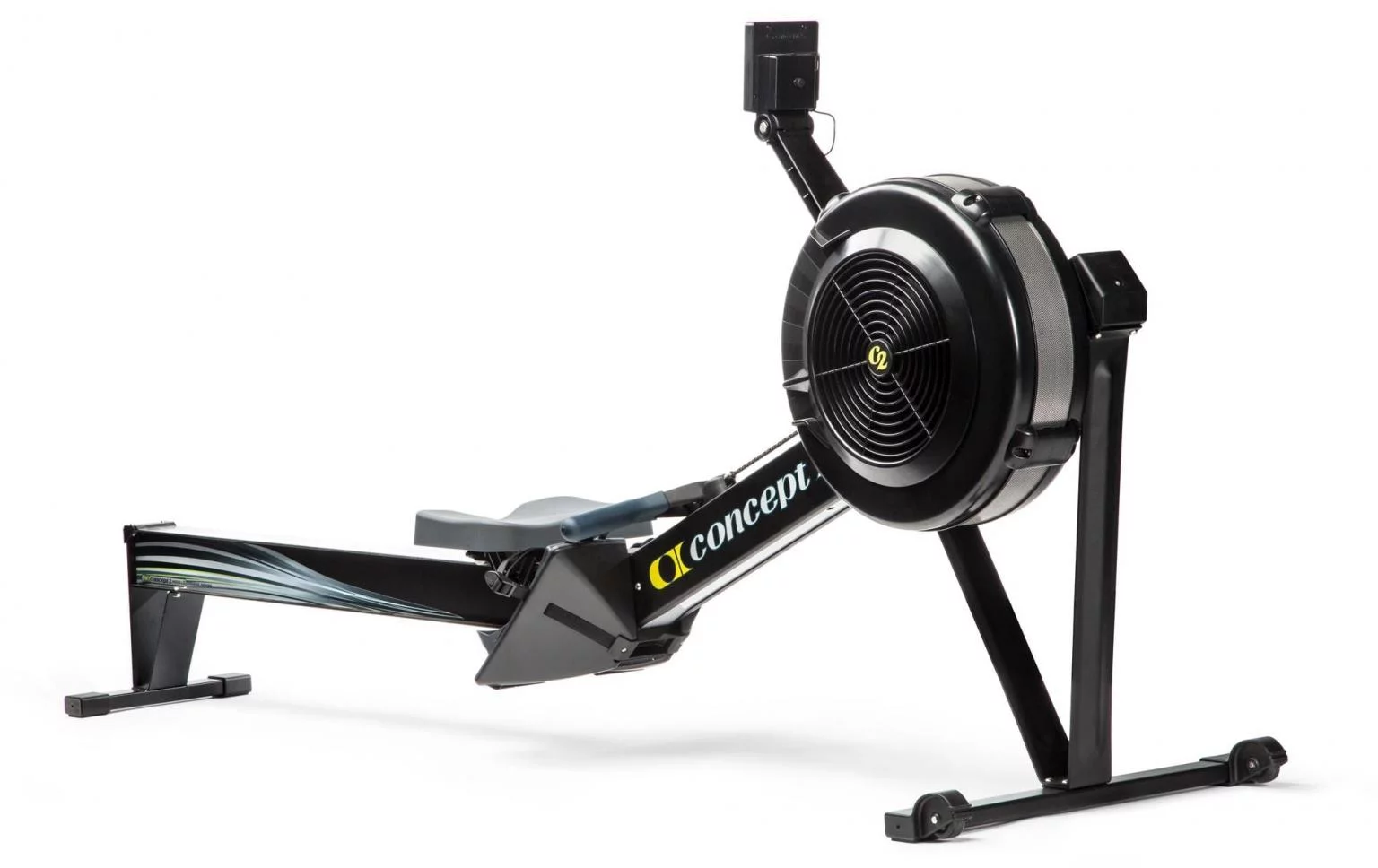 Concept 2 Model D Rower
The Concept 2 Model D Rower is perhaps the most popular rowing machine on the market, found in commercial gyms and home gyms around the world.  It  provides a low-impact, full-body workout and uses air resistance generated by a fanned flywheel.  The Model D has an adjustable damper setting from 1 to 10 allowing you to move with ease or with more resistance and intensity.The Model D comes with adjustable foot-rests, a 14-inch seat height with an aluminum l-beam monorail and stainless steel track for a smooth back-and-forth slide.  This is a light cardio machine with wheels, which means you can move it with ease around your space. Also, for storage, the rower can be easily broken down into two segments, hung on a wall with a Rogue wall hanger, or simply tilted upright and stored vertically.  The PM5 Performance Monitor gives instant feedback on pace, watts, calories, distance, and rpms.  The monitor is easily adjustable, Bluetooth-compatible, and can easily connect to a heart rate monitor or the ErgData app.  
For some reason, the Whipr rower is being compared to the Concept2 RowErg in all corners of the fitness internet. But, there's really no comparison: The Concept2 RowErg is, in the opinion of our product testing team, the best rowing machine there is, and the Whipr is a do-it-all erg that's decent at many modalities but not (yet) excellent at any.
Price-wise, Whipr is much cheaper than the RowErg if you buy only the row package. The Whipr row package costs about $650, while a Concept2 RowErg costs more than $1,000 on Amazon. The price of Whipr increases as you add accessories, of course.
Read our full Concept2 RowErg review.
Customer Experience
Whipr's support portal includes package tracking, FAQs, product-specific support, and a web contact form for getting in touch with the customer service team. A phone number and/or chat function would be great additions.
Ordering and Assembling the Whipr Rower
On the Whipr website, you have the option to buy four different packages:
The base unit only ($420)
The row package (Whipr Starter, $649)
The paddle-row-ski package (Whipr Intermediate, $862, which is what we recommend)
The everything bundle (Whipr Pro, $1,299)
According to Sam Presley, our facility manager and go-to assembly guy, the Whipr came in such a small package he couldn't believe there was an entire rower in it.
Putting it together was easy, he says, due to the modular nature of the equipment. The Whipr uses screw handles to attach everything together. This means you don't need any tools to build the rower. (Score!) It has a great design when it comes to the aspect of the build, Sam says. His one complaint: The instructions have no pictures so if you are a visual learner, then you may want to google some photos of it.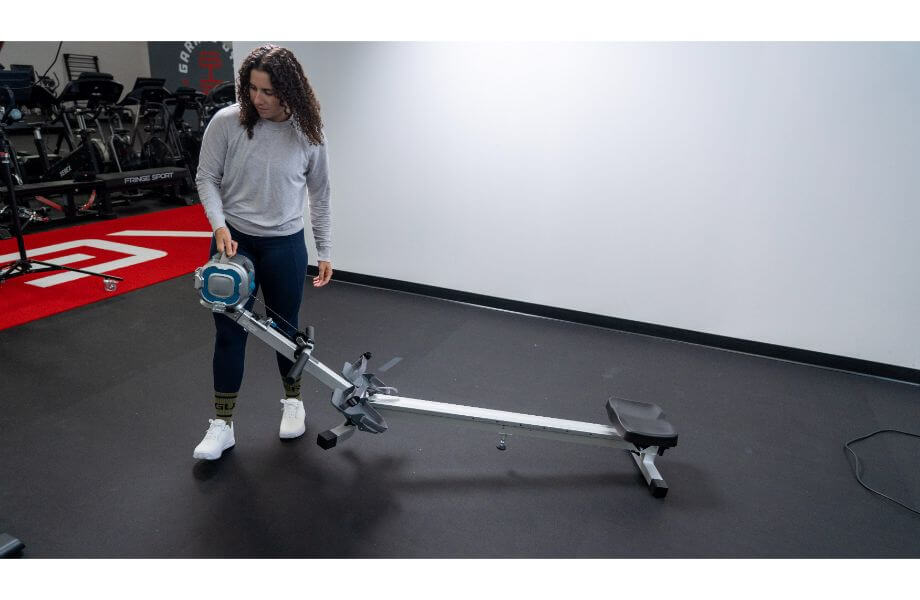 Customer Reviews
On the Whipr website, the product has a 4.6 out of 5 star rating, out of 126 reviews (at the time of writing). Most of the reviews praise Whipr for its versatility and portability, its two key selling points. Buyers love that they can use it for real-world training and supplement outdoor training on days when the weather won't allow for water sports.
One very in-depth customer review states just about everything I've stated in this Whipr review. Part of the review reads:
"If you are a power user and/or participate in online 'races,' the Concept2 may be the machine you really want. Additionally, at this point, Whipr only has connectivity to HoloFit virtual workouts. Over time, they will probably partner with virtual workout resources, although you may be able to get unofficial connectivity to other services. That would add value.
The erg unit jitters a bit when you pull. This is not specifically a problem and probably reflects the fact that the equipment is so light weight [sic] . I did note that although the connectors to the base unit are metal, the receiving end on the base unit is plastic and this could potentially wear over time."
Final Verdict of Our Whipr Review
Whipr has so much potential. It's a novel idea with a unique and passionate target customer (I'm one of them!). As-is, however, I personally am not convinced that I'd invest in Whipr knowing what I know after testing it. There are several improvements I'd like to see in the next iterations of this multi-use cardio machine.
A modular, versatile piece of equipment, Whipr is a great space-saver (and money-saver) compared to buying several different cardio machines.
My biggest complaint is that the gearbox resistance isn't smooth, and neither is the slide rail on the rower accessory.
With some improvements, Whipr could completely revolutionize the compact and portable gym equipment markets.
Full Rating
Whipr Rower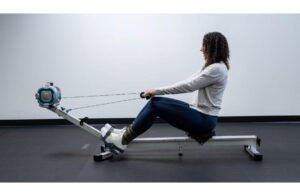 Is Whipr the most versatile piece of cardio equipment ever to exist? Find out in our Whipr review.
Product Brand: Whipr
Product Currency: $
Product Price: 420.00
Product In-Stock: InStock
Whipr Rower FAQs
Commonly asked questions about the Whipr rower are:
Is it worth it to buy a rower?
If you enjoy rowing for exercise and think you'll stick to it long-term, then, yes, buying a rower is worth it seeing as there are many benefits of rowing.
Can I lose weight rowing?
Any type of exercise can help you lose weight, including rowing; the important thing is to stay consistent and support your physical activity with a nutritious diet, plenty of sleep, adequate hydration, and other healthy lifestyle habits.
Is the Whipr rower any good?
The Whipr rower is not one of the best rowing ergs available, but it is one of the best multifunctional pieces of equipment.
Can you get Whipr on Amazon?
No, at the time of writing, Whipr is not available on Amazon.