Now, I'd like to start off with the looks simply because they do matter.
Although I don't think you should buy a piece of gym equipment on looks alone, whenever Benjamins are leaving my pocket, I want them to go to something nice.
I've used many different benches over the years, including a number of adjustable benches, and boy have I had some ugly ones.
You see, before companies started powder-coating their equipment black (PRAISE!!!) just about everything was white unless you went the custom route.
Now, although white looks menacing after it's been sitting in a dungeon for ten years with rust spots throughout, there's just something so satisfying about an all black powder coated gym.
So, for you who have a bunch of Rogue Equipment or simply like black powder coating--fear not, because this bench fits in nicely.
Nothing about the looks of the bench appear to be cheap, which I'll get to in a moment, and the size is as you would want; compact.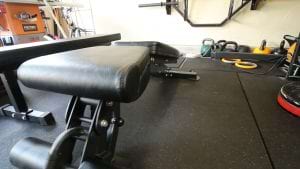 Rep Fitness isn't a super well-known brand.
In fact, they're a somewhat smaller functional fitness equipment company that imports equipment from overseas and customizes and rebrands them to distinguish their products.
Now ordinarily, I hate imported equipment. Granted it's cheap, but in the majority of cases, you get what you pay for. It's a simple fact of life.
Although I've reviewed equipment for Rep Fitness in the past, and given them pretty high praise (see Rep Fitness Gladiator Bar) I still wasn't too sure how this bench would be constructed.
I mean, it retails for under $300.
However, to my delightful surprise, overall, this thing is a BEAST.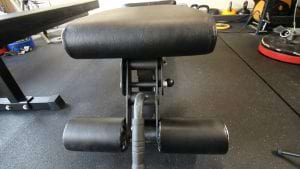 The FID Adjustable Bench is constructed through both welded and bolt-together methods. It ships mostly assembled and is very easy to put together.
The top is some sort of synthetic leather which I'm not a huge fan of, but for the price, it's to be expected.
The bench padding is comfortable, yet firm and grippy enough to allow for a proper drive in the bench press.
The steel used is strong and the adjustable bar has no flex which is an important feature for those who do a lot of incline pressing.
Although overall the bench is built exceptionally well, there are a couple of areas that could use some improvement.
First off, and I know this is small, but the thin aluminum used for the Rep Fitness Logo is kind of lame. I'm not a huge fan of logos, but I do wish they would have put some more effort in making it more robust or simply stuck with a high-quality sticker.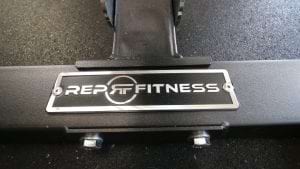 The second thing I'm not a big fan of is the seat adjustability. The back adjusts easily and although not completely locked in, it's rather stable. The seat, on the other hand, locks in and is stable, but is very slow and difficult to change. Granted, it's gotten a little bit smoother with time but I do see an area for improvement there.
The final issue I have is nit-picky as well, but the wheels aren't all that great. For some, this is a non-issue, but if you're like me and are constantly moving equipment around, you want some heavy-duty equipment. Granted, the wheels do have bearings, I just wish they were a little larger. Due to the bench being built so stout, it is somewhat heavy and better wheels could help.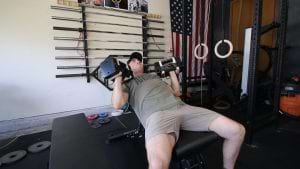 One of the great things about an adjustable bench like the Rep Fitness FID is how versatile they are. You can use them for just about any upper body movement you can think of.
Bench
Overhead Press
Shoulder Flys
Dumbbell Curls
Preach Curls
Incline Curls
Seated Hammer Curls
Basically, a lot of curls.
Also, for you Eric Spoto's out there, this bench can hold over 1,000 lbs. Now, I don't foresee any of my readers pushing that kind of weight on an incline bench, but then again I know Donny Thompson follows the site, so who knows.
The height of the bench is 17.5" which is a great height for those like me that like to dig their feet into the ground during all pressing movements.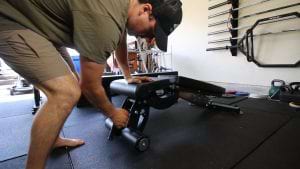 If you've been reading the site long enough, you know I like to get in, do work, and get out of the gym. There's no need to spend 3 hours working out in my opinion.
So, if a piece of equipment can make my training more efficient, I highly welcome it.
Due to the adjustment on the Rep Fitness FID Bench's back being so quick, there's no wasted time or effort. It also has 7 different positions so you can hit your pecs from all angles.