We test and review fitness products based on an independent, multi-point methodology. If you use our links to purchase something, we may earn a commission. Read our disclosures.
Save up to 10% on your next purchase with our exclusive promo code for Pullup & Dip products.
An innovator in bodyweight exercise tools, Pullup & Dip has developed exceptional equipment for home gym users: pull-up bars, gymnastics rings, resistance band sets, parallettes, and more. And you don't have to wait for a big holiday or sales period to save on this equipment; instead, you can use our exclusive Garage Gym Reviews Pullup & Dip coupon code any time.
Pullup & Dip Discount Code
There are a few ways to save money or score deals from pullup-dip.com.
The best coupon is our GGR exclusive code: Use GARAGEGYM10 at checkout to get 10% off.
If you sign up for the Pullup & Dip newsletter, you'll receive a voucher as well as a free eBook.
How to Apply the Pullup & Dip Promotional Code
Step One: Visit the brand's website and add the items you want to your shopping cart.
Step Two: Copy code GARAGEGYM10 and enter it at checkout
Step Three: The code will get you 10% off Pullup & Dip products.
When Do Pullup & Dip Products Go on Sale?
Our team at Garage Gym Reviews scours the internet every week to find the hottest deals on home fitness equipment. We know that the best discounts often occur around holiday sales, and we keep our holiday pages updated:
What We Love About Pullup & Dip Products
Pullup & Dip Bar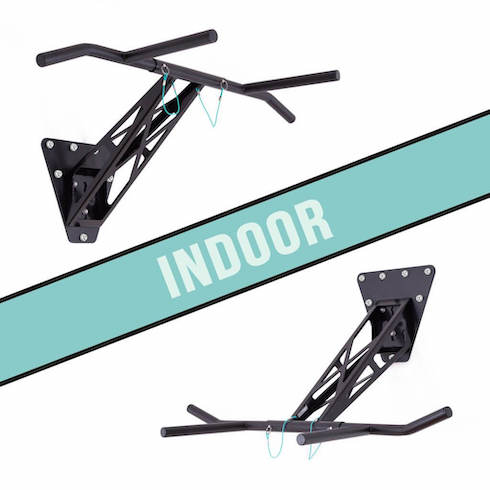 GGR Score: 4.2
Product Highlights
Detachable pull-up and dip bar

Mount on an interior or exterior wall

Change from pull-ups to dips within seconds without any tools

Selectable grip width

More than 20 exercises possible

Locking pin for safety 

Free e-book of exercises with purchase
Pros & Cons
Pros
Two-in-one bar
Can mount indoors or outdoors
330-lb weight capacity
5 grip positions
30-day return period
Cons
Concrete or brick walls are recommended for installation
5-year warranty
$250 is still an investment for a pull-up bar
Bottom Line
If you're looking for a secure way to perform both pull-ups and dips at home, the Pull-Up & Dip bar could be for you.
Pullup & Dip is best known for its (wait for it) pull-up and dip bars. There are a few variations of these bars available sitewide. Some of the reasons this brand stands out from other pull-up bar retailers include:
Indoor and outdoor products available
Portability and flexibility for workouts anywhere
Multi-grip pull-up bar and ergonomic handles
Of course, the brand has branched out beyond just bars; there is calisthenics equipment available, such as resistance bands and push-up bars. Support gear from the brand includes elbow sleeves, weight lifting gloves, and wrist wraps.
Why Buy From Pullup & Dip?
There are many places you could go for bodyweight training equipment. However, there are a few perks to shopping for new Pullup & Dip products:
30-day free trial, and not just on selected items
Free shipping on a minimum order of $200 or more
Warranties of up to 5 years on products
A comprehensive blog to guide your training
Pullup & Dip Coupon Code FAQs
What is the best Pullup & Dip coupon code?
The best offer on Pullup & Dip equipment year-round is to use our Garage Gym Reviews exclusive discount code. Use GARAGEGYM10 to get 10% off orders online.
Are there good Pullup & Dip offers online?
From time to time, the brand puts its products on sale. This is especially true around holidays. If you're looking for a deal anytime, use code GARAGEGYM10 at checkout to get 10% off store-wide.
How do I learn about the latest Pullup & Dip offerings?
There is a newsletter that alerts you to new products, training tips, and Pullup & Dip deals. Plus, when you sign up for the newsletter, you'll receive a free eBook as well as a voucher for a deal on more Pullup & Dip products.