We review free products that we receive and participate in affiliate programs, where we may be compensated for items purchased through links from our site.
See our disclosures page for more information.
The Olympic Barbell is the most used piece of equipment in nearly everyone's garage gym. Here is our guide on the best barbells for CrossFit, Weightlifting, and Powerlifting for 2016.
The almighty Olympic barbell.
For generations, men and women of all ages have stared in bewilderment of this 7-foot long metal pole.
What a novel idea it was to make a metal pole with sleeves on either side that you could place weight on to hoist in all sorts of ways.
Although the majority of barbells may look similar, they certainly are not.
If you're going to shell out cold hard cash for some cold hard steel than you want to make sure you're getting your monies worth. Not only that, but you want to make sure it will last through the abuse you inevitably will put it through.
What makes a barbell better than others?
This is the first question that needs to be addressed before we delve into the myriad of barbells that plague the market.
There's a few things that come to mind when deciding on which barbell to buy.
1. Steel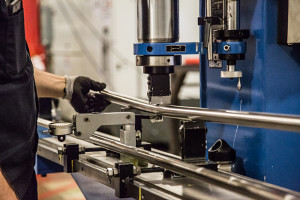 The steel that is used in a barbell is more than just about looks.
It is the essence of the barbell.
Based on various factors of the steel, such as whip and tensile strength, it can be determined what application it is best suited for.
For example, in Olympic Weightlifting it is important to have a bar that is whippy, allowing a true artist of the sport to use the whip to their advantage when cleaning, jerking or snatching. The majority of people do not need a very whippy bar because they will never reach the weight needed where you actually start to feel a difference.
In Powerlifting, a whippy deadlift baris great, but having a straight as an arrow and stiff as a board barbell is preferred when squatting or benching. Especially when you factor in the amount of weight those who use triple-ply suits in competition.
I will be writing some about the tensile strength of the steel within each barbell review.
The majority of barbells are around 150k-170k tensile strength.
2. Knurling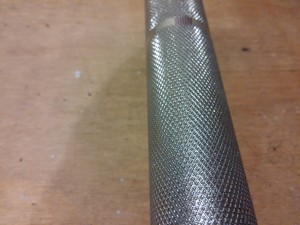 Everybody has a preferred knurling. Some want a knurl that feels like a pack of piranha's (is that a real thing?) ripping at your palms when you grip it.
Others like a really light knurl that requires a lot of chalk to get a secure grip.
The determining factorfor a certain type of knurl is most often based on it's use vs preference, however.
In the CrossFit world, if you're doing a lot of reps and you go from moving the barbell to doing something on a pull-up bar, your hands are experiencing a lot of friction. Because of this, a barbell with a light knurling pattern would most often be the best for CrossFit to prevent immature rips of the hands.
When attempting any sort of maximum, such as a deadlift. It doesn't matter if the bar leaves spikes in your palms, you want that sucker to stick! Which is why a powerlifting deadlift bar often has the sharpest knurling of all barbells.
3. Spin
The spin of a barbell can be very important depending on it's use.
The majority of barbells use bushings to produce their spin, these are most often referred to as "bushing bars."
If you're looking for maximum spin, then the barbell that you would look for is a "bearing bar." These typically use needle bearings inserted into the sleeve that allows it to spin freely from the shaft.
In my opinion, unless you're an elite level Olympic Weightlifter then a needle bearing bar isn't essential. That being said, I have a needle bearing bar and I'm certainly not at an elite level of weightlifting.
4. Whip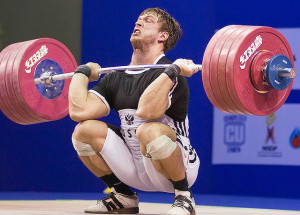 The whip of a bar can greatly change the way it feels with heavy weights.
For Olympic weightlifting and deadlifting, a whippy bar is a very desirable effect.
However, for powerlifting squats, and benching you want a bar that is stiff and you are able to know how it will react.
5. Overall Construction
Barbell manufacturers all have different ways of attaching the sleeves to the shaft.
Many use similar techniques, but the most popular are the one employed by Rogue Fitness and it looks like this: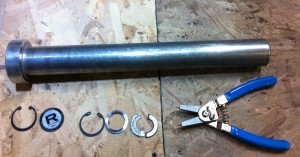 It uses snap rings to attach the sleeve and shaft and although it's quite reliable, it is somewhat noisy.
For the barbell that is the creme de la creme, it will have very little machining tolerances meaning low noise. The perfect example of this is an Eleiko Weightlifting Barbell that uses needle bearings. The inside of the sleeve looks like this: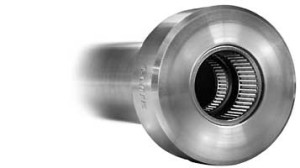 6. Finish
The finish of the barbell is most times personal preference.
Finishes oxidize at different rates, so for a low maintenance bar, you'll want something that oxidizes slowly to keep you from having to oil it often.
The chart below explains the different oxidation rates of the various finishes most often used:

2016 CrossFit Barbell Guide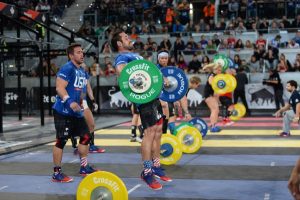 A CrossFit Barbell has a few features that separate it from other barbells.
First off, the most important feature is durability.
Thousands and thousands of reps will be done on these barbells, AND they will be dropped OFTEN. Seriously, CrossFitters put more abuse on their equipment than any other athlete.
Many bars made for CrossFit are going to be used in an affiliate setting, not just a garage gym. This means many people are going to be using the bars and not necessarily taking the same care of them that the owner would.
This is a big reason you need increased durability.
With a barbell that is going to be used for CrossFit, it needs to be able to do all the Olympic lifts, power lifts, and more. I've seen some weird things done with barbells at affiliates not limited to using one a barbell as if it was a shovel, or trying to see how far you could throw the bar, etc. (not recommended)
With the growth of CrossFit, now everyone and their brother want to sell you a bar, and to be honest, there's a lot of low quality, made in china bars out there. ALOT of them.
A few attributes that I think are best for barbell that will be used for CrossFit are:
Price
High Durability
Low Maintenance
Medium Knurl
Low Whip
Strong Steel
Bushings
So, with these attributes defined, let's dig into my picks for the top barbells made for CrossFit in 2016…
1. Editor's Choice: Rogue Fitness The Ohio Bar
Rogue Fitness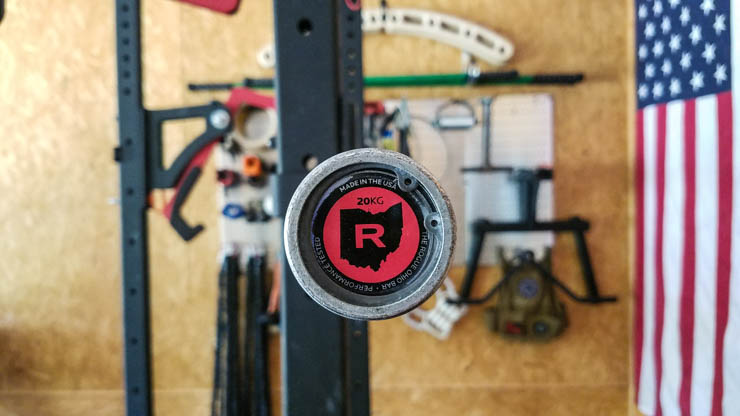 Rogue Ohio Bar
Each Rogue Ohio Bar is machined and assembled in Columbus, Ohio, and includes a lifetime guarantee against bending. The bushing sleeves on the Ohio Bar promise a reliable spin, and their snap ring design maintains optimal stability throughout any type of weightlifting regimen-- from basic high school or collegiate strength training programs to intense Crossfit workouts. This steel is manufactured in the US and has proven to be one of the best steel variants for a multi-purpose barbell. Each barbell shaft is ground and polished prior to machining which allows the bar to have a very smooth finish post any black oxide, zinc or chrome finish. Every bar shaft is machined in Columbus, Ohio. A great deal of pride is built into each bar as the knurling process is an art. We spent months working on the knurl we believe to be the best for the Ohio Bar. To test the knurl it is more a beer tasting process than exact measurement. There is a look and feel that go into testing every bar. The Ohio Bar is available with 4 different finishes. Each finish offers a different level of oxidization protection and has a direct effect on the feel of the knurl. Black Oxide is a mild oxidization protectant process. This type of steel treatment will still require some maintenance but will give the best knurl feel, more like a naked bar. Zinc is a medium oxidization protectant process. This type of steel treatment requires minimal maintenance and is used on The Rogue and Bella Bars. The Ohio Bar is also available in Stainless Steel & an advanced ceramic-based coating called Cerakote. The Ohio Bar is assembled with bronze bushings which act as bearing surfaces between the bar sleeve and bar shaft. This is a very robust way of building a barbell. Each bar will come with an Ohio Bar card that has the initials of the Rogue team member that built the bar. This bar will have normal "whip" during Olympic weightlifting and enough stiffness to hold for heavy powerlifting. The steel in this bar is proven as an excellent choice for weightlifters.
Rogue Fitness has grown into the premiere fitness equipment manufacturer in the world and a majority of their equipment is still made right here in the USA.
They way they've been able to accomplish can be summed up in one word, QUALITY.
Everything from the customer service to the overbuilt nature of their equipment speaks to this word and it's why so many including myself have jumped on the Bandwagon.
Are some of their products more expensive than other companies, yes. But you get what you paid for. Nobody compares a Honda Accord to a Mercedes-Benz. They're completely different categories. The difference however is, the premium you pay for a Rogue Bar is a small difference.
You can read my more in-depth review here.
Here are the Specs on why it's the 2016 Editor's ChoiceBarbell for CrossFit:
Lifetime Warranty – Some companies offer lifetime warranties, but really all they're offering is a warranty until their company folds (such as MD-USA cough, cough.) The lifetime warranty is only limited to the lifetime of the company. I'm hedging my bets that Rogue will be around longer than everybody else.
190k Tensile Strength Steel –Some of Rogue's competitors tout stronger steel, but in reality, the majority of people don't need stronger steel. This really only comes into play if you're lifting insane amounts of weight for a long time in a careless manner. I have an early generation Ohio Bar with 150k tensile steel that is still straight as an arrow. And here's the deal, should it ever bend, I'll call up Rogue and I'll get a replacement within a couple weeks.
Bronze Bushings –Composite bushings are fine, such as the ones in the Rogue Bar 2.0, but nothing beats the tried and true bronze bushings. They're low maintenance and virtually indestructible.
Medium, Tight Knurling –Rogue uses top of the line machinery to provide some of the best knurling available, (outside of Eleiko.) The knurling on the Rogue Ohio Bar takes chalk well and is sharp enough for a good grip, but light enough to cycle the bar without ripping.
Price –The Ohio Bar is currently just under $300. This is a whole lot of bar for that kind of money. Especially when you consider it will be the last bar you have to buy.
Whip –Medium whip makes it perfect for both Olympic and Power lifts. (don't neglect those hammies!)
FringeSport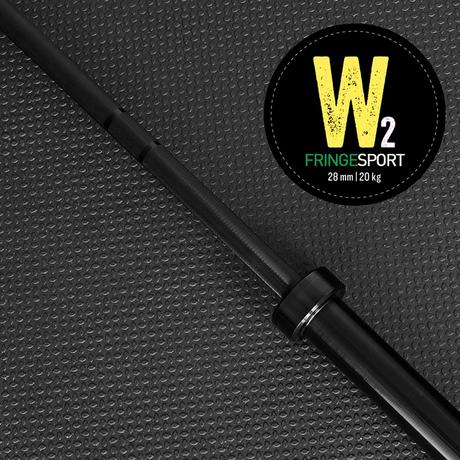 FringeSport Wonder Bar V2 20KG Barbell
The Wonder Bar reigns as the nucleus of the barbell universe here at Fringe. We set out on a noble quest to design and build the best bar suited for commercial gyms, and make it available to you at a home gym price. We completed our hero's journey and now offering our reward to you delights us. This versatile bar will serve almost everyone well. You can set world records on this bar, and use it for most training. If you're a seasoned athlete or an affiliate owner, consider stepping up to the Bomba Bar V2 (made in America) or even our Fringe Sport Weightlifting Barbell. Here are a couple of Wonder Bar features to be aware of:The 28mm shaft diameter is great for Olympic movements.The needle bearing cartridges provide great spin, but may require oiling in time.If you're new to lifting or building a home gym and need more info to learn what type of barbell works best for you, here's a helpful guide.We have an informal state motto here in Texas- "come and take it." Not only do we want you to do this with the Wonder Bar V2, but we'd like to put our own spin on it. Fringe it, or forget it. WONDER BAR V2 SPECS:The Wonder Bar V2 comes in a bushing version or bearing cartridges version. Except for that, the specs for both are the same.Bushing rotation or bearing collarKiller all-black Zinc finishTensile strength: 205,000 PSIYield strength: 160,000 PSIWeight capacity: 1,600 lbWeight: 20kilograms / ~44 poundsCollars: Bushing (Yellow "W") Bronze Oil Lite Bushing Rotation or Bearing (Green "W") 4 Needle Bearing Cartridges Per CollarWhip: StiffSpin: Moderate (Bushing) or Fast (Bearing)Best Use: Garage Gym or WODing. Read below for Bushing vs. Bearing differences.Material: Alloy Steel, Black ZincPlatedLength: 86 inchesSleeve Specs:16 inches Length and 2" diameterShaft Specs: true28mm diameterKnurl: Dual Knurling - Double Ring IWF + IPF Knurling (No Center Knurl)Smooth knurl depth- neither a cheese grater nor too softWarranty: Lifetime Warranty against manufacturer's defects.
Fringe Sport has continued to increase the features and quality of their barbells while keeping the price low. In the past, I didn't take much of Fringe Sports offerings seriously.
They had good prices, but their quality varied as they were imported from China, and although this is still the case, the quality control has improved as well as just about everything else.
With the newest One Fit Wonder Bar, Fringe Sport has brought their best to the table.
Here are Specs on why the Fringe Sport One Fit Wonder Bar is the 2016 Best Value Barbell of 2016:
Price –The One Fit Wonder Bar is a good bar, but what makes it a great bar is the price. Sitting at $200 with FREE SHIPPING (I love those words) for a bar with these Specs is a killer deal.
205k Tensile Strength Steel –The steel used in this bar is some of the strongest around. It should be known that strongest doesn't equal best, but having a strong steel can equate to durability.
Bronze Bushings –Nothingbeats the tried and true bronze bushings for durability. Bearing bars spin better, but can't hold up like bushings. They're low maintenance and virtually indestructible.
Lifetime Warranty –The Fringe Sport warranty isn't as reputable in my opinion as the one from Fringe Sport due to Fringe being a smaller company. But, in personal talks with Peter Keller the owner, I can tell he's a stand-up business man who doesn't look to be slowing down anytime soon.
Whip/Knurl –Medium knurl that has a good feel, but not as tight tolerance wise as Rogue. Less whip than many other bars made for the CrossFit market. Also, only has a single knurl mark.
American Barbell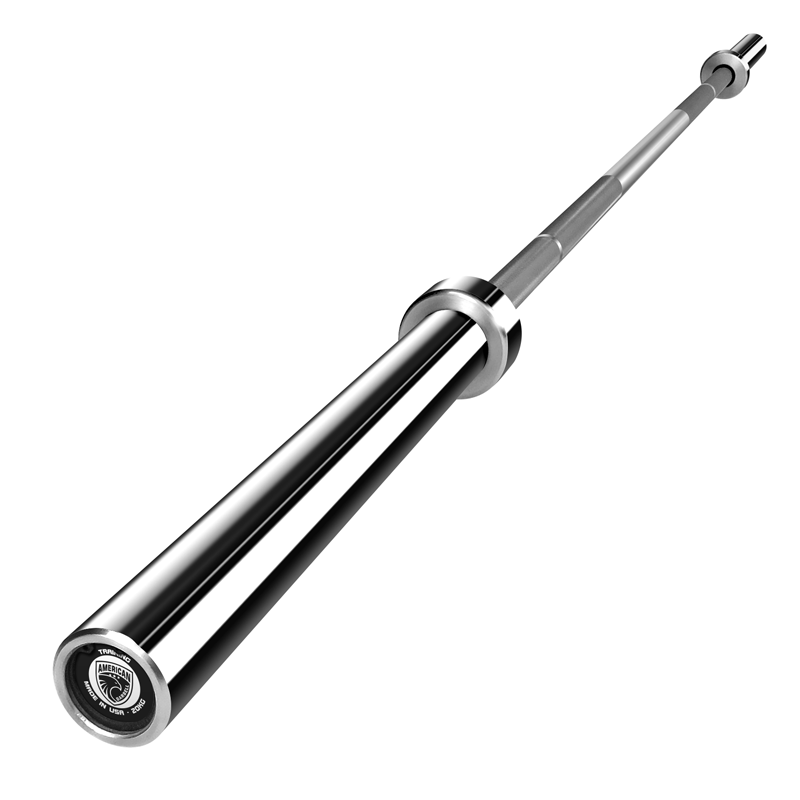 American Barbell Training Bar
The American Barbell Training Bar is a solid, versatile barbell for just about any application. We've tested it against the day-to-day abuse of heavy training and it's proven to last. The bar shaft is made from precision ground alloy steel and the strength of the shaft is tested with every shipment of raw material to ensure we have a consistent 190,000 PSI tensile strength. This attention to detail also allows for excellent whip and long-term performance of our bars. The shaft and sleeves are finished in hard chrome for added durability and corrosion resistance, and the knurl pattern is crisp with just the right amount of tack. The bar sleeves are precision machined and each one is coated with hard chrome for protection against dropping and impact. Sleeves rotate around high strength composite bushings used in aircraft and automotive industries for smooth rotation.Application: Olympic Weightlifting, Weightlifting, CompetitionBushing SystemCenter knurl: NoShaft: Hard Chrome CoatingSleeve: Precision Ground Steel with a Hard Chrome CoatingIWF SpecificationMade in USAWarranty: Limited Warranty*
I reviewed American Barbell extensively in the past and even claimed that it was better than the Rogue 2.0 Bar. Looking back, this was a somewhat premature decision.
I figured the bar would begin to spin better with time, but in reality, it hasn't got much better at all.
It has also begun rusting quicker than expected.
Despite these problems, it's overall still a very good bar. Just not as good as I initially thought.
You can read my more in-depth review here.
Here are Specs on why the American Barbell Training Baris an Honorable Mention for 2016 CrossFit Barbell of the year:
Finish – American Barbell is using a chrome finish with this bar, which I think is awesome. It not only looks good, but it is very durable as well. That being said, it has rusted some, so you still need to take care of it.Price
Price –< $300 is a decent price for this bar. But, when you see that it comes with Free Shipping like is plastered all over their website, it becomes a pretty good deal.
Made in the USA –I love USA made products. American Barbell is clearly going after Rogue Fitness with these specs, warranties, and being made in the US. This is my personal favorite bar that I've used for CrossFit. Interesting to see how it catches on with others.
Lifetime Warranty –LIFETIME WARRANTY. Nothing makes me happier than this combination of words. But, it only matters if American Barbell stays around.
Whip –Has a great whip, but not too much. Perfect for general lifting.
Tensile Strength –190k tensile strength steel is a steal at this price.
2016 Olympic Weightlifting Barbell Guide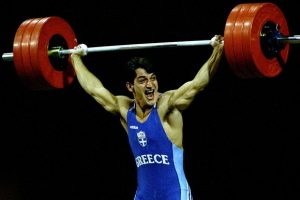 A WeightliftingBarbell has a few features that separate it from other barbells.
First off, the barbell needs to spin well.
Because we want the bar to spin well, it's very important that the bar is a bearing bar. In the past, it would have been hard to find a bar with a decent price that had bearings. However, today we have bars that blow previous generation bars out of the water and for half the cost.
A weightlifting barbell also needs to have a good amount of whip and a somewhat aggressive knurling.
When you're going for a PR on the Clean and Jerk or Snatch, you want the knurl to dig into your skin, somewhat like a powerlifting bar but a little less aggressive.
A few attributes that I think are best for barbells that will be used for Olympic Weightliftingare:
Bearings
Good Whip
Somewhat Aggressive Knurling
Warranty
Cost
So, with these attributes defined, let's dig into my picks for the top barbells made for Olympic Weightlifting in 2016…
Eleiko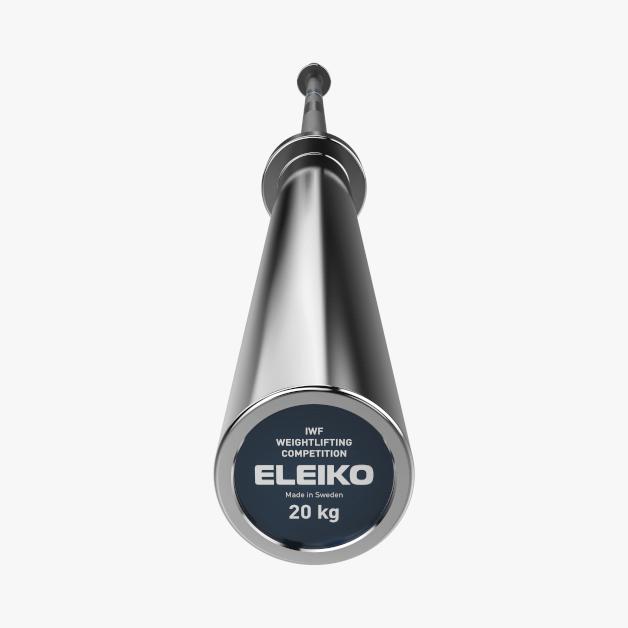 Eleiko IWF Weightlifting Competition Bar, NxG 20kg Men
This is the bar competitive athletes dream about. Our IWF certified competition bar has the distinct honor of being used to set 1,000+ world records over the years. Made of ultra-clean Swedish steel, this bar features a re-engineered, dustproof sleeve for greater longevity and optimized rotation for superior performance at all loads. The spin in our bar offers more control and the rotation is more stable, giving you a more complete and precise lifting experience. We have improved the bearing construction, modified our greasing processes, and incorporated a dustproof seal making our sleeves more durable. These enhancements positively impact bar performance and your experience as a lifter and bar owner. Our new design minimizes wear on crucial parts, ensures sleeves remain clean for longer, and that greased components stay well lubricated for years with minimal maintenance. We combine the finest materials, precision needle bearings and extremely tight tolerances, along with 60 years of barbell manufacturing expertise to create this outstanding bar. Holding Eleiko's finest bar in your hands, you can step onto the competition platform with confidence, focus on your performance and make every lift count.
I have a love/hate relationship with Eleiko.
Their equipment is some of the best available, but their customer service and warranties are awful.
I have this bar and LOVE it. You can see more about my love for it here in this review.
There truly is something special about this bar. Everything from the knurling to the spin and whip is just spot on. Not to mention the fact that its the bar used in the Olympics.
All this being said,
Here are Specs on why the Eleiko Olympic Weightlifting Training Baris the Editor's ChoiceOlympic Weightlifting Bar for 2016:
Whip –This bar has some of the best whip around. If you're a higher level weightlifter, this is something important for you. For the rest of us mere mortals, we won't experience it too greatly.
Finish –The Chrome finish is gorgeous and resists rust better than any bar I've used. This alone is a huge reason to have an Eleiko.
215k Tensile Strength –This is some of the highest strength tensile strength available and is Swedish steel. This sounds like a gimmick but there's just something about the bar retaining its rigidity.
10 Needle Bearings –A good weightlifting barbell will have needle bearings. No question. This being said, the Eleiko spins better than any other bearing bars I've used, except for maybe Werksan bars.
Warranty –The warranty is pretty lame. It's Lifetime (which actually only means 10 years in Eleiko world) and only lasts if you use the bar exclusively on an Eleiko platform with Eleiko discs. Lame.
Rogue Fitness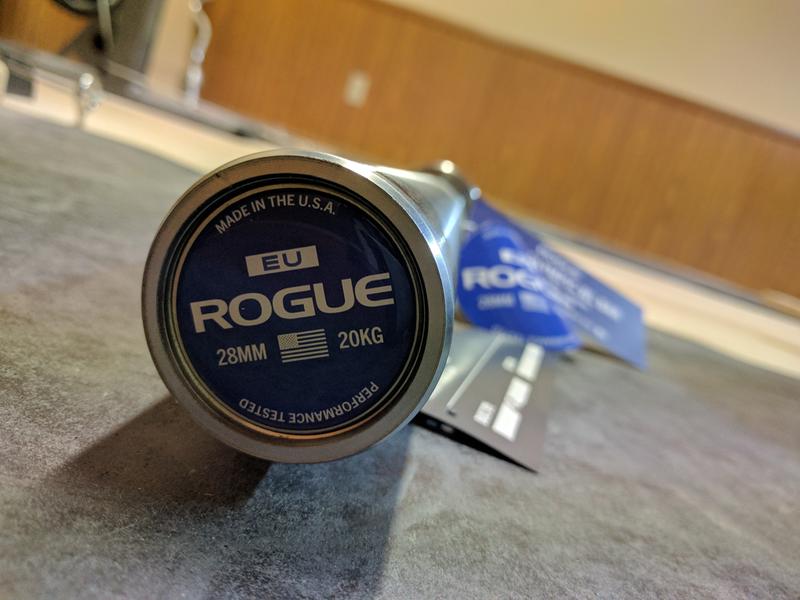 Rogue Euro 28MM Olympic WL Bar
For the athlete who refuses anything but the best, this is your next Olympic barbell. The Rogue Euro 28MM Oly WL Bar is machined and assembled in Columbus, Ohio, using only top-tier European steel, with 10 sets of quality needle bearings, friction welded sleeves, and a polished chrome finish. Before leaving our factory, each IWF-standard bar goes through a rigorous testing process to ensure absolute precision–from exact weight and straightness to the consistency of its whip and spin. No other bar in the Rogue fleet, or in the industry, can call itself an upgrade over this one At a minimum tensile strength of 215,000 PSI, the Euro Olympic WL Bar is the strongest in the Rogue arsenal, but that's not the only reason we chose this ultra-durable steel. Over years of testing, many weightlifters have found that the raw materials used in EU steel also help produce a greater whip during snatches and cleans. Using a process from the worlds of aviation and automotive manufacturing, the sleeves on the Euro Oly Bar are friction welded–creating a superior, forged-quality bond. This method is more precise than most joining techniques and helps prevent any changes in the integrity of the sleeve. Combined with 10 sets of top-quality needle bearings, the result is a barbell with a smooth, consistent, quieter spin. The Euro Oly Bar is built to IWF standards and includes both Olympic knurl marks and a center knurl. The knurling itself features a full, uniform pattern with a medium intensity that won't shred up your hands.If you're looking for the pinnacle of American-made Olympic bearing bars in the industry right now, this is it.
In my opinion, the Rogue Olympic Bar with European Steel is essentially a cheaper Eleiko with a better warranty.
Although it's not said, it's somewhat implied that the steel being used is the same that's used by Eleiko in their above mentioned Training Bar. If that is the case, boy, oh boy, this is the best deal available for a high-end weightlifting bar in my opinion.
I cannot stress enough the importance of buying from reputable companies who can actually service the "lifetime" warranties they claim.
Here are Specs on why the Rogue Fitness Euro 28mm Olympic WL Bar is the Best Value Olympic Weightlifting Bar for 2016:
Price –Sitting around $700 for a bar with these specs from a company like Rogue Fitness is a pretty good value considering it will be the last bar you buy.
Whip/Finish/Spin –All equal to the much more expensive IWF barbells. The whip is the same as Eleiko, the chrome finish is beautiful, and the spin is out of this world.
10 Needle Bearings –5 per sleeve provide a silky smooth spin.
215k Tensile Strength –Some of the highest strength steel available and the absolute strongest Rogue offers.
Knurling –Great knurl that is tight and built on the best machinery available.
Lifetime Warranty –Rogue's warranty can't be beaten. Simple as that.
American-Made –Don't ship your hard earned dollars off to the Euro's, let's keep it stateside.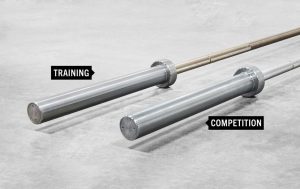 Uesaka outfitted the Olympics from 1992-2004 and makes a great bar.
Although there bars are great, they're expensive, and in my opinion just don't have the aura or specs as an Eleiko.
The bars are handmade and many countries use them for their Olympic training teams.
Here are Specs on why the Uesaka Training Bar is an Honorable Mention for 2016 Olympic Weightlifting Bar of the Year:
History –The bar has been around the block. They have great durability and are from a long standing company.
Spin/Finish/Knurl –All great, although the finish is Nickel and not Chrome which is not as good as Chrome in my opinion.
Lifetime Warranty –I have no experience with Uesaka and their warranties but they claim to have a Limited Lifetime Warranty.
Strong Steel –Steel that is as strong as an Eleiko, but not quite as whippy.
2016 Powerlifting Barbell Guide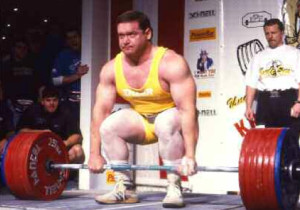 A PowerliftingBarbell has a few features that separate it from other barbells.
First off, the barbell needs tobe able to handlea lot of weight.
Because of this, we want high tensile strength steel. No less than 200k. You may be thinking, "I can only squat 200 lbs." well then you need to start squatting more and you need a bar that will help when you do.
A powerlifting barbell also needs to have an aggressive knurling.
When you're going for a PR on any of the Big 3, you do not want the bar to slip out of your hands. In the same sense, a powerlifting bar should have a center knurl to stick during squats.
A few attributes that I think are best for barbells that will be used for Olympic Weightliftingare:
Aggressive Knurl
Minimum 200k PSI Steel
Warranty
Bushings
Cost
So, with these attributes defined, let's dig into my picks for the top barbells made for Olympic Weightlifting in 2016…
1. Editor's Choice: Rogue Westside Power Bar 2.0
Rogue Fitness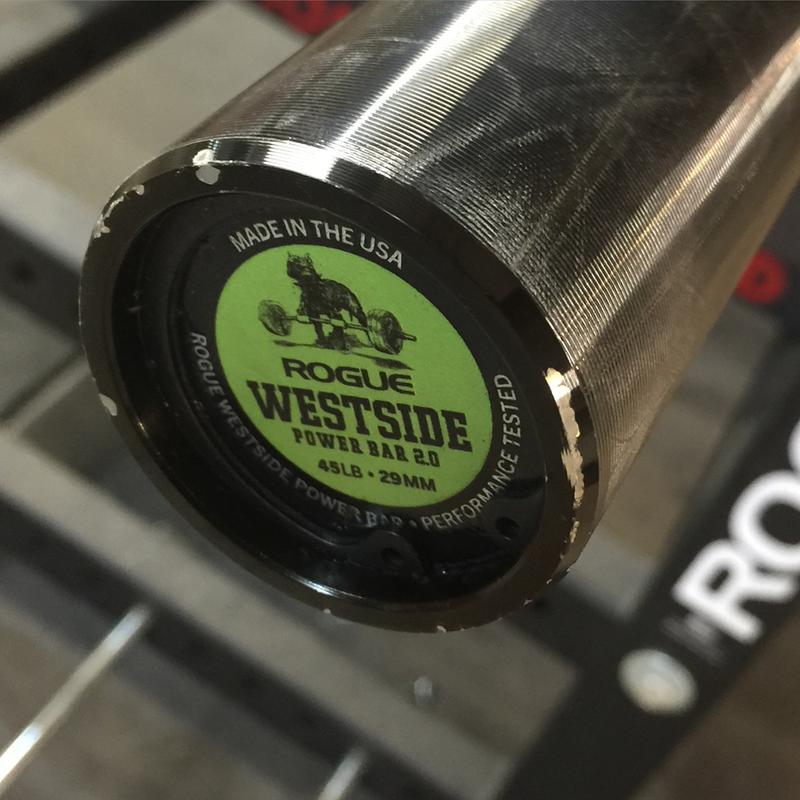 Rogue Westside Power Bar 2.0
Co-developed with powerlifting legend and strength coach Louie Simmons, Rogue's redesigned Westside Power Bar is now fully machined and assembled in Columbus, Ohio–just down the road from Simmons' renowned Westside Barbell training facility.The Westside Power Bar 2.0 features a 29MM diameter, 205K PSI tensile strength shaft with single powerlifting knurl marks and a center knurl. The updated knurl pattern was chosen specifically to Louie's standards, and is deep and coarse without being sharp or abrasive. The bar also features a durable snap-ring design, bronze bushings, and a black zinc coating on both the shaft and sleeves. We worked directly with legendary powerlifter, strength coach, and Westside Barbell founder Louie Simmons to fine-tune this bar into one worthy of both the Rogue and Westside names. Every element of Version 2.0, from the knurling to the finish to the endcaps, was held to a champion's standard. We believe this bar ranks with some of the best power bars ever made, but the words "Louie Simmons Approved" say more than we ever could. The Westside Power Bar's 29MM diameter steel shaft now has a tensile strength of 205,000 PSI, delivering superior rigidity and virtually zero whip/flex. Machined and assembled in Columbus, Ohio, the bar also features a snap-ring design and quality bronze bushings for a smooth, consistent feel. Includes a lifetime warranty against bending.* We updated the knurl pattern for Version 2.0 of the Westside Power Bar, turning again to Louie Simmons to test and refine an aggressive, precision powerlifting knurl–deep and coarse without being uncomfortably sharp or abrasive. A center knurl is also included for added "stick" to the back during squats. The Westside Power Bar has a distinct look, featuring a Black Zinc coating on the shaft and sleeves, plus new green endcaps with the Rogue and Westside logos. Black Zinc has one of the lowest oxidation rates of any barbell finish, meaning it requires less upkeep and will look like new over the long haul, now matter how much abuse you put it through. Specifications:Made in Columbus, OH, USACo-developed with Westside Barbell's Louie SimmonsExclusive, aggressive knurl pattern + center knurl205,000 PSI tensile strength shaft for reduced whipBronze bushings + snap ring design for smooth spinGreen Endcap with Westside & Rogue logosUnloaded Weight: 45LBFinish: Black Zinc on shaft and sleevesLifetime Warranty against bending*
Muahahaha, this is one of the coolest barbells on the market.
Everything from it's bad to the bone black zinc finish to it's lime green composite bushings, this thing just absolutely screams tough.
Not to mention the man himself, Louie Simmons teamed up with Rogue to design the bar to make sure everything was up to spec. Including the stiffness and knurling were on par with the best bars available.
If you're looking for a bar that looks as good as it performs, this is the one for you.
Here are Specs on why the Rogue Westside Power Baris the Editor's ChoicePowerliftingBar for 2016:
Aggressive Knurling –The knurling on this bar is intense, which is exactly what you want when you're trying to PR any one of the BIG 3. Seriously, the knurling on this thing is sharp! (in a good way)
205,000 PSI Steel – A high-quality bar needs high-quality steel. 205k PSI steel is more than enough for whatever you can put on the bar.
Lifetime Warranty –Rogue offers the best warranty in the industry and stands behind it (the reason Eleiko's Power Bar didn't make the cut) A powerlifting bar is going to be used with ungodly amounts of weight and will be smashed against pins and j-cups inside the rack. Because of this, you'll want something to protect your investment.
Composite Bushings –Not only do the lime green bushings look bad to the bone, they also perform well. You shouldn't have to worry about them breaking down and in my experience, they spin less than bronze bushings which are a positive for powerlifting.
Center Knurling –This is very important for a powerlifting bar. If you're going to be squatting low bar, you want something that sticks.
29 mm Diameter –Thick enough for squats, thin enough for deads.
Buddy Capps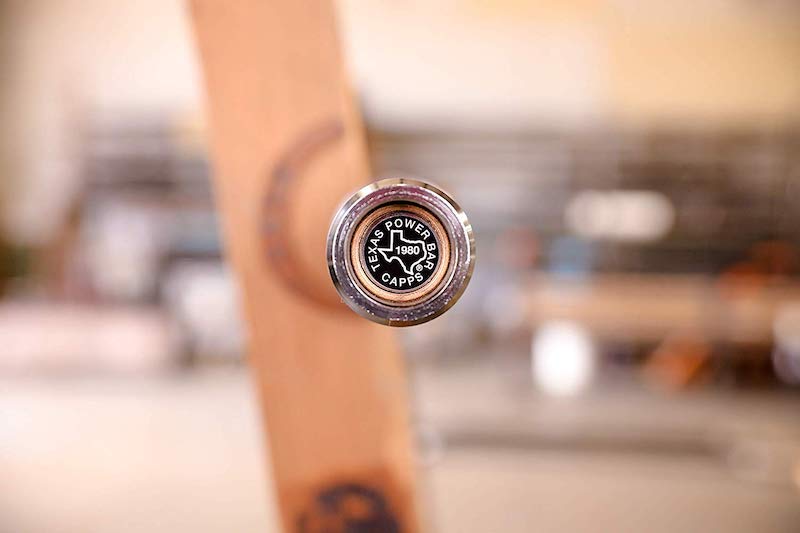 Buddy Capps Texas Power Bar
The most popular powerlifting bar on the market, Manufactured by Buddy Capps. Used in National & World Championship Meets since 1980. We are still using the same USA steel mill we started with in 1980. The shafts are center less ground, demagnetized and oiled to the max before shipping to Texas. Once at our production facility, we machine and then knurl each shaft to create a grip that is still the best in the industry. Texas Power Bars have different finishes available including black zinc and chrome plating. The sleeves are are available raw or chrome plated. Big tensile strength numbers sound very impressive and we have them but, the proof is on the platform. Hundreds of state, national, international and world powerlifting records have been and continue to be set and broken on the The Texas Power Bar. Length - 84" Weight - 20kg (45 lb w/ basic collars) Diameter - 28.5 mm Capacity - 1500 lbs Finish - Shaft is black zinc; ends are raw
Buddy Capps has been making the Texas Power Bar for years!
In fact, the Buddy Capps Texas Power Bar (the only real Texas power bar) is probably the most popular Powerlifting Bar on the market. It's a strong bar, with a lot of history.
Is it better than others out there? Ahhh, I think companies have begun catching up and have now passed the Buddy Capps, but I still think it's a great value of a barbell.
Here are Specs on why the Buddy Capps Texas Power Baris the Best ValuePowerliftingBar for 2016:
History –This bar has helped many a man lift a world record in the Big 3. Everyone from Eddie Coan to Andrey Malanichev has used the Buddy Capps Texas Power Bar so if it's good enough for them, it's good enough for you.
1500 lb Rated –Strong steel for a strong dead, squat, and bench.
Price –Currently sits around $250, which is a great price for this quality of a bar.
Knurling –The knurling on the Buddy Capps Texas Power Bar is MADE for powerlifting. It's sharp but not quite as sharp as the Westside bar or some others that are available, so be aware.
3. Honorable Mention: American Barbell Super Power Bar
American Barbell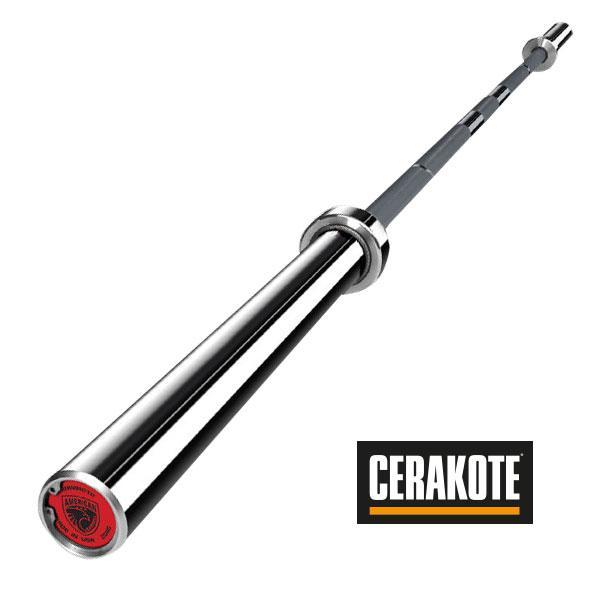 American Barbell Cerakote Mammoth Power Bar
The American Barbell Cerakote Mammoth Power Bar, formerly the Super Power Bar, has a shaft made from super stiff precision grade stainless steel. The Mammoth Power bar is finished with Savage Stainless Cerakote for a look, feel, and performance that is unparalleled in the fitness industry today. The strength of the shaft is tested with every shipment of raw material and is then heat treated to ensure we have a consistent 210,000 PSI tensile strength. This ensures reliable long-term performance day in and day out. Our selected steel grade for our Mammoth Power Bar provides very little flex, making it ideal for a variety of max load lifts.After many years of producing some of the finest Olympic barbells in the world, American Barbell is proud to introduce our latest innovation: Cerakote finished bars. Nothing ever produced rivals the corrosion and abrasion resistance of this finish. Cerakote is used by major firearm manufacturers around the world in some of the most abusive and corrosive environments. Corrosion salt spray testing has shown that this coating lasts as much as 70x longer than chrome and even stainless steel. American Barbell's design team has been producing innovations in bar technology for more than 18 years, and this is one of our most exciting accomplishments. Every type of bar finish has its story, and we've determined that our Cerakote Mammoth Power Bar is unrivaled. This is an ideal choice for those looking for a powerful precision barbell that will last through the ages.Product Code: OB20-IPFMApplication: Powerlifting, Strongman, Heavy Strength TrainingBushing SystemWeight: 20KGDiameter: 29MMCenter knurl: YesShaft Material: Stainless Steel with a Savage Stainless Cerakote FinishSleeve Material: Precision machined steel with a Hard Chrome FinishTensile Strength: 210KMade in the USAPatent No: US D795,971 SWarranty: Limited Lifetime*
American Barbell is producing some seriously great, Made in the USA equipment.
I reviewed the American Barbell Training Bar extensively in the past and even claimed that it was better than the Rogue 2.0 Bar. Looking back, this was a somewhat premature decision.
I figured the bar would begin to spin better with time, but in reality, it hasn't got much better at all.
It has also begun rusting quicker than expected.
That being said, itwas a great bar, and I think these stainless steel barbells are even better. Because of that, the Super Power Bar (it's SUUUUPER) is an honorable mention for 2016.
Here are Specs on why the American Barbell Super Power Baris an Honorable MentionPowerliftingBar for 2016:
210K Tensile Strength Steel –This is some strong steel! 210K is some of the strongest steel available on a barbell
Stainless Steel –Stainless steel isn't seen all that often on barbells but is a great choice for the durability alone.
Bushings – Bushings are exactly what you want for a powerlifting bar.
Center Knurl –A center knurl is without a doubt something that a power bar has to have. When you're attempting to PR a squat, you don't want any worry of slippage
Lifetime Warranty –I think American Barbell will be around for a while, however, I have not heard of anybody's experience using their warranty so I can't comment on that. However, just offering a lifetime warranty is better than not.