We test and review fitness products based on an independent, multi-point methodology. If you use our links to purchase something, we may earn a commission. Read our disclosures.
When you want the best treadmill for a home gym, it's important to know what your top priorities are and what you can afford because buying a new treadmill can get overwhelming with so many options on the market today.
If you're landing on this comparison between the Echelon treadmill vs Peloton, it's likely you're looking for the best smart treadmill that offers the ability to stream interactive classes and on-demand workouts. In this comparison, we're going to look at the Echelon Stride—which is the brand's most popular model—up against the ever-popular Peloton Tread.
Echelon Stride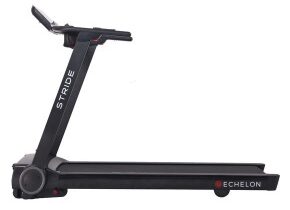 GGR Score: 4.3
Product Highlights
Folds flat to just 10"
Lightweight and very portable
Smaller motor is ideal for walkers
Bluetooth connectivity to apps
Pros & Cons
Pros
Auto-fold technology
When folded, is just 10" deep
Lightweight and easy to move
Super simple assembly and usability
Bluetooth connectivity to Echelon United
Cons
Weaker motor
Short running surface at 55"
Short 1-year warranty
Bottom Line
The Echelon Stride is ideal for walkers and those who jog recreationally, especially people looking for a treadmill that folds flat.
Peloton Tread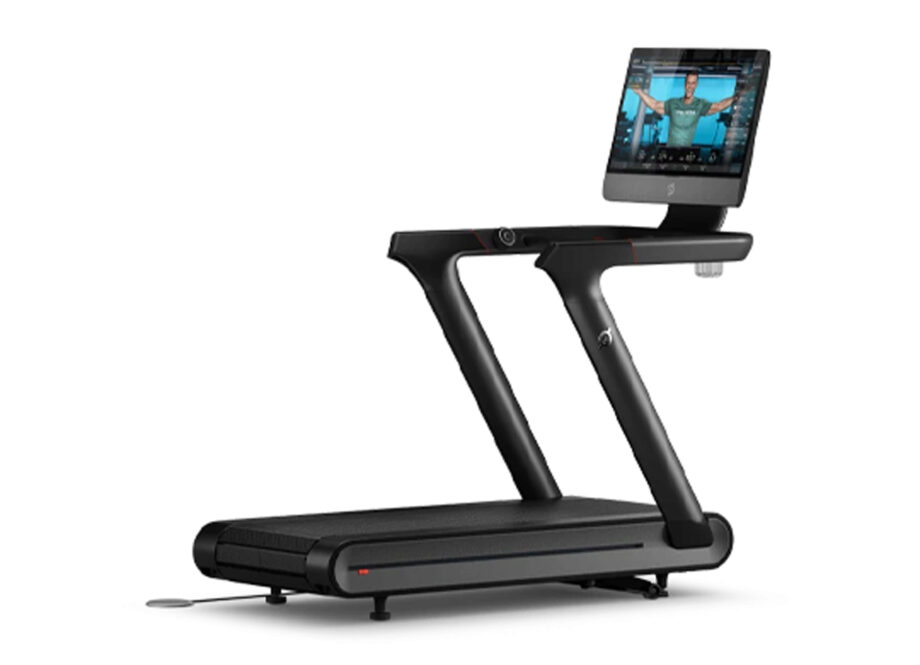 GGR Score: 3.74
Product Highlights
Powerful 3.0 CHP motor
Carbon steel construction
Top speeds of 12.5 MPH
23.5" HD touchscreen display
Incline training
Non-folding
Live and on-demand classes
Pros & Cons
Pros
Interactive, responsive HD touchscreen display
Access to thousands of workouts via Peloton
Bluetooth connectivity
Front speakers and rear woofers for great sound
Big range of speed and incline
Carbon steel frame
Intuitive controls
Red line centered on running deck ensures good running mechanics
Sleek design
Improved safety features: Tread lock, emergency stop button, stop-sensor technology in belt and a safety key
Cons
Disappointing warranty
No decline
No pre-programmed workout so need to purchase membership to Peloton
Expensive
Heavy
Smaller console
Minimal cushioning
No cooling fans (not a deal breaker but it would be nice)
Smaller running deck compared to similarly priced treadmills
Bottom Line
After several recalls back in 2021, Peloton recently released this new treadmill, the Peloton Tread, with improved safety measures. Perhaps best known for its wide range of live and on-demand classes, the Peloton Tread is a fantastic way to train indoors and stay motivated.  The easy-to-use, interactive touchscreen provides access to a library of workouts and leaderboards that truly brings training to a new level.Powered by a 3.0 horsepower motor, the Tread reaches speeds up to 12.5 mph and inclines up to 12.5%; impressive numbers by any standard. Constructed from carbon steel, the Tread has a sleek, compact design that is as sturdy as it is attractive. While the price tag is steep, it could be a worthwhile investment for your home gym if it fits your budget.
Echelon vs Peloton Treadmill Spec Chart
| | | |
| --- | --- | --- |
| | Echelon Stride | Peloton Tread |
| Price range | $1,299 | $3,495 |
| Dimensions | 69.3" L x 31" W x 49.1" H | 68" L x 33" W x 62" H |
| Weight | 156 lbs | 290 lbs |
| Weight capacity range | 300 | 300 lbs |
| Top speed | 12 mph | 12.5 mph |
| Top incline setting | 10% | 12.5% |
| Motor | 1.75 CHP | 3.0 CHP |
| Running deck length | 55" | 59" |
| Programming | Echelon Fit app | Peloton All-Access |
| Display | LCD screen | 23.5" HD touchscreen |
| Foldable | Yes | No |
| Warranty | 1-year warranty | 5-year frame, 3-year parts, 1-year screen |
Echelon vs Peloton Brand Comparison
Both brands offer fitness equipment beyond the treadmill. In fact both Peloton and Echelon are known for indoor cycling bikes.
The Peloton Bike and Bike+ are known for hefty price tags, SPD clip-in pedals, and energetic cycling classes. Echelon bikes also offer high-energy classes but also offer a range of models that will fit a variety of budgets. Both brands offer rowing machines and strength training options, too.
RELATED: Echelon vs Peloton: Which Exercise Bike is Better?
| | | |
| --- | --- | --- |
| | Echelon Fitness | Peloton |
| Treadmills | Stride, Stride-s, Stride-5s | Peloton Tread |
| Exercise bikes | GT+, EX-5, EX-5s-10, EX-5s-22, EX-8s | Peloton Bike, Bike+ |
| Rowing machines | Row, Row-s | Peloton Row |
| Strength training | Reflect Touch Smart Fitness Mirror | Peloton Guide |
| Apps | Echelon app | Peloton app |
Quick Look: Echelon Treadmill vs Peloton Tread
While both Echelon and Peloton offer a plethora of cardio equipment, in this comparison we're going to focus on the Stride vs Tread. Keep in mind that in addition to the actual equipment, both of these brands draw you in with the interactive programming and wide variety of training styles to choose from.
While you may be making an investment in your home gym (to ditch your commercial gym), both brands will have monthly subscription fees associated with the programming. Echelon may appeal to you if you're on the fence about built-in tech, namely because you'll have to use your own device to stream the app. And Peloton may appeal to you if you are someone who embraces the latest and greatest in fitness technology.
Coop Mitchell, GGR founder, has personally had his hands (and feet) on the Echelon Stride. You can read about his experience and all the nitty gritty details in our Echelon Stride review.
Additionally, if you want to read more about our experience with Peloton, you can read our Peloton Tread Review to get the full details on both the machine and the app. 
Who Should Buy The Echelon Stride
Anyone who needs a compact treadmill
Folks seeking a safe, foldable machine
Casual runners and walkers
Individuals who don't need a touchscreen display
Who Should Buy The Peloton Tread
Tech-savvy walkers and runners
Folks who want premier studio classes and bootcamp style training
Anyone who is motivated by leaderboard competition 
People who want Bluetooth connectivity for the Apple Watch
Key Similarities Between Echelon and Peloton
Smart treadmills with a variety of features
Interactive programming with monthly membership fees
Live classes and leaderboard-style competition
Apps offer treadmill classes and other training programs
Heart rate monitoring options
Water bottle holder
Maximum user weight capacity of 300 pounds
Running decks under 60 inches
Speeds of 12 mph
Incline training options
Speed and incline controls on handlebars
Important Differences Between Echelon and Peloton
Echelon Strides meets UL Listed safety standards
Echelon Stride is foldable
The Peloton Tread is heavier by 134 pounds
Peloton features a large touchscreen
Echelon Stride requires your own device for streaming apps
Echelon treadmills are available on Amazon
The Peloton has a 3.0 CHP motor, while the Stride has a 1.75 CHP motor
Echelon vs Peloton: Technology
When it comes to comparing the tech features on the Echelon Stride to the Peloton Tread, it's obvious that the Peloton offers more built-in technology with the massive touchscreen. However, even though the Stride doesn't have a fancy touchscreen display doesn't mean the Echelon is void of modern technology.
RELATED: Best Treadmill With TV
The Echelon Stride is the brand's base model treadmill. To save you some cash on the upfront purchase, Echelon manufactures this base model with a simple LCD display to display metrics (like speed, incline, time, and distance) and a media tray for your personal smartphone or tablet to stream the Echelon Fit app.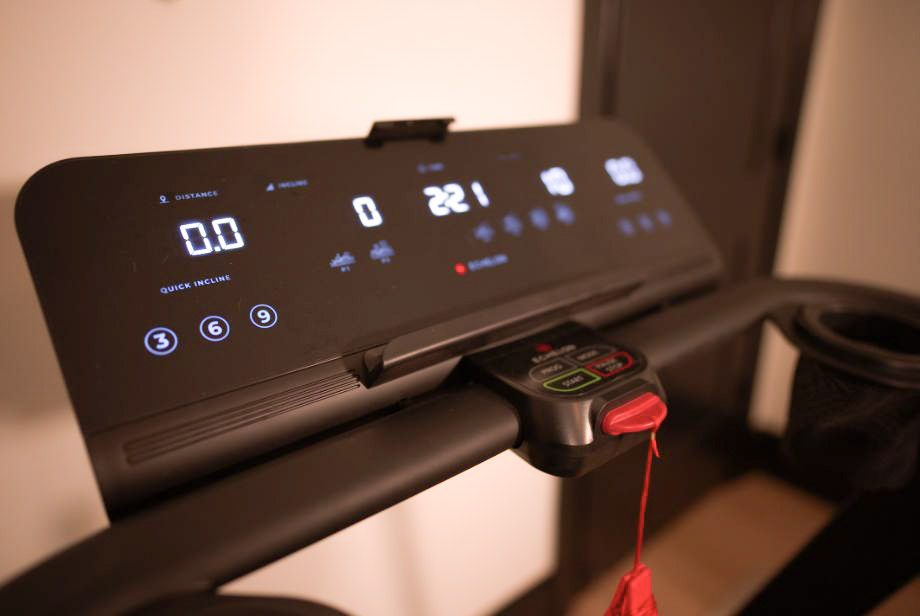 Using a Bluetooth connection, you'll be able to sync your device to the Echelon Stride treadmill so you can use the brand's app to stream thousands of on-demand workouts in addition to live classes.
Much like other popular fitness apps, Echelon Fit is not limited to treadmill workouts. You'll have access to the full library of yoga, resistance training sessions, and other methods of cardio including indoor cycling and rowing.
It's worth noting that the instructor-led classes on Echelon Fit coach you through incline and speed changes, but you'll have to do that manually with the controls on the handlebars.
The Peloton Tread also features handlebar control buttons for speed and incline changes, in addition to the ability to tap the large 23.5-inch touchscreen for controls, too. Using the touchscreen you'll find a large selection of on-demand classes you can take any time of day in addition to a schedule of live workouts with a leaderboard to see how you stack up to the community.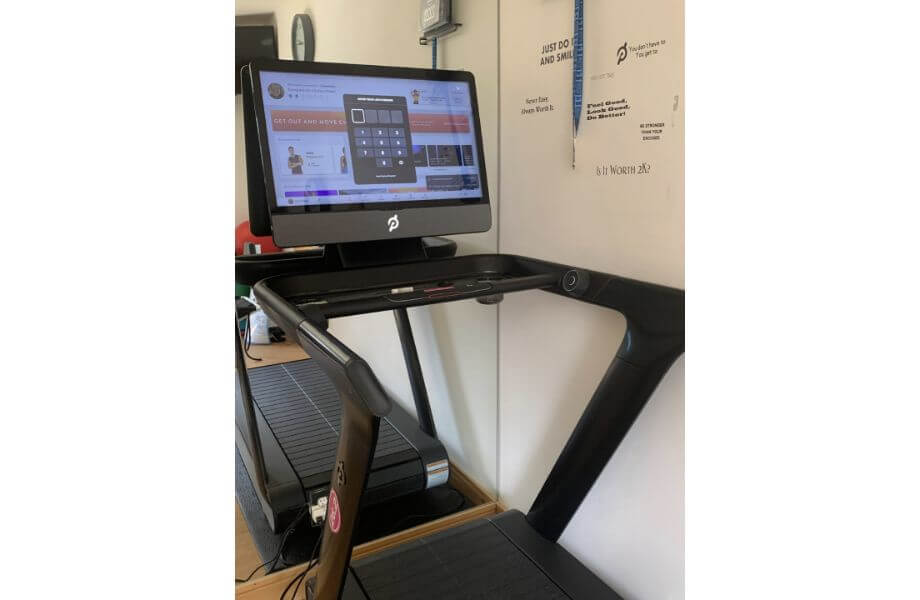 You'll also be able to interact with your fellow treadmill participants with virtual high-fives and the community forums.
Additionally, Peloton is known for delivering ultra-curated playlists that help you push through HIIT cycles or hill training—not to mention the powerful front- and back-facing speakers that will provide high-quality sound while you run.
If you're an Apple Watch user, you might like knowing that Peloton syncs seamlessly with the Apple Watch so you can easily view your heart rate and track workouts.
RELATED: Best Fitness Trackers
Echelon vs Peloton Construction and Durability
The Echelon will probably win you over if you're looking for a treadmill that is both compact and foldable. In fact, the uprights on the Stride treadmill fold down over the 55-inch running surface, making the folded position completely flat. It also has transport wheels for easy moving and storing.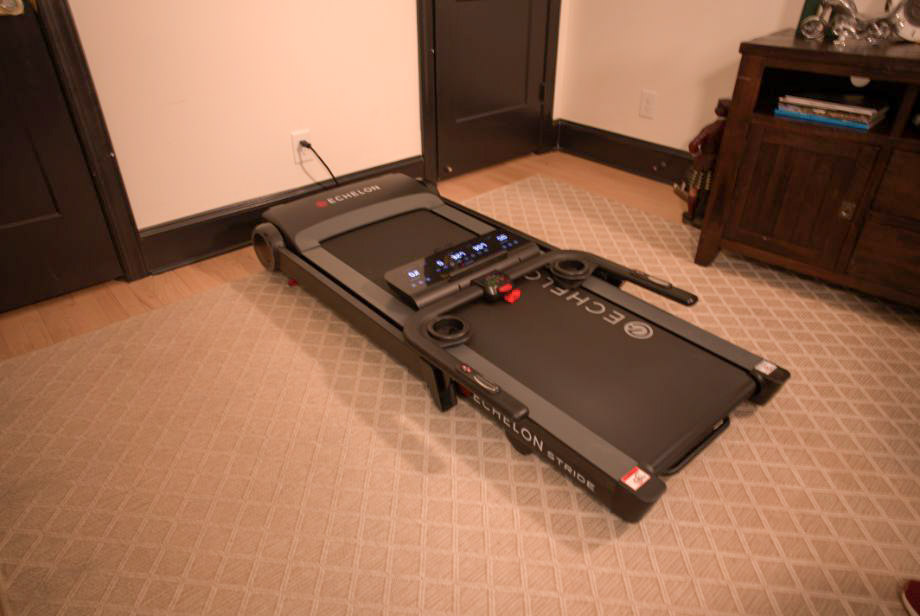 Coop Mitchell writes in his review of the Echelon Stride that it "gets an A+ from me for portability." It's also a lightweight machine at 156 pounds with a 300-pound user weight capacity.
Although this is a fairly inclusive weight limit, Coop says, "Keep in mind that with a CHP of just 1.75 on that motor, you're better off buying this machine if you are lighter in weight and don't plan on heavy use."
In our experience testing nearly 40 treadmills, a motor horsepower over 2.5 is the most ideal for runners, with 3.0 CHP lending to an even better, more stable experience for avid runners.
That said, the Peloton delivers when it comes to powerful motors. It features a 3.0 CHP motor and a sturdy, non-folding frame. Although folding frames are not inherently unsturdy, it certainly adds to the overall durability when a treadmill doesn't fold.
RELATED: Folding vs Non-Folding Treadmill
Although the Peloton might offer more stability at top speeds, the treadmill is bulkier and takes up more space, which might be prohibitive to you depending on your space.
The Peloton Tread weighs 290 pounds and allows a user weight up to 300 pounds. It also offers a spacious 59-inch-long running deck, which is a nice feature to have if you're on the taller side, plus a shock-absorbing belt that can reduce impact to your joints.
Echelon vs Peloton Customer Reviews
According to the brand's website, the Peloton Tread has an average rating of 4.4 out of 5 stars with over 900 customer reviews.
Although the average rating is high, it's worth noting that when we read the reviews, they are all over the place. Some customers are raving fans of the Peloton Tread while others write that their machine stopped working or needs major repairs that the warranty won't cover.
When it comes to the Echelon Stride, the average rating is 4.5 out of 5 stars with 148 reviews featured on the website at the time of this writing. Although the majority of reviews are positive, there are a handful of negative reviews that mention noise and shaking once you get to running speeds.
Company Policies
Here is an overview of each brand's policy when it comes to warranty, returns, and financing.
Warranty Policy
When it comes to a treadmill warranty, it's worth knowing that the fitness industry standard runs about 15 years on the frame, with some of the best policies offering lifetime frame warranties.
However, neither Echelon or Peloton even come close to that mark. The Peloton Tread comes with a five-year warranty on the frame, three years on parts, and one year on the touchscreen. Although this provides some peace of mind and some coverage, this is not what our product testers expect for a brand that manufactures equipment priced over $3,000.
While the Echelon Stride is not as expensive as the Peloton, it too falls short on the warranty side of things. The warranty offers just one year of coverage. At checkout you will be able to purchase additional coverage, but for almost $400 more, you'll only gain two more years on your policy, and we're not sure that will be worth it for most folks.
Return Policy
Echelon has a basic 30-day return period if you're not completely satisfied with your Echelon treadmill purchase. Like many other brands, you will be responsible for shipping fees to send your equipment back to the manufacturer.
If you need to make a return with Peloton, you'll also have a 30-day window. You may be on the hook for a return fee, but there is one exception: If you're a brand new customer—meaning you've never bought or returned a Peloton Bike, Tread, or Rower—you can take advantage of the home trial program.
RELATED: Peloton App Review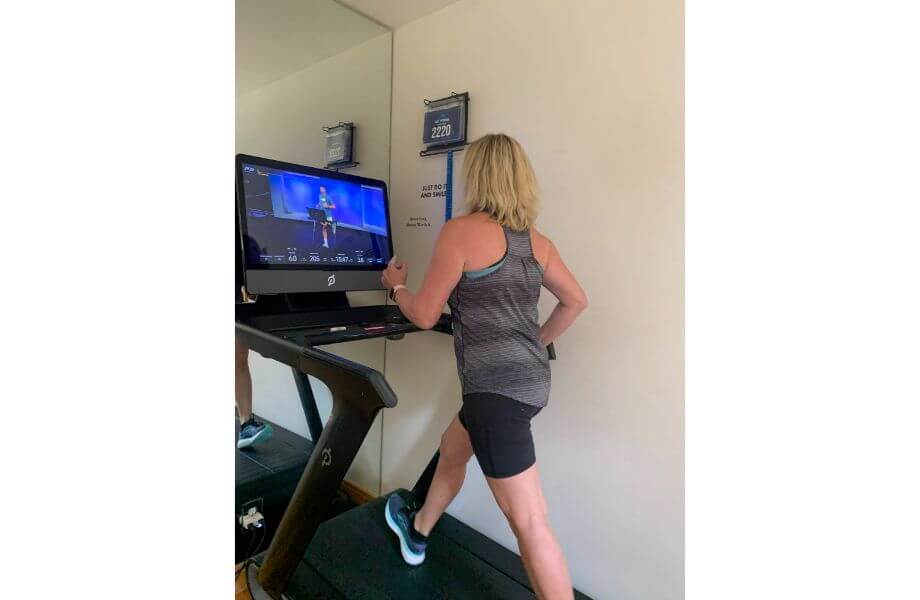 If you end up disliking your Peloton Tread, the home trial policy makes it so that Peloton will pick up your unwanted equipment for free. You will need to contact the Peloton Support Team to arrange the details and schedule a pick up.
Financing Options
Both brands offer third-party treadmill financing options that allow you to break up your investment into monthly payments. Echelon Fitness partners with Citizens Bank to offer promotional rates ranging from 0% to 19.99% depending on your credit history, with standard purchases receiving 29.99% APR.
As for Peloton, the brand uses Affirm for financing. Affirm offers a promotional 0% APR for a 12-month loan if you qualify based on your credit. You'll also have the option for 4.99% APR with loan terms of 24, 39, or 43 months.
Final Thoughts on Echelon Treadmill vs Peloton
Although we took our experience with two smart treadmills and compared them, it goes without saying there are quite a few differences between the Echelon Stride and Peloton Tread.
One of the main differences is the price point. The Peloton is priced over $2,000 more than the Stride treadmill. Additionally, here are the other main differences we want you to take away from this comparison:
The Echelon Stride folds completely flat and is portable at 156 pounds. On the contrary, the Peloton Tread does not fold and weighs 290 pounds.
The Peloton Tread features a built-in 23.5-inch touchscreen for Peloton All-Access programming.
The Echelon Stride has a basic LCD display but offers Bluetooth connectivity for streaming the Echelon Fit app on your own device.
The Peloton features a powerful 3.0 CHP motor that can support avid running at top speeds, while the Echelon Stride has a 1.75 CHP motor which is better suited for walking and jogging.
Echelon Treadmill vs Peloton FAQs
What treadmill is equivalent to a Peloton?
The treadmill that our expert product testers find the most similar to the Peloton Tread is the NordicTrack Commercial 1750 Treadmill, which is one of the best NordicTrack treadmills we've tested. 
Actually, any of the NordicTrack Commercial Series treadmills compare to the Peloton Tread. All three models in the Commercial Series (1250, 1750, and 2450) offer incline and decline training, built-in touchscreen displays, and a vast library of on-demand workouts with iFIT. You'll even have automatic trainer control that adjusts speed and incline for you when you follow along with iFIT trainer-led workouts. The Commercial Series even got a facelift recently with a sleek and modern Z-shape design that mimics the Peloton frame. 
Alternatively, in our Bowflex Treadmill 10 review (and Treadmill 22) we give you insight into another Peloton competitor that not only features powerful motors, spacious running decks, and interactive programming but the ability to stream entertainment like Netflix and Hulu. 
RELATED: Bowflex Treadmill 22 Review
Can you run on an Echelon treadmill?
While the treadmill is capable of delivering speeds of 12 mph with the 1.75 CHP motor, for the best running experience we suggest treadmills with motor horsepower of at least 2.5 CHP to keep up with the speeds and demands of running.
Do Echelon treadmills require a membership?
You will be able to use your Echelon Stride without paying for the Echelon Fit monthly membership, however you will not have access to on-demand or live workouts. Essentially, you'll only be able to run in manual mode.