We test and review fitness products based on an independent, multi-point methodology. If you use our links to purchase something, we may earn a commission. Read our disclosures.
You might know the AbMat brand from the distinct little foam product for sit-ups and crunches. It's an accessory that can help you achieve full range of motion and perfect form for core training. However, did you also know that the brand has an extensive list of other home gym products?
In this collection of AbMat reviews, we're going to take a look at a small selection of products we think you might benefit from in your gym. This will not be a comprehensive list, because the brand manufactures dozens of products—all made in the USA to boot.
The unique feature about AbMat as a whole is the fact that the brand partners with fitness professionals and industry leaders to develop innovative equipment and boasts "collaboration over competition."
We've Tested Hundreds of Gym Accessories
When it comes to outfitting your home gym, our expert product testers here at Garage Gym Reviews have you covered. We not only test the big stuff like treadmills or squat racks, but all the little accessories that you might need as well, like power rack attachments or wrist wraps.
We're also a group of fitness professionals with decades of collective experience in the world of strength and conditioning. Our backgrounds range from nutrition coaches and certified personal trainers to Olympic athletes and CrossFit Level 1 Trainers.
Not only that, Coop Mitchell OG, product tester and founder of GGR personally tested this lineup of home gym accessories from AbMat so you don't have to.
AbMat Reviews Full Video
Be sure to check out Coop's official take on all eight AbMat products he reviewed.
AbMat Product Lineup
AbMat Products Spec Chart
| | | | | |
| --- | --- | --- | --- | --- |
| | Barbell Bomb | Preacher Pad | HTP Thrust Pad | Split Squat Pad Pro |
| Price | $45 | $130 | $50 | $30-$79.95 |
| Dimensions | 7" L | 24" L x 13" W x 8" H | 18" L x 9" W x 1.75" H | 16.25" L and 1.95" diameter |
| Material | High-density foam | High-density foam | Cordura outer | High-density foam |
| Best use | Landmine movements | Bicep preacher curls | Barbell hip thrust | Split squats off of a barbell on a squat rack |
| | | | | |
| --- | --- | --- | --- | --- |
| | Loadable DB Cushion | AbMat | Box Squat Pad | Crash Cushions |
| Price | $45 | $40 | $150 | $250 |
| Dimensions | N/A | 14.5" L x 11.75" W x 2.75" H | 20″ L x 22″ W x 4.75" H | 30" L x 24" W x 6" H |
| Material | N/A | Antibacterial, closed cell foam | High-density integral skin foam | 18 oz Ripstop Vinyl |
| Best use | Loadable dumbbells with Olympic collars | Crunches, sit-ups, stretching | Box squats | Deadlifts and Olympic barbell movements |
Which AbMat Product Is Right For You?
AbMat offers a variety of products with a wide array of uses. If you're working to outfit your home gym or you have a unique home gym problem, chances are, AbMat is a solid place to start your search.
AbMat products are geared toward solving problems for folks in the strength and conditioning community, and typically problems we've all faced at some point—like figuring out the perfect set up for the barbell hip thrust or finding a way to perform preacher curls at home without buying a commercial-grade preacher bench.
That said, your personal needs and home gym setup will be the ultimate factor on which product will be right for you.
Barbell Bomb
Good for: Anyone who wants a portable option for landmine exercises
The AbMat Barbell Bomb is a product inspired by Coop's DIY tennis ball home gym hack for barbell landmine exercises. Basically, Coop cut a tennis ball open and stuck it on the end of a barbell to create a protective and stable way to do landmine presses, squats, and rows without needing a specific landmine attachment (genius!).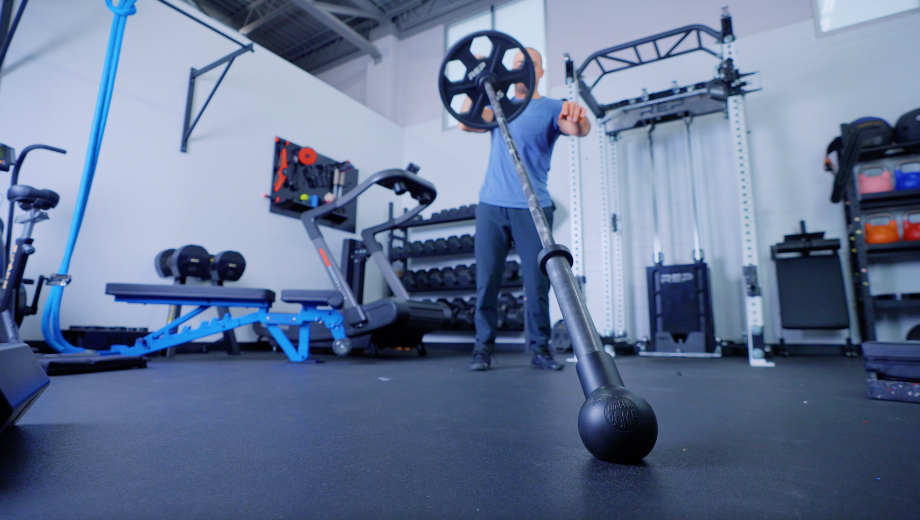 So AbMat took the tennis ball idea to the next level and designed a "version that is kind of like that, but is superior in that it grips a little bit more to the ground and it is also more protective," says Coop.
"For a cheap option—and one that you can easily take off, put on, put wherever (outside or inside)—it doesn't have to be fixed to a rack, you can just use it however you want, this is a really good option," explains Coop.
Preacher Pad
Good for: Home gym owners who want a small solution for isolated bicep curls
The AbMat Preacher Pad replaces the need for a specific piece of equipment to perform everyone's favorite bicep variation: the preacher curl. It's a large foam pad that you place on your lap and situate your arm over the pad to mimic a commercial-style preacher bench.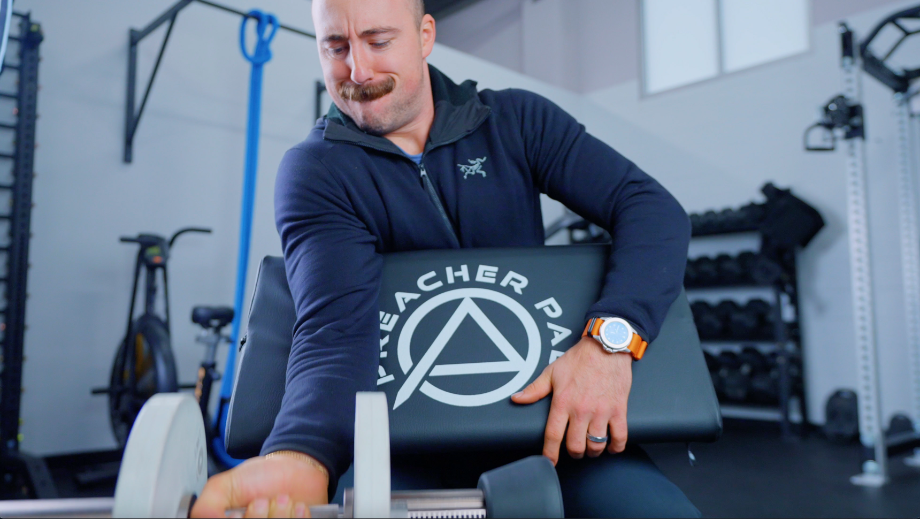 "I personally think preachers curl benches in a home gym is a really stupid idea. It does one thing, it takes up a ton of space, and works one of the smallest muscles on your body," says Coop.
Coop isn't the only one who with that hot take—this product was designed in collaboration with the folks from Garage Gym Lab. "Of all the options out there for preacher curls, I really think for home gym owners this is really the best option," explains Coop.
HTP Thrust Pad
Good for: Folks looking for a comfortable solution for barbell hip thrusts
The HTP Thrust Pad is AbMat's take on providing comfort over the hips and pelvic bone during a barbell hip thrust. Typically, pads for this movement are made from soft foam, however the HTP is made with a harder plastic top to bear the weight of the barbell and a soft foam underside to protect your hips. The exterior features a heavy-duty canvas fabric that can hold up to wear and tear around the gym.
Coop, a fan on the hip thrust but not the general discomfort, likes the HTP pad because it "allows you to use a barbell without it just feeling absolutely awful across your hips," he says.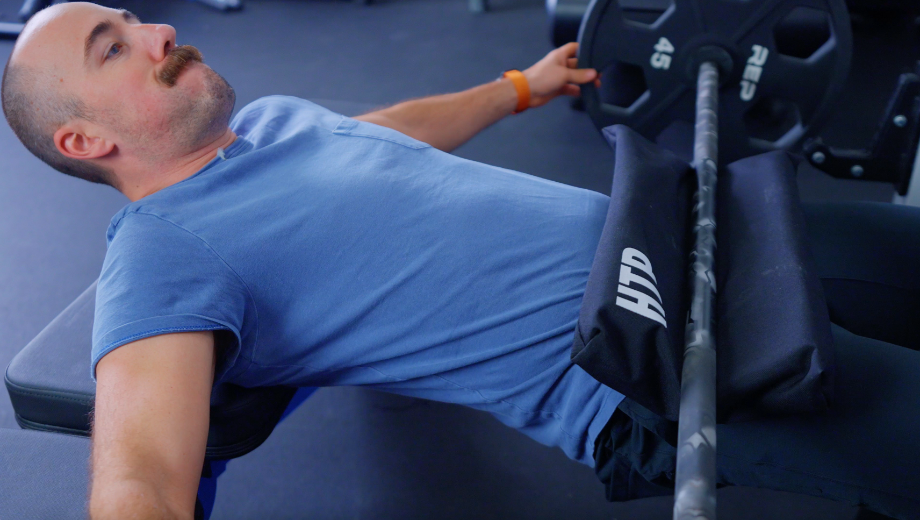 "Hip thrusters can be really annoying to do if you just have a barbell—they hurt, they're uncomfortable to get into place. There are just a lot of things about hip thrusters that don't feel great," says Coop.
That said, Coop doesn't think this design is perfect. He thinks the HTP pad could benefit from being wider and have a mechanism that attaches the pad to the barbell itself so it doesn't roll.
Coop's personal take on hip thrust-specific equipment is that the industry has room to improve saying that, "I still don't think there is an ideal option for hip thrusts."
Split Squat Pad Pro
Good for: Anyone who likes training unilateral leg movements
The Split Squat Pad Pro is a hexagonal-shaped pad that is specifically designed for performing split squats out of a squat rack. It features a two-inch hole that can slip over a barbell sleeve, which then acts like a roller attachment for a rack.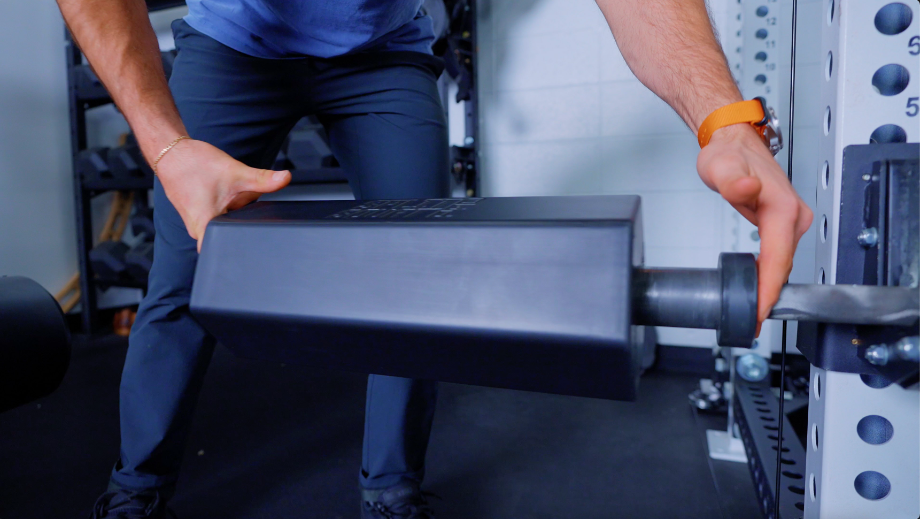 "This can be used universally where you don't have to buy another attachment, you can just use the barbell you've already got," Coop says.
So, instead of buying yourself a roller attachment, you can now buy a lightweight and affordable option for split squats. That said, Coop mentions the one drawback: You have to load the other side of the barbell as a counterweight in order to use this safely.
Loadable Dumbbell Cushions
Good for: Home gym owners who use loadable dumbbells and need more cushion
Loadable dumbbell cushions solve a fairly niche problem for those of you who own loadable dumbbells with Olympic size sleeves. Essentially, this product is a rubber cushion that pads one end of your loadable dumbbell (like this pair of Rogue DB-15 dumbbells).
After testing these, Coop notes that, "you have to be a pretty specific person to actually be able to get use out of them."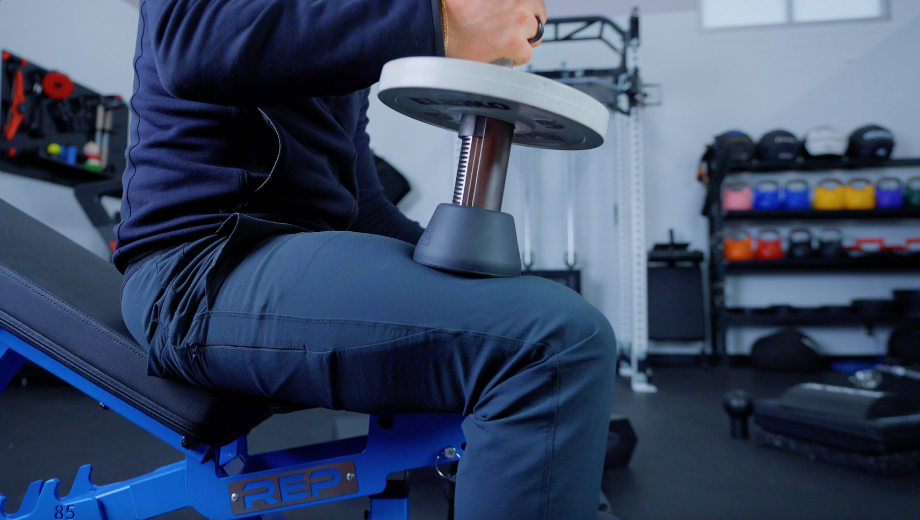 Coop explains that loadable dumbbells "have a lot of great purposes because you can go really heavy with them and they feel like barbells."
However, when it comes to pressing motions, you generally need to place the dumbbells on your legs to get a proper setup (e.g. flat dumbbell bench, incline press, and overhead press). Coop goes on to say that loadable dumbbells can "suck [because] you've got this Olympic sleeve that was not not made to be used on the end of your knee with hundreds of pounds potentially."
With the AbMat cushions this unique problem is solved. "Now you have a loadable little pillow for the end of your dumbbell to sit on your knee," says Coop.
AbMat
Good for: Folks who want extra range of motion for classic ab workouts
The AbMat is a widely known gym accessory designed specifically for core workouts. This updated version of the AbMat is constructed with a single piece of molded foam, which makes it more durable and longer-lasting than the OG AbMat.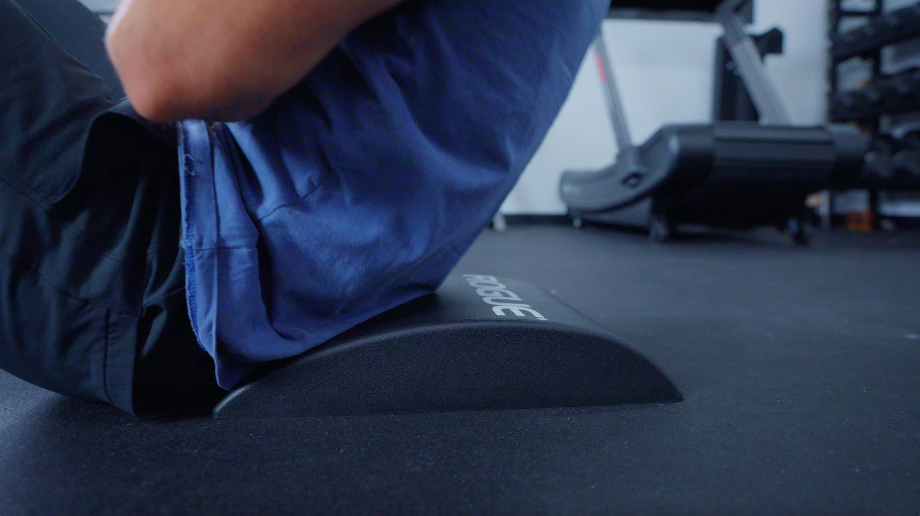 It's basically a big piece of high-density foam with a vinyl exterior featuring a contoured design that allows for comfort and optimal ergonomics during crunches and sit-ups.
According to Coop it's a worthwhile purchase because "it's just a very versatile tool and pretty cheap, so if you're going to get one I recommend AbMat," he says. Coop has also used the AbMat for hand-stand push ups, kneeling exercises, and support for mobility drills.
Box Squat Pad
Good for: Anyone who box squats fairly regularly in training cycles
The Box Squat Pad is pretty much exactly like it sounds: a pad for box squats. If you're not big into box squats, this might not be the product for you. However, if you incorporate box squats into your routine with barbells, dumbbells, or kettlebells, this AbMat Box Squat Pad is a high-quality option that will last a long time in your home gym.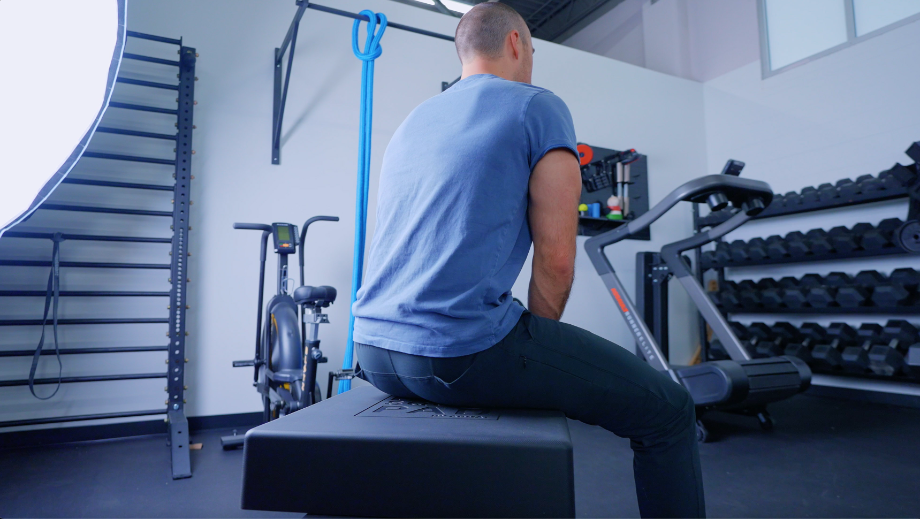 "It's a big block of foam," Coop says. And because foam is soft and cushioned, "it removes the ability to pop back up," he adds.
The pad can also be used for kneeling exercises or Nordic hamstring curls depending on your set up. We also like the fact the Box Squat Pad features a dimpled textured finish for extra stability when you squat or kneel to the pad.
Crash Cushions
Good for: Anyone lifting heavy with the need to protect floors and dampen sound
AbMat manufactures several crash cushions, each with a unique purpose and training style in mind. Crash Cushions were designed by AbMat to offer an affordable way to reduce the noise of barbell training to protect floors (and other gym equipment) from tons of deadlift reps, Olympic lifts, and Strongman training.
According to Coop, "Crash Cushions are probably AbMat's best (and best-selling) product besides their normal AbMats," he says.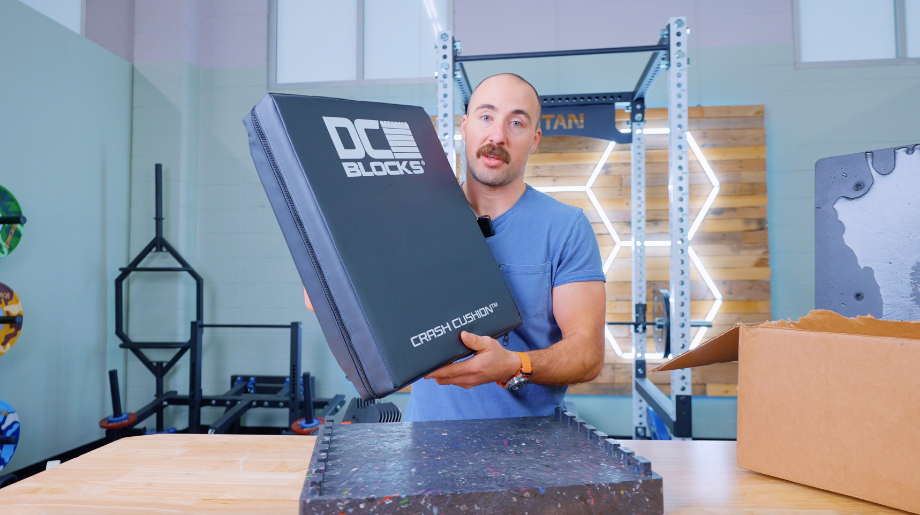 Not only are they popular, but you will have the option to purchase cushions based on the type of strength training you prefer, whether that be Olympic lifting, Strongman, or powerlifting.
Additionally, AbMat has a specific Atlas stone training crash pad with a slight angle to safely roll the stone back to your starting position, plus a crash pad designed to accompany DC Blocks with a lip to fit perfectly over the block and a non-skid back so it stays in place.
Even More AbMat Products
There are a few dozen products AbMat manufactures. Our collection of AbMat reviews is not even a full picture of what the brand offers. To give you an idea, here are some other products you can find on the AbMat website:
Barbell pillows
Landmine grips
Pivot pad for hip thrusting in a squat rack
Medicine balls
Sled and plate spacers
Massage gun holders
Plyo boxes
Gymnastic rings and quarter rings
Body tempering tools
Brand Policies
To reach AbMat's customer service, you can call 1-618-628-0111 for general assistance or email one of three contacts listed on the terms and conditions web page depending if you want to reach customer support, business support, or vendor support.
Here is a look at AbMat brand policies so you know what to expect when ordering your products:
Warranty
AbMat does not have a clear and concise warranty policy. Some products have a one-year warranty listed on the product page, while most products exclude any mentions of a policy.
Through the checkout process, I clicked on the terms of service link to find a brief overview of the warranty policy, but it was still unclear about what is covered and for how long.
Returns
AbMat has a 30-day return policy on all items with a few exceptions like products marked as final sale or anything made-to-order.
The return policy requires you to return (or exchange) unused items in the original packaging. It's worth noting the website states that items that are used or returned with damage can be denied for a refund or exchange. Shipping costs are also not refundable.
Financing
AbMat does not have traditional financing like you might see on big-tickets items (like a NordicTrack treadmill), however, at checkout, there is more than one way to pay. Before you enter your personal information, you'll be prompted to an express checkout method (like ShopPay, PayPal, Google Pay, Meta Pay or Venmo) or to enter your credit card information.
Final Verdict of our AbMat Reviews
When it comes to innovative fitness equipment, AbMat is a top contender for GGR. The brand has a collaborative mindset that helps create solutions for the modern home gym owner. Although each product is relatively niche, these products might solve your fitness-related conundrum.
AbMat Reviews FAQs
Should you use an AbMat?
Whether you should buy and use an AbMat will depend on your core training and your personal preferences. However, the AbMat is designed to provide greater range of motion for more effective core training and allow your lumbar spine to maintain a more natural (and curved) position. 
Are AbMats good for your back?
AbMats can reduce lower back discomfort associated with core training by allowing the natural curve of your lumbar spine to remain present during the up and down motion of your sit ups. 
What are the benefits of using an AbMat?
There are two main benefits of using an AbMat: to allow the abdominal muscles greater range of motion with floor-based core training, and to reduce the irritation some folks get from poor body mechanics during core training.