We test and review fitness products based on an independent, multi-point methodology. If you use our links to purchase something, we may earn a commission. Read our disclosures.
The process of buying a treadmill can get confusing with all the different makes, models, and specifications. If you're landing on this comparison, it might be because you've finally narrowed your choices down to two options: the NordicTrack 2950 vs X22i.
Both the NordicTrack Commercial 2950 and the NordicTrack X22i offer incline and decline training, powerful motors to support sprinting, and large 22-inch iFIT-enabled touchscreens for interactive programming, making them some of the best treadmills on the market today. 
With either treadmill, you're going to get a high-quality, commercial-grade machine. However, with the top-notch features you get on either machine, you will also have a hefty price tag. If you're ready to make an investment in your home gym (and benefit your health) with a cardio machine, buckle up, because we're about to compare these two powerful machines. 
NordicTrack Commercial 2950 Treadmill
GGR Score: 4.5
Product Highlights
22" HD touchscreen 

4.25 horsepower motor 

0-12 MPH 

Autobreeze workout fan 

Runners flex cushioning
Pros & Cons
Pros
Foldable design
Incline and decline ability: -3% to 15%
Automatic trainer control
30-day iFIT family membership included
Cons
Heavy at 357 lbs
Lower max user weight for high end treadmills at 300 lbs
Reviewers complain of treadmill malfunctioning within weeks of use
Bottom Line
The NordicTrack Commercial 2950 treadmill is a high-end treadmill with a screen that allows you to virtually run through a variety of locations. The 2950 is difficult to assemble and may break down within a short time of use.
NordicTrack Commercial X22i Treadmill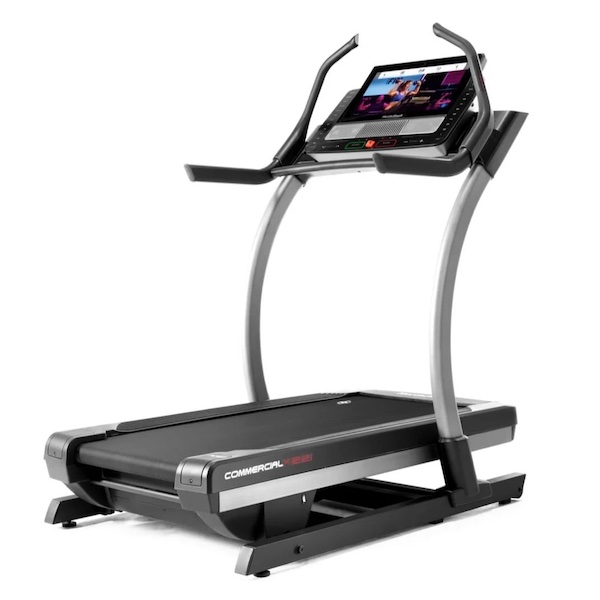 GGR Score: 4.7
Product Highlights
Commercial-grade treadmill with a 4.0 CHP motor

Speeds up to 12 MPH

Impressive incline range of -6% to 40%

Fully rotating and tilting 22-inch HD touchscreen 

iFIT-enabled with 30-day free family membership

Integrated with Google Maps

Auto-adjust technology
Pros & Cons
Pros
Commercial-grade
4.0 CHP motor
Impressive range of incline and decline
Rotating and tilting HD touchscreen
Quiet
Upgraded Bluetooth connectivity
Free 30-day family membership to iFIT
Cons
Heart rate strap not included
Will need subscription to iFIT to access workouts
Large
Expensive
Bottom Line
If you have the budget and space, the NordicTrack X22i is a high-quality treadmill that offers a fully immersive experience and some impressive specs to boot.
NordicTrack 2950 vs X22i Specs
| | | |
| --- | --- | --- |
| | NordicTrack 2950 | NordicTrack X22i |
| Price | $2,999 on Amazon | $3,499 |
| Footprint | 79.5" L x 39.2" W x 66.6" H | 70" L x 39" W x 72.5" H |
| Weight | 357 lbs | 417 lbs in box |
| Weight capacity | 300 lbs | 300 lbs |
| Motor | 4.25 CHP | 4.0 CHP |
| Tread belt surface area | 60" L x 22" W | 60" L x 22" W |
| Display | 22" smart HD touchscreen | 22" smart HD touchscreen |
| Deck cushioning | Yes | Yes |
| Decline/incline options | -3% decline to 15% incline | -6% decline to 40% incline |
| Top speed | 12 MPH | 12 MPH |
| Heart rate monitoring | Compatible with iFIT heart rate chest strap | Compatible with iFIT heart rate chest strap |
| Bluetooth | Bluetooth headphone audio capability | Bluetooth headphone connectivity |
| Foldable design | Yes | No |
| Warranty | 10-year frame, 2-year parts, 1-year labor | 10-year frame, 2-year parts, 1-year labor |
Quick Look: NordicTrack 2950 vs X22i
Overall, our GGR product testers have favorable experiences with NordicTrack treadmills. We've had our hands on almost every treadmill the brand has to offer, plus several treadmills from NordicTrack's sister company ProForm. Needless to say, this isn't our first treadmill rodeo.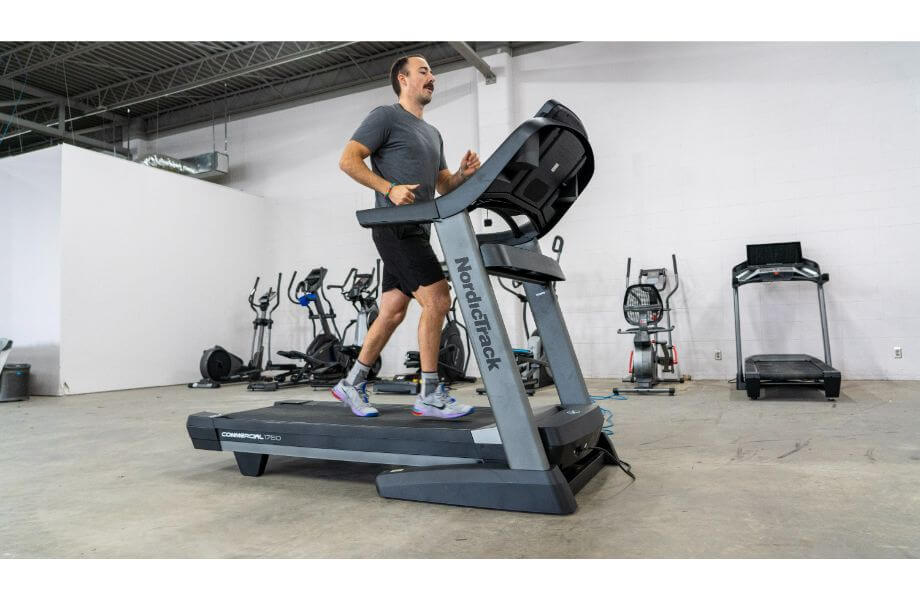 We like the fact that both the NordicTrack 2950 and the X22i are sturdy and powerful machines. Both offer shock absorption, incline and decline training, and iFIT subscription options. We have in-depth treadmill reviews on both the NordicTrack Commercial 2950 and the NordicTrack X22i—be sure to read the full details if you're serious about either model.
I will mention that the NordicTrack Commercial 2950 is not currently available on the brand's website, but you will find it for sale on Amazon. Although the model is just a few years old, it's not uncommon for fitness equipment manufacturers to phase out cardio machines after just a few years to make room for new inventory.
Who Should Buy NordicTrack 2950
Anyone looking for a powerful, high-end treadmill
Folks who don't mind purchasing a treadmill on Amazon
Individuals who don't need to have the latest and greatest in fitness equipment
Runners looking for incline and decline training options
Who Should Buy NordicTrack X22i
Folks who have a dedicated space for this large machine
Anyone who trains for incline hiking, climbing, or racing
Individuals who also want a treadmill with decline settings
Anyone intrigued with the ability to use the X22i to simulate a sled-push
People who want a commercial-grade treadmill with powerful motor
Key Similarities Between NordicTrack 2950 and NordicTrack X22i
Built-in 22-inch touchscreen with interactive iFIT programming (memberships sold separately)
Vast iFIT library of on-demand studio classes and outdoor scenic workouts for both cardio and strength training
Google Maps technology (for scenic runs and simulating topographic grade changes)
Incline and decline training
Top speeds of 12 MPH on both machines
Similar power with 4.0 and 4.25 CHP motors, which is above average for an at-home treadmill
iFIT workouts provide automatic trainer control for hands-free incline and speed changes based on coaching cues
Running deck on both machines is 60" long and 22" wide
Important Differences Between NordicTrack 2950 and X22i
NordicTrack X22i treadmill has a pivoting touchscreen to easily view iFIT workout programs off the treadmill for HIIT, strength training, and yoga
2950 is a folding treadmill, while the X22i is not
X22i has a greater decline and incline range
X22i features a pair of vertical handlebars to assist you during workouts at top incline ranges
X22i incline trainer can also simulate a sled-push in manual mode with the sled grip handlebar
Commercial 2950 is currently out of stock on the NordicTrack website but can be purchased on Amazon
Technology and Programming
When it comes to the iFIT membership, you'll have to account for additional fees on top of the treadmill price tag. You'll have the option to purchase a family membership ($396 per year or $39 per month) or an individual plan from iFIT ($180 per year or $15 per month).
We like the fact that the family plan gives you the ability to create up to five unique user accounts that can be used at the same time. That means that you can be on your treadmill following along with a guided outdoor run and another family member can be simultaneously using the iFIT app on a smartphone or tablet for a strength training session.
For either of these NordicTrack treadmills, it's fair to say you'll need a strong and stable WiFi connection to be able to access the library of iFIT workouts. Keep that in mind when scouting out the ideal spot for your new treadmill.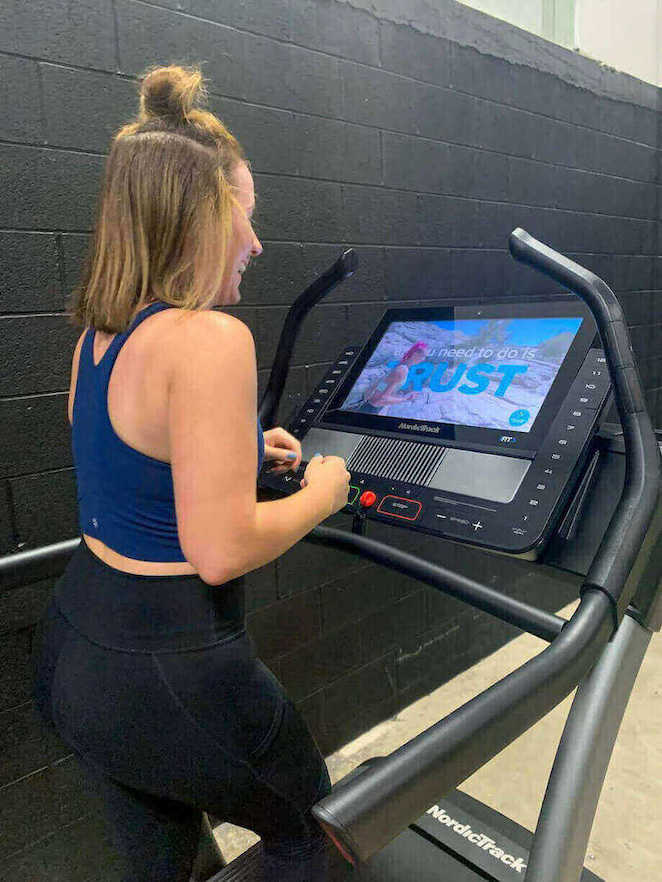 You can also take advantage of Google Maps technology that allows you to drop a pin nearly anywhere in the world and take a scenic jog in a vacation-like destination or perhaps your old neighborhood for a more nostalgic feel.
Lastly, I appreciate that both treadmills have Bluetooth connectivity so you can pair your headphones to the app. Additionally, iFIT allows you to manipulate the sound of your trainer's voice and background music separately for your personal preference.
Workout Experience
The X22i is different from a traditional treadmill—technically the brand calls it an incline trainer—because you can adjust the running deck up to a 40 percent incline, which is far above industry standards. That said, I think the X22i is meant for someone who is focused on hill training.
To compare, the NordicTrack 2950 offers 15 percent incline, which is still above industry standard of 10 levels. The XX2i can also decline and simulate downhill running to negative 6 percent. The 2950 has the same capability, but can only decline to negative 3 percent, however most treadmills don't have this feature at all.
A former GGR product tester who put the XX2i to the test says another interesting feature on the NordicTrack XX2i is the ability to sled-push in manual mode using the sled grip handlebar. This function allows you to mimic a sled-push you might see athletes performing on turf—a unique way to switch up your cardio routine.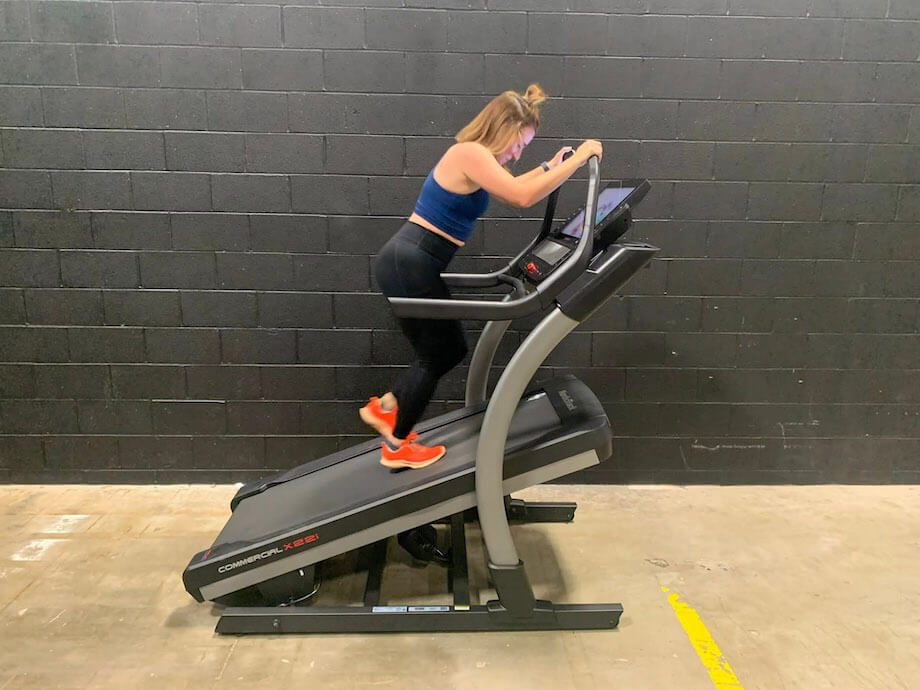 Both cardio machines come equipped with powerful motors that exceed industry standards of at least 2.5 continuous horsepower motors (CHP) to support frequent use and high speeds. The X22i has a 4.0 CHP motor while the Commercial 2950 has a 4.25 CHP motor—each with the ability to deliver top speeds of 12 miles per hour, which is above the industry standard).
I personally think both NordicTrack treadmills will provide a solid piece of cardio equipment for your home gym for years to come. They both have all the conveniences you might want like built-in workout fans, water bottle holders, dual speakers, and even an accessory tray for phones and tablets. Both machines can offer a lot of variety to your training routine with incline and decline settings paired with the ability to utilize an iFIT subscription.
If your fitness goals are specific to hill climbing or incline training, the X22i is the ultimate year-round machine for you. However, if you're just looking for a treadmill that offers a more casual incline and decline option, the NordicTrack 2950 might be the better choice.
Construction Differences
Due to the fact the NordicTrack X22i provides hill climbers an option for a true incline treadmill, it's worth noting that this bulky piece of equipment doesn't fold. I recommend measuring and prepping your space before purchasing a X22i because you will need dedicated floor space for this machine.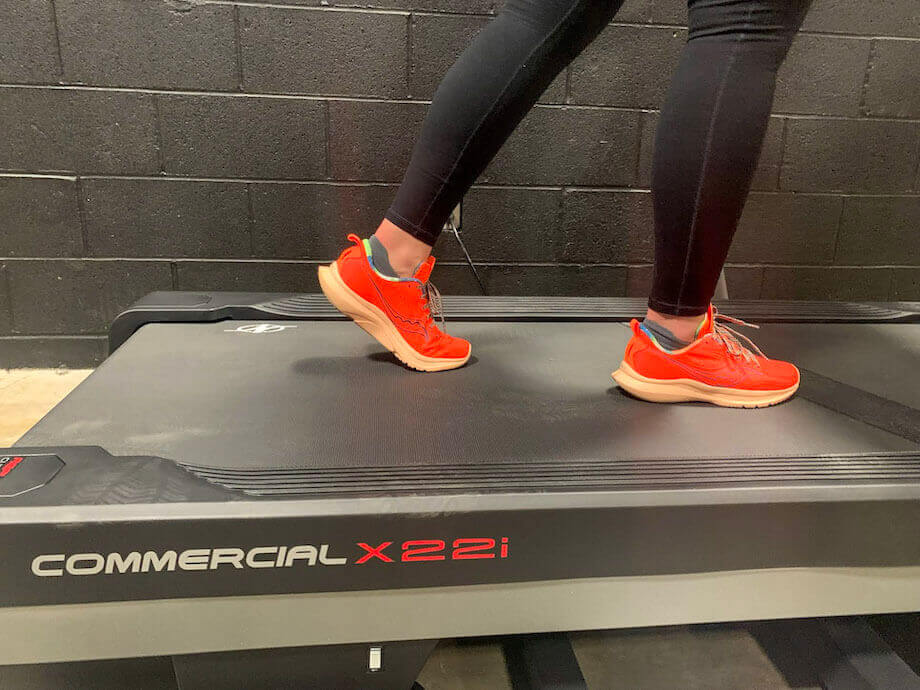 On the other hand, the NordicTrack Commercial 2950 provides a lot of the same specifications (minus the fact it does not incline or decline to the same degree as the X22i) while featuring a foldable design. I know I mentioned the X22i is a large machine, but the 2950 is actually nine inches longer than the X22i, so being able to fold the deck off the floor will be helpful.
A foldable treadmill is a convenient option for most home gym owners as a way to gain floor space back and ability to move it when needed. You'll like knowing that the folding mechanism on the 2950 is easy to use and has gas shocks to make the unfolding process safe.
The NordicTrack 2950 features Runners Flex cushioning, which will dampen the impact running has on your joints. However, if quality cushioning is what you're after, the X22i provides the most cushioning you can get on a NordicTrack treadmill, which might make the best treadmill option for some folks.
Company Policies
NordicTrack offers a 10-year frame warranty, which isn't bad, but our product testers know the best warranties on treadmills cover at least 15 years on the frame. The brand also has a two-year warranty on parts and one-year on labor.
It's worth mentioning that if a problem were to arise, customer service at NordicTrack can be hard to reach. There are several options to make contact including email, phone, and live chat. The times I've reached through the live chat function, I've had a wide range of wait times—from a few minutes to a few hours.
If you need to return your treadmill, NordicTrack offers a 30-day return policy. Just keep in mind the website states that a 10-percent restocking may apply, which can add up to a machine priced around $3,000.
Lastly, you will have the option to apply for financing through TD with 0% APR and the ability to choose your six different loan term options ranging from 12 to 48 months.
Like I mentioned earlier, the NordicTrack Commercial 2950 is no longer on the website but is available on Amazon. The warranty still applies and if problems come up, you'd reach out to NordicTrack directly. However, if you need to return the 2950, you'll have to go through Amazon.
Final Thoughts on NordicTrack 2950 vs X22i
In conclusion, both the NordicTrack 2950 and the X22i are high-end treadmills that can help you reach your fitness goals and keep training fresh. Both offer incline and decline training, the ability to use iFIT programming, and have powerful motors.
That said, here are some of the main differences:
The touchscreen console on the X22i can pivot and tilt for viewing iFIT workouts on and off the treadmill.
The X22i is more expensive and does not fold.
The 2950 is not currently sold on the NordicTrack website but can be purchased on Amazon.
The XX2i offer greater ranges of incline and decline settings (nearly triple the incline than the 2950).
FAQs on NordicTrack 2950 vs X22i
Can you install Netflix on NordicTrack 2950?
The iFIT-enabled touchscreen is not designed to stream other platforms like Netflix. It's designed to solely feature the iFIT app.
Does NordicTrack 2950 have Bluetooth?
The NordicTrack 2950 has Bluetooth connectivity for connecting your wireless headphones to the built-in speakers to listen to the iFIT coaching cues and background music.
Does NordicTrack X22i fold up?
The NordicTrack  X22i is not a folding treadmill.
How heavy is the NordicTrack X22i?
The box weight of the NordicTrack X22i is 417 pounds.
Does the NordicTrack X22i screen tilt?
The NordicTrack X22i pivots side-to-side and tilts up and down for the most ergonomic view to support good running form.