Model: Rogue Fitness DB-15 Loadable Dumbbell
Tensile Strength: 190k
Spin: Bronze Bushings
Materials: Balck Zinc Shaft/Bright Zing Sleeve
Weight: 14 lbs.
Retail Price: $135
Finally, a loadable dumbbell that is built as well as the millions of barbells produced today.
Now, I know what you're thinking. Why does a dumbbell handle need to be constructed to as strong of specs as Rogue's Ohio Bar? Well, for one, if your dumbbells aren't getting anywhere close to the amount of use that your barbells are you may want to start varying your training.
If you're like me, dumbbells play a big part in your training. The problem, however, is getting dumbbells heavy enough for things like rows and bench press without paying an ungodly amount of money.
Not only are standard dumbbells overly expensive, but they also take up way too much space. It's one reason I'm a big proponent of Powerblock Dumbbells as reviewed here.
The DB-15 Loadable Dumbbell is the perfect handle to be used for everything from curls to snatches.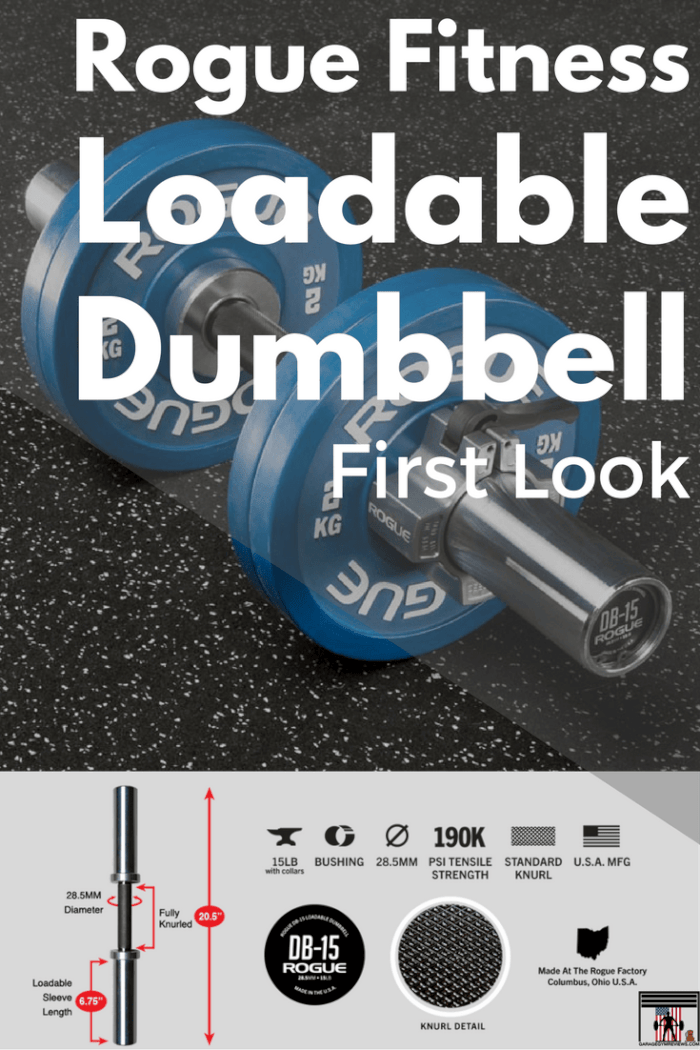 The Rogue DB-15 Loadable Dumbbell is essentially like a miniature Rogue Ohio Bar.
It's like Rogue stuck the Ohio Bar in the machine from "Honey We Shrunk the Kids."
Here are the similarities between the Ohio Bar and the DB-15:
Made in USA
Black Zinc Shaft and Bright Zinc Sleeves
Standard Knurl
28.5 mm Shaft Diameter
Bronze Bushings
190k Tensile Strength Steel
Lifetime Warranty
As you can see, it's just a chopped down Rogue Ohio Bar which is a GREAT thing.
The only differences between the two are that the Ohio Bar is longer and weighs more. Where else can you get a top-shelf barbell in the size of a dumbbell?
Also, where else can you find a 350 lb. dumbbell? That's right; this bad boy can be loaded up to more than 350 lbs. You'll never need another dumbbell; ever!
There's really only one thing I would change, and that is to add an option for a thicker handle. There's nothing like a fat handled dumbbell. But then again, I guess that's what Fat Gripz are for.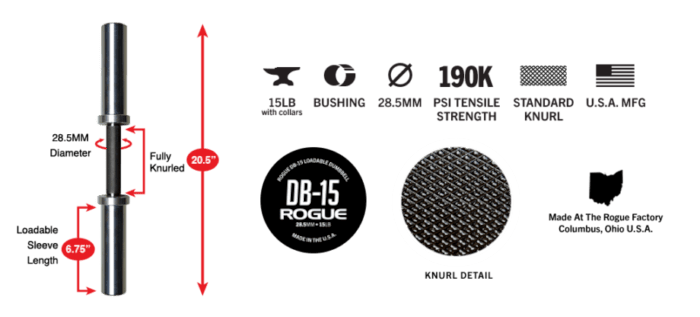 Made in the USA
190,000 PSI Tensile Strength Steel
Handle: 28.5mm diameter, knurled, black zinc finish
Sleeves: 6.75" loadable length, bright zinc finish
Bronze Bushings & Snap Ring Design
Length: 20.5"
Load Capacity: ~350 LB
Available as package with set of Rogue OSO Collars
Weight: 14 LB (15 LB with collars)