We test and review fitness products based on an independent, multi-point methodology. If you use our links to purchase something, we may earn a commission. Read our disclosures.
When a product has more than 20,000 reviews on Amazon with an average 4.6-star rating, you have to take a closer look, right? Right.
Enter the Exerpeutic Folding Magnetic Upright Bike, a portable, folding stationary bike for your home gym. Not only is this thing compact, it weighs less than 40 pounds, and costs less than a week's worth of groceries nowadays.
Does it sound too good to be true? Find out in my Exerpeutic Folding Magnetic Upright Bike review.
Experts in Gym Equipment & Small Spaces
Not only has our team personally tested dozens of exercise bikes, we've researched dozens more, and use our expertise as certified personal trainers and weightlifting coaches to help inform our evaluation of each piece of exercise equipment. We're also particularly familiar with compact exercise equipment, as we all have, or currently live in, smaller spaces like apartments or condos. Trust us when we say: We've got your back!
Exerpeutic Folding Magnetic Bike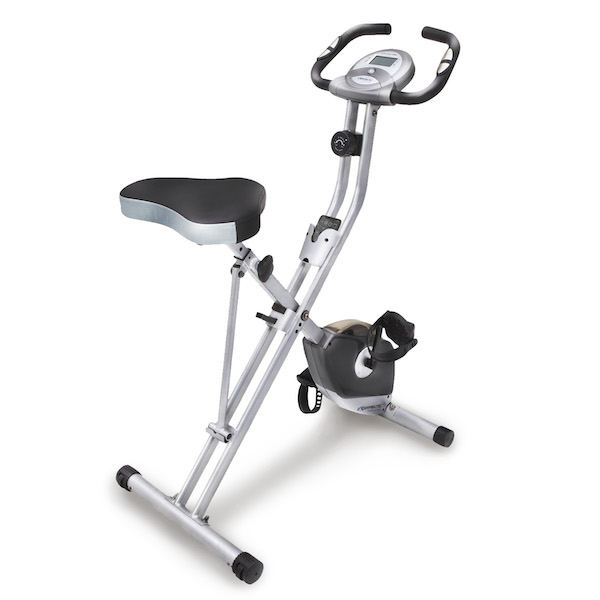 Exerpeutic Folding Magnetic Upright Exercise Bike
If you're looking for a portable and foldable cardio machine for your home gym, the Exerpeutic Folding Magnetic Upright Exercise Bike might be a solution.At just 39 pounds, this bike has a high 300-pound weight capacity, making it an option for many. When in use, its footprint is just 31 inches long by 19 inches wide by 46 inches high, and it also folds for easy storage. It has a large, padded seat and a basic LCD display that shows metrics including distance, calories burned, time, speed, and pulse (which it calculates from the pulse sensors on the handlebars). While it doesn't have any tech capabilities built in, you have the option of purchasing the cadence sensor from MyCloud Fitness for $50 to attach to one of the Exerpeutic bike's pedals, allowing you to connect to the MyCloud Fitness app via Bluetooth to access on-demand classes for a monthly fee. The bike has just eight resistance levels, so it won't be the best choice for serious cyclists. And for $130, it probably won't last forever. But, if you're just looking for an easy way to get active at home, this bike could work.
A Quick Look at the Exerpeutic Folding Magnetic Upright Bike
Exerpeutic offers a line of budget fitness equipment including treadmills, ellipticals, inversion tables, and an array of exercise bikes from recumbent to desk styles. The bikes are all foldable and don't cost more than $300, which means those shopping on a budget should take an extra close look at their range.
My Tips
Make sure you're supervising children when they're around this bike, as it can tip over.
Consider purchasing the MyCloud Fitness cadence sensor for $50 to turn this bike into a smart bike.
Pros:
Affordable at less than $130
Foldable
Large, comfortable seat
300-lb user weight capacity
Easy to assemble
Easily portable
Cons:
Only 8 levels of resistance
Handles don't adjust
One-year warranty
Is the Exerpeutic Folding Magnetic Upright Bike Worth It?
While this bike does have some respectable stats for what it is, I'll just be honest from the jump in this exercise bike review and say it isn't for everyone. Here's who should seriously consider this indoor exercise bike and who should pass.
Great for:
Casual exercisers or beginners
Those in small spaces
The budget-conscious
Not recommended for:
Serious cyclists
Those who want interactive programming
People with mobility issues
Exerpeutic Folding Magnetic Upright Bike Specs
| | |
| --- | --- |
| Footprint | 31" L x 19" W x 46" H |
| Folded dimensions | 22" L x 20" W x 55.5" H |
| Weight | 39 lbs |
| User weight capacity | 300 lbs |
| User height capacity | 6' 1" |
| Resistance | 8 levels of magnetic resistance |
| Drive | Belt |
| Display | LCD |
| Foldable | Yes |
| Heart rate monitoring | Pulse sensors on the handles |
| Material | Alloy steel |
| Power source | Electric |
| Programming | Can purchase MyCloud Fitness cadence sensor sold separately |
Workout Experience Using the Exerpeutic Folding Magnetic Upright Exercise Bike
GGR Head of Content Kate Meier took the Exerpeutic Folding Magnetic bike for a spin and rated it pretty well overall.
"You get what you pay for," she says. "It's a low-cost, low-frills bike, but it does have quite a bit to offer."
She was particularly impressed with this little bike's big weight capacity of 300 pounds, when it only weighs 39 pounds itself. She found that it felt sturdy while she was using it, although she's nowhere near the weight capacity and it has a small flywheel—typically, heavier flywheels mean more stability.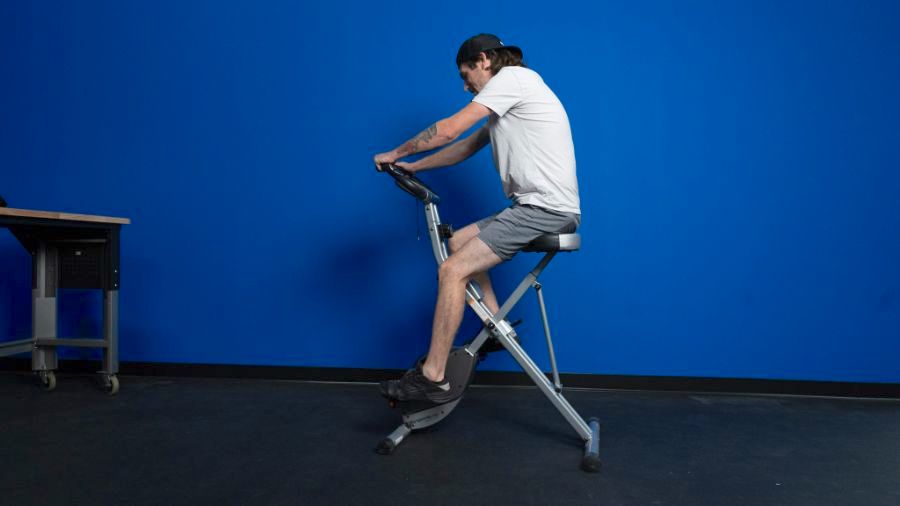 Footprint and Portability
This is where the Exerpeutic Folding Magnetic Upright Bike really shines. Not only does it have a small footprint to begin with, measuring just 31 inches long by 19 inches wide by 46 inches high—half the length of a Peloton and 7 inches shorter—it folds up when not in use so you can store it easily. And weighing just 39 pounds, one person should have no problem moving this around.
"It has transportation wheels, so when you fold it, it's maybe 8 inches deep and rolls around easily like a little suitcase," Kate says.
If space and portability are concerns for you, you can't get much better than this cardio machine.
Durability and Construction
It's true what Kate said, that you get what you pay for—fitness equipment is no exception. With this bike costing just $127, you shouldn't expect that you'll be able to use it daily for years to come.
The frame is made of alloy steel, but there is quite a bit of plastic throughout, including on and around the pedals. A recurring complaint about this bike is that the safety straps on the pedals break after extended use. While that hasn't happened to ours, it's worth noting.
That being said, the bike is rated for 300 pounds, which is impressive. It just didn't seem heavy-duty enough to meet industry standards just by looking at it, so we were pleasantly surprised.
It runs on a v-belt drive, which tends to require less maintenance and provide a quieter ride than a chain drive system. There are eight levels of resistance via a magnetic tension control system, which is below industry standard, but still does allow you to adjust your workout. It should be noted that more advanced exercisers probably won't be getting any high-intensity workouts on this bike, but beginners should find it challenging enough.
The Ergonomics
The Exerpeutic Folding Magnetic Upright Bike with Pulse Sensors comes with a nice, large, padded adjustable seat, which we found to be much more comfortable than typical indoor cycling bike seats. It can't be swapped out even if you did want to change it, but we think most people will like the seat fine enough.
The bike is lacking some adjustability options: While you can adjust the pedal straps and the seat vertically, the seat doesn't adjust horizontally, and the handlebars do not adjust at all. Again, for a $127 bike we weren't expecting much, but just of note.
There's no backrest on this bike, so if you're looking for that added convenience, consider a recumbent exercise bike instead. It should also be noted that older adults or people with mobility issues may have trouble mounting this bike, as it is higher off the ground than a recumbent bike would be.
Technology Benefits and Conveniences
There are limited tech options on this Exerpeutic bike. It comes with a basic LCD display that shows time, distance, and speed, plus the heart pulse grips on the handles measure your heart rate.
You do have the option of purchasing a cadence sensor separately from MyCloud Fitness for $50, then downloading the app to utilize their interactive programming for $15 per month. The cadence sensor will connect via Bluetooth to track your metrics in real time. We didn't try this personally, but it could be a good option if you're itching to try some trainer-led workouts like you'd find on iFIT or the Peloton app. There are not only cycling classes, but workouts like strength training and rowing, too.
While there is a small smartphone holder on this bike, there's no media shelf or even water bottle holder, which is a tad disappointing. The people need water while they're getting they're workout on!Comparison to Marcy Foldable Upright Exercise Bike
Marcy Foldable Upright Bike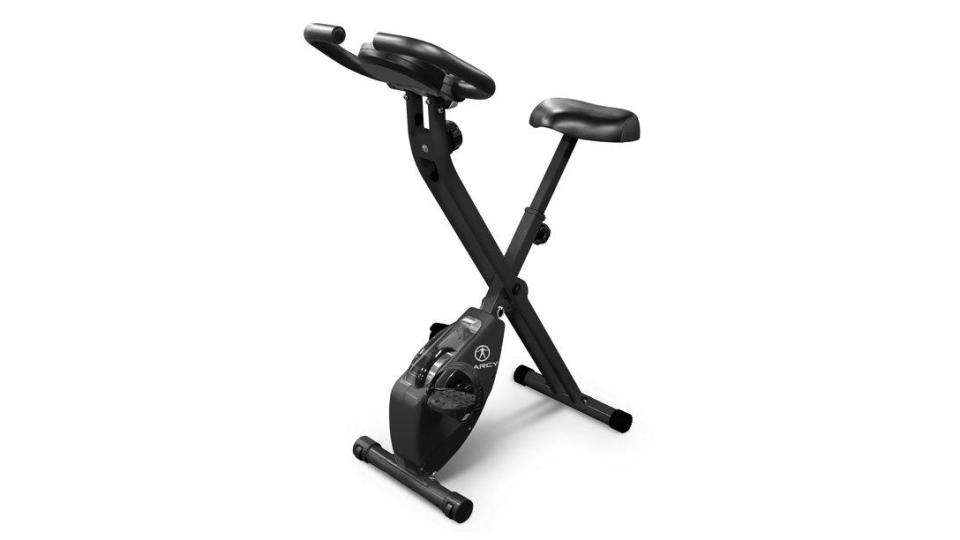 The Marcy Foldable Upright Exercise Bike is pretty similar to the Exerpeutic Folding Magnetic Upright Bike. Both have eight magnetic resistance levels, an LCD screen display, and an easily foldable frame. While the Marcy bike does have a more robust warranty than the Exerpeutic, it has a longer footprint, plus only has a 250-pound weight capacity compared to the Exerpeutic's 300.
For about the same price, we think the extra weight capacity edges out the Exerpeutic over the Marcy. Read our full Marcy Foldable Upright Exercise Bike review here.
Customer Experience
The Exerpeutic Folding Magnetic Upright Bike comes with a short one-year warranty on the frame and 90 days on all other components. For the price, this fits, although is below the industry standard for exercise bikes in general.
The company promises a one-to-two-business-day reply to emails at service@paradigmhw.com, or you can call during business hours (PST) Monday through Friday.
There were several reviews of customers experiencing issues with broken parts on their bikes, which the customer service team seemingly replaced quickly.
Ordering and Assembling the Exerpeutic Folding Magnetic Upright Bike
Ordering the Exerpeutic Folding Magnetic Upright Bike is as easy as clicking Add to Cart.
If you purchase the bike through Amazon, you'll get free delivery and can pay an additional fee for delivery inside your entryway ($9.99), to your room of choice ($19.99), or professional assembly ($89.00). We think most people should be able to assemble this on their own though—especially considering that the assembly fee is over half the price of the bike!
"It only took about 25 minutes to put together," Kate said. "The instructions were very clear and the wiring was simple."
Customer Reviews
This bike has a pretty stellar rating on Amazon, sitting at 4.6 out of 5 stars with nearly 22,000 reviews at the time of this writing.
"I'm now over four months and 40 miles short of 1000 miles on this exercise bike and find it has proved both durable and useful in getting an hour a day of exercise for my heart condition," says Amazon reviewer pbk63. "It is extremely quiet and the magnetic resistance is so much better than the old system of a rubber roller on a bike tire type of bike."
Negative reviews focused on the large seat causing uncomfortable positioning for some, and others reported the display was glitchy or that the belt snapped altogether.
Final Verdict of Our Exerpeutic Folding Magnetic Upright Bike Review
If you're considering a foldable exercise bike for your home gym, the Exerpeutic Folding Magnetic Upright Bike provides great value.
It's a compact, affordable exercise bike.
It would be great for a beginner or casual exerciser looking to stay active indoors on a budget.
If you're a serious cyclist, weigh over 300 pounds, or are interested in lots of tech capabilities, look elsewhere.
Exerpeutic Folding Magnetic Upright Bike Rating
Exerpeutic Folding Magnetic Upright Bike
The Exerpeutic Folding Magnetic Upright Bike is good for beginners or casual exercisers who are looking for a compact cardio machine.
Product Brand: Exerpeutic
Product Currency: USD
Product Price: 127
Product In-Stock: InStock
Is the Exerpeutic bike good?
Exerpeutic offers a handful of exercise bikes, each of which has unique attributes. Overall, Exerpeutic's bikes are all compact, foldable, and budget-friendly, providing respectable specs for the price.
Are foldable exercise bikes worth it?
It depends on your personal situation, but yes, foldable exercise bikes can be a worthwhile investment for someone who has a small space to workout in but still wants to purchase a cardio machine. Especially for beginners or casual exercisers, foldable bikes can provide many of the same benefits as a more traditional indoor cycling bike.

RELATED: Benefits of Indoor Cycling
Is Exerpeutic a good brand?
Exerpeutic manufactures budget exercise equipment that provides great value for the price.