We test and review fitness products based on an independent, multi-point methodology. If you use our links to purchase something, we may earn a commission. Read our disclosures.
Both NordicTrack and Bowflex are top home gym brands that can outfit your space with pretty much everything you need from cardio machines to basic strength training equipment.
But if both brands have everything you need, which one is best for you? Well, it's a classic home gym debate: Bowflex vs NordicTrack.
That's where the Garage Gym Reviews product testers come in and lay out all the important facts and figures. We're a group of fitness professionals with over a decade of combined experience with strength and conditioning equipment.
In this showdown between NordicTrack vs Bowflex, it'll be up to you to decide who ends up on top.
Brand Comparison: Bowflex vs NordicTrack
| | | |
| --- | --- | --- |
| | NordicTrack | Bowflex |
| Treadmill models | 8 | 3 |
| Exercise bike models | 7 | 3 |
| Elliptical models | 4 | 3 |
| Rowing machines | 3 | No |
| Smart gyms | 2 | No |
| Functional trainer machines | 2 | 2 |
| Fixed dumbbells | 5-40 lbs | No |
| Adjustable dumbbells | 3 sets | 2 sets |
| Weight benches | 1 | 2 |
| Kettlebells | No | 1 set (Adjustable from 8-40 lbs) |
| Barbells | No | 1 set (Adjustable from 20-40 lbs) |
| Weight storage options | Yes | Yes |
| Interactive programming | iFIT | JRNY |
Quick Look: Bowflex vs NordicTrack
Bowflex and NordicTrack give you quite a few options for customizing your gym. Both brands offer nearly every type of cardio machine you can imagine and a plethora of entry-level strength equipment. Both brands have unique offerings, so here is a quick breakdown of each:
Who Should Buy Bowflex
Folks looking for cardio and strength training options
People who want stair-stepper style ellipticals
Anyone looking for the option to stream apps like Netflix and Hulu while doing cardio
People who want options for cardio machines with and without screens
Who Should Buy NordicTrack
Anyone looking for top-notch treadmills and cardio machines
Folks who want heavy-duty home fitness equipment
People interested in a smart home gym options and functional trainers
Tech-savvy individuals who want HD touchscreens
Key Similarities Between Bowflex and NordicTrack
Interactive programming and trainer-led workouts
Mid-tier to high-end home fitness machines
Financing options
Both brands have limited strength training equipment
Important Differences Between Bowflex and NordicTrack
Bowflex has a wide range of warranty policies while NordicTrack features 10-year frame warranties on nearly all cardio equipment
NordicTrack manufactures smart home gyms and rowers while Bowflex does not
Bowflex has adjustable kettlebell and barbell options for at-home strength training and NordicTrack does not
All of the Bowflex ellipticals are designed with a vertical stepping pattern, while NordicTrack ellipticals feature traditional front-to-back gliding
NordicTrack vs Bowflex Adjustable Dumbbells
OG product tester and GGR founder Coop is a fan of adjustable dumbbells for home gym owners. It can save on valuable space and cash. Coop even has an entire video review dedicated to the best adjustable dumbbells on the market.
That said, when it comes to NordicTrack vs Bowflex dumbbells, both brands have suitable options for home gym owners at similar price points. The main differences are the selection method and the weight ranges offered.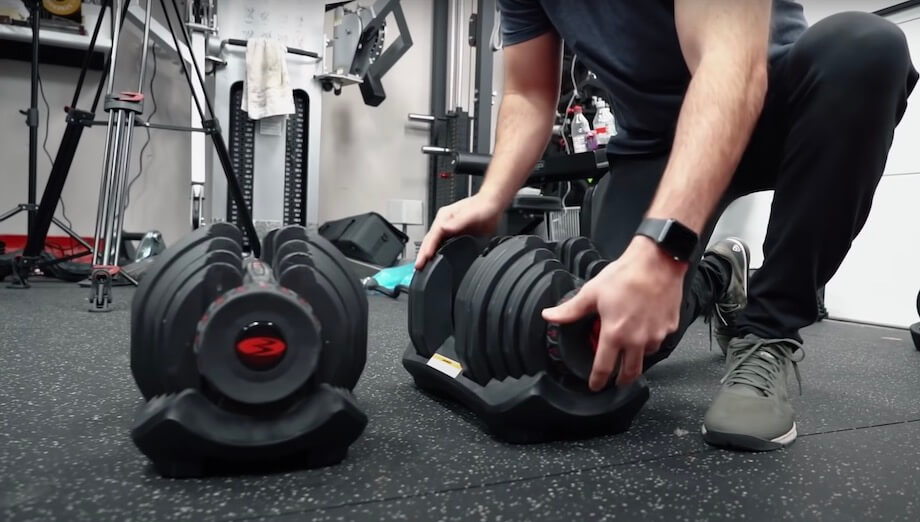 NordicTrack offers four sets of adjustable weights while Bowflex offers two different sets. The heaviest set of dumbbells Bowflex has goes up to 90 pounds, which is 35 pounds heavier than NordicTrack's top set.
Additionally, NordicTrack has a unique set of adjustables called the iSelect Voice-Controlled Dumbbells, which are controlled through Alexa.
NordicTrack vs Bowflex Adjustable Dumbbell Specs
| | | |
| --- | --- | --- |
| | NordicTrack | Bowflex |
| Price range | $349-$599 | $429-$599 |
| Dumbbell models | iSelect, SpeedWeight, Select-A-Weight | SelectTech 552 and 1090 |
| Adjustable dumbbell weight range | 2.5-12.5 lbs, 5-25 lbs, 5-50lbs, or 10-55 lbs | 5-52 lbs or 10-90 lbs |
| Adjustment method | Selection pin (with the exception of the iSelect Voice-Controlled Dumbbells) | Selection dial |
NordicTrack vs Bowflex Treadmills
Bowflex and NordicTrack have some of the best treadmills that rival most home gym brands. Both brands are known for powerful running machines that deliver speeds up to 12 miles per hour. Additionally, NordicTrack and Bowflex have either pulse grip sensors or Bluetooth connectivity to monitor your heart rate while you workout.
All three Bowflex models come equipped with a 60-inch-long running deck, which is ideal for tall runners. In addition to long running decks, the Bowflex Treadmill 10 and 22 have an impressive user weight capacity of 400 pounds, which makes both an inclusive choice for larger folks. If you like the sound of that, check out our full review on the Bowflex Treadmill 22.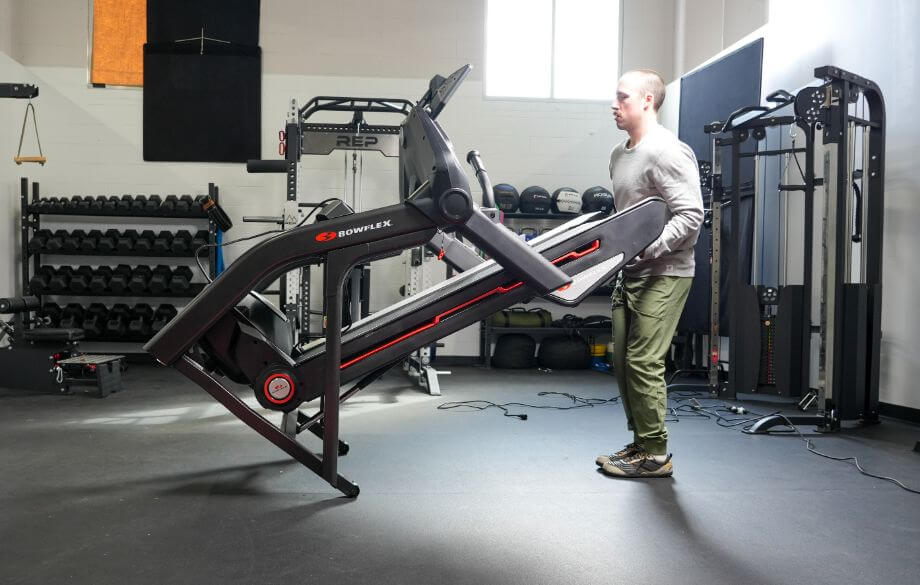 NordicTrack currently offers eight different treadmill models, with two marketed as incline trainers—the NordicTrack X22i and X32i, which are big, powerful, and non-folding treadmills.
The other six treadmills from NordicTrack are folding treadmills, which our product testers agree are ideal for home use because you can gain back much-needed surface area if you're limited on space.
NordicTrack treadmills all come equipped with iFIT-enabled touch screens, powerful motors to support running, and 10-year warranties on the frame. The NordicTrack Commercial 1750 is actually one of our top overall picks for home use. We even have an in-depth treadmill review on the NordicTrack 1750 so you can read all about our personal experience with the machine.
NordicTrack vs Bowflex Treadmills Comparison
| | | |
| --- | --- | --- |
| | NordicTrack | Bowflex |
| Price range | $1,199-$4,499 | $1,299-$2,699 |
| Treadmills models | C 1100i, EXP 7i, EXP 10i, EXP 14i, X22i, X32i, 1750, 2450 | BXT8J, Treadmill 10, 22 |
| Weight capacity range | 300 lbs | 300-400 lbs |
| Top speeds | 12 MPH | 12 MPH |
| Incline training | Yes | Yes |
| Running surface lengths | 55"-65" | 60" |
| Warranty | 10-year frame, 2-year parts,1-year labor | 10-15 years on the frame depending on the model |
NordicTrack vs Bowflex Exercise Bikes
Bowflex has three studio-style exercise bikes available on the website, all with 100 micro-levels of resistance. The C6 Bike offers an affordable option for a studio bike, with a price tag around $800. The VeloCore 16 and 22 are more expensive but feature large touch screens and a unique leaning feature to engage core muscles and mimic the natural movements of road cycling. If you're curious about this cool innovation, we have an in-depth review of the VeloCore for more details.
NordicTrack offers more variety than Bowflex when it comes to exercise bikes. The brand manufactures three different exercise bikes (and seven different models): Two recumbent bikes, two upright bikes, and three studio bikes. Regardless of the style, each one is equipped with an iFIT-enabled touchscreen.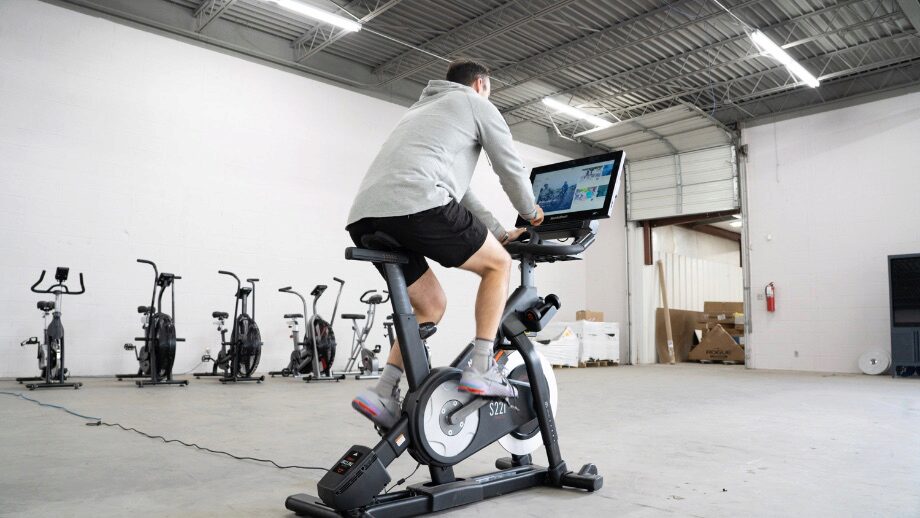 NordicTrack's studio bikes are a bit more expensive than Bowflex studio bikes, but our product testers like the fact the NordicTrack S22i has a pivoting touchscreen making it easy to follow along with cycling classes in addition to strength training routines off the bike. If you like the versatility of the NordicTrack S22i, you can read the full details in our written review.
NordicTrack vs Bowflex Bikes Spec Chart
| | | |
| --- | --- | --- |
| | NordicTrack | Bowflex |
| Price range | $799-$2,499 | $799-$1,599 |
| Bike models | VU 29, VU 19, VR21, R35, S10i, S22i, S27i Studio Bike | C6 Bike, VeloCore 16, 22 |
| User capacity range | 325-350 lbs | 325-330 lbs |
| Warranty | 10-year frame, 2-year parts, 1-year labor | 2-10 years on the frame depending on the model |
NordicTrack vs Bowflex Ellipticals
When it comes to elliptical trainers, one of the main differences between the two brands is the stride pattern. Bowflex is known for its upright machines and compact footprints. That said, the Max Trainer M6, M9, and Max Total 16 are not like a traditional elliptical you might see in a commercial gym. All three machines provide you with a more vertical stride pattern that mimics a stair-stepper.
NordicTrack offers two machines with more traditional elliptical stride: the Commercial 9.9 and AirGlide14i. The brand also has two machines—the FS10i and FS14i—that can cycle between three different stride patterns including a regular elliptical, stair-stepping, and walking. 
RELATED: NordicTrack AirGlide 14i Review
NordicTrack vs Bowflex Elliptical Spec Chart
| | | |
| --- | --- | --- |
| | NordicTrack | Bowflex |
| Price range | $1,499-$2,499 | $1,499-$2,499 |
| Elliptical models | FS10i, FS 14i, Commercial 9.9, and AirGlide 14i | Max Trainer M6, Max Trainer M9, and Max Total 16 |
| User capacity range | 350-375 lbs | 300 lbs |
| Warranty | 10 year frame warranty, 2-year parts, 1-year labor | 2-3 years on frame and parts depending on the model, 90 days on labor |
Interactive Programming: NordicTrack vs Bowflex
NordicTrack fitness equipment is integrated with iFIT, while Bowflex equipment features the JRNY app. I appreciate how inclusive both apps strive to be with workouts for a variety of fitness levels. As a certified personal trainer, I also appreciate that both apps track your progress and make suggestions on future workouts based on your performance (aka progression!).
NordicTrack: iFIT
There are several things I like about iFIT, but one of the coolest features is the automatic trainer control. This feature allows the iFIT trainer to control incline, speed, and resistance settings on your machine in real-time during the workout. That means your NordicTrack treadmill can change incline settings without the need to touch your console.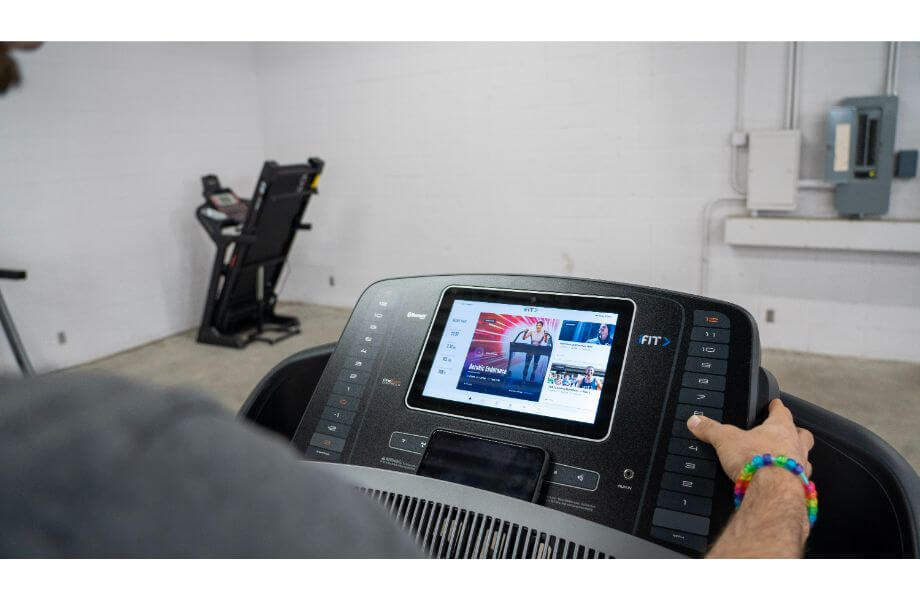 Bowflex: JRNY
Much like iFIT, the JRNY app has a wide variety of on-demand classes you can choose from including cardio workouts, bodyweight sessions, and strength training.
The one thing that is different about JRNY (and well-received with users) is the ability to stream entertainment like Hulu and Netflix. Although subscriptions for those types of entertainment apps are sold separately, JRNY is designed to integrate these services and overlay your workout metrics over your favorite shows or movies without toggling between programs.
JRNY vs iFIT Comparison Chart
| | | |
| --- | --- | --- |
| | iFIT | JRNY |
| Price per month | $15/mo for individuals, $39/mo for families | $19.99/mo for multiple users |
| Types of workouts | Running, biking, rowing, elliptical workouts, HIIT, bodyweight, dumbbells, yoga, and mindfulness sessions | Running, Biking, elliptical workouts, barre, dumbbells, kettlebells, bodyweight, yoga, and pilates |
| Entertainment streaming | No | Yes: Netflix, Hulu, HBO, Prime Video, and Disney+ |
| Scenic workout options | Google Maps Technology | Explore the World |
Company Policies
Every company has different policies, but it's safe to say you'll want to read the fine print before you decide to purchase, return, or make a warranty claim with any brand. Here is an overview of the policies for both NordicTrack and Bowflex:
Warranty
Warranties not only vary from brand to brand, companies often have different warranty policies on each fitness category and even different breakouts depending on the price of each piece of equipment.
Bowflex has an array of warranty policies ranging from a subpar three-year frame and parts warranty on the Bowflex Max Trainer M9, all the way up to a pretty standard 15-year warranty on the frame and motor of the Bowflex Treadmill 22. Although the warranty policy does get a little confusing, you can purchase additional protection plans through the Bowflex website.
NordicTrack offers 10-year warranties on nearly every piece of equipment it manufactures. Parts and labor warranties vary from one to two years depending on what type of equipment you're buying. Overall, NordicTrack has a pretty straightforward policy. It's worth noting that the best treadmills often cover up to 15 years on the frame and motor, so it's a little disappointing that NordicTrack comes in slightly under the industry standard.
Return Policy
NordicTrack offers a pretty standard 30-day window to make returns on like-new products. You'll be charged a flat rate of $250 for shipping and a 10% processing fee for the return.
Bowflex gives customers up to six weeks to make returns. You will need a return merchandise authorization (RMA) number to process any returns, otherwise the brand will not refund you or return the equipment. To get your RMA number, you'll have to call customer service at 1-8000-605-3369.
Financing Options
NordicTrack provides financing options through TD Bank. If you qualify, you can finance your purchase starting at 0% APR with loan terms between 12 and 48 months.
If you purchase Bowflex equipment, you'll have the chance to apply for a Bowflex credit card. A nice perk to this is that you'll make interest-fee payments for the first 18 months.
Final Thoughts on NordicTrack vs Bowflex
NordicTrack and Bowflex are some of the top names in home fitness. They both have a lot to offer in cardio machines and entry-level strength equipment. Neither brand is particularly budget-conscious but you will have the ability to finance your purchase on either website.
Here are some of the main differences between these two brands:
Not all Bowflex machines come equipped with touchscreens, while all NordicTrack cardio machines do.
NordicTrack has a larger selection of cardio machines and models to choose from.
NordicTrack offers smart home gyms and functional trainers, while Bowflex also offers functional trainers plus an adjustable kettlebell and barbells.
Bowflex ellipticals have vertical stepping patterns, while NordicTrack ellipticals offer a more traditional stride.
FAQs on NordicTrack vs Bowflex
What is the difference between JRNY and iFit?
Although JRNY and iFIT offer similar tainer-led, on-demand classes, there are still differences between the two apps. JRNY is Bowflex's native programming, and iFIT works with NordicTrack machines. 
JRNY can integrate with other apps and entertainment streaming services like Hulu, HBO, and Netflix whereas iFIT cannot. iFIT also offers a wider array of class types, like rowing.
Can you use JRNY on NordicTrack?
You will not be able to use JRNY on a NordicTrack machine. The Android processing system on the NordicTrack built-in touchscreens are designed to run iFIT programming.
What brands are iFIT compatible?
NordicTrack, ProForm, Weider, and Reebok are all compatible with iFIT (and owned by parent company Icon Fitness).
What apps connect to Bowflex?
Some Bowflex machines can connect to third-party apps like Peloton, Zwift, and Rouvy, or you can use Bowflex's workout app, JRNY.