We test and review fitness products based on an independent, multi-point methodology. If you use our links to purchase something, we may earn a commission. Read our disclosures.
The Body Fortress Super Advanced Whey Protein powder's black-and-orange label is a common sight in the supplement aisle of grocery and drug stores. If you don't recognize it right away, it's likely because you're more accustomed to seeing 100 tubs of the whey protein powder stacked up like a small fortress. Maybe that's where the name came from.
You may have kept walking because you were afraid to be that person buying a bucket of gains and a bag of carrots. But were you being hasty in this decision?
Our Body Fortress whey protein review will give you the real scoop on this budget whey protein powder, and let you know if it deserves to be ranked among the best-tasting protein powders.
Medical disclaimer: This article is intended for educational and informational purposes only. It is not intended as a substitute for medical advice. For health advice, contact a licensed healthcare provider. GGR also recommends choosing a product that has been third-party tested for quality.
We Scoop Before We Review
At Garage Gym Reviews, our team of testers are professors of protein. We spend days reading and analyzing labels like fine literature, and then back that scholarship up the old-fashioned way: by scooping, shaking, and slamming after hard training.
Our Body Fortress whey protein powder tester was Kate Meier, a NASM-Certified Personal Trainer and Level 1 CrossFit and USA Weightlifting coach. She's also Garage Gym Reviews' head of content. She's tasted more protein shakes than a small army of gym bros and knows what separates the ones you'll crave from the "plug your nose and chug" duds.
Body Fortress Whey Protein
GGR Score: 4
Product Highlights
Available in 5 flavors

30 g of protein per scoop

Contains vitamins C & D, plus zinc 

Mixes well and reportedly tastes good
Pros & Cons
Pros
High protein content
Mixes well
Added vitamins for immunity
Cons
Sucralose can cause GI problems
Large serving size
Reports of misleading allergen information
Bottom Line
If you do not mind artificial sweeteners or additives in your protein, Body Fortress Super Advanced Whey Protein provides 30 grams of whey protein per 45-gram serving.
A Quick Look at Body Fortress Whey Protein
Body Fortress has been a popular budget protein supplement brand for nearly 20 years, and has built its reputation around big scoops and low prices. In addition to Super Advanced Whey, they also offer a mass gainer, whey protein isolate, plus ready-to-drink protein shakes. While it can theoretically be used for a variety of goals, the in-your-face label design announcing the amount of protein as 60 grams leaves little doubt that this is meant to appeal to the common bodybuilding goal of muscle growth.
Similar to other grocery store staples like Optimum Nutrition Gold Standard Whey, Body Fortress proteins come in "nothing I can't pronounce" basics like Chocolate flavor and Vanilla flavor, plus Strawberry, Cookies n' Cream, and Chocolate Peanut Butter. 
The brand changed its protein formula in 2021, dropping the "Super Recovery Blend" of creatine, l-glutamine, and taurine, and adding an "Immune Support Blend" hitting the recommended daily numbers for vitamins C, D, and zinc. Peruse the 42,000-plus reviews (seriously!) of Body Fortress on Amazon, and you'll find endless debates swearing that the new formula tastes far worse, far better, and exactly the same.
Before You Buy
The front label says "60 g protein," but that's two servings. A single scoop serving actually contains 30 grams of protein.
If you have wheat, peanut, tree nut, egg, soy, sesame, fish, or shellfish allergies, know that this protein is made in a facility that processes all of those things. Sounds like quite a facility.
Is Body Fortress Whey Protein Worth It?
The protein supplement market is increasingly packed with boutique brands touting unique, high-quality whey protein blends, gourmet flavors, and price points to match. That's not Body Fortress.
This is the protein your parents bring home when you're getting into sports, and/or when they're simply tired of feeding you (please note that this is not actually a meal replacement product; that was a joke). If that describes you, or the ravenous animal you're trying to nourish, then this protein is definitely worth considering.
Great for:
Shameless gains-chasers looking for big per-gram value
Anyone who thinks protein has gotten way too complicated
Lifters and athletes struggling to hit an ambitious daily protein goal
Not recommended for:
Picky shoppers who like to know where things come from
Anyone avoiding milk proteins or artificial sweeteners and flavors
Body Fortress Whey Protein Specs
| | |
| --- | --- |
| Price per serving | $1.66 per scoop (1.74-lb tub), $1.33 per scoop (2-lb. tub) |
| Serving size | 1 scoop |
| Flavors | Chocolate, Vanilla, Strawberry, Cookies n' Cream, Chocolate Peanut Butter |
| Calories | 180 per scoop |
| Protein | 30 g |
| Carbs | 7 g |
| Fat | 3 g |
| Third-party tested? | NSF |
Experience Using Body Fortress Whey Protein
It may be Super Advanced, but Body Fortress ain't fancy. So our tester didn't take it in a fancy way; she dumped a scoop in water, shook it, and sent it down the hatch. And she was pleasantly surprised at how this popular protein handled that simple challenge.
Price Per Serving
Whether Body Fortress is really a "deal" or not depends on how you use it. At $1.33 per 30-gram scoop, it undercuts all but one of the proteins on our list of best protein powders. That said, if you double up and make this a 60-gram serving like the front of the label promises, your per-shake cost goes up to $3.33, which is more expensive than all of our best proteins.
Yes, that's quite a few grams of protein per shake. But at that rate, you'll also only get nine protein shakes from a 1.74-pound bottle.
Formulation
Judged by macros and calories, this is a pretty light, clean protein.
The first ingredient is a blend of whey protein concentrate and whey protein isolate. The 30-gram serving size is right in the middle of the 20 to 40-gram sweet spot that the International Society of Sports Nutrition recommended for post-workout protein consumption in its Position Stand on Nutrient Timing1. This puts it slightly above other popular proteins, like Legion Whey, which sits at 22 to 24 grams per scoop. 
But what about that 60-gram double serving, which is more in line with weight gain powders like Transparent Labs Mass Gainer than other proteins? Is that really a benefit?
A 2018 study in the Journal of the International Society of Sports Nutrition2 recommended a maximum protein amount of 0.55 grams per kilogram of body weight per meal. That adds up to just 37 grams for a 150-pound person, 50 grams for 200 pounds, or 62 grams for 250 pounds of body weight. 
The takeaway: If you're taking this protein to gain weight, you're likely better off having two shakes a few hours apart. This is probably not the best protein powder for weight loss, though.
Taste and Solubility
Our tester, Kate Meier, noticed the bold 60-gram claim on the front of her Body Fortress whey, but quickly realized that was only one of the ways to dose this protein. But of course, she made sure to try it at both single and double potency. 
"I was expecting something crazy given the claim that there's 60 grams of protein, but that's only if you use two scoops," she said. "I got the Chocolate flavor and I tried it with one scoop and 16 ounces of water, and it tastes surprisingly good—creamy, not overly protein-y, and very chocolatey. With two scoops, the flavor is richer and the shake is thicker. Not a bad deal! Mixes great in a shaker bottle with just water alone. No chunks or other issues."
Side Effects
A common concern among lifters following high-protein diets are so-called "protein farts." There's no research backing up the idea that protein in and of itself will make you extra gassy, however a number of studies, including one in the journal Nutrients from 20153 have found that lactose can contribute to gas in lactose-intolerant adults.
And a study on lactose tolerance in The Lancet4, also from 2015, concluded that 38 percent of people in the United States and 68 percent globally struggle to digest lactose. If you're in that majority, you're likely better off with a protein supplement that contains less lactose than Body Fortress whey protein powder, or possibly one that contains probiotics or digestive enzymes to help you better digest the protein content. 
Third-Party Testing
Body Fortress Protein is NSF-certified for sport. This indicates that the manufacturer met specific standards of production safety, and that the protein has been tested to contain exactly what's on the label and is free of banned substances.
Comparison to Muscle Milk Genuine Protein Powder
Muscle Milk Protein Powder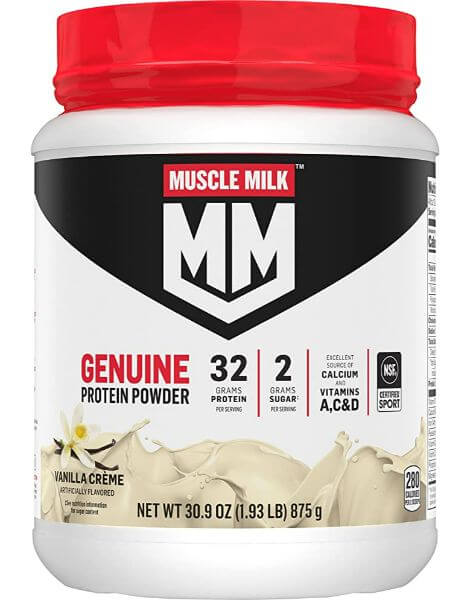 GGR Score: 3.8
Product Highlights
Delivering 32 g of protein, this shake is great following your workout

Slow-releasing proteins help build muscle

NSF-screened for 270 banned substances

Provides all 9 essential amino acids
Pros & Cons
Pros
NSF-certified for sport
High-protein content per serving
Lots of highly-rated flavor options
Cons
Higher in calories than other options
Relatively expensive
Contains sucralose and artificial flavors
Bottom Line
High in calories and protein, Muscle Milk Genuine Protein Powder isn't the best option for those looking for a snack, but it is a great choice for a post-workout drink to help your recovery.
Muscle Milk is another popular protein that offers around 30 grams of protein per scoop at a price point similar to Body Fortress—and even in most of the same flavors. But there are a few key differences between these two grocery store stalwarts.
The major difference: Muscle Milk (as the name implies) comes from milk protein, whereas Body Fortress is a pure whey protein powder. This makes Body Fortress lower in calories, carbs, and fats.
It also changes how you digest the protein. Milk protein contains both whey and casein protein, usually in a 20/80 split. These two proteins digest at different rates: whey faster and casein slower. To be clear, neither is better than the other. Whey will break down and reach your muscles sooner, whereas casein will elevate protein muscle synthesis for longer. This is why researchers publishing a study in 2019 in the journal Frontiers in Nutrition5 recommended having casein before bed to enhance the muscle-growth response to resistance training. 
If you're looking for a lean-and-mean pure whey protein shake to kick-start recovery, Body Fortress is the clear winner. On the other hand, if you're specifically looking for a pre-bedtime shake, Muscle Milk or another casein-containing shake might be a better choice. Learn all the details in our full Muscle Milk review.
Customer Experience
Body Fortress is only available through third-party retailers, not through the company's website. So your best bet if you have an issue is to return it where you bought it.
However, the Body Fortress website does contain terms of service stating they accept returns "for a limited period of time." The terms don't say how long that period is, however. If your case requires a more specific answer, you can reach the company via their contact page or by calling 800-215-5980 between 8 am and 5 pm EST, Monday through Friday. 
Ordering Body Fortress Whey Protein
Body Fortress whey protein powder is easy to find via online retailers like Amazon and Walmart. If you can't get it in a day or two online, you can likely find it in your local Walmart or CVS. Suffice it to say, this is an easy protein to find.
Customer Reviews
Body Fortress Super Advanced Whey Protein Powder has over 42,000 reviews on Amazon, with an average rating of 4.5. A number of reviewers said in no uncertain terms that they found the new formula to taste worse than the old one, but the overwhelming consensus is that this is a well-mixing, tasty protein at a good price.



Final Verdict of Our Body Fortress Whey Protein Review
If you're aiming for a high protein daily target to power your intense training, Body Fortress is a solid protein supplement option for a variety of athletic and physique goals, but particularly bodybuilding and muscle growth goals.
With 200 calories per serving, 30 grams of protein, 8 grams of carbs, and 4 grams of fat per scoop, it's a protein supplement that's suitable for most people wanting to build muscle or who have weight loss goals.
This is a dairy-based shake, so it's not for people wanting a vegan protein powder or those who are lactose-intolerant.
Because Body Fortress is NSF Certified for Sport, competitive athletes can slam a shake without having to worry about what's in it.
Body Fortress Whey Protein Rating
Body Fortress Whey Protein
Is this "super advanced" protein the secret to building muscle? Our Body Fortress Whey Protein review holds the answer.
Product Currency: $
Product Price: 21.83
Product In-Stock: InStock
Body Fortress Whey Protein FAQs
Is Body Fortress a good brand for protein?
Body Fortress has high ratings and tens of thousands of positive customer reviews. This straightforward protein has plenty of diehard fans, and is NSF third-party verified for safety and label accuracy. 
Does Body Fortress Whey Protein help you gain weight?
If you're eating adequate overall calories and training hard, Body Fortress can definitely help you make your body into more of a fortress. You could do the 60-gram double-scoop method, but two 30-gram scoops per day is more than adequate for all but the most desperate hardgainers. That said, this is not a mass gainer or meal replacement product, so while it's high protein, it doesn't have enough carbohydrates and fat to be a true mass gainer.
Does Body Fortress Whey Protein have creatine in it?
No, Body Fortress whey protein powder doesn't contain creatine. The pre-2021 version of Body Fortress Super Advanced Whey Protein Powder contained a "Super Recovery Blend" of creatine, l-glutamine, and taurine. The new formula kicked out that trio of amino acids and replaced them with an "Immune Support Blend" of vitamins C, D, and zinc
Is Body Fortress really 60 grams of protein?
If you take two scoops of Body Fortress whey protein powder, you'll get 60 grams of protein. However, at that size you'll only get nine shakes from a standard 1.75-pound jug. So expect to go shopping more often.
These statements have not been evaluated by the Food and Drug Administration. This product is not intended to diagnose, treat, cure, or prevent any diseases.
References
1. Kerksick CM, Arent S, Schoenfeld BJ, et al. International society of sports nutrition position stand: nutrient timing. J Int Soc Sports Nutr. 2017;14:33. Published 2017 Aug 29. doi:10.1186/s12970-017-0189-4\
2. Snijders T, Trommelen J, Kouw IWK, Holwerda AM, Verdijk LB, van Loon LJC. The Impact of Pre-sleep Protein Ingestion on the Skeletal Muscle Adaptive Response to Exercise in Humans: An Update. Front Nutr. 2019;6:17. Published 2019 Mar 6. doi:10.3389/fnut.2019.00017
3. Deng Y, Misselwitz B, Dai N, Fox M. Lactose Intolerance in Adults: Biological Mechanism and Dietary Management. Nutrients. 2015;7(9):8020-8035. Published 2015 Sep 18. doi:10.3390/nu7095380
4. Storhaug CL, Fosse SK, Fadnes LT. Country, regional, and global estimates for lactose malabsorption in adults: a systematic review and meta-analysis. Lancet Gastroenterol Hepatol. 2017;2(10):738-746. doi:10.1016/S2468-1253(17)30154-1
5. Snijders Tim, Trommelen Jorn, Kouw Imre W. K., Holwerda Andrew M., Verdijk Lex B., van Loon Luc J. C. The Impact of Pre-sleep Protein Ingestion on the Skeletal Muscle Adaptive Response to Exercise in Humans: An Update. Frontiers in Nutrition. 2019; 17. doi:10.3389/fnut.2019.00017