We test and review fitness products based on an independent, multi-point methodology. If you use our links to purchase something, we may earn a commission. Read our disclosures.
Sole Fitness and Horizon Fitness are two powerful, though often overlooked, players in the treadmill industry. They both have models that make "best treadmill" lists, and they both carry entry-level treadmills up to models designed for daily long-distance training.
We dove into everything from tech upgrades and horsepower to return policies and warranties to see how Sole vs Horizon treadmills match up. Our research, and some in-person testing with a few models, reveal one brand edges out the other on durability, while the other brand takes the lead in versatility. We also have tips on the kind of user who might prefer one brand over the other. Keep reading to see if a Sole or Horizon treadmill will complement your fitness goals, workout preferences, and home gym.
Comparison Chart: Sole vs Horizon Treadmill
| | | |
| --- | --- | --- |
| | Sole Treadmills | Horizon Treadmills |
| Treadmill models | F63, F65, F80, F85, ST90, TT8 | T101, T202, T303, 7.0 AT, 7.4 AT, 7.8 AT |
| Price range | $1,799-$4,999 | $999-$2,699 |
| Maximum weight capacity range | 325-400 lbs | 300-375 lbs |
| Motor power range | 3.0 HP DC-4.0 HP DC, 2 HP AC | 2.5 HP DC-4.0 HP DC |
| Folding treadmills | Yes (Some) | Yes (All) |
| Interactive programming | No | No |
| Technology offered | Bluetooth connectivity (with third-party app syncing on some models), screencasting (one model), Bluetooth speakers, touchscreen (some models) | Bluetooth connectivity (with third-party app syncing on some models), Bluetooth speakers, RapidSync motor (some models), 3-zone variable response cushioning |
| Warranty | Lifetime warranties on frame and motor for all treadmills except the ST90, varying warranties from lifetime to 1-year labor, deck and electronics | Lifetime warranties on all treadmill frames and motors, 1-5 years on parts and labor |
| Running surface range | 20-22″ x 60″ | 20-22″ x 55-60″ |
| Additional cardio machines offered | Treadmills, ellipticals, stationary bikes, climbers, rowers | Treadmills, ellipticals, stationary bikes, rowers |
| Incline range | 15 incline levels, 6 decline levels (TT8) | 10%-15% |
Quick Look: Sole vs Horizon Treadmills
Sole and Horizon have both built reputations for the quality of their treadmills. However, each is known for slightly different strengths, which can determine the brand that's a better fit for you. Taking the time to explore the brand's technology, preset programs, build quality, and warranty can be an indication of whether the brand's strengths complement your workout style, training goals, and home gym space.
For example, long-distance runners will require a 3.5 to 4.0 HP motor. However, if they have to store the treadmill in a bedroom, a brand that offers folding treadmills can work best. And carefully check the warranty. Sole and Horizon offer excellent warranties on most of their models, but there are a few differences, especially when it comes to the parts and labor warranties.
Who Should Buy a Sole Treadmill
Those who want an excellent warranty and durability
Those who don't want or need third-party apps
Those without a strong WiFi connection
Large, taller users
Who Should Buy a Horizon Treadmill
Those who want to sync with a third-party app
Those who like to watch streaming services while they run/walk
Those who do interval and high-intensity interval training (HIIT)
Those who use fitness apps to track metrics
Those who want an excellent warranty
Key Similarities Between Sole and Horizon Treadmills
Lifetime warranties on the frame and motor of most treadmills (Sole ST90 is the only model without a lifetime warranty)
No integrated programming with automatic speed and incline adjustment
Some models can sync with third-party apps (Sole T85, Horizon AT treadmills)
Important Differences Between Sole and Horizon Treadmills
Horizon Studio Series treadmills can integrate with third-party fitness apps, such as Peloton, Zwift, and Apple Fitness+
Horizon treadmills have quick response speed control dials
Horizon's Studio series treadmills have a built-in interval training system
Horizon uses a three-zone cushioning system
Some sole treadmills come with a lifetime warranty on the deck
Sole treadmills primarily rely on built-in workout programs
Sole treadmills have large rollers for smoother operation
All Horizon treadmills fold
Only some Sole treadmills fold
Technological Comparison
Horizon and Sole focus more on construction quality over tech. However, where and how they apply tech differs. Horizon's Go Series treadmills, the T101, T202, and T303, have LCD screens, while the Studio Series have color screens. Neither brand has integrated programming with automatic speed and incline adjustment, like the Peloton Tread+ or several NordicTrack treadmills. However, that also means neither of them requires a monthly subscription to access built-in programming.
The Horizon Studio Series syncs with a long list of third-party apps using Bluetooth. For example, if you have a Peloton digital app subscription, you can sync a tablet with a compatible Horizon treadmill and listen to the workout through the treadmill's built-in Bluetooth speakers. You can also sync metrics with the Peloton app and other third-party fitness apps to track your metrics in the app and on the treadmill.
Horizon also incorporates RapidSync motors and QuickDial controls for speed and incline control so you can manually follow the best personal training apps. The design is a versatile and cost-effective approach to expanding the treadmill's built-in workouts.
Sole has three models with touchscreens, the F85, ST90, and TT8. The T85 can sync with some third-party apps but not as many as Horizon models. The T85's console is preloaded with seven third-party apps to watch streaming services like YouTube and Netflix. The T85 also has a touchscreen to navigate the preloaded apps and workouts.
The ST90, the only slat belt treadmill in Sole's lineup, has screencasting on the 10.1-inch touchscreen so you can watch workouts and sync audio from a second device. The Sole F63, Sole F65, and Sole F80 treadmill have LCD screens of varying sizes with tablet shelves so you can watch programming on a second device. However, workouts aren't not directly integrated into the treadmill, so no automatic speed or incline adjustments. 
RELATED: Sole F63 vs Horizon 7.0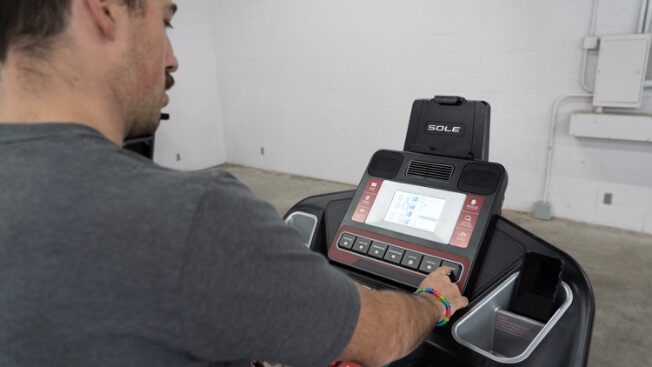 Sole doesn't have anything to match Horizon's RapidSync motors or QuickDial controls. Some Sole treadmills have speed and incline controls on the handles of the machines in addition to the console, but that's it. Consequently, speed and interval workouts are more difficult and less effective on a Sole treadmill.
Construction Differences
Sole treadmills have large rear rollers, with some measuring up to 2.7 inches. Those large rollers help the belt move smoother, especially when they're coupled with Sole's 3.0 HP to 4.0 CHP motors. Powerful motors like that can handle long-distance training versus Horizon's focus on quick speed and incline changes, which are better for interval workouts. Sole also has one model, the ST90, with a commercial grade 2.0 HP AC motor. It might be lower horsepower, but AC motors are more powerful than DC motors and can handle heavy use.
Sole treadmills have higher weight capacities than Horizon treadmills, though there's some overlap. However, Sole's more powerful motors and higher user weight capacities make them a better option for larger, taller users.
Horizon uses a three-zone variable response cushioning system in many of their treadmills. This system provides more cushioning in the landing area of the gait and firmer cushioning at the toe-off, creating decks that cater to runners more than the standard cushioning found on Sole treadmills.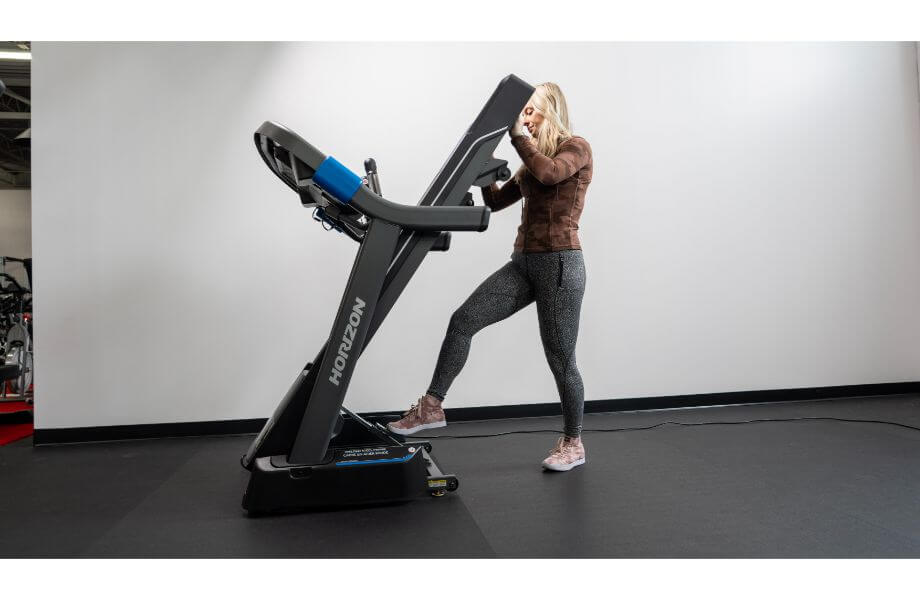 Built-In Programming and Streaming
Sole treadmills come with a varying number of built-in workouts that may include hills, intervals, fitness tests, and heart-rate-controlled programs. The more expensive models have more built-in programs and may come with a chest strap to better control some of the heart-rate-based programs.
Sole has a few models that can sync with third-party apps (the T85 and ST90) to sync metrics and connect audio to Bluetooth speakers. The ST90 can also screencast, which allows you to cast the screen from your device to the treadmill's built-in touchscreen. The programming isn't fully integrated with trainer-led speed and incline changes, but you can watch and hear the video and audio through the treadmill's console. All models have tablet holders so you can watch programming or streaming services on a second device. A few models also have built-in USB ports.
Horizon also loads its treadmills with built-in programs, but, in general, fewer than Sole. However, it does offer a few programs that are unique to Horizon. These programs include models with built-in 5K training programs and a Sprint 8 program, an interval training program only offered on select Horizon treadmills.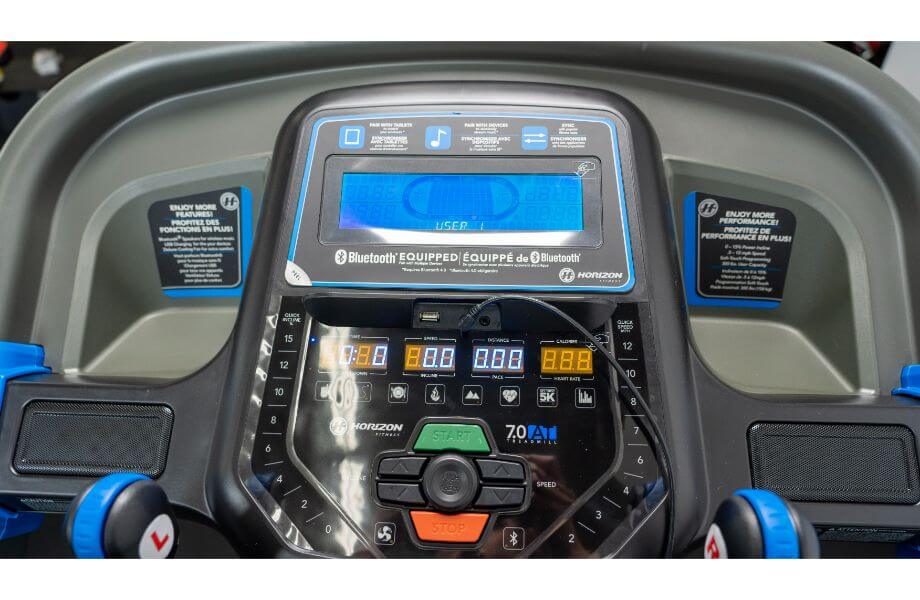 Both Sole and Horizon skip integrated programming, like that found on the Peloton Tread+ and many NordicTrack treadmills. Horizon takes an "if you can't beat them, join them" approach with Horizon's three Studio Series treadmills, the 7.0 AT, 7.4 AT, and the 7.8 AT.
These treadmills can sync (though not fully integrate) with a long list of third-party apps, including Peloton, Zwift, and Nike Run Club, and they come with a chest strap for heart-rate-controlled programming. (Horizon has a list of compatible apps and how compatible they are on its website.) You can also sync with and play audio from popular streaming apps like Netflix and Hulu. You need a subscription to access the apps, but you don't need one to access onboard programming or to control the treadmill. You still have to watch the workouts on a separate device placed on the built-in media shelf. Some models have built-in USB ports to keep devices charged, too.
Customer Reviews
Horizon's customers appreciate that there's no need for an app if you don't want one. Quality and quiet operation are among the most repeated positive reviews.
A reviewer on HorizonFitness.com said, "Overall, I'm happy with this treadmill. It fits nicely in my home and it is quiet! I have already moved it in and out of the room once and it folded relatively easily. I like the speakers on the treadmill, makes my workout more enjoyable. The incline is quick to respond and smooth…"
Another HorizonFitness.com reviewer said, "Had high expectations for this treadmill after reading a lot of reviews and research before purchasing—and we are certainly not disappointed! Treadmill works great, was not hard to assemble and seems extremely durable. The programs are easy to figure out and challenging as well. Can not recommend highly enough!"
However, not everyone loves Horizon. A few people have issues with bumping the QuickDials while running. And there are consistent reviews on HorizonFitness.com that the heart rate monitor sensors, located on handles under the console, are inaccurate.
Sole's customers appreciate the build quality, but assembly seems to be an issue for most of Sole's treadmills. For example, one reviewer on SoleTreadmills.com said, "The assembly instructions were very sparse. We had the assembly half ways done and had to take it back apart due to the wrong orientation of parts. There is nothing other than 'slide it on.' There is a diagram but it is of no help. There is an electrical whine that won't go away but other than that it's great."
Another said of the T85, "I've been using this treadmill for about a month and it seems solid and had nice functionality in terms of app on the screen so you can watch Netflix or other stuff while you run. Good selection of programs to choose from. What I especially like is that unlike with NordicTrack or Peloton, they don't push a subscription on you and you don't need one to get good running programs on the machine."
Company Policies
Horizon has a 30-day return policy, where you get your money back minus the cost of shipping and assembly. Warranties vary by model, but they all include a lifetime warranty on the frame and motor. It's important to note that you can void Horizon's warranty if the treadmill is not used in a temperature-controlled space, which means no garages. Financing is available in 6-, 12-, 18-, and 24-month payment plans, with payment amounts varying based on credit score and history.
Sole offers a lifetime frame and motor warranty on all models, except for the ST90, which has a five-year frame and motor warranty. Select models also have a lifetime warranty on the deck. Parts and labor warranties vary by model but range from one to five years. Sole has a 30-day return period. If you do make a return, the original cost of shipping and assembly will be subtracted from the return amount. Financing is available, but the monthly rate will depend on your credit history and score.
Final Thoughts on Sole vs Horizon Treadmills
Many a home gym would be complete with a Sole or Horizon treadmill. The question is what's most important in your home treadmill? Sole's models tend to have better motors and more durable builds, though Horizon's aren't too far behind. Horizon's Studio Series treadmills provide versatile workout options, thanks to the ability to sync with numerous third-party apps. Overall, Sole's treadmills tend to cost more than Horizon's, though they have similar warranty lengths.
It's all about which is more important to you. If you need lots of workouts to stay engaged with your fitness, a Horizon machine with app syncing might be a better option. If you want a stronger motor with durability and you don't want to connect to a third-party app, Sole is the way to go. Either is a good choice as long as the treadmill fits your budget and home gym.
FAQs: Sole vs Horizon Treadmill
Is Horizon or Sole a better treadmill?
Which is better for you depends on what you're looking for in a treadmill. Sole treadmills typically have a heavier, more durable build, though Horizon and Sole treadmills share lifetime warranties on the frames and motors. However, Horizon's Studio Series has more versatile programming options unless you opt for the more expensive Sole T85 or ST90. 
Is Sole a good brand for a treadmill?
Yes, Sole is a good treadmill brand. Sole models are known for their solid, no-frills designs. Expect a powerful motor and quiet operation with a basic console and built-in workout programs. 
Which is better, NordicTrack or Sole?
Both Sole and NordicTrack are trusted brands, though Sole treadmills are more basic while NordicTrack offers integrated programming and access to thousands of workouts through iFIT. Additionally, iFIT workouts include off-treadmill workouts in many disciplines to expand your home fitness choices. However, you need a good WiFi connection and have to pay a monthly subscription to access that programming. 
Which is better, NordicTrack or Horizon?
NordicTrack generally makes more advanced, higher-quality machines than Horizon. Horizon makes solid treadmills with good warranties, but they lack the large touch screens with integrated programming that are offered through NordicTrack. However, Horizon models are generally more affordable.