We test and review fitness products based on an independent, multi-point methodology. If you use our links to purchase something, we may earn a commission. Read our disclosures.
Founded in 1975, NordicTrack is a well-known presence in the cardio equipment space. Of-the-moment brand Peloton shares an affinity with NordicTrack for creating engaging, interactive programming.​​ Something NordicTrack has over Peloton? A line of ellipticals, all compatible with iFit programming.
In this NordicTrack Commercial 14.9 review, I'll let you know how this piece stacks up to the competition and if I think it is worth the almost $2,000 price tag. I started Garage Gym Reviews to give people an unbiased look at the gym equipment on the market, and this review is no different. You can trust that I'll always give my honest opinion.
Why You Should Trust Us
I've tested quite a few ellipticals in my day, from budget friendly options like the Sunny Health & Fitness Magnetic Elliptical Machine to hybrids such as the ProForm Hybrid Trainer, I know what it takes to make the cut. Heck, I've even written an entire roundup with the best elliptical machines for your home gym! Rest assured, I'll give you all the important information you need to decide the best option for you.
NordicTrack Commercial 14.9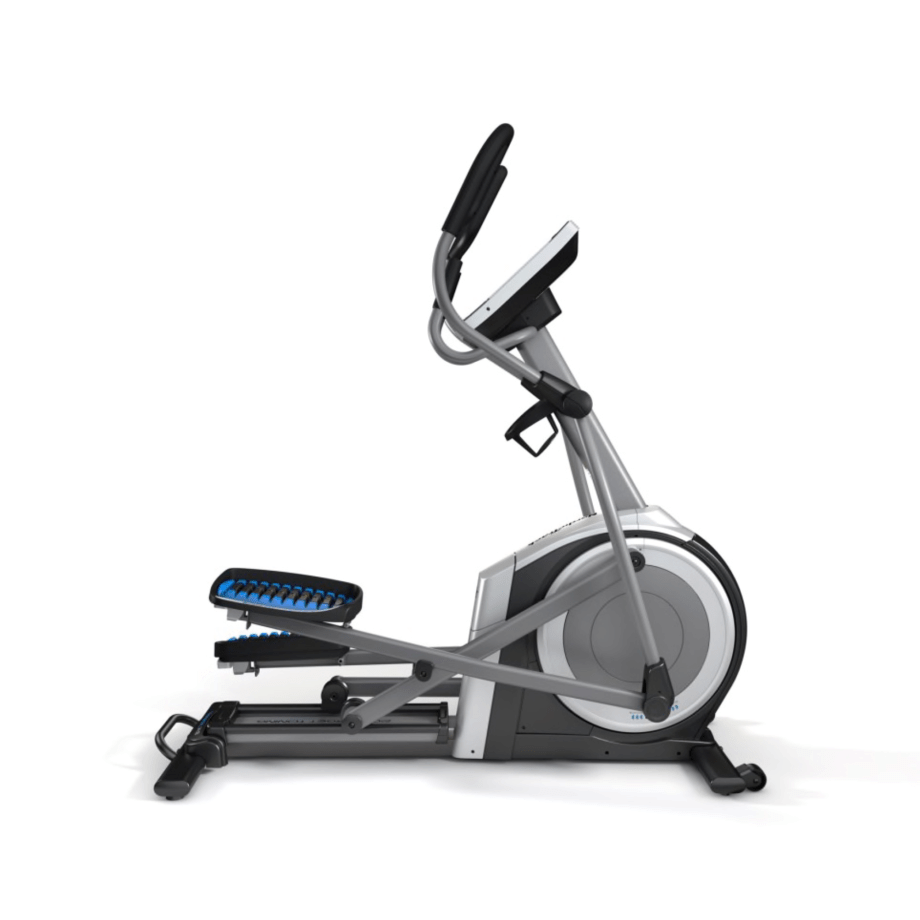 Nordictrack Commercial 14.9
A growing library of on-demand workouts feature LIVE Interactions where our world-class trainers auto-adjust your elliptical's incline and resistance. Follow your elite trainer through terrain-matching workouts as they auto-adjust the incline between 0 and 20 degrees and 26 digital resistance levels. Using the adjustable ramp and pedals, you can customize your stride length to target specific muscle groups and change up your training.
A Quick Look at the NordicTrack Commercial 14.9
Within the NordicTrack brand, there are six ellipticals for purchase – the SpaceSaver SE7i, SpaceSaver SE9i, Commercial 9.9, Commercial 14.9, FS10i, and the FS14i. These range in price from about $1,300 to almost $3,300, depending on the features of each. Commercial 14.9 is in the middle of the six and is right at the $2,000 mark.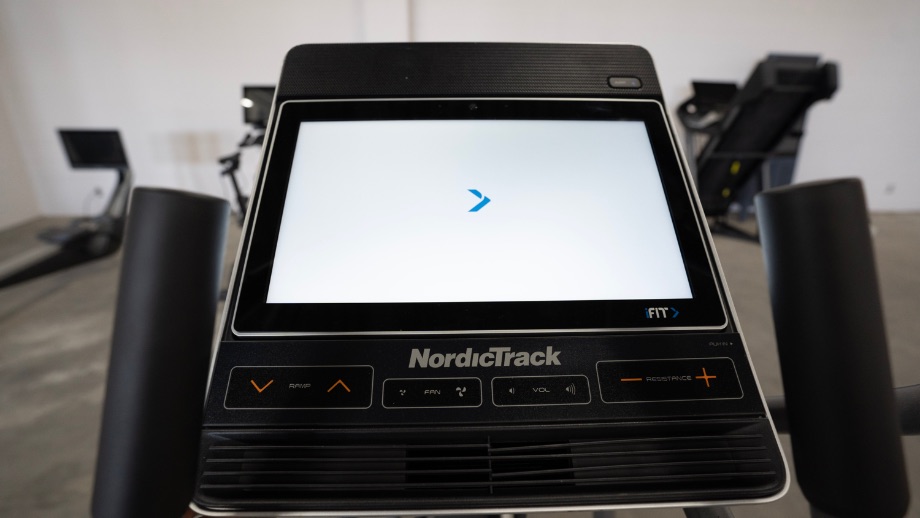 Coop's Tips
Grab a friend, your mom, or a professional to help you assemble this bad boy. It's a doozy.
You'll need a wrench, which isn't included in the box, to help you assemble the 14.9.
Check out the Google Maps feature on the elliptical; you'll be able to see real street views on your routes if you want to pretend you're running outside.
My Favorite Things:
Very customizable with options to adjust the pedals, resistance, and incline
Free 1-Year iFit Family Membership included with purchase
Smart 14" HD touchscreen with quality visuals
Solid steel construction
My Callouts:
Assembly is a challenge
Don't put this in your garage – NordicTrack will void your warranty if you do.
On the more expensive end for an elliptical at $1,800
10-year frame warranty is subpar for the price
Should You Buy This Eliptical?
The NordicTrack Commercial 14.9 is an elliptical that quite a few people will enjoy using. However, (like pretty much anything in life) it isn't for everyone. Here's my take on who the 14.9 is best for and who should choose something else.
Great for:
People who love using interactive programming while working on their fitness goals
Individuals who want the ability to make lots of adjustments
People that like the feeling of working out with a personal trainer
Not recommended for:
Individuals who don't want or need the latest technology
People who are looking for budget home gym equipment only
Those who are tight on space and need a compact elliptical (like the Bowflex M6)
Using the NordicTrack Commercial 14.9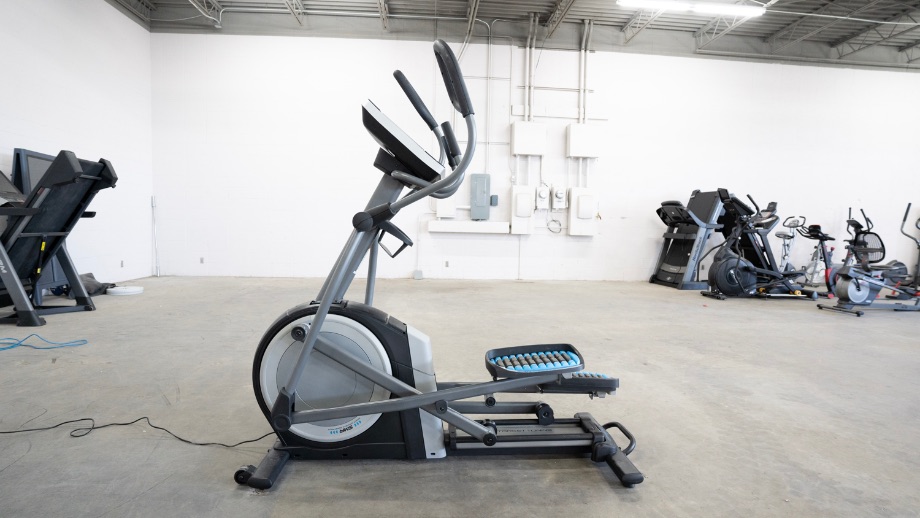 I'm not going to lie – I was pretty pumped to give the 14.9 a try. I'm a sucker for quality interactive programming and wanted to see if this elliptical could be a good low-impact cardio option that was fun for my wife or me to use. I think it passed the test.
Not only does the 32-pound flywheel give this elliptical impressive power, but it also has silent magnetic resistance to make this a quiet piece of equipment. I think it could be a good choice for those who like to work out in the morning and don't want to wake up others in the house. This makes it a great option for my family since I have quite a few little ones that you wouldn't want to wake up. Bears in hibernation kinda vibe if they are distubed too early. Parents know what I mean.
I love the 26 digital resistance level options because whatever iFit class you're taking can control this for you. You're also able to adjust the levels if you choose manually, but this is an awesome option to really challenge yourself. On this elliptical, you can also adjust your incline all the way up to 20%.
As long as the 14.9 is placed on solid ground, I had no issues with it shaking or moving. The maximum user weight capacity is 350 pounds, which is slightly above the industry standard of 300.
I did find myself wishing for a phone, ipod, or tablet holder on the 14.9. Although there is a built-in screen, I usually bring my phone on cardio equipment and felt like I had nowhere to put it.
RELATED: Best Smart Home Gym Equipment
The pads where you put your feet are surprisingly cushioned. I also like that you have the ability to adjust the stride length depending on your height and personal preference between 17.5″-18.7″.
Workout Programming
One of the main draws for the NordicTrack Commercial 14.9 is interactive programming. With your purchase of the 14.9, you get a free year of iFit. However, be aware that you must put in your credit card to activate the free trial. If you don't want to be charged once the year ends, make sure to cancel in advance or it will automatically charge you. If you decide you want to continue with iFit membership, there are three options:
Family plan (with multiple profiles) for $396 per year
Monthly family plan for $39 each month
Individual plan (with one profile) for $180 per year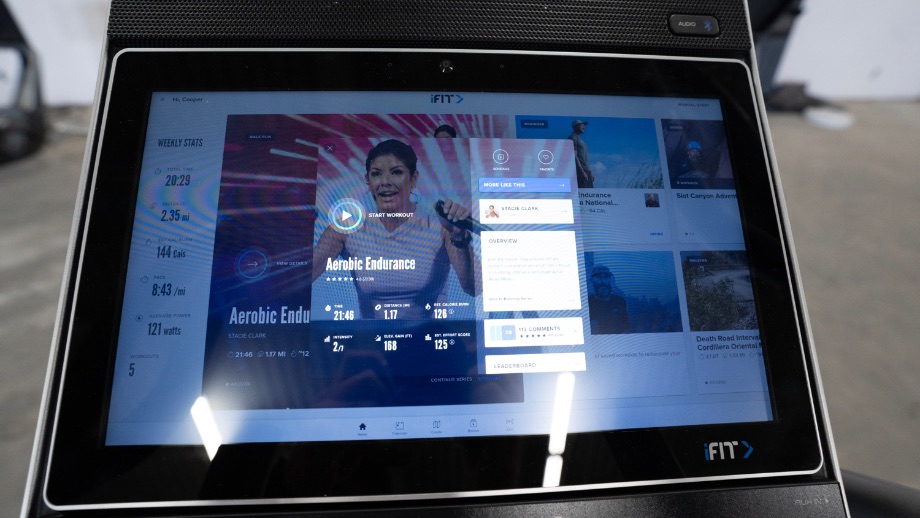 iFit Training
iFit is interactive programming compatible with the 14.9. It is also available on other NordicTrack, ProForm, Free Motion, and Matrix machines. Not only can you follow along to classes on the elliptical with an instructor in a room, but you can also utilize the Google Maps feature to take your workout on the road (virtually of course), or around the world at pre-selected destinations.
With iFit, not only do you get classes compatible with your machine, but you also are able to take a variety of other workout programs including functional fitness, cycling, walking, road biking, strength, power, rowing, yoga, HIIT, and so much more. This makes iFit a great all-around deal in my opinion. Throw some adjustable dumbbells in there, turn on a strength workout and you'll have a solid thing going for you!
With the 14.9, you can watch iFit videos on your elliptical screen or download the iFit app and take it on the go. There are thousands of classes to choose from with new ones appearing every day. You can view them on-demand at any time, which is helpful if you have a weird schedule. The only thing I feel is missing is the option to join live classes. This is something that Peloton has been doing for a while and it encourages a sense of community that is missing with iFit.
There is an iFit community board where you can comment and encourage friends and other members. It reminded me personally of an early 2000's chat board, but I guess it could work for some people. I think this is an aspect that iFit could definitely improve upon to take this platform to the next level.
Features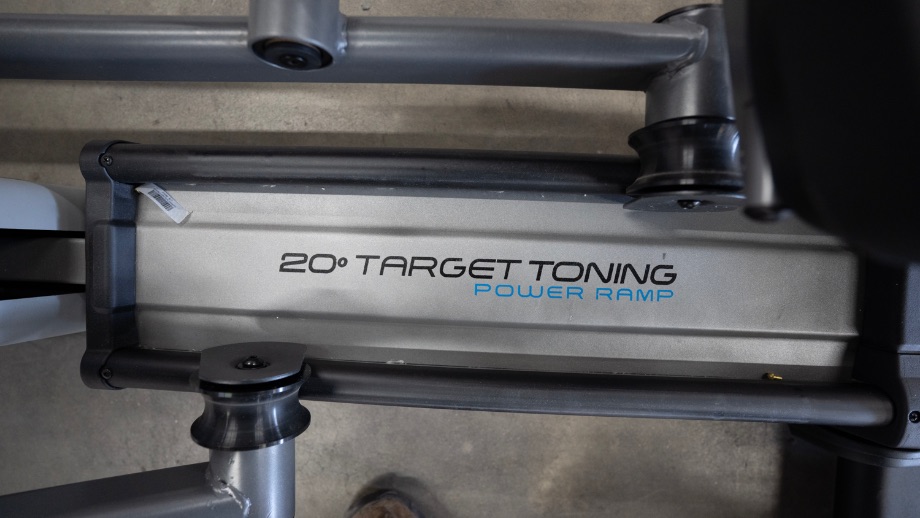 The 14" smart HD touchscreen display shows a variety of workout stats. Across the top of the screen, expect to see the incline, calories burned, time, heart rate, distance, pace, and speed. On the bottom, you can control the ramp incline or decline, fan level, volume, and resistance.
I personally am a big fan of the autobreeze fan (hehe). I'm someone who gets pretty sweaty when working out, and it is a nice bonus feature to have if you're really going hard.
Here are some other extras you can expect to see on the 14.9:
Water bottle holder
Two speakers
Bluetooth connectivity capabilities
Cushioned pedals
Customizable stride length
Dual handlebar options
Footprint, Portability, and Durability
This elliptical doesn't have "commercial" in its name for no reason–the footprint is akin to what you'd find in a regular gym at 67″ L x 29″ W x 69″ H. The space needed to properly use the 14.9 should be taken into account before you purchase it. If you're tight on room but still want a NordicTrack elliptical compatible with iFit, I'd suggest going with either the SpaceSaver SE7i or the SpaceSaver SE9i.
This isn't the lightest elliptical at 210 pounds, but it is moveable because of the attached transport wheels and handle. I was able to move it by myself, but you could always grab an extra person to assist if you feel like you need it.
I was impressed by how durable the 14.9 felt. The commercial solid steel construction feels like it will last for years. As long as the elliptical is on flat ground, I didn't notice any issues with shaking or rattling.
Related: Check out the Horizon 7.0 AE Elliptical review.
NordicTrack Commercial 14.9 Assembly and Order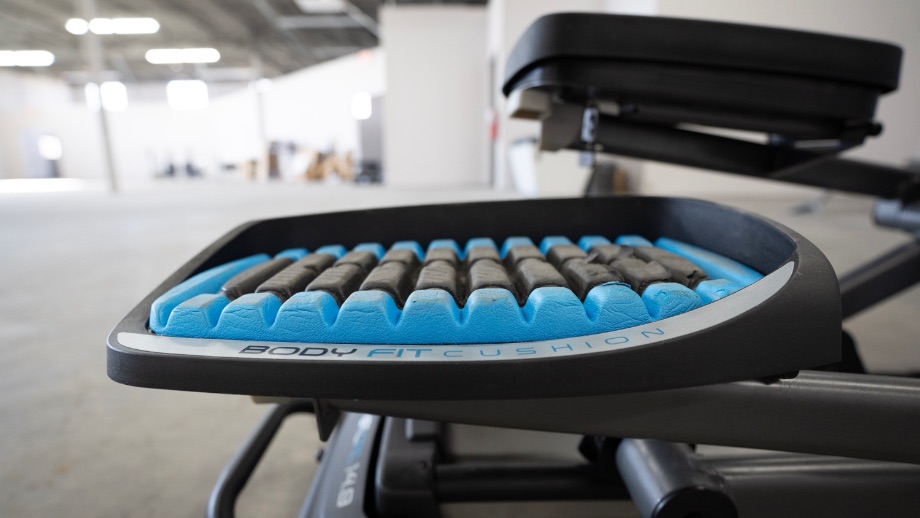 Ordering from the NordicTrack website was a breeze. On top of the cost of the elliptical, you'll also be charged $200 for threshold delivery. That basically means the delivery people will bring the box into a room of your choice, but you'll be responsible for assembly.
If you don't want to pay almost $2,000 all at once, you can finance the 14.9 for $62/per month at 0% for 36 months. I like that this option is in place because it makes an expensive piece of equipment accessible to more people.
Assembly was rough. You definitely need a second person and NordicTrack does tell you that in the instructions, so I'd suggest preparing accordingly. Make sure to read the directions thoroughly before getting started and do not unbox any small parts before you need to use them. You'll save yourself lots of hassle and general irritation.
This assembly took me a few hours so I'd suggest blocking off a good chunk of time to get it done. Be sure to not accidentally throw out the free 1-year of iFit card that comes in the box, it can be easy to miss in all the cardboard and styrofoam.
NordicTrack Commercial 14.9 Specs
| | |
| --- | --- |
| Footprint | 67″ L x 29″ W x 69″ H |
| Weight | 210 lb In Box |
| Weight capacity | 350 lb User Capacity |
| Screen | 14" Smart HD Touchscreen |
| Stride | 17.5″-18.7″ Auto Adjustable Stride |
| Incline | 0% Decline to 20% Incline |
| Resistance | 26 digital resistance levels |
| Flywheel | 32 lb Effective Inertia-Enhanced |
| Warranty | 10-Year Frame Warranty, 2-Year Parts Warranty,1-Year Labor Warranty |
| Type of Resistance | SMR™ Silent Magnetic Resistance |
| Type of Drive | Front drive system |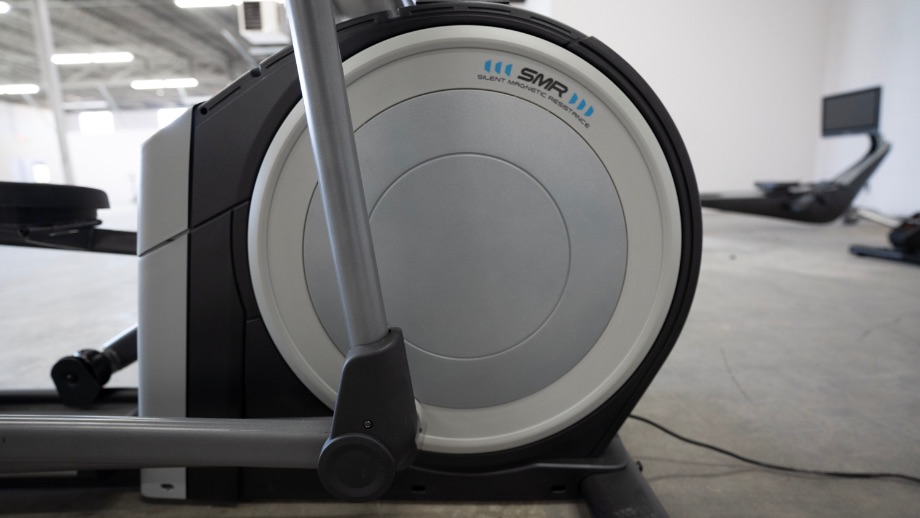 Customer Experience
The return policy for NordicTrack is pretty standard for large pieces of fitness equipment. You have 30 days from your delivery date to request a return and there are no refunds for delivery or shipping charges that have been incurred. You also have to pay an additional $250 in return shipping. NordicTrack has the right to deny your return if there is anything missing or damaged.
I'm honestly not crazy about the warranty for the frame on the 14.9. You get a 10-year warranty, which is below the industry standard of 15 years to lifetime. For an elliptical trainer that costs almost $2,000, I would've expected better. However, the 2 year parts and 1-year labor warranties are in-line with the norm. It is definitely worth noting that you should NOT store or use this in your garage– NordicTrack will not allow you to use your warranty if you do so.
Customer Reviews
Surprisingly, the NordicTrack Commercial 14.9 has a customer score of 3.3 out of 5 on Amazon with over 50 reviews. The issues people seem to be having with this elliptical are generally about customer service. It appears that NordicTrack hasn't been the most prompt to respond to concerns or warranty claims.
The positive reviews talk about how much they love the programming and sturdy construction. There were also comments about enjoying the included heart rate chest strap and how smoothly the elliptical runs.
Final Rating
NordicTrack Commercial 14.9 Elliptical
Overall, this is one of my favorite ellipticals I've tested. The solid construction coupled with the dynamic programming is a win. I think most people would enjoy having this in their home gym, but keep in mind the space needed and overall cost before purchasing.
Product Brand: NordicTrack
Product Currency: $
Product Price: 1999
Product In-Stock: InStock
NordicTrack Commercial 14.9 FAQs
Are NordicTrack ellipticals good?
NordicTrack makes some of the overall best ellipticals for people who like incorporating technology into their workouts. They have six different cross trainer machines that range in price so there are a variety of options based on your budget.
Is there a weight limit for the NordicTrack Commercial 14.9 elliptical?
There is a 350 pound weight limit on the NordicTrack Commercial 14.9 elliptical. It is a sturdy piece of commercial-grade equipment.
What is the stride length for the NordicTrack Commercial 14.9 elliptical?
The stride length for the NordicTrack Commercial is 14.9 is between 17.5″-18.7". This can be adjusted to hit different muscle groups and give you a full body workout.
Does the Nordictrack Commercial 14.9 have a heart rate monitor?
The NordicTrack Commercial 14.9 elliptical boasts many of the same capabilities as the top ellipticals, yet it costs less than $1,800.
How much does the NordicTrack commercial 14.9 weigh?
The NordicTrack commercial 14.9 weighs 210 pounds.