We test and review fitness products based on an independent, multi-point methodology. If you use our links to purchase something, we may earn a commission. Read our disclosures.
As a certified personal trainer, one of the most challenging and rewarding things is designing programs tailored to a client's personal limitations and available fitness equipment. That said, when I see new home fitness machines hitting the market that blend multiple styles of exercise into one machine, I want to know everything about it.
In this LIT Method review, I'm going to give you the details on this three-in-one strength machine that allows you to use it as a rower, pilates reformer, and banded strength trainer. I'll also give you some insight on the LIT Method app and what our product testers have to say about it.
Dozens of Rowers Tested
Our expert product testers at GGR are fitness professionals ranging from certified personal trainers to nutrition coaches. We have ordered, assembled, and tested a variety of rowing machines including air, magnetic, and water rowers.
For the Lit Method Strength Machine, founder of GGR and OG product tester Coop Mitchell and assembly expert and GGR Facilities Manager Sam Presely both tested the water rower and had a lot to say about the experience and the brand itself.
Lit Strength Machine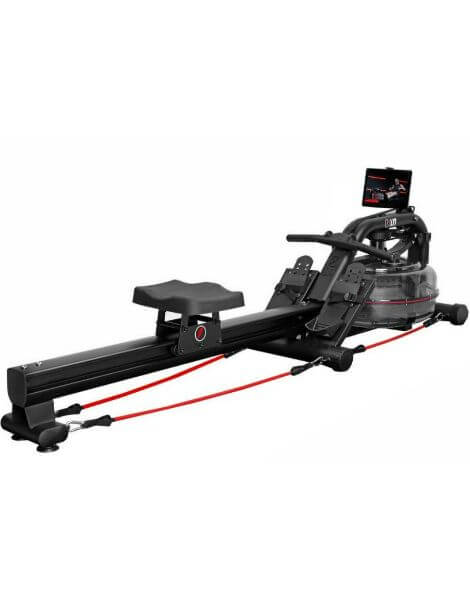 GGR Score: 4.09
Product Highlights
3-in-1 strength machine

Made for all body types

No charging or cords required

Offers the ability to do over 500 low-impact exercises

Adjustable water resistance rower
Pros & Cons
Pros
Great way to keep your fitness routine exciting and fun
The dual tank water drum makes the machine an ideal fit for multiple users
Low-impact exercises make it great for someone recovering from an injury or new to training
Can support users up to 6' 9" and 450 lbs
Cons
Some customers didn't love where the placement was for their phone or iPad
The app might not connect to your other fitness trackers or devices
Could use larger loop points for resistance bands
Bottom Line
Although a little expensive, the Lit Strength Machine is a great option if you're looking for an all-in-one workout machine.
A Quick Look at LIT Method
LIT Method started as a rowing-specific studio gym in Los Angeles founded by married couple Justin and Taylor Norris. As individuals, they both suffered injuries, went through physical therapy and rehabilitation, and still felt frustrated by the pattern of re-injuring after returning to exercise. The couple set out to create an all-in-one, low-impact machine that does not require running, jumping, or weights.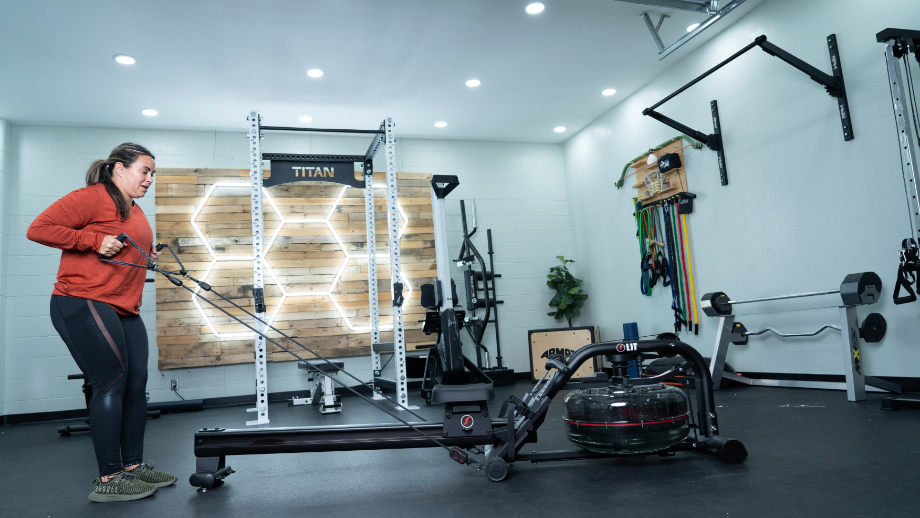 Aside from the fact you can use the LIT Method Strength Machine as a pilates reformer and a banded functional trainer, the rowing machine is actually quite innovative. Standard water rowers have just one level of resistance, but the LIT Method rower has a patent-pending dual chamber that can be adjusted at four different levels of resistance from 10 to 40 pounds.
Before You Buy
You will not need a power outlet for this machine
It's fairly easy to assemble as the frame is mostly intact when it arrives
The machine can be purchased in one of three bundles—the starter bundle comes with standard tube bands while the other two packs have more advanced Bluetooth-enabled resistance bands for tracking metrics
Is the LIT Method Strength Machine Worth It?
Although the LIT Method Strength Machine is a versatile piece of equipment, this is not a piece of equipment that all home gym owners will agree on because it's not your average piece of strength equipment. "It's geared toward folks who either need a strength system in a small space or enjoy being led through workouts," says Sam.
"I think it's a pretty decent value if you are someone who wants and needs classes," says Coop, who also mentions this machine is sturdy and well-built.
Great for:
People looking for low-impact workout options
Anyone who wants to mimic outdoor water rowing
Folks who like interactive classes
People who like the idea of changing the resistance levels on a water rower
Not recommended for:
People who prefer a smooth rowing experience from a chain drive system or magnetic resistance
Individuals who prefer strength training with dumbbells or barbells
Folks who don't want or need interactive programming
LIT Method Specs
| | |
| --- | --- |
| Price range | $1,799-$2,199 |
| Footprint | 84" L x 20.4" W x 19.2" H |
| Weight | 70 lbs assembled, 89 lbs filled with water |
| Weight capacity | 400 lbs |
| User height limit | 6'9" |
| Materials | Steel frame, lightweight aluminum |
| Resistance type | Water |
| Interactive programming | LIT; available on iOS and Android devices |
| Warranty | Lifetime frame, 5-year on water tank and other parts |
Using the LIT Method Strength Machine
Not only is the LIT Method Strength Machine a three-in-one workout experience, the water chamber allows you to manually adjust to four different levels of resistance.
The water tank features dual chambers and a knob to change the resistance to your preferred level. You'll have the option of rowing anywhere from 10 to 40 pounds of resistance. This is unique because most air and water resistance rowers have one set level of resistance to work with. When you use the adjustment knob on the Lit Method Strength Machine, it allows more or less water to flow out of the main chamber, adjusting the overall resistance.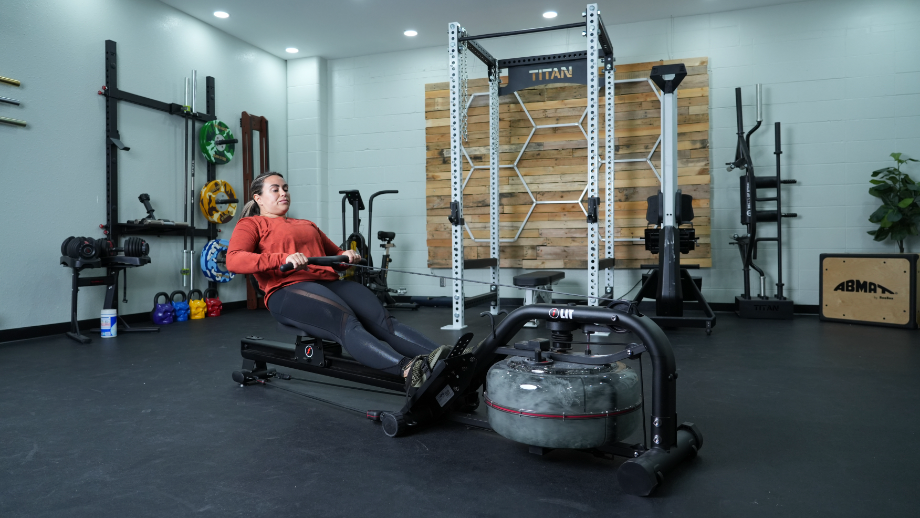 Although it's not a dealbreaker, Sam notes that switching between resistance levels is not an instant change. "You'll have to wait a few seconds for the water to move between the tanks and then it takes a few rows to feel the resistance changes," says Sam. "However, there is a lag with water rowing in general," he adds.
When it comes to the resistance band training aspect of this machine, it certainly adds versatility to a traditional rower but, "they are pretty average tube bands," says Coop. "I like the addition of anchor points on the machine, however, it's not super revolutionary—when the resistance gets too high the machine moves."
I also think it's worth mentioning that Coop confirmed that the resistance bands tuck away under the machine when not in use and do not interfere with the rowing workout experience.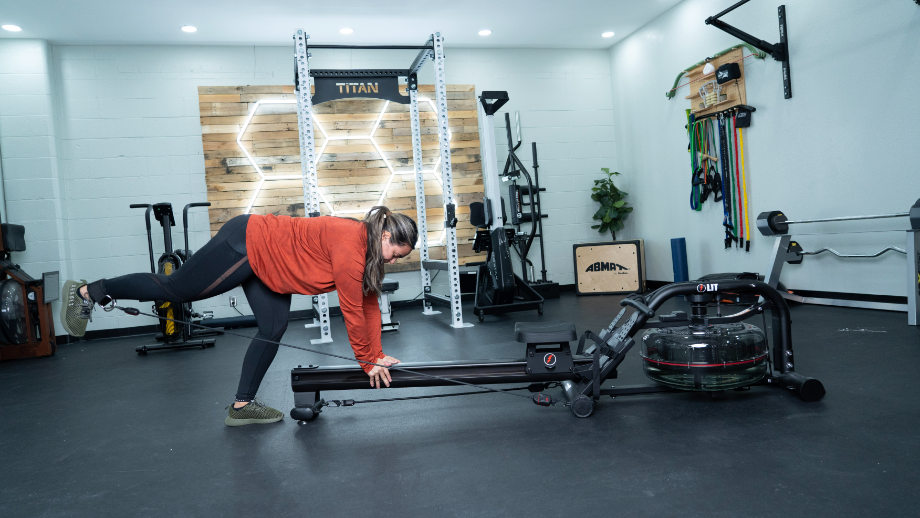 As I mentioned earlier, there are three bundles you can choose from when buying the LIT Method Strength Machine: Starter, Plus, and Pro Pack. Here is quick overview of what you get with the Starter Pack:
LIT Strength Machine
20-lb standard set of resistance bands
2X handles
Tablet attachment
2X ankle cuffs
Free shipping
Free 3-month membership to LIT on-demand
The Plus Pack offers all of the same features from the Starter Pack plus:
LIT AXIS System
Strength Bar
The Pro Pack includes the same Starter Pack components plus the following:
LIT AXIS System
Strength Bar
Heart Rate Sensor
Machine Mat
More About the Lit Axis System
Lit Axis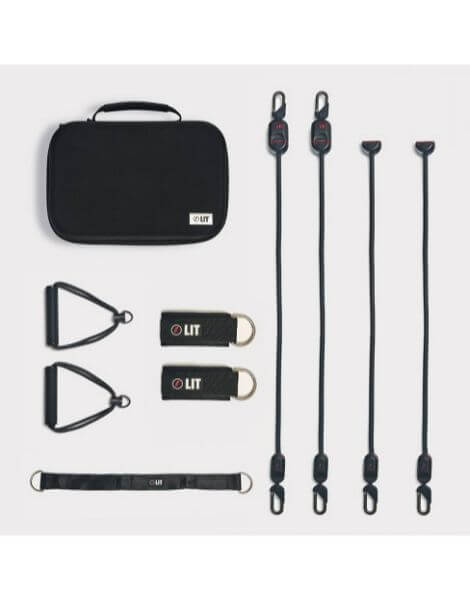 GGR Score: 4
Product Highlights
Compact

Portable

3 color options

Relatively affordable

Can help you perform a variety of movements
Pros & Cons
Pros
Gives you the ability to transform any space into your own gym
Adjust the resistance up to 200 lbs
Universal anchor points make this one of the most versatile pieces of equipment you can own
Has built-in sensors to give you more accurate data on how your body is performing
Cons
Depending on your training goals, you might not get enough resistance compared to some other similar products
In order to get the most from the product, you would need to invest in the premium package
Bottom Line
If you enjoy a portable, simple-to-use piece of gym equipment with some fun technology added in, this would be a great product to try. With its built-in sensors that help detect if you have any muscle imbalances in your movements, the Lit Axis can help you gain fitness and stay healthy.
Lit Axis is a smart resistance band system that you can purchase separately, or as part of the Plus Pack or Pro Pack. It's said to replace a cable system, free weights, suspension trainer, and pilates reformer with 200 pounds of resistance. Using the Lit Axis app, you can train smartly, getting feedback on things like heart rate, reps, force, and even muscle imbalance detection via the sensors in the equipment.
You can use the bands with or without the universal anchor, and the Smart Start feature automatically turns on your Axis when it senses a load applied. And maybe the best part is that no charging is necessary!
LIT Method Footprint and Storage Solutions
The LIT Method rower is seven feet long, nearly two feet wide and under two feet tall. One thing Sam liked about the rower is the fact it's lightweight—it's only 70 pounds out of the box and 89 pounds when the tank is filled with water.
Although the machine will take up a decent amount of space lengthwise, it can be stored in a vertical position when not in use. You also won't need to drain the water from the tank to store in this position, just tip the end opposite the water tank upward and use the transport wheels to store upright against a wall.
LIT Method Durability and Construction
Both Sam and Coop agree that the LIT machine is the first rower they've tested with a dual tank drum. The ability to change resistance on a water rower is versatile and accommodating for beginner rowers, too. You might also like knowing that the tank does not require maintenance other than dropping in a chlorine tablet once per year for clean water, which will be included in the purchase.
The different levels of resistance can also be used for different training techniques like high-intensity intervals or drop sets.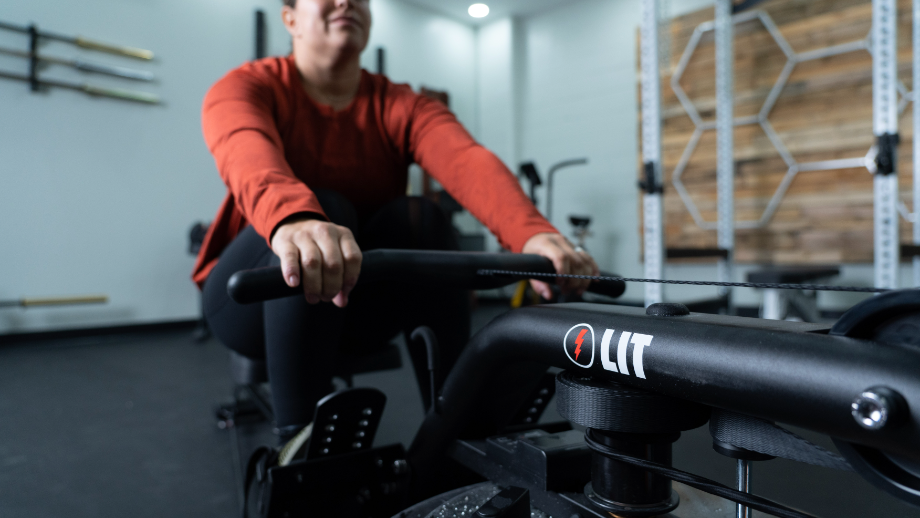 Sam also likes the fact that this machine has a 400-pound user weight limit, which exceeds the 250-pound industry standard we typically see on home rowing machines. "That breaks into a totally different group of people," says Sam. The length of the monorail can also support folks up to 6 feet, 9 inches tall.
The one negative callout that Sam mentions about the construction of the LIT machine is the placement of the tablet holder. He didn't find the placement to be convenient for using the app while seated on the rower. However, he did like the fact that the tablet holder can come off the clamp and be placed nearby while using the resistance bands for squats or rows.
LIT Method Technology Benefits and Conveniences
If you've decided the LIT Method Strength Machine will be an ideal addition to your home gym, it's worth noting that the technology features vary in the Starter Pack and the Plus and Pro Packs. The machine itself is the same, but the bands in the two advanced packs offer real time feedback via Bluetooth.
The Starter Pack comes with standard 20-pound tube bands on the rower machine. With the Plus and Pro Packs, you'll receive a set of LIT AXIS bands that feature sensors with Bluetooth capabilities to monitor metrics like movement, muscle imbalances, and the ability to change the resistance loads via the LIT Method app.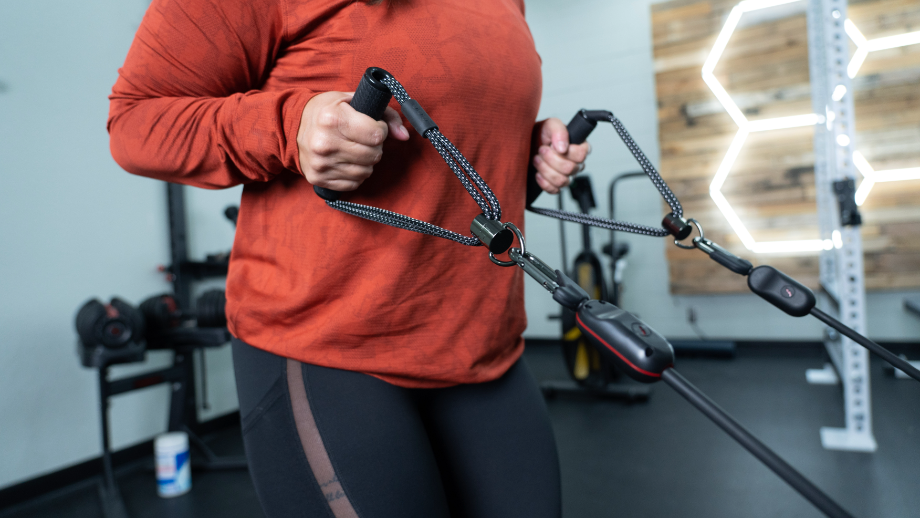 In addition to the AXIS bands having the ability to communicate with the app, you'll also be able to choose from a variety of live and on-demand classes. "The app gives some nice metrics and the studio experience is pretty good, just don't expect Peloton-level quality," says Coop.
You might also appreciate that the LIT Method app membership is optional and you'll even receive a three-month free trial with your purchase of the Starter, Plus, or Pro Pack. The app offers both live classes and on-demand workouts.
"Although it's not quite as developed as apps like Peloton or iFIT, the brand is still in its first version of the app experience and we'll likely see better versions roll out in the future," Sam adds.
Our team of product testers can agree that the inexpensive price point of $9.99 per month and the ability to have five users under one LIT membership is an attractive feature of the app.
Comparison to the Ergatta Rower
LIT Method might not be the only water rower on the market, but it offers much more than rowing for your home workouts. Plus the app adds quite a bit of value for home gym owners looking for classes at an affordable price.
The Ergatta Rower is a popular erg machine with an aesthetically pleasing cherrywood frame. The drawback to this rower is there is only one set level of resistance and the Ergatta app does not feature trainer-led classes like LIT Method. Ergatta offers you the chance to participate in gamified rowing workouts, races, skill-based challenges, and manual rowing sessions.
If you're someone who's looking for trainer-led classes, the LIT Method app will deliver coaching for a fairly low price point.
It's also worth mentioning that Sam prefers the steel frame on the LIT machine versus the wood frame on the Ergatta. He mentions that water will inevitably go in places it's not supposed to when filling up the chamber for the first time or changing the water. He notes that a steel frame will ultimately hold up a little longer than wood against moisture.
| | | |
| --- | --- | --- |
| | LIT Method | Ergatta |
| Price range | $1,799-$2,199 | $2,499 |
| Footprint | 84" L x 20.4" W x 19.2" H | 86" L x 23" W x 40" H |
| Weight capacity | 400 lbs | 500 lbs |
| Materials | Steel frame | Cherry wood frame |
| Interactive programming | LIT Method app | Ergatta app |
| Monthly membership | $9.99 | $29.99 |
Ergatta Rower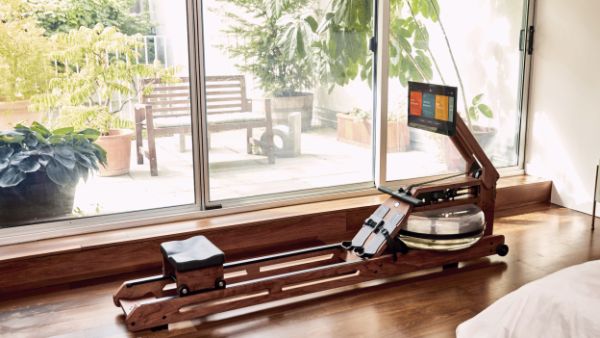 GGR Score: 3.9
Product Highlights
Water resistance rower
Aesthetically pleasing
Crafted from cherry wood
Unique programming
Can be stored vertically
Pros & Cons
Pros
Smooth rowing experience
Lots of useful data
Aesthetic style
Gamified programming
Cons
Water has to be replaced every so often
Resistance cannot be changed
Although the gamification is fantastic, I know many people would love the option of trainer-led workouts.
Bottom Line
This machine is aesthetically-pleasing (which is an often overlooked attribute for equipment that lives in peoples homes) and the programming is interesting and engaging. If you're looking for a water-powered rowing machine and want programming that's different from what's typically offered, you'll be a fan of the Ergatta.
Customer Experience
Firstly, we like the fact that LIT Method offers free shipping on the workout machine (always a plus). Secondly, the brand offers a 30-day return policy if you're not totally satisfied with your rower. That said, you will have to return it in the original packaging and you'll be on the hook for all costs to ship it back.
The lifetime frame warranty exceeds what we normally see on rowing exercise machines of five to 10 years. Additionally, the brand offers a five-year warranty on the polycarbonate tank and seal plus five years on the machine's mechanical components including drive belts, pulleys, hand grips, foot straps, and monorail. The warranty does not cover damage due to neglect, abuse, or incorrect assembly.
Ordering and Assembling LIT Method
If you qualify, LIT Method offers 0% financing options from 6 to 48-month periods. The brand also boasts a no-money-down option, with the ability to make your first payment 30 days after the initial purchase.
The LIT Method website states machines are currently in stock and available to ship the next business day. On arrival, assembly won't take you long at all—Sam says it was a quick and easy process because most of the machine is pre-assembled and only requires a few screws.
Customer Reviews
On Google Reviews, the LIT Strength Machine is rated 4-out-of-5 stars but only features a few reviews. On the LIT Method website, the average rating is 4.9-out-of-5 stars and features over 500 reviews. There is an overwhelming amount of positive reviews and most negative feedback is about long wait times and items being out of stock.
Final Verdict of Our LIT Strength Machine Review
For anyone seeking low-impact, full-body workouts, this three-in-one machine could add a ton of value to your home fitness routine—especially if you will benefit from the interactive workout programs from the LIT app. That said, this machine might not be your cup of tea if you mostly train with barbells and dumbbells.
Here are a few things we like about the LIT Method Strength Machine:
You will have the ability to do cardio via rowing, perform pilates, and do band resistance exercises.
The app features both live and on-demand workouts.
You will have the option to choose from standard bands or upgrade the starter pack with Bluetooth-enabled resistance bands for real-time metrics.
LIT offers a ton of variety for low-impact workouts and does not require running, jumping, or weights for any LIT Method workout.
LIT Method Rating
Lit Method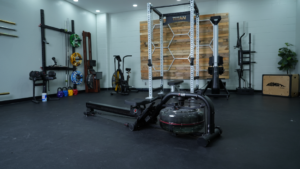 In this LIT Method review, we'll cover all the details about this low-impact training machine and the app that goes along with it.
Product Brand: Lit Method
Product Currency: $
Product Price: 2000
Product In-Stock: InStock
LIT Method FAQs
How much does LIT Method cost?
There are three bundles to choose from when purchasing the LIT Method Strength machine ranging from $1,799 to $2,199. The LIT Method app is $9.99 per month.
What is the Lit Method of exercise?
LIT Method (the brand and fitness machine) is committed to delivering low-impact workouts that don't require running, jumping, or weights.
Who are the founders of LIT Method?
Justin and Taylor Norris are the founders of LIT Method, which started as a rowing studio in California and has grown into a fitness manufacturing operation with accompany interactive programming.