We test and review fitness products based on an independent, multi-point methodology. If you use our links to purchase something, we may earn a commission. Read our disclosures.
You might be landing on this roundup of the best treadmills for low ceilings because you have a basement gym, an older home, or just a small garage. Whatever the reason, we're here to help.
To determine this list of treadmills suitable for low ceilings, we took a deep dive into all of the best treadmills for a home gym that we've tested and reviewed to determine some of the most compact and low-profile machines. We looked at the overall dimensions on the machine and reviewed our experience with the treadmill to determine if it will work well in a low-ceiling environment.
Best Treadmill for Low Ceilings
Best Overall Treadmill for Low Ceilings: NordicTrack T 6.5 S
Good for: Folks looking for a compact, iFIT-enabled treadmill available on Amazon
This roundup features mostly compact treadmills, and for this reason you may not see a lot of the high-quality, heavy-duty machines we normally rave about—like the NordicTrack 1750, for example. That said, we think this NordicTrack T series model is a solid choice that you can order on Amazon (for under $800 to boot!).
RELATED: NordicTrack Commercial 1750 Review
The tallest point of the treadmill is 4.5 feet tall, which gives you plenty of overhead space for running or using the incline training up to 10 percent. For what it's worth, there are a few contradictory comments on the step up height from the Amazon page. One comment reads it's 11 inches, while one reviewer writes that it's 8 inches. Either way, the highest point of the treadmill will still fit comfortably in a low-ceiling area.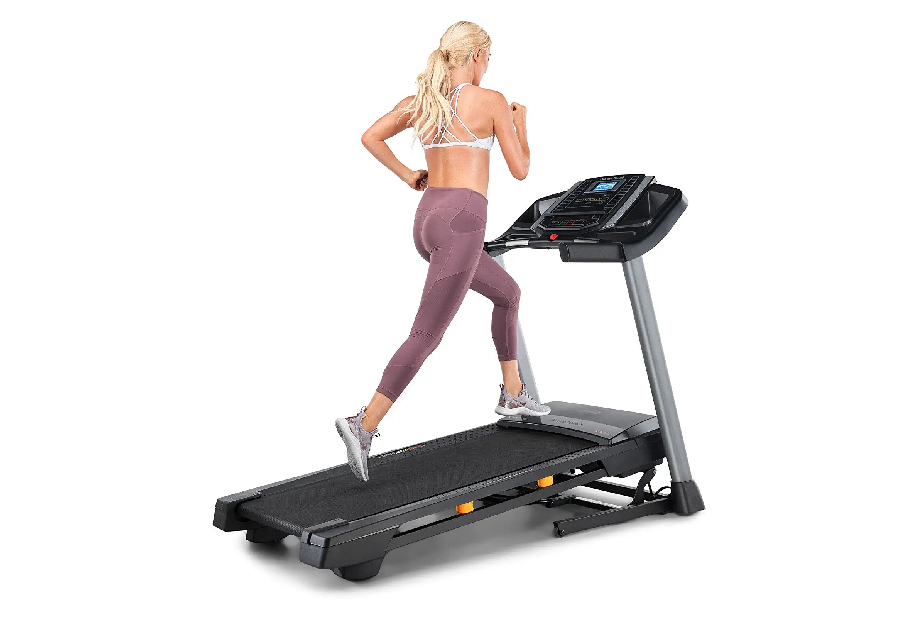 The running surface is also pretty roomy with a belt measuring 55 inches long and 22 inches wide. Plus it has a powerful 2.6 continuous horsepower motor (CHP) that will certainly keep up with running speeds.
You can get more in-depth info about this machine with our NordicTrack T 6.5 S treadmill review to get a sense if you'll be clicking "add to cart" on Amazon later.
| | |
| --- | --- |
| Price | About $800 on Amazon |
| Footprint | 73.5" L x 36" W x 54" H |
| Display | 5" LCD screen |
| Warranty | 10-year frame, 2-year parts, 1-year labor |
Best Treadmill for Running with Low Ceilings: Sole F63
Good for: Anyone who wants to the ability to run in a small spaces
OK, so the Sole F63 is certainly not a true compact option. But I included this because it's one of our top picks for best home treadmill for running. The Sole F63 is a quality treadmill that supports running speeds (with a 3.0 horsepower motor), includes incline features, has a 60-inch-long running surface, and has a lifetime frame and motor warranty.
Although bigger than the NordicTrack T Series treadmill above, the Sole F63 is certainly not the biggest or bulkiest treadmill we've tested. It's on this list because the total height of this machine sits about 5.5 feet tall, which still gives you some overhead clearance. However, I will say that some of that height comes from the tablet holder above the console.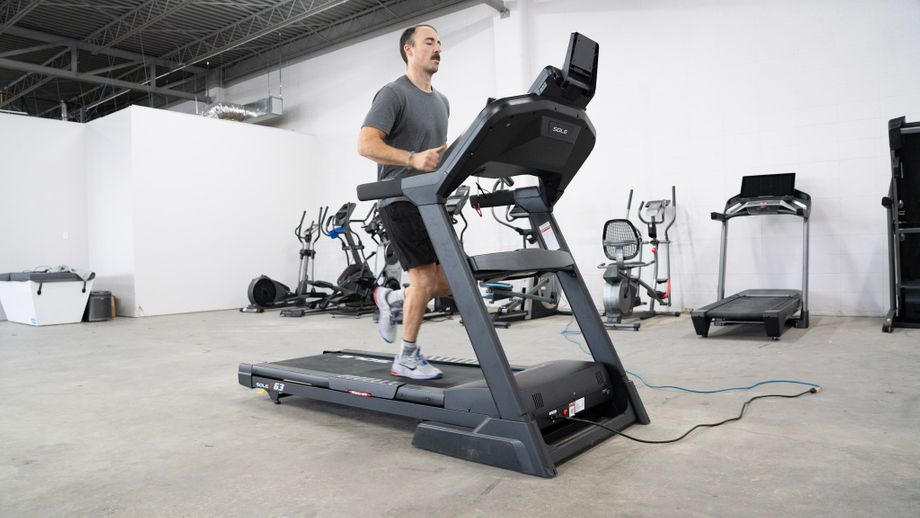 Although you won't find the treadmill deck height listed among the specs for the F63, based on how similar the F63 is to the other folding treadmill lineup from Sole Fitness, you can gather some information about the step up height. The Sole F65 is an ultra-similar model to the F63 and the website lists the F65 as a 8-inch step up height.
You can read about our hands-on experience in the Sole F63 treadmill review for more specs and information about this powerful running machine.
| | |
| --- | --- |
| Price | $1,199 |
| Footprint | 77" L x 35" W x 67" H |
| Display | 6.5 LCD screen |
| Warranty | Lifetime frame and motor, 3-year parts, 1-year labor |
Best Treadmill for Walking with Low Ceilings: ProForm City L6
Good for: Shorter individuals living in small spaces just looking to get in daily steps
Although the ProForm City L6 isn't the magic answer to everyone's cardio dreams, it's a solid option for walkers and beginners to the home gym experience. It's one of our top picks for low ceilings because it has a low deck height and its foldable design allows it to fold completely in half. In this position, the highest point sits 12 inches off the floor.

We also like that you'll benefit from the brand's ProShox deck cushioning to lessen the impact of walking and promote shock absorption. That said, you'll need to know this is truly a walking machine—the walking belt is only 45 inches long, which won't be enough running area for most folks.
RELATED: Best Shock-Absorbing Treadmill
It's worth mentioning that this treadmill has a weight capacity of 250 pounds, which is below the industry standard. That paired with the 1.6 CHP Mach Z motor makes this home treadmill ideal for smaller and shorter folks.
The maximum speed is 8 mph and there are no incline settings. However, you will be able to take advantage of automatic trainer control via a Bluetooth connection and your own smart device if you want to partake in iFIT classes or scenic walks. This auto adjust feature adjusts your speed for you based on coaching cues so you can have a hands-free workout experience.
You can read more about our experience in the ProForm City L6 review.
| | |
| --- | --- |
| Price | $599 |
| Footprint | 70.25" L x 29" W x 44.5" H |
| Display | Small LED window |
| Warranty | 10-year frame, 1-year parts and labor |
Best Under-Desk Treadmill for Low Ceilings: LifeSpan TR1000
Good for: Anyone looking for an under-desk treadmill that offers shock-absorbing benefits
The LifeSpan TR1000 is a treadmill specifically designed for under-desk walking. I personally tested this and use it most days during work. It has a low deck height of 5 inches, but to take advantage of all the benefits of walking while you work, you'll need an adjustable height desk.
This treadmill will certainly do well in a low-ceiling environment, but I think it's worth mentioning that you'll have to make sure the top height range of your adjustable desk will still accommodate for the extra 5 inches you'll be standing.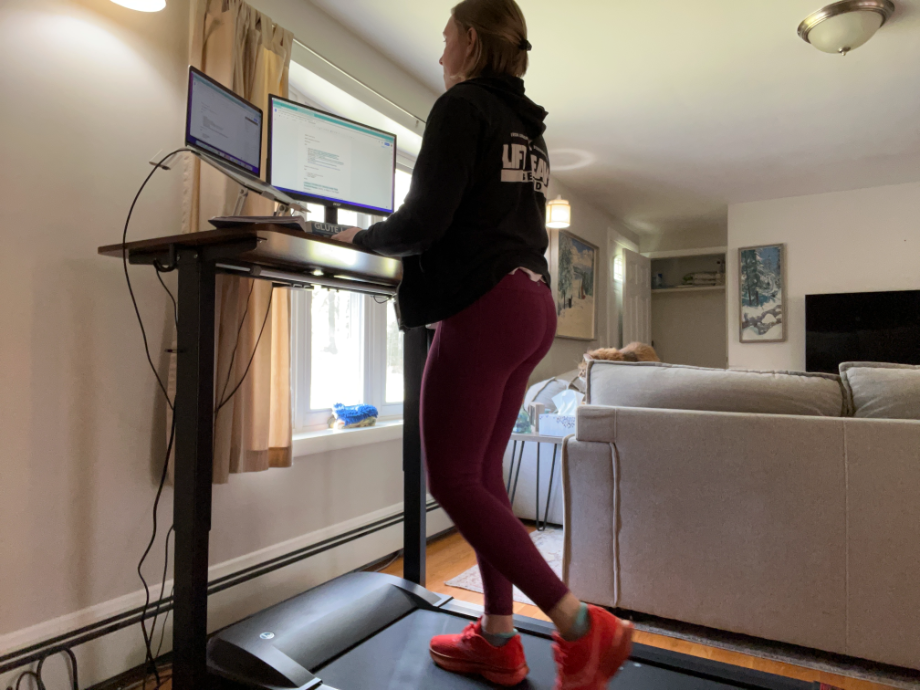 I didn't take this into consideration when picking out a desk but I just happened to get lucky that the highest setting on my electronic adjustable desk is perfect for walking (or standing) on the TR1000 under-desk treadmill.
RELATED: Best Under-Desk Treadmill
I think it's also worth noting the maximum speed is 4 mph. This is not a running machine where you'll reach your top speeds, train for marathons, or reach your target heart rate. This is a machine for adding in extra cardio and reaching your daily steps while you work.
The maximum user weight is 350 pounds, which is pretty significant for an under-desk treadmill, and the 2.25 CHP motor ensures this under-desk treadmill can handle continuous and daily use. These two factors make this machine a heavy-duty option for your workday walking.
Plus, this LifeSpan under-the-desk treadmill is relatively quiet and features compression shocks and deck cushioning to dampen the sound of walking. If you're curious about an under-desk treadmill, you can read my in-depth LifeSpan TR1000 DT3 GlowUp Under Desk treadmill review.
| | |
| --- | --- |
| Price | $1,599 |
| Footprint | 58″ L x 28.5″ W x 7.25″ H |
| Display | Desk mounted LCD window console |
| Warranty | 10-year frame, 2-year parts, 1-year labor |
Best Low-Profile Treadmill for Low Ceilings: GoPlus 2 in 1 Folding Treadmill
Good for: Anyone who needs an ultra-low profile treadmill that can be used in two ways
The GoPlus 2-in-1 treadmill is our top pick when it comes to needing something ultra-compact and low-profile. This machine folds completely flat and only sits 5 inches off the floor (even in the folded position).
Plus, you can use the treadmill with uprights up as a traditional machine or you can use it with the uprights folded down flat. The folded position allows you to roll it under a desk and use it while you work. I will just note that there are additional handlebars you can attach to this machine, but it won't allow you to fold it down all the way.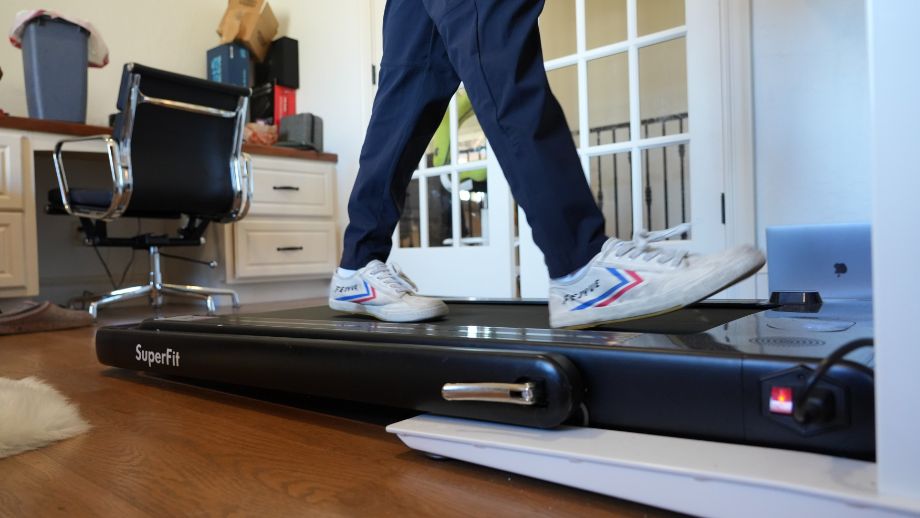 One of the best parts about this low-profile treadmill is the fact it has a 2.25 hp motor, which is an especially powerful treadmill motor considering the small size.
That said, the GoPlus is still not a one-size-fits-all solution. There are multiple things to consider that might not suit your needs including the 265-pound user weight capacity and the short 40-inch running belt. These two factors exclude tall people and anyone over 265 pounds.
If the specs work for you, this could be an incredible space saver treadmill that offers you more than one way to increase your steps throughout the day.
In fact, a GGR product tester writes in the in-depth GoPlus Treadmill review that, "something I love about this machine is how easy it is to move around and store […] when fully folded, you can store this machine under taller furniture, beds, or in closets, which makes it an ideal choice for people with small spaces."
| | |
| --- | --- |
| Price | About $300 on Amazon |
| Footprint | 49" L x 27" W x 42" H |
| Display | Small LED window |
| Warranty | 3 months |
Best Budget Treadmill for Low Ceilings: XTERRA TR150
Good for: Folks who don't need a fancy, high-end treadmill with touchscreens
If you're looking for a treadmill that is not ultra-compact and a little more like a traditional treadmill, the XTERRA TR150 gives you everything you need and nothing you don't. It's not super high-tech, but you'll be able to place your smart device on the tablet holder to stream programming or entertainment of your choosing.
The tallest part of this treadmill is just over 4 feet, which is a good sign for getting your treadmill and your body safely in an area with low clearance. There are manual incline settings, but we don't think using either of the three manual incline levels will have a negative impact on using the treadmill in a low ceiling area.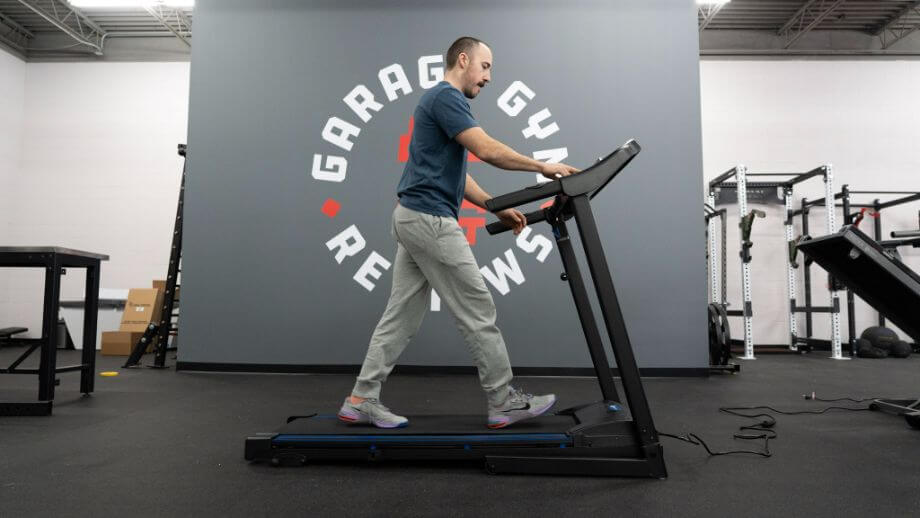 You'll have a 2.25 CHP motor to support walking, jogging, and casual running, but we don't think the machine is for avid runners. You might like knowing that the TR150 features heart rate monitoring pulse sensors built into the handrails and 12 preset programs to choose from.
Although we feature this treadmill on our roundup of best folding treadmills, the one downside we experienced testing this treadmill was the lack of a gas shock for the folding mechanism. It comes down relatively fast and could be a safety concern with kids and pets.
A GGR product tester writes in the in-depth XTERRA Fitness TR150 review that, "even though the TR150 only weighs just over 100 pounds, it still would be horrific for this to fall on yourself or a loved one."
| Price | Under $400 on Amazon |
| --- | --- |
| Footprint | 63.4″ L x 28.75″ W x 51.4″ H |
| Display | 5" LCD window |
| Warranty | Lifetime frame, 1-year motor, 90-day deck and labor |
Other Treadmills We Researched
Echelon Stride: Although this treadmill is compact and can be folded completely in half, there were more compact models that made the list with more powerful motors.
NordicTrack Commercial 1250: While smaller than other NordicTrack treadmills, it's still not as compact as folks might like for a space with low ceilings. The Commercial 1250 doesn't typically list the deck height in the specs, but we confirmed that the deck height is 9.8 inches based on the NordicTrack website for Australian consumers.
How We Picked and Tested
Typically our research starts with an internet search to uncover popular products. However, for this roundup of the best treadmills for low ceilings, we instead started with determining what a low ceiling actually is and then looked at all the treadmills we've tested to find the most compact options.
That said, we're basing this on today's standards. For example, in most places a 7-foot ceiling in a basement is the minimum for new construction buildings. However, if you've ever lived in an older home you know that 7-foot-high ceilings in a basement is not always the case!
Additionally, fitness equipment manufacturers don't always disclose the step-up height on treadmills, so we tried to choose treadmills under 10 inches for a step up height when the specification is provided. For reference, the behemoth NordicTrack Commercial X22i has a 12-inch step up height and is just over 6 feet tall to the top of the monitor.
Benefits of Treadmills for Low Ceilings
Here are the top three benefits we see to choosing a treadmill that will accommodate low ceilings:
Space Efficiency
Treadmills designed for low ceilings are typically much smaller than the standard commercial-size treadmills you might see at your neighborhood gym. You'll be able to maximize your floor space and overhead space when you choose a treadmill suitable for your specific ceiling height and overall space.
Safety and Comfort
If you try to bring a traditional, commercial-size treadmill into your space with low ceilings you may find that the treadmill fits but your body might not. You'll be acutely aware of the fact your head is nearly grazing the ceiling if your treadmill is too big for the space. That's where compact treadmills come in—for anyone who has low clearance.
Accessibility
Having a low-profile treadmill can allow all the members of your household (even the tallest user) to safely and comfortably use the treadmill without fear of bumping their heads. If you have a space that is accessible for you and your family, it's more likely you'll utilize the equipment and create a solid fitness routine.
Buying Guide for Best Treadmills for Low Ceilings
Here are some things to consider as you shop for treadmills to accommodate your low ceilings:
Consider All the Dimensions
It's always a good idea to measure your designated treadmill area. In the case of low ceilings, we recommend measuring your ceiling height, too. After you take measurements of your space, consider the following before you click "add to cart:"
Your height
Treadmill machine height
Step up height
Since you'll be measuring your space and ceiling height, it's not a bad idea to make sure you have a few feet of clearance on either side of the treadmill (and about 3 feet behind the treadmill belt) according to the National Strength and Conditioning Association (NSCA) guide to commercial gym setup.
Determine Your Budget
Create a budget that you're comfortable with—whether it's payments you can afford or the overall price tag—before you start shopping. The treadmills on this roundup are smaller, more compact, and generally less expensive than commercial size treadmills, but there are still treadmills featured on this list that are priced around $1,000, which is not a small chunk of change!
Tech Features and Extras
Many small and compact treadmills designed for anyone with limited space will often forfeit high-tech touchscreens, workout programs, and built-in speakers and fans. That said, if you're looking for all the bells and whistles (and on-demand personal trainers and classes) you may have to consider another location for your treadmill that can allow for the overhead clearance and footprint you're looking for.
Best Treadmills for Low Ceilings FAQs
What is the minimum ceiling height for a treadmill?
The minimum ceiling height will depend on your own height, height of the treadmill, and overall ceiling height. What might work for one person might not work for another because of how tall they are. That said, you probably won't want to put a treadmill in a room with ceilings much lower than 7 feet tall. 
What is the minimum ceiling height for a NordicTrack treadmill?
While some NordicTrack treadmills have an average step up height around 9 or 10 inches (like the NordicTrack Commercial 1250) the NordicTrack Commercial X22i features a 12.5-inch deck height. The X22i will require more overhead clearance (plus the fact it can incline up to 40% grade, so you'd have to take that into account, too).
Why do you need 6 feet behind a treadmill?
According to the National Strength and Conditioning Association, commercial gyms should reserve about 3 feet of empty space behind treadmills for safety and to limit additional accidents if one should fall.