We test and review fitness products based on an independent, multi-point methodology. If you use our links to purchase something, we may earn a commission. Read our disclosures.
Do I love the idea of watching Netflix while getting my steps in on my treadmill? Yes, I do. Do I also think some smart home gym equipment manufacturers tend to put more money and attention into the technology than anything else? Also yes.
So if you, like me, like when exercise equipment is built to help you…well, exercise, then this Woodway Curve Treadmill review is for you. This heavy-duty, manual treadmill requires no electricity and is powered by your feet—the faster you run, the quicker the belt goes, and vice-versa. It's just built to do what treadmills were created for, and that's to help you run or walk from the comfort of your home gym.
But is this manual treadmill really worth the more-than-$5,000 price tag? Read on to find out.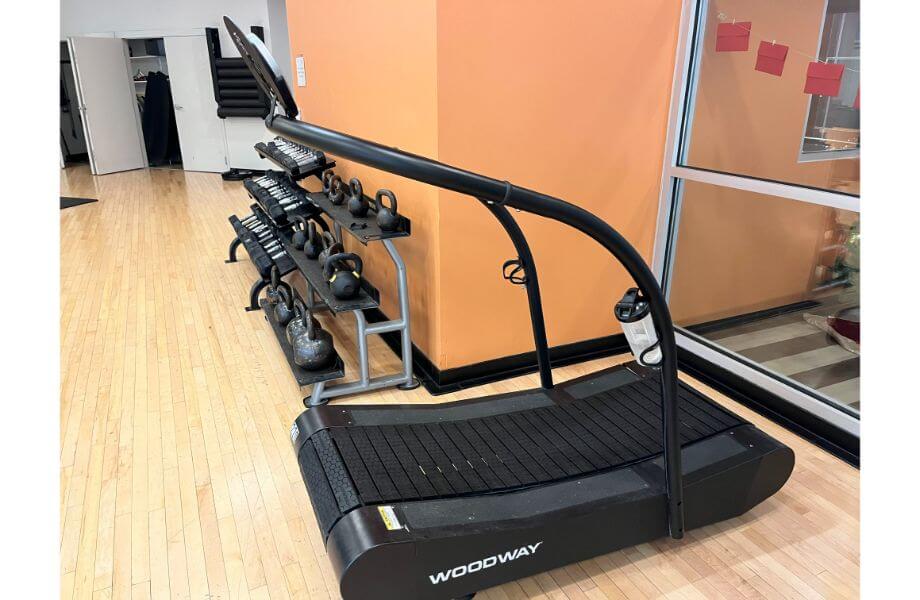 We Won't Curve You on Our Treadmill Reviews
According to Urban Dictionary, the word "curve" means to ignore or sidestep one's advances and that's what a lot of review websites do these days. You show interest in them by clicking on their site and they curve you by spitting back the company's own marketing speak with zero original thoughts. That, as the kids also say, is grimey.
Our group of certified personal trainers, competitive endurance athletes, and CrossFit Level 1 Trainers will always keep it straight with you, giving you our honest and unfiltered thoughts on the best treadmills and other home gym equipment.
Woodway Curve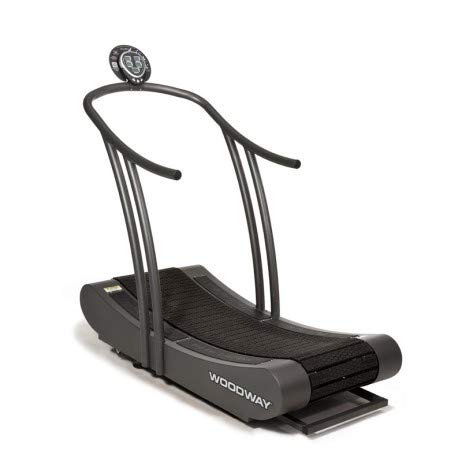 GGR Score: 4.4
Community Score: 3.3
Product Highlights
Incorporate a new dimension into your training. The completely self-powered WOODWAY Curve Treadmill offers a one-of-a-kind workout experience that requires zero electricity.
A Quick Look at the Woodway Curve Treadmill
The Woodway Curve Treadmill is a manual treadmill that, as you might've guessed, has a curved tread belt made of interlocking rubber slats. The standard model comes with a simple LCD monitor that shows your speed, heart rate, calories burned, distance, and time, but there are options to upgrade to more advanced monitors, including a smart touchscreen (should you desire one).
Manual treadmills are often used by runners because they reinforce proper running form, and the manufacturers claim it can help you burn more calories (though we're not sure just how accurate those claims are).
Another big advantage is they have fewer parts that require routine maintenance—for example, there's no motor or mechanical parts powering the belt, which can deteriorate over time on electric treadmills.
Before You Buy
You can customize your monitor with more advanced features like data feedback to improve your running form, or add a touchscreen monitor that has Netflix and other streaming services.
There's a 30-day trial period, but all returns must be approved by a Woodway customer service representative.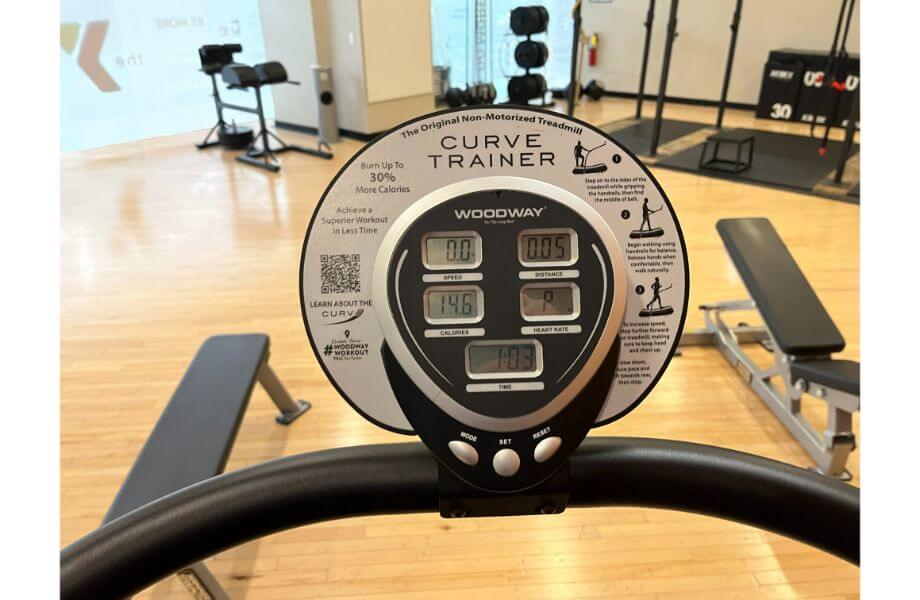 Is the Woodway Curve Treadmill Worth It?
The Woodway Curve Treadmill costs more than $5,000 and depending on how you customize it, can be much more than that. While there are financing options available, this is still a pretty large investment and to be honest, we don't think it's worth it for some people. For others, however, purchasing this treadmill can be money well spent.
Here's who we think would enjoy the Woodway Curve treadmill in their home gym, and who might want to consider something else.
Great for:
Serious runners
Heavy people
Anyone looking for a manual treadmill
People looking to improve their running form
Not recommended for:
Those on a budget
Anyone who's new to running
People with compact home gyms
Home gym owners who prefer smart home gym equipment
Woodway Curve Treadmill Specs
| | |
| --- | --- |
| Footprint | 67″ L x 33″ W x 66.5″ H |
| Weight | 355 lbs |
| Max user weight | 400 lbs |
| Running surface | 67″ L x 17″ W |
| Curvature | 5% |
| Water bottle holder? | Two |
| Monitor | LCD monitor (but upgrades are available) |
| Warranty | 5-year frame and belt, 3-year all components, 1-year labor |
| Belt lifetime | 150,000 miles |
Workout Experience with the Woodway Curve Treadmill
So to be perfectly honest, I didn't review this in a home gym setting, but at a branch of the Charlotte YMCA, so my experience with it won't necessarily reflect how it might hold up in your home gym or training facility.
But I think that's actually a good way to show just how bullet-proof this piece of cardio equipment is. Even after being used by countless people—and let's face it the average commercial gym-goer doesn't take good care of most machines—it still works great.
If you've never used a manual treadmill before, it does take some getting used to. I had to hold the curved railings on the side of this treadmill to steady myself before finding a pace and gait that worked for me. Once I felt settled, I started running but immediately noticed that the Woodway Curve is extremely responsive.
This makes it great for high-intensity interval training (or HIIT) training sessions, since you don't have to wait for the belt to slow down or speed up. More traditional treadmills have a few seconds of delay between hitting a speed button and the belt catching up to that speed, but that's not a concern with manual treadmills.
If you're not aware of just how fast you're running, this thing can really take off and before you know it the tread belt is going much quicker than you might be used to.
Deck
The Woodway Curve is made of interlocking slats, as opposed to a solid belt that you find on regular treadmills. The individual slats are shock-absorbing so there's less impact to your feet and joints, which not only keeps them healthier, but allows you to run for longer distances pain-free.
I noticed a much softer landing during my test runs, and as someone who doesn't typically enjoy road running, I was surprised that I wanted to keep going on the Woodway Curve.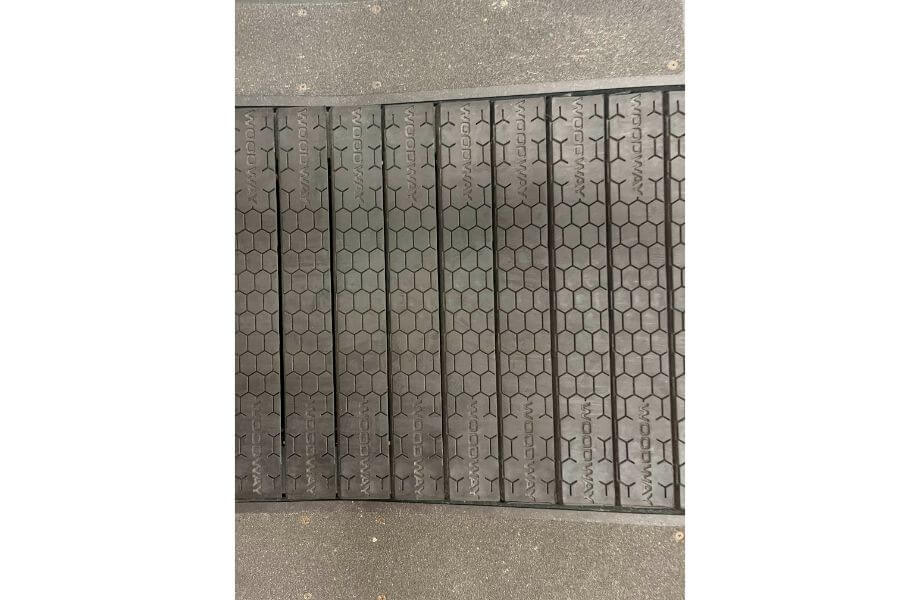 One thing some treadmill runners may have to get used to is the narrower running surface. The Woodway Curve has an 17-inch wide running belt, which is about three inches narrower than the industry standard.
This might be annoying at first but this is one of the things that helps reinforce better running form. The narrower width means there's less room for moving side-to-side while running and forces you to remain upright and steady at all times, which can decrease your risk of injury.
Curved Shape
The main aspect of the Woodway Curve that helps train the runner to run with proper foot strike and gait is the curve. If you're too far forward on the belt you may feel like you're about to fall backwards, and if you're too far behind on it you might feel like you're about to faceplant.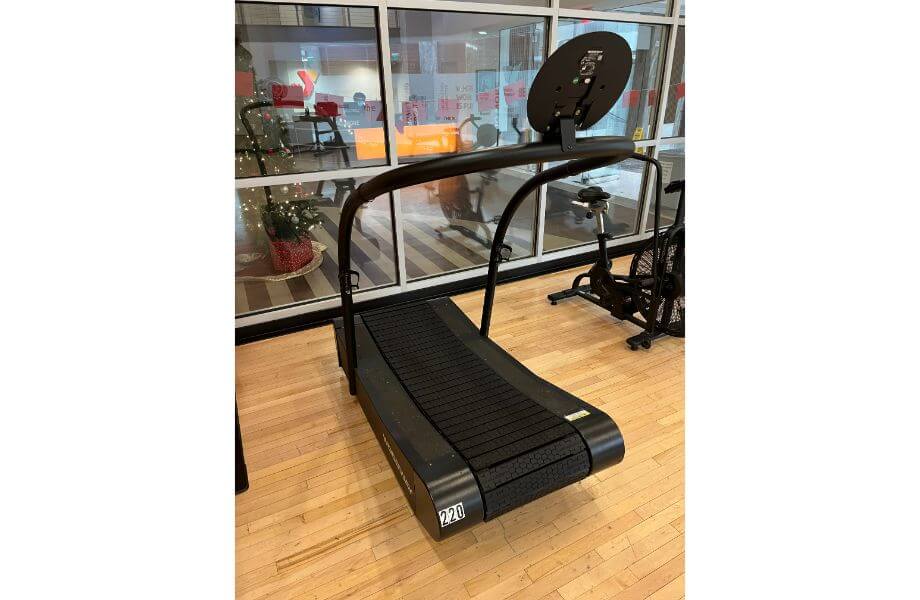 The challenge is positioning yourself in the perfect spot where your feet pull the belt forward and then drag it behind you, which is similar to how you're supposed to run outdoors. This motion is what creates the belt's inertia and powers your runs.
As I said, it took me a while to find a natural position on the Woodway Curve, but once I got into the groove, it was smooth sailing from there.
Noise
I'll be honest, this isn't the quietest treadmill on the market. The Woodway Curve's solid frame and high-end construction do help to mitigate some noise, but the repeated foot strikes will create some commotion in your garage gym, especially if you start sprinting at any point.
Monitor
The Woodway Curve comes with a simple LCD monitor that shows your speed, heart rate monitoring, calories burned, distance, and time elapsed, but Woodway does offer more advanced options that can give feedback to runners. There's also a touchscreen option that can be used to watch Netflix, Hulu, or Disney+.
Durability and Construction
Let me be blunt: The Woodway Curve is built like a tank. The solid steel frame, which weighs 355 pounds, is powder coated and even at my YMCA it still looked like new.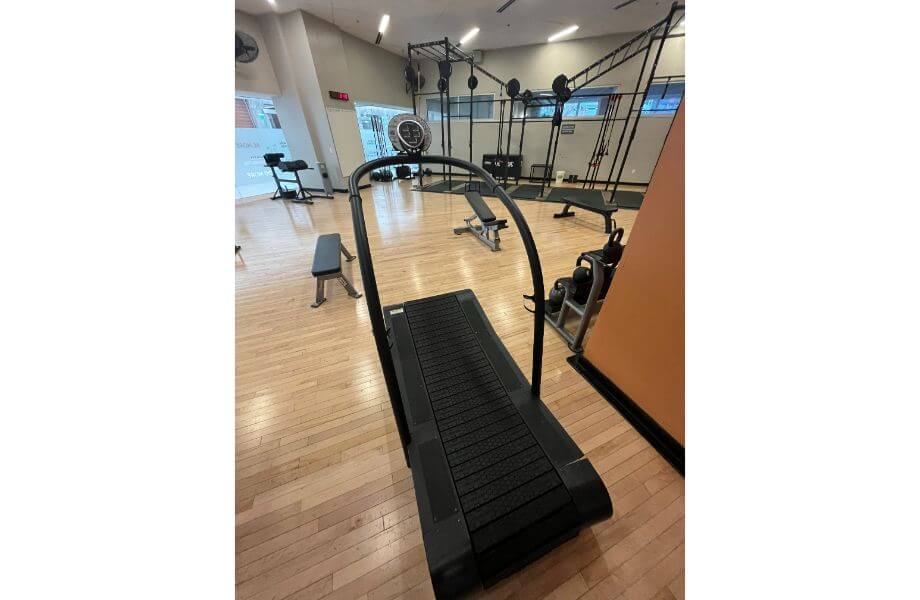 The slat belt is assisted by 112 ball bearings and 12 roller guides help the treadmill belt glide and reduce friction and heat. The belt is guaranteed to last at least 150,000 miles, meaning it will take many years for you to wear this thing down. It might require some lubricant from time to time, but overall, there's much less maintenance than a treadmill that comes with a motor.
Footprint and Portability
The Woodway Curve is not the most compact piece of fitness equipment, so I'd only recommend it if you have a sizable home gym. There is a steel grab bar and transport wheels that allow you to move it, but it weighs 355 pounds, so you may have to grab a friend to help you out.
Woodway Curve vs AssaultRunner Pro
AssaultRunner Pro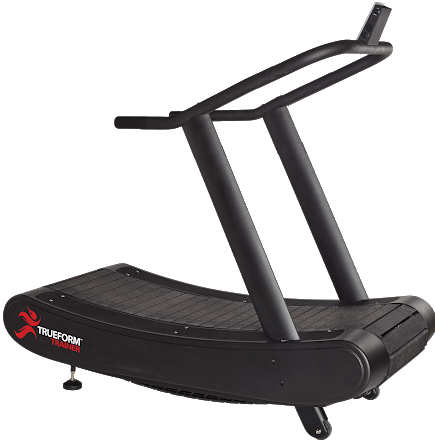 GGR Score: 4.5
Community Score: 4.2
Product Highlights
Well-designed treadmill to help refine running form
Smooth belt
Expensive, but worth the money
Not made in the USA
Pros & Cons
Pros
Curved running surface to promote better form
Durable frame
Hefty weight capacity
Excellent for HIIT and sprints
60 percent more affordable than the TrueForm Runner
Cons
Costs around $3,000
Non-motorized treadmill
Basic monitor
No preset workouts
Bottom Line
The TrueForm Trainer is a unique treadmill designed to help runners improve their form.
The AssaultRunner Pro, like the Woodway Curve, is a curved non-motorized treadmill meant to be used by those who are focused on improving or maintaining their running form. It's about $3,000, so it's more budget-friendly than the Woodway Curve (relatively speaking) and is still one of the best curved treadmills.
The AssaultRunner Pro comes with built-in workout programs, which the Woodway Curve does not, but it does have some plastic that's prone to cracking. Woodway, on the other hand, is all steel and is made in the USA—the Assault Fitness imports its treadmills (this might not matter to some people but it is important to others).
If you're focused on value then the AssaultRunner Pro is the better choice, but the Woodway Curve's construction is unbeatable.
Read our full AssaultRunner Pro review for more of our thoughts.
| | | |
| --- | --- | --- |
| | Woodway Curve | AssaultRunner Pro |
| Price | Starts at $5,000 | Around $3,000 |
| Footprint | 67″ L x 33″ W x 66.5″ H | 69.9" L X 31.7" W X 64.4" H |
| Weight | 355 lbs | 289.2 lbs |
| Weight capacity | 400 lbs | 350 lbs |
| Running surface | 67″ L x 17″ W | 62.2" L x 17.1" W |
| Water bottle holder? | Two | No |
Woodway Curve vs TrueForm Trainer
TrueForm Trainer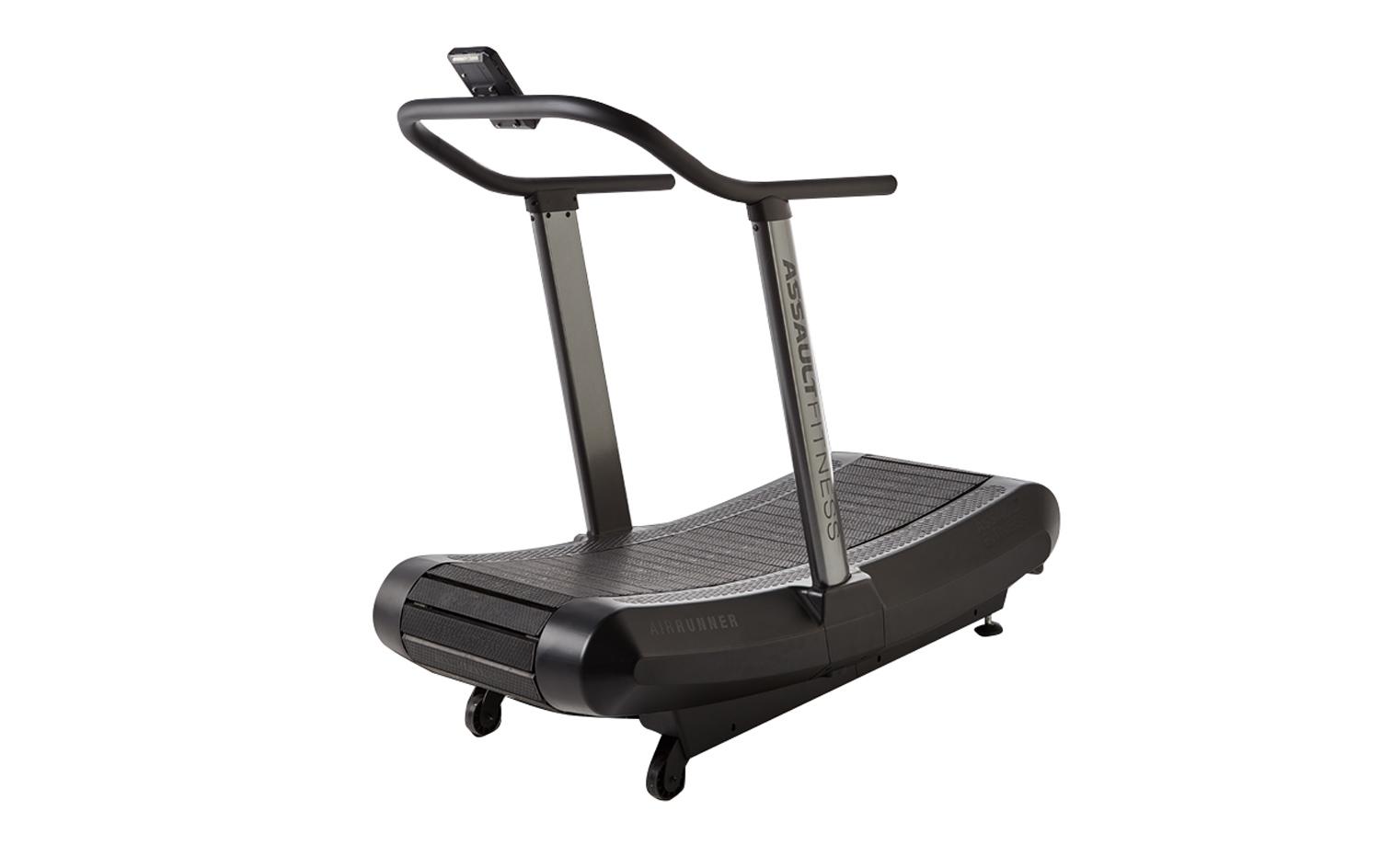 GGR Score: 4.1
Community Score: 4.1
Product Highlights
Low-impact shock absorbing belt

Incredibly sturdy and durable

Built-in wheels for portability

100% athlete-powered
Pros & Cons
Pros
Extremely popular
Durable machine
No motor means fewer maintenance issues
Easy-to-read monitor
Thick rubber belt provides great traction
Bearings under belt provide smooth run
Sturdy
Rear handle makes moving easier
Powder-coating withstands the elements
Affordable curved treadmill
Staple for CrossFitters
Cons
Extremely heavy
Curved shape takes getting used to
Plastic shell may crack
High spin rate on belt
No fancy monitor, water bottle holder, or other conveniences
Bottom Line
The AssaultRunner Pro is one of the best value non-motorized treadmills for home gyms on the market.
Everything we said about the AssaultRunner Pro is also applicable to the TrueForm Trainer treadmill. It's cheaper than the Woodway Curve but is not as durable (there's even more plastic than the AssaultRunner Pro).
Read our full TrueForm Trainer review for an in-depth look at this curved manual treadmill.
| | | |
| --- | --- | --- |
| | Woodway Curve | TrueForm Trainer |
| Price | Starts at $5,000 | Around $4,000 |
| Footprint | 67″ L x 33″ W x 66.5″ H | 64″ L x 31″ W x 63″ H |
| Weight | 355 lbs | 270 lbs. |
| Weight capacity | 400 lbs | 400 lbs |
| Running surface | 67″ L x 17″ W | 54" L x 17" W |
| Water bottle holder? | Two | No |
Warranty, Returns, Financing
The Woodway Curve's warranty is disappointing, considering how expensive it is. The frame and treadmill belt are covered for five years, all other components have a three-year coverage, and labor is covered for one year.
You can return the Woodway Curve for up to 30 days from delivery, but a company customer representative must approve the return. If and when it's approved you have 14 days to ship the treadmill back for a full refund, minus shipping and handling and a restocking fee.
Financing options are available at checkout, if you're pre-approved.
Ordering and Assembling the Woodway Curve
The ordering process for the Woodway Curve requires speaking to a customer service representative to figure out what monitor you want.
The assembly process is involved and lengthy, but Woodway has easy-to-follow instructions on its website. We haven't assembled it ourselves, but you can take a look at the assembly instructions on Woodway's website.
Customer Reviews
There are no customer reviews on Woodway's website and the Woodway Curve isn't available on third-party websites like Amazon.
Final Verdict of Our Woodway Curve Treadmill Review
The Woodway Curve Treadmill is a pretty nice product that, in our honest opinion, should only be purchased and used by very serious runners who are looking to fine-tune their running form. More casual runners or people who prefer to switch up their training regimen from time to time would be better off finding a more affordable piece of cardio equipment.
What we like:
Low-impact and durable running belt
Heavy-duty steel construction
Shock absorption
Self-propelled belt
Reinforces proper running form
What we don't like:
Woodway Curve Treadmill Rating
Woodway Curve Treadmill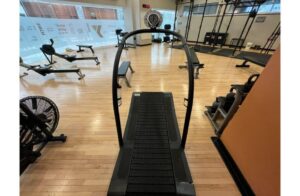 Our Woodway Curve treadmill review will let you know whether this $5,000+ manual treadmill is worth the investment.
Product Brand: Woodway
Product Currency: $
Product In-Stock: InStock
Woodway Curve Treadmill FAQs
Is the curve treadmill better?
Scientific studies1 have found that curved treadmills can lead to more calories burned, improved running performance, and a reduced risk of injury. However, if your goal is simply to burn calories and get moderate-intensity aerobic exercise, then a motorized treadmill will do just fine.
What is special about the Woodway treadmill?
The Woodway Curve Treadmill is special because its curved design and interlocking slats help reinforce proper running form while reducing impact to your feet and joints.
Why are Woodway treadmills so expensive?
Woodway treadmills are expensive because they're built to last and are high-performance machines. If you're a serious runner who wants to run year-round, regardless of the weather outside, a Woodway treadmill is a wise investment.
References
Hatchett A, Armstrong K, Parr B, Crews M, Tant C. The Effect of a Curved Non-Motorized Treadmill on Running Gait Length, Imbalance and Stride Angle. Sports (Basel). 2018;6(3):58. Published 2018 Jun 29. doi:10.3390/sports6030058