We test and review fitness products based on an independent, multi-point methodology. If you use our links to purchase something, we may earn a commission. Read our disclosures.
If you're familiar with Garage Gym Reviews, you may know that we often recommend adjustable dumbbells as one of your home gym essentials. Founder of GGR and OG product tester, Coop Mitchell used that method when starting his own home gym and still stands by that message today. 
The best adjustable dumbbells take up less real estate in your home gym and save you money versus buying a traditional dumbbell set. But with so many sets of adjustable dumbbells on the market, which one is right for you?
In this Trulap Adjustable Dumbbells review, we'll cover the specifications, price, and who these dumbbells will be well suited for.
More Than A Dozen Adjustable Dumbbells In Hand
Our expert product testers at GGR have used over a dozen of the best dumbbells and another dozen different adjustable dumbbells—from high end to budget-conscious options. Not only have we had hands-on experience with the best dumbbells on the market, our product testers are fitness industry experts including certified personal trainers and nutrition coaches. 
For our Trulap Adjustable Dumbbell review, Coop Mitchell tested the dumbbell set through full-body dumbbell workout that included squats, lunges, one-arm dumbbells rows, overhead shoulder presses, and bicep curls. 
Trulap Adjustable Dumbbells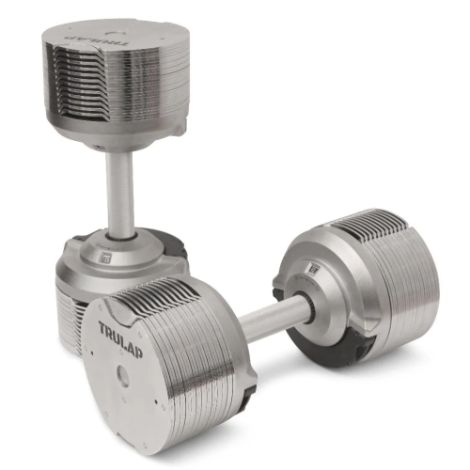 GGR Score: 4.22
Product Highlights
Cast iron adjustable dumbbells replace 26 pairs of dumbbells

Weights range from 8.5 lbs to 92 lbs

Weights adjust with a twist of the handle

Knurled handle

Look of a traditional dumbbell

Dimensions of 44 cm by 19.5 cm (17.3" x 7.7")
Pros & Cons
Pros
Flat dumbbell heads at every weight
Replaces 26 sets of dumbbells
Look and feel of a traditional dumbbell
Knurled handle
Good range of weights
3-year warranty
Cons
Odd weight increments
Pricier set of adjustable dumbbells
Bottom Line
If you're looking for an adjustable dumbbell to save space with and still have the feel of a traditional dumbbell, then the Trulap 8592 Adjustable Dumbbells may be for you. With a quick adjustment via a turn of the handle, this dumbbell will go from 8.5 pounds all the way to 92 pounds. Made with cast-iron plates with an electroplated stainless finish, these dumbbells are also backed by a three-year warranty.
A Quick Look at the Trulap Adjustable Dumbbells
Trulap Fitness is a recently launched, Canadian-based fitness company that offers adjustable dumbbells and an accompanying dumbbell rack.
While Coop had hands-on experience with the Trulap dumbbells, he notes that the website doesn't offer a lot of information about the product or company as a whole. "It does not instill a lot of confidence in me," says Coop. "They have very little info about the dumbbells on the site, and it feels like this is a Chat-GPT written product description."
That said, of the adjustable dumbbells we've tested at GGR, the Trulap dumbbells offer the most individual weight increments in a single adjustable dumbbell. There are 26 different weight increments, which is essentially like owning 26 different pairs of dumbbells.
Before You Buy
Trulap dumbbells offer 26 different options with unusual weight increments of 2.5, 3, or 3.5 pounds.
Starting weight is 8.5 pounds, which is higher than some competitor adjustable dumbbells.
Trulap offers free standard shipping in the USA and Canada.
Are the Trulap Adjustable Dumbbells Worth It?
Adjustable dumbbells in general are worth it for most home gym owners. They don't take up a lot of room in a garage gym and the price typically allows you to keep expanding your home gym vision.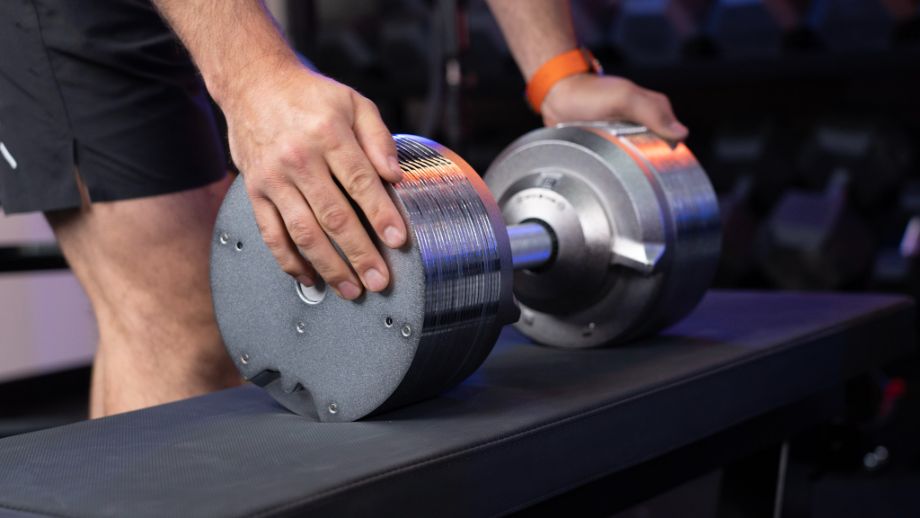 Plus, dumbbells are super versatile. Anything you can do with a barbell you can mimic with dumbbells—including a dumbbell leg workout or an upper body workout. It's also worth noting that with a set of adjustable dumbbells you can actually use the principles of progressive overload in your workouts to get stronger. You won't be stuck with only a handful of weight options that you might outgrow in a year's time. 
RELATED: Underrated Dumbbell Exercises
The Trulap Adjustable Dumbbells are priced around $850 and replace 26 pairs of dumbbells. In comparison, a set of 5- to 50-pound Rogue Rubber Hex dumbbells (which includes all weights at 5-pound increments) will run you $795. The same style hex of dumbbells from REP Fitness will cost you over $1,000. And for REP's 5-to-100-pound set it's over $3,000.
Great for:
Small home gyms
High repetition or volume
Basic strength training
Not recommended for:
Dropping
Budget-conscious shoppers
Anyone seeking aggressive knurling
Trulap Adjustable Dumbbells Specs
| | |
| --- | --- |
| Price | $849.99 |
| Dumbbell dimensions | 17.32" L x 7.67" W (44cm x 19.5cm) |
| Weight range | 8.5 lbs to 92 lbs |
| Weight increments | 2.5, 3, or 3.5-lb increments |
| # of dumbbells replaced | 26 |
| Knurling | Light knurling |
| Handle diameter | 36 mm |
| Material | Iron cast foundation |
| Finish | Electroplated stainless finish |
| Warranty | 3 years |
Trulap Adjustable Dumbbells Weight Range
Trulap dumbbells offer a wide range of weight increments to suit the needs of most home gym owners from 8.5 pounds all the way up to 92 pounds. For this reason, Coop gives the Trulap Adjustable Dumbbells a 5-out-of-5-star rating. This weight range makes it possible to hit everything from shoulder warm ups to a heavy dumbbell bench press to a high repetition reverse fly.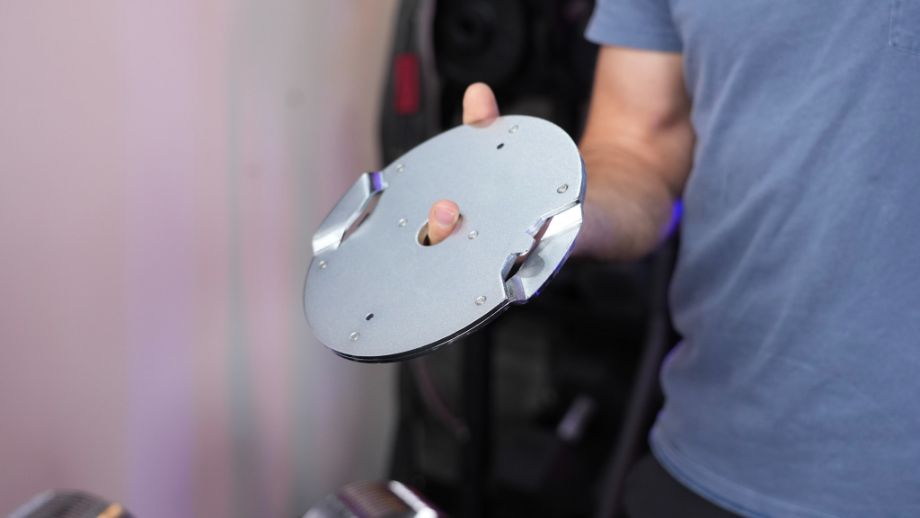 "This many weight increments are possible with very thin weight plates and lots of them," says Coop. However, he notes the weight increments themselves are a bit strange. The weights adjust in either 2.5-, 3-, or 3.5-pound increments.
"This part is kind of wonky. My assumption is they're made for the kilogram market and Trulap did some weird rounding with the weight increments," he says.
While we don't think this is a dealbreaker, just know you won't be choosing traditional 30-pound or 35-pound weights when you go for your one-arm dumbbell rows.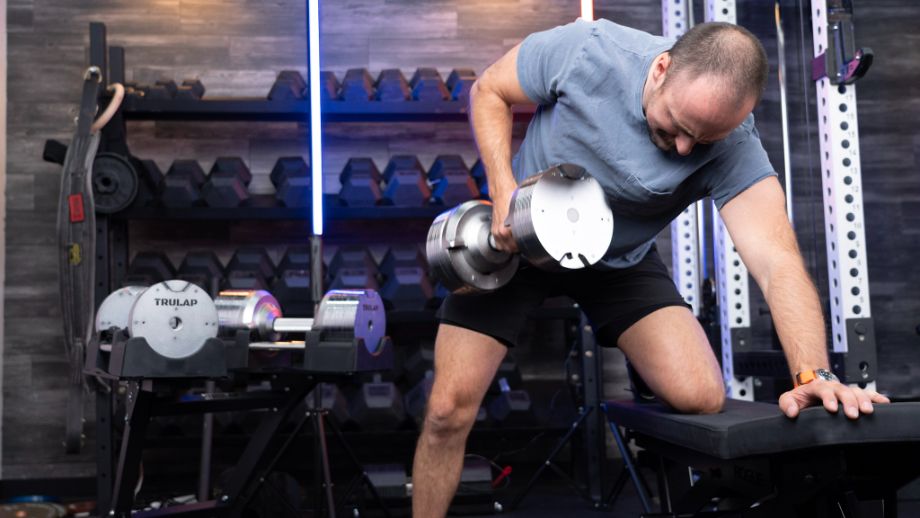 Below is a list of what you can expect for the weight gears on the Trulap Adjustable Dumbbell:
8.5
12.0
15.5
19.0
21.5
25.0
28.5
32.0
35.5
39.0
42.5
45.0
48.5
52.0
55.5
59.0
62.0
65.0
68.5
72.0
75.0
78.5
82.0
85.5
89.0
92.0
After the initial testing process, Coop compared the weight range to several other adjustable dumbbells we've tested. Trulap offers the widest ranges of quick change adjustable dumbbells we've tested to date compared to the following:
| | | | | | |
| --- | --- | --- | --- | --- | --- |
| | Trulap | NÜOBELL | Snode | PowerBlock | Ironmasters |
| Weight range | 8.5-92 lbs | 5-80 lbs | 10-80 lbs | 5-90 lbs | 5-165 lb |
| # of dumbbells replaced | 26 | 16 | 8 | 16 | 24 |
| Increment changes | 2.5, 3, and 3.5-lbs | 5-lb | 10-lb | 2.5 or 5-lb | 2.5-lb |
Coop also mentions that although folks appreciate having a 5-pound starting weight, dumbbells are most prone to breaking at the 5-pound selection. For that reason, Coop says 8.5 pounds is a good start weight.
Plus, the 92-pound maximum weight still allows experienced lifters to utilize the set. "This means it will work for heavy lifters and still have the ability to quickly adjust. Much faster than something like Ironmasters," says Coop.
RELATED: Ironmaster Adjustable Dumbbells Review
Adjusting the Trulap Dumbbells
To adjust the weight on the Trulap dumbbells, it's as simple as twisting the dumbbell handle when it's racked. "This adjustment mechanism is similar to many of the most recent dumbbell releases such as NÜOBELL, Snode, and EZ-Toned," says Coop.
RELATED: NÜOBELL Adjustable Dumbbells Review
"This design works well for quick adjustments," Coop adds. "But, one of the downsides with so many weight increments is it takes longer to get through them," he adds. For this reason, Coop give Trulap a 4.5-out-of-5-star rating.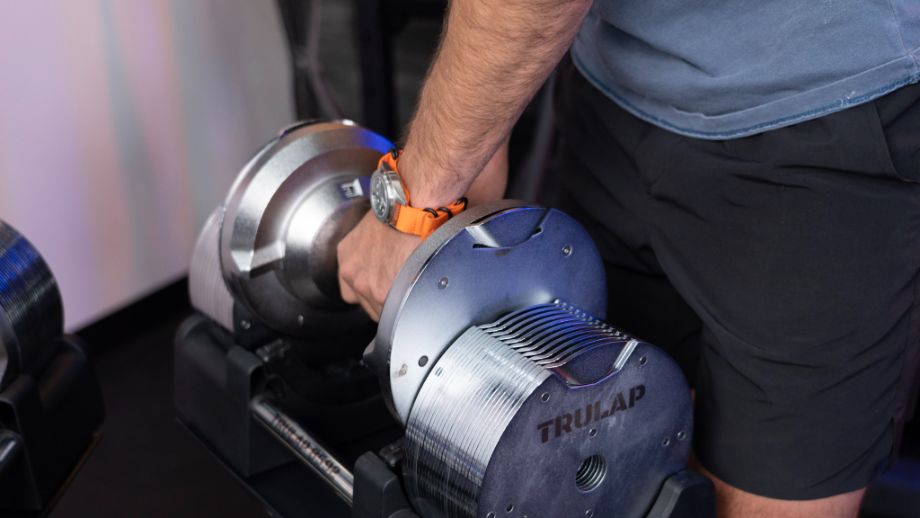 While this is not a major issue, it's just something to be aware of if you're someone who will be performing drop sets or supersets that range dramatically in weight. If you train primarily with straight sets, this won't be a problem at all.
Trulap Adjustable Dumbbells Construction
The Trulap dumbbells are constructed from cast iron plates and feature an aluminum handle. When it comes to the size, Coop notes that the Trulap design (at 17.32 inches long) is slightly longer than NÜOBELL and a bit shorter than Snode. It also features a bigger weight plate diameter at 7.67 inches than both NÜOBELL and Pepin FAST Series.
RELATED: Pepin FAST Series Adjustable Dumbbells Review
In addition to the above dimensions, the dumbbell handle is bigger than other adjustable dumbbell competitors at 36 millimeters in diameter. Overall, Coop rates Trulap at 4 out of 5 stars for construction.
"I personally really like a thicker handle, especially for pressing, but I know there are folks out there that prefer the opposite, so that's going to be preference based upon the person," says Coop.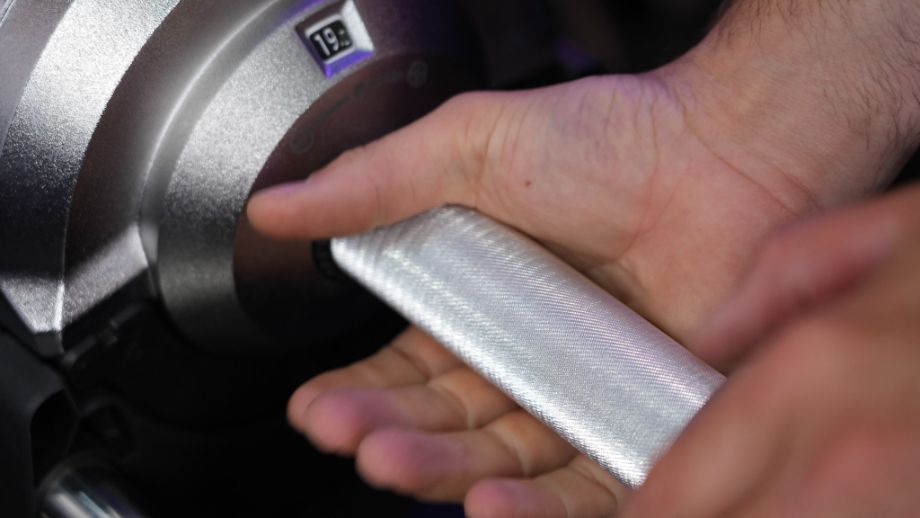 Another thing to note about the Trulap handles is the knurling: "It's actually very passive and not very grippy at all," says Coop.
"Knurling is often an afterthought for adjustable dumbbell companies and this one is no different. If knurling is important to you, go with the Pepin FAST series as they're the best (in my opinion)," Coop adds.
Trulap Adjustable Dumbbells Durability
Coop notes that adjustable dumbbells are prone to breaking at the lightest, 5-pound weight increment. Coop's thought is that the 8.5-pound starting weight will actually help durability-wise and for continuous racking and re-racking. That said, he rates Trulap with a 4.5-out-of-5 star rating for durability.
Plus, the Trulap dumbbells feature ultra-thin, durable cast iron plates. Each plate has an electroplated "stainless" finish, which we assume is chrome, but the website isn't totally clear about the finish.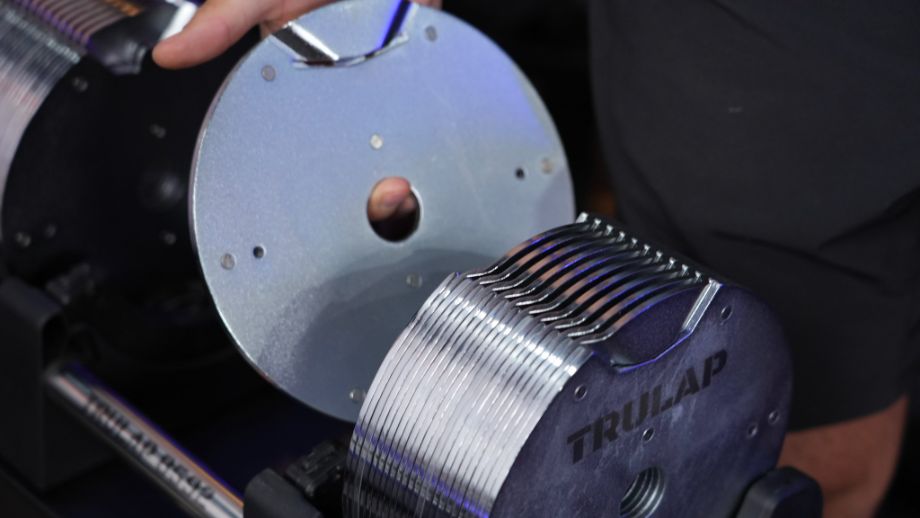 According to the website, the material is cast iron with an electroplated stainless finish. However Coop says, "I'm assuming they're using 'stainless' as a term for color, not material," he says. "But they look cool and having a cast iron base means they're going to be durable."
It's worth mentioning the Trulap dumbbells have a 3-year warranty, which may ease your mind for overall longevity and durability. However, much like many fitness products the warranty covers any handle mechanism malfunction or defects and anything damage that might happen during shipping and delivery.
The warranty does not cover wear and tear from lifting, scuffing, or dropping your dumbbells.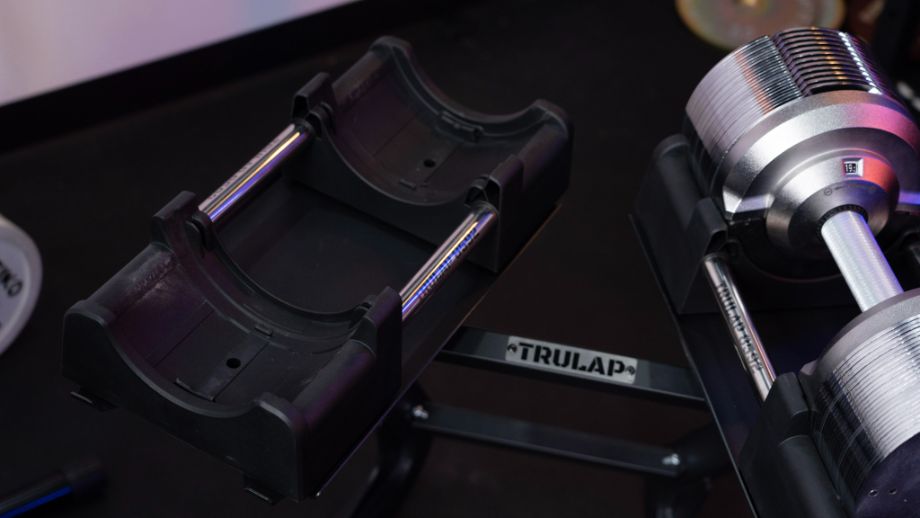 Coop also points out that the gearing of the adjustment mechanism can get sticky. "While there isn't a ton of plastic on these, the gearing is still nylon (like NÜOBELL) and prone to wearing out," says Coop.
"I hope this improves over time, but they got stuck at various increments more than other adjustables I've tested. If that happens, it can take a bit to get them unstuck, so beware and be careful when placing them in the stand," he adds.
Speaking of the dumbbell stand, if you decide to buy the Trulap dumbbell stand as an add-on to your purchase, be aware it'll work for the purpose of holding the dumbbells but Coop notes that it's made from reinforced nylon mixed with thin stainless steel tubes for rails. Coop says it's just OK.
Trulap vs NÜOBELL vs Snode
NÜOBELL Adjustable Dumbbells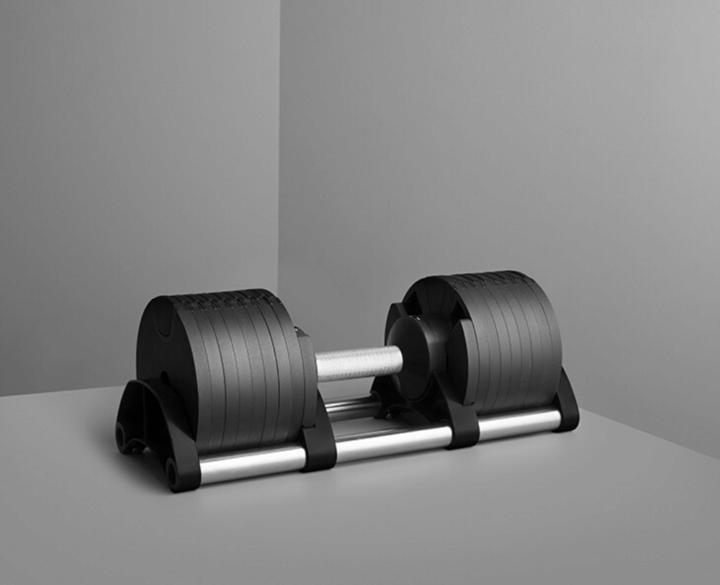 GGR Score: 4.5
Product Highlights
All-in-one adjustable dumbbell
Weight ranges from 5 to 80 lbs
Easy to use
Feels like a standard dumbbell
Pros & Cons
Pros
Feels like a regular dumbbell in hand
Easy quick-change adjustments
Knurled handle
Comes with a stand
Cons
Can be tricky to get in the stand
Unsure of structural integrity
Pricey
Bottom Line
These are great for people who want an easily adjustable dumbbell pair that feels more like a traditional fixed dumbbell
Snode AD80 Adjustable Dumbbells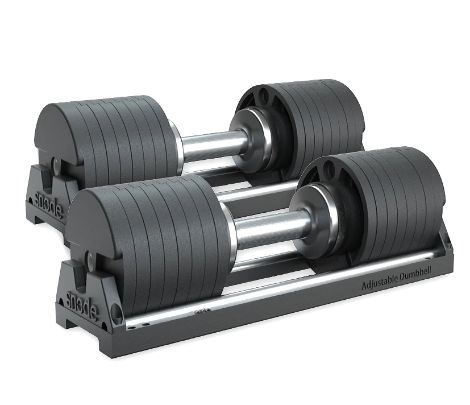 GGR Score: 4.2
Product Highlights
Weight ranges from 10 to 80 lbs

10-lb weight increments

36mm handle diameter

Cast iron dumbbell cradle

Feels like a pro-style dumbbell
Pros & Cons
Pros
Cast iron cradles
Drop-proof design from up to 32"
Solid cast iron dumbbell plates with dovetail design
Flat dumbbell heads
Knurled handle
Cons
Expensive
Longer dumbbell
Only jumps in 10-lb increments
Bottom Line
The Snode AD80 Adjustable Dumbbells are a durable pair of adjustable dumbbells that cover a broad range of dumbbell weights. If only having 10-pound increments is alright with you, these are a solid choice of dumbbell, strong enough to withstand drops from up to 32 inches.
Trulap is comparable to two top competitors: NÜOBELL and Snode. All three brands offer similar starting weights, and heavy top weights. Trulap offers the heaviest weight at 92 pounds, while the other two end at 80 pounds.
Additionally, NÜOBELL contains the equivalent of 16 pairs of fixed dumbbells and Snode only replaces 8 pairs of dumbbells with heavier, 10-pound increments.
It's also worth noting that each brand provides different weight increments. NÜOBELL and Snode use 5-pound and 10-pound adjustments respectively, while Trulap uses a variety of 2.5-, 3-, and 3.5-pound increments.
When it comes to construction, Snode is the best and most durable with a nearly all-metal design. NÜOBELL on the other hand has some cause for concern with hard plastic connecting pieces that could crack over time with repetitive use.
That said, Trulap uses less plastic than NÜOBELL but more than Snode. Trulap also replaces more dumbbells but has funky weight increments. If you can get over that, it might be the best deal of the three.
RELATED: Snode Adjustable Dumbbell Review
| | | | |
| --- | --- | --- | --- |
| | Snode AD 80 | NÜOBELL | Trulap |
| Dumbbell dimensions | 18.11" L x 6.68" W x 6.68" H | 17" L x 7.5" W x 7.5" H | 17.32" L x 7.67" W |
| Weight range | 10-80 lbs | 5-80 lbs | 8.5-92 lbs |
| Weight increments | 10-lb increments | 5-lb increments | 2.5, 3, or 3.5-lb |
| # of dumbbells replaced | 8 | 16 | 26 |
| Handle length | 4.53" | Not disclosed | Not disclosed |
| Handle diameter | 36 mm | 32 mm | 36 mm |
Customer Experience
The brand has a general inquiry form on the contact page in addition to the physical address, phone number (587-207-2720) and Instagram (@TrulapFitness) in case you need to contact Trulap. Here's a deeper dive into the warranty and return policy:
Warranty Policy
According to the website, the 3-year warranty covers all possible damages that could occur during shipping plus any mechanism malfunction or defects on the dumbbell handles.
The warranty does not cover normal wear and tear that does not affect the way the dumbbells perform (like scratches or dents). The warranty also does not include misuses or abuse of the dumbbells (like dropping).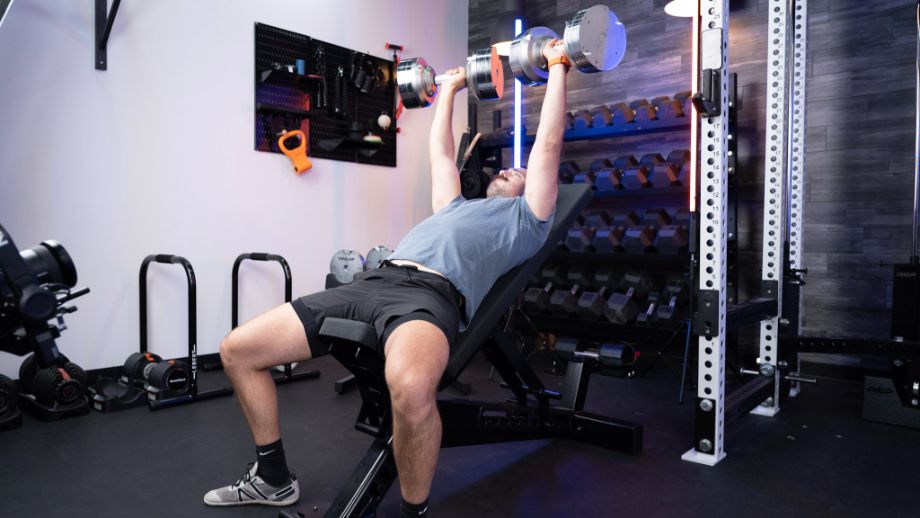 Return Policy
Trulap Fitness has a pretty standard 30-day window to make a return. Your item will have to be in new condition and returned in the original packaging along with a receipt or proof of purchase.
You'll need to request a return by contacting customer support via email at support@trulap.com.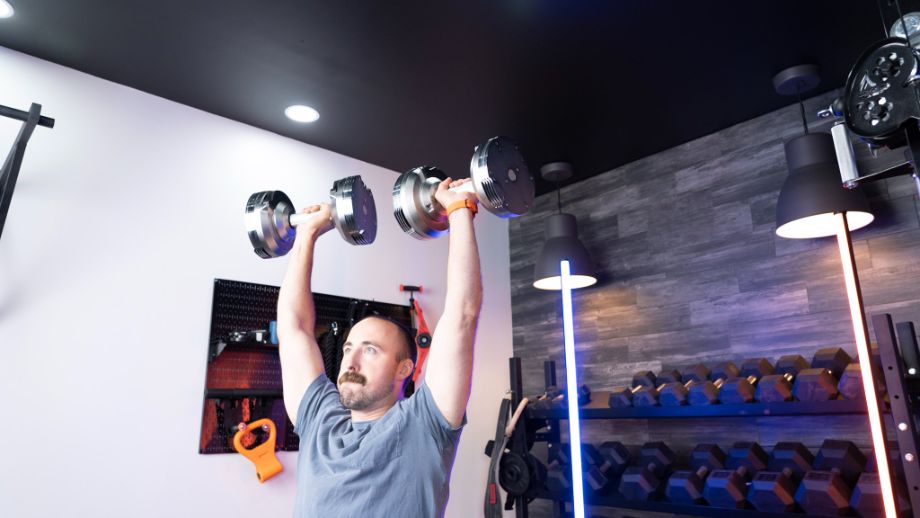 Ordering the Trulap Adjustable Dumbbells
At checkout on Trulap.com you will not find any third-party financing options like PayPal or Affirm. You'll be prompted to enter your credit card for $849.99 purchase. However, at the time of writing this review, the dumbbells were on sale for $799.99.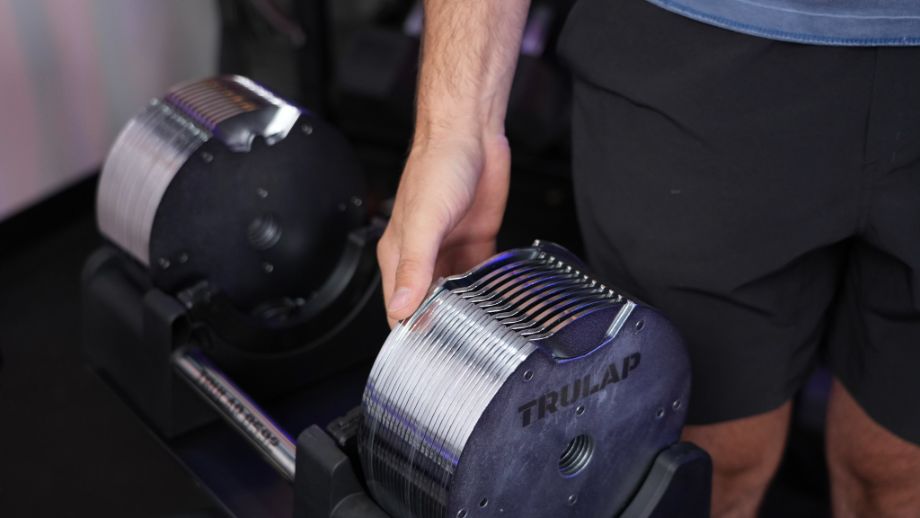 While there is no option to finance, you might like knowing that all orders in the United States and Canada receive free shipping. However, Trulap is a Canadian company and notes that you will be responsible for any additional tax or duty fees outside of Canada.
The website also notes that in-stock items are shipped on the same day as the order when purchased Monday through Friday. Orders generally arrive between four to nine days depending on location.
Customer Reviews
The website features 22 customer reviews and an overall 4.6-out-of-5-star rating. Any reviews less than 5 stars didn't have a written statement or review to read, just a rating, which seems a bit odd. I also searched on both Google and Amazon and didn't come up with any additional reviews.
Of the 22 reviews features, most folks are pretty happy and recommend the Trulap dumbbells.
Final Verdict of Our Trulap Adjustable Dumbbells Review
There are a lot of things to like about the Trulap Adjustable Dumbbells, namely how it replaces 26 dumbbells in your home gym. However, those weight adjustments won't be at traditional increments, which could be annoying.
"I'm a fan and overall, Trulap deserves a 4-out-of-5-star rating for its general value to home gym owners.
"I still think NÜOBELL are the standard to beat in the quick-change dumbbell category as they've been around the longest, have good brand-recognition, and are generally well-loved," says Coop.

"However NÜOBELL has some durability concerns. I think the Trulap dumbbells are a worthy competitor and I recommend them for those that want something quick changing, have lots of weight increments, and lift heavy."
Here are some considerations to make before adding Trulap dumbbells to your cart:
The brand doesn't offer financing on the adjustable dumbbells, which are priced around $850.
The aluminum handles offer very light knurling, which is not ideal for experienced lifters.
With 26 different weight adjustments, Trulap takes the place of 26 different dumbbells ranging from 8.5 to 92 pounds.
Trulap is new to the market with little brand-recognition compared to NordicTack, Bowflex, NÜOBELL, or Snode.
Trulap Adjustable Dumbbells Rating
Trulap Adjustable Dumbbells FAQs