We test and review fitness products based on an independent, multi-point methodology. If you use our links to purchase something, we may earn a commission. Read our disclosures.
We live in a fast-moving world where things have to be done quickly to move on to the next, and it's no different in a home gym. The convenience of a home gym is to have all your equipment there and ready to go, fast. When it comes to the best adjustable dumbbells, one aspect we like to look at is how quickly we can change weights in the middle of a workout. Few move quite as quickly or smoothly as the FAST Series Dumbbells from Pepin.
Pepin has innovated and improved upon their FAST series with a new second version that really shows some thought and time put into the design and choices made. Still, is this high-end dumbbell worth its high-end price? GGR founder and all-around adjustable dumbbell expert Coop was able to test these dumbbells out and we'll go over his thoughts in our Pepin FAST Series Adjustable Dumbbells review.
We Have a Handle on Adjustable Dumbbells
We have had our hands on lots of high-quality adjustable dumbbells on the market, including the Powerblock Elite Series Dumbbells, NÜOBELLs, and Snode adjustable dumbbells, just to name a few. In all of our experience, we know what to look for in a quality set of adjustable dumbbells, from weight changes to the construction and durability of the product.
Our team of certified personal trainers, weightlifting coaches, and lifelong athletes knows a thing or two about home gym equipment and what to look for in a quality product. In our experience in and out of the gym, we're able to bring you an expert opinion on the value and worth of a product, to help you make the next purchase for your garage gym.
Pepin FAST Series Adjustable Dumbbells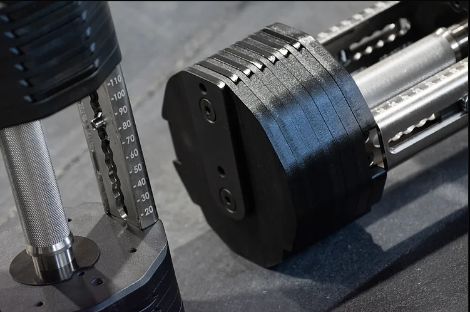 GGR Score: 4.5
Product Highlights
Compact steel dumbbell plates (maximum 17.5" long at 120 lbs)

Adjusts weight in seconds

Made with a solid steel construction

Covered by a lifetime warranty

Can be expanded up to 120 lbs
Pros & Cons
Pros
Good weight range
Fast-changing
Compact
Durable
Lighter weights can be expanded
Cons
Long shipping time
Higher price point
Bottom Line
With a good weight range and fast-changing adjustments, the Pepin FAST Series adjustable dumbbells are a great option if you're looking for adjustable dumbbells.
A Quick Look at the Pepin Fast Series Adjustable Dumbbells
Pepin is a small Canadian company that specializes in dumbbells. The FAST Series Dumbbells were our pick for the most innovative adjustable dumbbells in our Fitness Mosted Wanted 2023 roundup and for good reason. These adjustable dumbbells have a quick sliding mechanism that allows you to change weight increments in mere seconds; we also find them to be pretty durable.
The FAST Series dumbbells are 100% made in Canada, and are 100% steel construction…minus a few UHMW plastic inserts to prevent metal-on-metal wear. The steel plates allow them to be very compact, at 13.5 inches long at 80 pounds, and 17.5 inches at 120 pounds.
Unlike their Pro Series loadable dumbbells with a spin-lock, Pepin built a rail on each side of the FAST Series dumbbells' handles with an easy-to-use pop-pin to make quick weight adjustments on the fly. These dumbbells still have a flat head and feel like a traditional dumbbell, even with the rails.
RELATED: Best Dumbbells
Before You Buy
The FAST Series can be purchased with maximum weights of 60, 80, 100, or 120 pounds in each dumbbell. However, each of the lower weight options are expandable and can be upgraded up to the 120 pounds maximum down the road. All you'd need to do is purchase the additional weight plates and a new weight cradle. (At the moment, the additional weight plate options are not on the site.)
These dumbbells have a high starting weight of 20 pounds, with a heavy handle kit that could make it 30 pounds. If you are going as heavy as 120 pounds with this, then 20 pounds is probably an okay starting weight, but if you're looking to do lighter weights for rehab work, Coop recommends getting a pair of fixed 5-pound or 10-pound dumbbells as well.
The dumbbells can "technically" be adjusted in 5-pound increments, but it's done by offsetting the weights. Adjust one side to 20 pounds and the other to 30 pounds, and you now have a 25-pound dumbbell. It won't be something you'll notice necessarily, but if you just need even weights, this can be a hindrance. The FAST series does have additional 1.25-pound and 2.5-pound add-on plates to allow for even 2.5-pound or 5-pound jumps.
Video Review
Are the Pepin FAST Series Adjustable Dumbbells Worth It?
The Pepin FAST Series Dumbbells are definitely a solid product. The innovation and attention to detail are worth a look. Coop says about them, "These things are freaking amazing…I love seeing small companies push the big guys." And for a small company, Pepin has made an innovative, high-quality product.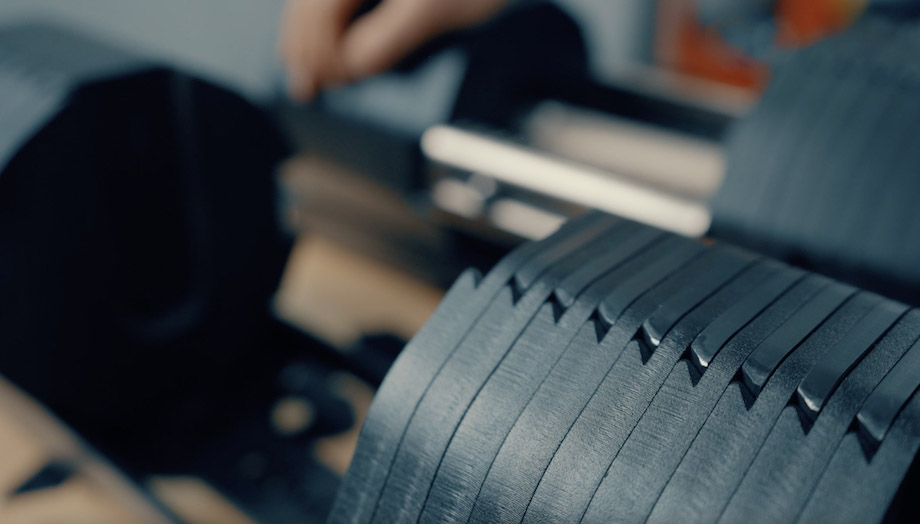 There are a couple features that might make you think twice about purchasing the FAST Series though. For one, the starting weight of 20 pounds might be a bit too heavy for some, especially if you're looking to do lighter rehab exercises. In the same vein, some people may not be looking for dumbbells to go as heavy as these adjustable dumbbells.
While the knurled dumbbell handle has a great feel, it is surrounded by two rails. It adds to the stability of the product and is smaller than the rails of a Powerblock adjustable dumbbell, but if you prefer a more traditional dumbbell look, then these will be a little off for you.
Nevertheless,the price is probably going to be the biggest deterrent for most consumers. The 80-pound set costs about $1,500, and the full 120-pound set is over $2,000. For those prices, you can probably find a full set of used hex dumbbells. It's still a premium product, and I don't think the price is outrageous for its build, but it'll still be out of many people's budgets.
Great for:
Lifters looking for a adjustable dumbbell that can go heavy
Anyone looking for a premium adjustable dumbbell to save space
Those wanting a dumbbell that can be upgraded as they get stronger
Not recommended for:
Anyone on a budget
Those wanting a dumbbell able to do lighter exercises
Beginners not wanting a heavy dumbbell, or one that can be upgraded
Pepin FAST Series Adjustable Dumbbells Specs
| | |
| --- | --- |
| Price | $1,421 (60 lbs), $1,542 (80 lbs), $1,671 (100 lbs), $1,859 (120 lbs) |
| Weight range | 20-60, 80, 100, 120 lbs |
| Expandable | Yes, to 120 lbs |
| Weight increments | 5 lbs |
| Material | Canadian steel |
| Maximum length | 11.5" (60 lbs), 13.5" (80 lbs), 15.5 " (100 lbs), 17.5" (120 lb) |
| Handle diameter | 38 mm |
| Warranty | Lifetime |
Using the Pepin FAST Series Adjustable Dumbbells
One of the best parts about the Pepin FAST Series dumbbells is how they combine two wants and needs in adjustable dumbbells that have rarely been seen together before: quick adjustments and heavy weights.
Powerblocks go heavier than the maximum 120 pounds, but getting them to that weight makes them awkward and almost unusable; Ironmaster dumbbells can go up to 165 pounds through add-on kits, but their quick-lock adjustment system isn't nearly as fast as you'd want. NÜOBELLs and Snode dumbbells both change weight quickly, but top out at a maximum of 80 pounds. Pepin really seems to have the best of both worlds.
RELATED: Ironmaster Adjustable Dumbbells Review
Many people prefer adjustable dumbbells with a natural feel to them, and the FAST Series provides, even with the rails on the sides. The rails are small enough and far enough from the dumbbell handle that you never really hit them while using them; if you close your eyes during a bench press or other dumbbell exercise, you wouldn't even realize the rails are there.
Actually, Coop notes that at lighter weights—20 to 30 pounds—the dumbbells can actually feel more like a Center Mass Bell, as the weight surrounds your hand instead of either side. Also, the updated version of the FAST Series has rounded rails, allowing you to grip them as handles for movements like French presses or goblet squats. Ultimately, the rails can add to the versatility of these adjustable dumbbells.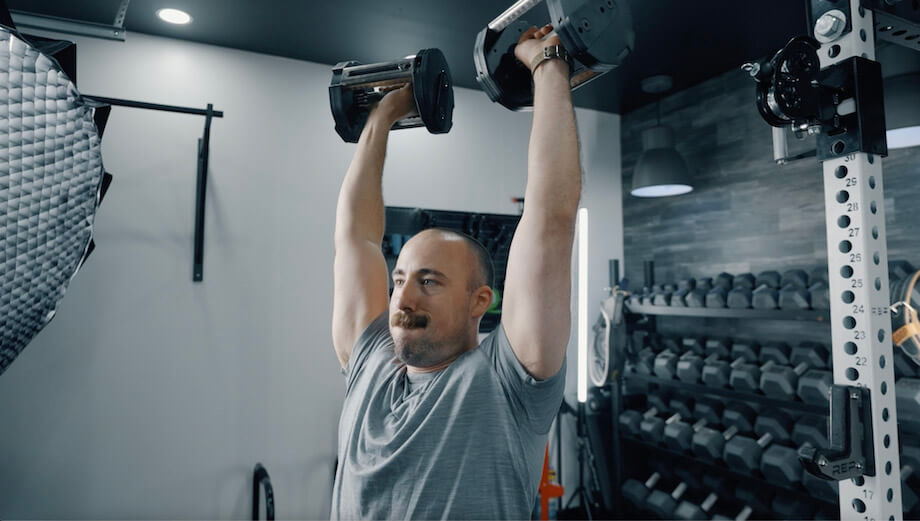 The quick adjustment system is a true testament to form following functionality. The adjustment pin can pull out and slide up and down the rail to your desired weight, and pops back in with a satisfying pop. (If you haven't seen our full video review of these dumbbells, you should; the pure joy Coop gets from the clicks of the adjustment rail are worth it alone.) The pins stay in place with a magnet, too, so they won't fall out and adjust in the middle of your set.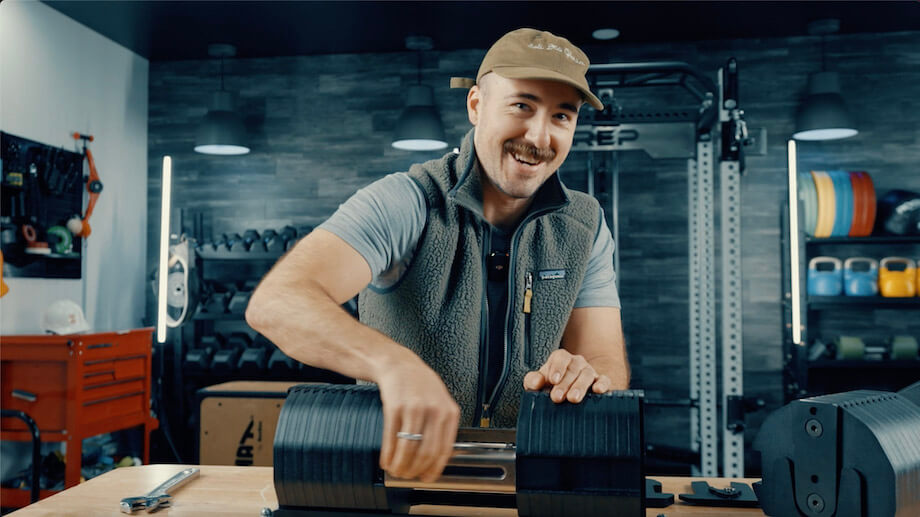 These dumbbells come with a steel cradle, as well. Plastic cradles don't always have longevity, especially when you're forcefully placing weights in and out of them, so the steel cradle is a great touch. The logo is laser-cut in the cradle, and not a sticker in sight—beautiful. However, understand that Pepin currently says that expanding from a smaller set of dumbbell weights to the full 120-pound set will require a new cradle purchase as well.
Construction and Durability
The Pepin FAST Series are made with 100% Canadian steel…mostly. Usually when we add that caveat, there is plastic in the inner gears of the dumbbell, like the Snode AD80s or NÜOBELLs. However, in Pepin's case, UHMW plastic inserts are added to the plates' dovetail grooves to prevent metal-on-metal wear during weight adjustments. This was a smart choice to increase the longevity of these dumbbells.
The adjustment gears are on the rails of the dumbbells. Each rail has a spring-loaded pop-pin that allows for a satisfying click as you adjust the weights. The dumbbell weights are clearly labeled along the top of the rail with laser-etched numbers, which is a fantastic touch, as the numbers won't wear off like stickers or paint could.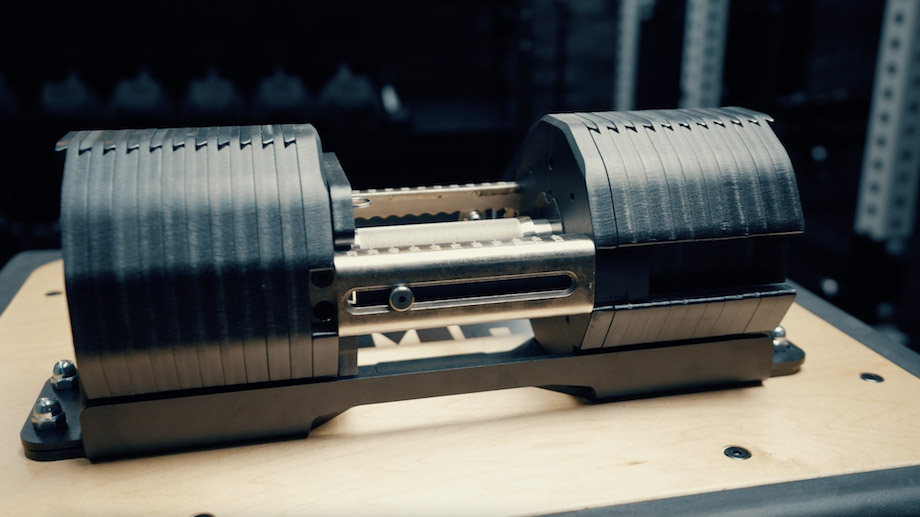 Each side of the dumbbell can be adjusted independently, allowing for offset 5-pound jumps in weight. While Coop didn't notice a huge difference in the offset weights, he could understand some people not liking having to offset a dumbbell for a 5-pound increment. If you're one of those people, Pepin does offer add-on incremental weight plates for 2.5 and 5-pound increments, or smaller offset weight increments.
The plates are CNC cut steel, which is what allows them to be so compact, durable, and precise. Typically, adjustable dumbbell weights can be all over the place with weight accuracy, but in our testing, the FAST Series were pretty spot on, consistently just a tad heavy. In Coop's opinion, he'd rather them be a little heavy than a little light.
The FAST Series dumbbells use different coatings throughout the equipment. The plates have a black powder coat, and the adjustment bar is coated with black cerakote. Additionally, the handles are finished with electroless nickel, which is one of the better coatings if stainless steel isn't used. This dumbbell just oozes quality.
Pepin doesn't recommend dropping these weights, and we wouldn't say they can be dropped, but these are very durable dumbbells. The steel construction paired with the extra rigidity through the rails and thicker handle make for a solid, durable dumbbell.
Handle and Knurling
Coop points out in his review that this dumbbell is really made for lifters and strength training, so Pepin really needed to get the knurling just right…and they delivered. Simply put, the knurled handle is nice. Using a volcano knurling, the grip is great without being too aggressive, like a mountain peak knurling might be.
The handle has a 38-millimeter diameter, which is thicker than an Olympic barbell. Actually the grip width may be more comparable to some cast iron kettlebells.
It'll be up to preference, but Coop prefers a thicker handle on dumbbells, just not too thick: "If [the handle] is too thick, it gets hard to actually do rows with because you're just focusing so much on grip; if it's too thin, then it feels uncomfortable when you're pressing." The thicker diameter also adds more stability to the dumbbell. This handle is just right.
RELATED: What Is Barbell Knurling?
Comparison to NÜOBELL Adjustable Dumbbells
NÜOBELL Adjustable Dumbbells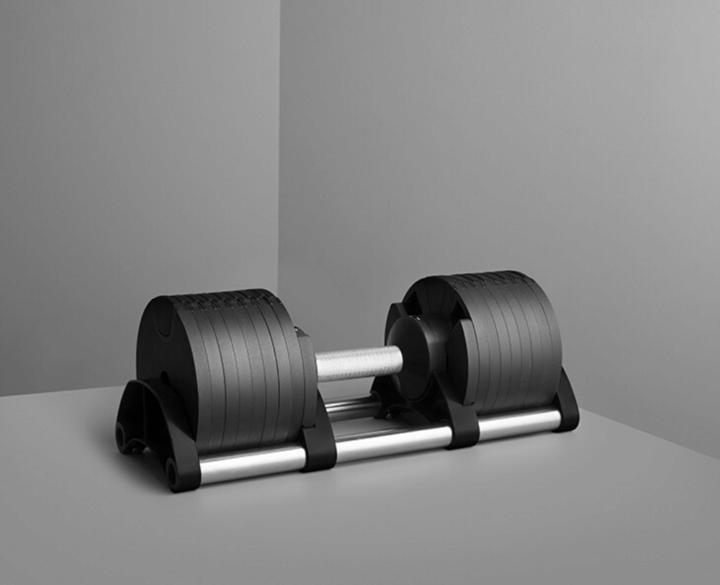 GGR Score: 4.5
Product Highlights
All-in-one adjustable dumbbell
Weight ranges from 5 to 80 lbs
Easy to use
Feels like a standard dumbbell
Pros & Cons
Pros
Feels like a regular dumbbell in hand
Easy quick-change adjustments
Knurled handle
Comes with a stand
Cons
Can be tricky to get in the stand
Unsure of structural integrity
Pricey
Bottom Line
These are great for people who want an easily adjustable dumbbell pair that feels more like a traditional fixed dumbbell
One of the most popular and higher-end adjustable dumbbells on the market are the NÜOBELLs. Compared to the Pepin FAST Series, there are a couple pros and cons. For one, Pepins have the option to upgrade and expand the weights of the dumbbells; NÜOBELLs can only stay at 80 pounds maximum.
Additionally, the Pepin dumbbells are made compact, with the 80-pound dumbbells being over 3 inches shorter than the NÜOBELL's length. The 120-pound version comes out almost the same size as the NÜOBELLs, too!
RELATED: What Size Dumbbells Should I Buy?
The NÜOBELL dumbbells have a lower starting weight than the FAST Series, at only 5 pounds. Also, both dumbbells have 5-pound increments, but the NÜOBELLs do not need to offset the weight like the FAST Series. Even more, although both make fast adjustments, the NÜOBELL dumbbells will be just a bit quicker.
When it comes to construction though, Pepin is much more durable, being constructed wholly of steel. Its lifetime warranty shows the confidence in the construction of this product.
Ultimately, the price, or the weight, will be the major determining factor between these two dumbbells. If you don't have it in your budget, the NÜOBELLs are still a solid choice for a good adjustable dumbbell. But if you can afford it, the Pepin FAST Series is a superior dumbbell that will last.
Learn more about the dumbbells from SMRTFT in our NÜOBELL Adjustable Dumbbells review.
| | | |
| --- | --- | --- |
| | Pepin FAST Series Adjustable Dumbbells | NÜOBELL Dumbbell Classic (80 lbs) |
| Price | $1,421 (60 lbs), $1,542 (80 lbs), $1,671 (100 lbs), $1,859 (120 lbs) | $745 |
| Weight range | 20-60, 80, 100, 120 lbs | 5-80 lbs |
| Expandable | Yes, to 120 lbs | No |
| Weight increments | 5 lbs | 5 lbs |
| Material | Canadian steel | Metal and plastic |
| Maximum length | 11.5" (60 lbs), 13.5" (80 lbs), 15.5 " (100 lbs), 17.5" (120 lb) | 17" |
| Handle diameter | 38 mm | 28 mm |
| Warranty | Lifetime | 2 years |
Customer Experience
These dumbbells are covered by a lifetime warranty, which we love from a small company. In particular, the product claims that these dumbbells are made to last a lifetime. Coming from a company owned by the namesake, that says a lot. "I love when somebody cares enough about their customers that they're willing to put their name on it and would be willing for their name to go down if the ship sinks," Coop says of the small company and their policy. Basically, we're fans.
There is no information on return policies on Pepin's website, but they can be contacted through an email and phone number for any additional questions.
Ordering the Pepin FAST Series Adjustable Dumbbells
The FAST Series Dumbbells are ordered directly through Pepin's website. Although they are pricey, they do offer financing through Sezzle, which splits your order's cost down to four payments over six weeks, upon approval.
Unfortunately, these quick adjustable dumbbells do not have a quick shipping time currently. The website calls for a 9 to 14 weeks delay on the FAST Series dumbbells.
Shipping charges will be added to your purchase, and shipping from Canada to the United States will cost a bit. Ideally, Coop recommends buying what you know you want now—the entire 120-pound dumbbells and any add-on weight plates—to only have to pay shipping once.
Still, if you are not sure you want the entire weight set with your purchase, you can purchase the 80-pound option (or other weight dumbbells), and order the upgrade kit when ready. Just know that currently, the upgrade weight kit is not listed, so we're not sure the exact cost. Additionally, an extra purchase will cost shipping again.
Customer Reviews
At the time of this writing, there are no reviews on Pepin's website for the FAST Series Adjustable Dumbbells. Actually, I just don't think Pepin has reviews on their website, as I didn't see reviews for any of their products.
Particularly for the FAST Series, there may be limited reviews due to them still being a fairly new product from a fairly small company.
Final Verdict of Our Pepin FAST Series Adjustable Dumbbells Review
The Pepin FAST Series Adjustable Dumbbells are a beautiful set of dumbbells, made with quality and innovation in mind. They are a premium piece of home fitness equipment. The price will limit the market for this product, but if money isn't a worry, then these provide good value even at their high price. Coop says it best: "If space is an issue, but money is not, these are the best adjustable dumbbells on the market. They are SO good. Truly, I am impressed and surprised."
Pepin FAST Series Adjustable Dumbbells Rating
Pepin FAST Series Adjustable Dumbbells
Heavy weights and quick adjustments? Yes, please! Learn about these high-quality dumbbells in our Pepin FAST Series Adjustable Dumbbells review.
Product Currency: USD
Product In-Stock: InStock
Pepin Fast Series Adjustable Dumbbells FAQs
Are Pepin dumbbells worth it?
Albeit pricey, the Pepin brand makes quality dumbbells, with their spin-lock Pro Series, as well as their FAST Series Adjustable Dumbbells. If you are looking for a heavy set of adjustable dumbbells and have it in your budget, these dumbbells are built solid and will last.
Are adjustable dumbbells worth the money?
Adjustable dumbbells are a great way to save space and money in your home gym. One pair of adjustable dumbbells can replace several pairs of fixed dumbbells, and can still cost less than all of those dumbbells it replaces. In deciding between adjustable dumbbells vs fixed dumbbells, there are also affordable budget options, depending on what you are looking for in your dumbbell weights.
RELATED: NordicTrack Dumbbell Review
Can you drop Pepin dumbbells?
I would recommend not dropping most adjustable dumbbells, and Pepin doesn't say you can drop their FAST Series dumbbells. With that said, the steel construction of the dumbbells and stable build makes these one of the more durable adjustable dumbbells on the market. They'd probably survive small, accidental drops with ease.