We test and review fitness products based on an independent, multi-point methodology. If you use our links to purchase something, we may earn a commission. Read our disclosures.
Branched-chain amino acids (BCAAs) aren't just for bodybuilders looking to add muscle mass. Amino acids are the building blocks of protein, and the branched-chain amino acids specifically come with several benefits.
BCAAs can serve as an energy source during endurance exercise once glucose and glycogen have been used up, and help stave off muscle fatigue1 during moderate-intensity exercise. BCAAs can also stimulate protein synthesis in muscle tissue when taken after resistance training (but heads up: They're not as effective as whey protein for muscle growth).
The TL;DR is whether your overall goal is more energy, fat loss, or muscle building, you may want to consider adding BCAAs to your routine. And we're here to help you find the right one for you. In this Transparent Labs BCAAs review, we'll break down this specific option to help you decide if you want to add it to your supplement routine and why we named it the best bcaa for women.
Medical disclaimer: This article is intended for educational and informational purposes only. It is not intended as a substitute for medical advice. For health advice, contact a licensed healthcare provider. GGR also recommends choosing a product that has been third-party tested for quality.
We Practice What We Preach
At Garage Gym Reviews, one of our mottos is to practice what we preach. We don't just recommend products to you. We try those products, use them in our regular routines, and then report back on our findings—honestly.
From creatine to electrolyte drinks for hydration to BCAAs, we've tried them all. We're not on a mission to convince you to buy stuff; we're here to help you find the best stuff. In addition to our personal experience with most of the products we recommend, we also know a lot about the science behind them, thanks to our educational and professional backgrounds. Collectively, our testers include personal trainers, CrossFit level 1 trainers, nutrition coaches, and athletes.
Transparent Labs BCAA Glutamine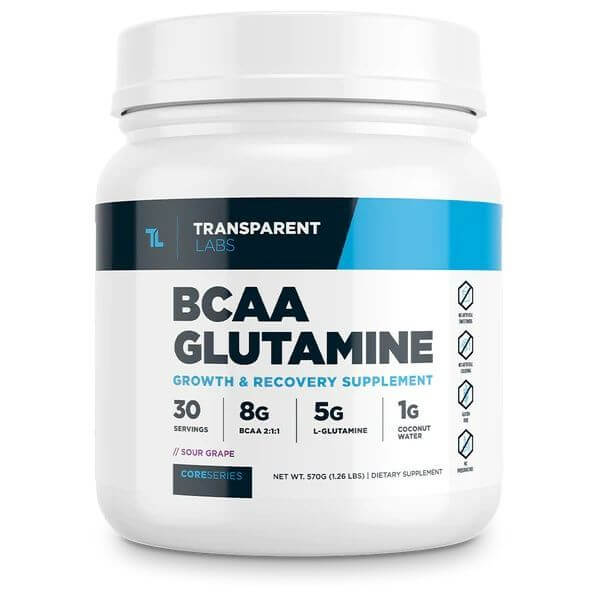 GGR Score: 4.25
Product Highlights
Available in 5 flavors, BCAA Glutamine supports post-workout recovery and a reduction of muscle breakdwon

No artificial colors, sweeteners, or coloring

Sweetened with Stevia

Each serving has 5 active ingredients designed to promote protein synthesis, reduce muscle fatigue, improve post-workout muscle growth, and enhance performance

Ingredients include vitamin C, fermented vegan BCAA 2:1:1 (L-leucine, L-valine, and L-isoleucine), and glutamine
Pros & Cons
Pros
Transparent ingredient list
5 flavor options
Uses fermented vegan BCAAs
Gluten-free and non-GMO
No artificial sweeteners, coloring, or preservatives
60-day money-back assurance
Cons
Expensive
Contains Stevia, which can cause digestive issues
Taste is not appreciated by all
Bottom Line
If Stevia does not cause you any stomach issues, Transparent Labs BCAA Glutamine is a well-formulated supplement worth considering.
A Quick Look at the Transparent Labs BCAAs
The supplement industry is pretty murky. There are a lot of brands out there that make big promises, but don't offer the quality to back it up. But Transparent Labs is all about, well, transparency. The brand openly calls out the fact that the supplement industry has very little oversight, and makes it a point to offer effective products with clean ingredient lists.
All Transparent Labs products have clinical dosages—which is really just a fancy way of saying the doses are higher than what you'd get in a typical supplement, and typically backed by research for effectiveness. They're also made with natural ingredients that are supported by science; you won't find any gimmicky products in the lineup.
Transparent Labs CoreSeries BCAA Glutamine comes highly recommended from experts in the fitness industry, including us. We named it the best BCAA supplement overall for several reasons. Not only does it have a high dosage of BCAAs, it also has some impressive supportive nutrients. Let's break it down.
Before You Buy
Transparent Labs BCAAs come in four flavors
They offer 8 grams of BCAAs plus 5 grams of glutamine
There are no artificial ingredients or unnecessary fillers
They're a bit on the expensive side, but you're paying for quality
Are Transparent Labs BCAAs Worth It?
The Transparent Labs BCAAs are on the higher end of the price spectrum, but we think it's worth it. It provides 8 grams of BCAAs per scoop, plus 5 grams of l-glutamine, which can increase protein synthesis and help speed up muscle recovery post workout2. Glutamine can also help reduce exercise-induced muscle damage 3 and muscle breakdown.
Great for:
Those who appreciate a clean ingredient list
People who need to avoid gluten
Anyone who wants vegan BCAAs
Not recommended for:
People who don't like the taste of stevia
Those on a tight budget
Transparent Labs BCAAs Specs
| | |
| --- | --- |
| Price per serving | $1.33 |
| Flavors | Strawberry Lemonade, Blue Raspberry, Tropical Punch, Sour Green Apple |
| Number of ingredients | 10 |
| Calories per serving | 10 |
| BCAAs per serving | 8 grams |
| Other key ingredients | Glutamine |
| Carbohydrates per serving | 2 grams |
| Sugar per serving | 0 grams |
| Sweeteners | Stevia |
Experience Using Transparent Labs BCAAs
The Transparent Labs BCAAs were tested by GGR Senior Staff Writer Amanda Capritto and GGR Senior Editor Nicole Davis, both of whom are certified personal trainers, over the course of a couple weeks. There were some drawbacks, which we'll get into later, but overall, both testers had a positive experience with the supplement.
Admittedly, Amanda says she didn't notice any physical changes or anything overtly positive that she could directly contribute to use of the BCAAs after a couple weeks of testing, but this is a long game. As Amanda says, there are many factors that go into changing one's fitness, so you won't necessarily see any major changes after a couple weeks. You have to stick to a consistent routine.
That being said, there is a decent amount of science to back up the use of BCAA supplements and if you're going to add one to your routine, we think the Transparent Labs BCAAs is one of the best ones to choose.
Price Per Serving
A 1.28-pound tub of the Transparent Labs BCAAs retails for $39.99. The tub has 30 one-scoop servings, so the price breaks down to $1.33 per serving. If you want to save a little cash, you can sign up for the brand's subscription option. You'll get 10% off the total price (plus free shipping and other random promotions and discounts). This brings the price per serving down to $1.17.
Formulation
Transparent Labs prides itself on clean ingredient lists. While there are some fillers, like calcium silicate and silicon dioxide, the bulk of the formulation is the active ingredients. The BCAAs are a blend of l-leucine (4 grams), l-isoleucine (2 grams) and l-valine (2 grams). Those are combined with 5 grams l-glutamine and 1 gram of coconut water powder, which provides electrolytes. It also contains 1.5 grams of vitamin C from citric acid.
To improve taste, there are natural flavors and stevia added. Transparent Labs never uses artificial sweeteners, preservatives, flavors or other potentially harmful additives. We tested the Strawberry Lemonade, but you can also get Sour Green Apple, Blue Raspberry and Tropical Punch.
Taste and Solubility
While the Transparent Labs BCAAs got high marks for solubility, both of our testers tried the Strawberry Lemonade flavor and weren't huge fans of the taste. Nicole says it tastes a little bitter with a strange aftertaste (likely from the stevia) and Amanda says it was super sweet. Diluting it with extra water helped though.
On the plus side, it dissolved right into water without any clumps. "I didn't have problems with solubility when mixed with a shaker bottle or in a regular water bottle sans shaker ball. It does settle a bit if you leave it untouched for several minutes, but you just have to give it a quick shake before taking a swig," Amanda says.
Side Effects
Our testers didn't experience any negative side effects when testing the Transparent Labs BCAAs and studies show that taking them is pretty low risk. While you always want to discuss any new supplementation with your doctor, there are no adverse side effects4 associated with doses even as high as 60 grams.
Third-Party Testing
All Transparent Labs products are third-party tested and you can easily access results on the brand's page. There are certificates of composition (COC) and certificates of analysis (COA). The certificates of composition show a breakdown of active ingredients in the product. Basically, third-party proof that you're getting what Transparent Labs says you are.
The COAs show more in-depth testing results. Each supplement is tested for microbes, heavy metals, and other contaminants to ensure quality and purity. When you receive your BCAA supplement, you'll see a lot number on the container. You can look up the specific lot number on the brand's site to see a detailed breakdown of the testing results.
Transparent Labs BCAAs vs Huge BCAAs vs Xtend Original BCAA Powder
If you're not totally sold on the Transparent Labs BCAAs, here are some others we recommend.
Huge BCAAs
We love the Transparent Labs BCAAs as an all-purpose supplement, but if muscle-building is your main goal, you really want a supplement that provides a wider range of amino acids. The Huge BCAAs includes branched-chain amino acids in addition to other essential amino acids, like threonine, tryptophan, phenylalanine, and methionine. Each scoop provides 8 grams of BCAAs, 5 grams of glutamine, and 150 to 500 milligrams of the other amino acids. The ingredient list isn't as clean as though—it contains artificial sweeteners and flavors.
Huge BCAAs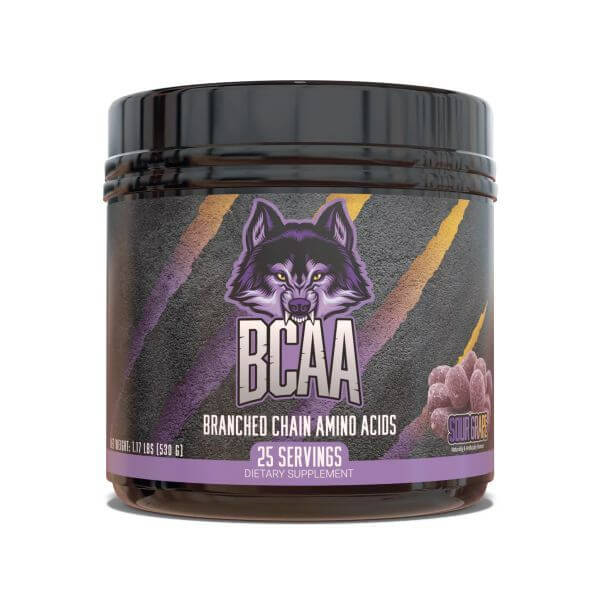 GGR Score: 4
Community Score: 3
Product Highlights
One scoop contains 15 grams of amino acids including an impressive 8 g of BCAAs

Can be taken before, during, or after a workout and is easily stacked with your favorite pre or post-workout supplement

Made in a GMP facility

Available in 4 flavors 

Formulated to improve protein synthesis, and support muscle recovery and muscle growth for better overall performance

Key ingredients include calcium, potassium, sodium, BCAAs (L-leucine, L-isoleucine, L-valine), L-glutamine, coconut water powder, L-lysine, L-threonine, L-tryptophan, L-phenylalanine, L-histidine HCL, and L-methionine
Pros & Cons
Pros
Tastes good
High levels of quality BCAAs
Mixes well
Can be stacked with other drinks
Cons
Not so much a negative, but since this product does taste good, many consumers would appreciate a greater variety of flavors
Expensive at $1.59 per serving
Sweetened with sucralose
Bottom Line
As one of the better-tasting BCAA supplement powders on the market, Huge BCAA may be a good choice if you place a premium on taste and quality ingredients.
Xtend Original BCAA Powder
If you're working with a tighter budget, you can get the Xtend Original BCAA Powder for considerably cheaper than the Transparent Labs version. It does have slightly fewer BCAAs—each scoop has 7 grams—but the dose is still impressive. There's also 2.5 grams of glutamine per serving, as well as an electrolyte blend and citrulline malate5, which has been shown to improve anaerobic workout performance and alleviate muscle soreness. Heads up: There are artificial sweeteners and some colored dyes included in the ingredients.
Xtend Original BCAAs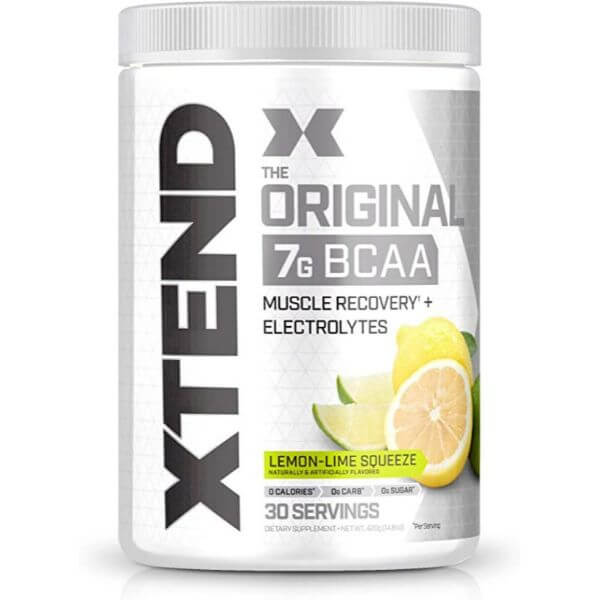 GGR Score: 3.75
Community Score: 2.8
Product Highlights
7 grams of BCAAs in a 2:1:1 ratio

Helps muscle recovery and growth

May improve overall performance 

Contains zero sugar, calories, or carbs

Added electrolytes for improved hydration and recovery

Third-party tested

Free from banned substances

8 flavors

30- or 90-day supply
Pros & Cons
Pros
8 unique flavors
7 grams of BCAAs per serving
Does not have a bitter taste
Electrolyte blend for hydration
Third-party tested and certified
Cons
Contains sucralose/artificial sweetener
Contains food dyes
Bottom Line
If you're looking for a boost of electrolytes and some high-quality BCAAs, Xtend may be a good choice for you. It contains artificial sweeteners, which do a great job at masking any bitter taste but may be a dealbreaker for some. Key ingredients include L-Leucine, L-Glutamine, L-Isoleucine, L-Valine, electrolyte blend, and citrulline malate.
Customer Experience
Transparent Labs accepts returns within 30 days of the delivery date. If you haven't opened the tub yet, you can request a full refund. If you open the tub and decide you don't like the BCAAs, you can request an exchange or an online store credit. All returns must be initiated through the support email (support@transparentlabs.com) so they know it's coming.
Ordering Transparent Labs BCAAs
You have two options when ordering from the site. You can opt for a one-time purchase or set up a recurring delivery. If you choose a single order, you'll pay shipping unless your order total is $149 or more. If you choose the subscribe and save option, you'll get free shipping on each order, plus 10% off your total.
Subscriptions ship every 30, 45, or 60 days—your choice. You can only add one tub to your shipment, and can cancel at any time.
Customer Reviews
The BCAAs have a 4.7 out of 5-star rating on Transparent Labs' site from almost 1,000 reviews. Many of the reviewers say they love the taste and digestibility. But beyond that, they're noticing results, too. Many people say they feel great and haven't been waking up sore after intense workouts.
One reviewer writes, "I take this while I workout and it almost motivates me to go harder because it has that natural flavoring that's somewhat potent but clean. It almost feels like I'm still taking pre-workout throughout my workout but it doesn't have caffeine so I know it's a different sensation. Either way, it enhances my workout for sure and I enjoy taking a sip after a hard set—best feeling."
Many say this is the best BCAA supplement they've ever taken, and one who says they love the flavor of the Strawberry Lemonade writes, "[There's a] noticeable difference in exercise fatigue while taking during workout and decreased muscle soreness."
People also rave about the clean ingredient list, with one writing, "I love the fact that it has minimal ingredients. Makes me confident knowing I'm not getting extra unnecessary stuff that's potentially dangerous to my health."
Final Verdict of Our Transparent Labs BCAAs Review
The Transparent Labs BCAAs are one of our favorite workout supplements. We didn't love the Strawberry Lemonade flavor (and think overall it's a little too sweet), but it mixes well into water even without a shaker bottle and has a really clean ingredient list. It is a little on the expensive side, but you get 8 grams of BCAAs, 5 grams of glutamine, 1.5 grams of vitamin C and a dose of electrolytes via coconut water powder—a lot of bang for your buck.
Full Rating
Transparent Labs BCAAs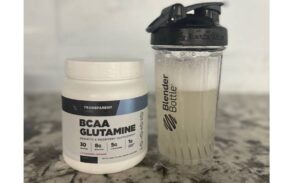 In this Transparent Labs BCAAs review, we'll dive into the supplement's formulation and highlight our personal experience with the product.
Product Currency: $
Product Price: 40
Product In-Stock: InStock
Transparent Labs BCAAs FAQs
Is It OK To Take BCAAs Every Day?
Yes, it's okay to take BCAAs every day. These are essential amino acids (EAA), which means your body doesn't make them. As such, you need to get them from somewhere. While it's best to get as many nutrients as you can from your diet, sometimes you need a little help meeting your needs.
Do I Need BCAAs If I Take Protein?
BCAAs and protein powder are really two complementary supplements. Branched-chain amino acids are best taken pre-workout to give you an extra boost, or intra workout (during your workout) to help stave off muscle fatigue. Whey protein or other protein supplements are a better choice for post-workout recovery and post-workout muscle growth since they have all the essential amino acids needed for maximum muscle protein synthesis. You don't need to take either of them—especially if you're meeting your needs through a balanced diet with plenty of protein—but if you want to take both, you can.
How Many BCAAs Should I Take?
There's no single answer to this question, but some research6 suggests a ratio of 2:1:1, with a sweet spot of 40 milligrams of leucine, 20 milligrams of isoleucine, and 20 milligrams of valine per kilogram of body weight. If you weigh 175 pounds, that translates to about 3.2 grams of leucine and 1.6 grams each of isoleucine and valine. The dosage breakdown in the Transparent Labs BCAAs covers this ratio really well.
These statements have not been evaluated by the Food and Drug Administration. This product is not intended to diagnose, treat, cure, or prevent any diseases.
References