We test and review fitness products based on an independent, multi-point methodology. If you use our links to purchase something, we may earn a commission. Read our disclosures.
Unlike newer NordicTrack treadmills, the T7 Si isn't exactly decked out with luxurious features, but it's a folding treadmill that gets the job done. So, if you're new to fitness and want a quality-made machine that'll allow you to walk or jog without going outside, it's a very good pick.
As you'll see in our NordicTrack T7 Si Treadmill review, you'll get a durable treadmill at a price range that typically doesn't offer such a thing. But, trust me, when we get into the details, you'll realize that most treadmills priced under $1,000 don't come with some of the features you'll find on this fitness machine.
While it's over a decade old, this solid, budget-friendly treadmill is still worth checking out. Unfortunately, NordicTrack no longer produces it, but you might find it on eBay, Amazon, or elsewhere. If you happen to come across it, we want you to know what to expect from it and if it's going to meet your fitness needs.
We've Tested NordicTrack Treadmills, Ellipticals, And More
You may be wondering why you should bother taking advice from us, and that's a reasonable inquiry. One reason to consider our feedback is that fitness is our passion and expertise. Our GGR testers are personal trainers, exercise specialists, athletes, and more. Therefore, as you might've imagined, we have tried several types of fitness equipment and can speak to their functionality.
Secondly, one brand that we've had a lot of time to try out is NordicTrack. We've tested their treadmills, exercise bikes, ellipticals, and more, so we know what to expect from them. We understand what features certain users would like and/or dislike, which helps us help you. In addition, our testers have also taken the time to compare their treadmills to similar brands, like ProForm and Horizon.
So, you should trust us because we're not Joe Schmoe. Joe Schmoe might've purchased one treadmill for his home gym and now feels like he knows all about them. But at Garage Gym Reviews, we've literally tested hundreds of them and can honestly say we know our stuff. Our knowledge goes so deep we could even tell you how to repair certain things on your NordicTrack treadmill. It doesn't get any better than that!
RELATED: NordicTrack T6.5 S Review
Looking for an Alternative to NordicTrack T7 Si Treadmill?
Best Alternative to NordicTrack T7 Si Treadmill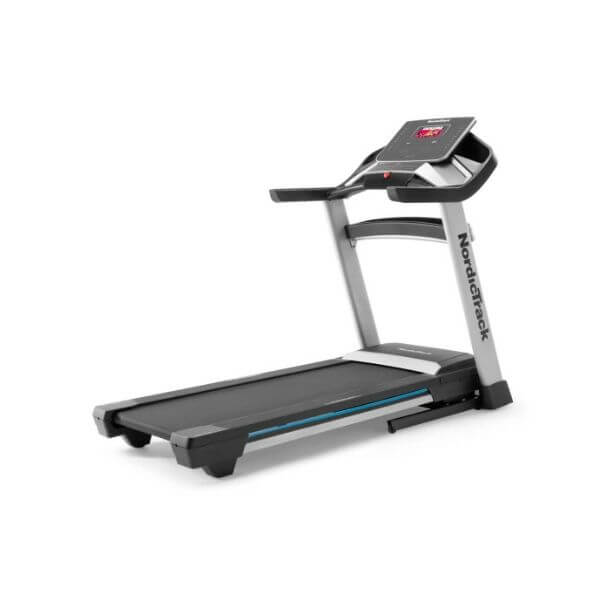 GGR Score: 4.12
Product Highlights
7-inch touchscreen display

iFIT-enabled and comes with a free 30-day family membership

3.0 CHP motor suited for walking or running

Speeds from 0 to 12 mph with incline ranges up to 12%

Folding design

20-inch-by-60-inch cushioned running deck to reduce stress on joints and back

Supports weights up to 300 pounds

Conveniences include Bluetooth connectivity, a console fan, and tray for storage
Pros & Cons
Pros
Interactive 7-inch screen allows for easy access to the iFIT library
Folding design
Large running surface for a folding treadmill
Cushioned running deck
One-month family membership to iFIT is included with purchase
Cons
Small screen
No tablet or phone holder
Heavy
Bottom Line
True to the NordicTrack brand, the NordicTrack EXP 7i is a high-quality treadmill best suited for walkers, joggers, hikers, and the casual runner. With iFIT connectivity, you will have no shortage of motivation to stay on track towards your fitness goals.
Since the T7 Si is no longer in production and might not be the easiest to find, it's only fitting to suggest an alternative. So, if you want something newer with similar features, we'd recommend the NordicTrack EXP 7i.
If you're a tall runner, you'll like this treadmill since it has a 20-inch-by-55-inch running belt. There's plenty of room to get your run on without feeling restricted. If you're heavier, you'll appreciate that it can safely accommodate a 300-pound user weight capacity.
Those who enjoy entertainment might consider this machine, too, since it's got a 7-inch HD touchscreen. Although the screen is smaller than the new cell phones, you can still connect it with iFIT and work out with your favorite on-demand trainer.
The Bluetooth audio connectivity and Google Maps workout technology are also lovely additions. You could listen to an audiobook or workout playlist on your AirPods instead of blasting it through the treadmill speakers. This helps if you're a parent trying to exercise quietly in the morning before your kiddos wake up. The Google Maps feat lets you imagine you're running around the world, so working out from home feels more adventurous.
The NordicTrack EXP 7i has other neat conveniences, like the Autobreeze workout fan, FlexSelect cushioning, and water bottle holders. Although it's a heavy treadmill and a bit pricier, it's an excellent alternative to the T7 Si.
A Quick Look at the NordicTrack T7 Si Treadmill
If you're considering the NordicTrack T7 Si treadmill for walking or jogging, I think you'll be satisfied. However, I can honestly say this is not a serious runner's treadmill. The NordicTrack T series treadmills weren't necessarily built for marathon runners. Think about it: Most are smaller and have less powerful motors than other NordicTrack treadmill series.
Nonetheless, it still offers great value and would be beneficial as an entry-level treadmill in your home gym. It has some nice tech features and admirable conveniences for a treadmill under $800. Keep reading to see if this would be a treadmill you consider for your weight loss goals.
Pros:
Folding treadmill
iFIT cards-compatible
12 built-in workout programs
One-touch controls
325-lb user weight capacity
iPod/MP3 music port
Adjustable deck cushioning
Cons:
Noisy at times
Some electrical issues
Basic display
NordicTrack T7 Si Treadmill Specs
Because this model has been discontinued, we were unable to find some pertinent information about this machine.
| | |
| --- | --- |
| Footprint | N/A |
| Weight | N/A |
| Weight capacity | 325-Lbs |
| Display | High-resolution display |
| Foldable | Yes |
| Treadmill belt | 55" L x 20" |
| Motor | 2.25 HP |
| Speed range | 0 – 10 MPH |
| Incline options | 0 – 10% |
Key Features of the NordicTrack T7 Si Treadmill
Most people don't expect quality features on an affordable treadmill, but this one sure has some. I particularly like the conveniently placed one-touch speed and incline controls. When you're in your zone, the last thing you want to do is punch a bunch of buttons to change something. So, with this treadmill, it's one click, and you'll quickly go from something like 1 to 5 MPH.
The NordicTrack T7 Si comes with a 0 to 10% incline range, so you'll be able to burn more calories when you add it to your workout. Pair that with the up to 10 MPH speed range, and you're in for a real challenge. While 10 MPH might not be an adequate running speed for professional runners, it still takes a lot of effort for most people.
In addition, I like that this treadmill comes with an AutoBreeze workout fan that has four convenient settings. It'll automatically change the fan's airflow to match your running speed. This is huge, considering that there are some expensive treadmills out there that don't include a workout fan at all.
Another feature is its commercial motor. Yes, I know that a 2.25 CHP motor isn't the best, and it's still on the smaller side when it comes to today's industry standard, but it's not terrible either. If you use the machine for what it's truly intended to do, which is walking and light jogging, that shouldn't be an issue.
However, I do want to note something. They say the treadmill can support up to 325 pounds, but I don't know if the motor would perform well for a heavier individual. The motor's horsepower should be at least 3.0 HP to support someone over 200 pounds adequately. So keep that in mind if you're eyeing this machine.
Footprint, Portability, and Durability
Although I couldn't find the exact dimensions for this treadmill, I know it's smaller than a NordicTrack Commercial 1750. It's got a 20-inch-by-55-inch tread belt and has the patented SpaceSaver design, so it's suitable for compact spaces. In addition, the treadmill can be folded vertically and placed in a convenient location when it's not in use.
Since I couldn't get the specs on the machine's weight, I can't say how easy it is to move. However, it has wheels, so it can be transported when not in use. For the price, it's a quality treadmill made with decent parts. However, you may notice some noise and fragility when the intensity is increased.
Ergonomics
The T7 Si treadmill comes with adjustable cushioning thanks to NordicTrack's patented DuraStride deck cushioning feature. So if one day you decide to hop on the treadmill and want to pretend you're running outside, you can do that. But if you're someone who has joint issues or an individual who would like to decrease the impact on your joints, you can make it softer.
The AutoBreeze fan is a nice bonus, too. Working out on a treadmill without a fan isn't very pleasant.
There have been some reports that this treadmill isn't as enjoyable to run on, but that's to be expected. The closer you get to max speeds, the more wobbly it starts to feel, which doesn't make for a comfortable experience.
Technology Benefits and Conveniences
Even though this is a budget-friendly treadmill, it still includes some tech features. The most notable is the iFIT interactive workout system. This feature allows the console to use iFIT workout cards that are uniquely designed to help you reach your fitness goals. For example, one card might include an eight-week weight loss program, whereas another might help you train for a long-distance marathon race.
Unlike the newer NordicTrack treadmills, you won't be able to visually see a personal trainer coaching you as you work out. You'll only hear their voice instead. But it'll still automatically control the speed and incline levels when necessary during the iFIT workouts. Do keep in mind that the iFIT cards are sold separately.
The high-resolution display provides all the feedback you'd want while working out, like distance, speed, heart rate, and calories burned. You'll also see an animation of a road on the center display.
Other conveniences include:
12 preset workouts (5 weight loss workouts, four aerobic workouts, and three performance workouts)
Premium sound system (2" speakers)
iPod dock
Heart rate monitor on the handrails
Final Verdict of Our NordicTrack T7 Si Treadmill Review
So, is the NordicTrack T7 Si treadmill worth it? Well, it depends. As mentioned throughout the review, this treadmill is for walkers and light joggers. So if that's what you'd primarily like to do, and you're okay without touchscreens, this shouldn't be a problem. But if you're a marathon runner looking to add a lot of variety to your workout or feel that entertainment options are important, check out some alternatives.
NordicTrack T7 Si Treadmill Rating
NordicTrack T7 Si Treadmill
A little bit of tech and solid functionality is what you'll get, as evidenced by our NordicTrack T7 Si treadmill review.
Product Currency: $
Product Price: 1299
Product In-Stock: InStock
NordicTrack T7 Si Treadmill FAQs
How Long Do NordicTrack Treadmills Last?
Most treadmills last about 10 years but could last longer with the proper TLC. The treadmill warranty on the NordicTrack T7 Si guarantees lifetime coverage on the frame and motor plus one year on the parts and labor. Based on that, it could last quite a while! 
Is the NordicTrack T Series Good for Running?
The NordicTrack T Series could be used for running, but it's best for walking and jogging. The motors on these machines tend to be smaller, and the tread belt may not be long enough for serious runners. 
Can You Watch Regular TV On A NordicTrack Treadmill?
Word on the street is that you can't watch regular TV directly through the fitness equipment. The iFIT system is currently not compatible. However, I've heard something about activating privilege mode to watch Netflix on certain NordicTrack treadmills. 
Most people use a smartphone or tablet to access the shows they want to watch.