We test and review fitness products based on an independent, multi-point methodology. If you use our links to purchase something, we may earn a commission. Read our disclosures.
There are so many things you have to consider when deciding which type of fitness equipment to add to your home gym. New trainees typically compare exercise bikes, ellipticals, and treadmills to see which is best for their cardio needs. Home treadmills are often the top choice among beginners since many of them fold.
If you find yourself looking for an affordable entry-level treadmill that comes from a reputable brand, you'll appreciate this NordicTrack C 600 treadmill review. We will assess every detail to see how this machine stacks up against some of the best treadmills on the market. Now, I will admit, this now-discontinued treadmill is no NordicTrack Commercial 1750, but it still has some features we're sure you'll appreciate.
You Can Count On Us For Home Treadmill Reviews
If you take a quick glance at our website, you'll see that we've reviewed hundreds of home gym products, especially home treadmills. We've identified some of the best folding treadmills and the best treadmills with touchscreens. Our GGR testers have also tried out multiple brands like ProForm, Horizon Fitness, Sole, Sunny Health and Fitness, and more.
We're no strangers to the home gym space. Our very experienced group of personal trainers, athletes, exercise specialists, and more take about a month to try out equipment. In that amount of time, we can evaluate how well a treadmill performs and who'd benefit the most from it. So, if you need info on home treadmills, you can count on us.
Looking for an Alternative to NordicTrack C 600 Treadmill?
Best Alternative to NordicTrack C 600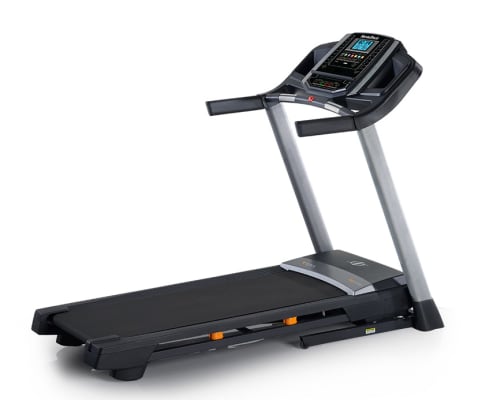 GGR Score: 3.8
Product Highlights
Entry-level foldable treadmill
iFIT-compatible
20 on-board workouts
2.6 CHP motor
Pros & Cons
Pros
Space-saver/folding deck
20 on-board workouts
iFIT- and iPod-enabled
300 pound weight capacity
Affordable
Cushioned running deck
Incline capability
One-touch controls
Cons
Requires a separate viewing device to take advantage of the benefits of iFit
Small 5-inch display
Customers consistently report that the T 6.5 S is very noisy
Motor will not support sustained running
Bottom Line
The NordicTrack T 6.5 S is a value purchase with some notable features. WIth a foldable design and compact footprint, it is a great choice for those with small spaces looking to dive into the world of cardio.
Just in case it's difficult for you to come across the NordicTrack C 600 treadmill, or it's just not your cup of tea, we've got an alternative home gym machine for you to consider. The NordicTrack T 6.5 S is a budget-friendly treadmill available on Amazon that's also great for beginners.
This treadmill is under $1,000 and provides a 0-10 MPH speed range and 10 incline levels. The self-cooling SMART response 2.6 CHP motor drives this machine allowing seamless transitions. Most people will like the cushioned 20-inch by 55-inch tread belt. Thanks to its cushioning protection, you'll reduce the impact on your joints when walking or jogging on this treadmill.
The NordicTrack T 6.5 S treadmill can also support trainees up to 300 pounds, making it inclusive of heavier users. However, it's advised that treadmill motors be a bit stronger in order to adequately support more weight. Fortunately, NordicTrack offers a lifetime warranty on the frame and motor, so if you run into some issues, you could potentially have it replaced.
In addition, if you're short on space, not a problem; this machine has the patented SpaceSaver design, so you can fold it up when you're not on it using NordicTrack's EasyLift Assist feature.
A Quick Look at the NordicTrack C 600 Treadmill
I'll preface this by saying that the NordicTrack C 600 isn't the best treadmill on the market, but it's not the worst either. In 2014, it was a top seller and easily outshined similarly priced starter treadmills from other brands. But is it really all that valuable?
Honestly, whether or not it offers incredible value depends on the price. If you found it today for $1,000, I'd recommend looking at other treadmills. However, since it's discontinued now and you could likely find it for less than $500, grab it up.
It's got some features beginners will like, and its warranty package isn't half bad (but they could've done better). We'll get into the details in this NordicTrack C 600 treadmill review.
Pros:
10 incline levels
SpaceSaver design (folds vertically)
20 built-in workout programs
325-lb weight capacity
Lifetime warranty on motor and frame
FlexSelect cushioning
Cons:
1-year parts and labor warranty
Small backlit console
No touchscreen or video streaming
NordicTrack C 600 Treadmill Specs
Due to the fact that the NordicTrack C 600 treadmill is off the market, our team had trouble finding reputable sources for some of these specs.
| | |
| --- | --- |
| Footprint | 73″ L x 35.75″ W x 67.5″ H |
| Weight | N/A |
| Weight capacity | 325 pounds |
| Display | 6" backlit LED |
| Belt size | 20" x 55" |
| Incline range | 0 to 10% |
| Maximum speed | 10 MPH |
| Programming | 20 built-in apps |
Key Features of the NordicTrack C 600 Treadmill
The running space, incline levels, and top speed on this treadmill are ideal for walkers and joggers. You're getting a 20-inch by 55-inch tread belt that'll be roomy enough to complete your cardio workout and should be suitable for most folks as long as you're not planning to run on it.
The NordicTrack C 600 treadmill gives you 10 incline levels and a max speed of 10 MPH. Both can be changed with the click of a button thanks to the machine's OneTouch controls. The quiet 2.6 CHP DurX motor paired with the 1.9-inch rear rollers drives this treadmill, so you should have a smooth workout experience. Unfortunately, less powerful motors sometimes create clunky transitions when you change the speed or incline, which is annoying.
Another standout feature of this treadmill is its 20 built-in workouts. So if you step on this machine and find yourself uncertain about what to do, it'll give you some choices to work with. I love how easy they make it, too! There's a button right on the console that says "20 workout apps," so when you click it, you'll see your options. Whichever one you select (besides manual mode) will automatically change your speed and incline to allow you to focus on your cardio session.
Footprint, Portability, and Durability
The NordicTrack C 600 is about 6 feet in length and 3 feet wide, so its treadmill dimensions are right in line with most standard treadmills. It's also almost 6 feet tall, so it wouldn't work as an under-desk treadmill. Nonetheless, it still has the patented SpaceSaver design, so you can fold it up and stow it when you're not using it. Plus, since it has wheels, you can move it to another room, which is helpful if you don't have a dedicated home gym space.
In terms of durability, NordicTrack is a brand known for providing quality home gym equipment. Based on their warranty package, I feel confident saying that the frame and motor are top-tier. However, I question the quality of some of the other parts since they only have a one-year parts warranty.
Ergonomics
If you don't like how your joints feel when you run outside, you're in luck. The NordicTrack C 600 allows you to reduce the firmness thanks to its FlexSelect cushioning feature. But if you prefer mimicking an outdoor run, you can certainly increase the firmness to achieve that.
To change it, place the treadmill in its storage position and identify the knobs that alter the cushioning on the left and right sides. Once you've spotted them, change both sides to your desired level of firmness. Of course, you want them to have the same firmness level, or else you'll be in for an interesting workout.
Technology Benefits and Conveniences
This treadmill is compatible with iFIT Live, but it's a module you'd have to purchase separately. If you activate that, you'd have to connect the machine to the internet and download workouts that interest you. Some of the exercises will feature an audio coach that'll guide you through your training. This might work for some, but if you're a visual person and want to see a personal trainer on a screen working out with you, this will likely be disappointing.
The NordicTrack C 600 features a 6-inch backlit LED screen, which is on the smaller side. Even in 2014, when this was launched, many NordicTrack models had a 7-inch screen or better. Even though I wish it were bigger, I'll gladly proclaim it tiny but mighty, and here's why:
The screen is incredibly easy to read from any angle, making it better than many other discount treadmills. It'll show you all the necessary details, like distance, pulse, speed, calories, and more. Sure, it's no touchscreen, but it'll work if you're OK with the basics.
You'll find these other neat conveniences on this treadmill, as well:
Multi-speed fan can auto adjust based on walking speed
InterMix Acoustics 2.0 sound system
Grip heart rate monitors
Final Verdict of Our NordicTrack C 600 Treadmill Review
Overall, the NordicTrack C 600 treadmill brings great value if you can find it for under $600. As an entry-level home treadmill, it'll meet many new trainees' needs. With features like 20 built-in workout programs, a high weight capacity, and an easy-to-read backlit display, you're in for a real treat. Plus, there's plenty of versatility for walkers and joggers alike thanks to its top speed of 10 MPH and incline trainer abilities.
So if you see it at a garage sale for a great price, go ahead and grab it.
NordicTrack C 600 Treadmill Rating
NordicTrack C 600 Treadmill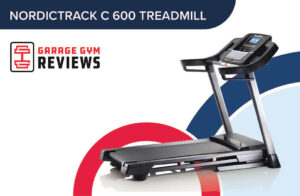 Walkers and joggers, listen up! If you're looking for a treadmill made just for you, check out this NordicTrack C 600 treadmill review.
Product Currency: $
Product Price: 699
Product In-Stock: InStock
NordicTrack C 600 FAQs
How much does the NordicTrack C 600 weigh?
The weight of this treadmill wasn't disclosed, but the average treadmill is about 270 pounds. So I'd say that this is probably slightly under that. Given that this treadmill can support a 325-pound user weight capacity, it's likely made with some heavy-duty parts and isn't on the light side. 
How long do NordicTrack treadmills last?
If you're doing proper maintenance, you'll probably get at least 10 years out of your treadmill. This particular one comes with a lifetime warranty on the motor and frame, so you might be able to get some great use out of it! 
Can you run on the NordicTrack C 600?
Hypothetically, you could run on this treadmill since it has a top speed of 10 MPH. However, the drive system on this machine doesn't sustain frequent running. So I'd keep it to once a week, or twice at most, if you want to use this treadmill for a while. 
If you plan on running often, you'd want a treadmill with at least a 3.0 CHP motor or greater. If you're a serious runner, I'd recommend looking at the NordicTrack EXP 10i or another model.