We test and review fitness products based on an independent, multi-point methodology. If you use our links to purchase something, we may earn a commission. Read our disclosures.
At first glance, the console on the NordicTrack A2250 reminded me of the gray Super Nintendo I used to play in my childhood. It shares that same classic grayish hue that was popularized back in the day, which makes sense because this treadmill is no spring chicken.
The A2250 treadmill is over 15 years old and has been discontinued for quite some time now. Therefore, you won't find it at WalMart, Amazon, or other big box retailers today, but you might see random parts for it at these locations, like end caps and drive belts. What's interesting is if we could step inside a time machine and go back to the early-ish 2000s, we'd find it housed at Sears and see people anxious to buy.
Nowadays, if you want this folding treadmill, you'll likely be buying it from someone who purchased it from Sears long ago and is ready to part ways with it. And guess what? They're selling it for a lot less than what they purchased it for years ago. In fact, you might be able to buy one for under $300, which isn't bad for this brand-name machine.
In this NordicTrack A2250 treadmill review, I will be dishing out all the deets surrounding this now-discontinued diamond in the rough. That way, if you happen to spot it somewhere online or at a garage sale, you'll know if it's a good choice for you.
Related: Best treadmills for home gyms
Trust the Home Gym Fitness Experts
If you want advice on fitness equipment for home use, the best people to ask are those who live and breathe this stuff. The product testers at GGR are certified personal trainers, CrossFit-L1 trainers, athletes, and more who are experienced with trying all kinds of equipment. We've tried different brands at various price points and can tell you if something is a hit or miss.
Although we haven't personally tried the NordicTrack A2250 treadmill, we've sweated on enough similar machines to speak to how this one might be. Thanks to our strong knowledge of treadmill parts and the nature of our work, you can rely on us to break through the marketing fluff and get to what matters most.
Looking for an Alternative to NordicTrack A2250 Treadmill?
Best Alternative to NordicTrack A2250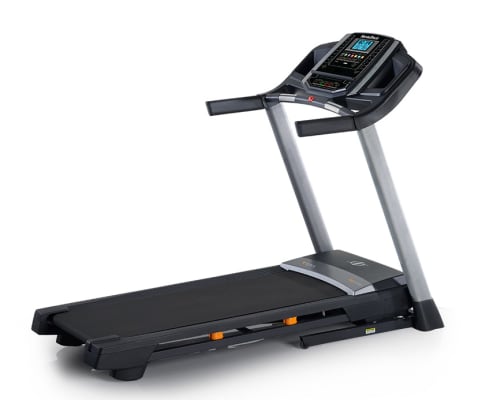 GGR Score: 3.8
Product Highlights
Entry-level foldable treadmill
iFIT-compatible
20 on-board workouts
2.6 CHP motor
Pros & Cons
Pros
Space-saver/folding deck
20 on-board workouts
iFIT- and iPod-enabled
300 pound weight capacity
Affordable
Cushioned running deck
Incline capability
One-touch controls
Cons
Requires a separate viewing device to take advantage of the benefits of iFit
Small 5-inch display
Customers consistently report that the T 6.5 S is very noisy
Motor will not support sustained running
Bottom Line
The NordicTrack T 6.5 S is a value purchase with some notable features. WIth a foldable design and compact footprint, it is a great choice for those with small spaces looking to dive into the world of cardio.
Honestly, you're not going to have the easiest time finding the NordicTrack A2250. Therefore, it's only appropriate that we share something else that's a little bit newer and easier to discover.
The NordicTrack T 6.5 S is an entry-level budget treadmill that doesn't have all the admirable bells and whistles, but it does have iFIT capabilities. With its 55-inch by 22-inch walking belt, 2.6 CHP motor, and 0-10 MPH speed range, this machine is a good choice for walking and jogging.
It can support users up to 300 pounds, comes with 20 onboard workouts, and offers a 0-10% incline range to spice things up. For those who want more than pre-programmed workouts, check out iFIT. You can connect your smartphone or tablet via Bluetooth and access hundreds of trainer-led exercises. The trainers can even control the speed and incline of your treadmill without you having to raise a finger, which is pretty clutch.
The manufacturer's warranty that comes with this machine isn't half bad either, but we've seen better. You'd get 10 years of coverage on the frame, two years on the parts, and one year on the labor. Although this treadmill is no longer sold on the NordicTrack website, we assume that this warranty is still honored.
Overall, the NordicTrack T 6.5 S is a favorable option for walkers and joggers desiring a treadmill that folds, has iFIT, and doesn't cost an arm and a leg. It's a durable piece of exercise equipment to have for home use.
A Quick Look at the NordicTrack A2250 Treadmill
Even though the NordicTrack A2250 treadmill would probably end up on someone's #throwbackthursday post on Instagram, it's still a solid machine. Sure, you're not going to get a touchscreen display, but if you need something that'll help you with your weight-loss goals or assist you in getting your daily steps in, it can do that.
It's a heavy-duty treadmill for walkers and joggers who desire simple conveniences like one-touch controls, workout fans, and deck cushioning. Is it the best treadmill in the world? Not at all! However, it's an affordable choice that includes the iFIT Interactive Workout System and patented SpaceSaver design. For less than $300, you really can't beat it!
Pros:
OneTouch controls
Folding treadmill
DuraSoft III Adjustable Cushioning
AutoBreeze workout fan
Heart rate monitor
Cons:
Motor could be stronger
Can be hard to find or repair
Only 6 built-in workout programs
NordicTrack A2250 Treadmill Specs
Due to the fact that the NordicTrack A2250 Treadmill is off the market, our team had trouble finding reputable sources for some of these specs.
| | |
| --- | --- |
| Footprint | N/A |
| Weight | N/A |
| Weight capacity | 300 lbs |
| Display | ClearView™ display |
| Belt size | 20″ x 55″ |
| Incline range | 0-12% |
| Maximum speed | 10 MPH |
| Programming | 16 onboard workouts |
Key Features of the NordicTrack A2250 Treadmill
So what makes this machine really stand out? Why would trainees consider this instead of a brand new NordicTrack commercial treadmill? Well, some folks just need a basic treadmill for home use and aren't looking for fitness club quality. Commercial treadmills are best for serious runners who plan on using their treadmill daily or several times per week. Those who want to do some occasional treadmill walking and light jogging simply wouldn't need all that commercial treadmills have to offer.
As I see it, the NordicTrack A2250 treadmill has just enough. You'll get to enjoy 1-touch speed, and 1-touch incline controls, which are incredibly helpful. The 20-inch by 55-inch tread belt and the 0-10 MPH speed range are ideal for individuals who don't plan on running. You can make your workout more challenging and burn more calories by increasing the incline up to 12%.
Making seamless speed and incline changes happen is the 2.25 CHP DurX commercial drive motor on this treadmill. While it's not a very powerful motor, it can handle someone walking or jogging a few times per week. So if that's all the intended user plans to do, that'll work.
One other feature worth mentioning is the 16 onboard workouts. That's not a lot, but it's still better than nothing. You'd get one beginner workout, two intermediate workouts, and three advanced workouts. All of them will automatically change your incline and speed, which is neat.
Footprint, Portability, and Durability
I couldn't find the exact footprint on this treadmill, but it doesn't appear massive. You can fold it vertically by just lifting the metal frame up, pulling the latch knob, and raising the frame until the pin is aligned with the hole in the catch. Once it's secured with the pin, you can move the treadmill out of the way until you're ready to use it again. As long as you're moving the treadmill along an even surface, you'll be able to use the wheels to roll it to your area of choice.
As far as durability goes, the treadmill is OK, but NordicTrack has built better. Even before this machine was discontinued, it was considered an affordable treadmill, so with it being budget-friendly, it likely doesn't have the best parts. The frame will probably last a while, but customers have found the parts to be subpar.
Ergonomics
Just because you're not paying $1,000 for a treadmill doesn't mean you can't get a little comfort. This treadmill does offer DuraSoft III Adjustable Cushioning, which is said to have up to 33% less joint impact than running outside on the road. Therefore, if you have joint problems and don't want to utilize a nearly zero-impact elliptical, this should help you out.
As you might imagine, cushioning provides a much softer landing and can help you recover from your workout a bit faster. But if you prefer it firmer, you do have that choice. The cushioning system can be easily adjusted using the cushion adjuster on the walking platform.
One other thing they included to make working out less undesirable is a workout fan. The AutoBreeze workout fan can be set to off, low, high, or auto. I prefer auto because the fan's speed will automatically adjust based on the speed of the walking belt.
Technology Benefits and Conveniences
I'll come right out and say that people aren't buying this treadmill for its technological benefits. As mentioned earlier, the console reminds me of my old Super Nintendo. It looks as outdated as it is, but it has the basics one would expect.
The ClearView display provides a 180-degree viewing angle that's said to be easily visible no matter your height. You'll find your workout time, incline level, speed, and calories there. The display will show your heart rate, too, if you use the hand grip pulse sensor or the optional-but-sold-separately chest pulse sensor. There's also a 7-by-30 matrix that displays your workout visually for those who like to see their progress at a glance.
Also on the console is a Training Zones display. With that, you'll be able to see the approximate intensity of your exercise. The levels are warm-up/cool-down, fat burn, aerobic, endurance, and performance.
There's a button on there for iFIT, as well, and an area that accepts iFIT workout cards. The cards, which are sold separately, have different workouts on them. For example, one has an eight-week weight-loss program you can follow. The personal trainers will motivate you throughout the training, but you'll only be able to hear them, you can't see them. Fortunately, the cards can control the speed and incline of your workouts, so at least you won't have to worry about that part.
Final Verdict of Our NordicTrack A2250 Treadmill Review
The NordicTrack A2250 Treadmill (often mixed up with the NordicTrack A2550 Pro Treadmill) is a good option for those who desire an affordable machine from a well-known brand. Based on what you read here, you may find that this treadmill checks all of your boxes. Or, you might feel like this isn't going to cut it at all. Either way is OK.
In my opinion, it does what a treadmill is meant to do, which is to help you work out inside instead of outside. So if walking or jogging a couple of times weekly is all you need and you don't require a bunch of advanced technical features, add this to your list. If you can find it for less than $300, it's not a bad choice at all.
If you happen to run across this machine in the future, I hope this NordicTrack A2250 treadmill review has given you enough information to make a choice.
NordicTrack A2250 Treadmill Rating
NordicTrack A2250 Treadmill
Looking for a treadmill for walkers and joggers that's under $300? Check out this NordicTrack A2250 treadmill review to see if this is an option for you.
Product Currency: USD
Product Price: 699
Product In-Stock: InStock
NordicTrack A2250 FAQs
Can You Run on the NordicTrack A 2250?
I wouldn't recommend it. The 20-inch by 55-inch walking belt, coupled with the 2.25 CHP motor and 10 MPH max speed, isn't ideal for runners.
Why Was the NordicTrack A 2250 Discontinued?
Treadmills like this one are typically discontinued to make room for new and improved ones. Brands like NordicTrack and ProForm are consistently enhancing their home workout machines to provide their customers with better choices.
Does the NordicTrack A 2250 Fold?
Yes, it does fold! This treadmill has the patented SpaceSaver design, so it folds vertically to allow you to maximize the space in your home.