We test and review fitness products based on an independent, multi-point methodology. If you use our links to purchase something, we may earn a commission. Read our disclosures.
It's no secret that there's a lot of questionable fitness advice on the internet, and that goes for the app store as well. You can find hundreds of training programs available for your iPhone or Android that promise to give you the "ultimate beach body" (whatever that means), but any fitness professional worth their knurling knows to stay away from most of these.
Our NCFIT programming review gives you an in-depth understanding of one of the few online training programs we recommend. Founded by CrossFit legend Jason Khalipa, the app (only available on iOS) comes with three training programs for the affordable price of $19.99, has one of the most extensive movement libraries we've ever seen, and will put you through some grueling workouts. 
You'll see why we've named it one of the best personal training apps on the market today.
Use code GARAGE to save 15% on your membership.
Why You Should Trust Us
The Garage Gym Reviews team consists of personal trainers, certified CrossFit coaches, and people who just enjoy working out. So when it comes to reviewing the best online workout programs, we know what to look like from both sides of the system. We're looking at how the training blocks are structured, the clarity of the instructions, and how trainees are kept accountable, along with many other things to ensure you're getting the best program possible.
Not only that, but we actually use these programs for quite some time before writing our reviews. In some cases, we stick with them for a year or more to give you the most in-depth look possible.
NCFIT
NCFIT App
The NCFIT app is a tool you can use for at-home workout programming. With it, you can choose from on-demand classes and daily workouts, as well as get access to an extensive library of exercises. There are four workout tracks to choose from:NCMETCON is high intensity interval training that combines aspects of fitness like conditioning, weightlifting and gymnastics.NCGO is strength and conditioning work that combines traditional strength training with a metcon.NCX is a track that uses dumbbells and bodyweight movements.NCCOMP is a "competitors' track" meant for people who want to compete.Jason Khalipa, CrossFit Games champion and elite athlete, designed NCFIT programming with the intention of helping people build healthy lifestyles. Every class via NCFIT is led by a top-level coach with years of experience in the field. Anyone at any fitness level can work with NCFIT.The app is available for iOS.
A Quick Look at NCFIT Programming
NCFIT is a training programming system founded and designed by Jason Khalipa, the 2008 CrossFit Games champion and one of the sport's most popular athletes. NCFIT is also the name of four California gyms that Khalipa owns and operates.
The system offers personalized training programs for athletes, gym owners, and coaches with a focus on functional fitness and CrossFit, though the app offers options for strength and conditioning, and bodybuilding training, too. Unlike other apps, you don't have to choose between the three–NCFIT allows you to follow all three.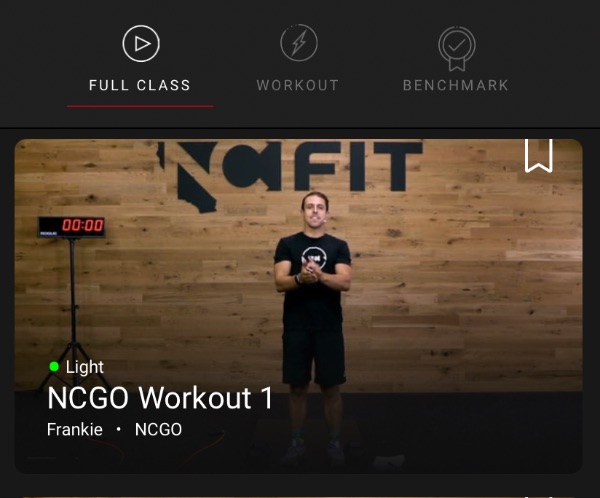 You simply enter some information about your fitness level, what type of gym you work out in (thankfully they have an option for garage gym users), and your overall goals, and it gives you daily workouts. It also has a library of alternative movements in case you don't have access to a specific piece of equipment, or aren't comfortable doing a certain exercise.
My Tips
Be honest about your workout experience—these workouts are no joke.
Want to try it out? Your first seven days are free, and the subscription is easy to cancel if you decide it's not for you.
My Favorite Things:
App comes with its own timer for tabata and EMOM (every-minute-on-the minute) training, as well as a stopwatch
Extensive movement library with videos
Three different workout programs for the price of one
New workouts added every day
Offers plenty of alternatives for every movement
My Callouts:
No Android app
No live feedback or training cues
No individualized training
App can be unresponsive at times
Is NCFIT Programming Worth It?
The NCFIT programming app is affordable compared to most other training apps we've seen, at only $19.99, but that doesn't mean everyone should sign up. Some people have a good idea of what to do with their barbells and dumbbells, and can build better muscle and strength on their own. Others, though, may be chasing specific goals and could use a program to help guide their training regimen.
Here's who we think should download the NCFIT app, and who would be OK without it.
Great for:
Beginners who need instructions on certain movements
People looking to achieve specific fitness goals
Those looking for an affordable training program
Not recommended for:
Trainees looking for individualized workout programming
Powerlifters, as there's no option for powerlifting training
People who use Android devices
Training With NCFIT Programming
After downloading the NCFIT app, you'll answer a few questions about where you work out (a garage gym or commercial one), along with your fitness level and experience. It then asks you your primary training style, of which there are three: NCMETCON (functional training), NCX (strength and conditioning), and NCFLEX (bodybuilding).
I personally stuck to bodybuilding and strength training, and our Operations Manager Sam Presley stuck to functional training (so lots of metcons).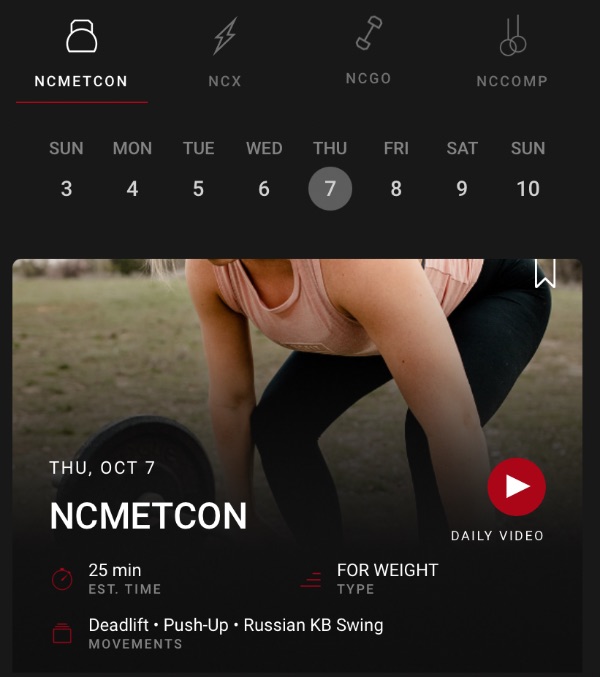 If you're like me and prefer to switch up your training every now and then, this app is for you. Although you pick your default program, you can easily toggle between the three to get a taste of what they're like as well.
The programming itself is no joke. On my first day, we did five pause squats (three seconds in the hole), followed immediately by 10 speed squats, and 10 tall box jumps.
To say my legs were roasted after that would be an understatement, and that was just the warm-up. Most bodybuilding workouts typically take about 90 minutes, but the functional training and strength and conditioning ones can be done in under 30.
With that said, one place where the NCFIT app shines is its programming charts, which offer users alternative movements to just about every exercise. So let's say your programming has ring rows on the menu, but you don't have access to gymnastic rings or have never done them. You can look up the movement in the resources tab and find acceptable alternatives to that move.
I'm a big fan of this feature, as it can make training more accessible to a wider range of people.
Room for Improvement
Although I greatly enjoyed the workouts, I found the app lacked many customization options. Unlike other apps I've used, there's no option to enter how many days a week you prefer to train, and the app fails to ask you your height and weight.
Essentially, your workouts are built based off your fitness level and your biological sex, and I'd like to see the team get a little more personalized with their plans in the future (though I understand doing so may raise the price of the app).
My only big complaint about the app is that it froze on me more than a few times. I thought at first that it might be my internet, but I tried it in various areas and still ran into issues, especially on the FAQ page.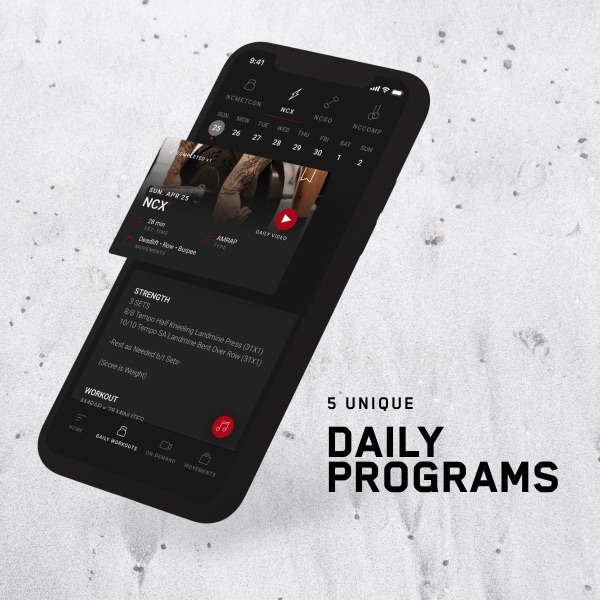 And don't get me wrong, I'm OK without another set of push notifications popping up on my phone every 10 minutes, but I do wish the NCFIT app had a little more accountability built in. I left it alone for a few days during a work trip, and not once did it remind me to make sure I workout. I would like to see some sort of phone or email reminder built to keep people accountable.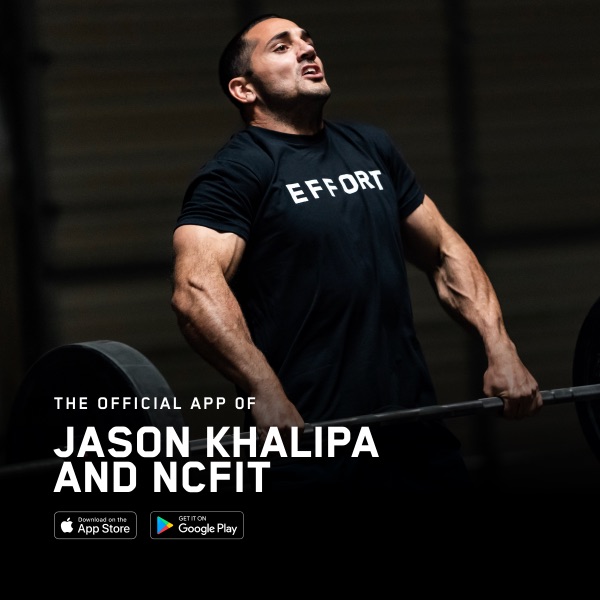 The only way you can track workouts is by marking one as "completed," but if you forget to press that button then your app thinks you've done zero workouts.
We'd also like to see the app available on Android devices. NCFIT does have an Android app, but it's specifically to help coaches program workouts for their clients.
Follow-Along Workouts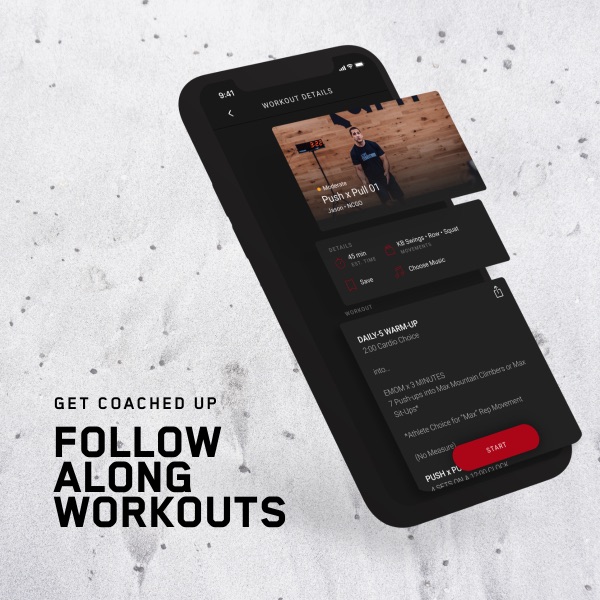 The NCFIT app offers follow-along workouts, which they call NCGO workouts. These workouts mostly consist of bodyweight movements, but do require some equipment (you can get away with a set of moderately heavy dumbbells). Sam found them to be very thorough, but the videos for the strength and conditioning and functional training programs are a bit too brief.
"The daily workouts are a short three-minute video that just walks you through what you will be doing," Sam says. "For a beginner such as myself, the daily workouts are more difficult because I find myself jumping over to the movement library to make sure I'm doing the movement correctly."
Movement Library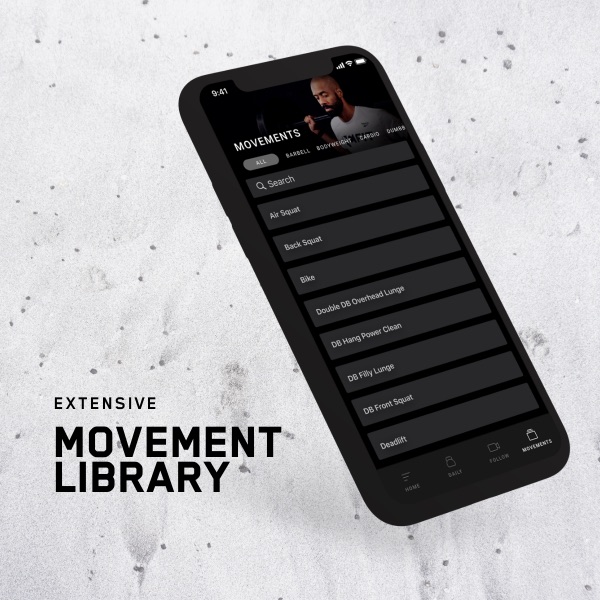 Under the resources tab, the NCFIT app has a video movement library that covers everything from air squats to the goblet cossack squat. I've seen many apps assume that someone who primarily does deadlifts knows certain gymnastic moves, and vice-versa, so the fact that the NCFIT collective took the time to film all these movements is a big win in my book.
The movement library is split up into different sections, which are:
Bodybuilding
Bodyweight
Cardio
Dumbbell
Kettlebell
Warm-Up
Weightlifting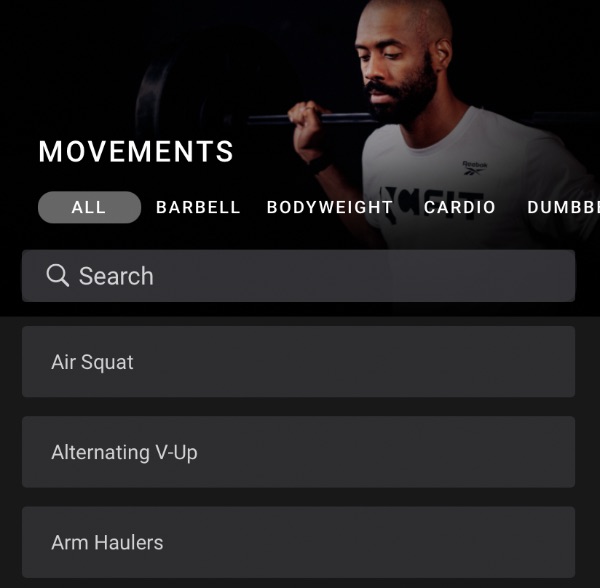 Timer
The NCFIT app has a timer tab, which allows you to track EMOM, tabata, and AMRAP (as many reps as possible) workouts. I love this feature because other training apps force you to exit to set up a timer, and that can sometimes interrupt your workout flow.
One thing I personally love about the timer tab is it allows you to set a countdown before the timer starts—this gives you time to put your phone down before your time actually starts. For example, if I'm doing a plank, I can set a three-second countdown so I can get into position before my real time starts. It's small, but it made a huge difference in my workouts.
Customer Experience
One major thing I'd like to see NCFIT fix is their customer service. There's no way to reach out to the team via the app, and while they have an FAQ on how you can contact the team, the answer actually never loaded for me. That said, you can visit their website and fill out a contact form, or email them at info@nc.fit.
One area where that gets particularly annoying is if you ever want to cancel your subscription. To do so, you must email billing@nc.fit. I'm not sure why NCFIT does this, but I would like to see an easier way to opt out of the programming.
Customer Reviews
All of the NCFIT app's 101 reviews are 5 stars, though there aren't many written reviews. Those who did leave some thoughts about the app agreed that it's quality programming, but the app itself lacks some sophistication on the technical side.
Final Verdict of Our NCFIT Programming Review
There's no doubt that the NCFIT programming was developed by world-class coaches, and just about every WOD they offer is intense and will help you reach your goals. Whether you're looking to focus on interval training, or want to get stronger, this app will work for you. There are some technical glitches we'd like to see worked out, and customer service is a bit lacking. Still, we recommend this training app for fitness beginners and enthusiasts.
NCFIT Programming Rating
NCFIT Programming Review 2023 | Garage Gym Reviews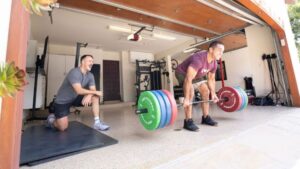 Our NCFIT Programming review will let you know if this training program is what you need to achieve your fitness goals.
Product Brand: NCFIT
Product Currency: $
Product In-Stock: InStock
NCFIT Programming FAQs
How much is the NCFIT app?
The NCFIT app costs $19.99 per month, with a seven-day free trial.
Who owns NCFIT?
NCFIT is owned and operated by 2008 CrossFit Games Champion Jason Khalipa.
How do I cancel my subscription at NCFIT?
To cancel your subscription, you must email billing@nc.fit 15 days before your next billing date.
Is NCFIT a CrossFit affiliate?
NCFIT was previously associated with CrossFit, but ended the relationship in 2020 after then-CEO Greg Glassman made inflammatory remarks about the Black Lives Matter movement.