We test and review fitness products based on an independent, multi-point methodology. If you use our links to purchase something, we may earn a commission. Read our disclosures.
While plenty of the best running shoes have a lot of cushioning in the midsole and outsole to keep feet comfortable during a trail run, some people (shoe manufacturers, in particular) have a different concept of comfort. Companies like Xero Shoes produce running and racing shoes with a minimalist design and lightweight feel, to help strengthen the user's feet and ankle stability.
One such example is the Speed Force II, Xero Shoes' update to their classic road running shoe. Made to be their lightest running shoe available, does this stand up as one of the best minimalist shoes on the market? We had to know, so our editorial team on Garage Gym Reviews tried out the shoes, looking at the shoes' durability, appearance, and stability. Read on to see our findings in our Xero Shoes Speed Force review.
No Minimalist Approach to Our Expert Testing
Although we've tested four different barefoot shoes from Xero, and quite a few other shoes with a barefoot feel, we don't take any sort of minimal approach to our testing (see what I did there?). GGR editor Frieda Johnson tried out the Speed Force II shoes and used them for a month through various activities and workouts. She used the running shoes through a variety of running routes, both on outdoor trails and on concrete.
RELATED: Best Trail Running Shoes
When testing out the more than 70 shoes we've tried out so far, our team of certified personal trainers, lifelong athletes, and coaches look at several aspects of the make of the shoe, including:
The shoe's appearance
Its construction and durability
Overall stability
The outsole
Adjustability and ergonomics
Overall value
We also researched company policies, delivery and purchase, and customer service to determine whether or not we should recommend the Speed Force IIs.
Xero Shoes Speed Force II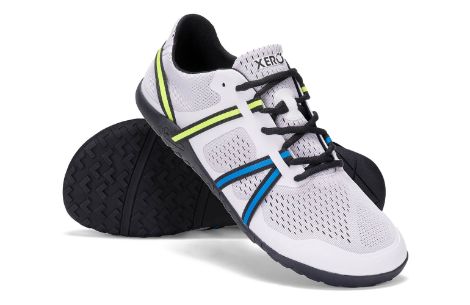 GGR Score: 4.4
Product Highlights
Lightweight, minimalist running shoes

Welded components for extra durability

Breathable upper

4.5-mm thick rubber sole
Pros & Cons
Pros
Wider toe box
Breathable upper
Durable rubber sole
Cons
Not ideal for those wanting cushioning in their running shoes
Can be pricey
Bottom Line
The Speed Force II from Xero Shoes is a redesign from their popular running shoes, with an upgraded breathable upper and welded components for added durability. The minimalist shoes provide a surprising amount of support, with instep straps that keep the shoe connected to the foot. Additionally, the 4.5-millimeter thick rubber soles are rated to last 5,000 miles.
A Quick Look at the Xero Shoes Speed Force II
Since 2009, Xero shoes has innovated upon the idea of minimalist shoes, beginning with DIY sandals modeled after traditional Mexican huaraches, made with just laces and rubber soles. Over the years, the brand has expanded its minimal shoes to include cross-training shoes, workout shoes, and running shoes. Some of their more popular shoes include the Prio Neo and Xero 360 shoes, although their line also includes boots and hikers now, too.
The Speed Force II is the latest iteration of their performance barefoot running shoe. This shoe was designed by CEO and Co-Founder Steven Sashen, along with a former Nike developer. Steven races and trains in the Speed Force IIs.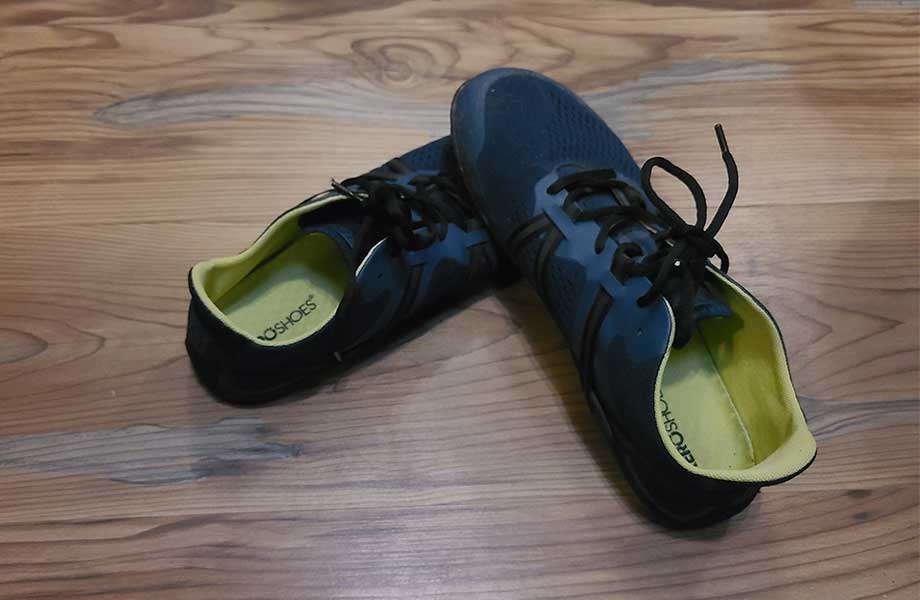 This is supposed to be a performance shoe and a barefoot shoe, meant to excel as a running shoe and to have the classic feel of a minimalist shoe. The shoe is extremely lightweight—their lightest shoe available—and has a zero-drop in the heel. With a mesh upper and flexible rubber outsole, these shoes are meant to stay connected to your feet while in use, making for a solid, yet flexible running shoe.
Before You Buy
Our GGR editor and tester Frieda warns that if you've never used minimalist shoes before, there is a bit of a learning curve. She says, "When I first started wearing them, they were wonderfully comfortable for a short while, but then the soles of my feet would start to feel bruised. Although it's gotten better, I highly recommend researching how to properly walk in barefoot shoes, as it really is a different approach."
The major upgrade from the original Speed Force is a breathable mesh upper with welded components for added durability. While we'll discuss this in more detail in a bit, the shoes have stayed pretty durable through quite a few activities.
The stability of the shoe comes from how connected the shoe is to your feet. To help this, the Speed Force IIs have instep and midfoot straps to help tighten around the shoe; tighten the laces, and the entire shoe tightens, keeping the shoes connected to your foot.
Are the Xero Shoes Speed Force II Worth It?
The Xero Speed Force IIs are priced at $110, which Frieda remarks, "At that price, they're pretty well in line with similar barefoot shoes, although I've seen some that are much cheaper and some that are much more expensive."
She rates the shoes 4 out of 5 in their overall value, as they are priced competitively, but you can find some deals if you're looking for something a little less expensive. For example, VivoBarefoot shoes start at $170, making the Xero shoes a steal. But at the same time, Merrell has barefoot shoes for under $100.
The price point feels fair for Xero Shoes, and the soles of the shoes are backed by a 5,000-mile warranty, making it a pretty good value compared to other brands.
Great for:
Minimalist runners
Those wanting a cross-trainer with a zero-drop in the heel
Barefoot runners wanting a durable running shoe for multiple surfaces
Not recommended for:
People who prefer more cushion in a shoe's midsole
Lifters who prefer a raised heel for squatting
Xero Shoes Speed Force II Specs
| | |
| --- | --- |
| Price | $109.99 |
| Weight | 6.5 oz (men's size 9), 5.3 oz (women's size 7) |
| Heel-to-toe drop | 0 mm |
| Size range | Men's 6.5-15; Women's 5-12 |
| Upper | Breathable mesh |
| Outsole | Flexible FeelTrue rubber sole |
| Extra features | Adjustable instep and midfoot straps, removable insole |
Using the Xero Shoes Speed Force II
Frieda took these shoes through several different activities, ranging from running along different trails to walking and running on asphalt and concrete. Because she is new to barefoot running, there was a time period of getting used to the shoes, as they don't provide the same amount of support as typical running or walking shoes. The concept is that minimalist shoes help build strength in the foot and ankle to where you don't need support or cushioning.
As Frieda has gotten more used to the shoes, she's been able to wear them for a few hours before feeling uncomfortable. She also notices a big difference between the ground feel of the terrain she is walking or running on.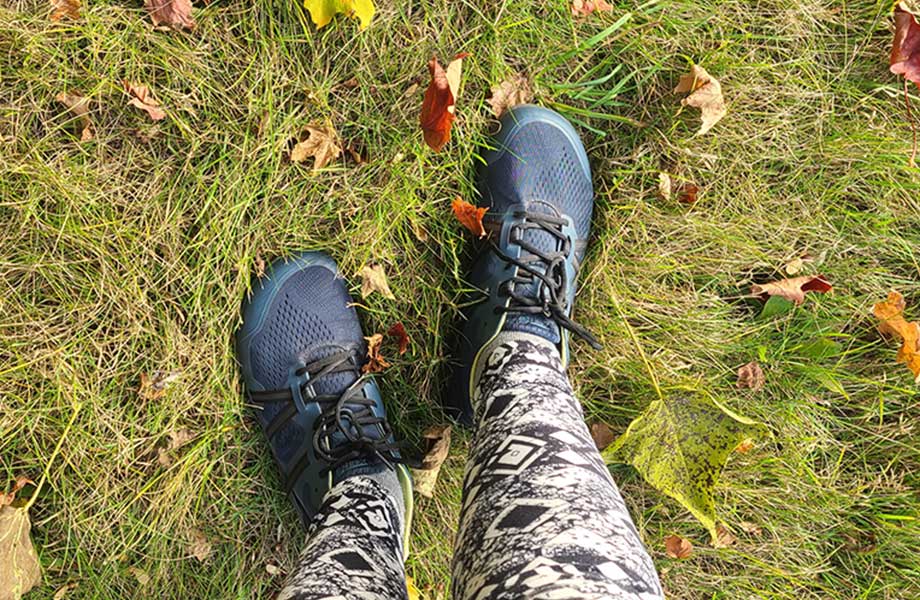 She explains, "I will say that I prefer them on the ground as opposed to cement and they are very comfortable to wear for longer walks and runs on the dirt roads where I live. In town on paved roads and sidewalks, my feet hurt much more quickly."
The shoes only come in three different colorways: Black, Nimbus Cloud, and Orion Blue. Frieda got her shoes in Orion Blue and gave the appearance a 4 out of 5, saying, "While there are only three color options, I think they all look nice; a little sporty but not too in your face."
Construction and Durability
The shoes are the lightest out of their running and cross-training shoes, coming in at just 6.5 ounces for a men's size 9 shoe. Although the shoes are lightweight, they're pretty durable, with the updated Speed Force II using welded components in the breathable mesh upper to strengthen the light upper.
Additionally, the outsole is made of their FeelTrue rubber sole, which is a flexible but durable material. Plus, the soles are warrantied for 5,000 miles.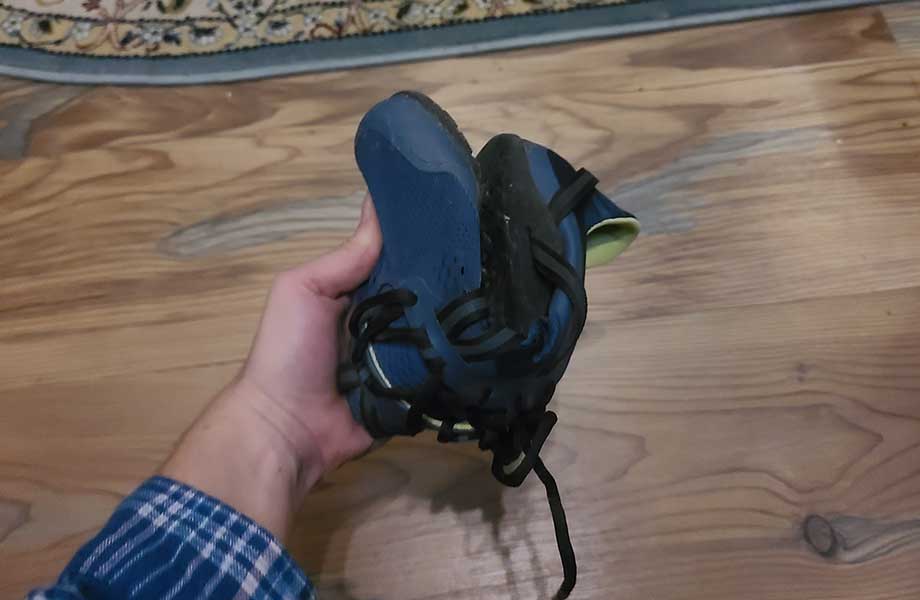 Frieda has used the shoes for over a month now and they haven't shown any major signs of wear or tear. She mentions, "The shoes are very thin since they're intended to be as lightweight and minimalistic as possible, but they've held up well thus far and seem to be well made." She's even taken them through some muddy trails and hasn't had any issues with them.
Stability
Minimalist shoes like the Speed Force IIs are designed differently for stability. Instead of providing support by being rigid or cushioned, these shoes are thin and flexible to allow your actual foot to provide stability. The shoes also have a wide toe box to allow your toes to splay for more control and stability.
RELATED: Best Stability Running Shoes
Frieda noticed the same, giving the shoes a 4 out of 5 in stability. She adds, "Since these have such thin, flexible soles, they're really as stable as you are. I was pleasantly surprised by how stable I felt running on some pretty uneven ground."
Adjustability and Ergonomics
The Speed Force IIs have adjustable instep and midfoot straps which allow the shoe to be comfortably secure around your foot as you tighten the shoelaces. Frieda gives the adjustability and ergonomics of the shoe a 4.5 out of 5, only docking a half-point, as the shoelaces are slick and like to untie easily. She recommends double knotting the laces.
The shoes also have a removable insole giving a sock-like feel when inserted into the shoe. Removing the insole provides less cushion and more of a barefoot feel.
Barefoot shoes are made to be minimal, and if you're not used to those types of shoes, then they may not be as comfy of a shoe at first. Having never worn barefoot shoes before herself, Frieda took a while to get more comfortable in the shoes. She mentions, though, "The Speed Forces do take some getting used to for people just starting to wear barefoot shoes, but they are increasingly becoming my go-to running shoe."
Speed Force II vs HFS II vs Forza Trainer
Xero Shoes HFS II
GGR Score: 4.3
Product Highlights
Minimalist road running shoe

Lightweight at 8.3 oz in mens size 9

Tire tread-inspired outsole the stay secure off the road

Thin Barefoam layer of protection added to sole

0 mm heel-toe drop
Pros & Cons
Pros
Durable tread and outsole
Lightweight
Wide toe box
Break in easily
Cons
Can heat up quickly
Fairly pricey
Bottom Line
The HFS II from Xero Shoes is a lightweight minimalist shoe designed for road running, although it can be taken off-road as well. These shoes have a durable rubber sole, rated for 5,000 miles, and a thin Barefoam layer added to the shoe for extra protection. If you prefer minimal shoes for barefoot running, this is a solid choice.
Xero Shoes Forza Trainer
GGR Score: 4.3
Product Highlights
Barefoot, minimalist shoe with focus on staying connected to feet

Midfoot strap that wraps around heel for extra security

Durable rubber outsole

Molded sidewall for more lateral stability

Moisture-wicking upper

Optional 2 mm insert for additional cushion

Zero heel-toe drop
Pros & Cons
Pros
Heel strap keeps foot secure
Supportive for cross-training
Molded sidewall
Flat sole ideal for deadlifting
2-year warranty
Wide toe box
Cons
Won't appeal to those used to lifting with a raised heel
Thin shoe laces
Short velcro strap
Bottom Line
The Xero Shoes Forza Trainers are a unique barefoot shoe that emphasizes staying connected with the foot. With a midfoot strap that also tightens the heel, you'll stay very connected through dynamic movements as well as heavy lifting. These bootie-style shoes are minimal, providing limited support and a zero heel-toe drop.
Xero Shoes are fast becoming some of the team's favorite barefoot shoes, as our expert testers have tried out four different styles of their shoes. Comparing a few of their newer styles can show the slight differences between minimalist shoes and the type of training these shoes can be geared toward.
Between the three shoes compared here, the Speed Force II and HFS II are the running shoes of the group, although they are designed for different terrain and use. The Speed Force IIs are made the lightest, making them an ideal racing flat for the road. The Xero HFS II, however, have a tread pattern and tread lugs on the shoes that make them ideal for trail runs.
The Xero Shoes Forza Trainers are a great cross-trainer, but are specifically designed with strength training in mind. The instep strap helps lock your foot into the shoe and provides a stable feel during heavy deadlifts or squats. This shoe is also the heaviest of the three.
Each shoe can be a great cross-training shoe, but if you think you'll find yourself running in them more than other things, the Speed Force II or HFS II will be your better options, and the types of runs and trails you're on would determine which will be the better shoe in use.
| | | | |
| --- | --- | --- | --- |
| | Speed Force II | HFS II | Forza Trainer |
| Price | $109.99 | $119.99 | $129.99 |
| Weight | 5.3 oz (Women's 7), 6.5 oz (Men's 9) | 6.7 oz (Women's 7);8.3 oz (Men's 9) | 7.4 oz (Women's 7);8.7 oz (Men's 9) |
| Heel-to-toe drop | 0 mm | 0 mm | 0 mm |
| Size range | Men's 6.5-15; Women's 5-12 | Men's 6.5-15; Women's 5-12 | Men's 6.5-15; Women's 5-12 |
| Upper | Breathable mesh | Breathable mesh | Moisture-wicking mesh |
| Outsole | Flexible FeelTrue rubber sole | Tire tread lugs | Flexible rubber outsole |
| Extra features | Adjustable instep and midfoot straps, removable insole | Removable insole and "BareFoam" midsole | Heel-and-instep "lockdown" strap and molded sidewall |
Customer Experience
The website offers quite a few ways to contact the company for questions, including a phone number, email address, and contact form—plus a physical address for those in Colorado.
The Xero Shoes Speed Force II are backed by a 2-year manufacturer's warranty, but their FeelTrue outsole is warrantied for 5,000 miles. I'm a fan of the outsole warranty, as their outsoles are pretty thin, with the Speed Force having just a 4.5-millimeter thick outsole. This gives you a little bit of security knowing that if you have any issues with the tread or outsole, you're covered.
Xero Shoes also offers a 45-day window on returns or exchanges, but items must be unworn and unaltered. Frieda gives their returns and exchange policy a 4 out of 5.
Ordering the Xero Shoes Speed Force II
The Speed Force II can be purchased from xeroshoes.com where they have a couple of different payment options through Klarna. You can pay full price upfront for the shoes, or you can opt to pay within 30 days. Furthermore, you can pay in four interest-free installments every two weeks.
While Frieda didn't order the shoes herself for testing, the shoes came in just a couple of days with no issues, leading her to rate the purchase and delivery a 5 out of 5.
Customer Reviews
As of this writing, the Speed Force II has a customer rating average of 4.9 out of 5 stars on the Xero Shoes website, out of 114 reviews total. Reviews are overwhelmingly positive, and customers are big fans of the minimalist feel and solid tread while running.
Most complaints are minor, as a couple of customers with more narrow feet didn't like the wide toe box as much. One negative complaint, however, didn't like the barefoot feel, as they say, "They are light and roomy and, I think, would be comfortable, if it weren't for the fact that I can feel the tread pushing into my feet. I feel like I am walking on gravel the whole time."
Final Verdict of Our Xero Shoes Speed Force II Review
If you're into barefoot running shoes, the Speed Force IIs are an ideal racing shoe and performance shoe for the road, although they did well in our testing on multiple surfaces. The minimalist shoes can also double as a cross-trainer for CrossFit workouts or HIIT training.
For those new to barefoot running, the Speed Force II can be a great entry point, only costing $110 and having a 5,000-mile warranty on the tread. Just be aware that there will be a learning curve and it'll take some time to adapt to the new feel of a barefoot shoe.
Xero Shoes Speed Force II Rating
Xero Shoes Speed Force II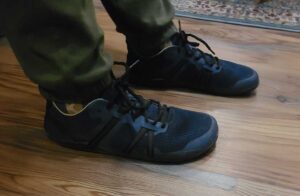 Xero Shoes has made their lightest running shoe yet with their new updated barefoot shoe. See our thoughts in our Xero Shoes Speed Force review.
Product Brand: Xero Shoes
Product Currency: USD
Product Price: 109.99
Product In-Stock: InStock
Xero Shoes Speed Force II: FAQs
How much does the Xero Speed Force weigh?
The Xero Speed Force IIs are the company's lightest performance shoe, with a men's size 9 shoe weighing only 6.5 ounces.
Are Xero Shoes good to run in?
Although Xero Shoes have been designed for different modes of training, the shoes are lightweight, and each outsole is warrantied for 5,000 miles, making them extremely durable running shoes. With that said, if you haven't worn barefoot shoes before, be aware that there is a learning curve for these shoes; there's less cushion in minimalist shoes than in traditional shoes, so you'll need to spend some time in them to get a feel for them.
What is the best running shoe?
The best running shoe for you will depend on the type of running you plan on doing, as well as the level of comfort and support you'd like in your shoes. Here are some of our favorite picks for best running shoes:
Best Running Shoes Overall: Brooks Glycerin 20
Best Cross-Training Running Shoes: Nike Winflo 8 Shield
Best Neutral Running Shoes: Brooks Ghost 14
Best Trail Running Shoes: Altra Lone Peak
Best Running Shoes for Wide Feet: HOKA Speedgoat 5
Best Running Shoes for Speed Training: On Cloud X
Best Cushioned Running Shoes: HOKA Clifton 8