We test and review fitness products based on an independent, multi-point methodology. If you use our links to purchase something, we may earn a commission. Read our disclosures.
*The Nautilus T616 treadmill was recalled on June 9, 2023, due to reports of the treadmill self-starting. Customers should immediately stop using these recalled treadmills and contact Nautilus to receive a free USB flash drive with a software upgrade and installation instructions.*
Maybe you came across this page because you are looking for the perfect piece of cardio equipment to add to your home gym. For many people, the treadmill is a fan favorite to get that heart rate pumping. If you are looking for the best treadmill, the Nautilus brand may be a name you have stumbled upon. We are about to take a look at the Nautilus T616 Treadmill, the lower end model of Nautilus' treadmill line.
We have tested and reviewed the Nautilus T618, but we haven't been able to get our feet on the Nautilus T616 treadmill just yet. However, between our testing on the T618 and our online research, you can trust us to give you an accurate read in our Nautilus T616 Treadmill review.
Thousands of Treadmill Miles Logged
Our team features personal trainers, marathon runners, and even triathletes who all share one common goal: to help you make the best choice for fitness equipment in your home gym.
Among our product testers, we have run hundreds of miles on treadmills. We have spent time assembling and running on other Nautilus products including the T618. If we don't like something, don't expect us to sugarcoat it. We are here to give you the facts so you can make the most informed decision on what is best for you and your needs.
Nautilus T616 Treadmill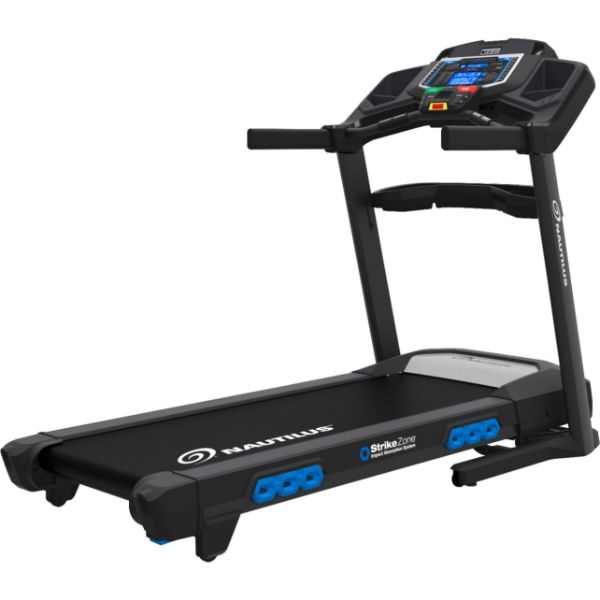 Nautilus T616
The Nautilus T616 treadmill is the company's entry level machine. Despite its entry-level status, it comes with many features, including: 0-12 mile-per-hour speeds, 0-15% incline grades, 26 workout programs, SoftDrop folding system for storage, StrikeZone cushioning, and adjustable 3 speed fan for comfort.The 26 workout programs include manual/quick start, interval training, heart health, and custom workouts. Runners can also sync with the Explore the World App to run through 27 routes in 19 locations around the world with a subscription and three free courses. The app does have poor reviews, with users struggling with buffering and slow video playback. If you'd like an immersive global run, a more technologically advanced treadmill would be a better option.Customer reviews of the Nautilus T616 are mixed. Positive reviews state that the T616 is solidly built, easy to set up, and simple to use. Negative reviews complain that the T616 is noisy and slow to change speeds. They've also reported difficulty with the T616 synching with various apps and struggling to maintain a connection with the included heart rate monitor chest strap.
A Quick Look at the Nautilus T616 Treadmill
Maybe you haven't heard of Nautilus before, but you're probably familiar with Bowflex and Schwinn. All of these companies are owned by the same company, Nautilus Inc. The T616 is the baseline treadmill from the Nautilus brand specifically.
The brand promotes this treadmill as low-impact and maximum comfort. This is because of the so-called "Strike Zone" technology that is the cushioning system designed to create a smooth run. Essentially, you will see the treadmill deck flex as your feet hit the running deck, creating a lower impact on your joints.
While we haven't tested the T616, we have tested the other treadmill in this line, the T618. Similar to our suggestion with the T618, if you are looking for advanced technology, this treadmill may not be for you. However, we like this treadmill as a mid-budget, folding treadmill.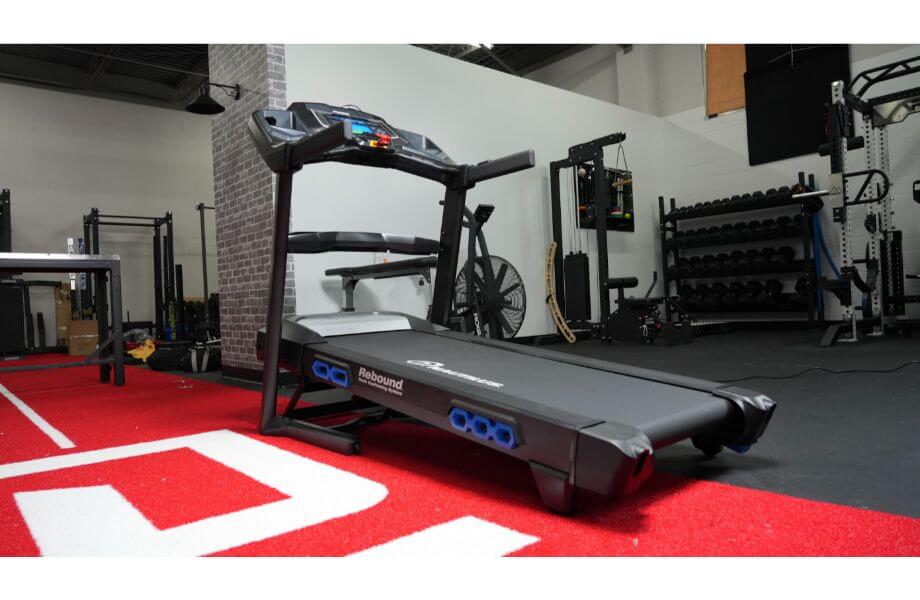 What We Know About Nautilus Treadmills
So far we have tested the T618 and we hope to test the T616 one day soon. Based on our in-depth review of the T618 and our research on Nautilus, we have a solid understanding of the brand itself. Here is what we know:
Nautilus produces treadmills with a smooth and quiet run.
The treadmills have a lot of built-in programming variety (the T616 has 26 programs to pick from) .
This brand offers a 6-week satisfaction guarantee allowing you to return your product and get your money back excluding shipping, handling, and potential set-up fees
Pros:
Priced under $1,000
Bluetooth connectivity
Soft Drop folding technology
Strikezone cushioning
Ability to connect to Explore the World app
User profiles available with Nautilus Fitness Score
USB port for charging device
Speed up to 12 MPH
Incline up to 15%
3.0 CHP Motor
300-lb weight capacity
Cons:
Fairly basic LCD display
Heavy and difficult to move
Expensive in-home assembly at $249
Is the Nautilus T616 Treadmill Worth It?
The big question: Is it worth the money? Nautilus offers some great basics, especially on a treadmill under the $1,000 price range. It has some great functionality, though it doesn't have high-end technology features. Here's who we think might like this machine:
Great For:
People looking for a lower joint impact treadmill
Those looking for a solid running treadmill
Somebody who wants a treadmill with pre-programmed workouts
Runners who want a treadmill to connect to fitness apps via Bluetooth
Not Recommended For:
Those looking for a touchscreen treadmill
Somebody who wants a treadmill that has incline and decline training
People looking for a treadmill with a lifetime warranty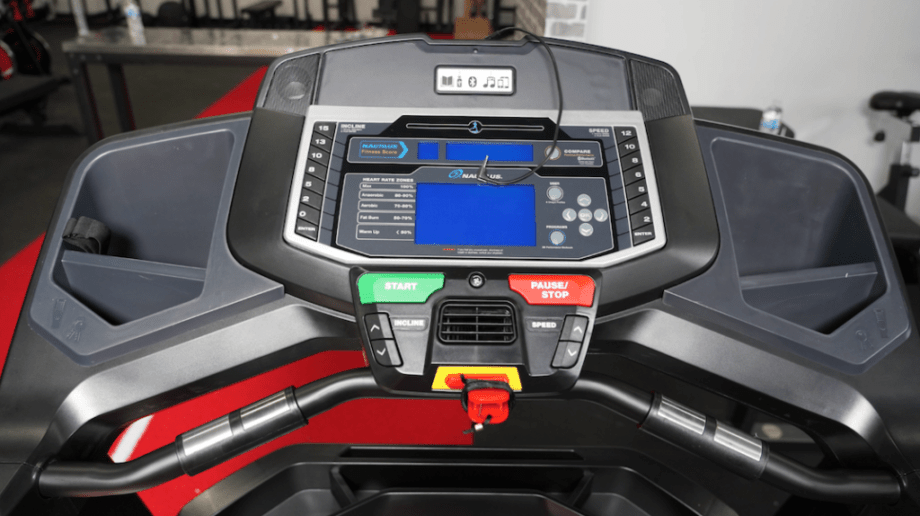 Nautilus T616 Treadmill Specs
| | |
| --- | --- |
| Footprint | 77.2" L x 35.2" W x 57.6" H |
| Weight | 215 lbs |
| Weight capacity | 300 lbs |
| Speed range | 0-12 MPH |
| Incline range | 0-15% |
| Workout Programs | 26 workout programs total – including manual/quick goal (calorie, distance, time), weight control, intervals, performance training, heart health, and custom workouts |
| Display | 2 blue backlit dualtrack LCDs – 3.75″ and 5.5″ |
| Belt Size | 20" W X 60" L |
| Warranty | Frame: 10 years / Motor: 10 years / Mechanical & Electronics: 3 years / Labor: 1 year |
| Bluetooth | Yes |
| Foldable | Yes |
We haven't had the chance to run on the T616 just yet, but we have tested the higher model in the series: the Nautilus T618. Our experiences on the T618 help us understand the inner workings of the T616.
Some similarities between the two machines are the belt length and width (20 inches long and 60 inches wide). That's a great size for anyone who wants to run on a treadmill, even taller runners.
Each of these treadmills are also built with what Nautilus calls Strike Zone technology, which means you can expect the treadmill deck to flex up and down a bit while you run or walk. When testing the T618, we found it did feel like it lowered the impact on your joints. If you practice good running habits and work on avoiding common treadmill mistakes, you should find Strike Zone technology to be very helpful.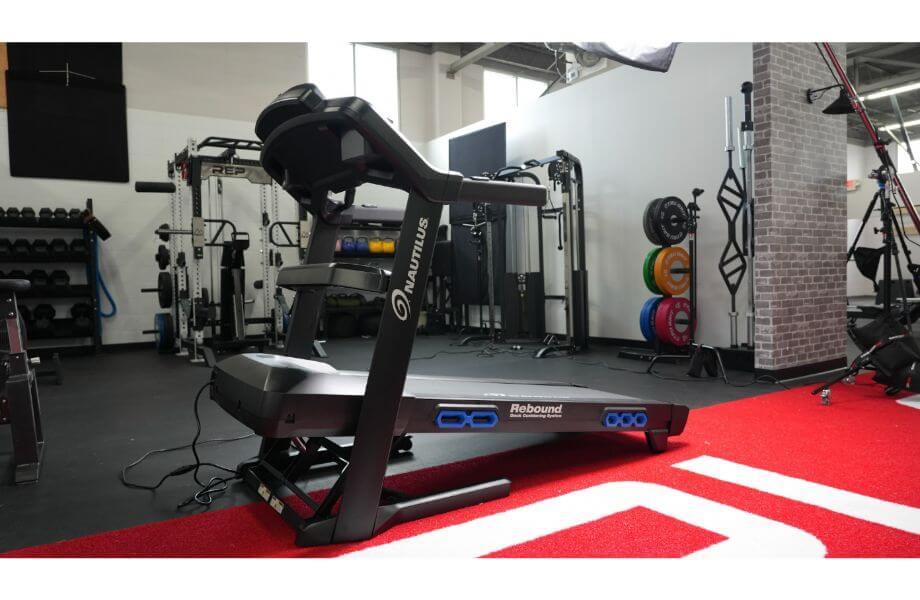 Both of these treadmills have the same LCD display and size that give you all the necessary workout data. Our testers said the blue blacklist screen is easy on the eyes. The machines also come with 26 preinstalled programs that allow you to run or walk to your heart's desire. We found these to be great options, especially for beginners who may need some direction when just getting started.
We like that the T616 has an incline of up to 15% and speed ranges of 0-12 MPH. This is comparable for treadmills in this price range.
A major difference that you will find between the two motors is the belt and motor. The T616 belt is 3 ply and has 2.5 millimeter thickness. The T618 belt is only 2 ply and has a thickness of 2.0 millimeters.
The T616 has a slightly less powerful treadmill motor clocking in at 3.0 CHP (continuous horsepower) in comparison to 3.5 CHP on the T618. What all this means is that you can expect a little less durability and speed out of the T616 in comparison to the T618. However, a 3.0 CHP motor is still a great size for those looking to run with frequency on the treadmill.
Customer Reviews
Here are some real reviews from buyers. On the Nautilus website, there are six reviews with an average 2.7 out of 5 stars. The three 1-start reviews were all submitted prior to the recall Nautilus did to update software. We can't be sure if that recall fixed any of the issues mentioned, but it is worth noting.


Footprint and Durability
Moving this piece of equipment can be a challenge. While it does have soft-drop, folding capabilities and wheels, since it is around 215 pounds, you probably want somebody else to help you move the treadmill. Our testers noted that the T618, which is about 40 pounds heavier than this machine, was cumbersome to move around.
The T616 footprint is 77.2 inches long by 35.2 inches wide by 57.6 inches high. Nautilus does not disclose the exact measurements of the treadmill folded, but keep in mind that it does not fold completely vertically; it comes up to more of a diagonal fold which may save you a little bit of floor space.
Since the T616 weighs a little less than other treadmills, the weight capacity only goes up to 300 pounds. However, for comparison, the NordicTrack Commercial 1750 also has a 300-pound user weight limit, and the treadmill itself weighs 339 pounds.
The Ergonomics and Conveniences
The machine itself has a large belt size of 20 inches wide by 60 inches long. While not the biggest in the industry, it still is rather large allowing you to take long strides if you are a tall person.
Nautilus uses the term Strike Zone to talk about their cushioning system. While running or walking, you will find that the treadmill will move an inch or so up or down to minimize the impact on your knees, feet, and ankles when your leg strikes the belt.
To make your experience enjoyable, Nautilus has added the following features to the T616:
Heart rate monitor
USB port
Water bottle holder
Adjustable fan (3 speeds)
Technology
While the T616 does not come equipped with the most cutting edge technology, you can count on its reliability. It comes with a 3.75-by-5.5-inch LCD screen and the ability to track your calories, distance, and time among other measurements. You can even make up to four user profiles to store data. For example, the treadmill can store data tracked by your heart rate monitor or Bluetooth-enabled chest strap.
You can place your tablet in the tablet display holder above the LCD screen to connect with apps like Explore the World, or you can use one of the 26 pre-set workout programs. If neither of those options work for you, you can also connect via Bluetooth to workouts and data tracking.
Brand Policies
We were disappointed to find out that Nautilus does not offer a lifetime warranty on parts of their product. The T616 comes with a 10-year warranty on the frame and motor, a three-year warranty on mechanical and electronics, and a one-year warranty on labor.
However, Nautilus does offer a six-week satisfaction guarantee. This guarantee states that you can return your treadmill for a full refund (minus shipping and set-up costs). This is competitive since we do not see all brands offering this policy.
Ordering and Assembling the Nautilus T616 Treadmill
When we tested the T618, we got it shipped to our warehouse. Shipping is $99.99 and not available in Alaska or Hawaii. You can also choose to purchase in-home assembly for $249.
When putting together the T618, our tester was able to put the machine together himself, however he did say that it would be easier to do with a friend. The machine has wheels on the front, but it is pretty heavy, so make sure you are taking proper precautions to keep yourself safe.
Final Verdict of Our Nautilus T616 Treadmill Review
Overall, the Nautilus T616 is a solid treadmill. For close to $1,000, you are actually getting a good amount of features like Bluetooth capability and the Nautilus Strike Zone technology. While we don't rank it as one of our best budget treadmills, it is a reliable and sturdy machine that could be a great addition to your home gym if you have the space.
Nautilus T616 Treadmill Rating
Nautilus T616 Treadmill
In our Nautilus T616 review, we take an unbiased look at this mid-range treadmill.
Product Brand: Nautilus
Product Currency: USD
Product Price: 1149
Product In-Stock: InStock
Nautilus T616 Treadmill Review FAQs
Is Nautilus a good treadmill brand?
Nautilus Inc. owns Nautilus, Schwinn, and Bowflex. These are all reliable treadmill brands that you can count on to deliver!
Does the Nautilus T618 fold?
How do I reset my Nautilus treadmill?
According to the Nautilus manual, this is how you reset your treadmill.
1. From the Power-Up Mode screen, push the User button to select one of the User Profiles.
2. Push the OK button to select the User Profile.
3. The Console display shows the GOAL TRACK prompt. Push the Decrease () button to change the prompt.
4. The Console display shows the RESET prompt and the current User Profile name. Push OK to start the Reset User Profile option.
5. The Console will now confirm the request to reset the User profile the default selection is 'RESET-NO'). Push the Increase or Decrease buttons to adjust the selection. 
6. Push OK to make your selection.
7. The Console will go to the Power-Up Mode screen.
*Please note that if you purchased your treadmill before June 9, 2023 your treadmill has been recalled for starting on its own. You will need to contact Nautilus for a USB drive which will also reset your treadmill and install new software.