We review free products that we receive and participate in affiliate programs, where we may be compensated for items purchased through links from our site.
See our disclosures page for more information.
The MX Select Adjustable Dumbbellsare available in 35, 55, and now 85 LB dumbbell increments and were one of the original, quick-change adjustable dumbbells. After using them over the past two months and comparing them to the dozens of competitors we have on hand, we have mixed feelings. On one hand, we like the compactness and fit and finish, but on the other hand, there are more modern options that have improved on the design.
MX Select Review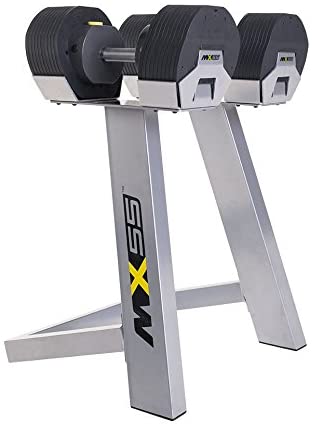 MX Select MX55 Adjustable Dumbbells
The MX55 Rapid Change Dumbbell System features our unique MX Select patented rack & pinion selection system: compact size, balanced feel and totally secure. With the MX55 Dumbbell cradled you select the weight from 10-55 lbs (4.5-24.9 kg) at the turn of a dial. The selected weight level is locked into place as soon as the selector dial is pushed home.
The MX Select Adjustable Dumbbells are one of the most balanced in hand selectorized dumbbells we've tested.
As the number of home gyms and various home gym set ups has increased, so too has the amount of dumbbells that take up little space, but have a wide weight capacity range. The MX Select Adjustable Dumbbells and most notably, the MX55 Dumbbells are quick to change, compact, and balanced while training. The issue isn't whether they're a quality dumbbell, but that since their inception, there have been many that have improved on the design and done so at a lower cost to the consumer.
If you're wondering how the MX55 Select Dumbbells and their other options stack up against the likes of the NUOBELL's, Powerblocks, Ironmasters, and others then stay tuned as we cover all this in more. Let's get into the MX Select Adjustable Dumbbell review…
Should You Add the MX Select Dumbbells to Your Home Gym?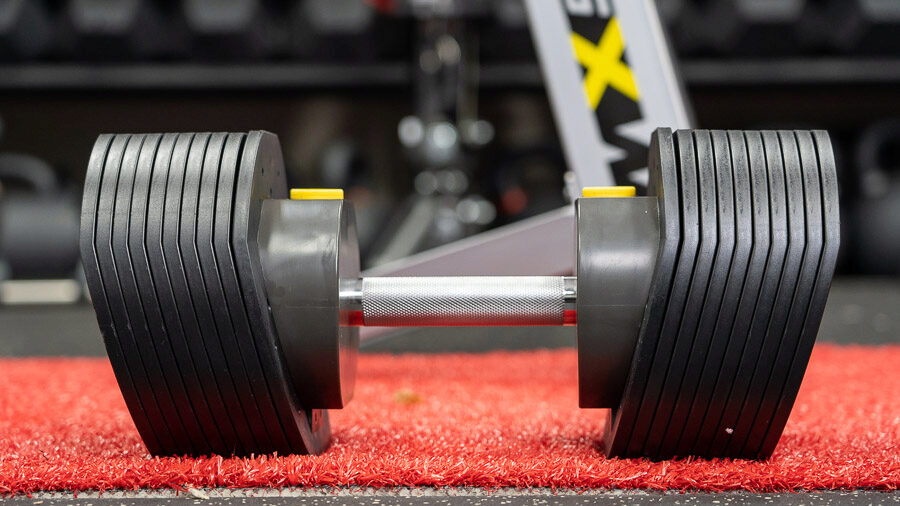 Let's get the meat and potatoes of the review out of the way at the start. Should you pick up the MX Select Dumbbells or go with one of the many other adjustable dumbbell options on the market for your home gym? Here is what I recommend.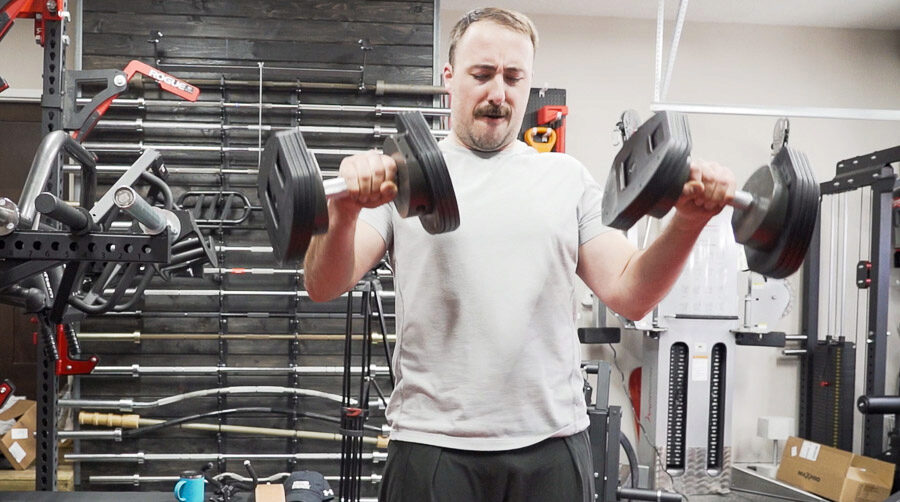 Who I recommend the MX Select Dumbbells for
Those that want a rather fast-changing dumbbell that takes up little space will appreciate the MX Select series.
If you mostly train with barbells and like the feeling of a solid steel knurled handle, you'll like the grip on these.
Trainees that don't like the feeling of a uniquely shaped dumbbell like the Powerblock dumbbells, but would prefer something more familiar will like the design of the MX55's.
Who I don't recommend the MX Select Dumbbells for
If you're cost-conscious, then I recommend looking at other options in our best adjustable dumbbells guide as these aren't the best value.
Heavy lifters will appreciate a heavier max weight as the heaviest set we've used is the MX55's and although there's a new MX85 set, we haven't seen them for sale anywhere yet.
Although the MX Selects aren't slow to change between weights, they're not the quickest. We suggest the NUOBELL Dumbbellsif you want the fastest available for supersets.
What are the MX Select Selectorized Dumbbells Made of?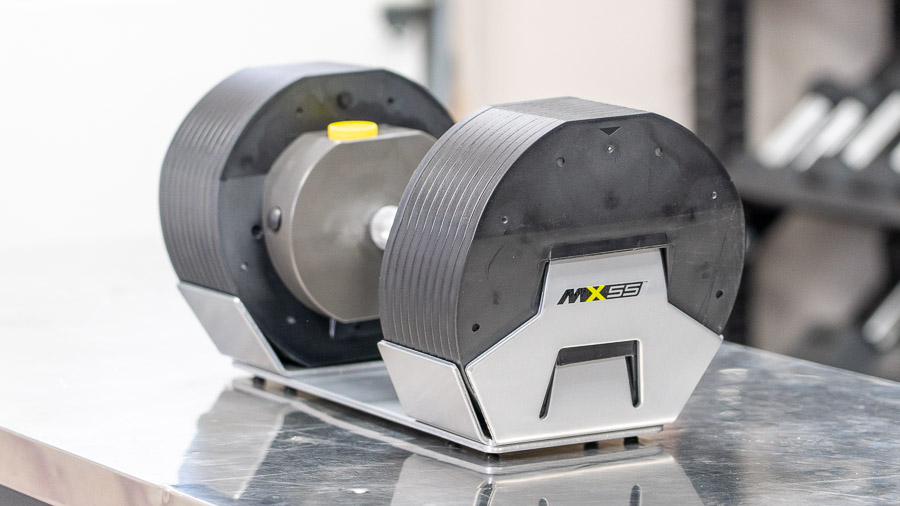 Gym equipment gets used and abused, even if you're taking extra precautions. Here's what makes up the MX Select Rapid Change Dumbbell System.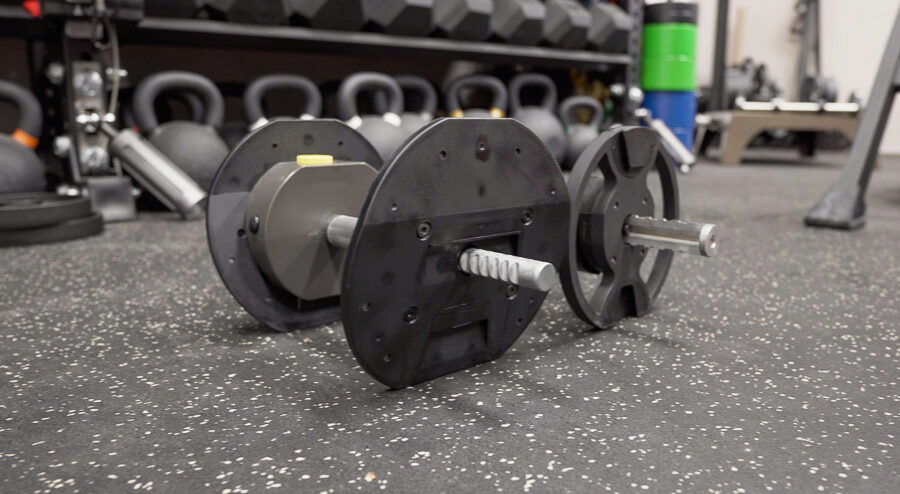 Handle: The handle was originally a steel handle with knurling added for extra grip but is now a contoured antimicrobial handle. I prefer the steel handle, but there are advantages to either.
Weight Selection System:Each dumbbell has two plastic dials with the numbers 1-10 listed on top. They're quick to change and are satisfying to use. The dials extend a metal rod that's inside of the handle to capture the desired amount of plates.
Weight Plates: On each end of the MX dumbbell handle are weight plates. These plates have a steel core that is coated in polyamide nylon. Nylon makes for a quiet dumbbell during training that also lasts a long time.
Weight Rack and Cradle: The cradle that the dumbbell sits in is bent steel that's been powder coated in silver gloss paint. It looks good and prevents corrosion.
Shipping & Assembly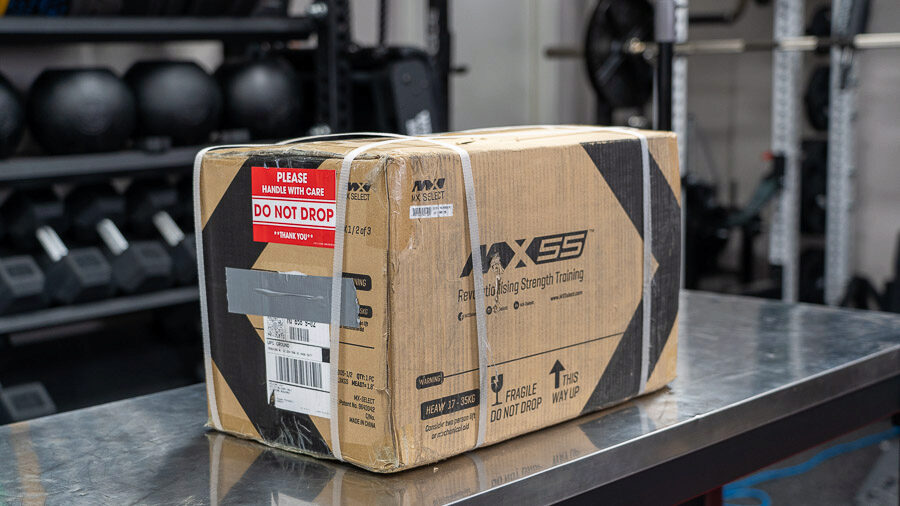 We received the MX55 and MX80 Barbell to review. Both showed up in branded cardboard boxes with strapping. Each box had a large red 'DO NOT DROP' sticker that delivery drivers like to ignore, but the boxes were all in pretty fair shape.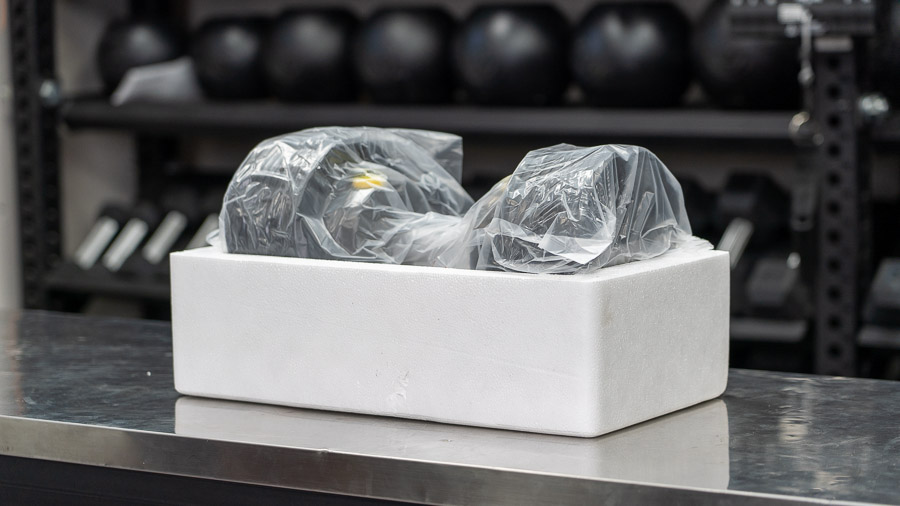 Each dumbbell sat in styrofoam encasing within their box and were wrapped in plastic.
Although there was some minor cosmetic damage to the boxes that happened during shipping, the dumbbells themselves looked pristine and untouched.
I was a happy lifter.
Using the MX Select Adjustable Dumbbells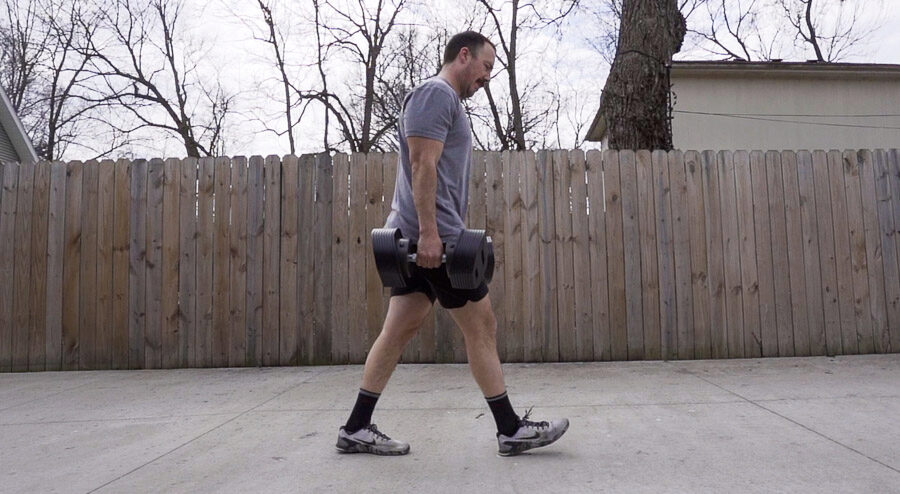 Adjustable dumbbells like the MX Selects are one of the best home gym equipment we recommend. Although we think the barbell is fantastic, similar to some of the best kettlebells, dumbbells present such a wide range of potential exercises in an extremely compact form.
The MX Selects, and particularly the MX55 Selectorized Dumbbells that we brought in for review, hit this nail on the head. In an extremely small footprint, the MX55's can go from 10 LB up to 55 LB in 5 LB increments with the turn of a dial.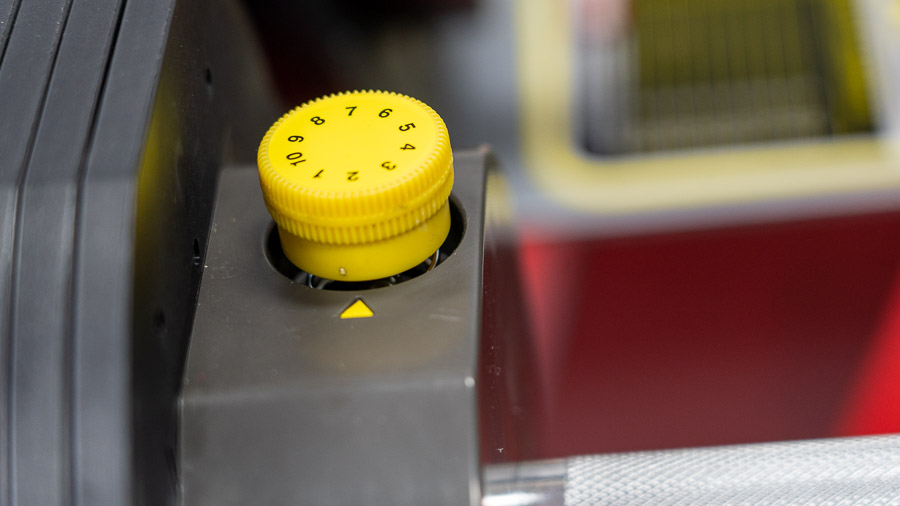 The dial I allude to is the first thing most people notice when they see the MX dumbbells. The 'Weight Selector Dial' lists numbers 1-10 and corresponds with the 'Weight Legend' found on the cradle system. The dial must be changed separately on both sides of the dumbbell to get the desired weight, which does take more time than, say NUOBELL's, but not significantly more.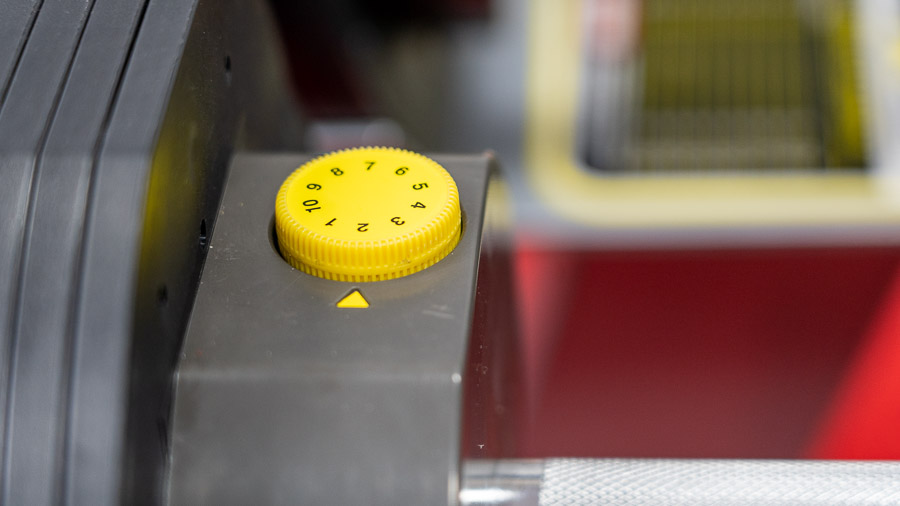 To adjust the weight, you must first depress the 'Weight Selector Release Button' which then pops up the dial. This is all a pretty quick and smart process that is somewhat satisfying during a training session.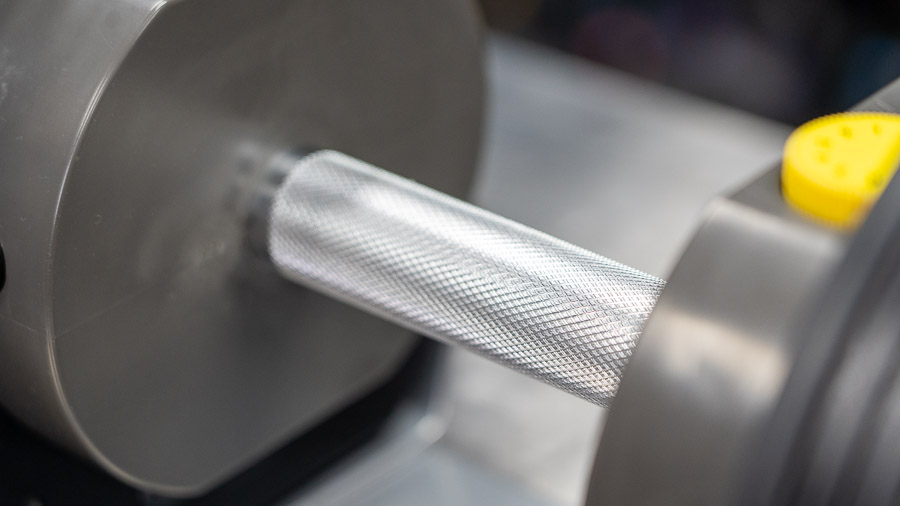 Conjoining the two heads of the dumbbell heads together is the handle. Approaching the MX Selects for the first time during a training session, the steel knurled handle was great to use. I personally prefer knurled, straight handles which is why the fixed set in my garage are the REP Rubber Hex Head Dumbbells that we've reviewed.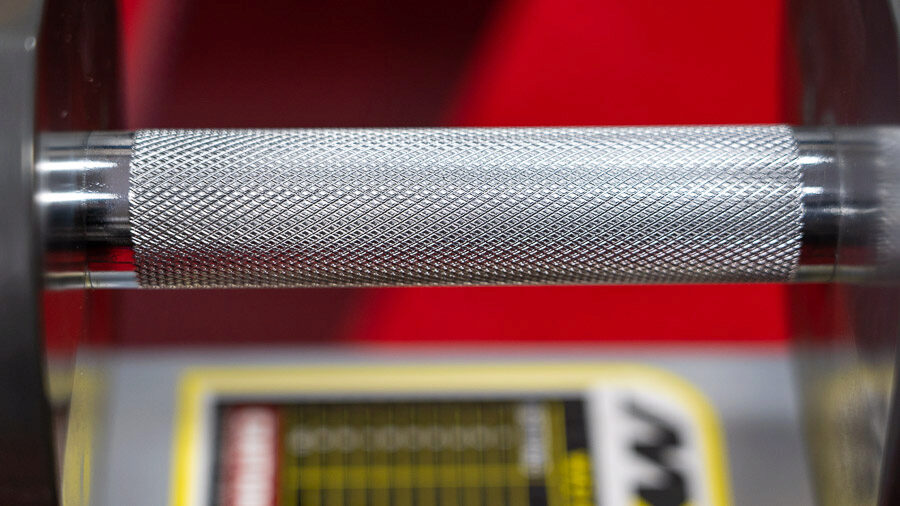 Although my set and all of the ones I've seen on the market use a knurled handle, MX Selects now come standard with a contoured grip handle that is antimicrobial. It's understandable that they would offer an antimicrobial option with the amount of germs in the gym, but 99% of adjustable dumbbells are used in a home gym setting by a single user or a couple of people that are family.
I wish the knurled handle was still available as an option, but maybe that's something that can be done in the future.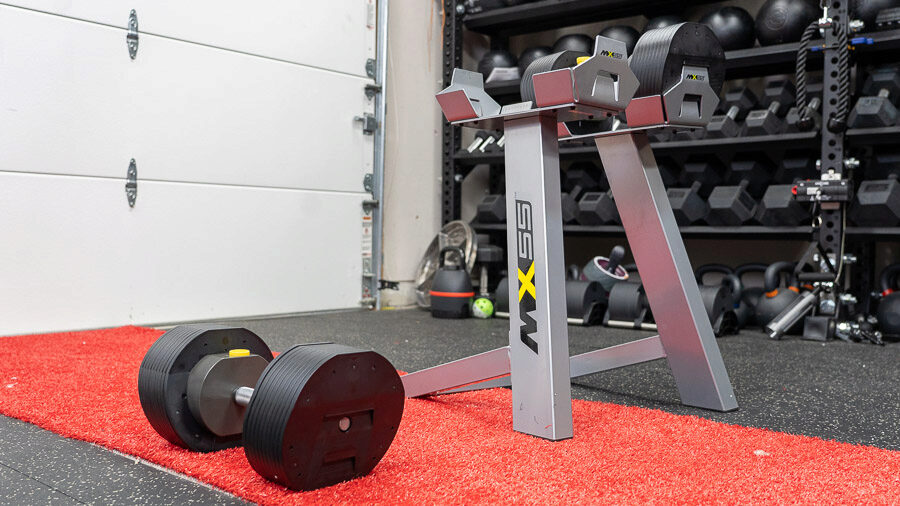 One accessory that is pretty much a necessity for most will be the Dumbbell System Weight Stand. It works with the MX30, MX55, and MX85's and allows you the dumbbells to sit off the floor making them easier to remove or put back in place. The entire system and stand create an attractive, modern design that would look good in a garage gym like mine or in someone's spare bedroom.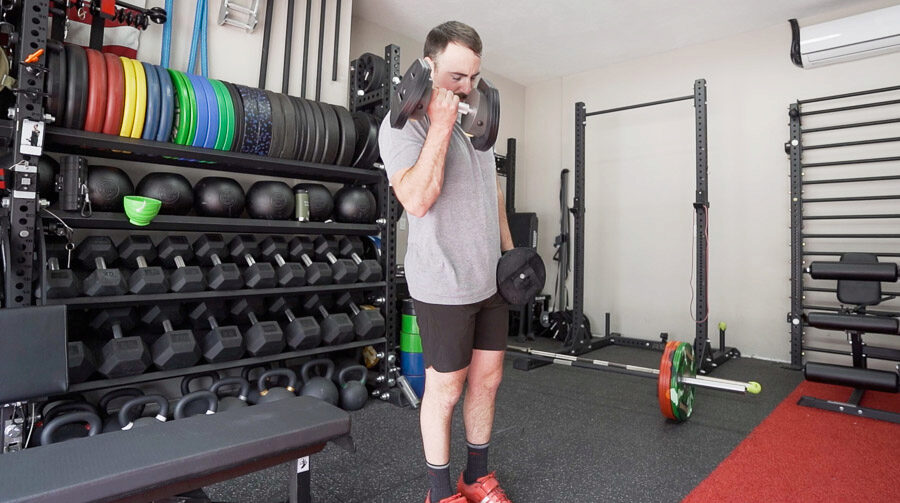 After you select your weight and plunge the dials in, you simply grab the handles and pull the dumbbells out. There are two lips on each weight plate that secures into the ones next to them while an internal rod that is adjusted via the dial keeps them from falling off. This is an ingenious solution that keeps the plates secure, but without overcomplication and is a similar method seen copied on theNUOBELL's that we've tested and reviewed.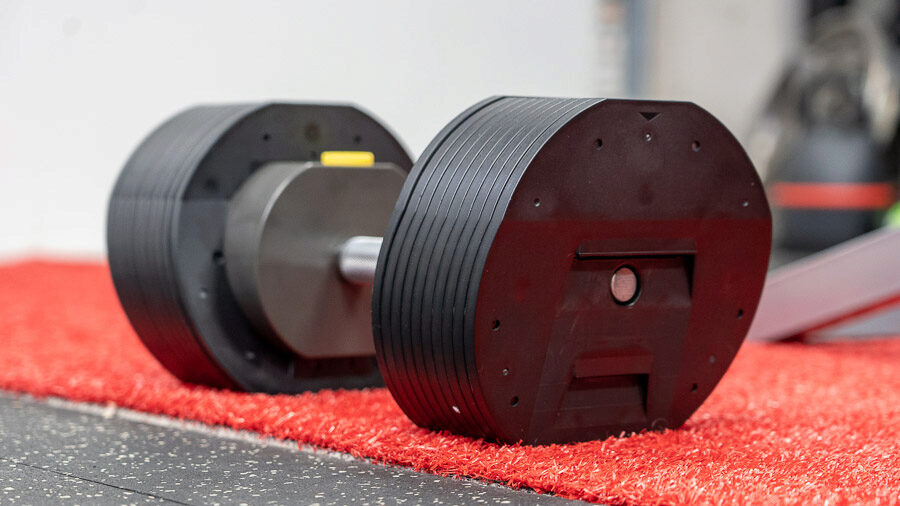 When pulled off the stand and placed on your knees before laying back on a weight bench for bench press, the flat ends sit comfortably on your quads. During press or curls, the MX55's feel very balanced and comfortable even at their max weight. This isn't often the case with rapid-change dumbbells as they're known to have long handles that feel unwieldy and unique shapes that aren't as balanced.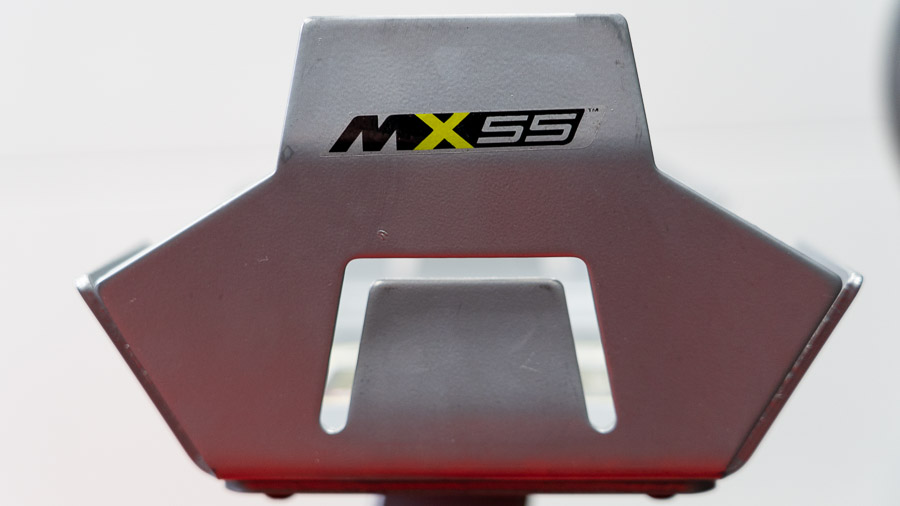 When you're done with your set and want to change the weight or simply finish your workout, you place the dumbbells back in the cradles. Although this does take a bit of skill at first, over time the handles get easier to place in their slots.
MX Select Dumbbells vs. The Competition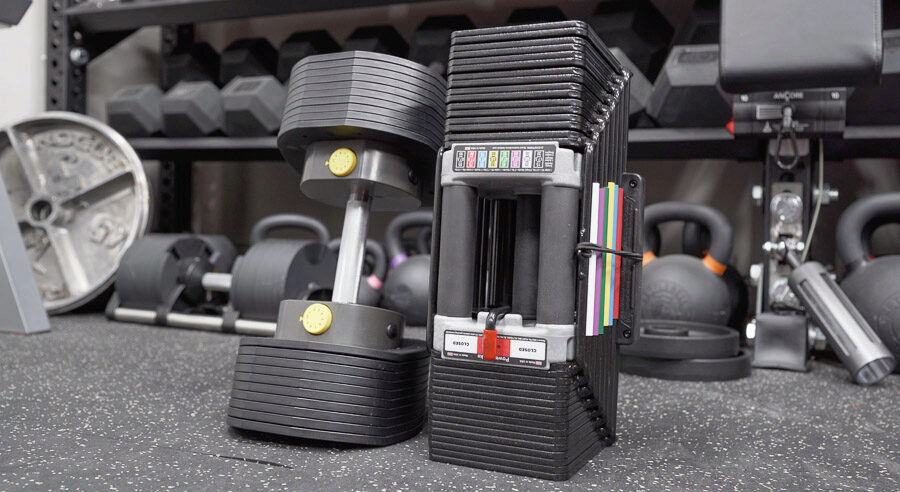 We've tested and reviewed nearly every adjustable dumbbell available and listed our recommendations in ourbest adjustable dumbbell guide. The MX Selects have a lot of rivals and these are the dumbbells we feel are most comparable.
MX Select vs NUOBELL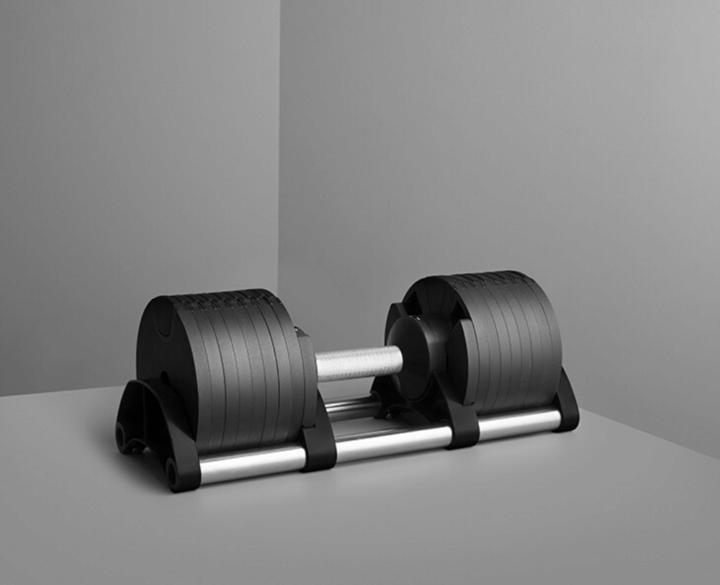 NÜOBELL Adjustable Dumbbells
NÜOBELL give you the convenience of all-in-one adjustable 5-80lb dumbbells that are easy to use and have superior durability thanks to its machined steel weight plates. This set of innovative dumbbells will quickly become your go to favorites. These are sold as a set of 2 x 80lb dumbbells Weight Range lb 5-10-15-20-25-30-35-40-45-50-55-60-65-70-75-80 The material is steel and plastic Net weight: 80lb Includes portable cradles for both adjustable dumbbells.
MX Select vs NUOBELL's

The dumbbells that are most similar to MX Selects are NUOBELL's. It would seem that the creators of NUOBELL's saw the popularity and smart design of MX55 and their other dumbbells and tried to improve the functionality. Both of these dumbbells are using similarly designed internal mechanisms that utilize metal rods to select the correct amount of weight.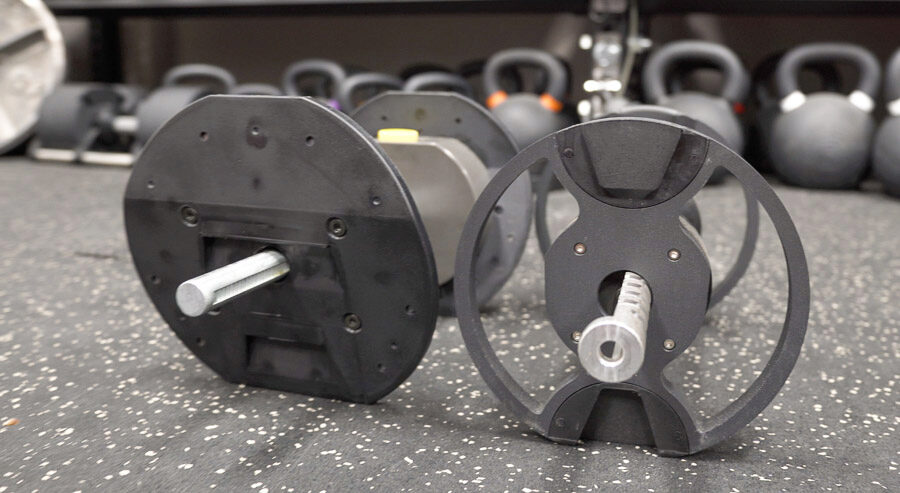 Although MX Select's were the original, NUOBELL's are faster to change, go heavier (except for the latest MX85 release,) and are cheaper on a dollar per pound basis. Neither is able to be dropped and both have their quirks when it comes to placing the handles back in the weight stack.
I like both options, but if you want a heavier dumbbell, then we prefer NUOBELL's over MX Selects.
I suggest checking out our in-depth review of NUOBELL Dumbbells for more details.
MX Select vs Bowflex 552's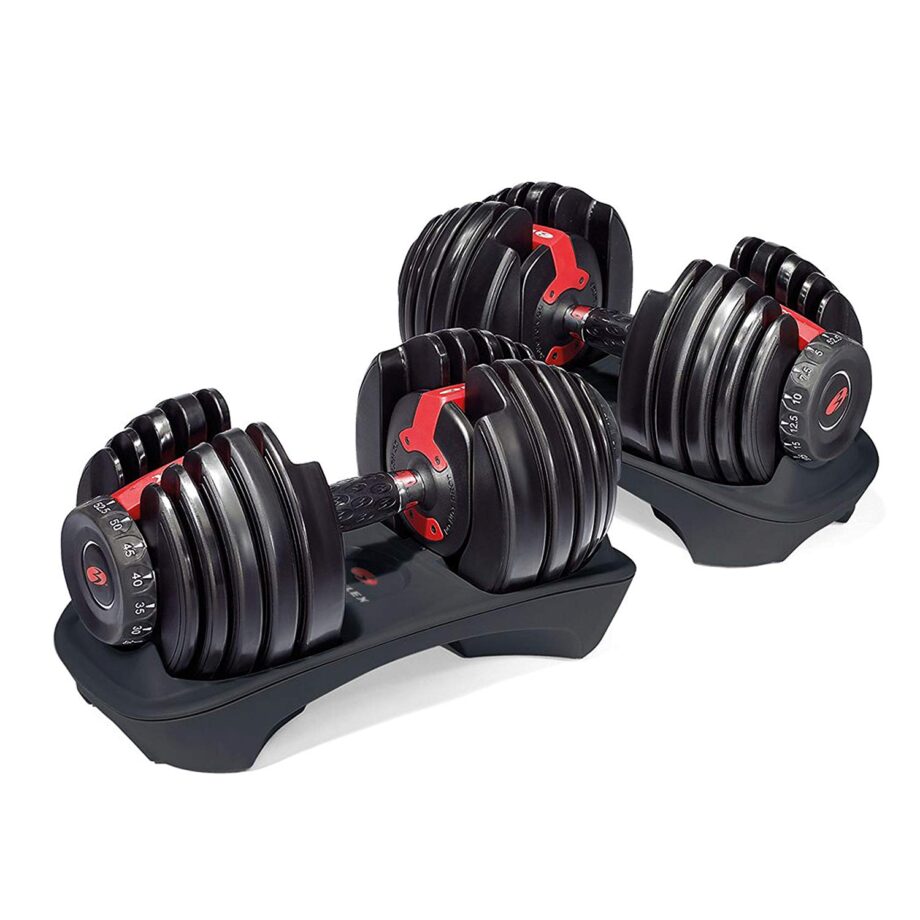 Bowflex SelectTech 552 Adjustable Dumbbells
These adjustable dumbbells replace 15 sets of weights. Weights adjust from 5 to 52.5 lbs in 2.5 lb increments up to the first 25 lbs. Easy-to-use selection dials for adjusting weights. They are sold as a pair. Easily switch from one exercise to next and with the turn of a dial you can change your resistance, enabling you to gradually increase your strength. Versatile workout for your legs, back, chest, abs, shoulders and arms. Compatible with the free Bowflex SelectTech® training App for iOS and Android.No more picking up 30 different dumbbells to give you the results you want!Say goodbye to 15 sets of dumbbells cluttering your workout space.With weight that adjusts from 5 to 52.5 lbs., you'll continue to see results as your fitness level improves.Durable molding around metal plates provides for a smooth lift-off and quieter workouts...no clanging metal plates!With the wider weight range you can do heavy exercises such as shrugs and lunges as well as lighter exercises such as curls and raises.
The Bowflex SelectTech 552 Dumbbells are the most popular adjustable dumbbells in the world at the moment. This is for multiple reasons, but it's largely because they combine a decent max weight capacity at 52.5 LB per dumbbell with a budget-friendly price.
In our review of the Bowflex SelectTech 552's, we really liked the value proposition which comes out to almost half the cost of the MX55's. We greatly prefer the compact form of the MX Select Dumbbells over Bowflex's as well as the handle, but they're vastly different price points.
If you're on a budget and looking for the best budget home gym equipment, we'd suggest the 552's over the MX Selects, but we think most people would prefer the experience of the MX Selectorized Dumbbells over the Bowflex SelectTech series.
Full Rating