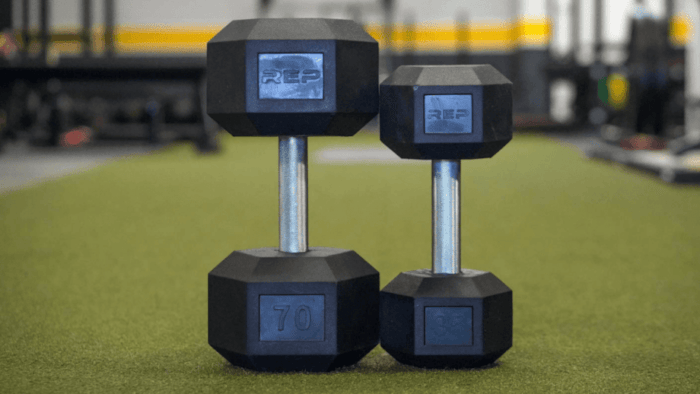 When it comes to dumbbells, there are as many shapes, sizes, and styles as there are exercises that can be done with them.
Dumbbells can be used by anyone from the soccer mom down the street doing Pilates with pink 3 pounders to Larry Wheels doing reps on an incline bench with 225's.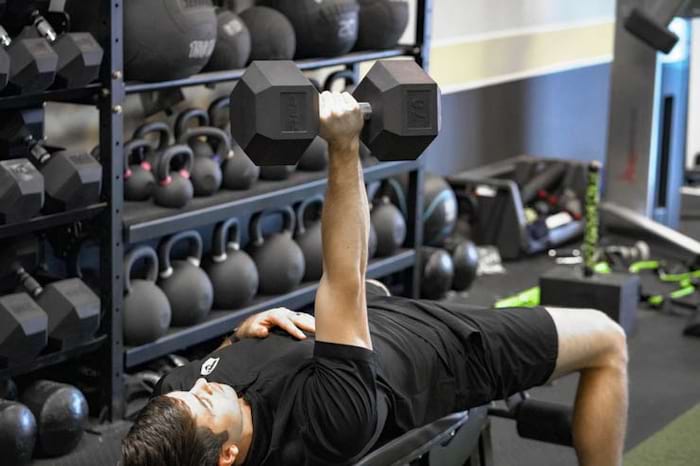 Of all the styles of dumbbells, the most common is the hex dumbbell. Hex dumbbells are generally the best combination of price and durability for most home gym owners and smaller commercial gyms, but for the most part, they are very average -- nothing overly appealing about them with mediocre durability, but they get the job done.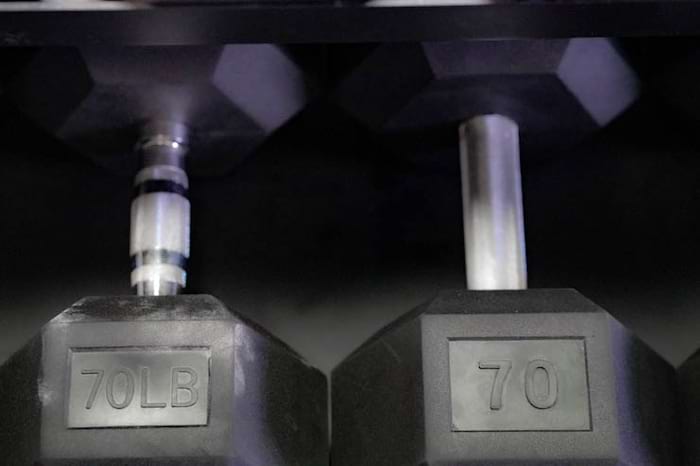 Everyone that has used hex dumbbells knows the feeling of picking one up that has a loose head. A few companies such as Rogue and Titan sell hex dumbbells with heads attached in a way that reduces the risk of this happening, but Rep Fitness offers dumbbells with completely fixed heads and some other added bonuses at an even lower price point.
The Rep Fitness Rubber Coated Hex Dumbbells are some of the best dumbbells on the market for the money. They have the standard hex design and rubber coating that is seen in other similar dumbbells like those made by Rogue, Titan, CAP, etc. The primary difference between Rep's dumbbells and the others is the handle and the way the head is attached.
The standard rubber hex dumbbell features a chrome-plated, ergonomic handle that tapers toward the heads and is only partially knurled. The knurling is also generally pretty passive. When there is moisture in the air or your hands get sweaty, the grip can be less than ideal.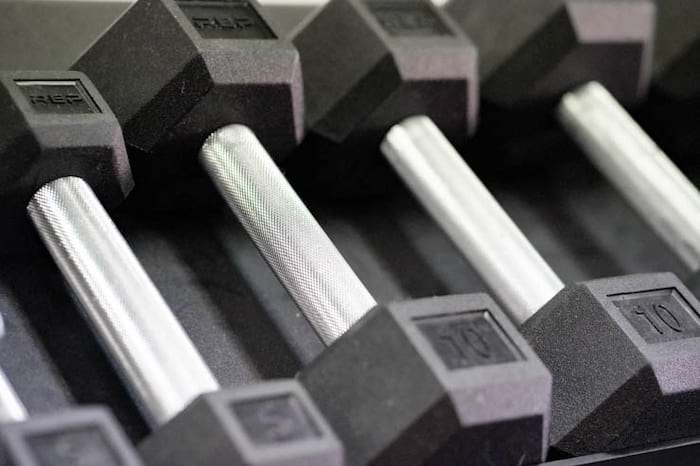 The Rep Hex Dumbbells are chrome plated as well, but they have a straight, completely knurled handle. This makes them closer in feel to the more expensive urethane, round head dumbbells that are used in many commercial gyms. The knurling is still fairly mild compared to most decent barbells, but the grip is still considerably better than the ergonomic handles of the standard rubber head dumbbell.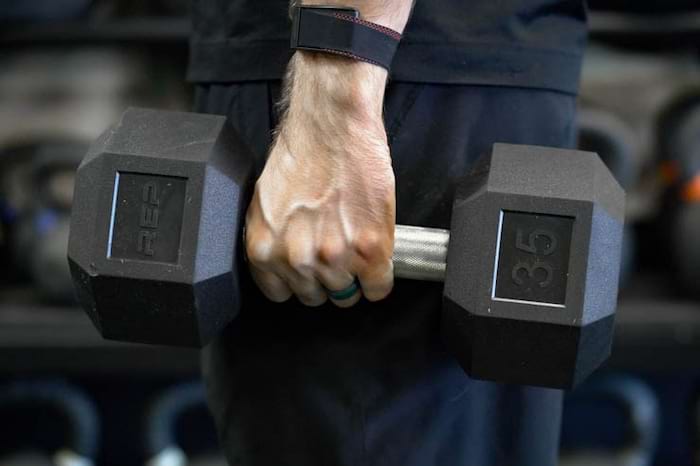 In my opinion, the straight handle feels better on most lifts, but besides a slightly better grip, it really comes down to personal preference. If you're used to the typical straight handle of most commercial dumbbells or struggle with grip, you'll probably prefer the straight handle. Some may still prefer the feel of the ergonomic handle, however.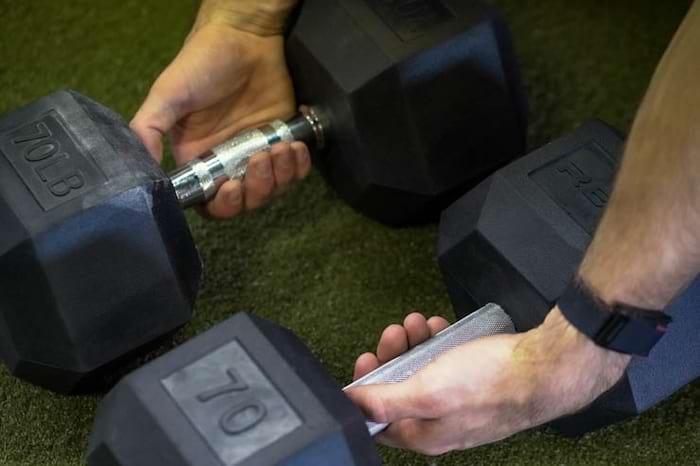 The handles of the Rep Fitness dumbbells are 28 millimeters on the 5 through 15 pounders and 34 millimeters for anything above 20 pounds. This is slightly smaller than the fattest part of standard ergonomic handles, but thicker than the tapered parts. 34 millimeters is fairly standard for most higher-end commercial dumbbells such as Rogue or Rep's urethane ones.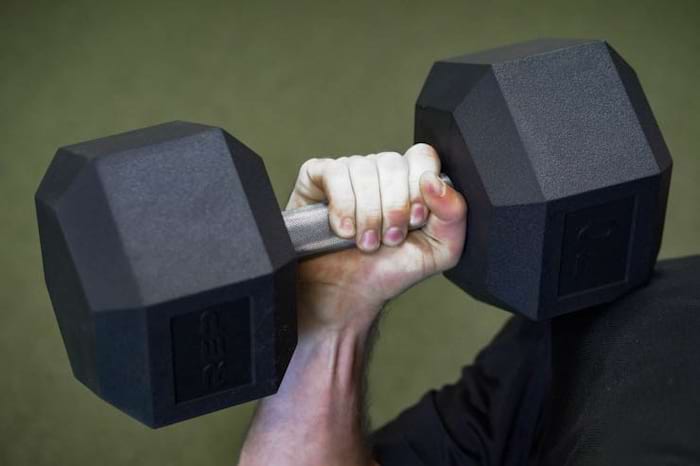 Most cast iron hex dumbbells also have a straight handle, but the knurling is considerably more passive and the paint coating makes them much slicker, especially if there is any moisture on them. While these dumbbells are usually cheaper, they are also generally of lower quality all around.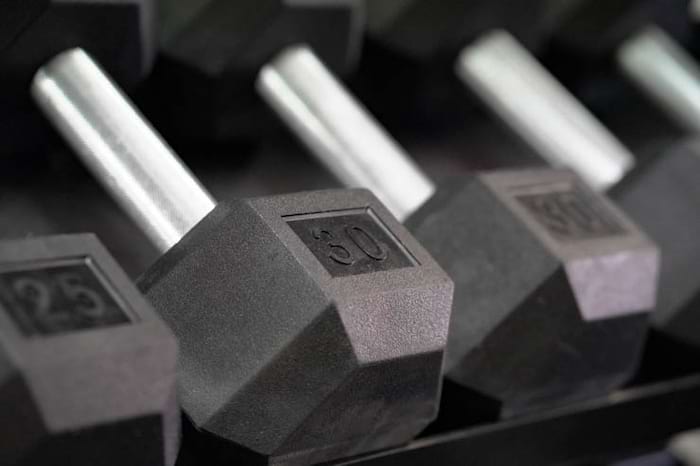 The cast iron and cheaper rubber hex dumbbells have another problem that outweighs the grip problem -- durability. Most have the heads either poorly welded or simply screwed onto the handle. The Rep Fitness dumbbells have solved this problem by using a welding technique known as friction welding to secure the head to the handle.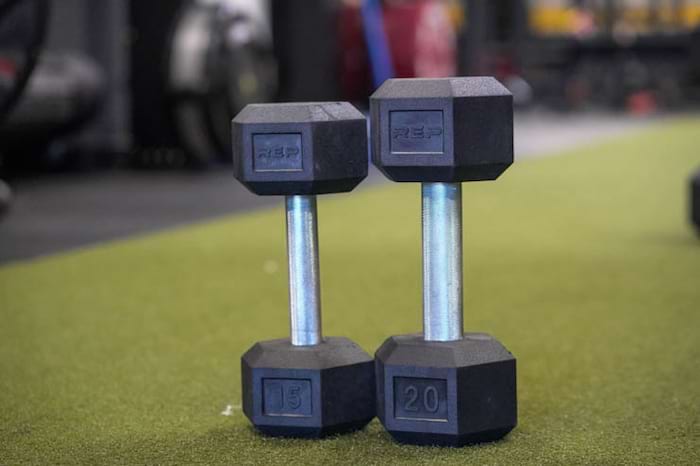 Friction welding involves rapidly spinning one of the pieces being welded while compressing the two pieces together. The friction causes enough heat between the pieces to fuse them together. The weld created is extremely durable, making it very unlikely to come loose with any typical abuse that a dumbbell would be taken through.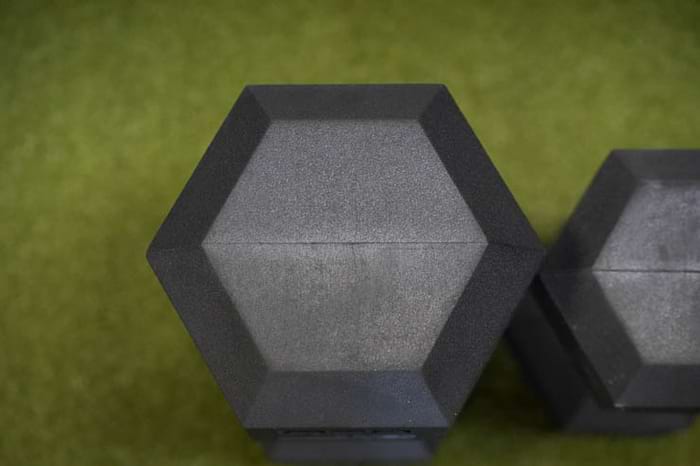 The rubber coating on the heads of the dumbbells also aids in durability. The rubber is designed to be resistant to cracking and chipping as well as being low odor. The higher end standard rubber hex dumbbells are made with a fairly wear-resistant rubber as well, but they almost always have a strong odor to begin with, which can be a big problem in small areas like garages. The Rep Fitness dumbbells' odor is almost unnoticeable, which helps alleviate this problem.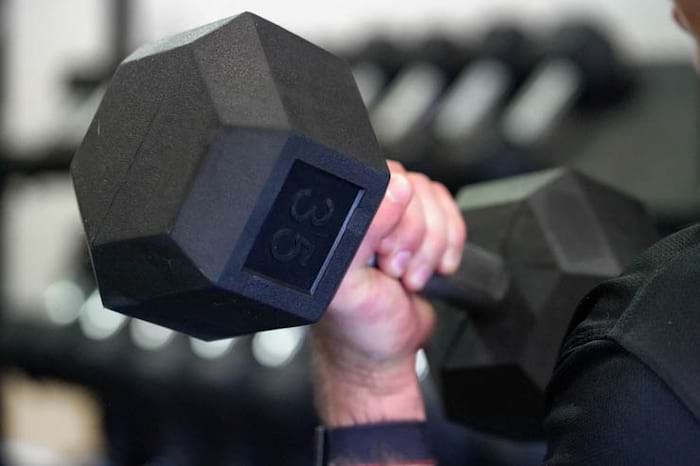 The dumbbells are fairly slick while they are new due to the oil that comes on them when they are shipped. This is an issue that any rubber dumbbell will have, however. While the oil can be annoying, it helps protect the rubber from cracking, which is worth the initial inconvenience.
Rep Fitness is so confident in the durability of their dumbbells that they even offer a lifetime warranty for personal use and one year warranty for commercial use. This is not something that most standard rubber hex dumbbells like those by Rogue, Titan, or CAP offer and it just further increases the value of the dumbbells.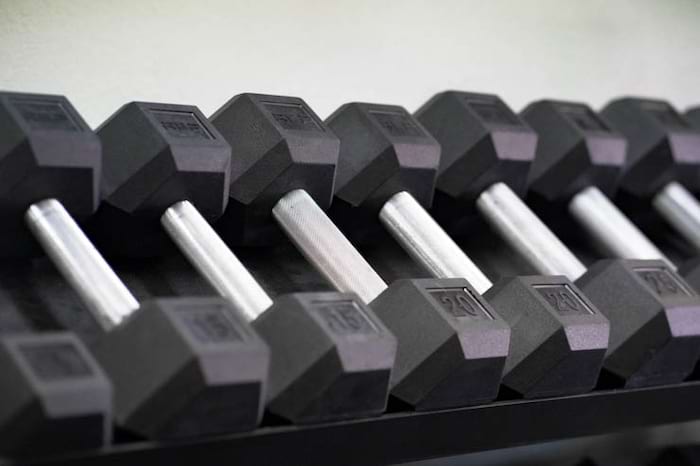 Another thing the Rep dumbbells have going for them is the price. At right at a dollar per pound, these dumbbells are cheaper than others of similar quality by around 20 cents or more on average. While there may be some that are cheaper, they are going to lack durability and will not be worth the slightly lowered price.
Overall, I would say the Rep Fitness Rubber Hex Dumbbells are some of the best hex dumbbells you can get for the price, but how do they stack up to other types of dumbbells?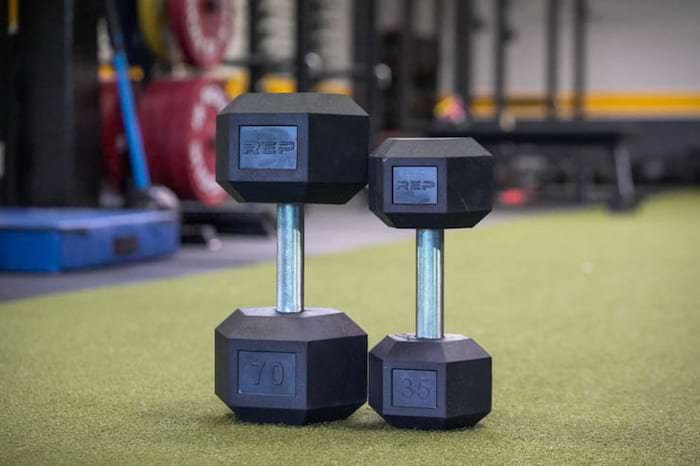 Rubber hex dumbbells are far from the best quality dumbbells on the market, but they are hard to beat for the price.
A majority of higher-end commercial gyms have urethane dumbbells. Urethane coating makes the dumbbell considerably more durable, which is very useful for the constant wear and tear of commercial use. This durability comes at a pretty steep price, however. Even the cheaper urethane dumbbells are going to be over two dollars per pound.
The urethane coating does come with a couple other perks- no oil and no smell. Though the smell is very faint with the Rep dumbbells, there is a hefty amount of oil. Urethane dumbbells don't require this oil to resist cracks, so they won't be nearly as slick when new.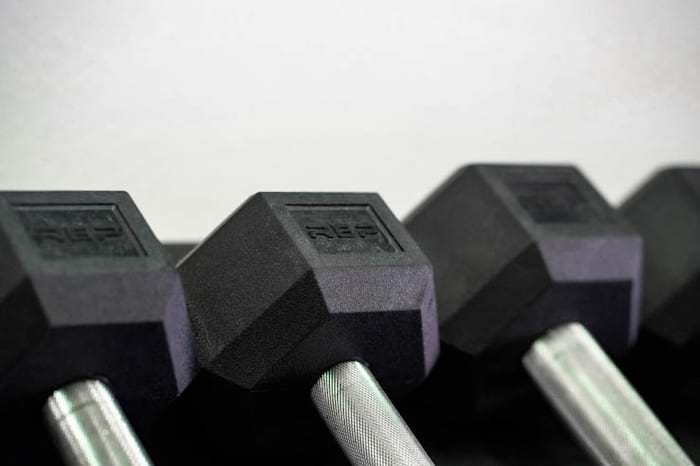 The handle on a majority of urethane dumbbells are going to be straight with decent knurling much like the Rep Fitness ones, though some may have an ergonomic style handle.
One thing the Rep dumbbells have over most urethane dumbbells is the shape. Most urethane dumbbells have round heads which, especially in a slightly slanted garage, have a tendency to roll away. This can get rather annoying, though if on a completely flat floor or if you have something to stop them, it can be worked around.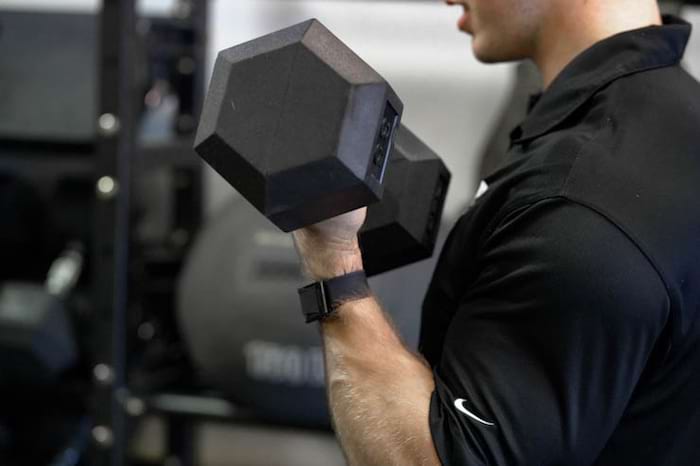 Another viable option for dumbbells is adjustable ones such as those made by PowerBlock and Bowflex. These types of dumbbells take up very little space, which is great for a garage, but due to the design and shape, the amount of things that can be done with them is more limited. They can also seem somewhat expensive, but when you take into consideration the number of dumbbells you would have to buy to get each adjustable amount, they are quite cheap.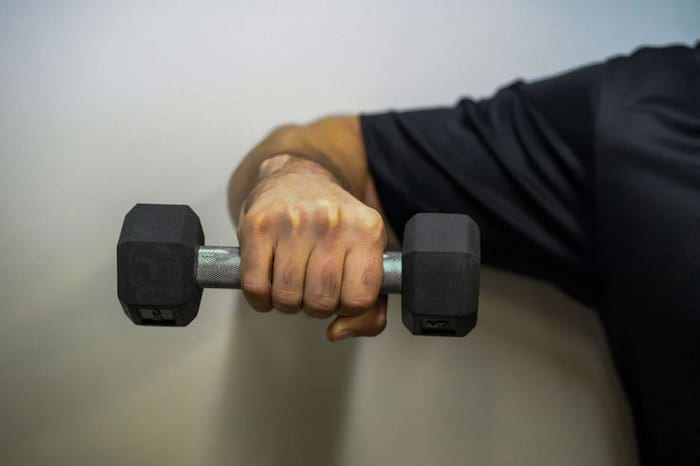 Because of their design, the adjustable dumbbells can't take nearly as much abuse as a fixed dumbbell would be able to take. This also limits the things that can be done with them, but depending on what you may be doing, it may not make a difference.
Depending on your goals, adjustable dumbbells may be perfect, but they are quite different and have less utility than a typical dumbbell.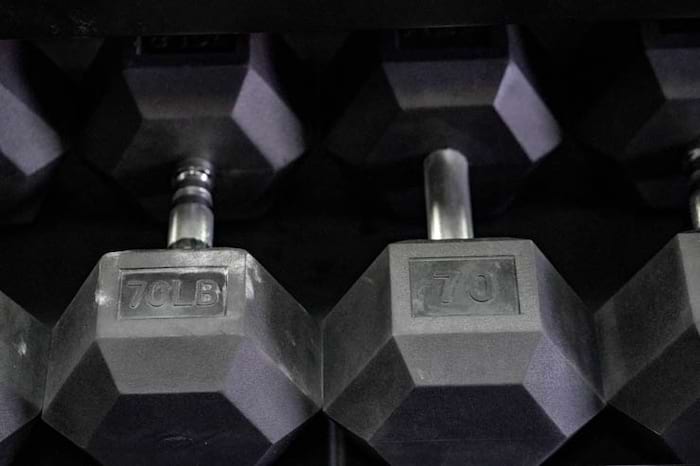 There are also loadable dumbbells, which include a bar with weights that can be added in different increments. Like the adjustable dumbbells, they can be great depending on your goals, but they just can't take the wear and tear of a fixed dumbbell.
Above all of these choices are considerably higher end dumbbells like those made by VA Seven and Watson, but they are in an entirely different league and their price tag shows it. While these dumbbells are of tremendous quality, they are unreasonable for most garage gym owners.
Overall, I would have to say that the Rep Fitness Rubber Hex Dumbbells are some of the best dumbbells for the price on the market and would make a great addition to any garage gym.