We test and review fitness products based on an independent, multi-point methodology. If you use our links to purchase something, we may earn a commission. Read our disclosures.
The REP Fitness Rubber Coated Hex Dumbbells are some of the best value dumbbells currently available. Combining high-quality rubber heads with a straight handle not typically seen at this price point, we highly recommend these for people looking to outfit their facility or garage gym with dumbbells.
In this REP Fitness Rubber Coated Hex Dumbbells review, I'll let you know the important information before you buy–things like price, materials, durability, and overall value to see if these are a fit for your home gym.
Rep Fitness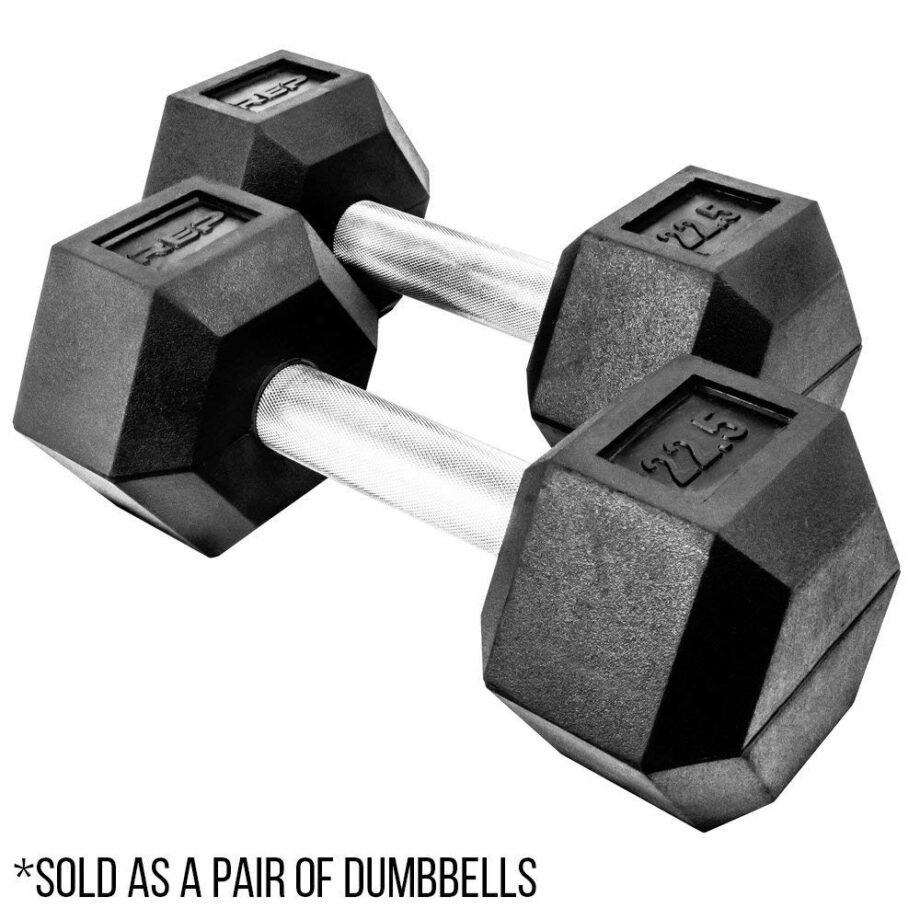 REP Rubber Coated Hex Dumbbells
Rep Fitness Rubber Hex Dumbbells Made from premium low odor rubber, our dumbbells are a classic rubber coated hex dumbbell design that is quiet and easy on your floors, and superior to others on the market. The chrome plated handle is straight and fully knurled for maximum grip. Unlike slippery "ergonomic" handles that only have knurl across part of the handle surface, our full knurl gives you a secure grip on the dumbbell at any weight. This feature is usually only found on premium "pro-style" dumbbells costing more than twice as much as ours. Use for isolating muscle groups during curls, tricep extensions, and presses as well as more complex movements like dumbbell snatches and Turkish get-ups.Rubber Hex Dumbbells vs Adjustable Dumbbells More convenient and durable than an adjustable dumbbell set, a rubber hex dumbbell set can last a lifetime and is a great investment in your health. A rubber dumbbell is great for a huge variety of exercises, and never goes out of style. A staple in many strength and conditioning programs, dumbbells allow you to develop real world strength by moving heavy objects in your hands. It doesn't get any simpler.Hex dumbbells are a staple for home gyms and commercial gyms because of their versatility and effectiveness. With a good set of dumbbells you can target every major muscle group and build real-world strength quickly and safely.We offer a full range of rubber coated dumbbells for home gym and commercial use. Whether you just need a pair or two for your garage, or a whole set for your new box gym we've got you covered.Check out our other listings for additional dumbbell sets, dumbbell racks and packages that will help you save money!
Why You Should Trust Us
In my opinion, dumbbells are some of the most versatile pieces of fitness equipment you could possibly have in a home gym setup. I've tested dozens of the best dumbbells on the market today – including the Bowflex SelectTech 552s, CAP Barbell Solid Cast Iron dumbbells, and Eleiko Evo Dumbbells.
When testing any dumbbell, we have a standardized process that helps us get a good overall picture of the equipment. I like to run the dumbbells through one of my typical dumbbell workouts to see how it performs, as well as see how it holds up over time. 
RELATED: Dumbbell Leg Workout
Evaluating each individual component of the dumbbell might seem time consuming, but it's worth it to get a comprehensive look at the equipment we're working with. Plus, it helps the lovely readers at Garage Gym Reviews make better buying decisions. Who can beat that?
A Quick Look at the REP Fitness Rubber Coated Hex Dumbbells
REP Fitness has great home gym equipment. I should know; I've tested tons of their products including the Omni Rack, AB-5200 Adjustable Bench, Deep Knurl Power Bar, and more. After trying plenty of other things that REP Fitness has to offer, it's no surprise to me that the Rubber Coated Hex Dumbbells are also well-made.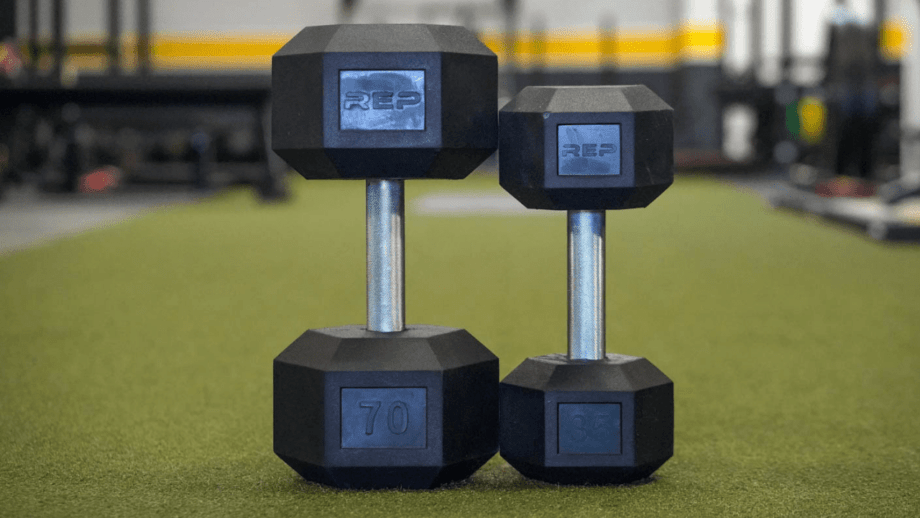 Coop's Tips:
If you love dropping your dumbbells after completing a hard set, these are a good option for you because of the friction welding process used.
Be careful when unboxing these–the oil used to prevent the rubber from cracking makes the dumbbells slippery at first.
My Favorite Things:
Fully knurled handle
Lifetime warranty for home use
Completely fixed heads
Low odor
My Callouts:
We've seen reports of the black rubber heads turning somewhat green over time
A bit longer distance between the dumbbell heads than what is necessary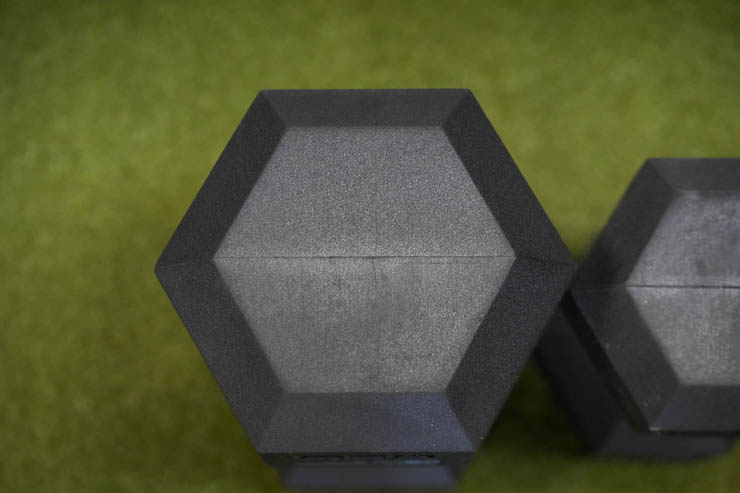 Are the REP Fitness Rubber Coated Hex Dumbbells Worth It?
These dumbbells are a solid option for most home gym owners. Check out who I think should definitely pick these up and who might want to see what else is out there.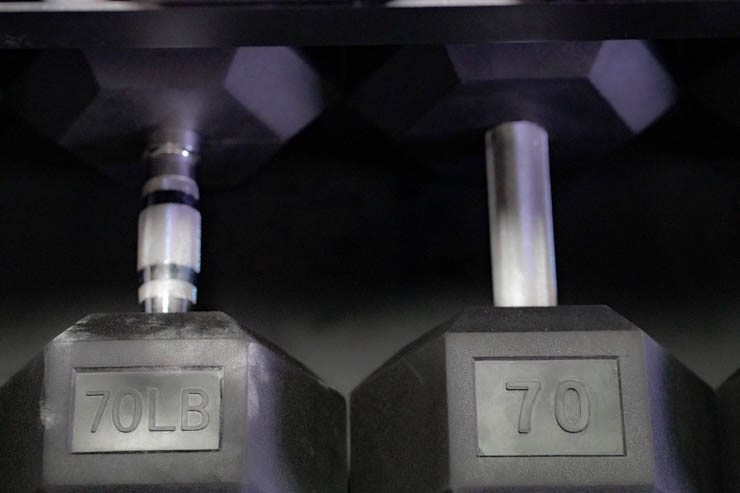 Great for:
Someone looking for a dumbbell with a straight handle
A home gym owner who wants a durable dumbbell with an excellent warranty
People on a budget
Not recommended for:
People who want adjustable dumbbells
Those with limited space
Trainees who desire the more traditional rounded dumbbell handle design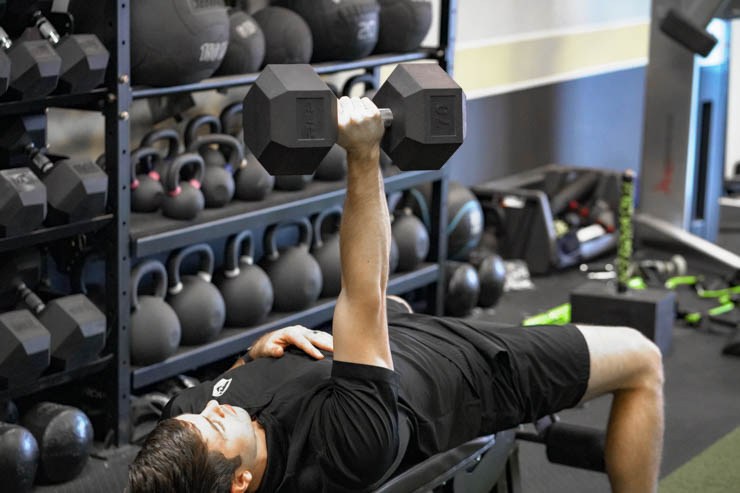 REP Fitness Rubber Coated Hex Dumbbells Specs
| | |
| --- | --- |
| Weight | Between 2.5-125 pounds |
| Handle | Fully knurled |
| Brand | REP Fitness |
| Diameter of Handle | 28mm diameter for 5 to 20 pounds, and 34mm diameter handle for 25+ pounds |
| Designed in | Denver, CO |
| Tolerance | 3% |
| Attached | Friction welding |
| Warranty | Lifetime for home use, 1 year for commercial use |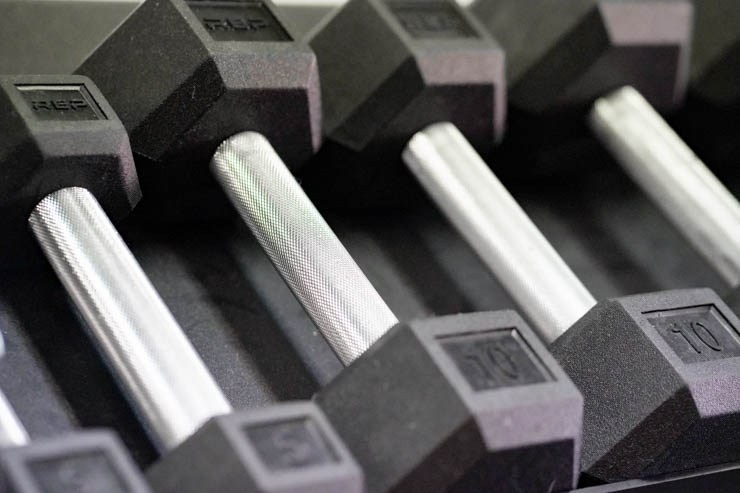 Using the REP Fitness Rubber Coated Hex Dumbbells
When it comes to dumbbells, there are as many shapes, sizes, and styles as there are exercises that can be done with them.
Dumbbells can be used by anyone from the person down the street doing Pilates to Larry Wheels doing reps on an incline bench with 225s.
Of all the styles of dumbbells, the most common is the hex dumbbell. Hex dumbbells are generally the best combination of price and durability for most home gym owners and smaller commercial gyms, but for the most part, they are very average–nothing overly appealing about them with mediocre durability, but they get the job done.
Everyone who has used hex dumbbells knows the feeling of picking one up that has a loose head. A few companies such as Rogue Fitness and Titan sell hex dumbbells with heads attached in a way that reduces the risk of this happening, but REP Fitness offers dumbbells with completely fixed heads and some other added bonuses at an even lower price point.
The dumbbells are fairly slick while they are new due to the oil that comes on them when they are shipped. This is an issue that any rubber dumbbell will have, however. While the oil can be annoying, it helps protect the rubber from cracking, which is worth the initial inconvenience.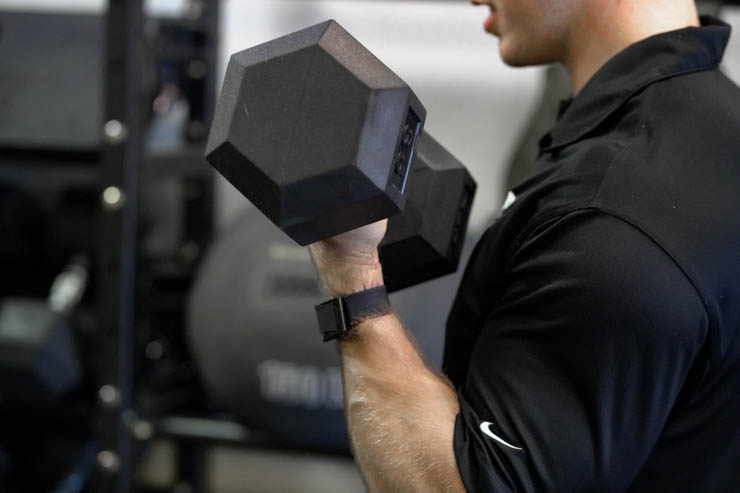 Another thing the REP dumbbells have going for them is the price. At right around a dollar per pound, these dumbbells are cheaper than others of similar quality by around 20 cents or more. While there may be some that are cheaper, they are going to lack durability and will not be worth the slightly lowered price.
One thing we'd be interested in seeing is a shorter distance between the dumbbell heads. A more compact dumbbell makes it easier to handle. We'd also like to see a 29mm handle that is uniform throughout the dumbbells. This is what is used for most powerlifting bars and would have a good carry over to the barbell lifts.
Other than that, for the price, there isn't much else we'd like to see changed.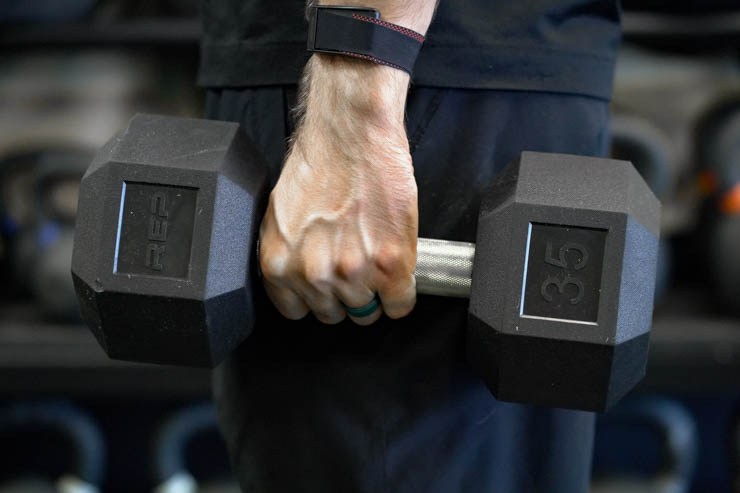 Durability and Construction
The REP Fitness Rubber Coated Hex Dumbbells are some of the best dumbbells on the market for the money. They have the standard hex design and rubber coating that is seen in other similar dumbbells like those made by Rogue, Titan, and CAP. The primary difference between REP's dumbbells and the others is the handle and the way the head is attached.
REP Fitness is so confident in the durability of their dumbbells that they even offer a lifetime warranty for personal use and one year warranty for commercial use. This is not something that most standard rubber hex dumbbells like those by Rogue, Titan, or CAP offer and it just further increases the value of the dumbbells.
Handles
The standard rubber hex dumbbell features a chrome-plated, ergonomic handle that tapers toward the heads and is only partially knurled. The knurling is also generally pretty passive. When there is moisture in the air or your hands get sweaty, the grip can be less than ideal.
The REP Hex Dumbbells are chrome plated as well, but they have a straight, completely knurled handle. This makes them closer in feel to the more expensive urethane, round dumbbells that are used in many commercial gyms. The knurling is still fairly mild compared to most decent barbells, but the grip is still considerably better than the ergonomic handles of the standard rubber head dumbbell.
The handles of the REP Fitness dumbbells are 28 millimeters on the 5- through 20-pounders and 34 millimeters for anything above 20 pounds. This is slightly smaller than the fattest part of standard ergonomic handles, but thicker than the tapered parts. Thirty-four millimeters is fairly standard for most higher-end commercial dumbbells such as Rogue or REP's urethane ones.
Most cast iron hex dumbbells also have a straight handle, but the knurling is considerably more passive and the paint coating makes them much slicker, especially if there is any moisture on them. While these dumbbells are usually cheaper, they are also generally of lower quality all around.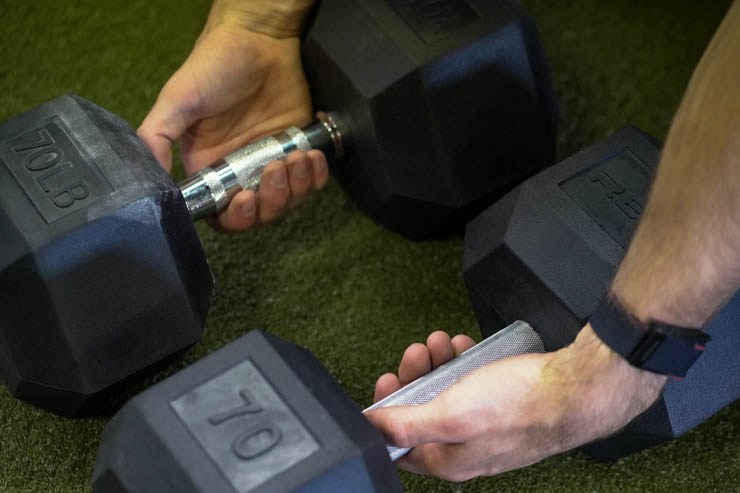 Welding
The cast iron and cheaper rubber hex dumbbells have another problem that outweighs the grip problem: durability. Most have the heads are either poorly welded or simply screwed onto the handle. The REP Fitness dumbbells have solved this problem by using a welding technique known as friction welding to secure the head to the handle.
Friction welding involves rapidly spinning one of the pieces being welded while compressing the two pieces together. The friction causes enough heat between the pieces to fuse them together. The weld created is extremely durable, making it very unlikely to come loose with any typical abuse that a dumbbell would be taken through.
Rubber
The rubber coating on the heads of the dumbbells also aids in durability. The rubber is designed to be resistant to cracking and chipping as well as being low odor. The higher end standard rubber hex dumbbells are made with fairly wear-resistant rubber.
However, they almost always have a strong odor to begin with, which can be a big problem in small areas like garages. The REP Fitness dumbbells have low-odor rubber that is almost unnoticeable, which helps alleviate this problem.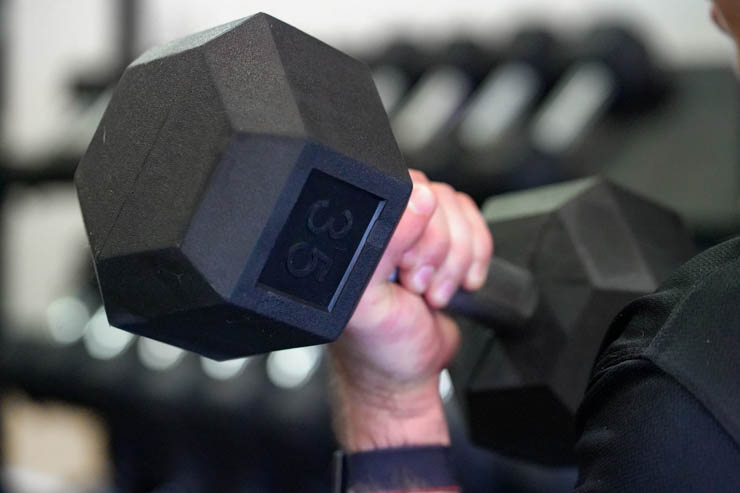 Comparisons to Other Dumbbells
Overall, I would say the REP Fitness Rubber Hex Dumbbells are some of the best hex dumbbells you can get for the price, but how do they stack up to other types of dumbbells?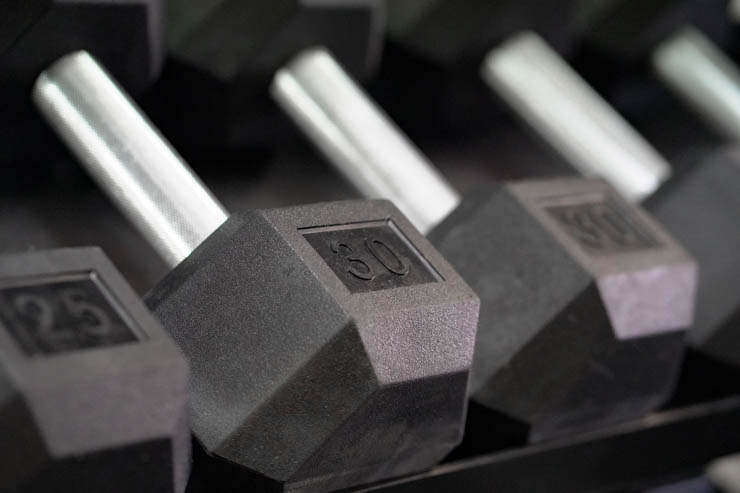 Urethane Dumbbells
Rubber hex dumbbells are far from the best quality dumbbells on the market, but they are hard to beat for the price.
A majority of higher-end commercial gyms have urethane dumbbells. Urethane coating makes the dumbbell considerably more durable, which is very useful for the constant wear and tear of commercial use. This durability comes at a pretty steep price, however. Even the cheaper urethane dumbbells are going to be over two dollars per pound.
The urethane coating does come with a couple other perks: no oil and no smell. Though the smell is very faint with the REP dumbbells, there is a hefty amount of oil. Urethane dumbbells don't require this oil to resist cracks, so they won't be nearly as slick when new.
The handle on a majority of urethane dumbbells are going to be straight with decent knurling much like the REP Fitness ones, though some may have an ergonomic style handle.
One thing the REP dumbbells have over most urethane dumbbells is the shape. Most urethane dumbbells have round heads which, especially in a slightly slanted garage, have a tendency to roll away. This can get rather annoying, though if on a completely flat floor or if you have something to stop them, it can be worked around.
Adjustable Dumbbells
Another viable option for dumbbells is adjustable ones such as those made by PowerBlock and Bowflex. These types of dumbbells take up very little space, which is great for a garage, but due to the design and shape, the amount of things that can be done with them is more limited.
They can also seem somewhat expensive, but when you take into consideration the number of dumbbells you would have to buy to get each adjustable amount, they are quite cheap.
Because of their design, the adjustable dumbbells can't take nearly as much abuse as a fixed dumbbell would be able to take. This also limits the things that can be done with them, but depending on what you may be doing, it may not make a difference.
Depending on your goals, adjustable dumbbells may be perfect, but they are quite different and have less utility than a typical dumbbell.
Loadable Dumbbells
There are also loadable dumbbells, which include a bar with weights that can be added in different increments. Like adjustable dumbbells, they can be great depending on your goals, but they just can't take the wear and tear of a fixed dumbbell.
Above all of these choices are considerably higher end dumbbells like those made by VA Seven and Watson, but they are in an entirely different league and their price tag shows it. While these dumbbells are of tremendous quality, they are unreasonable for most garage gym owners.
Overall, I would have to say that the REP Fitness Rubber Hex Dumbbells are some of the best dumbbells for the price on the market and would make a great addition to any garage gym.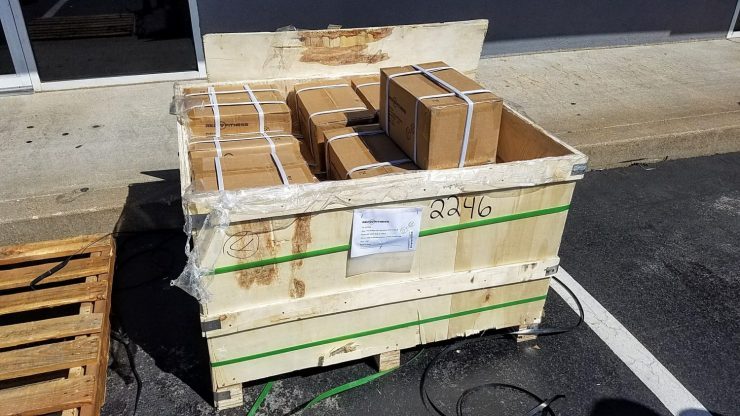 Unboxing the REP Fitness Rubber Coated Hex Dumbbells
The REP Fitness Rubber Coated Hex Dumbbells showed up at the gym's doorstep in a MASSIVE crate. I've had multiple orders of dumbbells, and these are by far the best packaged that I've received. This may sound like a small issue, but when dumbbells show up on your doorstep stacked on top of one another with marks and scars, you'll understand.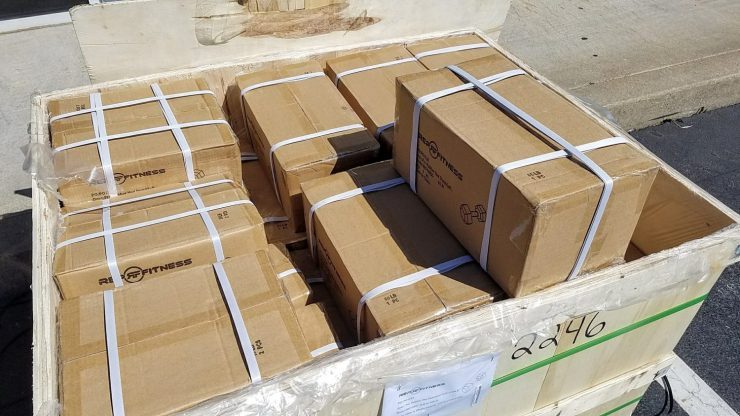 Each dumbbell was also individually packaged in cardboard inside the crate. Very happy with this.
The boxes were taped and included polypropylene PP straps that allow the boxes to be easily lifted. This is just another step that REP Fitness added that isn't necessary, but will be welcome when you're lugging them out of the box.
Each box is individually branded as well with their logo as well as the weight included in the box. These touches are small but definitely welcome.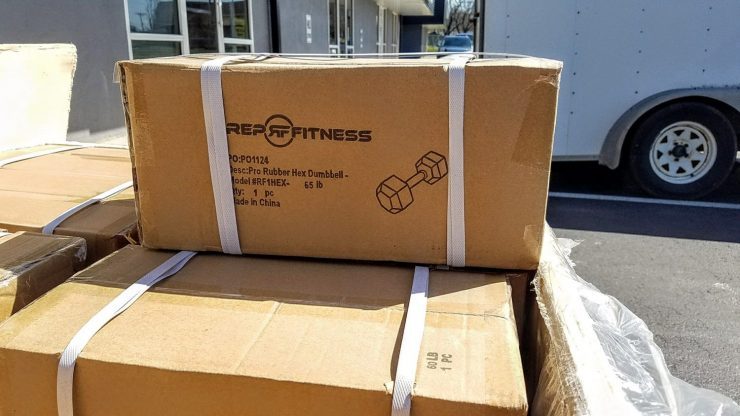 Customer Experience
The warranty on these dumbbells can't be beat. If you're planning to use them in a home gym capacity only, you'll get a lifetime warranty. If you have a commercial gym, REP will give you a one year warranty on these dumbbells.
If you have questions, it is easy to access customer service on the REP Fitness website. In the bottom right hand corner, there is an option to message with questions. Although it isn't a live chat, a rep (lol see what I did there) will get back to you within a few hours. While you wait, you can look at the tons of FAQs they answer on the website to see if your question was answered previously.
The return policy is fairly standard. You have 30 days from receiving the item to return for a refund. If you return the product in used condition, you'll be responsible for a 15% restocking fee.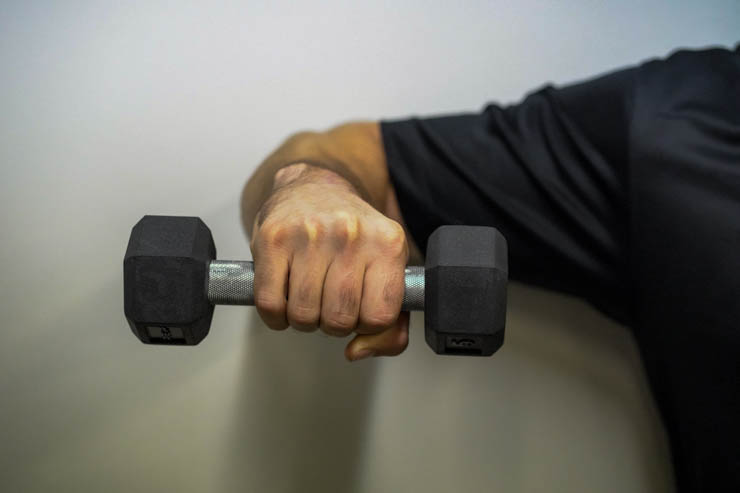 Customer Reviews
With close to 200 reviews on Amazon, the REP Fitness Rubber Coated Hex Dumbbells have an average score of 4.8 out of 5. Customers loved the variety of weight you could purchase, the way the dumbbells came securely packaged, and the overall quality. Reviewer Kenny Tran said this; "I would highly recommend them for anyone who is looking for premium quality dumbbells to add to their workout equipment or home gym."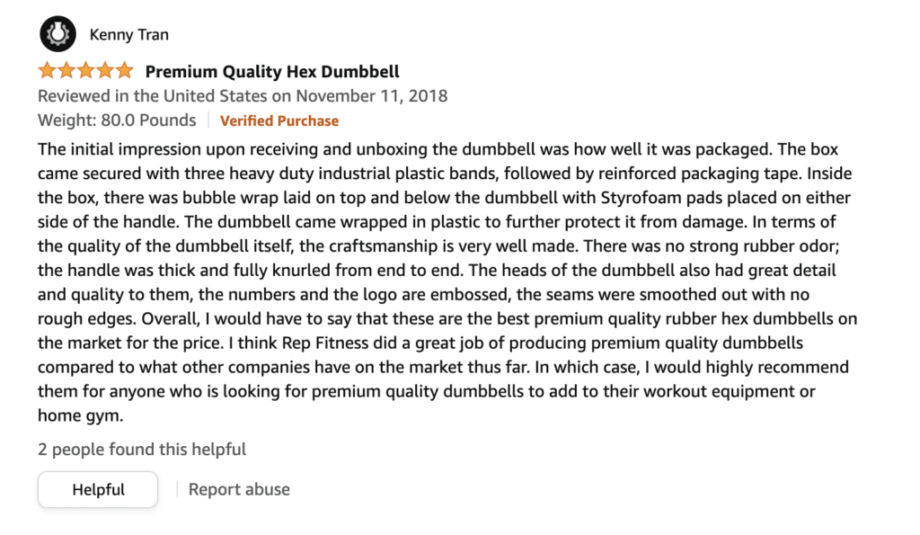 There weren't a ton of critical reviews, but someone did mention their package personally came very squished. Another reviewer had the head of their dumbbell broken off, but this was not a common complaint and seemed to be a one-off situation.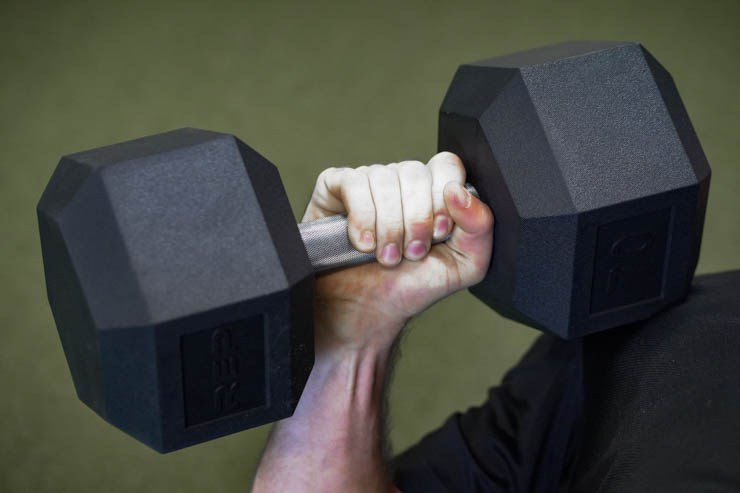 Final Verdict of Our REP Fitness Rubber Coated Hex Dumbbells Review
Overall, I can't recommend the REP Fitness Rubber Coated Hex Dumbbells enough. They're affordable, durable, have a great warranty, have a straight handle that feels similar to a barbell, and don't smell like a rubber band factory. Unless you're tight on space and need an adjustable option, these dumbbells are a great pick up for pretty much any home gym.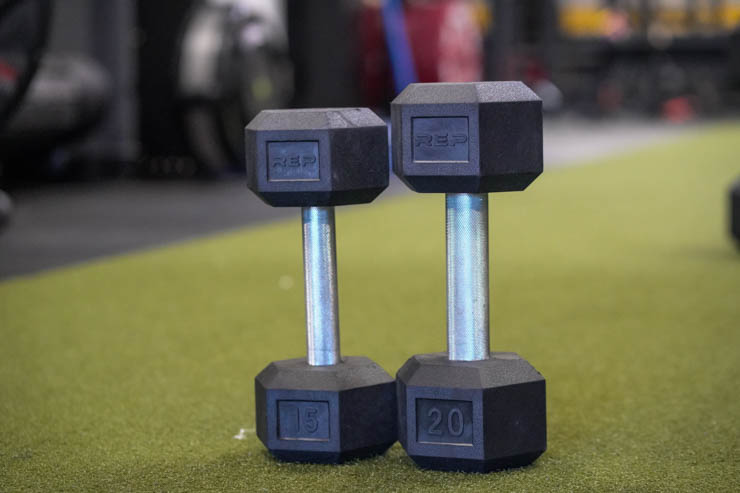 Full Rating
Rep Fitness Rubber Coated Hex Dumbbells
The Rep Fitness Rubber Coated Hex Dumbbells are some of the best value dumbbells currently available. Combining high-quality rubber heads with a straight handle not typically seen with this price of dumbbell, we highly recommend these for people looking to outfit their facility or garage gym with dumbbells.
Product Brand: REP Fitness
Product Currency: $
Product Price: 15.99
Product In-Stock: InStock
REP Fitness Rubber Coated Hex Dumbbells FAQs
Are rubber hex dumbbells good?
Rubber hex dumbbells are good for the average home gym owner. Are they the most durable and high-quality option on the market? No. Will they get the job done at an affordable price? Yep.
Do hex dumbbells break easily?
Typically, hex dumbbells aren't the most durable. However, the REP Fitness Rubber Coated Dumbbells use friction welding to get the heads of the dumbbell to attach to the handle, which lots of other hex dumbbells don't do. This process makes these dumbbells more durable than the average hex dumbbell.
What kind of workouts or weight lifting can I do with a rubber hex dumbbell set?
The beauty of dumbbells lies in their versatility – you can do almost anything that requires weight with a set of dumbbells. Any type of strength training like a dumbbell snatch, preacher curls, Arnold presses, and tricep kickbacks can all be achieved with the infamous hex dumbbells.