We test and review fitness products based on an independent, multi-point methodology. If you use our links to purchase something, we may earn a commission. Read our disclosures.
If you're shopping for the best rowing machine on the market, you may have landed here because you can't decide between the CITYROW vs Hydrow. The first brand offers water rowing machines while the other manufactures magnetic rowers, but both have smart rower features.
In this in-depth comparison between the two rowing brands, we're going to focus on each of the most popular models: the CITYROW Max and Hydrow Rower. They're both high-quality machines that offer touchscreen displays and access to on-demand programming for at-home workouts.
CITYROW Max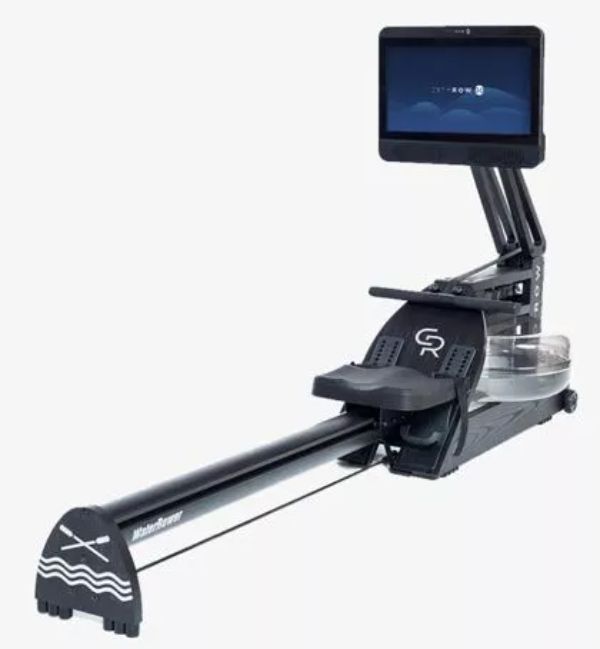 GGR Score: 3.9
Product Highlights
If you're someone who loves a high-quality rowing machine, you'll love the CITYROW GO Max Rower. This water rower has great interactive programming that goes beyond the rowing machine. For $29 per month, you'll find tons of yoga, strength, and pilates classes included in your subscription.
Pros & Cons
Pros
Smooth rowing experience
Quality interactive programming
Rower comes pre-assembled
Fairly portable; screen is able to be folded down
Cons
Water used has to be replaced every so often
Resistance isn't adjustable
Expensive at almost $2,200
Bottom Line
Overall, I really enjoyed using the CITYROW GO Max Rower. Would I generally recommend it over the Hydrow? No, because the Hydrow's interactive rowing classes are second to none. However, if you're someone who is interested in doing a variety of workouts through streaming in tandem with a high-quality machine, then I would recommend the CITYROW GO Max Rower to you.
Hydrow Rower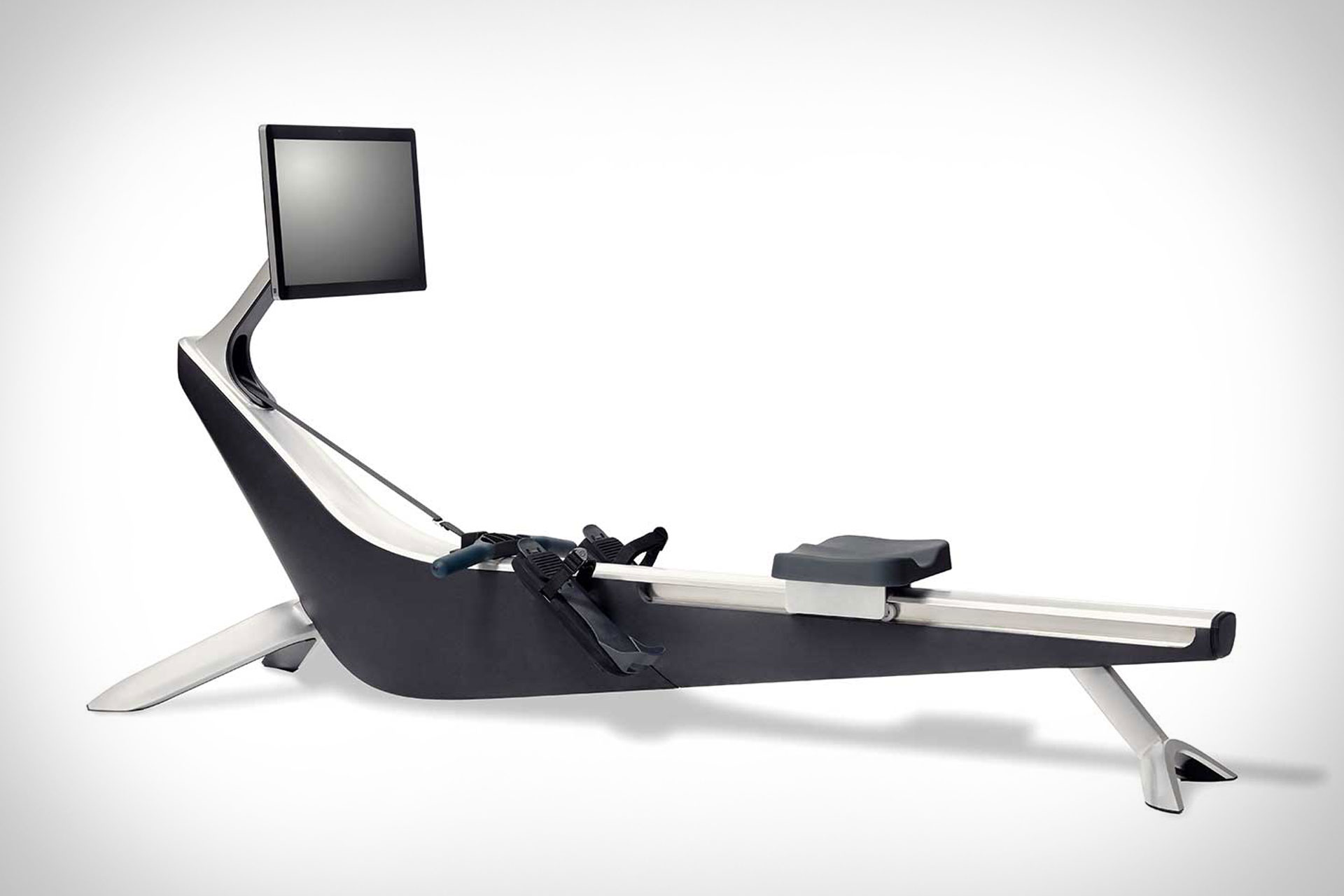 GGR Score: 4.2
Product Highlights
Sleek and sexy design
16″ touchscreen display
Magnetic resistance done right
Gorgeous virtual rowing workouts filmed on location all over the world
Smooth rowing experience
Pros & Cons
Pros
Consistent and smooth magnetic rower
Engaging interactive programming
Ability to compete against others via a leaderboard
Sleek and modern design
Cons
Just under $2,500 for the Hydrow Essentials Package
Additional subscription fee for programming
Limited customer service contact options
Bottom Line
This is a fantastic, advanced rowing machine ideal for people who have the money to spend and the desire for trainer-led workouts.
CITYROW vs Hydrow Spec Chart
| | | |
| --- | --- | --- |
| | CITYROW Max | Hydrow Rower |
| Price | $2,199 | $2,495 |
| Footprint | 83.5" L x 22.25" W x 20" H | 86″ L x 25″ W x 47″ H |
| Resistance type | Water resistance | Computer-controlled magnetic resistance |
| Weight limit | 375 lbs | 375 lbs |
| Height limit | 39" inseam | 36" inseam |
| Product weight | 61 lbs (dry), 98 lbs | 145 lbs |
| Display | 19.5" sweat-resistant touchscreen | 22" HD touchscreen |
| Bluetooth | Yes | Yes |
| Programming | CITYROW app | All-inclusive Hydrow Membership |
| Warranty | 5-year frame, 3-year non-electrical parts, 1-year tablet | 5-year frame, 1-year components, screen, and electronics |
Quick Look: CITYROW vs Hydrow
The CITYROW Max and the Hydrow Rower are certainly different machines—one being a water rower and the other a magnetic rower, respectively—but they both offer similar styles of technology and interactive programming.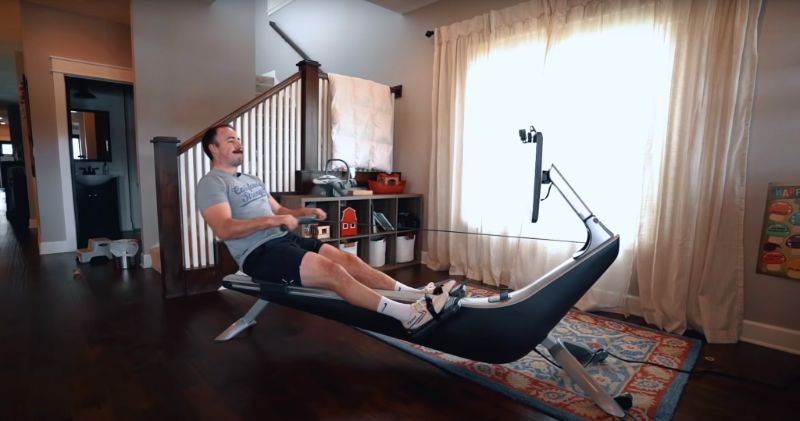 Our product testers have personally tested both ergs and for the first time we're comparing the two head-to-head. We've enjoyed our time on both machines and to determine which one is best for you will mean understanding your personal preferences and needs.
That said, if you're looking for more details on our hands-on experience, check out the CITYROW Max review (this machine was formerly called the CITYROW GO Max, but has since been rebranded) and the Hydrow Rower review.
Who Should Buy The CITYROW Max Rower
Anyone who enjoys indoor rowing with water resistance
People who enjoy live classes and on-demand workouts filmed in a studio setting
Folks who want real-time metrics
Individuals who want a low-impact cardio machine
Who Should Buy The Hydrow Rower
Anyone who wants adjustable resistance settings
Folks who want immersive on-demand classes (filmed on the water!)
Anyone who wants a scenic outdoor rowing experience
People who need a nearly silent rowing machine
Individuals motivated by leaderboard competition and live classes
Key Similarities Between CITYROW and Hydrow
Monthly subscription fees to access on-demand rowing classes and live classes
WiFi required to access programming
Interactive programming offers off-rower workouts (HIIT, pilates, strength training, etc.)
Manual mode for just rowing and basic metrics
Same maximum user weight at 375 pounds
Offers low-impact and full-body workouts
Ideal for home gyms or living rooms
Upright storage options
Apple Watch connectivity
Important Differences Between CITYROW and Hydrow
CITYROW Max uses a water tank for resistance, while Hydrow has defined magnetic resistance levels
Hydrow is nearly $300 more than the CITYROW
Programming for Hydrow is $44 per month, while CITYROW is $29.99 per month
CITYROW touchscreen rotates up to 30 degrees, while Hydrow rotates 15 degrees
The Hydrow rowing machine requires a mounting storage kit if you want to utilize upright storage
The CITYROW will be more noisy than the Hydrow due to water resistance
Construction of CITYROW vs Hydrow
Both row ergs offer the same user weight capacity, but are constructed from entirely different materials. You may find it interesting that CITYROW is actually manufactured by WaterRower (which also produces the Ergatta Rower) which means it's made from wood!
Although it doesn't look like wood, the dark stain camouflages the natural wood grain. Plus, the wood frame makes it fairly lightweight. Without water the CITYROW weighs 61 pounds, and with a full tank it weighs 98 pounds.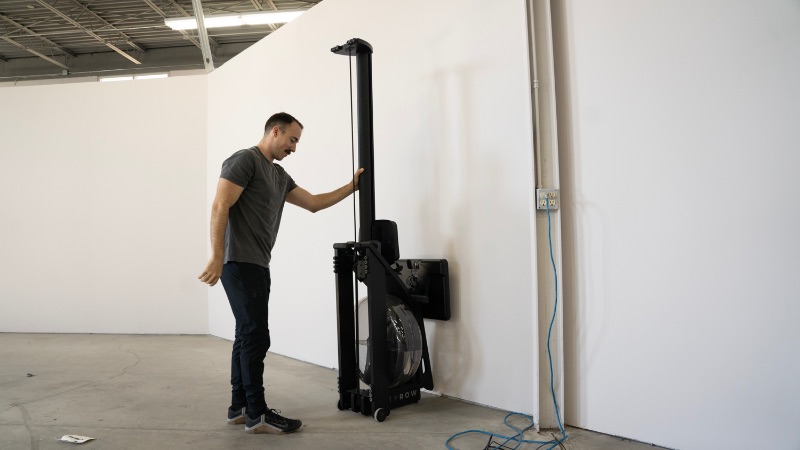 On the flip side, the Hydrow is built with a heavy-duty frame constructed from both aluminum and steel. In comparison, this metal machine weighs 145 pounds total.
Tech Features of CITYROW vs Hydrow
Our product testers here at GGR have used some of the best water rowing machines on the market, but not all water rowers have smart tech features like the CITYROW—that's what sets this home rowing machine apart from other water ergs.
You'll have the ability to swivel your screen 30 degrees to see your HIIT rowing workouts plus HIIT classes meant for off the rower, too. You'll also be able to hear clearly with the high-fidelity speakers or sync your wireless headphones with the erg's Bluetooth connection.
We also appreciate the fact that the 19.5-inch touchscreen is sweat-resistant, which may give you a little more peace of mind if you plan on investing in a smart rower that's also a water rower. Plus, you'll be able to pair your Apple Watch with the CITYROW to sync your data and display your stats in real-time.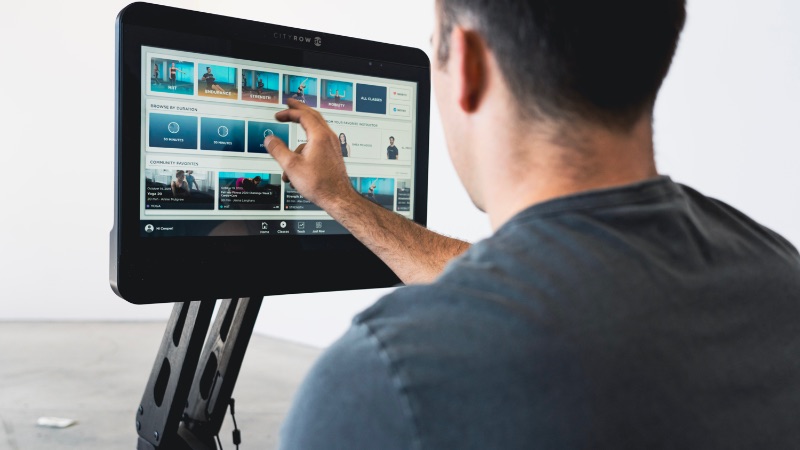 The Hydrow offers a lot of the same features with a 22-inch HD touchscreen that can swivel 15 degrees. In addition to having the ability to sync your Apple Watch, the Hydrow also allows you to use heart rate monitors with Bluetooth connectivity.
You will also have the powerful speakers on the Hydrow that are front facing for the best listening experience of the music and the instructor's cues. Plus, you can use Bluetooth to connect with a pair of wireless speakers or headphones.
Programming
Both brands offer a wide variety of on-demand rowing classes, live classes, and exercise off the rower. Truly, the respective rowing apps for CITYROW and Hydrow replaces the need for a gym membership for most folks.
RELATED: Best Rowing App
The main difference we see is the fact Hydrow offers trainer-led classes filmed on the water plus open water rowing sessions without a coach—just you and a scenic virtual experience. CITYROW on the other hand has a library of workouts filmed in a studio, which is not bad but it's worth knowing that before you buy.
Workout Experience: Water vs Magnetic Resistance
The main difference between water and magnetic resistance is the fact that water rowers don't allow you to choose a specific setting or level of resistance. Water resistance is like air resistance, the faster and harder you pull the handle and drive your legs, the more the water churns and provides resistance.
RELATED: Concept2 RowErg Review
The best magnetic rowing machines (like the Hydrow) have computer-controlled magnetic resistance, which means you can set the resistance with a touch of a button to find the right amount of drag for your workout. Plus, the Hydrow is super smooth and nearly silent while working out.
Coop Mitchell, GGR founder and OG product tester, notes in his in-depth review of the Hydrow that, "the belt drive system (as well as the railing) provides a super smooth and quiet experience.
"There is a slight grip to the handle to help you hold on without it feeling overly sticky when you're sweating," he adds.
We also think it's worth mentioning that our expert product testers agree that beginners (or folks returning to exercise) can benefit from magnetic rowers because you can change the resistance electronically, it's not just determined by your own effort. This can be helpful if you plan to invest in a machine for your household and it will need to accommodate different fitness levels.
Although which style of rowing is best for you will totally be a personal preference, we have a comparison on a water rower vs magnetic rower with all the nitty gritty details if you want to learn more.
Company Policies
Before you buy, check out our quick overview of company policies from both brands:
Warranty Policy
Hydrow and CITYROW both offer five-year warranties on the frame but differ slightly when it comes to parts other than the frame.
In addition to the five-year frame warranty, CITYROW offers a three-year warranty on non-electronic components (such as the seat, clutch, and tank), and a one-year warranty on the tablet. Hydrow offers a one-year warranty on pretty much everything that is not the frame including all moving parts and components (including handles, straps, seat, and hinges), electronics, and the touchscreen.
Although the CITYROW warranty policy is clearly stated on the website, it's interesting that there are no additional details or a specific warranty claims landing page. For reference, Hydrow notes that the warranty does not cover normal wear and tear or improper use.
You may also find it interesting (and annoying) that CITYROW only provides an email submission form to contact the company if anything were to go wrong and you needed to make a claim. Hydrow provides a number to call (and even provides business hours so you know when to call) in addition to an email submission page.
Return Policy
Both CITYROW and Hydrow have excellent return policies. But what makes an excellent return policy, you ask? When a brand doesn't charge you shipping and handling to return a product.
CITYROW will not charge you to return your rower if you put it back in the original packaging (and it's not damaged or missing any parts). You'll have a 30-day window to initiate a return, so you'll only need to hold on to your cardboard boxes for a short period of time if you think you may return it. Without the original packaging, the brand will charge you anywhere between $200 to $300 to replace it.
Hydrow goes one step further to ensure customer satisfaction. The 30-day return window is marketed as a 30-day risk-free home trial for new customers. The brand will actually come pick up your Hydrow if you are not happy with your purchase. However, if you're not a new customer and you want to return your rower, you'll be on the hook for $250 to ship it back.
Financing Options
Both rowing machine manufacturers have financing options through third-party lenders. Hydrow partners with Klarna for financing and offers credit checks during the checkout process. You can receive financing as low as 0% APR for 48 months, while standard purchases are 19.99% APR.
At checkout with CITYROW, you'll be able to choose financing through Affirm where you can select loan terms of 6, 12, or 18 months with 0% APR for qualified buyers.
RELATED: The Best Budget Rowing Machines
Final Thoughts
The best rowing machine for you will not only depend on your rowing experience preferences between water and magnetic resistance but your budget, how much you're willing to spend on subscription fees per month, and what you want from your online workout experience.
For example, the Hydrow Rower offers rowing machine workouts filmed on water while the CITYROW features studio classes—depending on what you're looking for that distinction might be important.
CITYROW uses water resistance while Hydrow uses computer-controlled magnetic resistance.
Hydrow is nearly $300 more than the CITYROW upfront in addition to about $14 more per month in programing subscription fees.
While both machines offer a variety of workouts and styles of training off the rower, the touchscreen display on the CITYROW Max rotates up to 30 degrees for ultimate visibility.
Both machines can be stored upright, but the Hydrow machine does require a separate mounting kit for vertical storage.
CITYROW vs Hydrow FAQs
Is CITYROW a good workout?
The CITYROW Max offers low-impact, full-body, cardiovascular workouts powdered by your own effort and water resistance. Although a bit noisy due the water resistance, the CITYROW is a solid choice for anyone looking for a water rower with smart technology. 
Is Hydrow better than Peloton?
To determine which machine is better will depend on your personal preferences, goals, and budget. The Peloton Row and Hydrow Rower have similarities in the heavy-duty construction and sleek modern look. They also both offer interactive programming and need monthly subscriptions to access that programming. 
Has anyone lost weight with Hydrow?
The Hydrow has likely helped some folks reach their weight loss goals, however cardiovascular exercise is just one part of the weight loss equation. Being in a caloric deficit has more influence on weight loss than cardiovascular exercise alone. 
Can I watch Netflix on my Hydrow?
The Hydrow software is not compatible for streaming other apps or entertainment platforms.